CrushGrind KIM BO | The most versatile Cast Iron Dutch Oven in the world, 4 functions in 1
Hello there! We're CrushGrind®
For the past 30 years we been making the best spice grinders in the world, and now we've decided to make the most versatile cast iron pot in the world.  
Get your own CrushGrind® KIM_BO
What is a CrushGrind® KIM_BO 
The CrushGrind® KIM_BO is a:
6¾ qt // 6,5 L  Enameled Dutch Oven.
11.5in // 28 cm Grill Pan.
Bread Dome.
11.5in // 28 cm Pizza Stone.
The smartest thing about the CrushGrind® KIM_BO is it´s 4-in-1 versatility. 
You can cook anything in it!
In today's world if you're going to own and store a large and heavy tool, you need to know it's useful and serves multiple purposes.
Good quality cast-iron cookware is often expensive and most pieces lack versatility. The CrushGrind® KIM_BO combines FOUR fantastic products into a single, cleverly nested, unit and no compromises have been made.
It's a 6¾ qt // 6.5 L  Enameled Cast Iron Dutch Oven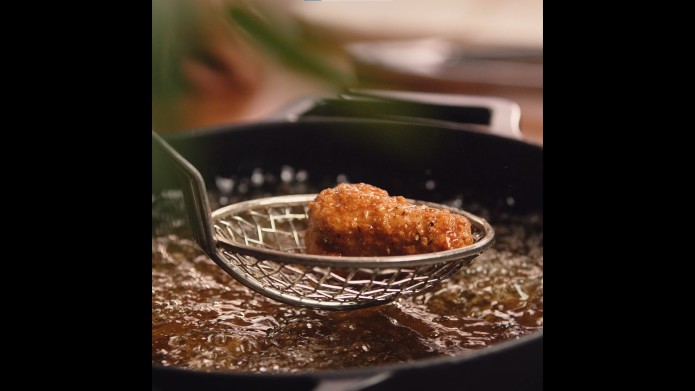 It's a  grill pan – grill meat, fish, veggies and even fruits.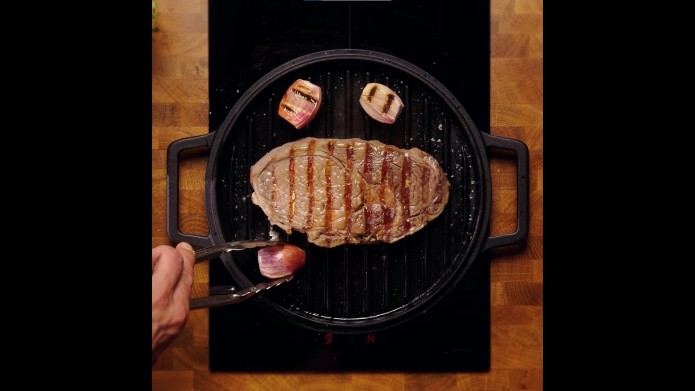 Turn it upside down – so it's a bread dome too!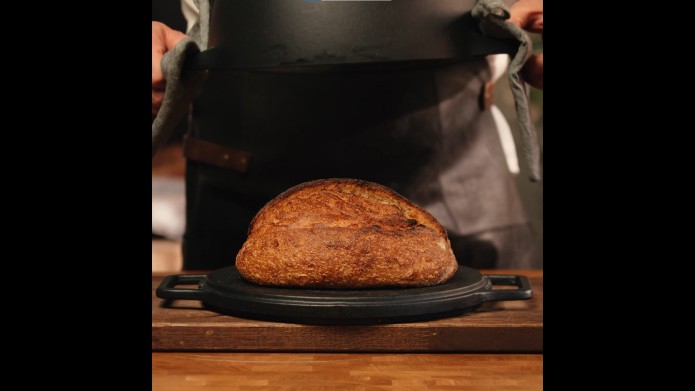 Plus, you can use the flat side as a Pizza Stone!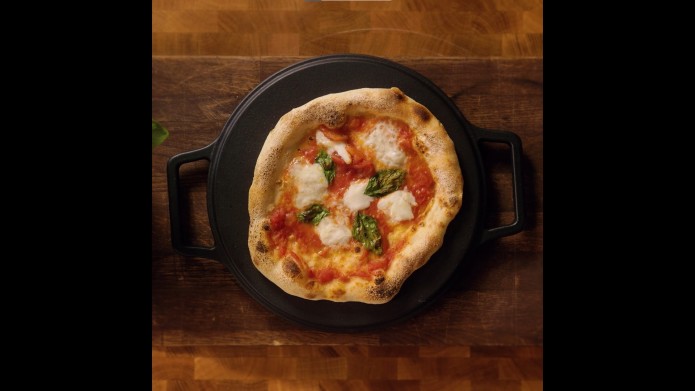 CrushGrind® KIM_BO also has an extra lid made of silicone.
Heat source.
The CrushGrind® KIM_BO works on all heat sources, including gas, induction, ceramic and electric. It's also ideal for oven usage with a maximum temperature of up to 250°C / 482 F. 

A Functional Scandinavian Design
The shape and size of cookware greatly influences the quality of the cooked food and impacts the usability of the product. That's why we really focused on all the details a cooking enthusiast requires.
The base of the CrushGrind® KIM_BO has a generous 8¼ inch // 21 cm cooking surface, great for browning.
It has sloped sides so it's still easy to move ingredients around with a spatula .
The large handles make it simple to maneuver even when your oven mitts are in the mix.
The grill lines on the underside of the lid help to create a self-basting effect. As steam rises inside the pot, it condenses on the grill lines and falls back into the food.
The grill pan has low sides that make it simple to slide a spatula under food. The tall, wide, chunky grill lines sear food properly, leaving impressive bold and crispy cross-hatch grill marks. The ridges are spaced wide apart so it's easy to clean and scrub between them, by hand or using a brush.
We designed the surface of the grill pan to slope away from the center so that excess fats and juices run out to the edges. This ensures that you will grill and not accidentally boil your food whilst also minimizing how much smoke is generated.
CrushGrind® KIM_BO comes with an extra lid made of silicone. This means that you can use the pot independently at the same time as grilling your favorite foods.
When used as a bread dome the flat side of the tight-fitting lid helps keep in steam meaning that bread rises properly and develops a lovely, crackly crust. It also makes it super easy to load dough onto without burning your knuckles.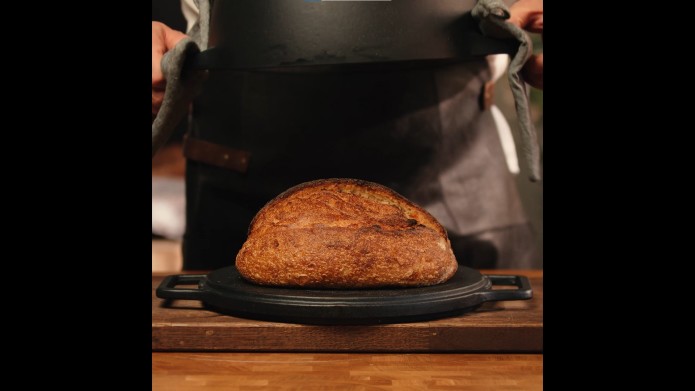 Value for money
How many items of cookware do you need to buy to make your favorite foods? How much money do you feel like spending? Quality tools are expensive…just see how much you can save:
Quality ® Signature Dutch Oven 5.5-Qt. : USD 360
Quality Grill pan 10,25" : USD 195
Cast Iron Baking Dome: USD 225
Pizza stone/ Baking steel: USD 55
Total: USD 835
CrushGrind® KIM_BO: Early pledges from 130 EURO  recommended retail price 260 EURO
Cast Iron
Cast iron is ideal for everything from frying to baking because it holds and distributes heat so well. Even-heating means that meat browns better and vegetables will cook faster and there's no need to constantly adjust the heat source or turn it around when in the oven.
The wall thickness of the cast-iron has been considered to maximize the holding and distribution of heat whilst not making the overall product weight too heavy.
Lighter, thinner cast-iron tends to scorch food because the heat passes right through it.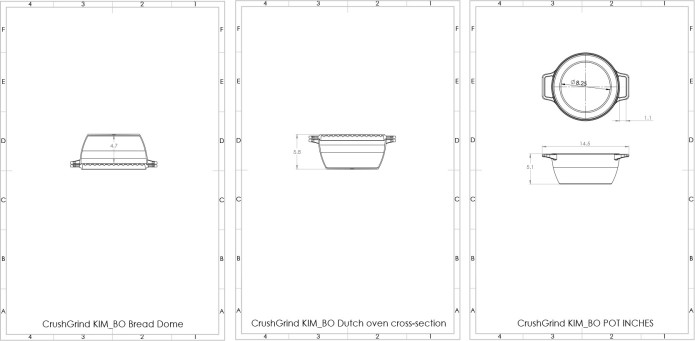 Enamel
The CrushGrind KIM_BO is coated in a quality matte black enamel from Tomatec. This is ideal for caramelising & browning but it's also hard wearing and scratch-resistant. Due to the slightly coarse surface, over time, a patina, similar to 'seasoning' can develop that helps prevent foods from sticking.
The dark colour we used ensures that heat radiates more than with lighter enamels, which is great for baking bread with caramelized, blistered crusts.