Cupple – The water bottle with a twist | Cupple is a revolutionary twist together cup + bottle. Designed to save space and the environment.
One bottle.  Cupple of benefits.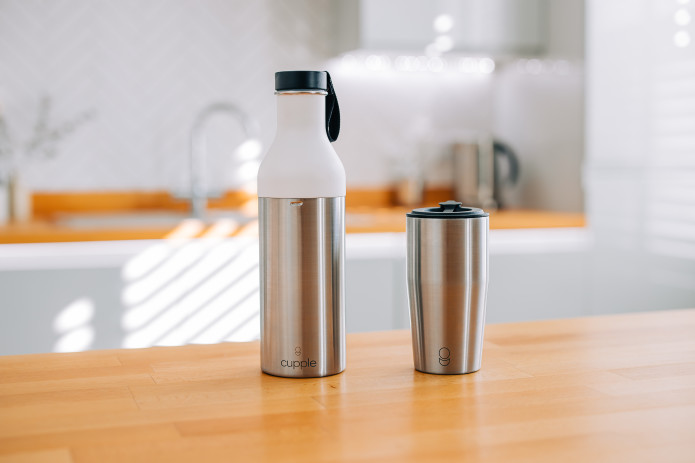 Meet Cupple: the water bottle with a twist
Cupple is a revolutionary, reusable, all-in-one cup+bottle.  Simple and convenient for people on the go.  Beautifully designed to save space and make your lives less complicated, whilst also reducing dependence on single use plastic.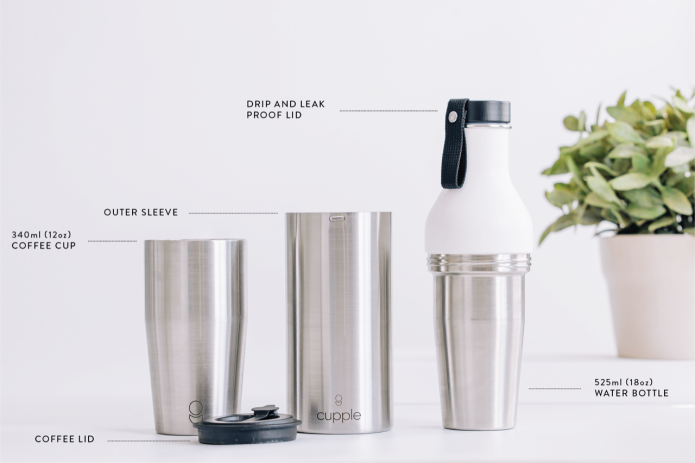 Cupple is a combined 525ml (18oz) stainless steel water bottle AND a 340ml (12oz) double walled, vacuum insluated stainless steel coffee cup with a drip proof lid.  The cup and lid are cleverly hidden away in an outer sleeve for clean, safe storage.  Simply twist the bottle and outer sleeve to reveal the coffee cup and lid.
Cupple was designed to help stop plastic bottles and throw away cups from ending up in the environment.
By filling and re-filling your Cupple water bottle and not buying throw away single use bottles when you are out and about, you will help reduce the 8 million tons of plastic bottles which end up in the oceans each year. 
By using your Cupple cup when you would like a coffee or tea on the go, you will help save some of the 6.5 million trees which are cut down each year to make throw away disposable coffee cups, which are each used for an average time of just 15 minutes.
We are Amanda and Eve, two cousins who live close to each other in the UK. We share the same concerns about the planet and want to make a positive contribution towards reducing litteer and removing waste from the environment.  We would love you to CuppleUp with us to make a difference!
Cup+Bottle=Cupple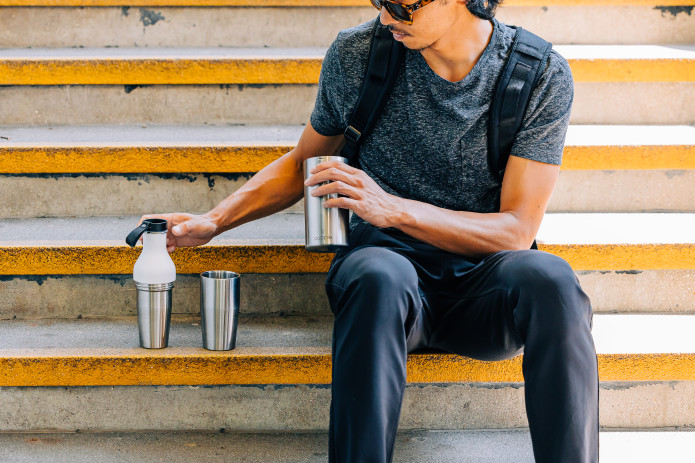 Cup and bottle together – ready for when you want to use them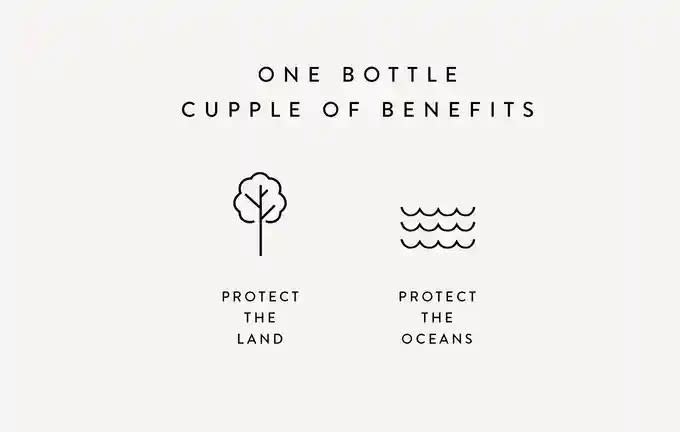 Cupple is a combined 525ml (18oz) stainless steel water bottle AND a 340ml (12oz) double walled, vacuum insulated stainless steel coffee cup with a drip proof lid. The cup and lid are cleverly hidden away in an outer sleeve for clean, safe storage. Simply twist the bottle and outer sleeve to reveal the coffee cup and lid.
Cupple is the perfect 'on the go' companion – a stylish product enabling you to hydrate, and enjoy hot and cold drinks whilst out and about.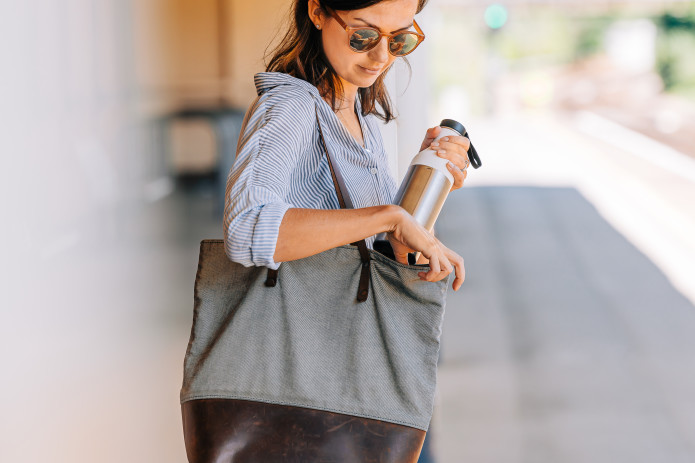 Cupple is the perfect bottle to carry while commuting – fits in a bag or tote
Not just another water bottle 
Tired of carrying separate bulky reusable cups and bottles?  Not any more… 
Cupple makes using a reusable water bottle and coffee cup easy and convenient, replacing both single use plastic bottles and disposable cups in one neat product.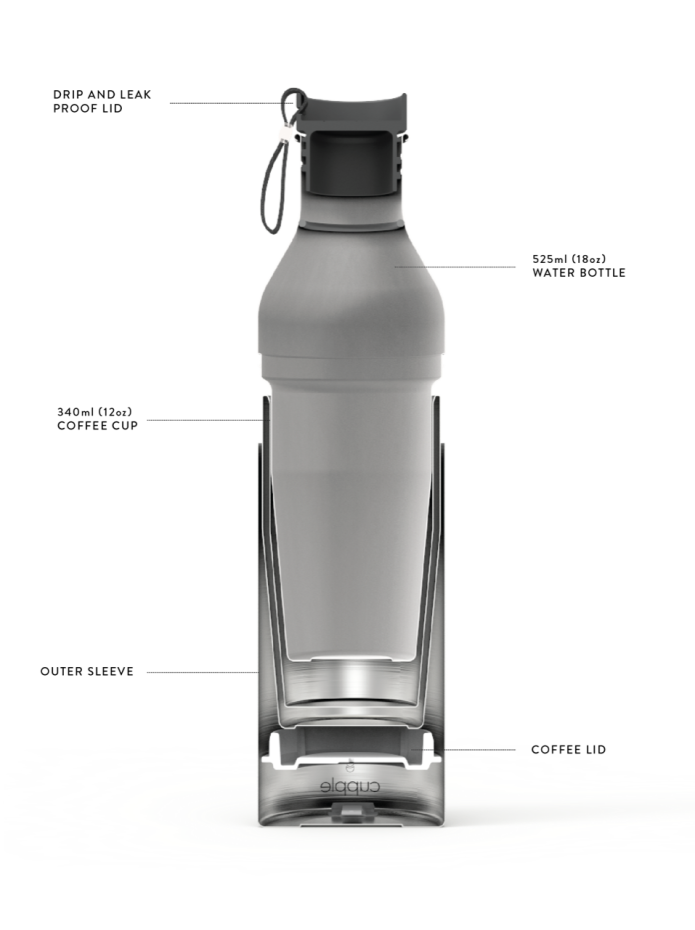 The design is super sleek and easy to use. It has been built to fit into a tote bag or standard backpack. Perfect for your daily commute, the school run, whilst on holiday, or out and about on shopping trips around town, to the countryside, local shops or beach.
Cupple is for everyone: easy to open, easy to use, easy to carry.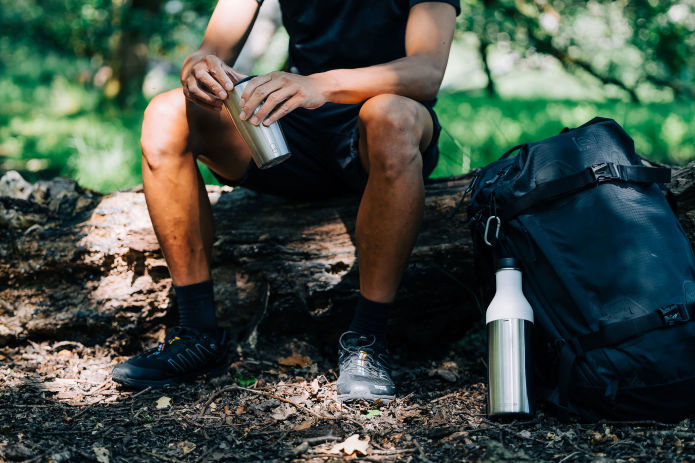 The cup and lid are hygienically sealed inside the outer sleeve ensuring your cup is clean and ready to use whenever you want.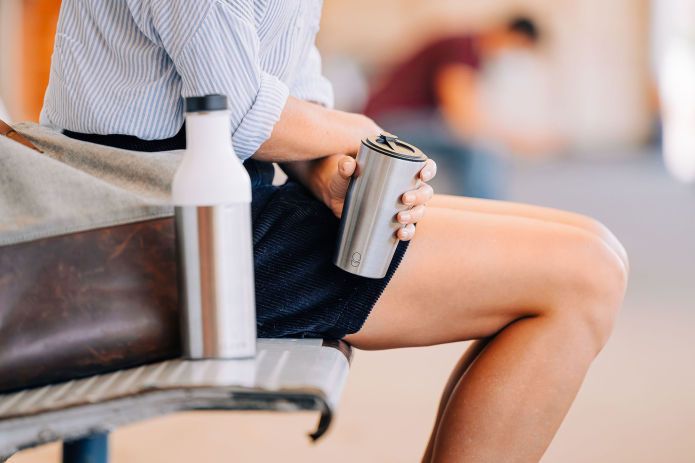 Cupple is ideal for commuters
Over 4 million people took up cycling during lockdown in the UK alone so we ensured that Cupple was designed to fit the standard bike water bottle cage. It also fits into car cup holders, buggy cup holders and most other cup holders you can think of.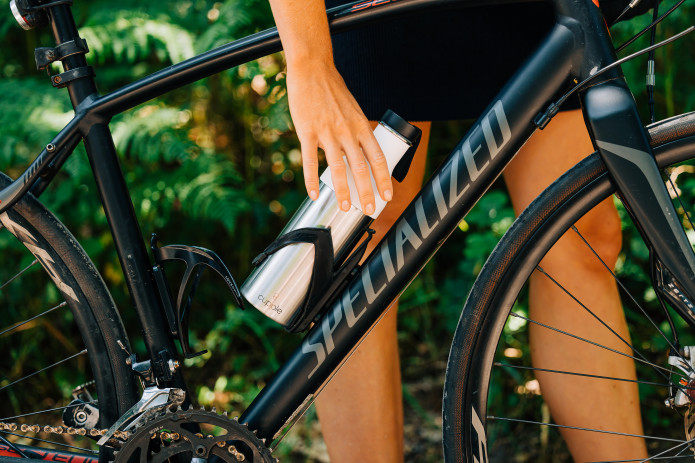 Cupple is designed to fit in a bike bottle cage
At Cupple, we've made the reusable bottle and coffee cup so easy to carry, that you can go zero waste and lighten your load at the same time.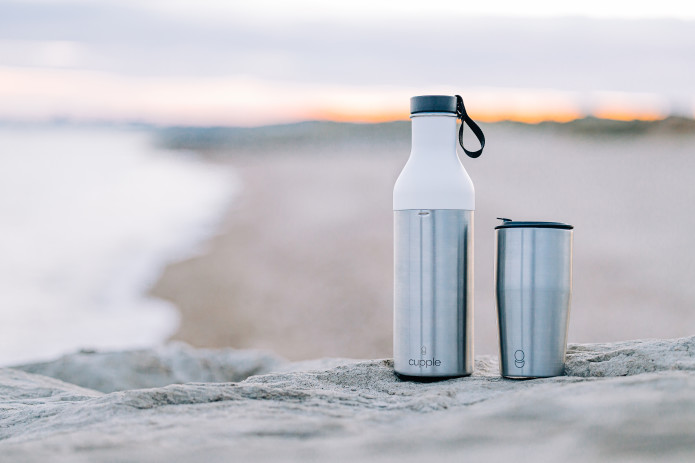 Stop using plastic water bottles which end up in the sea + washed up on the beach
 Fill. Drink. Reuse.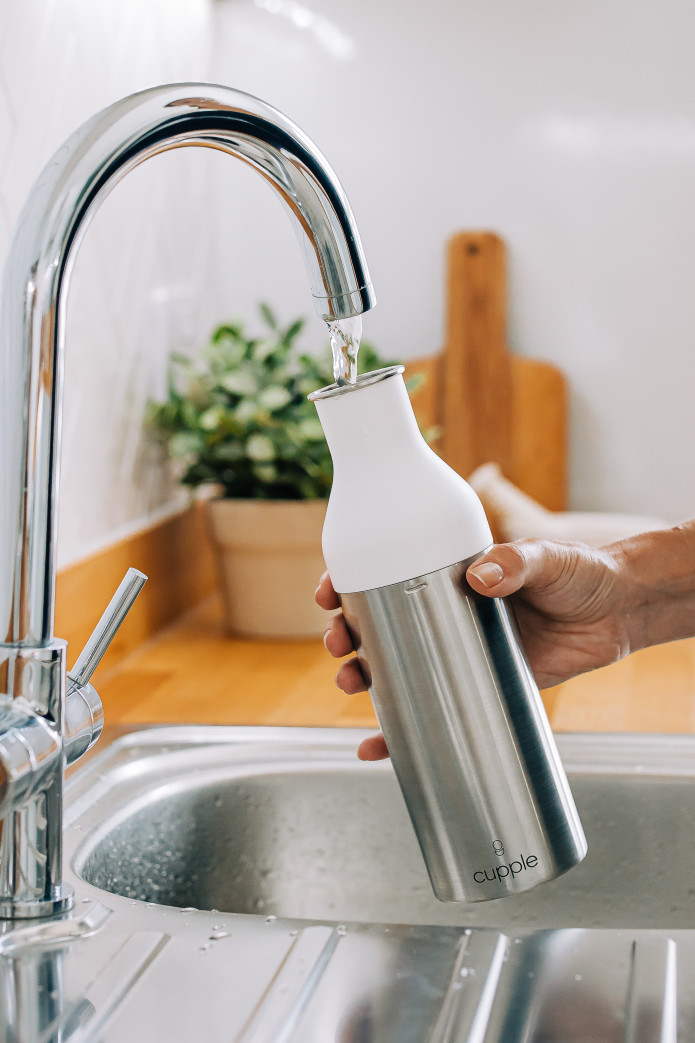 Fill up before you leave home
STOP plastic bottles from ending up in the environment.  Save yourself over £250* each year by filling and re-filling your Cupple water bottle and not buying water in throw away bottles when you are out and about. (* based on UK average purchases)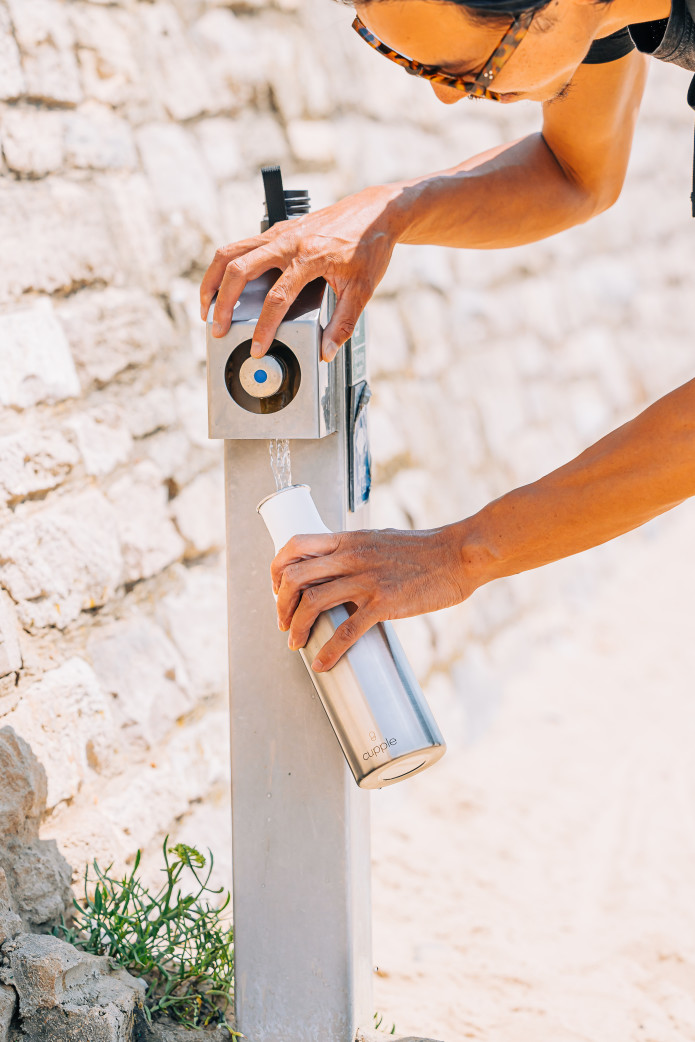 Re-fill when out and about – no need for single use plastic
HELP prevent millions of trees being cut down each year to make paper cups, which are used for just 15 minutes – the average time it takes to drink a tea or coffee. Stop those same paper cups going to landfill, littering our towns and countryside, or ending up in the oceans.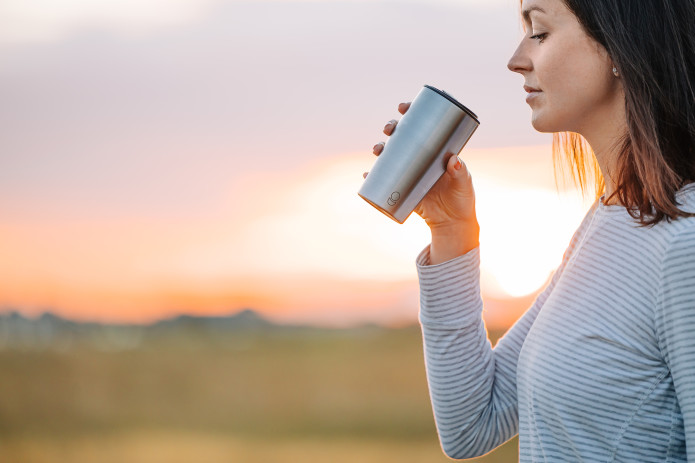 Cupple champions reusable coffee cups
Using a Cupple will actively help to prevent the production and use of plastic water bottles and plastic lined paper cups, and the subsequent disposal challenges they create.
Cup + Bottle = Convenience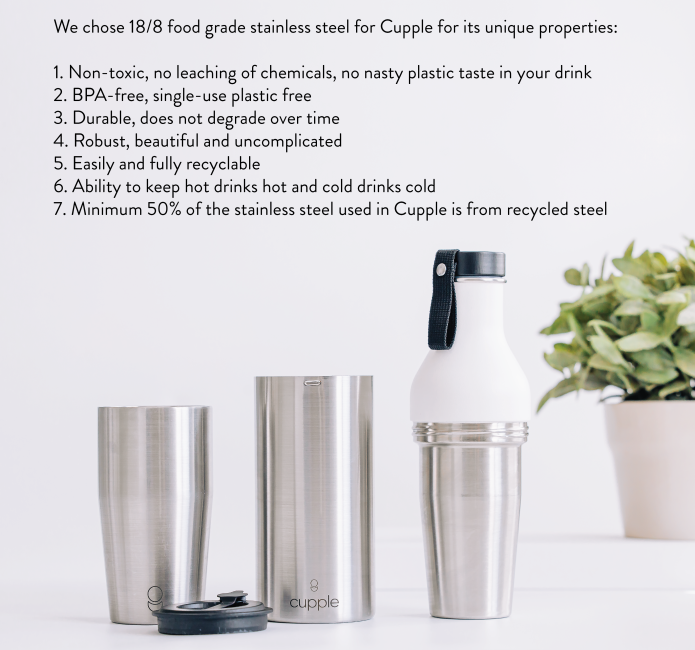 No more stress of juggling two awkward drinks containers through the day.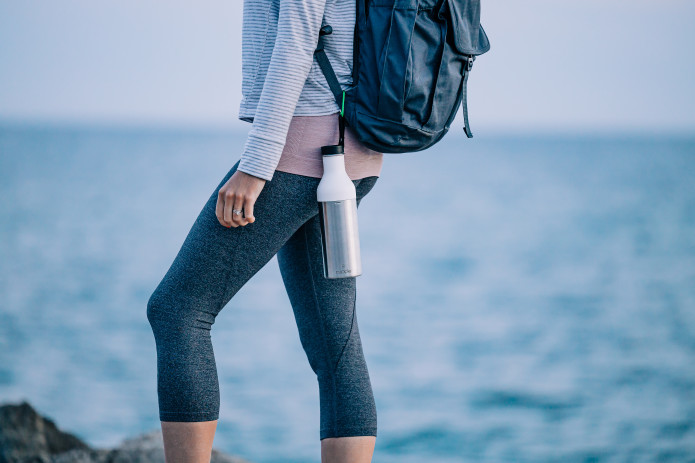 Cupple carry loop is ideal to hang off your back pack
With Cupple, you just keep the combination together for a simpler life.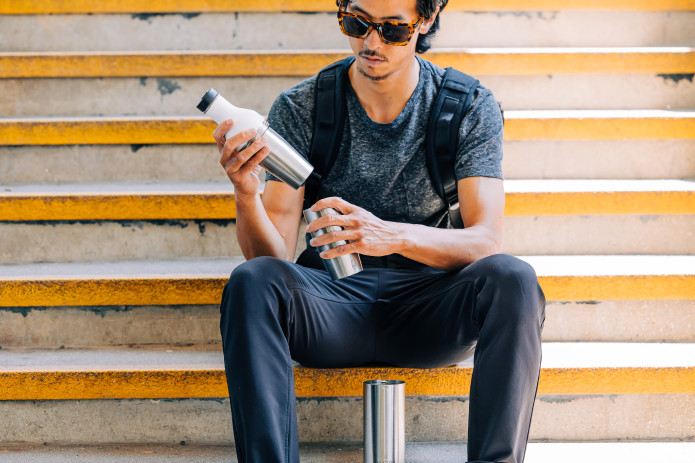 Ideal commuting product
Cupple is better for the environment
"We are frustrated by the amount of single-use plastic and litter generally. We feel there must be a more convenient solution to enable people to reduce their waste footprint whilst out and about."
"Cupple is a different way and it's a better way."  Amanda, Co-Founder 
 Did you know?
 1 million plastic drinks bottles are bought around the world every minute 
  480 billion plastic bottles are sold worldwide each year 
 16 billion disposable coffee cups and lids are used each year 
Fewer than 10% of coffee cups are recycled as their plastic lining makes it difficult and expensive
Less than half of the plastic bottles purchased are recycled – the rest end up in landfill sites, burnt or littered and often end up in rivers and waterways that flow into the sea
The Cupple team want to encourage people to abandon single-use paper cups and plastic bottles as they create damaging waste which harms the planet for hundreds of years.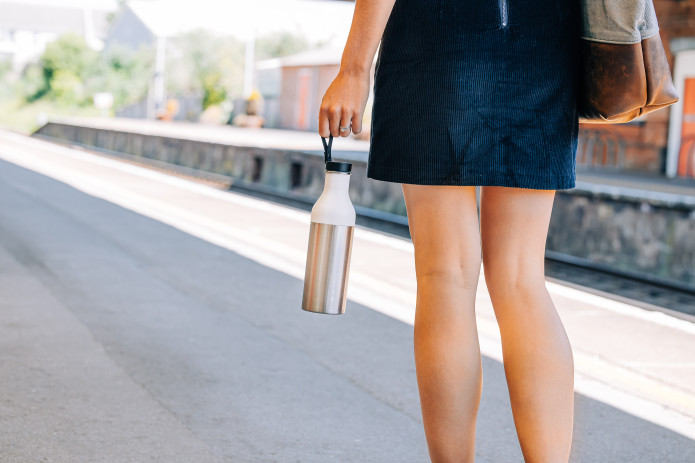 We're including A FREE carry loop with every Cupple which is made from recycled nylon webbing. The carry loop means Cupple is even easier to carry or attach to your backpack while out and about or on your daily commute.
Our environmental commitment
We recognise that we alone cannot change behaviour so we are Cuppling up with others as it's through partnerships we can make a difference:
Providing end of first life solution for all Cupples to ensure they never end up in landfill but are recycled into a 2nd life product. We are working with The First Mile to develop a Woodland Trustrecycling solution for our products.
Ensuring carbon neutral manufacture, shipping, website and delivery 
We are donating to the Woodland Trust to help support the creation, protection and restoration of UK woodland.  
We are contributing to the Marine Conservation Society which works to ensure the seas are healthy, clean and protected.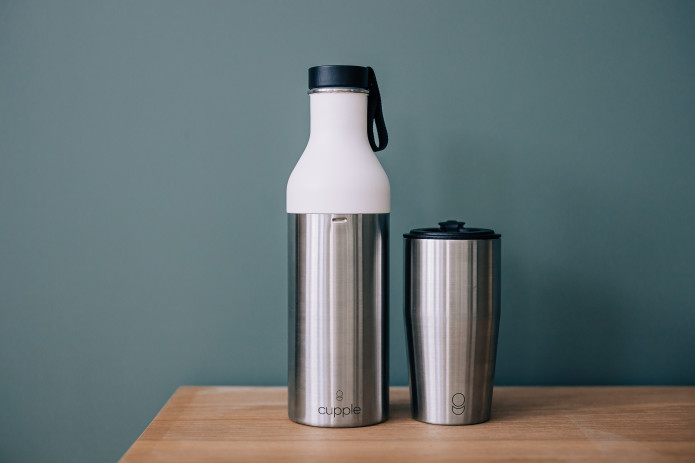 The last reusable bottle you will ever need to buy – choose Cupple, the one that does everything.
Cupple: performance and simplicity
Cupple ® is trademarked and the design registered in the UK and China, with registration pending in Europe and the US. The patent-pending design with the coffee cup silicon lid hidden in the base of the outer sleeve is unique: it ensures the lid is kept clean and hygienic at all times.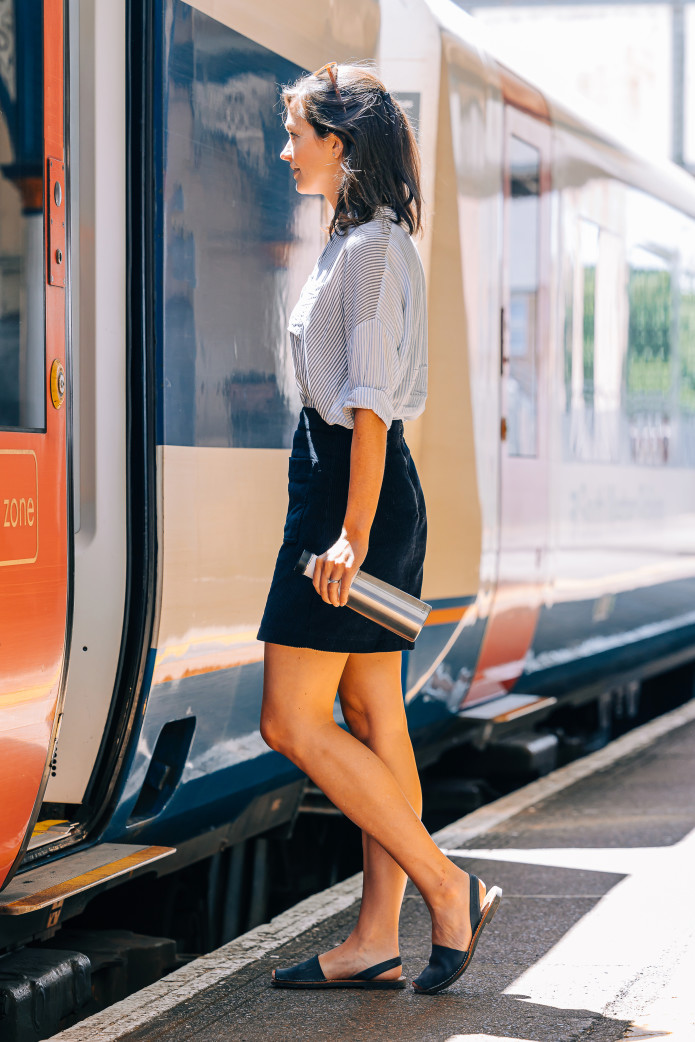 Great for train journeys
The design is simple and unobtrusive, and the form modest.  We have used pure stainless-steel  for the main components, with just a hint of colour reflecting the strength, beauty and honesty of nature: our inspiration for Cupple.
At 256 mm tall, Cupple can easily fit in a shopping bag, baby carry, gym bag or a backpack.   The cup is the perfect size for coffee machines (12oz), its double wall will keep drinks hot, and it is easy to drink from the drip proof silicone lid whilst on the go. 
Cupple is designed to be easy to keep clean. The  uncomplicated lines and simple components ensure that there are no hard to reach corners or hidden joints.  As with many stainless steel products, we recommend hand-washing with dishwashing soap or liquid.  We find that using a bottle brush ensures a clean finish to all the surfaces.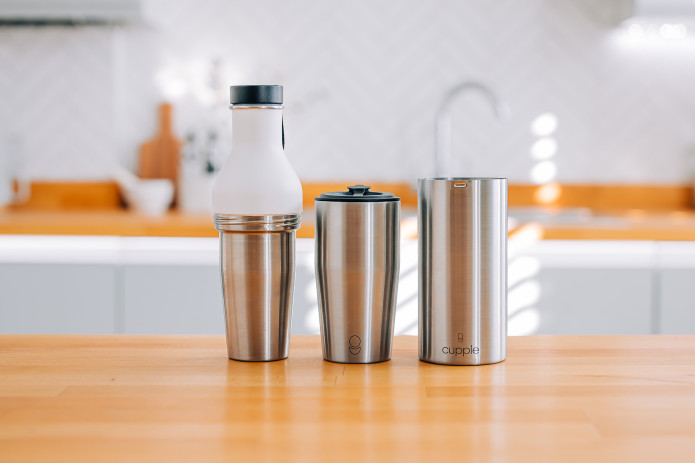 Simple and uncomplicated – no hard to reach corners
Comments from the Cupple Community
Although our journey has just started, we have been fortunate to work with many wonderfully generous, talented and experienced people over the past 18 months, some of whom have been kind enough to let us know what they think about Cupple.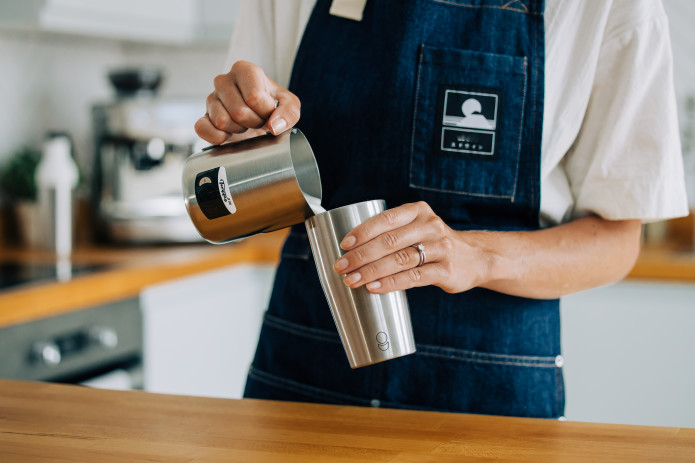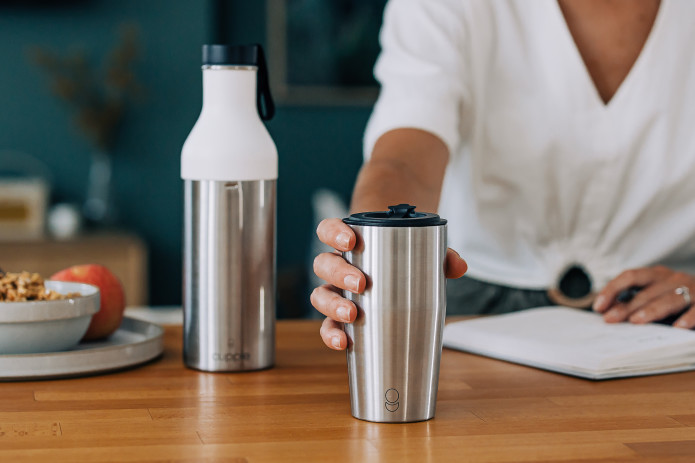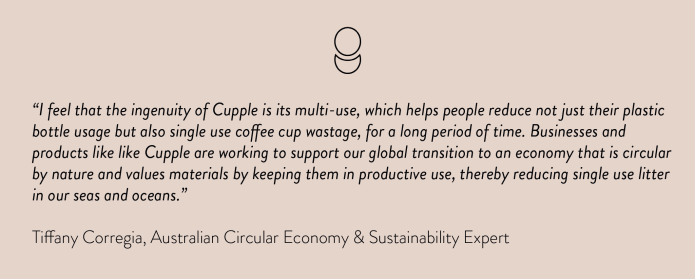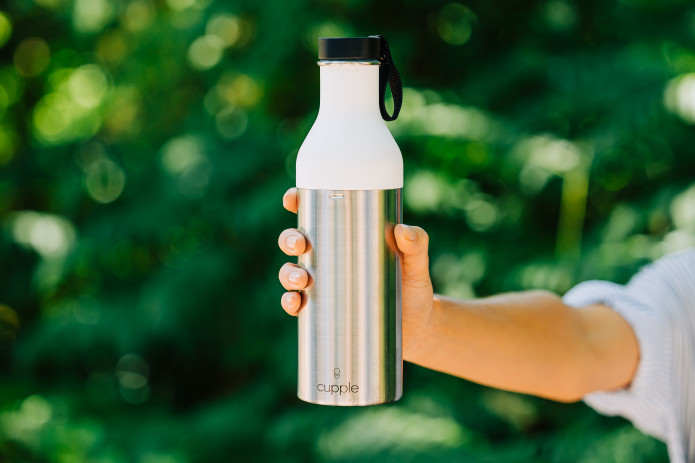 Cupple is designed to be an integral part of your daily life. Inspired by the elements, the colours are subtle and natural, and blend seamlessly with your lifestyle choices. We launched with 2 colours; Chalk White & Sea Green.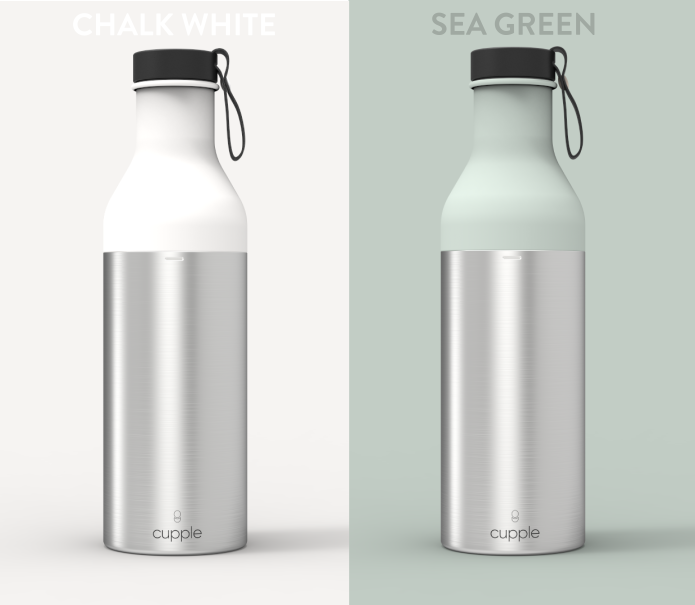 Cupple product development and delivery
UK designed. Clean lines, beautiful design. Life-long product.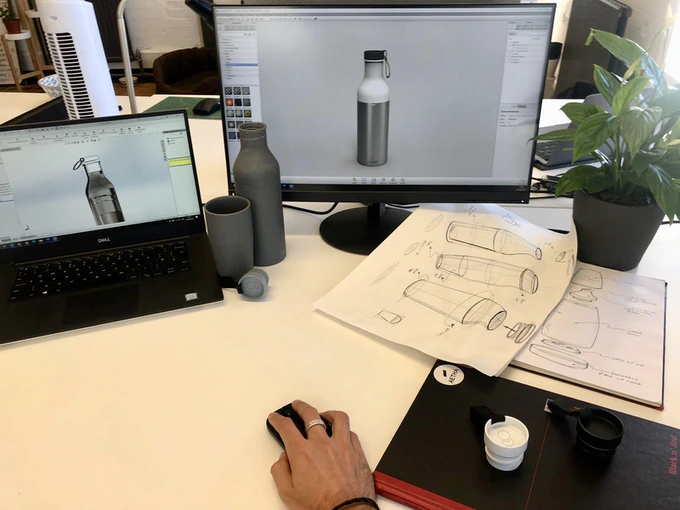 The Cupple design during development at the design studio
The Cupple team believe in sustainable design. Unless you are improving something for the user or providing a more sustainable version of the original, there may not be any value in designing and making something new.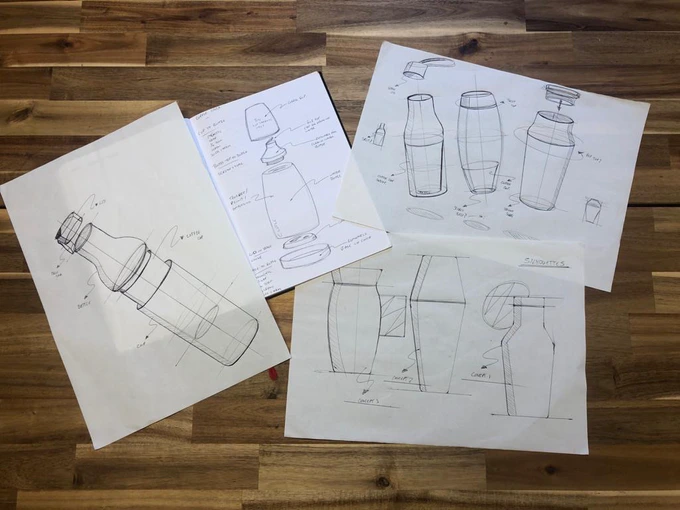 There are plenty of water bottles on the market, there are also plenty of reusable coffee cups. What we felt was missing was an all in one, easy to use, compact way of carrying both. The challenge was to combine the two uses without creating a large, heavy or bulky product.  
During the development period, Aetha Design produced more than 100 3D printed prototypes and silicone parts to perfect the product. We tested Cupple widely and the invaluable feedback received from our testers was incorporated at each stage. The first functional stainless steel prototype was commissioned from our carefully chosen and audited manufacturing partners in March 2020.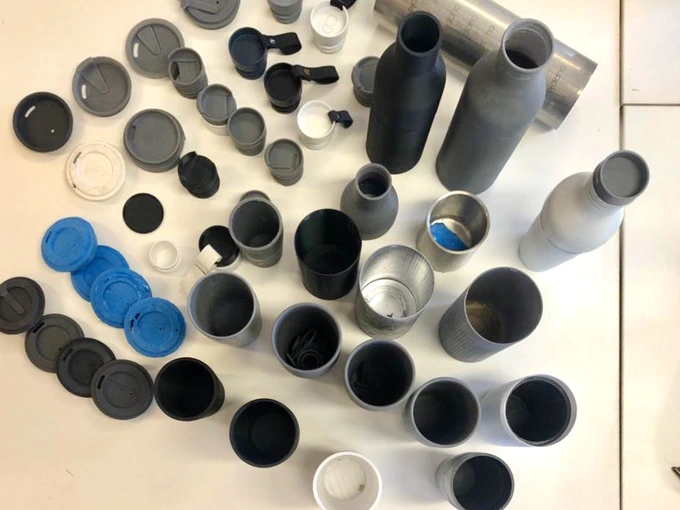 The stainless steel prototype is used for marketing purposes, and the images in this campaign. The powder coating finish and engraving are exactly how the first run of the product will be.
Tooling has already been manufactured.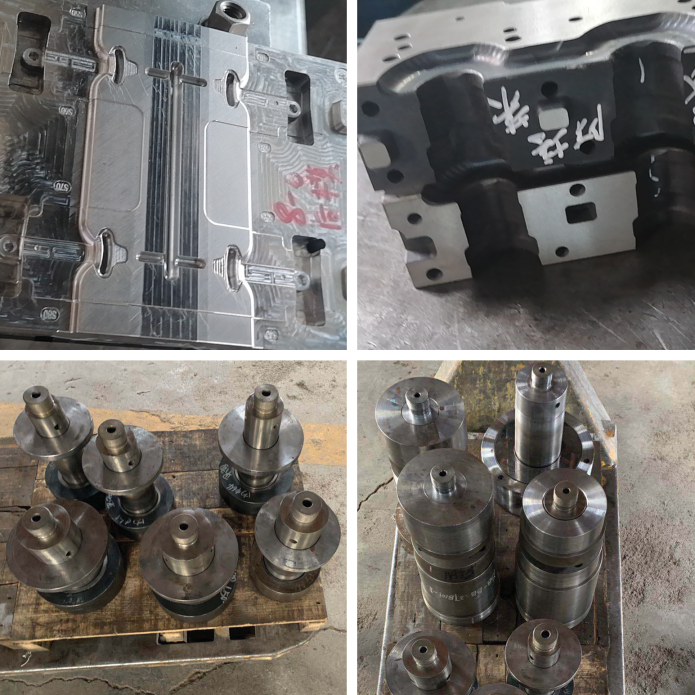 The tooling is ready to move into production of the first run of Cupples
Innovative, convenient and safe, Cupple is the ultimate 'on the go' hot and cold drinks companion for people who want to change for the better
The Cupple Team 
The Cupple story began when Founders and cousins Eve & Amanda  moved to live close to each other in 2018. They shared the same concerns about the planet and wanted to make a positive contribution towards reducing litter and removing waste from the environment.  They talked about making changes and providing different choices for anyone wanting to move permanently to low waste living by creating attractive + functional reusable products.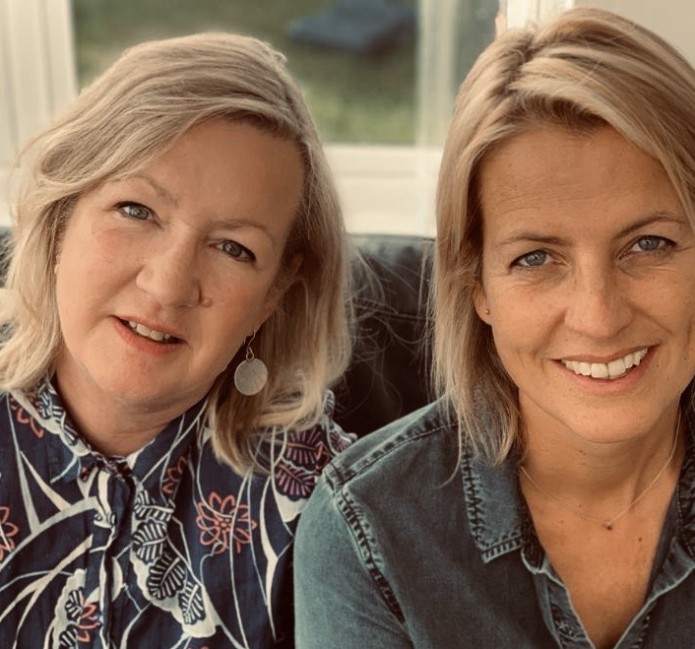 Eve and Amanda considered the two most discarded single use items in the UK – plastic drinks bottles and 'paper' coffee cups – and questioned how  these could be improved. Many conversations, sketches and discussions later, the idea for Cupple began to take shape.
"Worldwide predicted sales of plastic bottles will grow to 583.3 billion in 2021". Plastic Soup Foundation 2020 
"We wanted to create a product which would replace the two most commonly discarded everyday items – cups and bottle – and offer a convenient, sustainable choice for people on the move.  We have simply put them together so there is only one thing to grab in the morning."
Eve, Co-Founder, Cupple
In late 2018, Eve & Amanda approached Aetha Design (a product design consultancy based on the UK's stunning south-western coastline in  Dorset) with their concept. From the outset, Cupple and Aetha clicked, sharing the same ambitions for the project and the future of Cupple.
The Aetha Design team are a creative collective from a range of disciplines, including experienced engineers from one of the UK's most innovative product designers Dyson.  They are all passionate about the sea and witness the huge environmental damage caused to our oceans on a daily basis so the aspirations behind Cupple fit perfectly with their ethos as a team.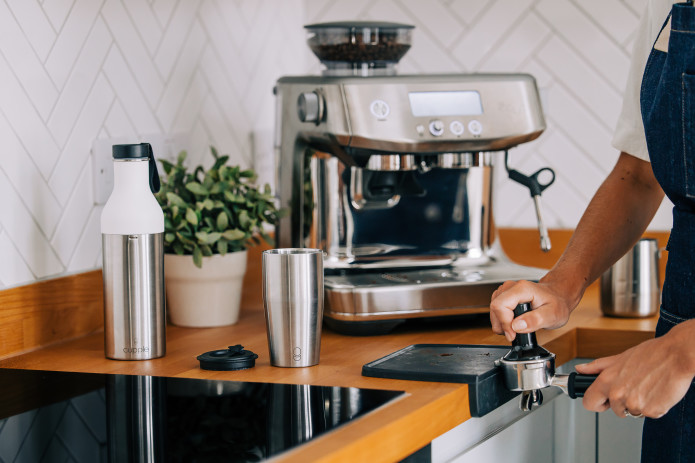 Aetha Design, Amanda and Eve have worked together for 18+ months since their first meeting to refine, test and perfect the design. 
"I am a big coffee fan. When we started looking at Cupple, I remember thinking straight off 'this is a product I would actively carry every day' I always get thirsty  throughout the day and carry around a water bottle and a keep cup so it was a no brainer for us that this product would work. Being involved with Cupple from the beginning has been such a great journey for Aetha. We are inspired by the idea and believe in it fully."  
Sophie, Aetha Design – Project Manager
Returns Policy
The Indiegogo site enables creators to offer their products, services and ideas to backers at specially discounted rates.  We will use the funds raised to move to manufacture of Cupple.  In accordance with the Indiegogo Terms of Use, we will not offer refunds or returns for Cupples which are not faulty.  In the unlikely event that you receive a Cupple which is defective, please contact the team at [email protected]
Shipping Policy
We are happy to offer worldwide shipping for all Cupple bundles on Indiegogo. This will be indicated when you make your pledge as will the shipping rate to your country. Please be aware that the price of the item does not include additional duty and taxes that may be applied by individual countries according to their importation laws.
Risks & Challenges
Our focus for the past 18 months has been on producing the best version of Cupple with the minimum of risk for our supporters and backers. The Aetha team have spent hundreds of hours in product development, planning, and producing 3D printed prototypes. Our manufacturing partner has worked with us to ensure maximum efficiency and quality for every part throughout the production process. They have already started building the machine tools for Cupple so that we can proceed immediately once we have raised the funding.
The greatest risk to our project at this stage would be a disruption at the manufacturer's factory. If a solution could not be found with our existing manufacturer, we would have to seek a new partner, which could take a number of months to secure, given our high standards and quality requirements. The whole Cupple team is committed to providing outstanding customer service at all times. We have consulted widely to identify and mitigate risks to the project.
We plan to deliver our rewards to our backer community as shown on the timeline. If we do encounter any delays, we will communicate to all our backers straightaway. It is very important to us to keep our backers updated and repay the faith they have shown in our product by being open and honest about Cupple at all times. 2020 saw the pandemic across the world disrupt international businesses. We have included potential further worldwide disruption in our planning but we will always put the health and safety of our team and that of our partners at the forefront of our mission.