Do you know Kakemono? | Our Kakemono scrolling posters are an ancient Japanese art form masterfully done in a new style.
Stone Buddha Models For The Kakemono Posters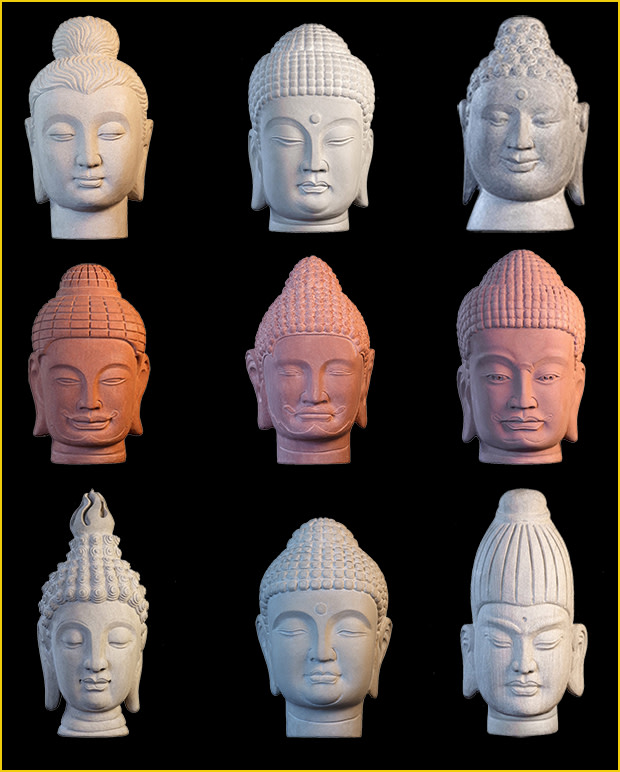 Meet Our Kakemono Scrolling Posters
We have 87 different Kakemono scrolling posters. All are prints from my original iconic Buddha stone sculptures. Images of the meditating Buddha have become a universally recognized icon for meditation, serenity and spirituality. 
The Colorful series of 36 Kakemono style prints of my sculptures are unique and unlike anything else available. Our beautiful Kakemono scrolling posters are now available in two sizes: large (23" x 44") and small (8" x 16").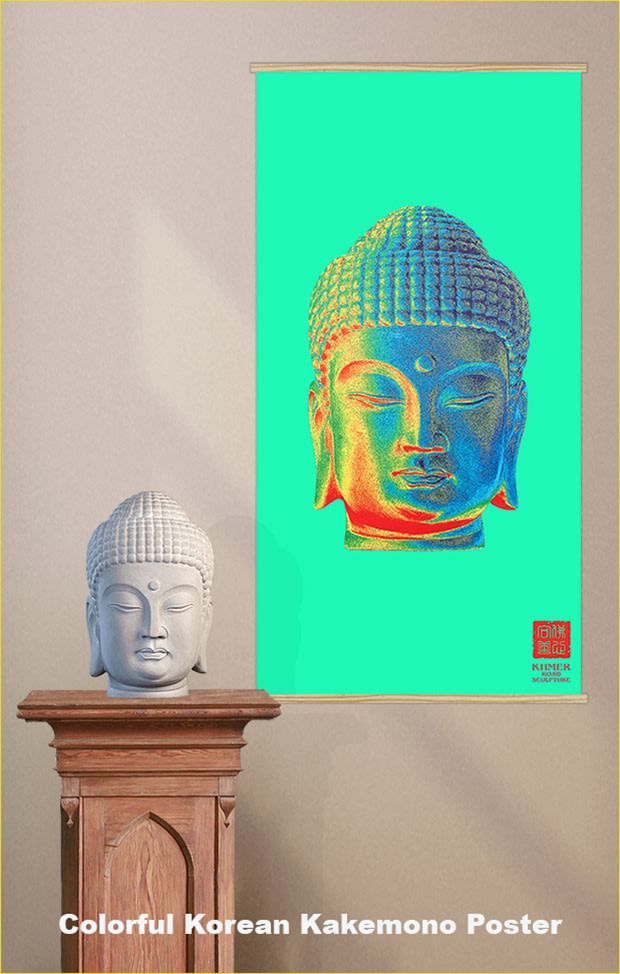 Photos of my original hand-sculpted-in-stone Buddhas are offered in the ancient Kakemono scrolling art style. Our 18 Antique style Kakemono scrolling posters are all characterized by the cracking, fading and weathered look of ancient oil paintings. The sepia-colored patina adds to this effect.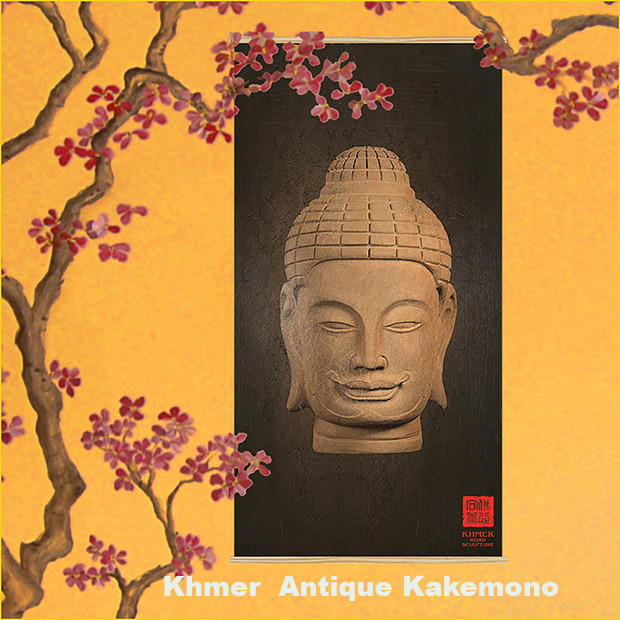 Our five Chinese Calligraphy Kakemono scrolling posters are artful treasures and perfect for your home, office or that secluded space you retreat to after a difficult day. Give the gift of peace and serenity to that special and spiritual someone that is difficult to buy for.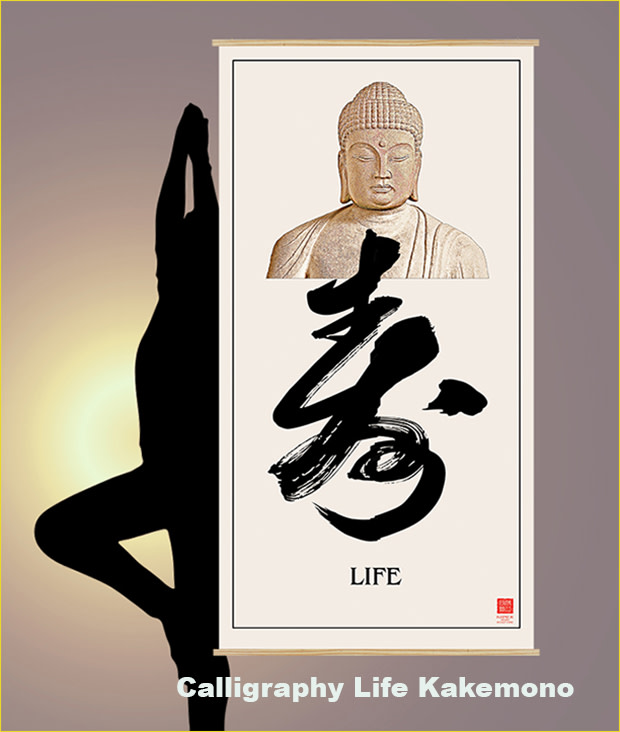 The mini-sized (8″ x 16″) Kakemono posters fit those small spaces like alcoves or next to doors and windows. They can be grouped in multiples in both horizontal and vertical spaces. The two-piece hardwood top and bottom dowels can be easily removed to allow for staining, painting or fabric coverings to match your personal décor. Blue painted dowels on this one.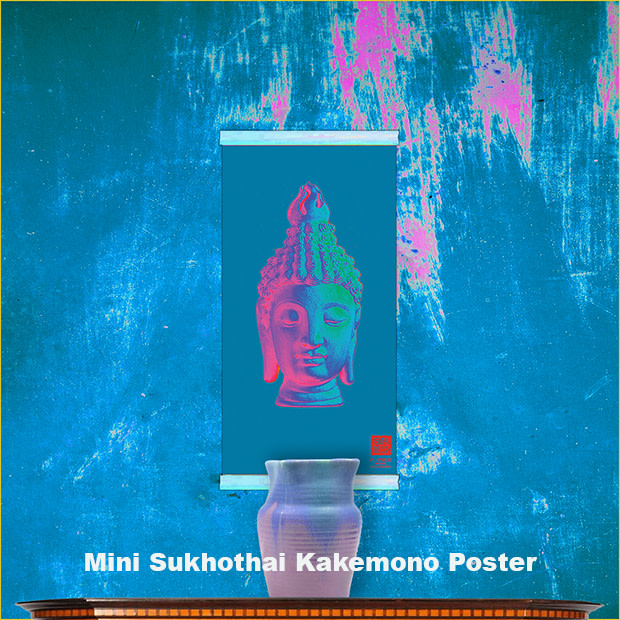 Kakemono scrolling posters capture the spiritual and mystical characteristics of the Asian culture. Your poster will arrive with finely finished natural grain hardwood dowels. Beautiful as is. Brass eye screws are included for hanging.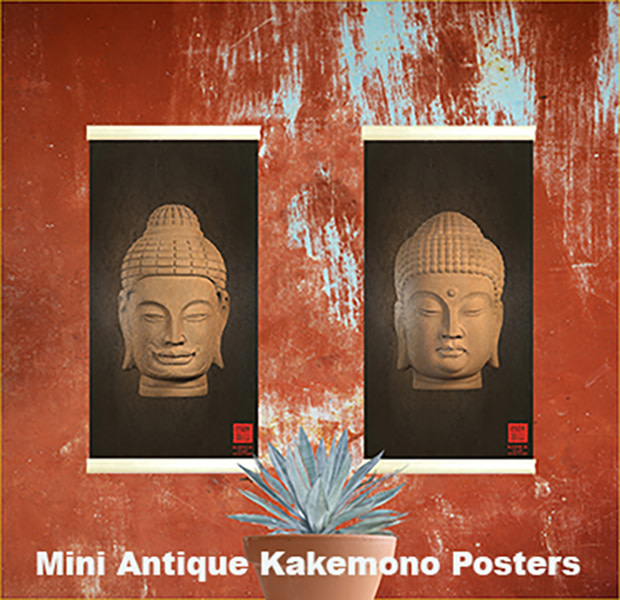 Keeping focused in a peaceful and meditative state is enhanced by the simple Buddha image. Chinese Calligraphy in a single oriental character can portray the essence of a sentence. Create a space that is conducive to your peace of mind. These dowels are stained with a dark wood color. 

What We Need & What You Get
Our Flexible goal of $8,000 will be the minimum needed to expand our current operation by purchasing inventory to stock two new fulfillment centers.
Interest and sales continue to grow in spite of high shipping costs to Europe and Canada ($40+ for a $30 Kakemono poster). By using the Fulfillment by Amazon (FBA) in Europe and Canada for warehousing and delivery, our shipping costs are greatly reduced. We will use the same sales techniques for these new stores that we are now using in our successful USA Amazon store.
$14,000 in contributions would allow us to purchase our inventory at highly discounted prices, increasing profits substantially. $20,000 is our real goal as it would  provide for the development of our Shopify, eBay and Etsy  stores. Sales have been made on all three, but some professional marketing, promotional and developmental assistance is needed.
All of our USA stores (Amazon, Shopify, eBay and Etsy) now use Prime Logistics, located in Florence, Kentucky, for warehousing and delivery. We will continue with this for all four stores for USA customers.
A very unique perk is an anthropological tour. My background and extensive knowledge of Southeast Asia and its ancient Khmer  historical sanctuaries will allow you the private tour of a lifetime. From the time you arrive until your departure you will be in my capable hands. 
Special Early Bird Offer
LIMITED BEST-FRIEND LEVEL
Each $1200 contributor will be rewarded with a one-week, Thailand anthropological tour. A selection of ancient Khmer stone masterpiece sites can include UNESCO World Heritage sites and other less known examples. Includes 3-4 star hotels, meals, local transportation, fees and my expert personal guide service.
The first ten $1,200 contributors will receive an extra (3) days at the beach on the tropical island of Koh Chang, Thailand.
Itineraries are scheduled according to your and my availability. If you have a special request for additional sites that you would like to visit, please inform me and I'll do my best to schedule it into your personal itinerary. Spouses or a friend you wish to accompany you will be charged an additional $1,200. Holiday tours must be scheduled between estimated close of campaign in June 2017 and June 2018. International airfare not included. 
See Holiday site locations in below video
I've conducted dozens of medical and anthropological tours over the past 12 years. To help in establishing my credibility and to give you confidence in my abilities and expertise, you can view  the following links:
http://www.emeraldtriangletours.com
https://www.khmer-road-sculpture.com
 Impact

I was fortunate to enter into a product development project with the Zhangjiagang Printing and Advertising Co. Ltd. (Plant facilities shown above). We worked together for two years experimenting with different fiber fabric cloths and natural inks. The company saw the commercial value in this venture and, with both a considerable cost and time investment, we developed a process to meet with the high standards of Kakemono scrolling art. I have an exclusive contract for this proprietary product.
Established in 2012, Zhangjiagang City Printing Advertising Co., Ltd., is the largest digital printing factory in Zhangjiagang, Suzhou province. It specializes in banners, stickers, display products, flag manufacturing, digital printing service, UV flatbed printing, display product and other relevant advertising products.
In order to sell manufactured products on the Etsy sales venue, you must have the Etsy Manufacturers Approval designation. This coveted certification requires strict adherence to environmental, health, employee and ISO regulations. I'm proud to say that I was instrumental in their receiving the first Chinese company certification in the printing category.
Risks & Challenges
Any entrepreneurial pursuit is fraught with unexpected developments. I've learned that hard work and perseverance can get you through most anything. This project has been in development for more than ten years counting the process of hand-sculpting stone Buddhas and is now starting to come to fruition with daily sales.
I've learned many new skills since the start of this project. Photoshopping my works in a home décor environment was a major breakthrough. With 80-plus products and each necessitating up to 10 different in-situ photographs on four separate sales venue sites, I had to take hundreds of photographs. These were also used as my daily content posts on the social media sites.
The photoshopping type of daily content posts has become less effective. Video submissions are the future. With the help of my associate, Mr. Junaid Roy, we have become quite proficient at producing our own videos. Please view at the link below to my Khmer Road Sculpture, YouTube Channel. You will see that we have produced more than 65 videos ourselves, the latest ones rivaling the work of professional videographers.  
https://www.youtube.com/channel/UCz3oHvxmVU-1zf…
Shipping and Storage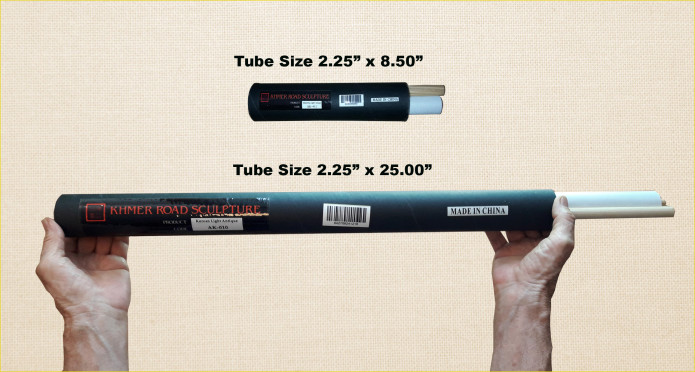 All of our posters come delivered in a strong, attractive black cardboard tube. It provides shipping protection to assure that your poster arrives undamaged. It can also serve as a storage tube. In Asian cultures, the Kakemono scrolling posters were stored and often changed to display on holidays, various seasons and auspicious occasions.
My posters are 100% guaranteed. If not satisfied with your purchase, please return it to Prime Logistics, 7500 Empire Drive, Florence, Kentucky 41042. You are responsible only for return postage.  
Other Ways You Can Help
If you like our products, then please share with your friends and on the Indiegogo social media share tools. Reviews can be very helpful in directing people to our website. 
Donor contributors can take pride in doing their part in maintaining these historical sites for posterity.
Our Story
I have a long history of artistic endeavors since my early youth, beginning with custom car pin-striping and sign painting. I received a national scholarship from the Rotary Club to attend Chouinards Art Institute in Los Angeles, California. 
Later I pursued a career in law enforcement, proceeding through the ranks. I'm a graduate of the 93rd session of the FBI National Academy, ending my career as Chief of Police after 20 years of service. 
On a holiday visit to Angkor Wat in Cambodia, I became enchanted with the ancient Khmer civilizations stone carvings and architectural masterpieces. The style and grace of their sculptures inspired the artist in me.
After more than a decade of sculpting Buddhas and seeing the desecration and looting of these spiritual sanctuaries while conducting anthropological tours, I decided to recreate those sculptures through the medium of Kakemono style scrolling posters. 
All of my Kakemono scrolling posters are born from my original hand-carved sculptures. Antique, Colorful and Calligraphy styles all capture the spiritual and meditative qualities of Asia.
Khmer Road Sculpture was partly formed in order to bring attention to the plight of these World Heritage historical Khmer stone masterpieces. I believed that by replicating these iconic Buddha images in the Kakemono art form, I could bring some worldwide awareness to the problem. 
Kakemono Scrolling Posters Impact
Ever-increasing numbers of people are turning to a more meditative and spiritual lifestyle. Yoga, natural foods, organic farming and herbal cures are all more generally accepted. This is particularly true of the millennial generation. 
Buddha has become a symbol for spirituality. His calm, peaceful presence can assist in creating a meditative state. Meditaters worldwide can now enhance their sanctums with this inspiring wall art. Decorate your home, office or secluded place that you retreat to after a difficult day with these artful treasures.
Meet the Khmer Road Sculpture Team