DOORWING Door Lock and Finger Guard | Finally, a portable door-proofing lock, keeps your pets, babies & toddlers safe, damage-free doors.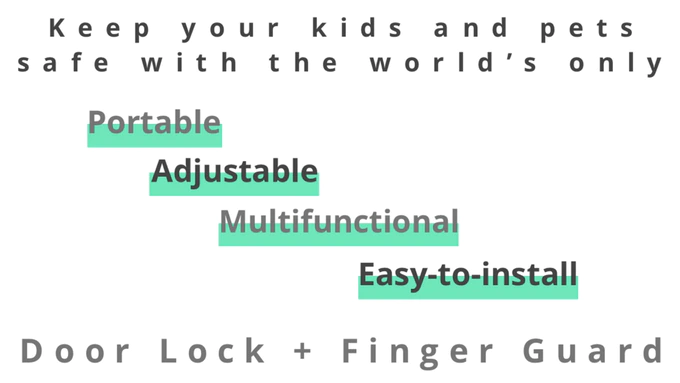 Let's play it safe…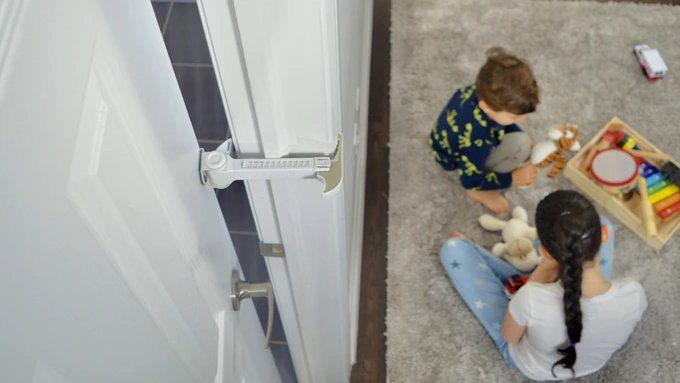 Stay out of my litter box!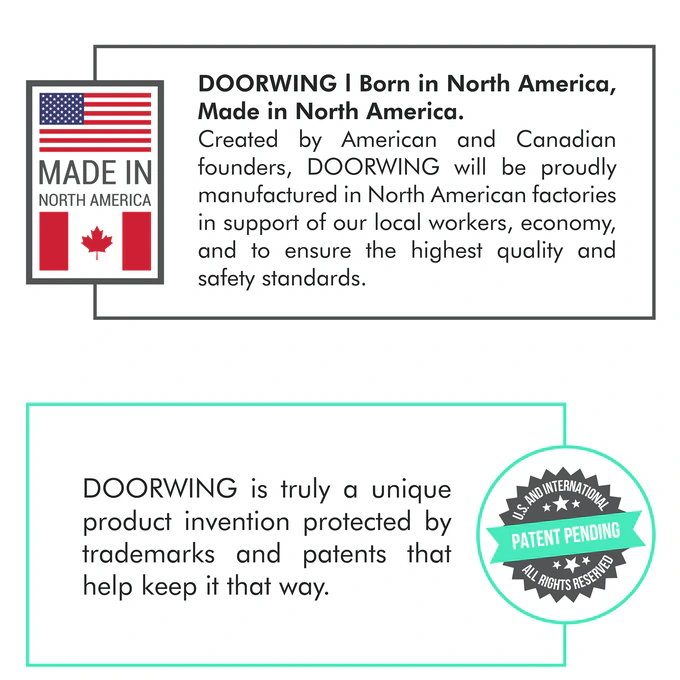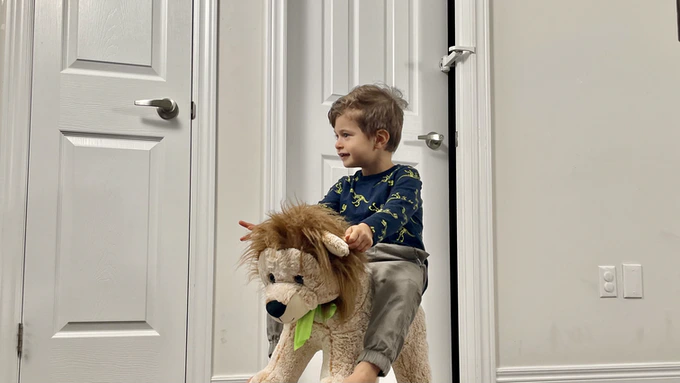 DON'T SLAM THE….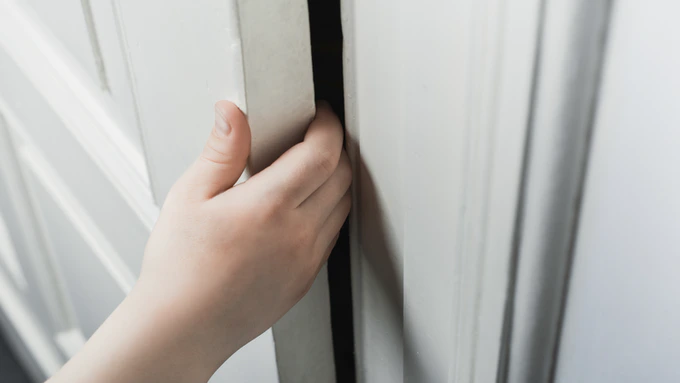 Door injuries are definitely a big concern for parents.Ouch! Each year in the US, nearly 300,000 children are rushed to hospital due to door injury incidents. Door injuries result in about 15,000 finger amputations every year. (Data – National Security Council).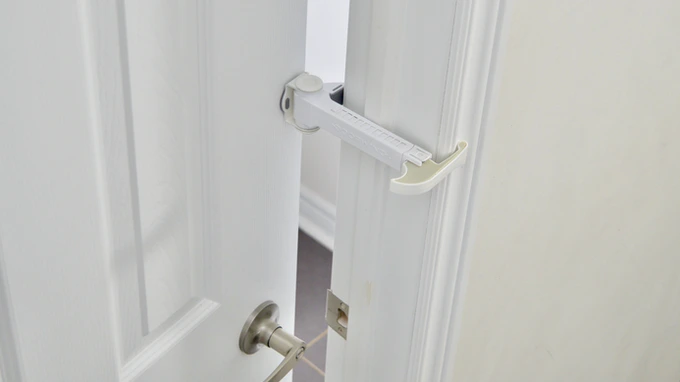 DOORWING locks the door automatically upon door closure in a slightly open position (the opening is about 1.5 inches) to ensure hand safety, free airflow, and proper ventilation. 
Lock it up!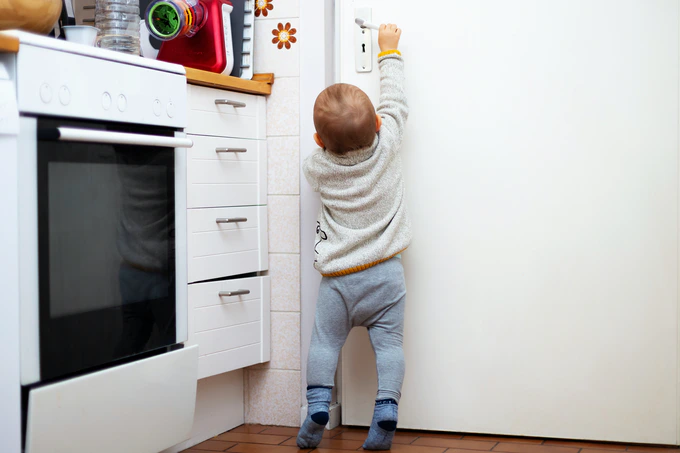 Parents often store cleaning products, medications, adhesives, soaps and other harmful chemicals in pantries and closets.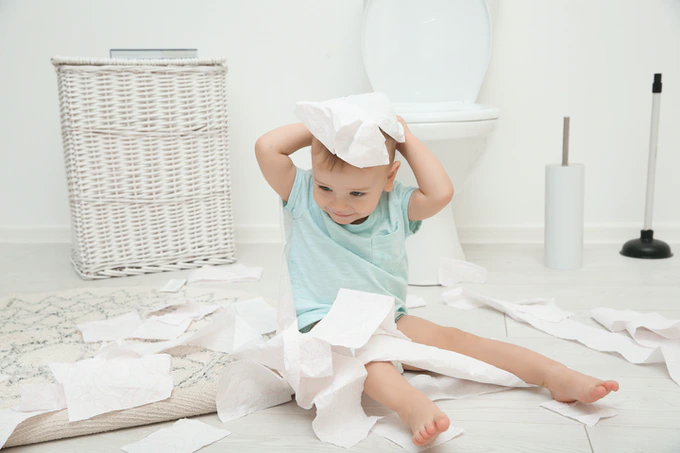 Bathrooms typically contain many dangers, like toilet and tub hazards, hot water, sharp objects (razors and scissors), and toxic substances (soaps, air fresheners, cosmetics, medications).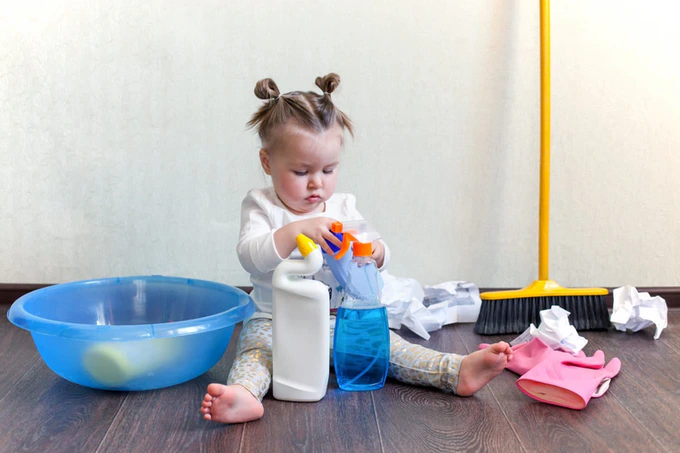 Babies, toddlers and pets are super cute and also super curious! Those little hands (and paws) just want to touch everything they see, and exploring new territories is always a favorite activity.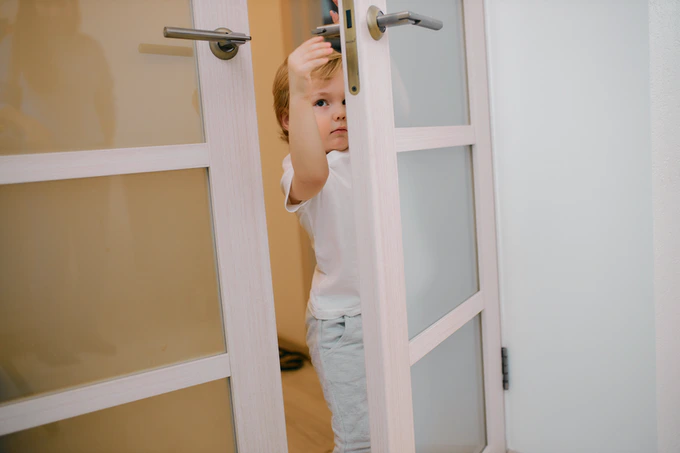 Parents are often busy and overwhelmed with daily routine, and it can be difficult to keep children safe without taking proper measures. DOORWING is a simple and effective solution.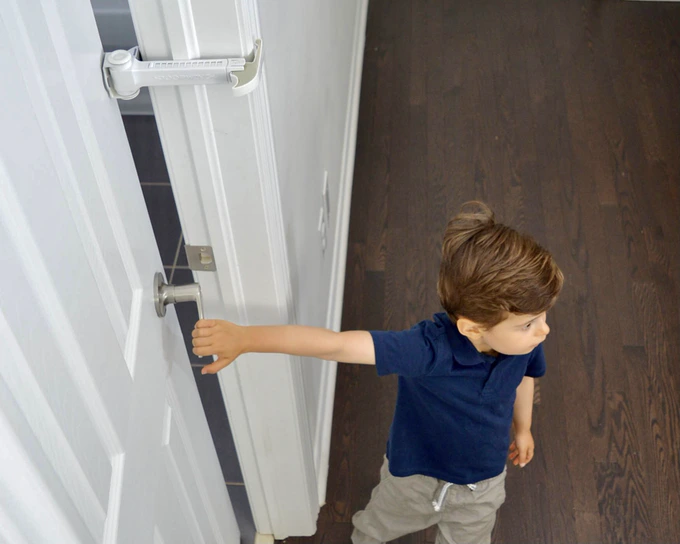 DOORWING locks any interior door and Keeps your kids and pets away from off-limit areas.
Our furry family members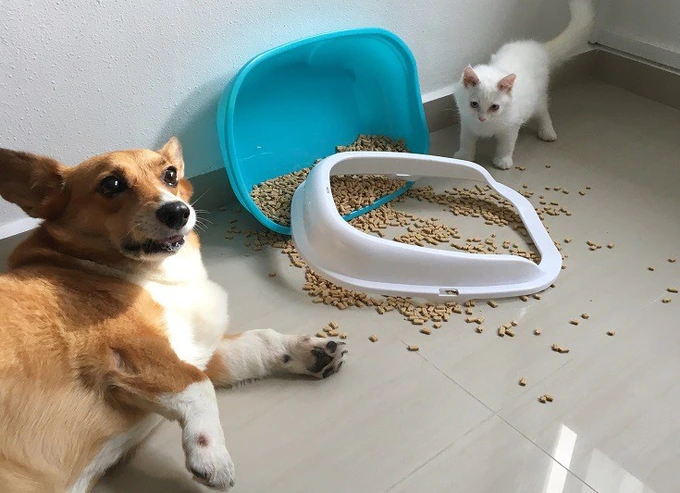 Did you know dogs will often eat cat feces? Yup! It's a gross, yet known canine behavior. It can also be really dangerous! Eating feces carries the potential for the dog to contract harmful pathogens. Some bacteria, like salmonella, can even be transmitted to humans.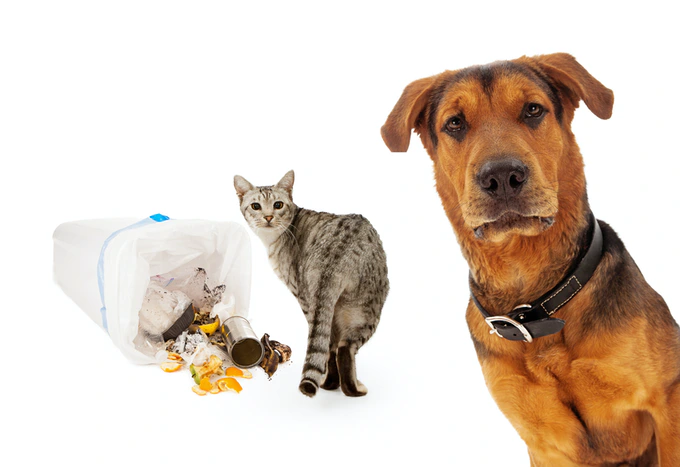 Animal Poison Control Centers in the U.S. received over 140,000 calls related to pet exposures to toxic substances in 2009 and more than 167,000 such calls in 2010. Many of these calls were due to common household products that are likely present in your pet's environment right now.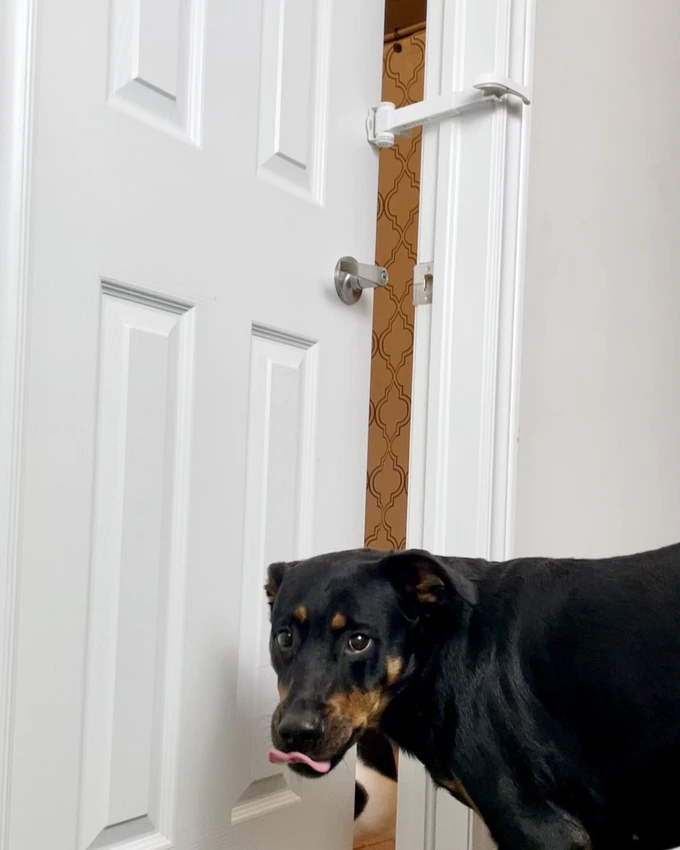 DOORWING to the rescue! Help your pets stay out of trouble.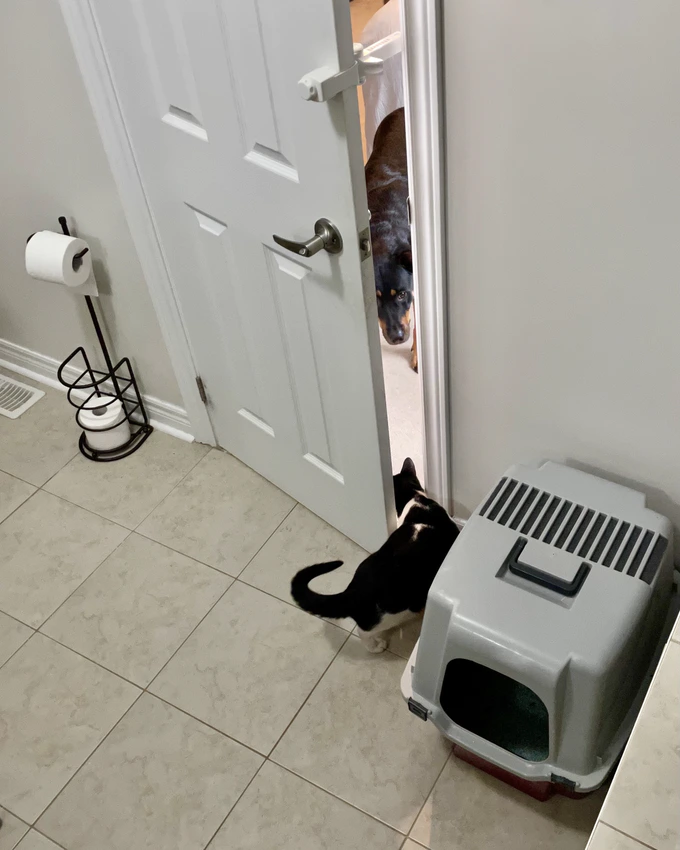 Keep your dogs and kids out of the cat's litter box and food bowl. The size of the opening is adjustable to allow access to cats, while keeping dogs and kids out. The biggest opening size is about 5 inches, which will allow most cats to comfortably fit through.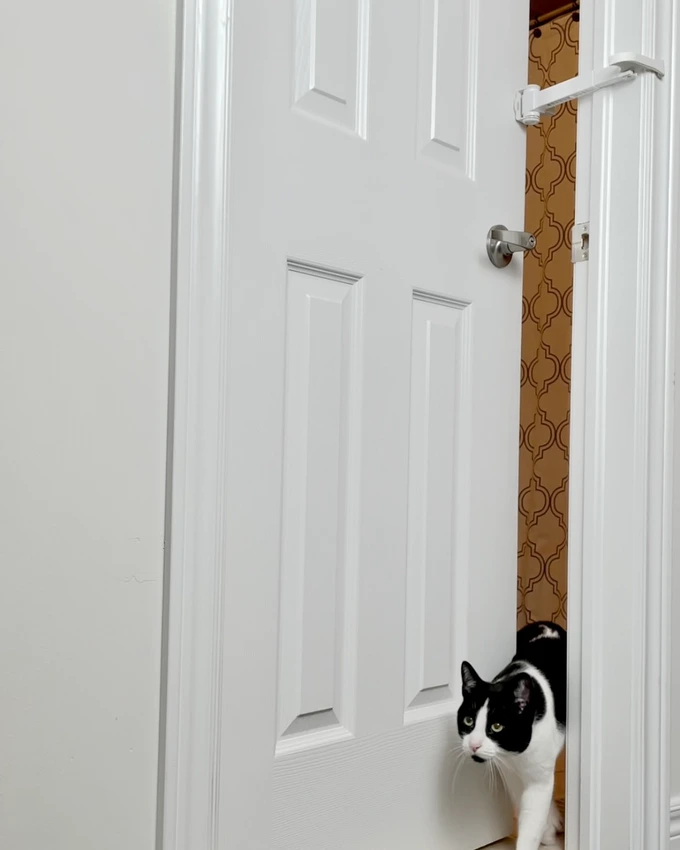 After all, cats deserve some privacy and DOORWING is what every cat is waiting for!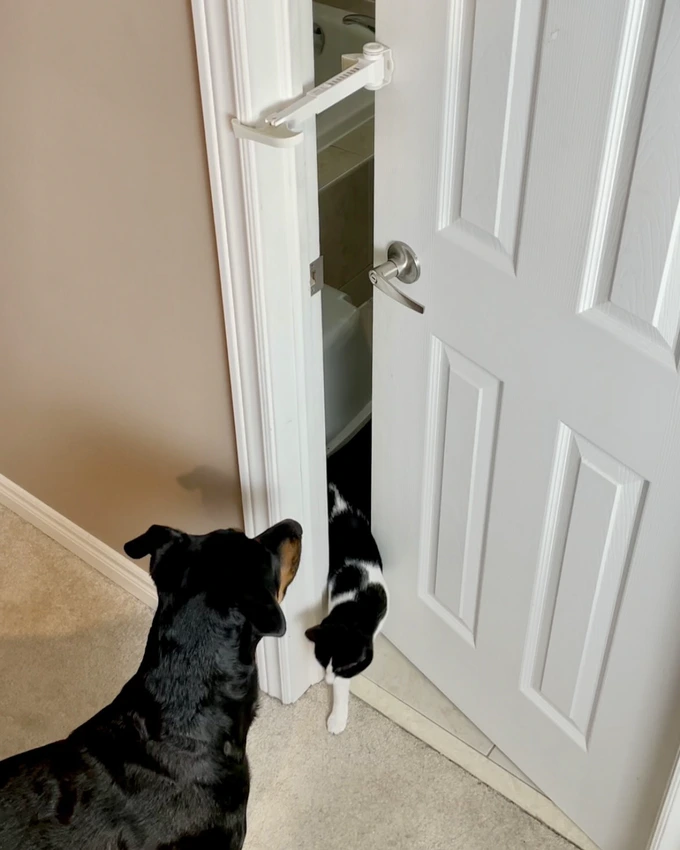 DOORWING is all about damage free doors 
Super easy to install. It takes just seconds.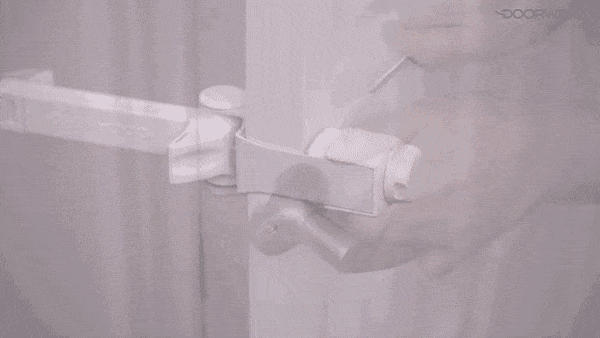 No assembly or tools required. Leave your doors perfectly damage free!
International Adaptability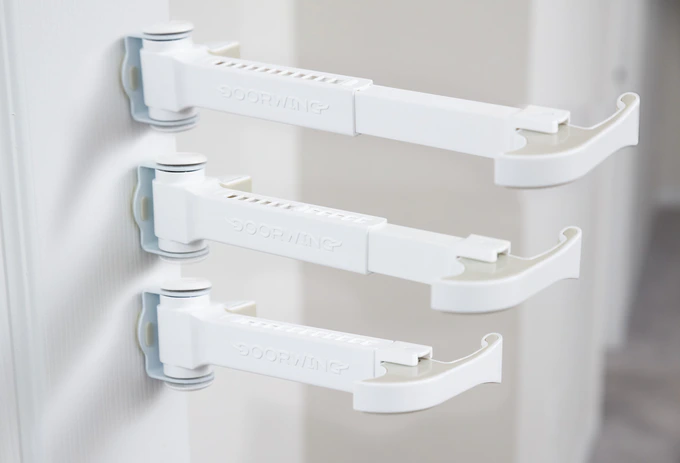 DOORWING adjusts to almost any door and door frame size and thickness.
DOORWING attaches firmly to the door via pressure mounting mechanism, assuring kids and pets will not be able to remove it. The door mount includes soft rubber pads that effectively protect your door's finish from any damage.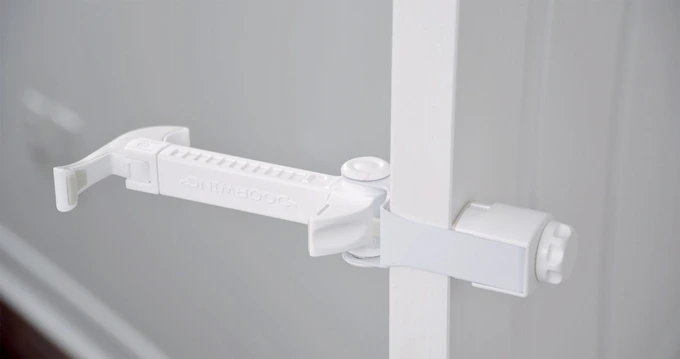 What else?
DOORWING is portable. Take it with you on vacations or to grandma's house.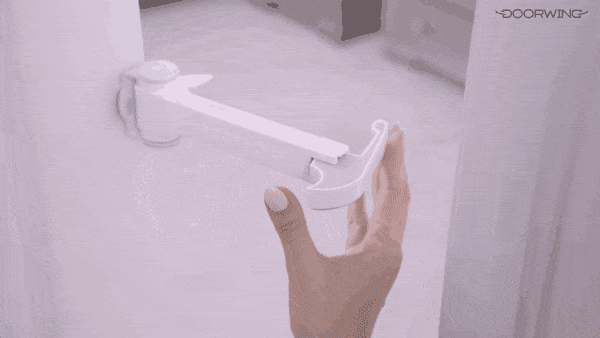 To use DOORWING as a finger guard without locking the door, fold the hook to disable locking mechanism.
Don't worry about bumping into it all the time. Simply fold it against the door and keep it out of your way.
No need to take the device off the door each time you don't need to use it. Just keep it there! You can fully close the door while it's folded away.
DOORWING conveniently unlocks from either side of the door and eliminates the risk of accidental lock-ins, which often happen with other door proofing locks that can only be unlocked from one side.
Older Siblings deserve their freedom and privacy! Install low enough to give them access but high enough to eliminate access to younger siblings and/or pets.
Double doors? No problem.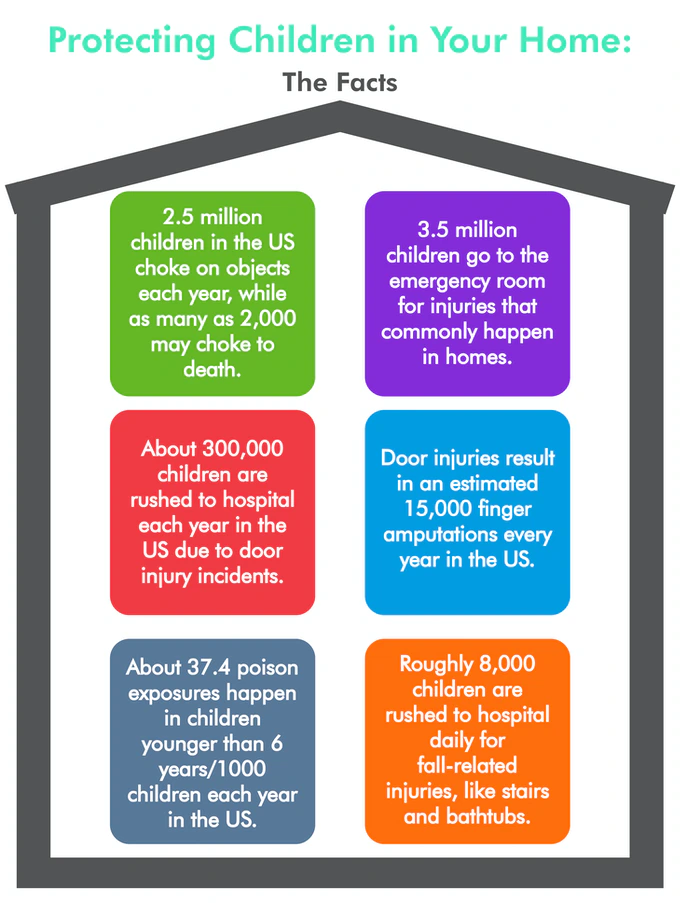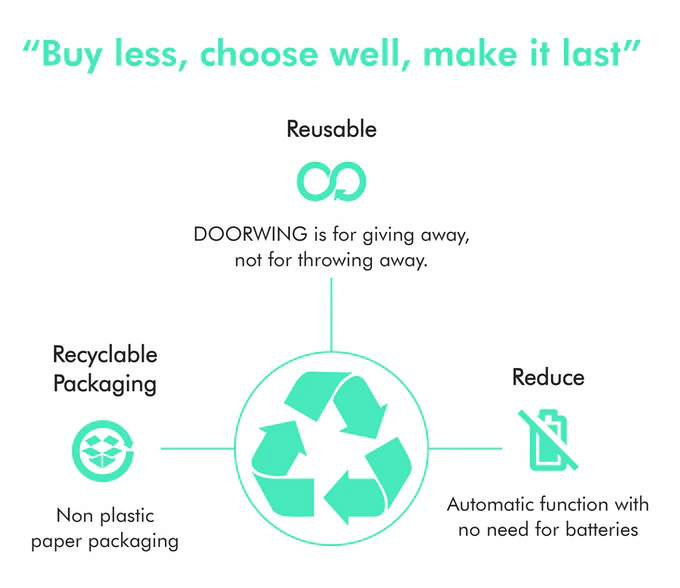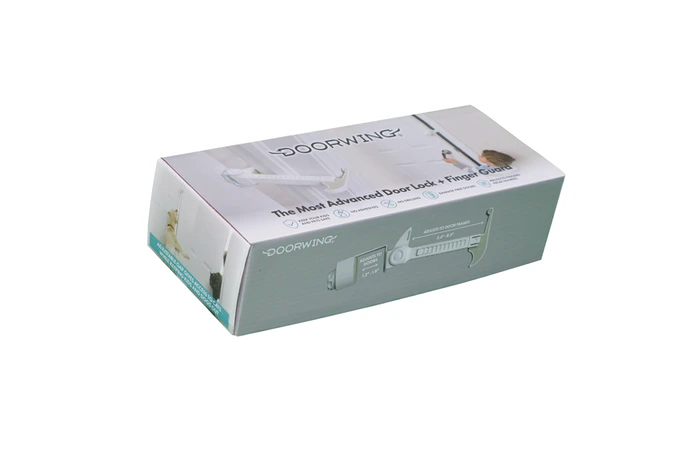 We are currently in the process of making our molds, made of high durability steel to assure long lasting performance. Our molds are designed for North American manufacturing standards.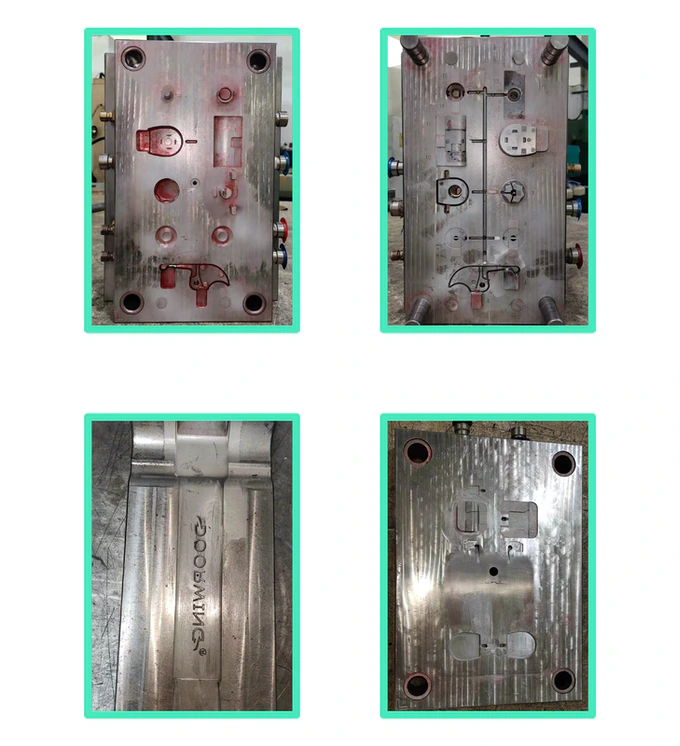 The following deals are unique to Indiegogo backers only, and will not be available after the campaign ends.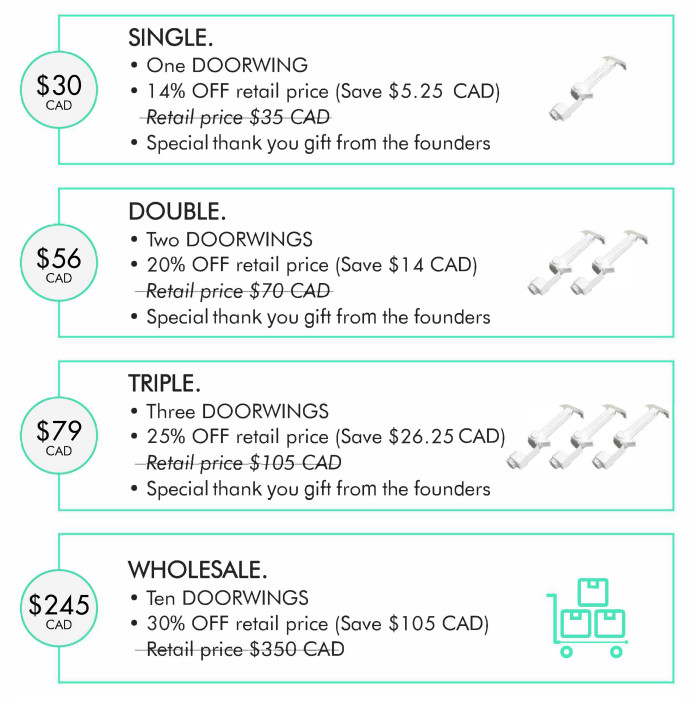 CURRENCY Rewards are described in Canadian dollars. Please, select a reward to convert to your country's currency. 
 WHOLESALE is for Canada and U.S. backers, only.

Currently we are in the process of getting ready for production. Our funding goal is based on the budget we need to complete production successfully and finally bring DOORWING to market. So far we have been self financing this project, but the onset of the global pandemic created many unexpected extra costs and delays. We need your help to bring DOORWING to the finish line.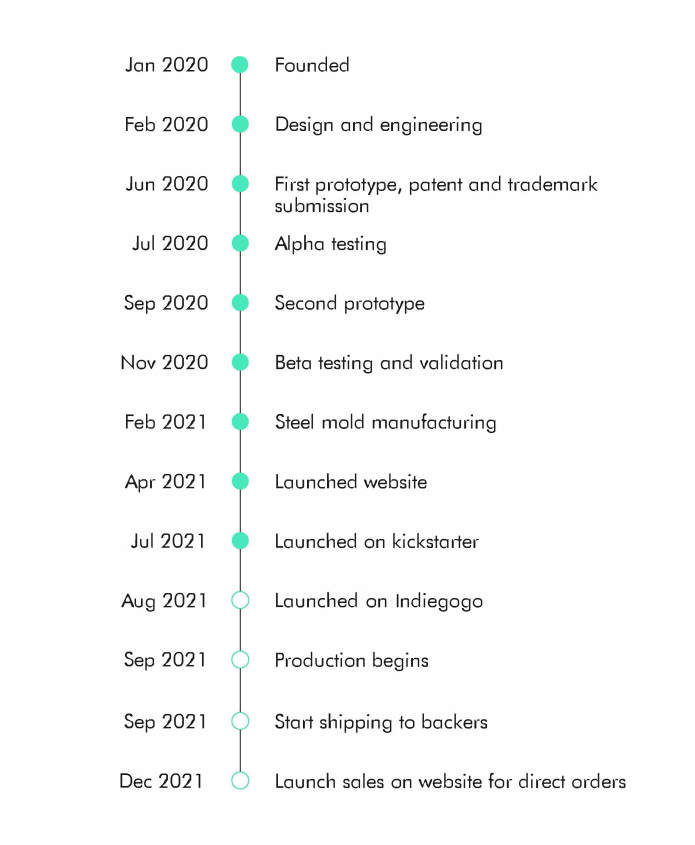 DOORWING will be shipped worldwide from our factory, located in Ontario, Canada.
Shipping will be charged in the pledge manager after the campaign ends. We promise to ship your DOORWING to you for the lowest cost possible. 
Shipping to the US, Canada, EU, UK, Australia and China will be custom friendly, meaning you will not owe any extra customs duties or fees on your order. 
Shipping to all other countries may incur customs fees as required by the destination country. These fees are the backer's responsibility. 

We are Becky and Billy, founders of DOORWING and parents of two beautiful kids, Brielle and Benji. As parents, we worry about every little thing that can put our precious little ones in danger. Ever since our first born started crawling and walking, every corner and inch at home seemed so dangerous and that's when it all started- the world of babyproofing EVERYTHING! 
Once our little ones learned how to open doors (10 months of age in our case) we had to babyproof all our doors, too. But there was a problem. We could not find any child safety door locks that did not require any permanent attachment to the doors, whether by drilling or adhesives, which leave doors damaged after removal. Realizing what a hassle it would be, we decided to create our own solution. And that is how our journey with  DOORWING began. 
When we introduced DOORWING to our friends and family, the feedback we received was amazing and we then realized that pet owners also seemed interested in the idea to keep their pets in safe areas at home, something we initially did not even think of.  
Over the past year we have been working extra hard to make sure every little design detail is perfect, every aspect of quality and functionality to create that one perfect solution – and we are finally ready to introduce it to the world.  
We hope to help as many people as possible make their homes safer for their kids and pets, and to make their lives a little bit easier. Parents have so much to worry about, especially nowadays, we can't wait to make DOORWING available to all.



Help us spread the word and make this project a success by joining our Kickbooster affiliate program and earn 25% commission. Click to learn more.


We sincerely appreciate our backer's support and trust in our project. We aim to deliver a perfect product to them as soon as we can. We are so excited about this project and thank everyone who helped us bring DOORWING to market. Our amazing backers will always be remembered as DOORWING's first ever users and supporters. 
Environmental commitments
Long-lasting design
When designing DOORWING, durability and quality was our time priority to make sure it lasts for many years and can be used for several children.
Reusability and recyclability
DOORWING is primarily made of white ABS plastic which is recyclable. Packaging is entirely made of carton board, including internal inserts, which are also recyclable. DOORWING was carefully designed to be assembled in the most simplistic way, using absolutely no glues or screws.
Environmentally friendly factories
DOORWING will be manufactured in trusted factories in the US and Canada that strongly stand by socially and environmentally friendly manufacturing processes, and highest levels of safety practices. Our Factories do not use any dangerous substances that may jeopardize the health of factory workers or the environment. In addition, our factories unitizes energy efficient systems as well as water efficient systems, heavily control waste production, and emissions output to minimal levels. Our factories are equipped with newer machinery that is designed to be more energy efficient and reduce production time. Lastly, our factories make sure to recycle materials to the best of their abilities.