Drink FixU to feel great | Fixu Drink will help you avoid a rough morning after a fun evening
Overview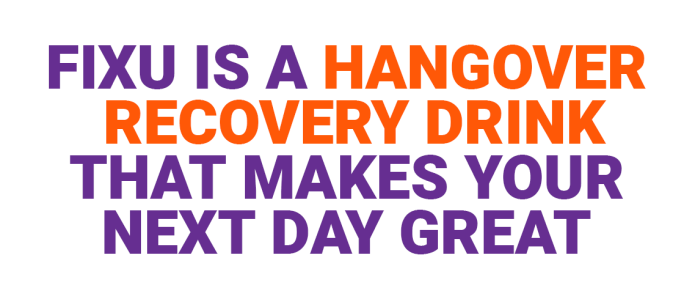 Ever regretted the fun night out? Not anymore!
FixU Hangover Recovery Drink is made from natural ingredients to cure the symptoms of a hangover. Join our campaign and let's make the morning afters better than ever!

Here are some comments from our customers before and during our Indiegogo campaign!
"FixU Drink is a lifesaver! I'm in love with this FixU Drink <3"
– Elisa K.
"I woke up in the morning without a horrible hangover and cleaned the whole kitchen while everyone was in sleep."
-Minna V.
"This product really works! We had two day party with a bunch of friends and all of us agreed. God damn!"
– Petri T.
 
"It makes you feel like a superstar again. It is like an extra power source of human being."
-Sami S.
"Traditional salesman's mornings are history."
– Antti K.
"I'm not sure how it works but when I went to sleep I thought I would die tomorrow. In the morning I was really confused because I wasn't in bed trying to die and hoping that the world would come to its end. WTF!"
-Tuomas P.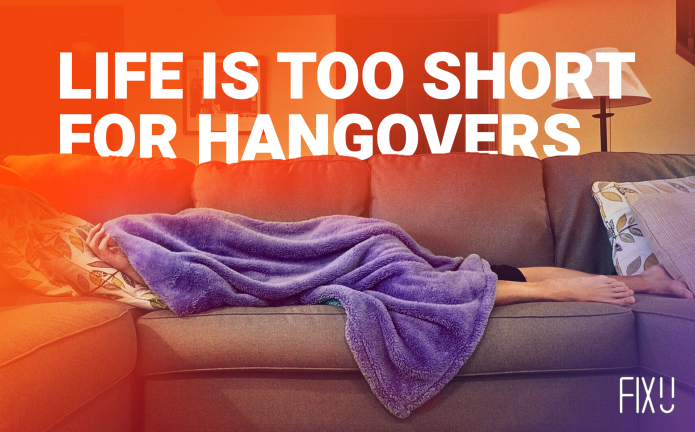 FixU Drink is a pinnacle of over 20 months of research and development. We have formulated the world's most effective hangover recovery drink and are ready to start global production. We have already produced FixU for our local market in the Nordic countries but in order to take on the global market, we need your help. This is another revolutionary superfood from the Nordics.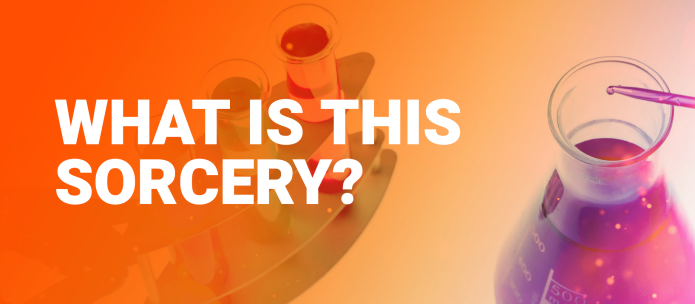 FixU Drink is not a magic potion, though it works like one. It's a dietary supplement containing wonderful nutrients. FixU Drink is a widely studied, high-quality functional drink with a nice taste that fixes the harmful effects of alcohol in the body, keeping hangover at bay. All of the ingredients in the drink are natural and benefit the general well-being of the body.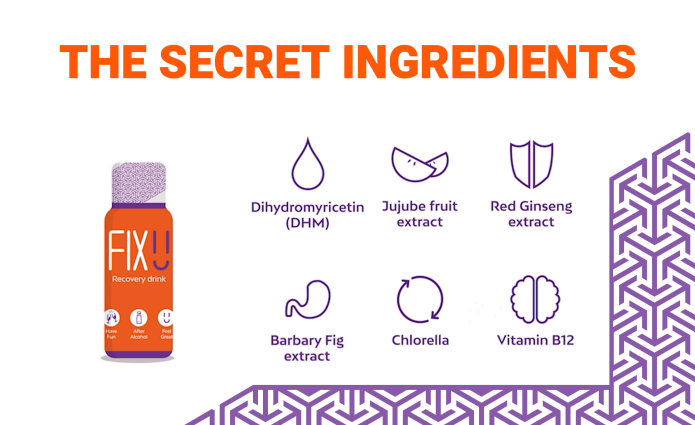 The revolutionary ingredient in FixU is Dihydromyricetin (DHM).
DHM for short is a plant-based compound extracted from the Japanese raisin tree (Hovenia Dulcis). DHM has been known in Asia for a long time, especially in the medicine traditions of Japan and China, and in the West, it has been studied only since the 1980s. DHM has many uses, one of the most important, is the prevention of the symptoms of alcohol poisoning and alcohol withdrawal.
All FixU´s natural ingredients are backed up with reseach and clinical data.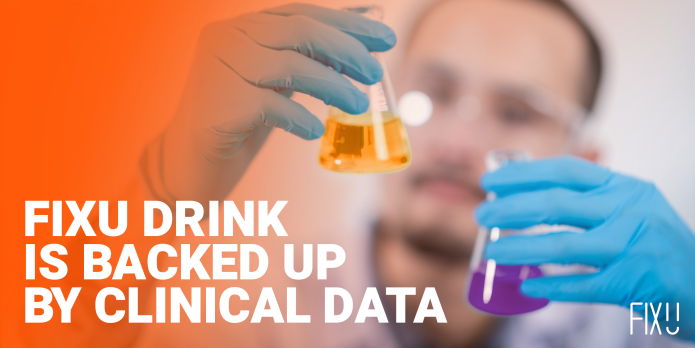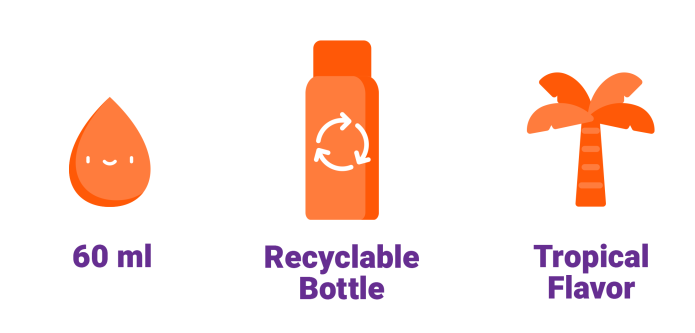 FixU is compact and easy to drink, it´s environment friendly and tastes great with tropical flavor. FixU is lactose-free, gluten-free, vegan, nut-free and there´s no added sugar.


It's very, very easy. All you have to do is remember to drink FixU before going to sleep. The effects kick in while you sleep, and you'll wake up without the usual pains in the morning. Then just go do whatever you wanted to do. 
No more cancelled plans because of han​gover!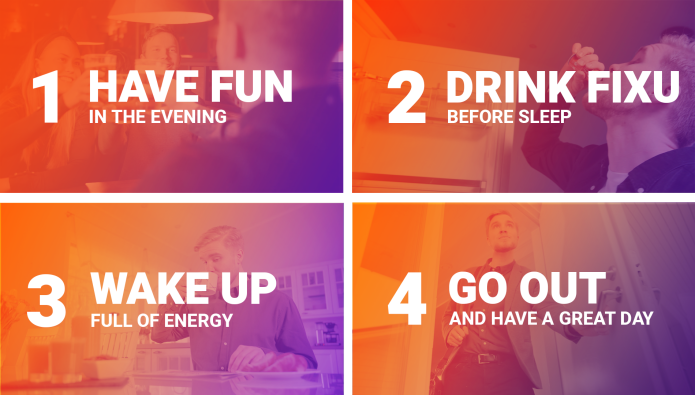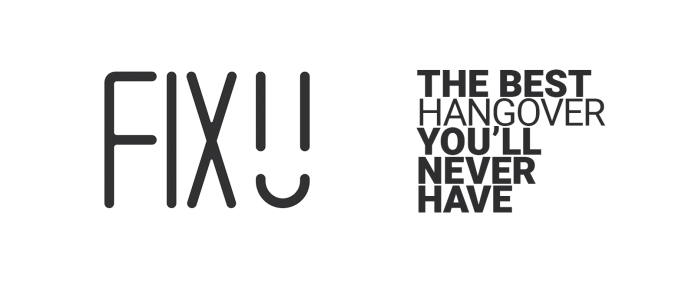 FixU is for you if you:
Like to relax sometimes and break away from everyday worries, say by having a beer (or two) on the weekend.
Are active and want to look after your health.
Enjoy wine tasting, special beer brews, and rare whiskey brands.
Need a little encouragement when spending an evening with your organization, workplace, or group of friends.
Then FixU might be just the thing you´ve been looking for.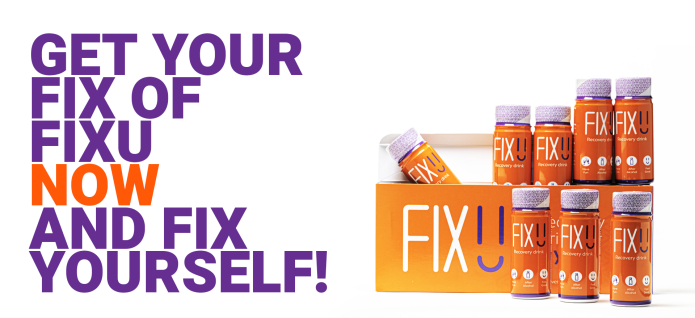 FixU is already available! Now we´re going global. This is where we need you!
We promise that if you get on board with us, you´ll get your batch before the end of august 2020, even faster depending where you are located. 
FixU Drink has shown its effectiveness in the Nordics. We have gotten tremendous positive feedback from our customers of all ages. Our bottleneck (pun intended) at this moment is our capacity to produce sizable quantities of FixU for global sales and this campaign will Fix (pun intended) this problem for FixU.  We have a ready product, we have our global logistic channels already set up, all we need is funding to start mass-scale production in a pharmaceutical factory in Austria.
Our goal is a total of 25.000 US$ to start mass-scale production of FixU!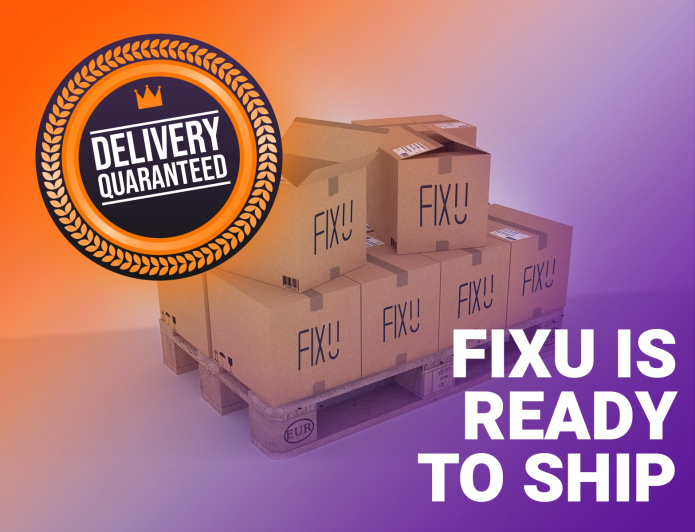 We have divided our Perks into the following quantities:

1 x 7-pack. Easy way to get a hold of the most potent anti-hangover drink in the market.

5 x 7-pack + FixU gear. So why not take advantage of our discount of five (5) seven-packs, totalling 35 bottles of FixU for a nice price of 129 us$. We will also give you a limited edition FixU t-shirt, baseball cap, or a beanie cap (your choice).

25 x 7-pack + lot of FixU gear + Lifetime VIP membership. You might want to buy a wholesale package of twentyfive (25) seven packs, totalling 175 bottles of FixU for a steal at 599 us$. But that's not all, we will give you a limited edition FixU t-shirt, and a baseball cap, and a beanie. We top this deal with a lifetime VIP-status which ensure that you will buy everything, and we really mean everything, we ever come up with at a -20% discount. And believe me, we will roll out more remarkable modern health products designed for your needs in the following months and years to come. We are limiting this perk to a maximum 50 backers.



Help us spread the word, we can't do this without your support!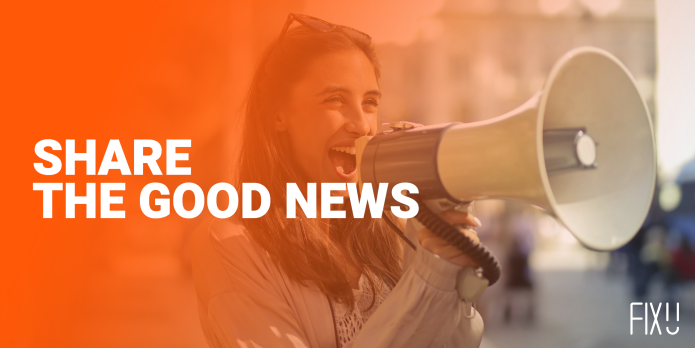 We would appreciate your help in the following ways as well: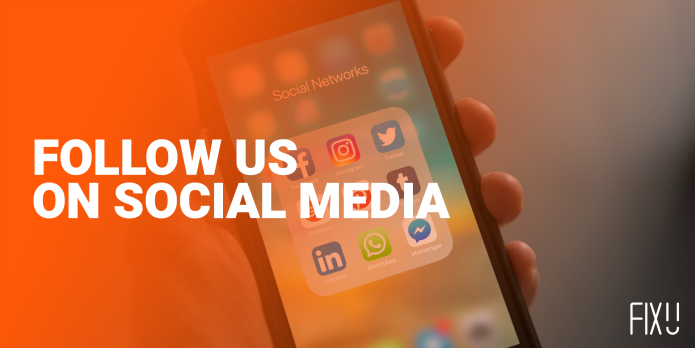 If you are a blogger, vlogger or an influencer, we are always happy to collaborate with you, so please don't hesitate to contact us. If you have contacts to retailers such as convenience stores, pharmacies, online stores, health stores, restaurants, bars, etc. we would be very interested in talking about distribution. Please contact me at [email protected]


We are a health startup from the Nordics, Finland. Our passion is to help people enjoy life more fully. We have always dreamed that someday we could help people all over the world with scientifically proven, natural products.