Drinkie: Your pet's self-cleaning water dispenser | Clean your pet's water dish 100% remotely and hassle-free. Smart app. BPA-free materials.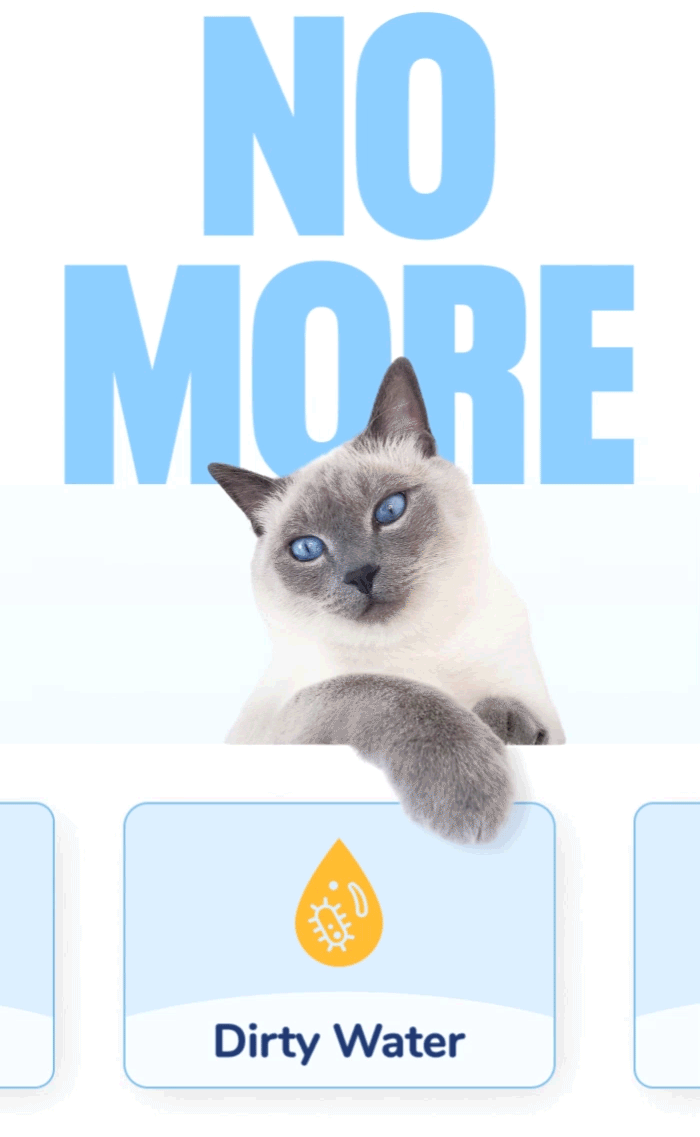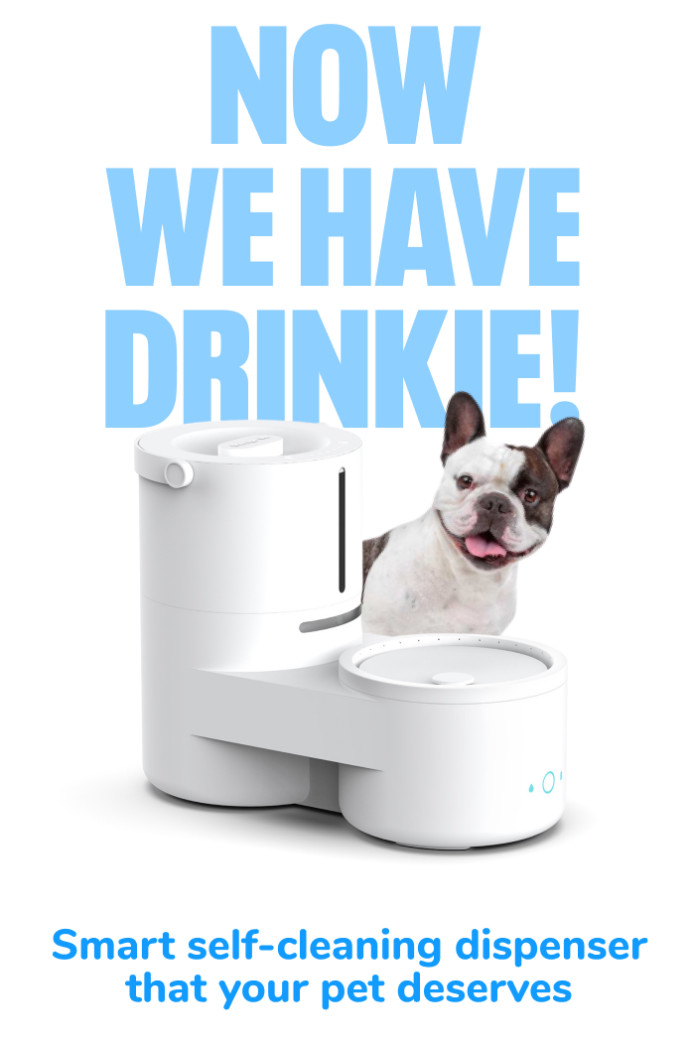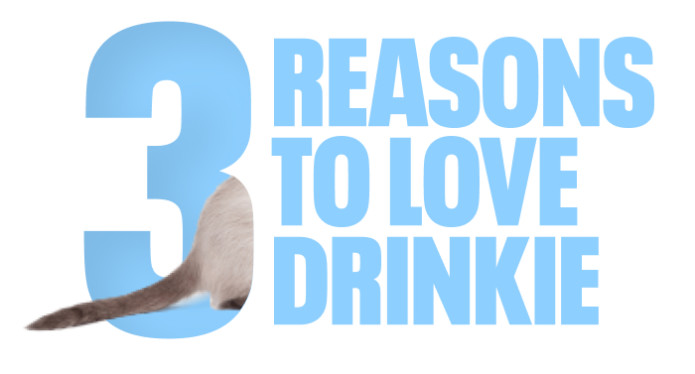 That feeling of guilt for not cleaning your pet's water dish…
No more! With Drinkie you have an invisible hand that automatically cleans your pet's dish while you're away. Featuring a patent-pending Pulse System, the Drinkie dispenser rinses your pet's dish as many times as you set by the smart app! 
This means zero health risks for your fluffball, and absolutely no hassle for you.

Traditional fountains actually suck.
On the one paw, their filters become a source of secondary pollution over time as impurities, dust, food, fur, hair, etc. accumulate there. And on the other paw, you have to replace those filters all the time.
But Drinkie keeps your pet's water cleaner than any filters. This dispenser needs no filters at all! It belongs to a new generation of dispensers, which deliver clean water to your pet's dish right from the fresh water tank! Stray whiskers, food particles, and germs simply have no way to get into your fluffy's dish, as they are rinsed away into a separate airtight waste water tank.
No extra expenses for you and even cleaner water for your fluffball!
And if you're worried about hard water, we've got your back.
You can either use filtered water in the clean water tank or choose our special filters available as add-ons, which serve ONLY for softening hard water.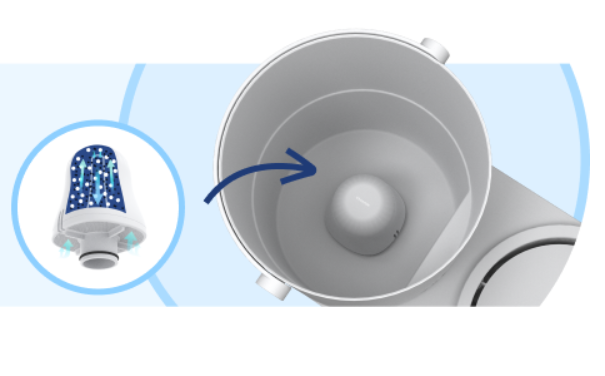 Unlike traditional filters that purify dirty water, these filters are placed independently in the fresh water tank and DON'T participate in the dirty water cycle.
The purpose of this filter is first of all to take care of your pet's health, not to protect Drinkie from the scale. Many ingredients in hard water—especially calcium ions can cause urinary system diseases (kidney stones, urethral stones, etc.) and other severe problems in your pets. But with Drinkie's filter, you can easily soften the water and turn it into a healthy liquid for your pet.
Here's why this filter is ideal for hard water:
Easy to set up: Easily insert the filter in the fresh water tank and press firmly
Ideal for better water quality: Made of ion exchange resin, the filter displaces heavy metal ion, the filter effectively softens hard water, and protects against contamination by limescale
Natural materials:  Made from natural coconut shells, the filter is 100% safe and healthy for your pet
Smart replacing notification: Unlike other dispensers, Drinkie shows its filter's status on the app and sends you a  notification when it's time to replace it. Generally, the filter can be used for about 4-8 weeks.
NOTE: If you don't have a hard water problem, you don't need to use this filter.
 

To stay healthy, your pet needs to drink a cup of fresh water (0.8 oz/lb) daily.
With 106 oz (3 Liters) fresh water storage and 35 oz (1 Liter) waste water storage, you can trust Drinkie to provide sufficient water to your pet for up to 5 days! Go on a vacation, stay late at work or go on a trip without worrying your fur friend's water will end too soon. 
The smart app will always notify you when the water in the dispenser is about to finish.
 

How much do you trust your roommate or housesitter to refill your pet's water tank?
With Drinkie's intuitive app, you can do that yourself, with only a few clicks.
 

There's even more to this…
Monitor your pet's drinking habits (water consumption, drinking times)
Set rinsing mode
– Schedule mode (set how often and exactly what time Drinkie should rinse the dish, e.g. 2x per day, one at 8:00 am, the other at 7:00pm)
– Intelligent Mode (Set the frequency of rinsing, Drinkie will self-clean and refill fresh water for your pet intelligently)
Check power and battery status
Check the status of the equipment (online/offline)
Share your pet's information with your families and friends within the app
One more thing: Without the smart app setup and WiFi Drinkie will function just as a regular dispenser, refilling the water in the dish throughout the day. But once you use the smart app and set the rinsing time, it will turn into a smart dispenser, cleaning your pet's dish as many times as you set.
In fact, Drinkie will continue to loyally do its job even if you have no WiFi connection or your phone is broken unless you change its settings.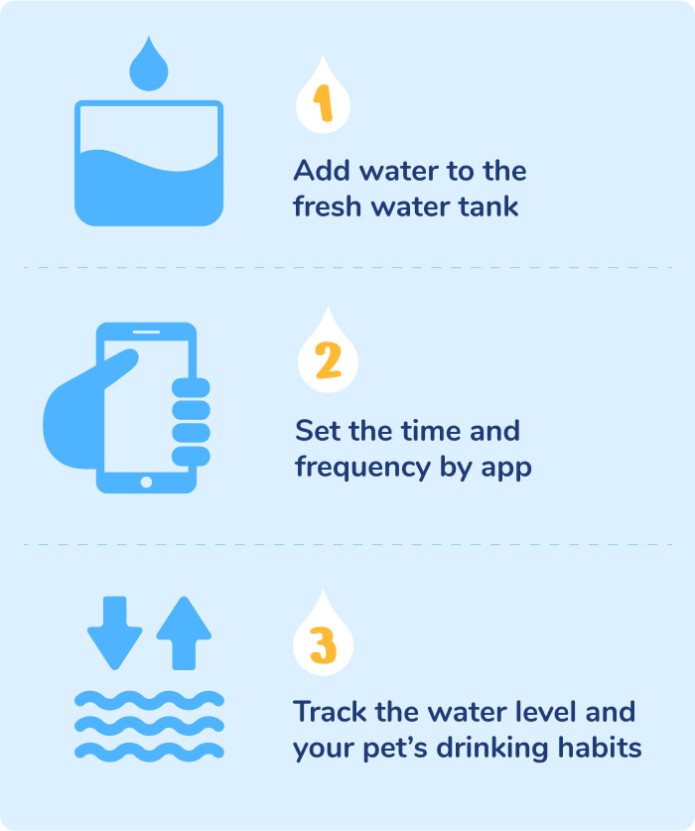 No worries about Drinkie's materials! 
Drinkie is made from the same materials used for kids, specifically SMMA, SAN, PP, and silicone. These 100% pet-safe, BPA-free, reliable and recyclable materials are scratch-resistant, durable, and made to serve water to your pets safely for years!
But there's even more to this! 
Unlike other dispensers and fountains, Drinkie doesn't use any chemicals or UV light to clean the dish, making it absolutely safe for your pet.
Drinkie also has no static electricity build-up, no way to break inside or disconnect the power. Your child—human or not—simply has no way to get hurt, even if they try too hard.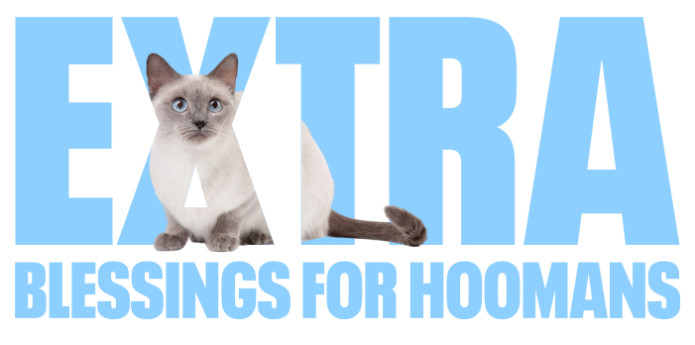 Drinkie will keep your fluffy's dish always full.
Simply fill the fresh water tank with water and the dispenser will top up the dish throughout the day once only 4/5 water is left inside.
The fluffy won't be left thirsty at night either: Drinkie will continue to passively replenish the dish once only 1/5 water is left.
Drinkie also ensures your fluffy never gets scared while drinking: The dispenser will replenish the dish fast only when its sensors detect your pet isn't around. And if they're near, it will slow down the speed of water replenishment for them to enjoy their drink.
 

With Drinkie you can save lots of time on washing your pet's water dish. 
Because it's automatically cleaning the dish every day, the only time you have to wash the containers and the dish yourself is when the water in the fresh water tank is over. Meaning about once every 5 days instead of several times a day.
Whenever it's time to refill, just take out the tanks and the dish, hand wash them with water under 60°C degrees and fill the fresh water tank again. As simple as that.

With Drinkie, power cuts won't get in the way of your pet's water supply.
Drinkie works both with backup batteries and electricity. If the electricity suddenly goes out, don't worry: the rechargeable batteries can supply power to the dispenser for up to a week, ensuring your pet never stays thirsty. Emergencies are no longer a problem, especially when you're away!
In fact, Drinkie comes with 2 plug versions—US and international. The first one is a US standard plug, while the international version is a cable that can be detached and reattached to UK/EU/AU standard plugs.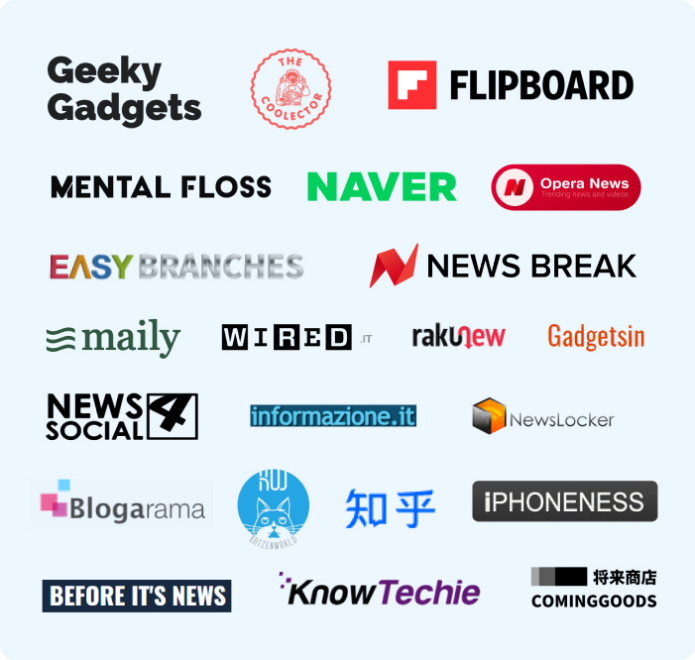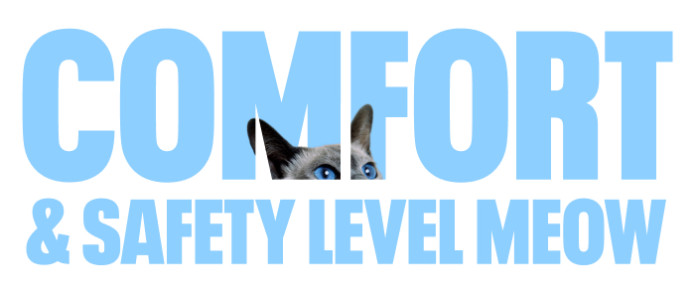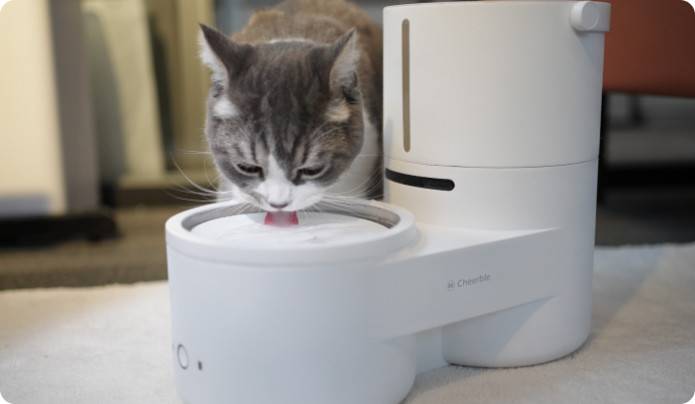 Forget about rejected bowls and dehydrated fluffies!
Drinkie is designed with your pet's comfort and physiology in mind. With its shallow, whisker-friendly dish and the perfect height, your pet will love coming back to it again and again.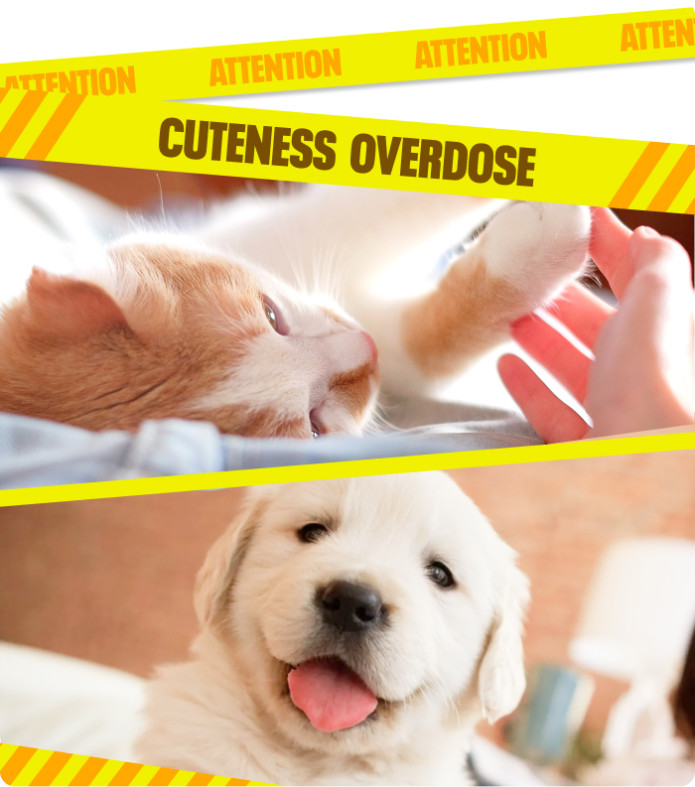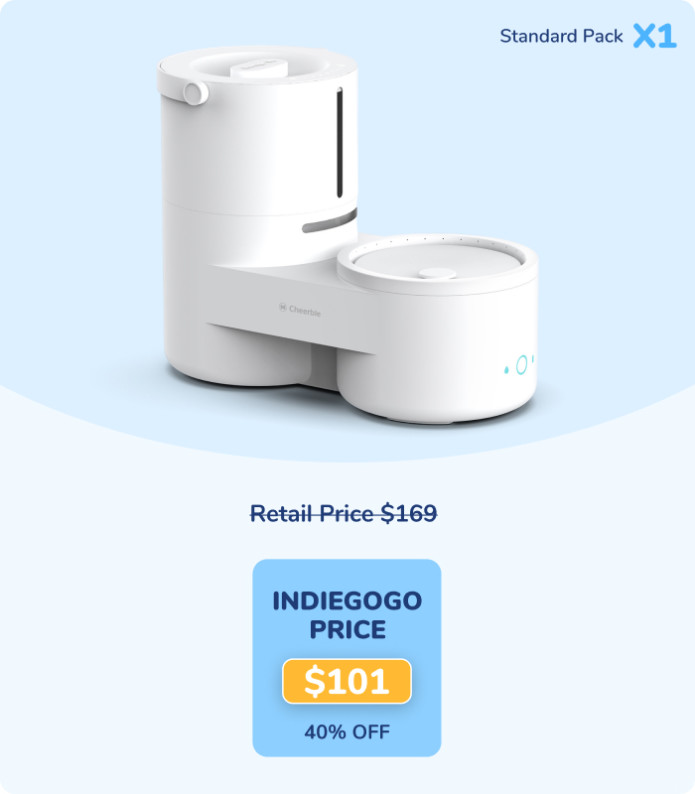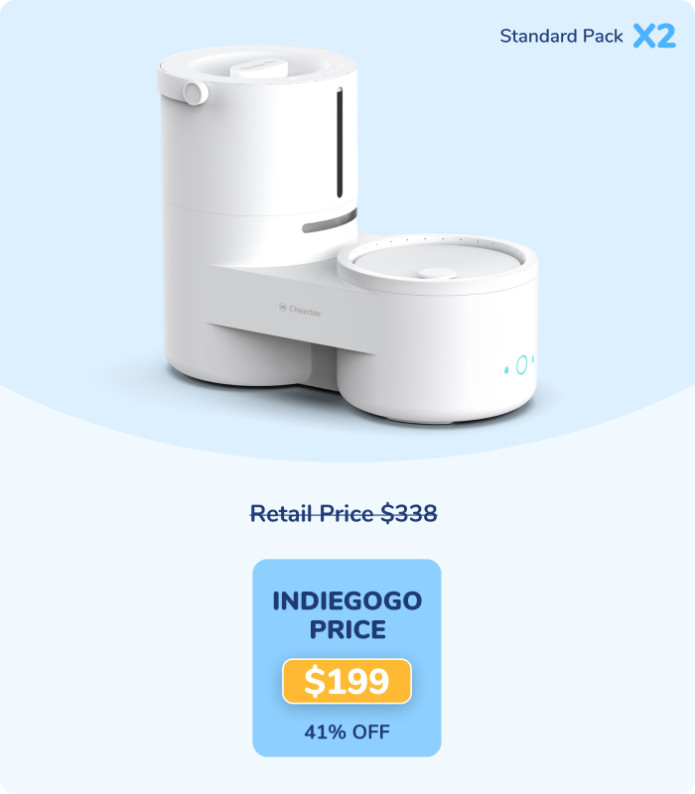 *Please note that when backing Drinkie and its add-ons you won't be charged the shipping fee on Indiegogo. We'll request you to pay it prior to the product shipping and you'll be charged later via fulfillment survey.
If you backed Drinkie during the 1st week of the campaign when the shipping destinations were limited, don't worry. Now that we have worldwide shipping, you'll be able to add your destination in the final survey.
Check out the shipping chart below to learn more about the shipping fee for 1X and 2X units for your country or region.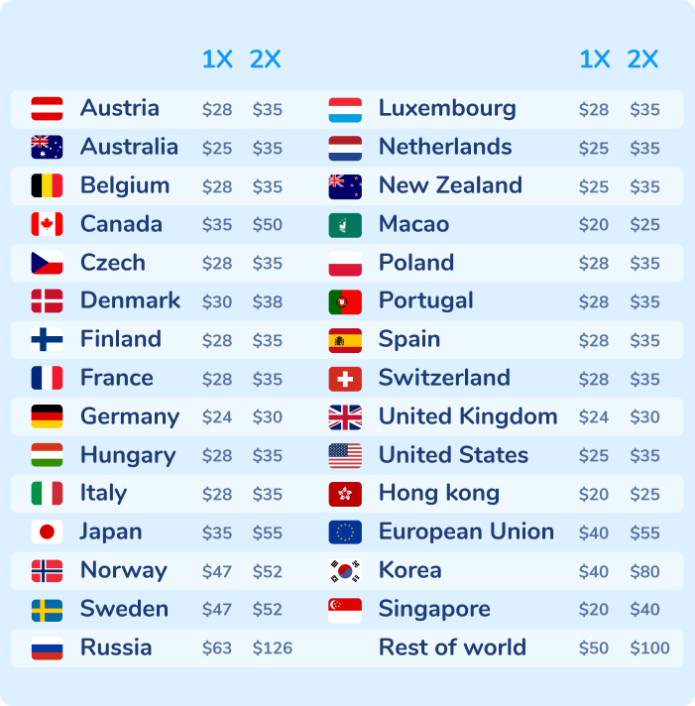 As for the shipping fees of our add-ons, the filters, 1-year extra warranty, and the Club Card come with free shipping.
For all the other add-ons, the shipping fee will be $3.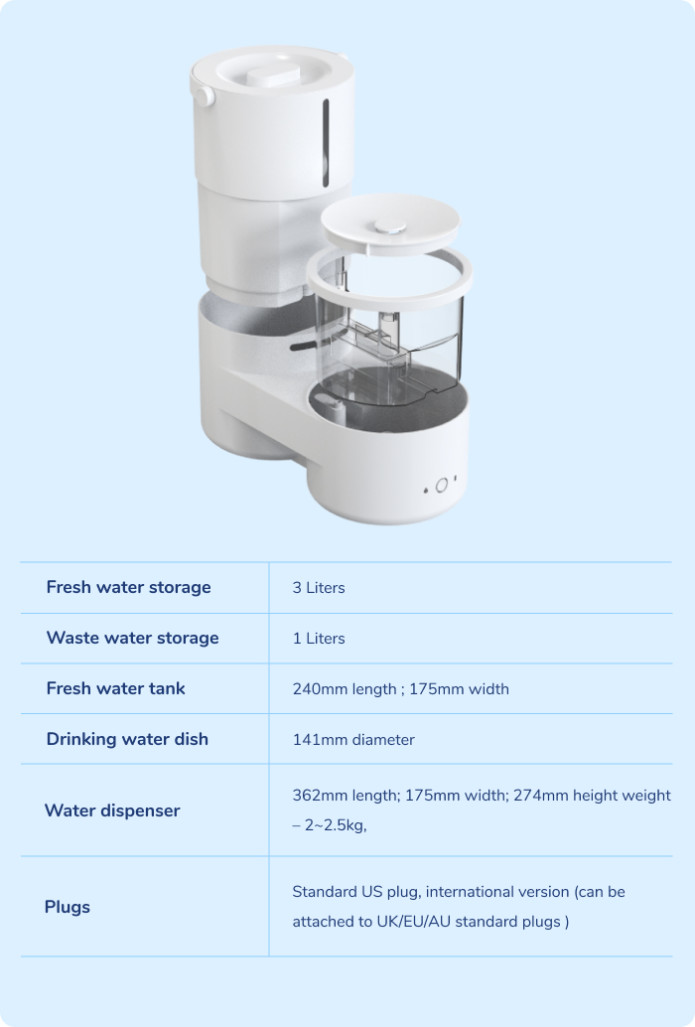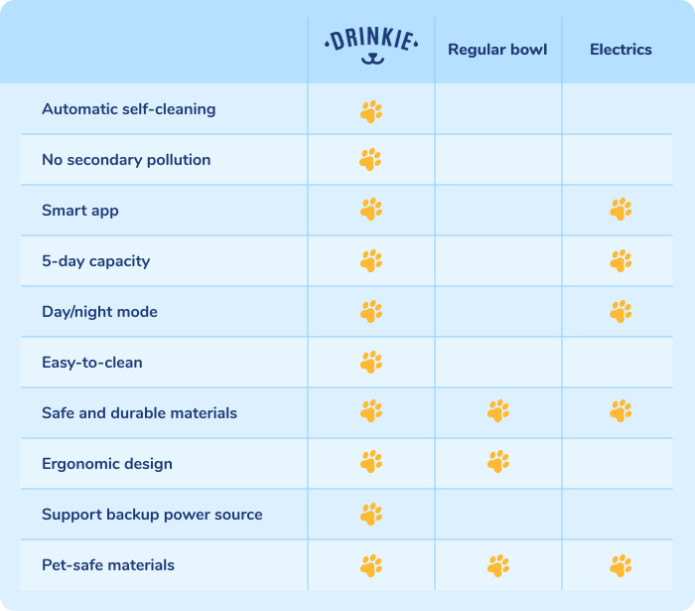 We spent tireless months enjoying the process of bringing Drinkie by Cheerble to life. Now the development of the product is almost complete.
Currently, we are finally done with the structural design and the adjustments on Drinkie's appearance design. Now it looks simply pawesome!
Also, we are communicating with the mold supplier about the details of the final mold tooling, and conducting a noteworthy test in the subsequent assembly.
 

The hardware design and IOT firmware design have been completed as well. Now, a complete functional test is being carried out in conjunction with the App.
As to the development of the Android version App, we're done with it too! We're also working on combining the Android version App with the product itself (Drinkie) for a complete functional test. The aim is to ensure the fluency of spraying water and the amount of spraying water; the accuracy of pets drinking water (the accuracy of statistical data), etc. The iOS app is still under development.
And lastly, we're testing our newly added filter for its effect on hard water softening. Fortunately, the supplier we cooperated with gave us a sample that can achieve that effect!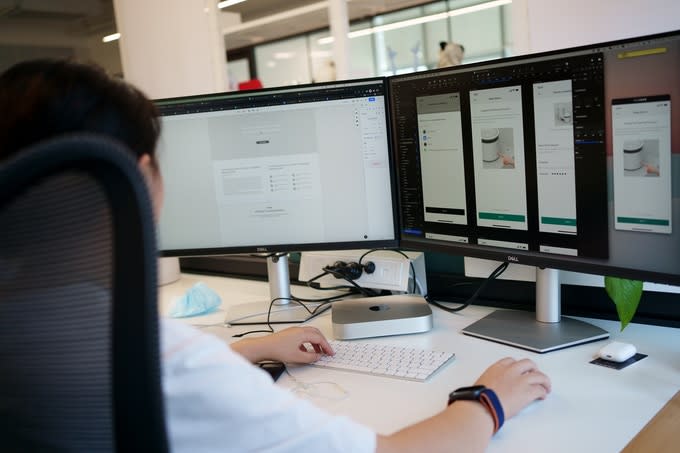 We've painstakingly chosen all the materials and production processes involved in the making of Cheerble Drinkie to ensure it's of the highest quality. However, slight changes may be made to the final product to make it even better and ship out to you without any flaws. In any case, we promise to update you promptly and explain the nature and rationale behind any change.
Functional Prototype (Demo)