EarthEmpower's Snacks That Give Back | changing the way we change the world
Our mission
is to catalyze change in environmental conservation, women's empowerment, and agricultural productivity by adding value to traditional farming systems and connecting our specialty products to high-value gourmet food markets.
Business Summary 
Subsistence farmers in Guatemala struggle to feed their family. Crop yields are very low and market prices are even lower, resulting in malnutrition and poverty across Guatemala (1) . Approximately half of Guatemala's population is malnourished (2), and the rate is even higher among indigenous children as 8 out of 10 children suffer from malnutrition (3). 
EarthEmpower provides resources for women farmers to sustain their traditional production to feed their families and communities. With the same traditional crops EarthEmpower creates gourmet snacks for the US specialty food market so Guatemalan farmers can earn fair and living wages. 
All of our products are packed with nutritious superfoods, with no sugar added, to ensure you get a healthy product, farmers have a sustainable livelihood, and together we take care of our planet.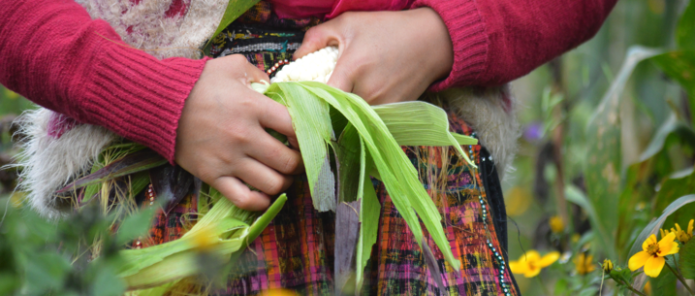 Why Invest In Us 
Economic opportunities, as well as food security and nutrition for rural populations, are urgently needed.  We also consider that social justice and equality at an international level is tied closely to a history of the interrelated economies and politics of Latin America and the United States. Years of top-down development approaches and exploiting export agriculture has resulted in little economic advancement and often worsening family nutrition. 
To find real solutions to these real problems, we must include the people who are most affected and ensure they have a voice in their own development.  Women farmers must be leaders in our organization to see real change. We must no long except status quo. Innovative and alternative pathways towards impact are necessary. 
We are leaders and we gave up on the status quo long ago.  We believe in real change and that is why we work in different ways.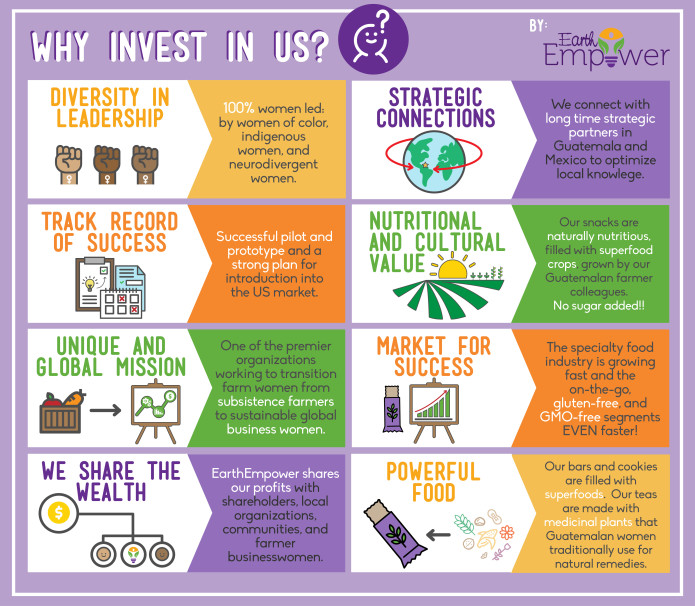 What We Need & What You Get
EarthEmpower needs $50,000 USD to take us from our pilot work to our full scale business production! Will you help us get there? 
These funds will allow us to finalize export certification paperwork, packaging, recipes, and nutrition facts so we are ready for full scale production in September 2018 when all crop production in Guatemala is harvested with partner farmers. 
Given the delays between applying for grants and investments and when they are awarded we have a 6-12 month gap between when our pilot funds are finished and when the investments will arrive, which is why we need your help so much to keep our work going strong!!!!
We are a private company creating social and environmental impacts so when you support our work we hope you think of it as an investment. You get a number of our products in return for your investment so it is not a donation and you are investing in a better society and environment for people and Guatemala and for all of us. And we are trying with 1000% of our hearts and souls for this to be the only time we ever ask people for money because we believe firmly that for EarthEmpower to work we must generate our funds from the sales of our products. 
Will you take a chance on us? 

Our Story and Our Impact!
How we began:
EarthEmpower started out of a lot of passion and dedication … and a lot of frustration too. We are people who didn't always fit into traditional institutions because we were too efficient, too passionate, too loud, and just too much. So at EarthEmpower we welcome too much and we channel our energy into too much awesome impact in the world.  
Who we are:
We are a powerhouse team! Two team members in the US, Two in Mexico, and Three in Guatemala. We are passionate, we are dedicated, and we are ready to change the world. (Click here to see our faces and read our bios in full size!)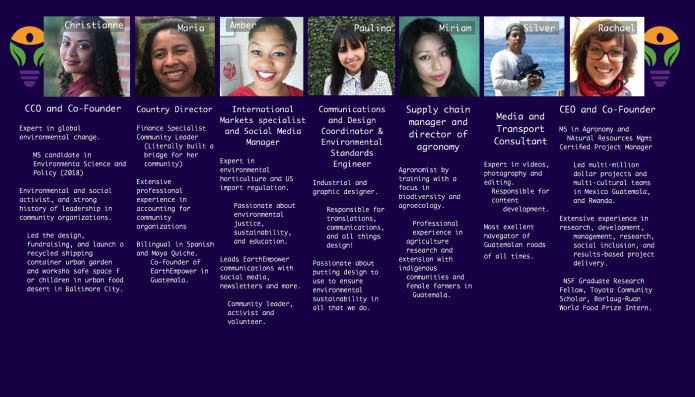 Our innovative and inclusive solutions:
We take a diverse set of nutritious power food crops that are native to the Guatemalan farms and pack it into an on-the-go, convenient and delicious snacks to be sold on the high-value US market. (Click here to see the full size image)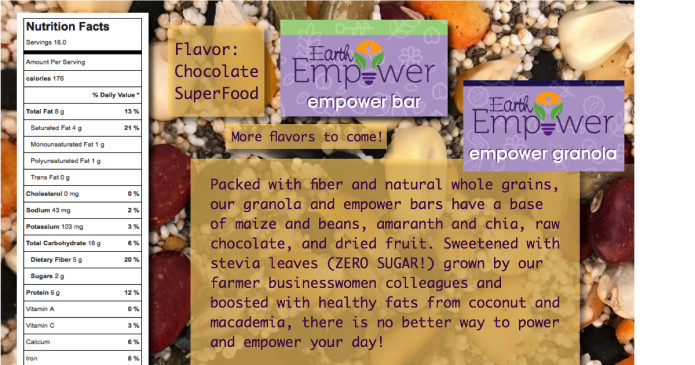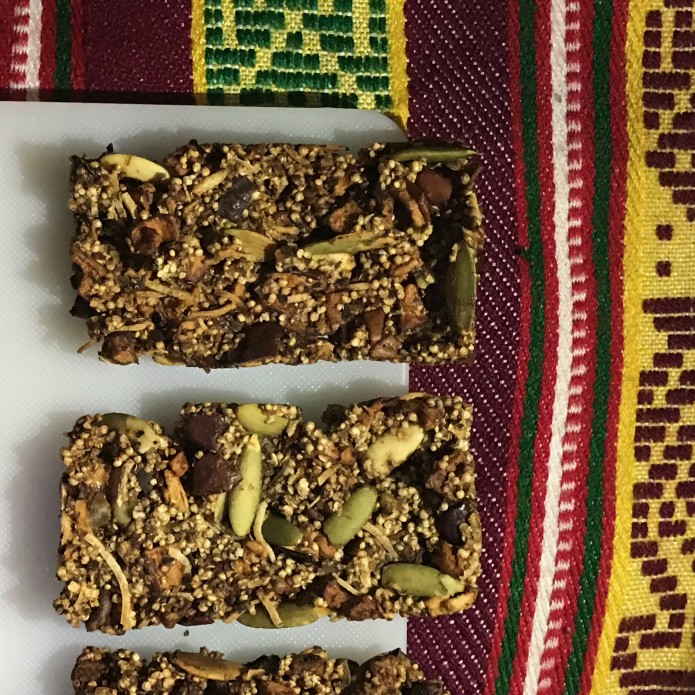 All of the ingredients are grown by women farmers in Guatemala with support of local organizations to ensure the highest quality of products.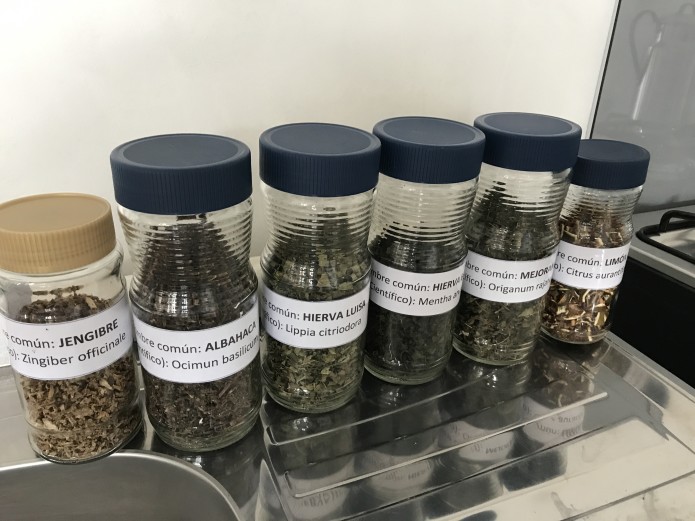 Our teas come from traditional and native plants grown by women farmers in Guatemala. We combine the plants in unique ways to give you the best of flavor AND with some of unique benefits from the plants!  (Click here to see the full size image!)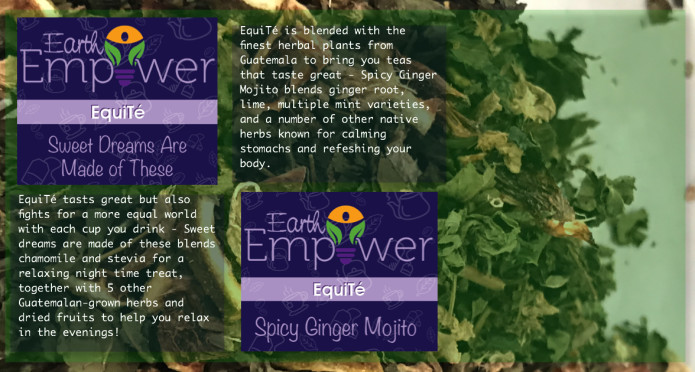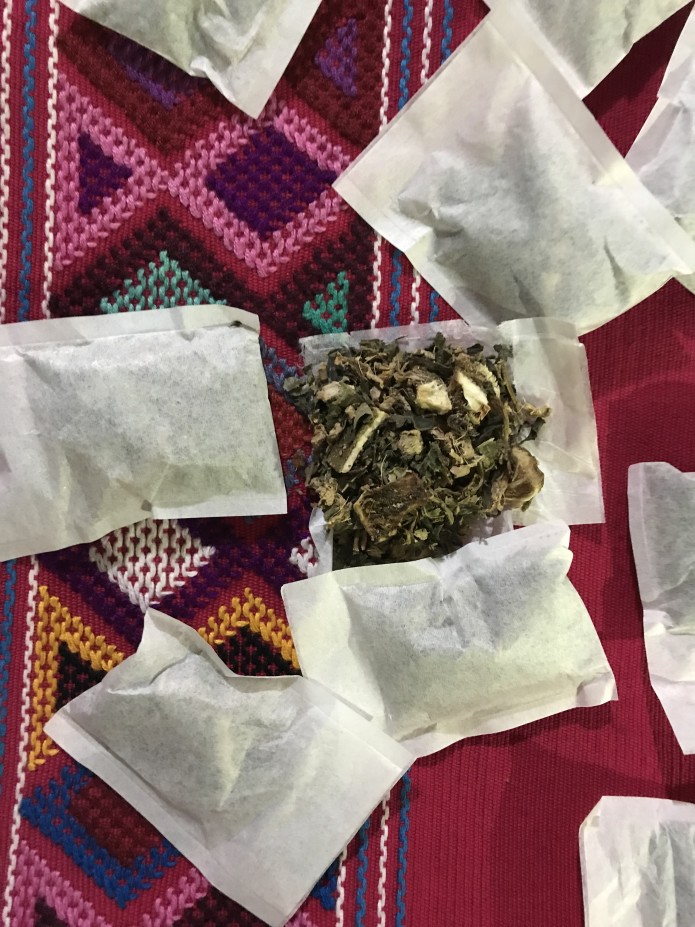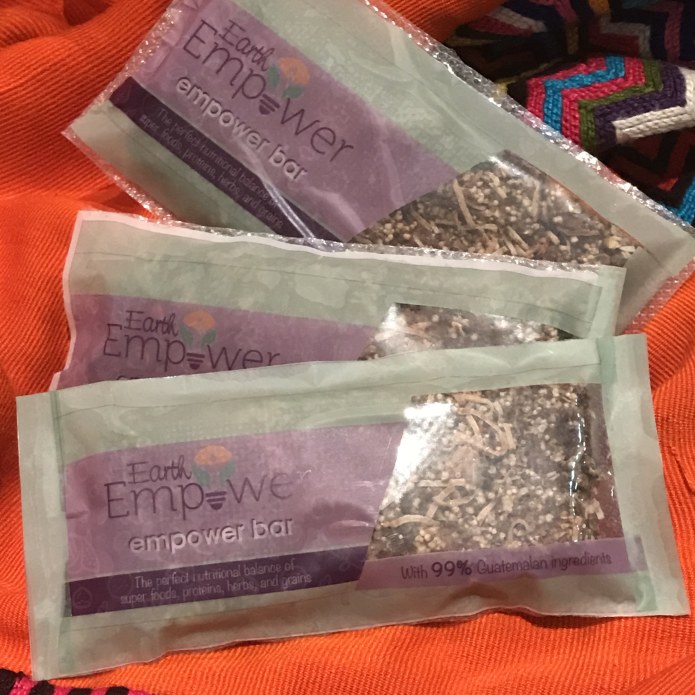 Our process of creating the granola bars also takes place in Guatemala, where we have already developed a pilot kitchen, creating jobs in the local economy.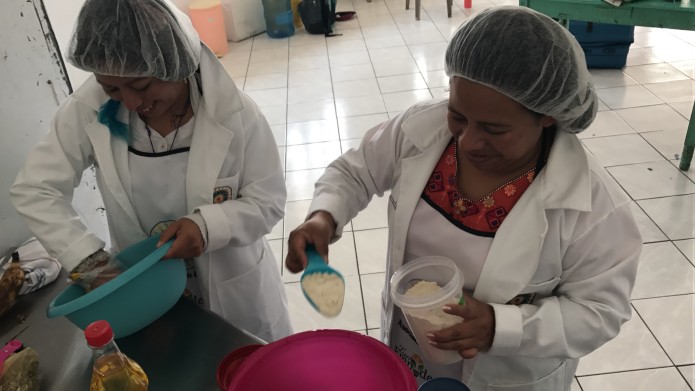 We are adding value to traditional food products by creating gourmet processed food items from them and placing them on a stable market so that the farming communities can profit enough to feed their families and generate extra income for schools fees and other household expenses.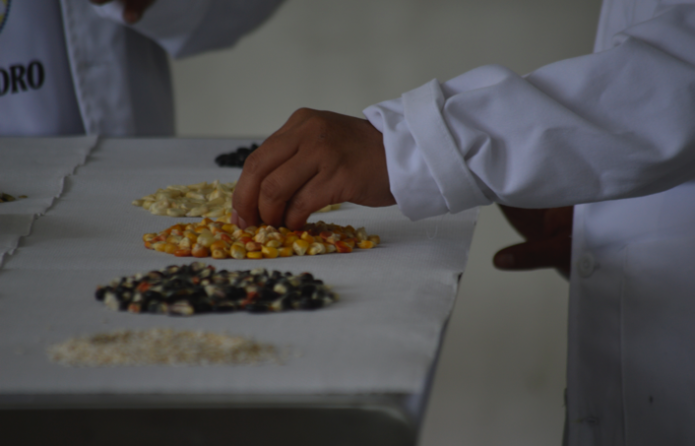 We are also tackling a problem directly with consumers in the US specialty and gourmet food market. Consumers are interested in voting with their dollar, so EarthEmpower provides a unique opportunity to vote for the environment AND women's empowerment!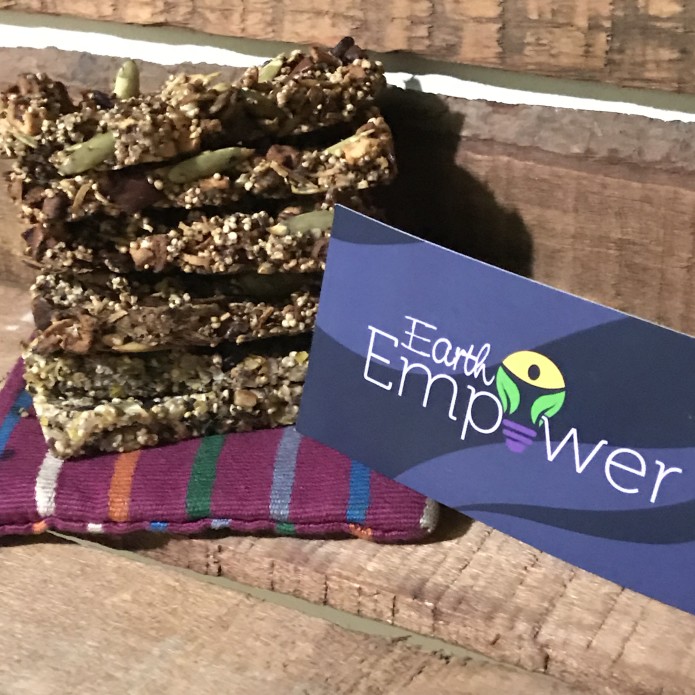 The break down:
Guatemalan farmers improve crop production with support from our local partners
We create healthy snacks in our pilot kitchen with all local ingredients
We ensure a sustainable package design and distribution to US
YOU purchase our snacks online or at your local grocery stores
Profits go back to the farming communities in Guatemala for environmental conservation, agriculture productivity, and women's empowerment
As we grow we expand to include communities in Mexico and other countries to expand our impacts
We facilitate women's empowerment initiatives and feedback groups with farmer leaders to make sure farmers lead their own development and have a voice in our company.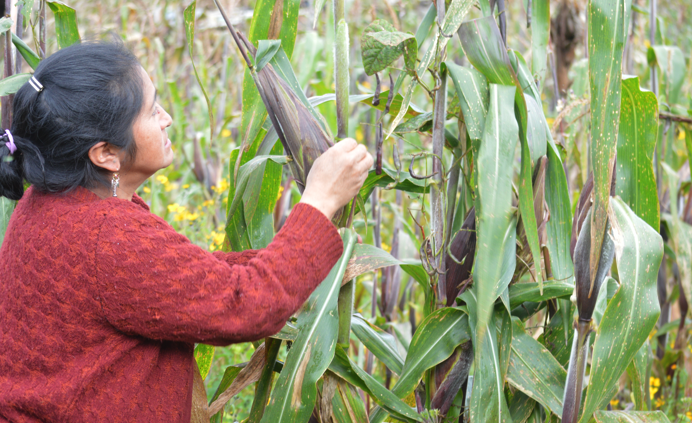 Project sustainability:
We base sustainability around the ability of (1) our farmers to keep producing on their land despite the challenges of climate change (2) our business to sustain its activities, including environmental and empowerment impact, through time, and (3) our team members and partners to be happy and health as they work together to operate the activities of EarthEmpower.

Other Ways You Can Help
Become an Ally in Action. Leverage your social network for change and earn some sweet benefits from our campaign while you do it. Contact

[email protected]

for more information and get started ASAP!
Share, share, share! Share our page with your family and friends – Contact us to get involved for referral bonuses. 
Partner with us! Are you a company or business willing to sell our nutritious snacks or help market our products? Email us your partner interest at [email protected] and

[email protected]

  
Have another idea in which you'd like to support this project or our company? Need consulting services in international agriculture, women's empowerment, or agriculture and environmental issues? Email us at [email protected] and [email protected]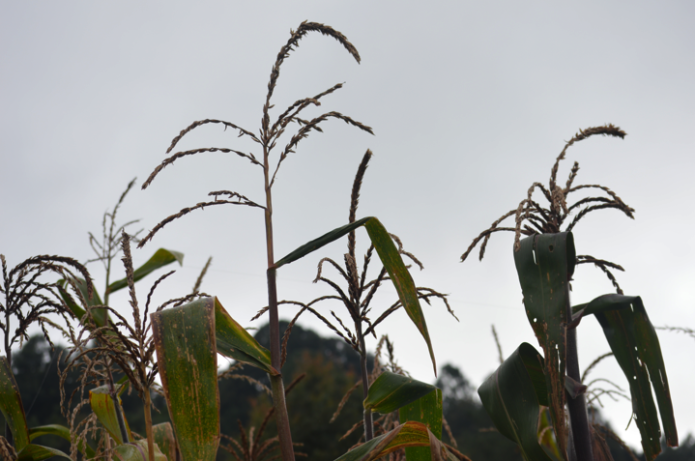 Thank you for visiting our Indiegogo site! 
We are changing the way we change the world and we hope you will join us!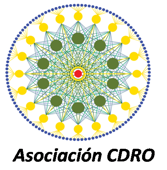 Many thanks to our Guatemalan partners CDRO for co-investing in our pilot kitchen and for sponsoring this crowdfunding campaign with their amazing bath and body products produced in Guatemala with medicinal plants grown by local farmers!

Still want more information? Visit our website! www.earthempower.com