Easycap: a Universal Touchless Dispenser | An automatic pump that turns any bottle into a touchless dispenser of liquids of any consistency
Looking for the ultimate solution for touchless hand-cleaning and thus stay hygiene and healthy during this global pandemic?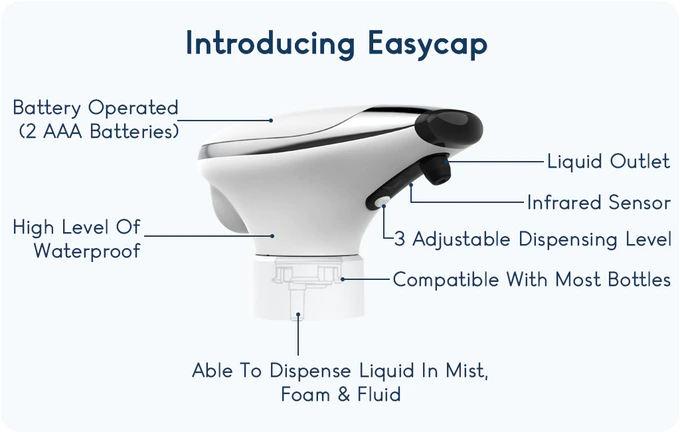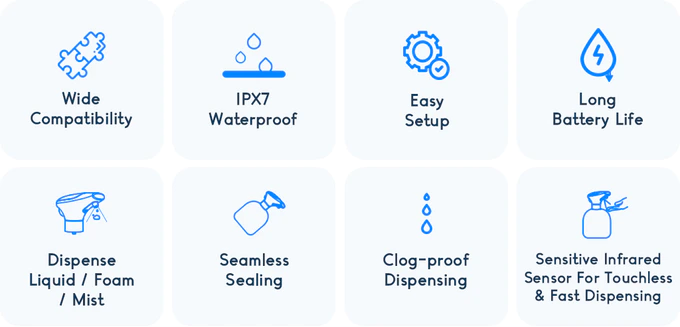 An automatic liquid dispenser comes in different sizes of gaskets to fit bottle openings of any size. Just place your hands under the nozzles and start your unparalleled luxury sanitizing experience now.

Screw it on, plug it in and start dispensing. Enjoy the convenience and hygiene of an automatic dispenser with a simple setup. Say goodbye to those traditional press bottles and no need to worry about cross-infection from touching anymore.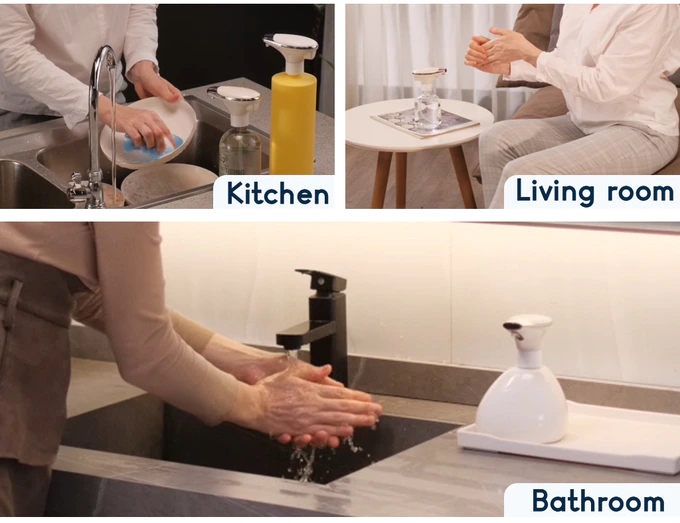 Easycap offers you comprehensive protection and 100% convenience around your house on every occasion.
Three functional nozzles(liquid, spray, foam) cover all types of daily soap. Choose wisely to utilize your shampoo, foaming soap or alcoholic spray effectively.
Compatible with different types of sanitizers and liquids
No need to add water while pumping thick liquid soap. Easycap offers you 100% soap without dilution
Easycap is able to dispense liquids that come in a variety of different consistencies.


Avoid Mess and Boring Replenishment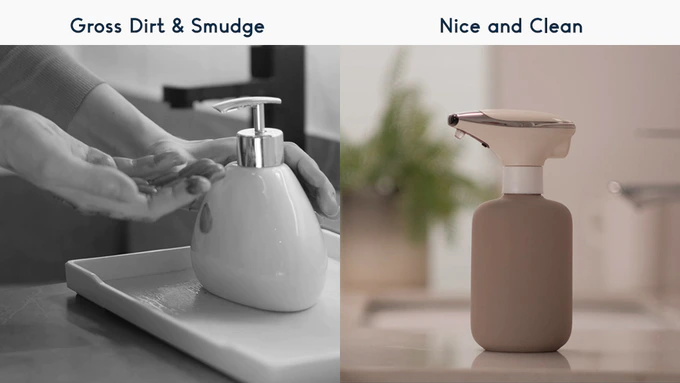 Preventing Cross-infection Effectively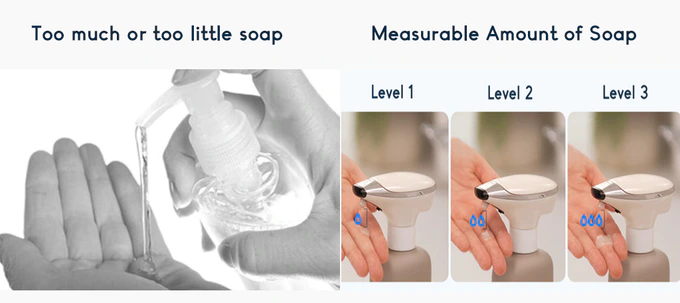 Avoid Any Waste and Save Your Money
Tired of the annoying refills and the mess entailed? Haunted by the smudge around the bottle? Worried about your kids using too little or way too much soap while washing their hands? Easycap is the ultimate solution! It works out any bottleneck and thus avoids all the inconveniences of the traditional soap dispensers. With Easycap, you are guaranteed an effortless, hygienic soap pumping on every application.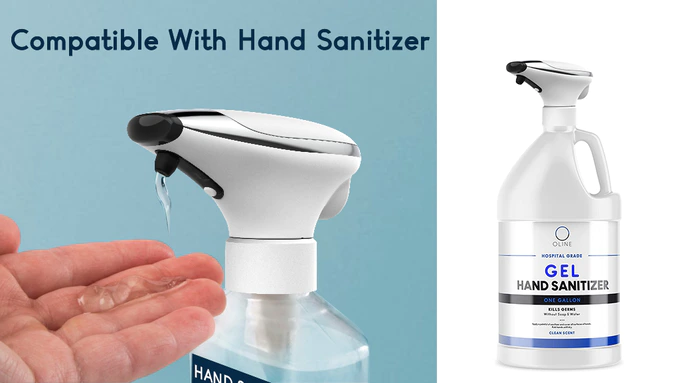 Traditional bottles with manual press may cause inevitable cross-infection. With this fully automatic touch-free pump, you can wash all the germs and smudge away and offer the strongest protection for your families.

Press the on/off button gently to switch the volume level and get the perfect amount of soap based on your need. Make your soap last longer and reduce waste.
The easy-access control buttons help to dispense a well-measured amount of soap consistently so that you could wash hands thoroughly with perfect dosage avoiding any waste.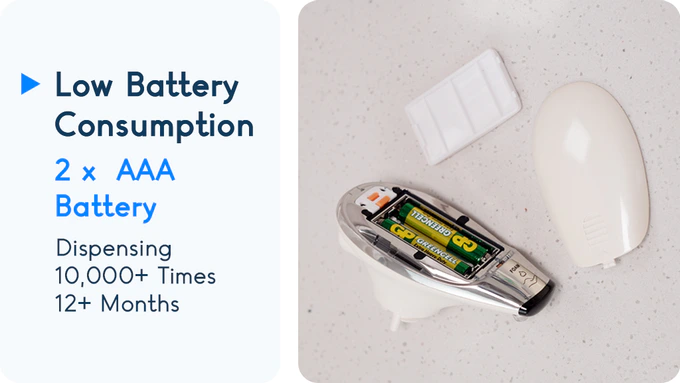 Works with only 2 AAA batteries, Easycap could dispense more than 10,000 times with great performance. Once switched on, it keeps working for up to 200 days without touch awakening so as to avoid any germ infection to its great extent.

With a high waterproof rating, you can clean the pump right under flowing water, or even submerge it completely in the water. Feel free to place it anywhere without worrying about any damage.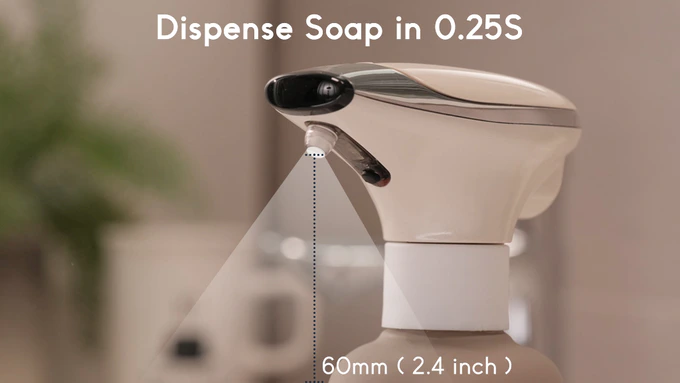 The sensitive infrared sensor detects your hand and provides you with fast, precise, and completely clog-proof dispensing.
No messy and disgusting drips around the nozzle after every dispensing, no extra effort of cleaning is needed.
Unique seamless-contact design guarantees a non-leakage experience in daily use.
Easycap offers 4 interchangeable gaskets to fit any size of the bottle opening. With simple steps in a minute, you can easily set up the unit tool-free and start enjoying the touch-free dispenser.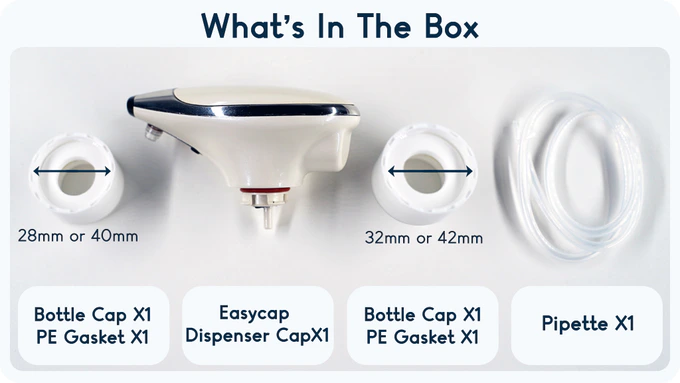 【Prime】The Pearl and the Pitch is the electroplated metallic color, whose process is more complicated, while 【Basic】the Navy and the Tiger is painting.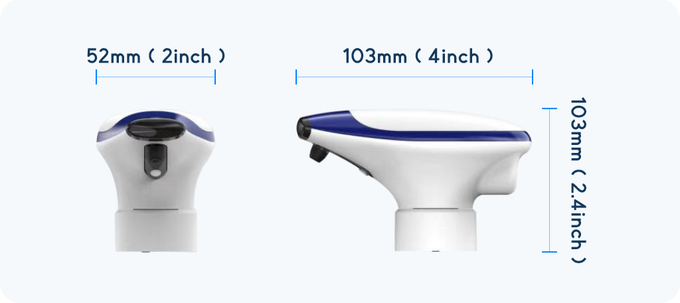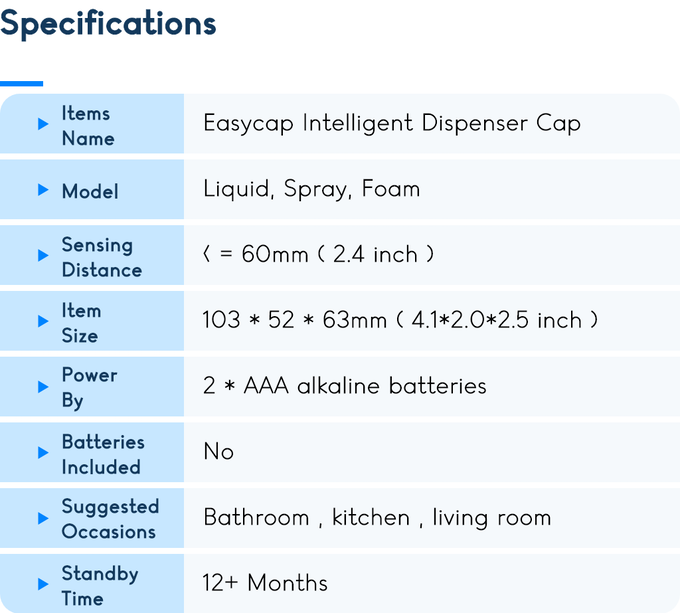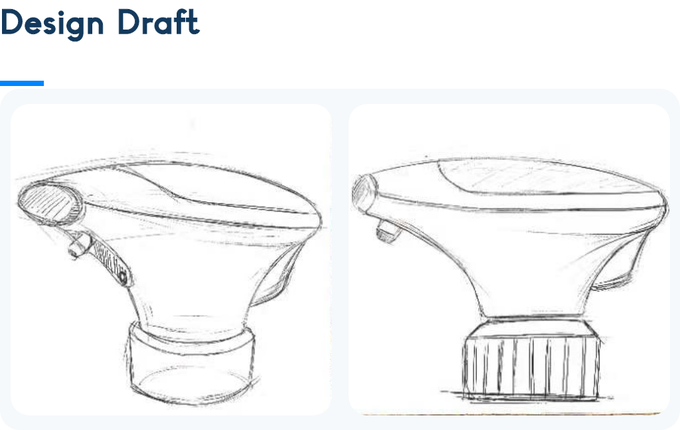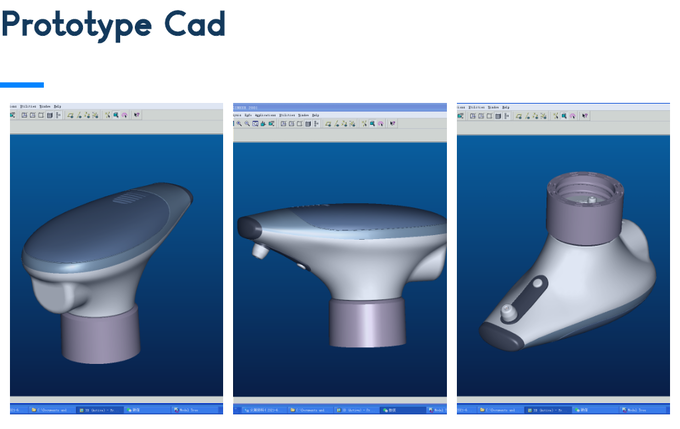 Kodolo International Limited is an innovative technology company focused on the development, manufacturing, and sales of home products. It consists of several top designers with unique and innovative ideas and extensive production experience in the field of consumer electronics product design and development.
EASYCAP's innovative concept is to take care of the elderly and children at home, to achieve true zero contact, fast automatic liquid discharge, especially during the current global epidemic, effectively avoiding cross-infection and bringing great convenience to people's daily lives. At the same time, it is also environmentally friendly and does not waste, promoting everyone to save resources.
Throughout the market soap dispensers have been developed for more than 20 years, in order to increase the capacity, the volume is getting bigger and bigger, the cost of shipping to the world is also increasing. Soap dispenser manufacturers are constantly producing soap dispensers at the same time, liquid manufacturers are constantly producing liquid bottles so that the dual production greatly wastes the world's resources, such waste happens every day around us. Did you find our bathroom shampoo, shower gel, and other kinds of bottles so many ah! Now EASYCAP can match any bottle in the market, or customize your own favorite bottle, buy bags of liquid back, so that there is no trouble with all kinds of bottles on the ground, but also greatly reduce the cost of freight and reproduction costs, to truly save resources for all, save costs, to achieve real environmental protection and not waste!
EASYCAP can be used in hotels, schools, hospitals, farms, school buses, restaurants, kitchens, bathrooms, and other occasions, but also suitable for the market shower gel, shampoo, detergent, hand-free gel, hand sanitizer, spray and other liquids, and a variety of bottled bottles, the market to buy back the shower gel, etc., just need to replace the cap with EASYCAP, you can automatically and quickly quantitative liquid. 2 section 7 2 x 7 battery long standby time of one year, no longer need to do any operation after turning on the machine, the number of liquid 30,000 times +, you can also use 1.5V rechargeable battery, no need to do any operation after turning on the machine, so that we can use the comfort and peace of mind. The elderly in the family is not so sensitive hands and feet, in the bath when washing hair to press the liquid is always not so convenient, no matter, EASYCAP can reach out to the liquid. Children at home do not like traditional pressurized bathing gel, so they hate to wash their hands or do not want to take a bath, EASYCAP can make children love to wash their hands and take a bath. For women with long hair who have to press shampoo or conditioner when washing their hair, did you find that EASYCAP is exactly what you need now?
EASYCAP will go into millions of homes and bring 100% convenience to people!