EasyPeasie Veggie Blends – Promoting Kids' Health | With EasyPeasie, we endeavor to make it easier to make kids healthier by making meals "veggier!"
We believe in "the village" — that it takes many great minds and hearts working together to raise children who are at their best, and good, and healthy, and kind; children who are ready to learn, open to new experiences, and excited about how they will change the world.  We believe that healthy eating, with meals full of nutrient-dense foods and natural flavors are critical to this goal.  EasyPeasie is our contribution to the village, and to training the palates of our future leaders.  With EasyPeasie, we endeavor to make it easier to make kids healthier by making meals "veggier!"  We care about kids' nutrition, and have made it our mission to provide families fun, simple, natural, and easy ways to improve every meal with added vegetable nutrition! Today, we need your support to make our dream of having EasyPeasie help every family a reality.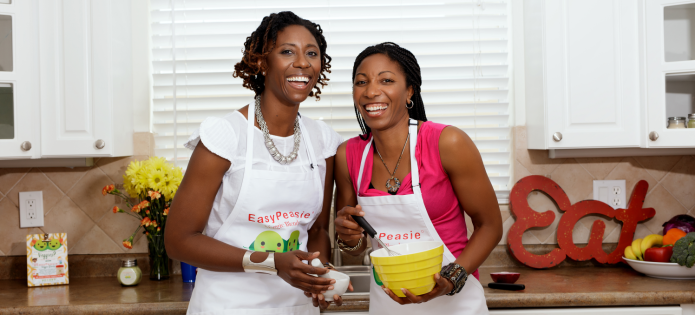 We are Jamelah and Dorielle; sisters by birth, friends by grace.  We are the founders and owners of Easy Peasie, LLC.  A pediatrician, an engineer, and a mother between us — we are natural problem-solvers and advocates for children and community.  When one of Dorielle's babies needed to transition to formula so she could return to work, we didn't want his palate to suffer.  Pediatric and nutrition studies show that as toddlers, formula-fed babies are less adventurous with new foods and flavors than their breast-fed counterparts.  We put our heads together (our village of two!) and came up with the plan to dry and grind a variety of vegetables in order to give him vegetable exposures starting in infancy.  Though we didn't know it at the time, this was also the infancy of EasyPeasie.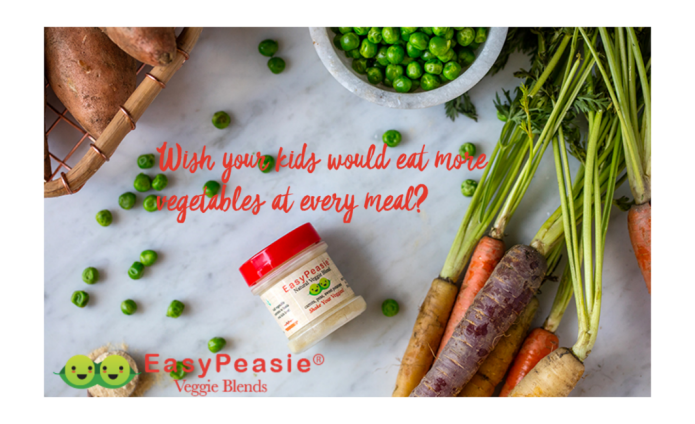 EasyPeasie Veggie Blends are our custom blends of dried and ground vegetables.  We call it EasyPeasie because it's an easy way to add extra veggie nutrition to food and drinks, and we have peas in all of our blends.  The veggie combinations in each blend are specially selected to maximize nutrition and minimize "veggie taste."  The blends are all natural, with no added sugar, no preservatives, no artificial colors nor flavors.  They are naturally gluten-free, dairy-free, and vegan.  EasyPeasie is pediatrician-, mom-, and picky eater- approved!  The blends currently on the market are: "Natural Veggie Blend" (carrots, peas, sweet potatoes) and "EasyPeasie Plus Green Blend" (carrots, peas, sweet potatoes, kale, and spinach).  Our new Red Blend with beets is available in limited supply through the Fall and Winter.

We celebrate the veggie-successes of our families!  With the help of our EasyPeasie reciPEAS, our families have added extra veggie nutrition to a variety of food and drinks: applesauce, oatmeal, pizza, quesadillas, rice, sauces, soups, smoothies, milk, pancakes, burgers, eggs, and more!  Our convenient packaging allows families to take their veggies "on-the-go."  We like to think of EasyPeasie as veggies in the best combination of convenience, shelf-life, and great nutrition!
We are proud to have been featured in nutrition videos with the Afropolitan Chef and with cutting-edge concierge office, Boca VIPediatrics.  Find us in South Florida Parenting, MadameNoire, Vitamin Retailer, and PeekABoo Family Magazines; including being named one of PeekABoo Magazine's "Favorite Things" and South Florida Parenting's "Stuff We Love."  
We are based out of our hometown of Hallandale Beach, Florida.  Currently, families can get EasyPeasie by meeting us at our local farmers' markets in South and Central Florida, or ordering online at easypeasie.com. 

Our goal is to help as many families as possible make meals veggier with EasyPeasie.  We know how excited our current families are to improve every meal with added vegetable nutrition.  We want all families to have that excitement and reassurance that getting veggies in can be EASY!  Our fundraising goal of $38,500 will help us accomplish the following…

Increased promotion and exposure (demonstration videos, website refinement, participation in trade shows/conferences in 2017)
New blend development and procurement
Preparation of product lines for retail
Focused consumer and market research
Our community service projects (support of community gardens/urban farming programs to combat food deserts, mentorship and nutrition education in the community)
Development of an EasyPeasie App (great nutritional resource for families)
If we do not reach our full goal, product promotion, preparation for retail, and new blend development will be prioritized.

At the various levels of support, enjoy some of the perks we have pictured below, including gift-wrapped EasyPeasie Veggie Blends, T-shirts, tote bags, swag, and gift cards.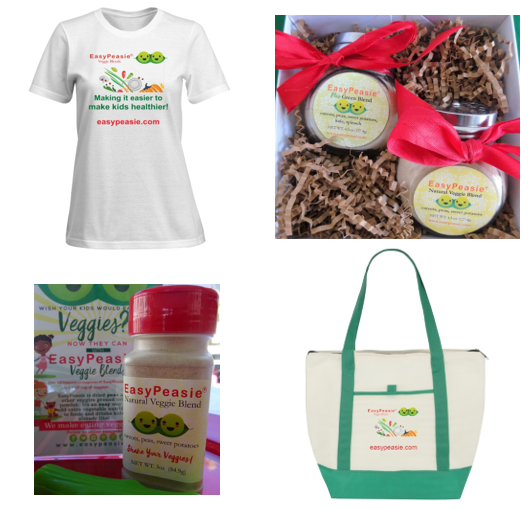 Your support of this project will help us:
Make it easier to make kids healthier by making meals "veggier!"
Introduce more families to EasyPeasie, and allow EasyPeasie to be available to more families
Be a helpful resource for families of children with special needs and feeding difficulties
Expand our efforts to educate families and communities on the benefits of vegetables and good nutrition, including teaching healthy eating as a way to combat obesity
Bring more blends to market
Get more people to like, then love vegetables!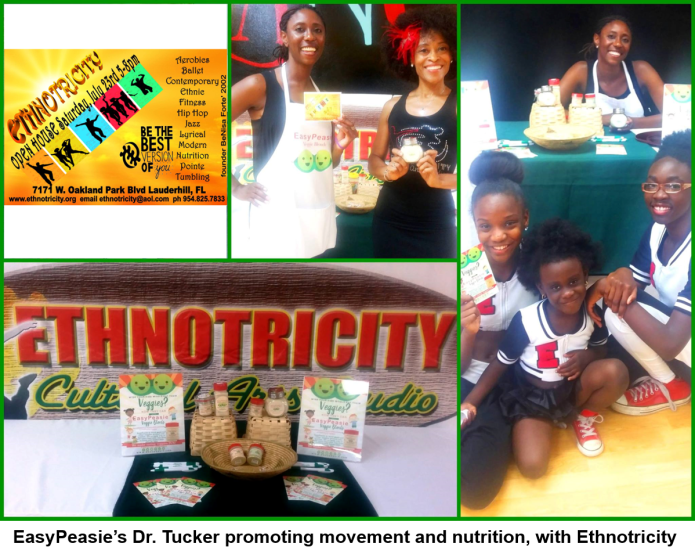 Our main challenges are two: (1) educating our market about palate priming and the benefits of EasyPeasie Veggie Blends, and (2) reaching more families outside of our local markets.  As doctors in the fields of pediatrics and engineering, my sister and I are well-versed in problem solving.  We are laser-focused on creating the best, most socially-responsible, highest-quality product for our families, and making our brand synonymous with our passion for this work, our attention to detail, and our care and concern for our families and kids.

If you're unable to support us financially, but you still want to support this campaign, here is how you can help!
Invite us to speak to your Mommy Groups and Nutrition/Health related community programs
Follow and Like us on:
Submit your reviews and feedback of EasyPeasie on our website or social media pages
If interested in selling EasyPeasie in your office or store, contact us at [email protected]
Share, share, share this Indiegogo campaign with family and friends