Eco-Friendly Aerospace Grade Titanium Chopsticks | A set of titanium utensils: healthy, convenient, stylish, and, most of all, sustainable.
There are countless articles available online espousing the hidden dangers of disposable chopsticks. However, we decided to elucidate the truth for ourselves by doing some important tests.
We've always felt chopsticks to be one of the most unique and innovative utensils in the history of humanity – simple, multi-use, effective. However, why has this innovation stalled? Why have we become content with what we have instead of looking for newer, better alternatives? How is it that disposable and plastic options have become standard, burdening the planet with excess waste? This frustrating reality sparked our extremely personal mission to develop something fresh and revolutionary.
Introducing the latest in chopstick technology, TWINZ represents the cutting edge in sleek modern design. With the goal of reducing the impact of disposable chopsticks on the environment and a whole-hearted dedication to ushering in a greener future, our ultimate mission is to help the planet without sacrificing aesthetic value.
With TWINZ, we hope to usher in the next era of chopsticks – reusable, resilient, and healthy utensils for everyday use
1. BACTERIA RESISTANT – Titanium, thanks to its anti-bacterial characteristics, inhibits the growth of germs and other harmful pathogens. Because its non-porous and non-stick nature, nothing seeps inside, both keeping the integrity in tact and making it extremely easy to clean.
2. RECYCLABLE – TWINZ chopsticks are 100% recyclable. The recycled titanium can be turned into titanium feedstock and become easily reused for other useful products.
3. STRONG & LIGHT-WEIGHT – Titanium is among the strongest and most durable metals on the planet: it retains the inherent ability to resist rust and corrosion. On top of this, titanium is extremely lightweight, making it the perfect option for an everyday carry.
4. SUSTAINABLE – As soon as you stop using the disposable alternatives and begin to carry your own pair of reusable chopsticks, you have begun to save the trees. Each meal enjoyed with TWINZ chopsticks is another step closer to a greener world.
Specs: 9.2 x 0.3 in / 233 x 7.2 mm
Weight: 0.14oz / 4g
Material: 100% Aerospace Grade Titanium -grade 2 / CP3
Dishwasher safe
Non-allergic / toxic
Reusable & environmentally friendly
Perfect for EDC & home use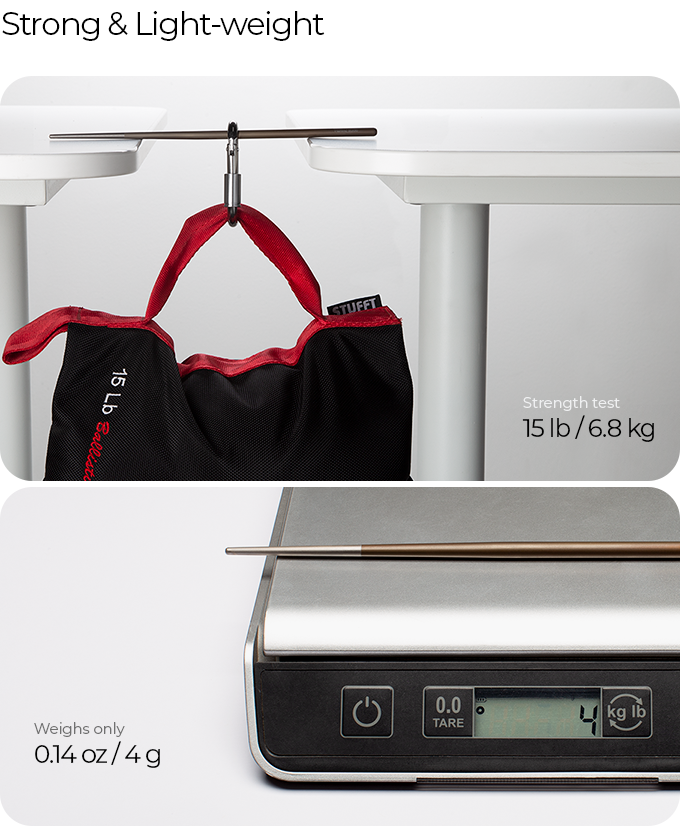 In designing the all-in-one carrying case for our TWINZ chopsticks, straw & rest, we decided to develop a specially crafted pouch made of high quality canvas. With the pouch, it allows the chopsticks to breathe, with continued exposure to open, fresh air. This keeps both the pouch and the chopsticks themselves free from the risk of bacteria growth.
Folded: 10 x 2 in / 25.5 x 5 cm
Unfolded: 10 x 5.9 in / 25.5 x 15 cm
Weight: 2.5oz / 70g
Material: 100% Natural Canvas (exterior) & Linen (interior)
Specs: 2.6 x 0.4 x 0.3 in / 67 x 10 x 7 mm
Weight: 0.7oz / 20.5g
Material: 100% Aerospace Grade Titanium -grade 2 / CP3
Dishwasher safe
Non-allergic / toxic
Reusable & environmentally friendly
Perfect for EDC & home use
Along with the pouch, we've included a compact chopstick holder. Perfect for propping up your pair of TWINZ during eating, this stand will keep your chopsticks out of contact with potentially contaminated surfaces. And because it is made of solid titanium, it's anti-microbial surface topology disallows germs from finding a foothold. 
While single-use chopsticks have become our focus, it is important to remember other products which have a significant impact upon the natural world, namely disposable straws.
Plastic straws remain one of the largest sources of pollution in our oceans, contaminating once pristine natural spaces. For this reason, many cities around the globe have begun to ban plastic straws outright, hoping to minimize their negative effect on the ecosystem. Because of this, we've included a specially designed reusable straw with every set of TWINZ chopsticks, helping you to do your part to save our planet from rampant waste.
Specs: 9.2 x 0.2 in / 233 x 6 mm
Weight: 0.3oz / 8g
Material: 100% Aerospace Grade Titanium -grade 2 / CP3
Dishwasher safe
Non-allergic / toxic
Reusable & environmentally friendly
Perfect for EDC & home use
Non-Toxic Wooden Bowl
Crafted out of high quality jujube wood, the bowl is the perfect companion to your pair of TWINZ chopsticks: elegant yet simple, lightweight yet durable. Wood is beautiful, a gift from the nature, and, as such, should be treated with the utmost respect. Its organic form makes each bowl a unique work of art, the wood grain distinct and different from all others.
Specs: 4.9 x 3.1 in / 125 x 78 mm
Weight: 3.4oz x 98g
Material: Solid Jujube Wood
Handcrafted from natural wood, each bowl will be different
Non-allergic / toxic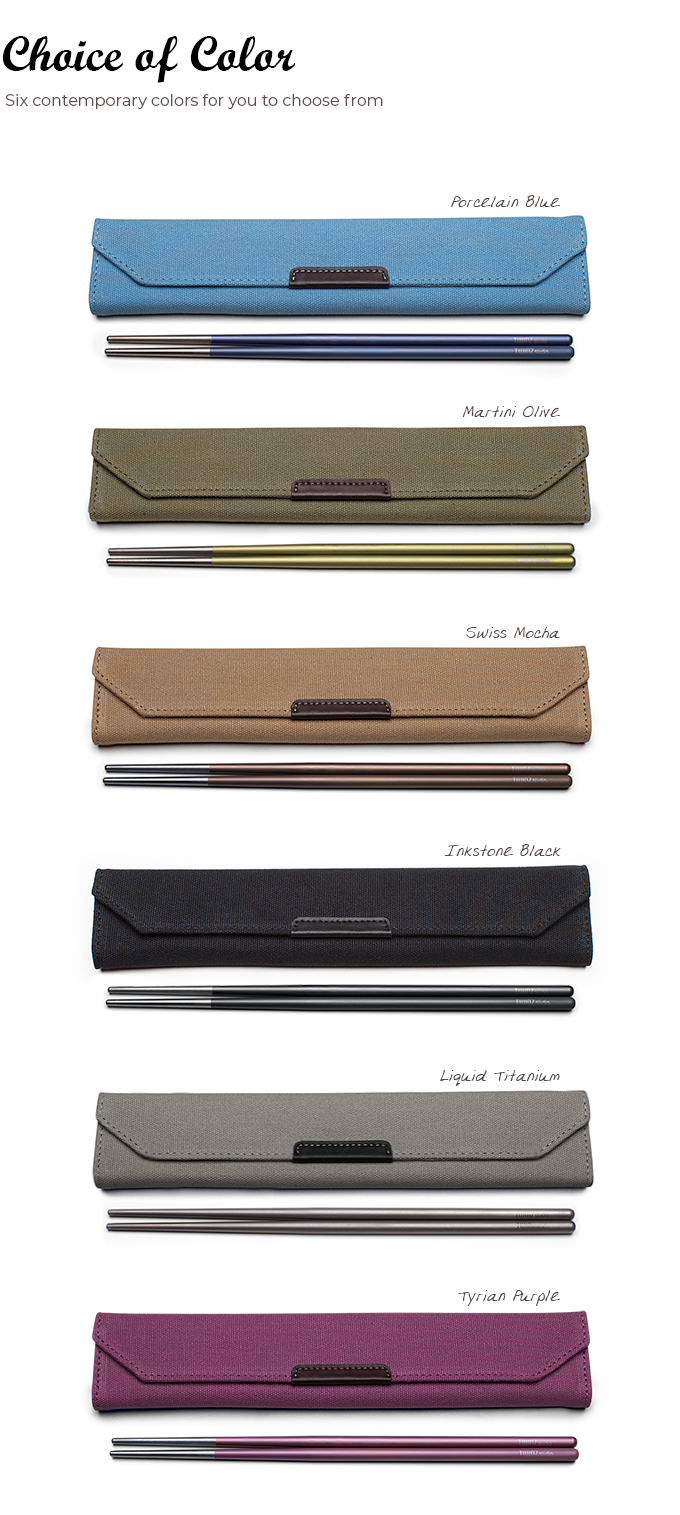 Hey there! My name is Pavin and I am an aspiring designer, marketing whiz and environmentalist. With a background in conservation, my sensibilities have always been geared towards the preservation of our natural surroundings. My ultimate goal in life is to discover sustainable alternatives to everyday practices
Hi! My name is Peter. I am a design guru with years of experience in the field. Most recently, I developed the extremely successful travel accessory brand Keep Pursuing. I've always been interested in designing products that not only look good and function well, but serve a greater purpose.
We joined forces upon the realization of our shared interest in ecology and design. In developing TWINZ, our mission has always encapsulated the love we share for our home, planet Earth. From day one, we've aimed at creating something special, something people will enjoy, not only for the benefit it brings to the world, but also for the simplicity and ease of use embodied within.
Risks and challenges
Since we've already fully developed the product itself, the only remaining challenges are to bring TWINZ to market. Thanks to ingrained cultural narratives regarding disposable chopsticks, the greatest obstacle left remaining is altering perceptions, awakening the general populous to the dangers of these single-use options. It is a serious risk expecting people to change their ideas and support our vision, but we believe that it is important to try: every small step in the right direction brings us all closer to a better world.