Elements – 5 solids, 5 elements. The perfect totem | Solid polyhedra in brass and bronze. Each piece is unique, cast and polished one by one manually.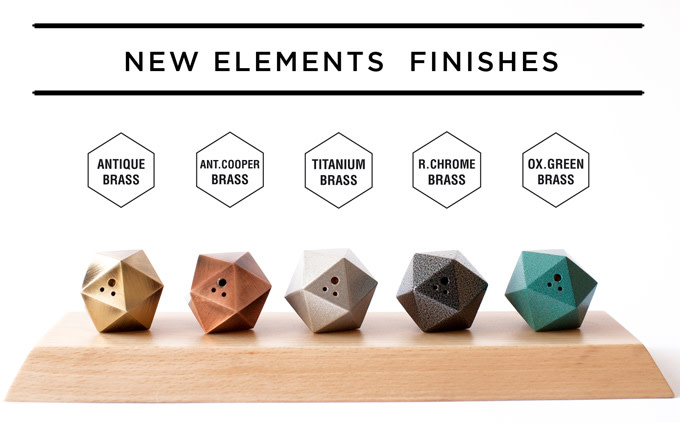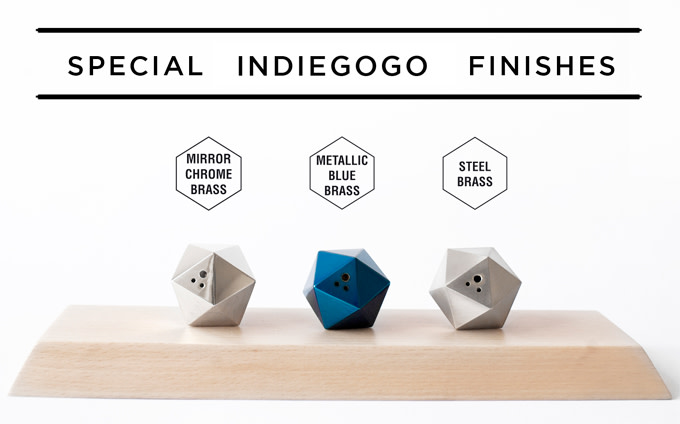 Hello Indiegogo Family . We are back!  
We love what we do and your ideas are our motivation, so we are back to take Platonics to the next level. Our Platonic adventure continues!  
We want to continue sharing this experience with the world. If you are new to Platonics, join us and share the magic of geometry! Hundreds of them have been distributed all over the world!  
Thank you all from the bottom of our hearts, you are the best!
30 seconds of your time could make the difference in building the Platonics community. Hit one of the buttons below and tag a friend who wants to feel the power of the Elements!





The world we live in is moving too fast and sometimes we forget that the simplest experiences are the most authentic and beautiful. That is why we are committed to the value of handmade and unique pieces, combining the oldest techniques and a passion for detail.  
We invite you to feel a simple but unforgettable experience with our single cast solids of pure metal.
We believe that Platonics is more than just geometry. It is science, art, inspiration, a pure and real experience.  
Feel what it is to hold 2,500 years of history in the palm of your hand!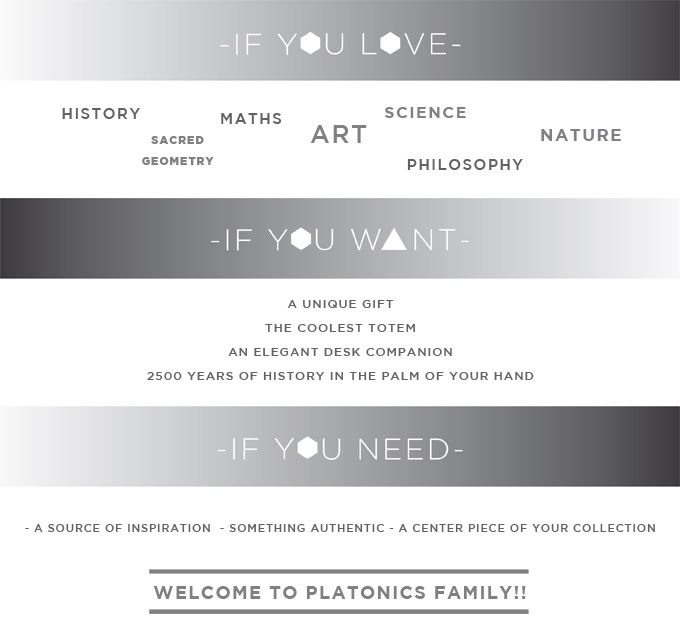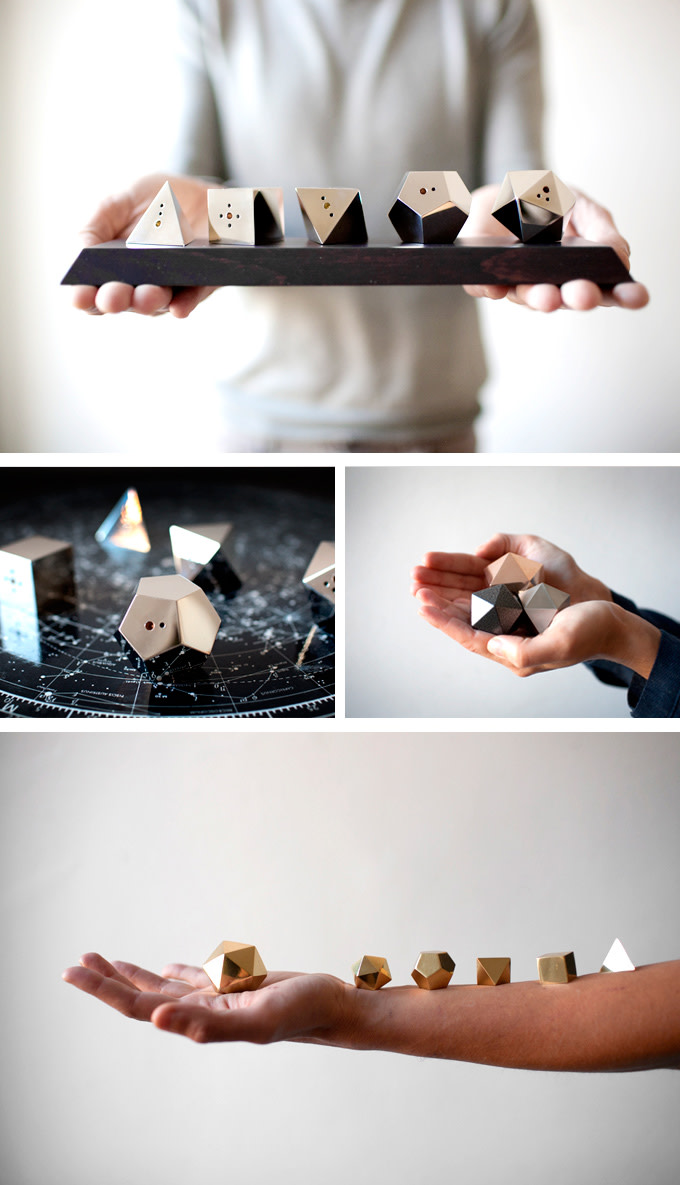 Discover what makes our solids unique. You can learn more about our finished metals and processes.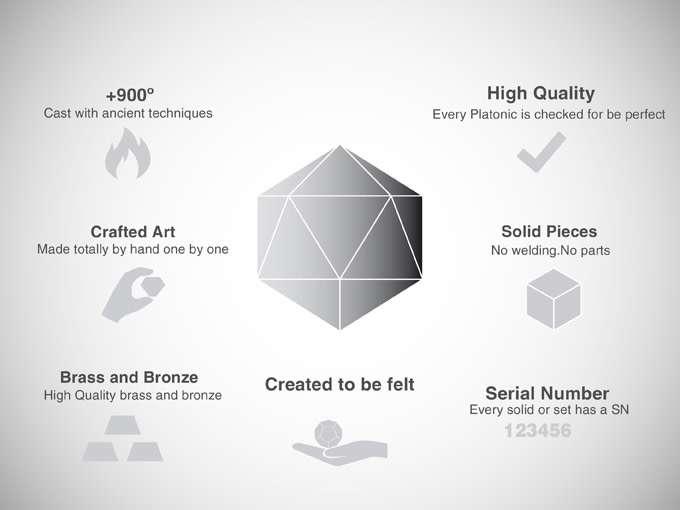 Remember that every Platonic is unique, made entirely by hand and individually just for you, using one of the most ancient techniques: smelting. We believe in the preservation of craftsmanship as a key to the enrichment of our society.  
Each piece is unique, cast and polished one by one manually, putting maximum attention to detail for it to be perfect.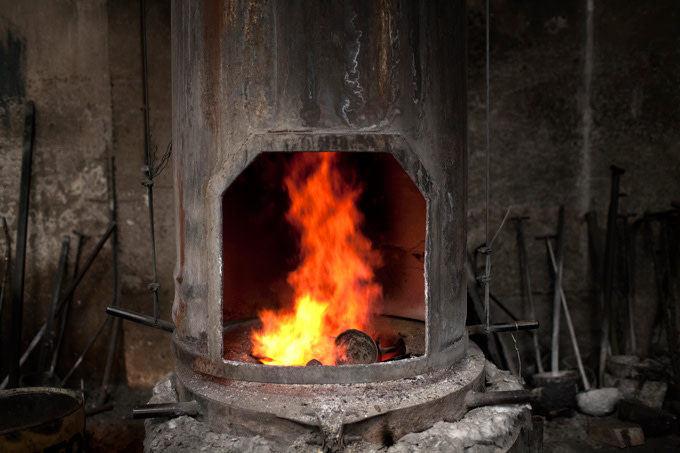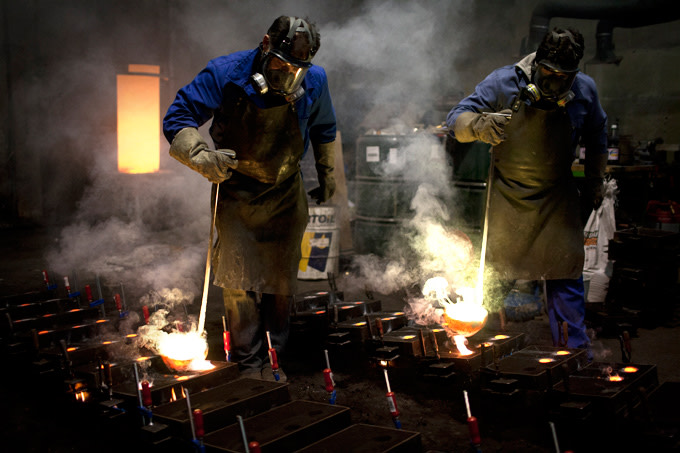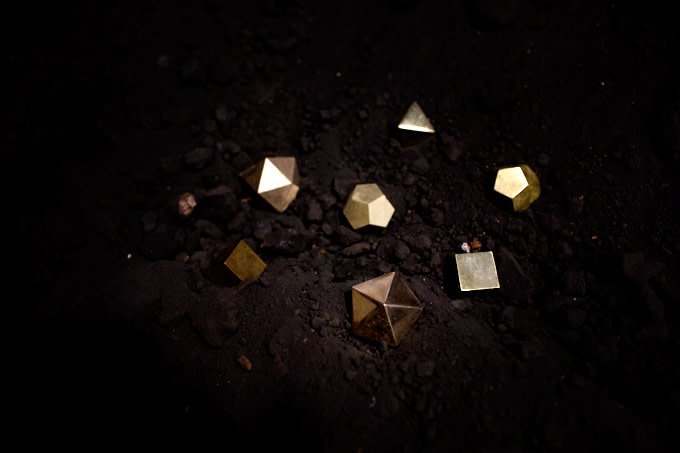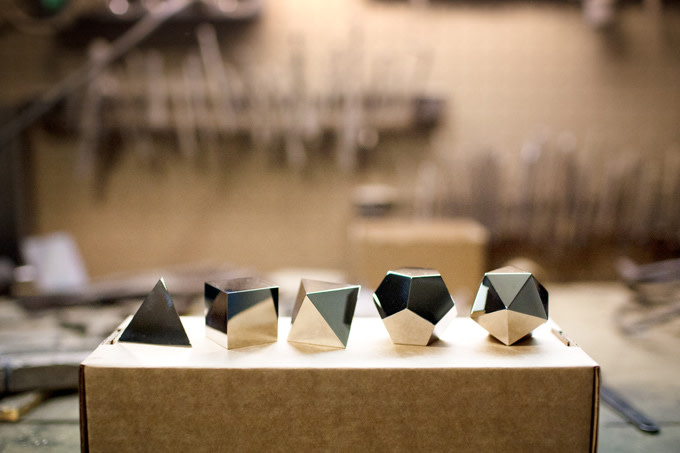 QUALITY MANUFACTURING AND PROCESSING.
We work with one of the most ancient techniques, smelting. All our solids are cast in the traditional way using high-quality brass and bronze cast at over 900 degrees, then shaped and individually hand polished.  
Each figure is meticulously checked to verify its quality. Each piece is unique. We value quality work and an interest in details. In addition, each polyhedron or set has a serial number.

Thanks to Platonics you can enjoy a piece of History, from a single figure to a complete set. Two Collections: Classics and Elements. Available in 3 different sizes and 13 finishes.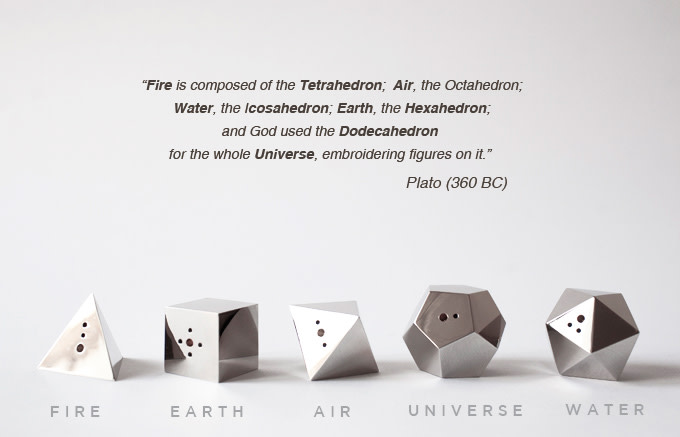 Plato associated each polyhedron with an element: air, earth, water, fire and the universe. The new edition of Elements will not only offer new finishes, but also each solid has the symbol of its Element engraved.  
To represent each of the elements we have designed an elegant symbol that matches the pure and timeless design of our platonic solids.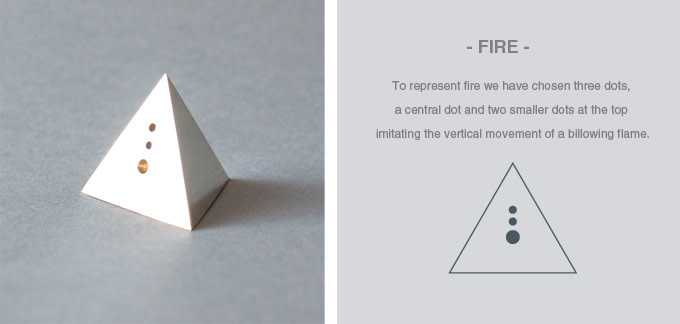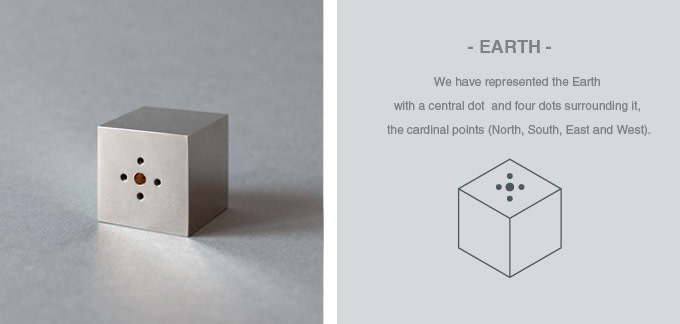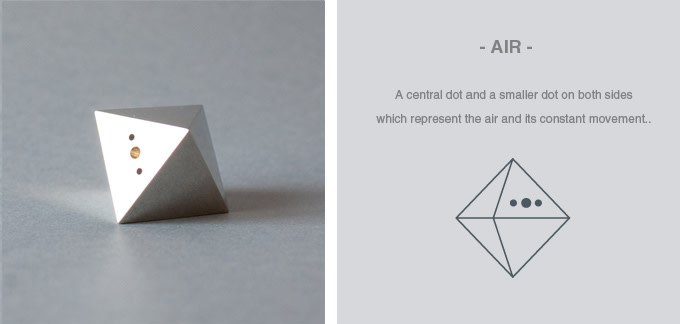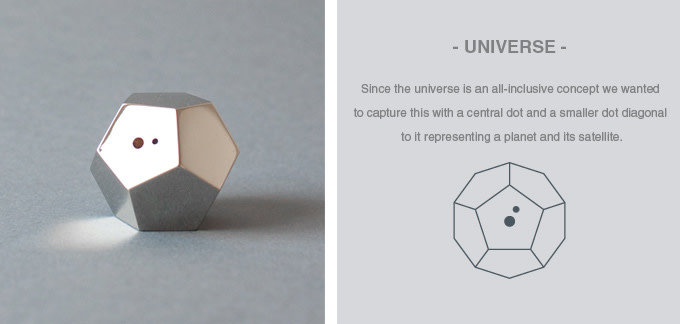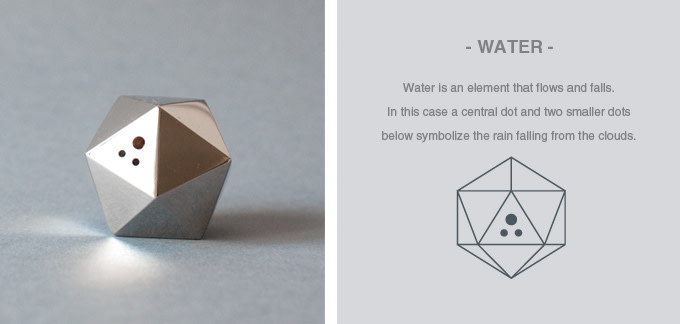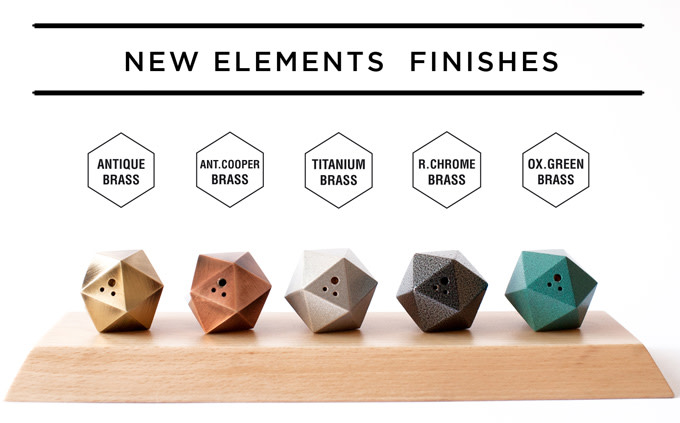 EARTH: Antique Brass finish. The earth is the classic element that represents determination, certainty and physical power. Plato represented it with the hexahedron. Its colours are yellow, orange and brown. For the earth we have chosen an amazing antique brass finish we associate with the hues of the plain.  
FIRE: Brass with antique Copper finish. Fire is a classic element that represents energy and optimism, and is considered the most powerful of the elements, present in all the great religions and in alchemy and astrology. Orange, red and violet are its colours. The tetrahedron was the figure Plato used to represent it. The antique copper finish resembles the billowing flames of a bonfire.  
AIR: Titanium Brass finish. Air is intangible and is associated with thinking, intelligence, mental quickness and creativity. It perfectly symbolizes the scientist, the genius and the idealist. Plato related it to the octahedron and its colours are grey and white. For air we have chosen this attractive titanium finish to capture the lightness, hardness and sophistication of this element.  
UNIVERSE: Brass with rough crome and black finish. Meteor. The Universe is difficult to explain or measure. The whole, infinity, and the mystery of the unknown makes it something magical and unique, as beautiful as unattainable. Planets, stars and black holes make us dream of a fantasy world. Plato chose the dodecahedron to represent it .Inspired by the cosmos, we have given it an amazing rough finish in silver and black.  
WATER: BRASS with oxide greenish blue finish. Plato associated water with the icosahedron. Of the four elements, water is considered the most relaxing. It represents cleanliness and purity and symbolizes emotional life. Plato represented water with the icosahedron; Its colours are blue and green. We have chosen this fantastic turquoise tone to represent the oxidation of metal.  
We have also created three amazing finishes especially for Indiegogo: Mirror Chrome Brass, Metallic Blue Brass and Steell Brass.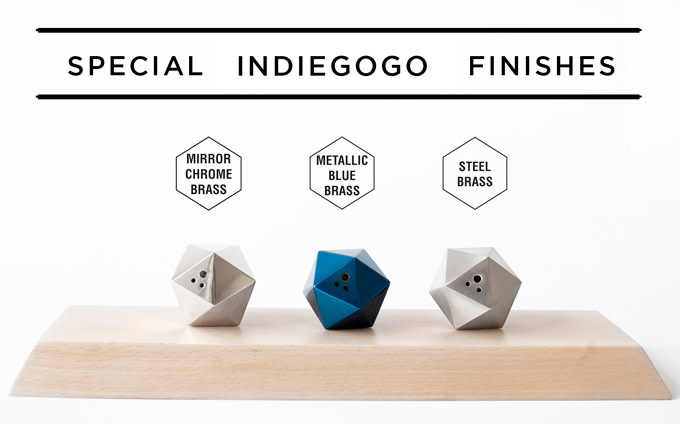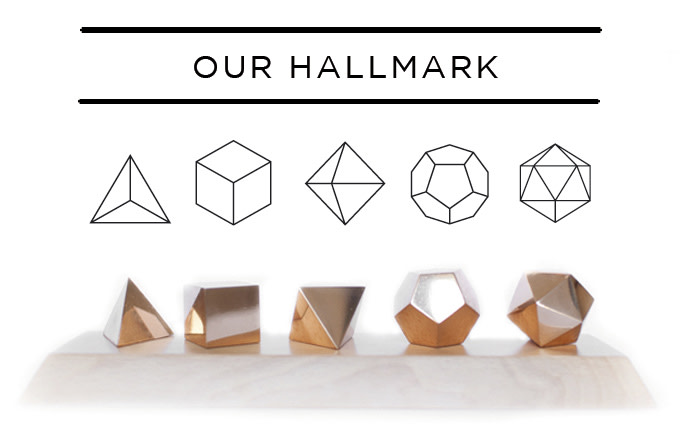 The classics are our hallmark. Their beauty and purity makes them special and unique. Unlike new "Elements", our classics have no engraving. In addition, after being polished they are protected with a type of wax that eventually darkens resulting in a beautiful patina.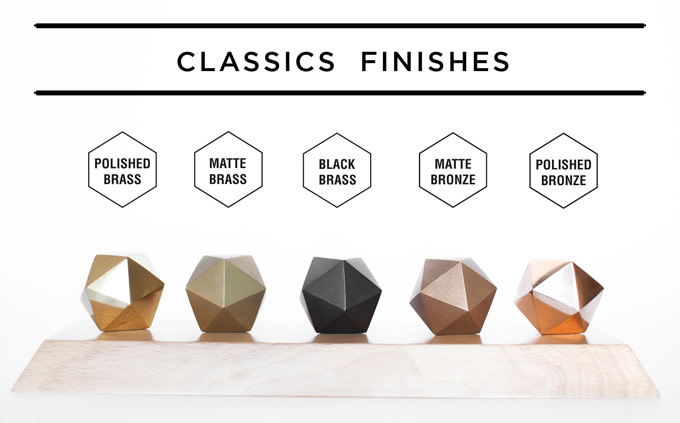 All our solids are available in 3 sizes: Mini, Big and Mega.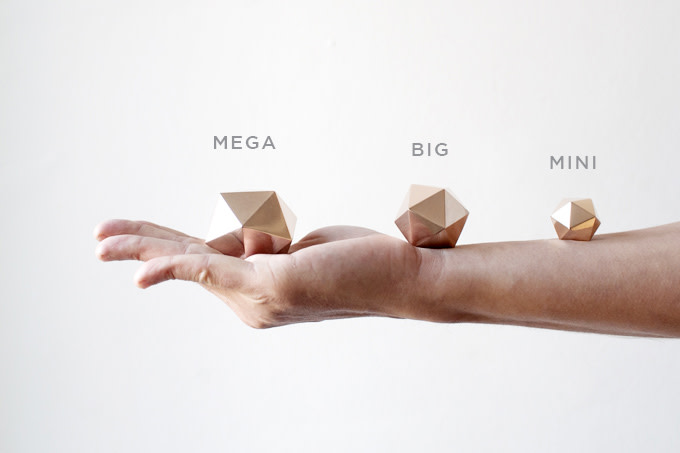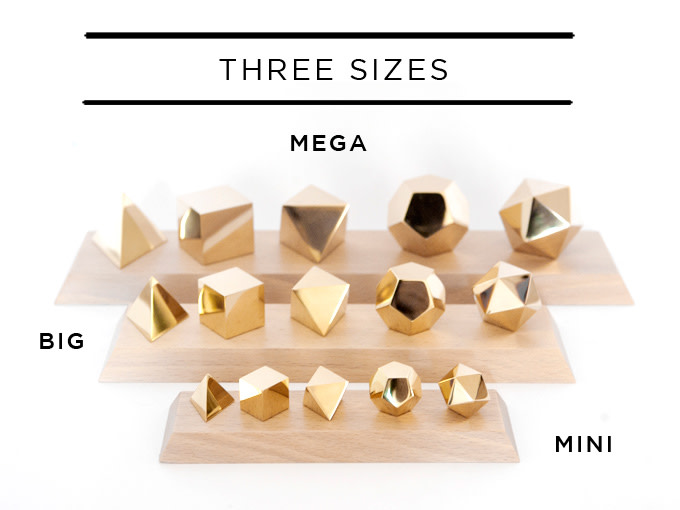 *There may be slight variations in size and weight due to the crafting process. Each piece is unique*
For those who want a complete set, we have designed an elegant base on which Platonics look like a work of Art. As it could not be otherwise, we have chosen one of the noblest materials: wood. In clear beech wood and Walnut varnish to highlight the tonality of our solids.  
Platonics Base is free for all backers that buy a set!!!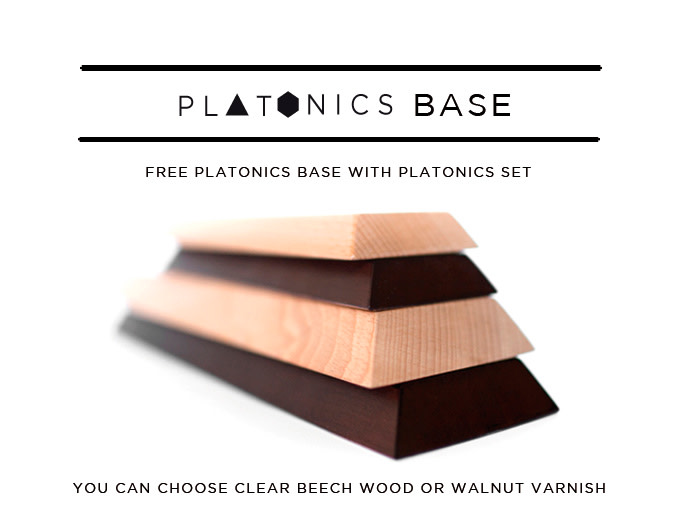 Find your combination in our perks. You can add more options to complete your selection with add-ons. For the most demanding do not hesitate to contact us, we will help you customize your perk.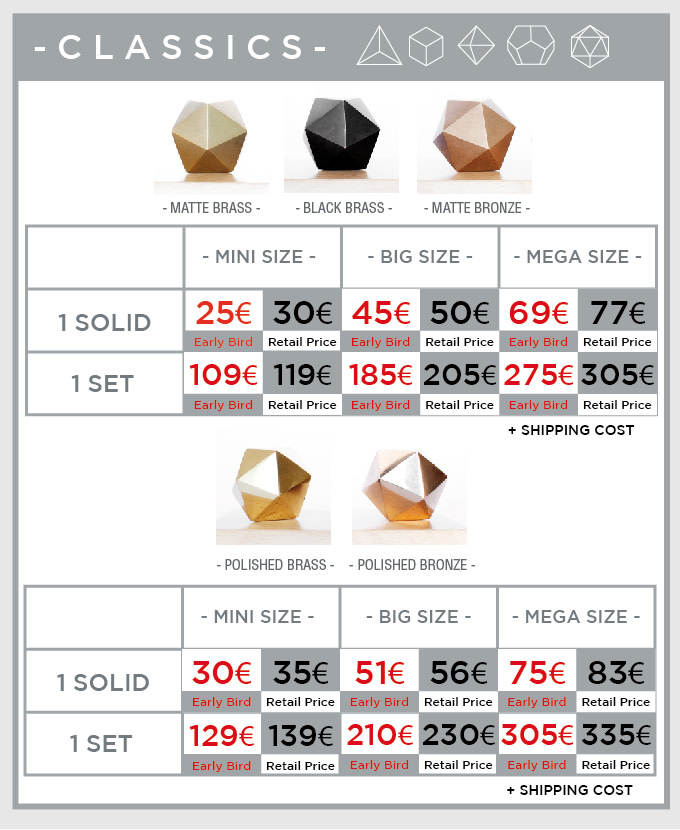 Exchange Rate (03/12/2017) 1,00 USD = 0,936 EUR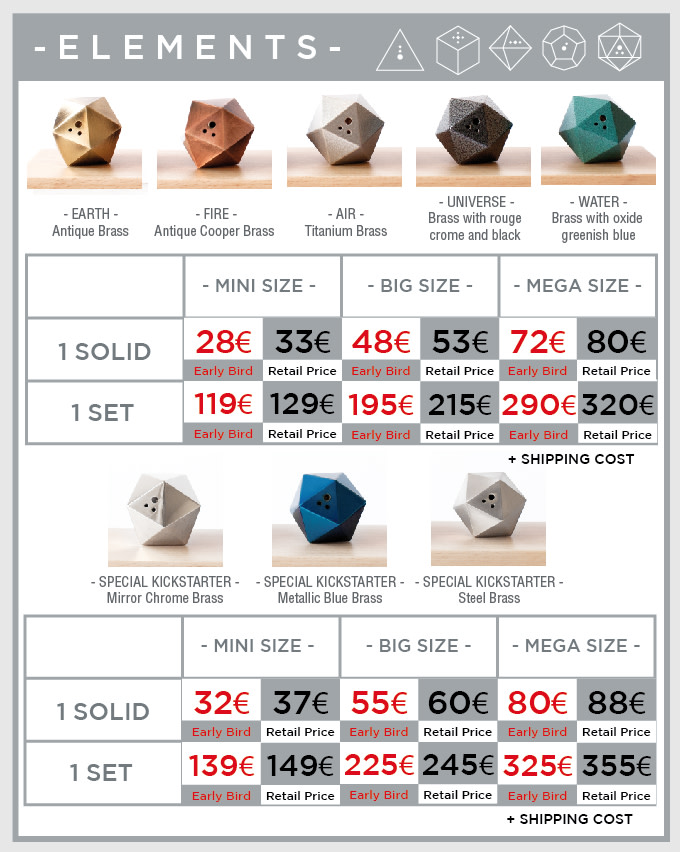 Exchange Rate (03/12/2017) 1,00 USD = 0,936 EUR

Adding stuff to your reward is easy.  
The add-ons are added to the perk that you pledged for. You can add ANY, and as MANY of each available item to your current pledge.  
To add an additional item, you have to increase your pledge by the amount of the PERK at RETAIL PRICE plus additional shipping costs due the different weight of the total order.  You have to select the perk and enter in the "Additional Gift" option the amount until the total price of our offer. ( Just make sure that it adds up correctly)  
RETAIL PRICES do not include shipping. If you want an add-on on its own then you would have to pledge for the pledge tier, include shipping and finally, add the cost of your add-on and additional shipping cost.  
Additional shipping cost reference table: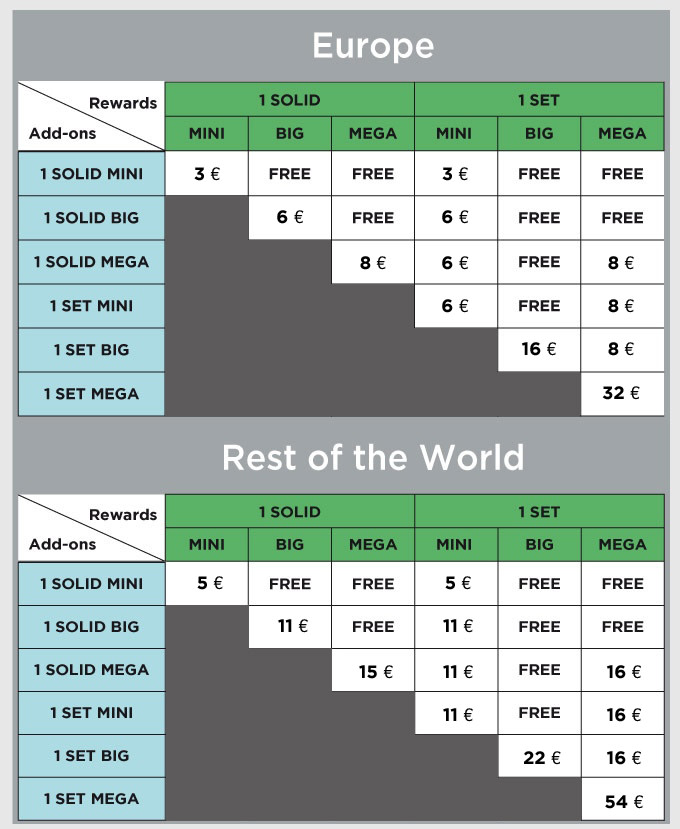 For example: 
You pledge a MINI SOLID MATTE at the price of 25€ at Early Bird but want an add-on of the same or other item. 
To know the total amount you will need to do the following calculation: 25 (Early bird MINI SOLID MATTE CLASSICS) + 7 (shipping costs to USA, i.e.) + 30 (RETAIL PRICE MINI SOLID MATTE CLASSICS, i.e.) + 5 (additional shipping costs) = 67 €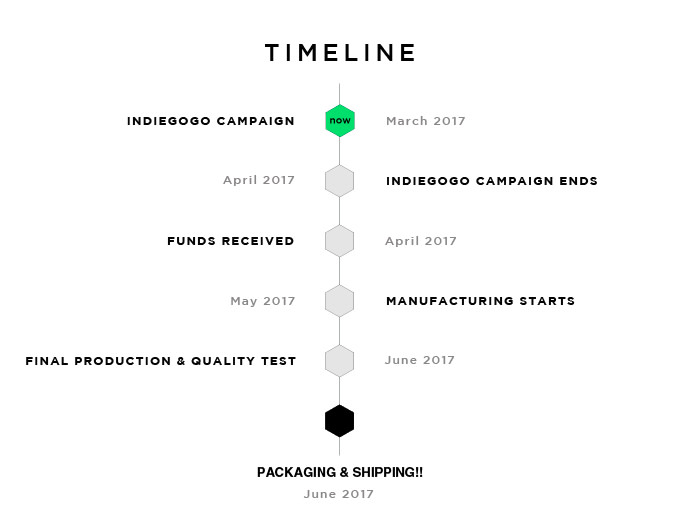 Visit our website at PlatonicsLand.com for more details and some cool photographs! Feel free to follow us on our social medias for some more fun stuff as the project progresses!
We love hearing from our backers! Send us an email to [email protected] or message us on IndieGoGo.
We hope we can count on your help to make Platonics a reality and share with all of you this experience.  
Thanks for Reading!
————————————————————–
Special thanks to Carlos, Fernando, Edgar, Cristina, Eoghan, Rubén, and our family for their support. 
Music Credits "Black Vortex", " Crossing the Divide" & "Hitman" Kevin MacLeod (incompetech.com) Licensed under Creative Commons: By Attribution 3.0http://creativecommons.org/licenses/by/3.0/