The Elevated Craft Cocktail Shaker | Innovative tool for every home bar. Vacuum insulated with a patented measuring system and more.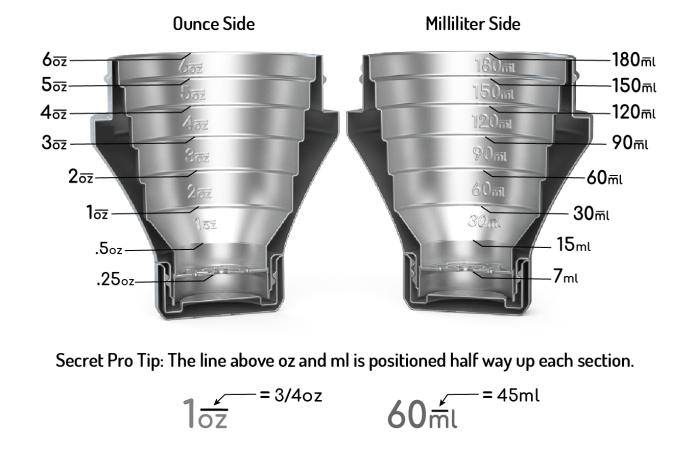 *Note, we removed the magnet from the packaging so that it is recyclable. 8-1-20*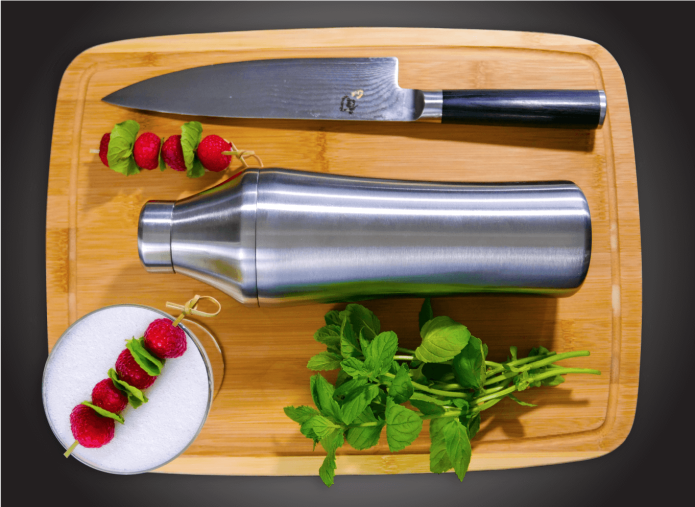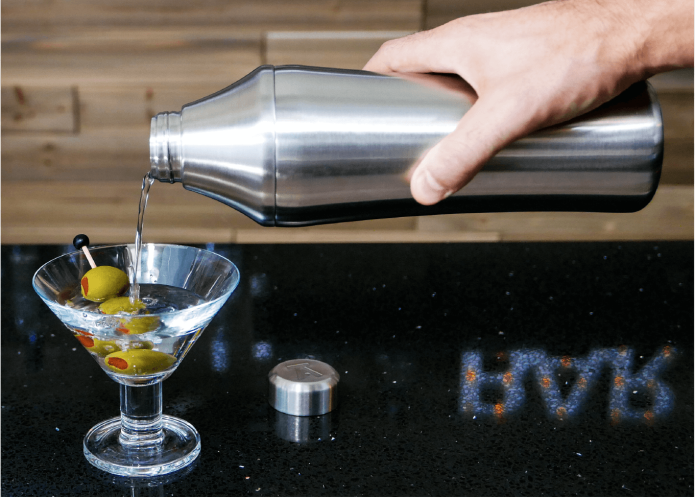 "I've made a lot of drinks, I've used a lot of shakers, and none of them have lived up to the hype like the Elevated Craft Cocktail Shaker has," said Sheldon Wiley, three-time Guinness World Record holding mixologist. "I know Adam put his heart into the design of the shaker, and I'm excited for more people to experience it for themselves."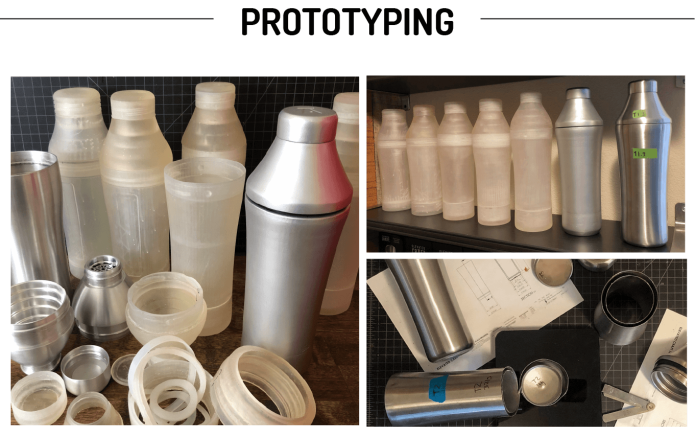 ———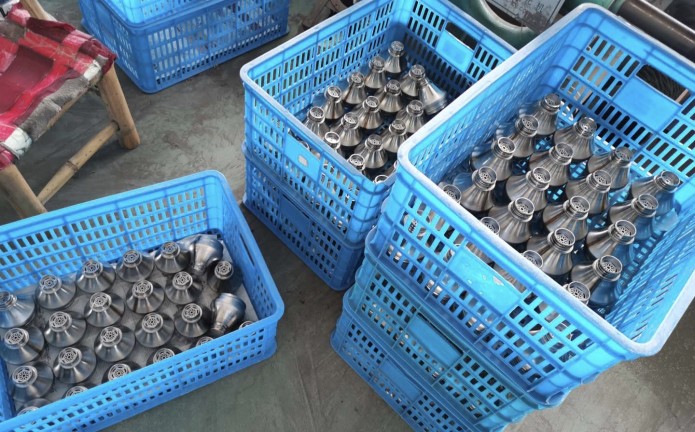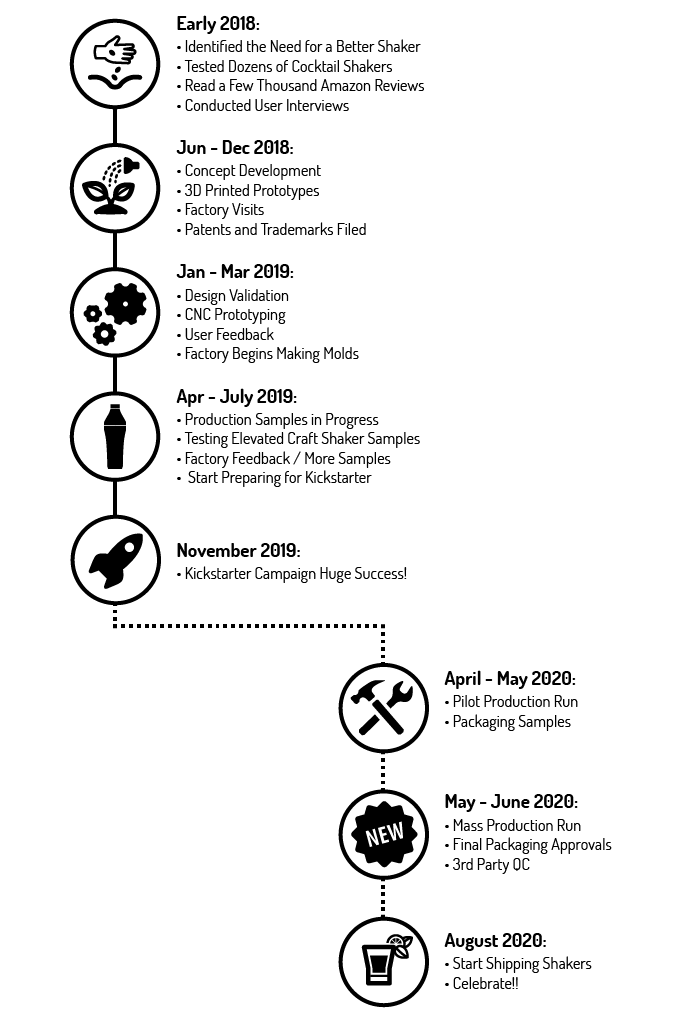 Thank you so much for taking the time to browse through the details of my campaign. 
I got my start in the craft beverage scene as a novice homebrewer and also a craft beer lover, like many of you. A few years ago, I ventured down the rabbit hole of home mixology and began experimenting with different ingredients and spirits. Making unique cocktails at home quickly became an obsession and creative outlet. While I loved making new drinks, I grew increasingly frustrated with the gadgets I was using. This frustration ignited my obsession to design better bar tools. 
I decided to focus on reinventing the traditional three-piece cocktail shaker because almost everyone has one, but they are incredibly annoying to use. No matter how much money I spent on shakers that claimed to be the best, they all had the same problems, so I knew I was onto something. After a ton of research, prototyping and engineering over the last 18 months, I am confident that you will love the Elevated Craft Cocktail Shaker as much as I do. 
As the owner of a full service design & engineering firm, I have a diverse background in the development and manufacturing of a variety of products — many sold at retailers like Amazon, Target, Walmart, Costco, Lowe's, REI and OBI.
My passion for product design and thoughtfully crafted beverages provided the foundation for Elevated Craft®.  With the help of the crowdfunding community, we will launch not only our flagship product, but also a company that designs and manufactures products that empower you to create unforgettable experiences.
The name Elevated Craft® combines two simple words that define our mission:
Elevate(d): raise to a more impressive state.
Craft: produce with skill and careful attention to detail.
Cheers, 
Adam Craft 
——————————————————
Affiliate Program
Be rewarded with 15% commission of every dollar you help raise for our campaign!

All you have to do is:
Share your unique Booster link on your Facebook, Twitter, Blog, Website, or wherever you'd like!
Refer to your Kickbooster dashboard and watch your commissions roll in!
—————————————————————————
Environmental Commitments
Long-lasting design
The Elevated Craft Shaker is designed to last for decades. Long lasting / reusable consumer products have the least environmental impact and our shaker is no different. We believe that this is the last shaker you will ever need to buy. The Elevated Craft Shaker is constructed from high quality stainless steel and, the silicone gaskets are replaceable if they ever wear out.
Reusability and recyclability
Our shaker will make tens of thousands of cocktails and even more memories. If at some point the world has a stainless steel shortage, you can rest assured that the Elevated Craft Shaker will sacrifice it's life to the recycling gods for the betterment of humanity.
Sustainable materials
Stainless steel is an environmentally friendly material because it is corrosion resistant and durable which guarantees a long lifespan and reduced carbon footprint. This is why it was an obvious choice for the Elevated Craft Shaker.
Sustainable fulfillment and distribution
We are working with a distribution center that focuses on plastic reduction in all steps of the fulfillment. As our production moves forward we will be taking steps to ensure our final packaging design does not require additional plastic protective sleeves and that our boxes are shipped efficiently.
—
Customs and Duty 
Our prices do not include VAT, GST or other country taxes. 
Our terms of sale for international orders are FOB destination. This means that you pay all duties or taxes in your country if applicable. As we are shipping these products all over the world, it is impossible for us to build in the various duties, VAT and GST tax for each location through Kickstarter.
If you would like to estimate your duties, you can use this online tool (remember to convert the U.S. dollars to your local currency):
simplyduty.com/import-calculator/
For international customers who are required to pay customs, you will receive an email from your local customs authorities asking for payment to have your order processed through customs. Unfortunately, there is no legal way around customs (including marking an order as a gift, which we cannot do). Once you make that payment to the customs broker your order will be processed for final delivery.
Shipping & Return Policy
It is critical that you enter your correct, valid address when placing your order. If our shipping carrier attempts delivery to you and you don't get it because you're not there, wrong address or moved without notifying us, and the package returns back to our warehouse, it will be the buyer's responsibility to pay the shipping fee to reship the order. When you receive your tracking number, please keep an eye out for the package.
We are not accepting returns of the Elevated Craft Cocktail Shakers that are ordered via Indiegogo and Kickstarter. However, if your shaker is not perfect, please reach out to us at [email protected], and we will do whatever we can to help make it right!