EQ – LED Horticulture Lighting | The Right Spectrum For Any Plant
The Right Spectrum For Every Plant
The EQ family was designed to exceed expectations for what an indoor grow light should be.  Select between three product variations to satisfy specific growing applications:
EQ-1  

A single-color fixture utilizing full spectrum white LEDs.  This is a great dual-purpose solution for applications that require efficient lighting for plant growth, yet also require high quality white light for general illumination.  The EQ-1 is manually controlled with a simple on/off switch.  When ordering, select between a warm white spectrum (3000K CCT) and a daylight spectrum (5000K CCT).

EQ-2  

A dual-color fixture utilizing red and blue LEDs.  This solution emits a purple light that is targeted for efficient absorption by plant pigments.  The targeted narrow spectrum LEDs utilized in the EQ-2 provide an increase in available PAR light when compared to the EQ-1.  The EQ-2 is manually controlled with a simple on/off switch.  When ordering, select between a vegetative spectrum (blue dominant) and flowering spectrum (red dominant).

EQ-3

​A smart, WiFi connected fixture with a tunable spectrum.  The EQ-3 has three independently controlled channels of LEDs:  red, white, and blue.  Over a million spectral combinations are possible to meet the specific needs of various plants.  A custom on/off schedule can be programmed to control the hours of illumination during a plant's life-cycle.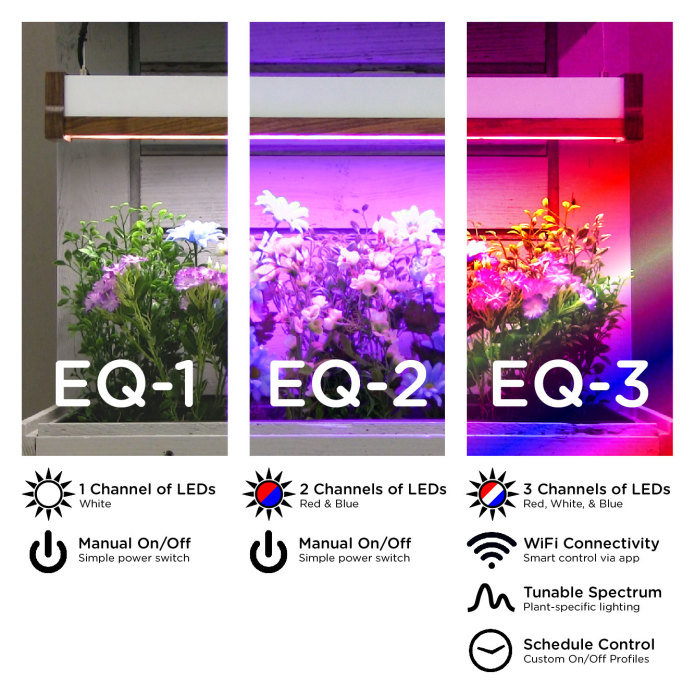 Premium Materials Inside And Out
High quality materials are used in the EQ construction for seamless integration into any living space.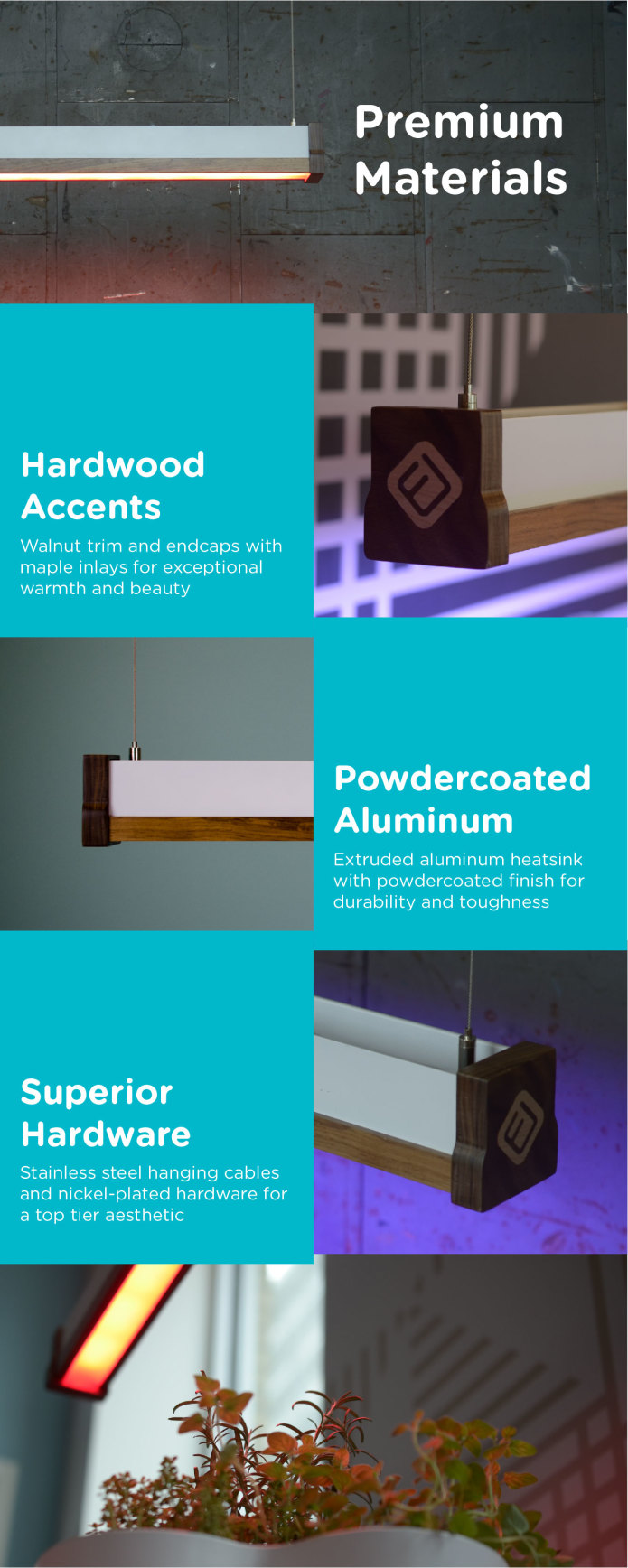 Easily Customized For A Unique Aesthetic
Several options are available to personalize your EQ.  We'll send out a survey to each backer to collect option preferences.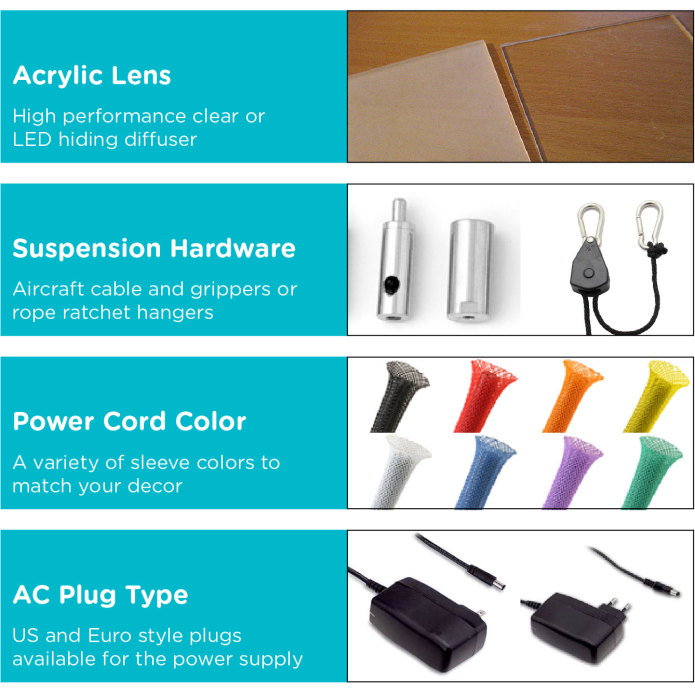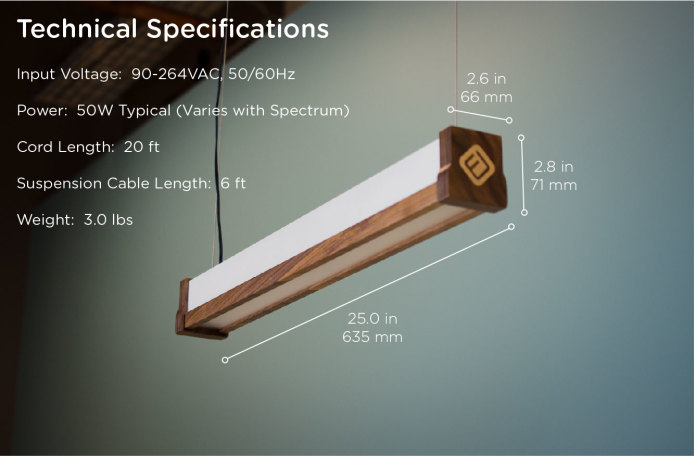 Open Source Ideology
We believe in the power of the open source movement.  By putting our design files in the public domain, we aim to cultivate rapid innovation from the open source community.  We want our users to not only have a voice in what our products deliver, but also have a hand in the product development life-cycle itself.  Furthermore, one of our long term goals is to foster a community of diverse users who openly share plant light recipes.  This sort of broad community engagement is only possible if we embrace open source values from the very beginning.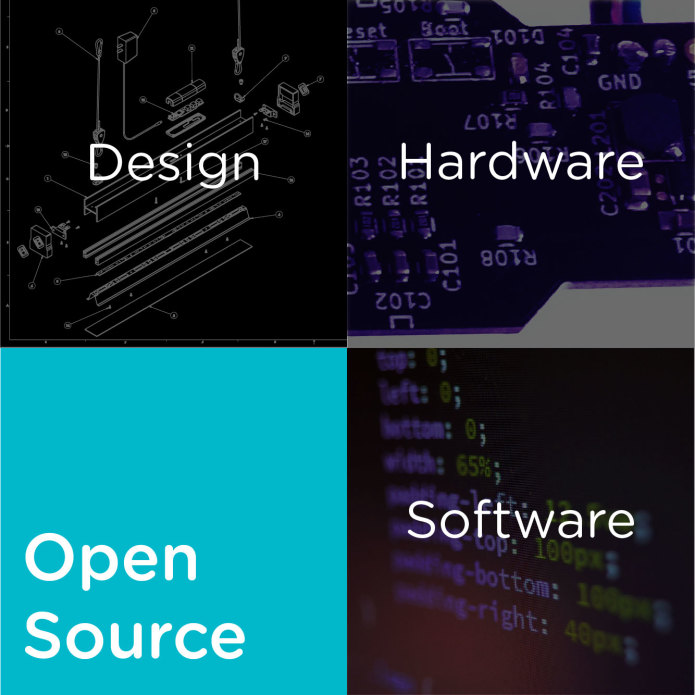 Where We Are
We currently have fully functional prototypes and a working web client to control the EQ-3 via WiFi.  Several critical validation tests have been performed to confirm that our high standards have been achieved throughout the development process, including:
Temperature testing in an elevated ambient to ensure reliable operation in demanding environments.
Electrical testing to confirm that the LEDs and driver circuitry are being operated within recommended parameters.
Optical testing to characterize the light distribution and intensity with various lenses and LEDs.
What We Need
We have many years of experience bringing new products to market at small and large sized companies.  We have an acute understanding of the inherent difficulties of designing, engineering, and manufacturing a wide range of LED lighting products.  Our experiences have driven us towards a lean design and manufacturing system to bring the EQ to market.  Many of our design decisions were influenced by the need for just-in-time manufacturing.  Additionally, our EQ design requires a minimum amount of production tooling.  This design strategy allows us to fabricate most parts of the EQ in small volumes with little capital expenditures.  
However, our electronics are still very much affected by economies of scale.  We need to purchase the components for our driver and LED PCBs in medium-to-high volumes in order to meet reasonable price breaks.  Our $10,000 campaign goal will enable us to purchase the necessary inventory to fulfill our dream of supplying top quality LED horticulture lights to enthusiasts around the world. 
Meet The Team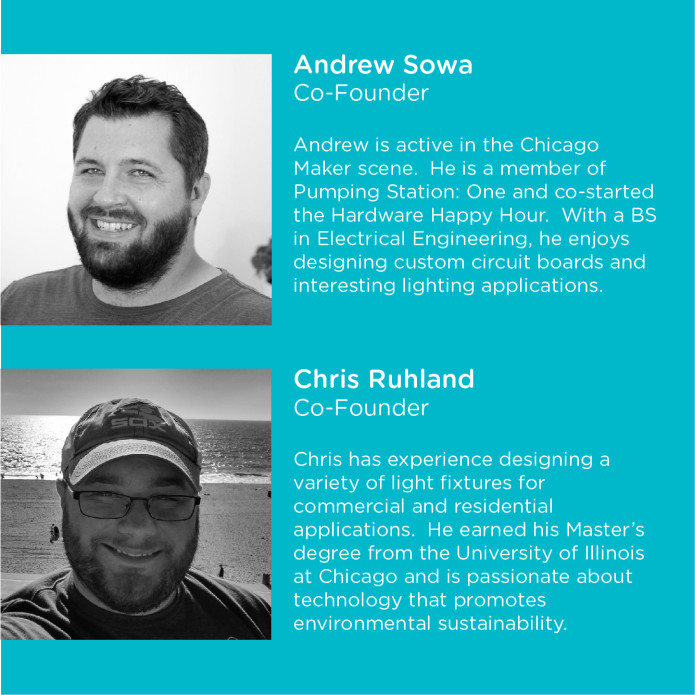 Growing More Than Plants 
Urban Agriculture is an exciting new field but it needs help to mature.  We think the EQ series is a step in the right direction to improving the industry one fixture at a time.  As a company we want to push the envelope of design and technology to improve the lives of our users.  It's going to take all of us to make it a reality. 
The Perks
Here is a breakdown of our EQ pricing: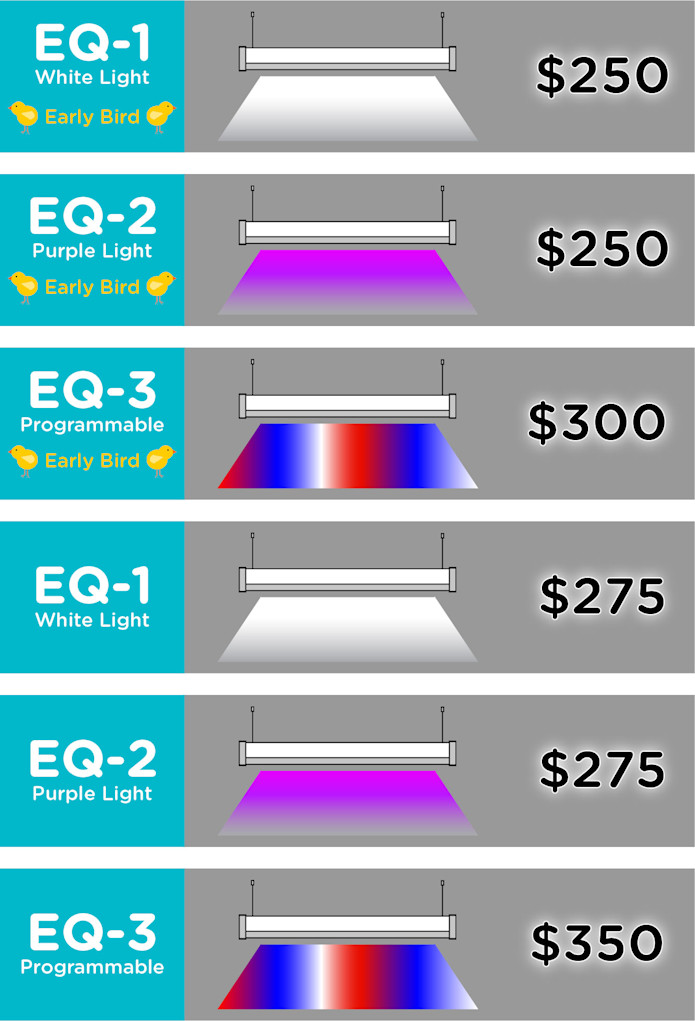 Risks & Challenges
Developing a new product is a difficult, time-consuming, and often frustrating process.  While we have overcome a series of technical obstacles to get to this point, there are still a number of challenges yet to come.  Below is a list of the biggest risks and challenges we have identified for the order fulfillment phase, along with our plan to address these potential problems:
Strategic Sourcing

The Problem:  We are dependent upon a network of suppliers, distributors, and manufacturers to deliver the materials we need to assemble our product.  Supplier lead-times, distributor stock levels, and the discontinuing of components have a direct impact on our ability to ship finished products to our customers in a timely fashion.  
The Risk Mitigation Plan:  Alternate components and secondary suppliers have been identified for all critical items on our bill of materials.  This has prepared us to quickly respond to component shortages and limit the impact to our delivery schedule.

Software Development

The Problem:  Our fully functional prototypes of the EQ-3 are presently operated via a WiFi web client.  Our goal is to further develop the WiFi app's user interface.  Software development and debugging is time-consuming work and can put a strain on a startup with limited resources.
The Risk Mitigation Plan:  The WiFi app development is already underway, but we plan on adding resources to our team by partnering with freelance programmers.  This workforce flexibility will allow us to add resources if software programming becomes the critical path activity on our development timeline.

Manufacturing Capacity

The Problem:  Manufacturing any product requires a significant amount of resources in the form of labor, equipment, and storage space.  As production volume increases, the manufacturing overhead costs also increase proportionally.  Consequentially, a startup company with limited resources can experience growing pains while ramping up production of a new product.
The Risk Mitigation Plan:  Our operations are currently based out of mHUB in Chicago, the city's first innovation center for physical product development and manufacturing.  This affords us access to advanced prototyping and manufacturing equipment typically reserved for large established companies.  Our initial low-volume production runs will be completed in this facility and serve as our temporary factory as we transition to a building of our own.  
Other Ways You Can Help
We need your help to spread the word about our EQ family of LED Horticulture lights.  By taking part in our referral rewards program, you can earn credit towards our perks and bring us closer to our campaign goal:
Share a link to our campaign on social media, blogs, or your website and we'll reward you for any campaign purchases that originated from your link!  You'll earn a $10 credit for your first 10 referral purchases, and a $15 credit for any subsequent referral purchases.
Don't forget to use the Indiegogo share tools!  Without using these tools to generate your unique link, we won't know that you are the source of the referrals.