EQUA Smart Water Bottle with smart glow reminders | Smart hydration coach with integrated subtile glow that reminds you when it's time to take a sip.


Find the Smart Water Bottle PRESS KIT here 

As little as 2% loss of our bodies' water content begins to cause the brain to lose alertness and the body to feel tired.
Drinking water is one of those simple daily routines that we forget about too often. And while most recommendations focus on how much water we need to drink, not enough is said about how often you should be sipping on your water. The frequency and even distribution of your water intake during the day is actually the key to preventing dehydration.   
The new EQUA Smart Water Bottle is here to take your water intake – and overall wellbeing – to the next level.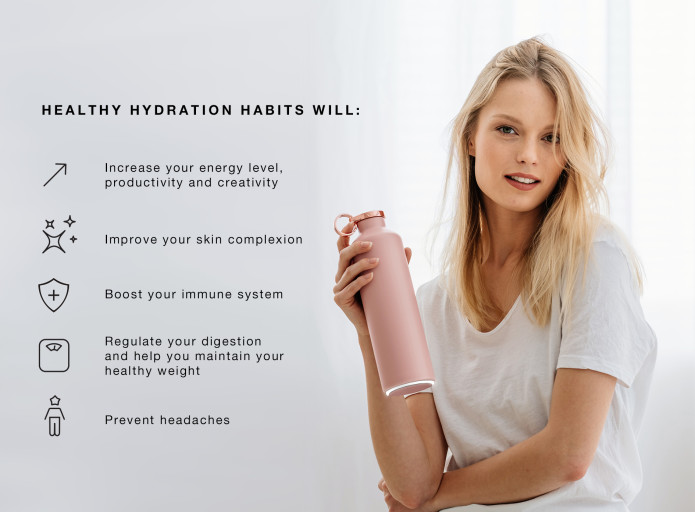 It glows every time you need to take a sip of water  
Once you're thirsty it's already too late. EQUA will make sure to send you regular reminders every time its needed in order to prevent your dehydration.
Knows your optimal daily water intake
You're an individual and you need a personalised plan for your optimal water intake. EQUA's APP will do that for you and become your healthy lifestyle coach.
Tracks how much water you had
Once you start following your water intake you'll find that on the days when you reach your daily goal, you'll feel more energised and more friends will comment on your glowing skin.
Communicates with you, even without the use of your phone
A gentle tap on the bottle will reveal how well you are doing – with a slow glow if you're on track or a quick glow if you need to catch up.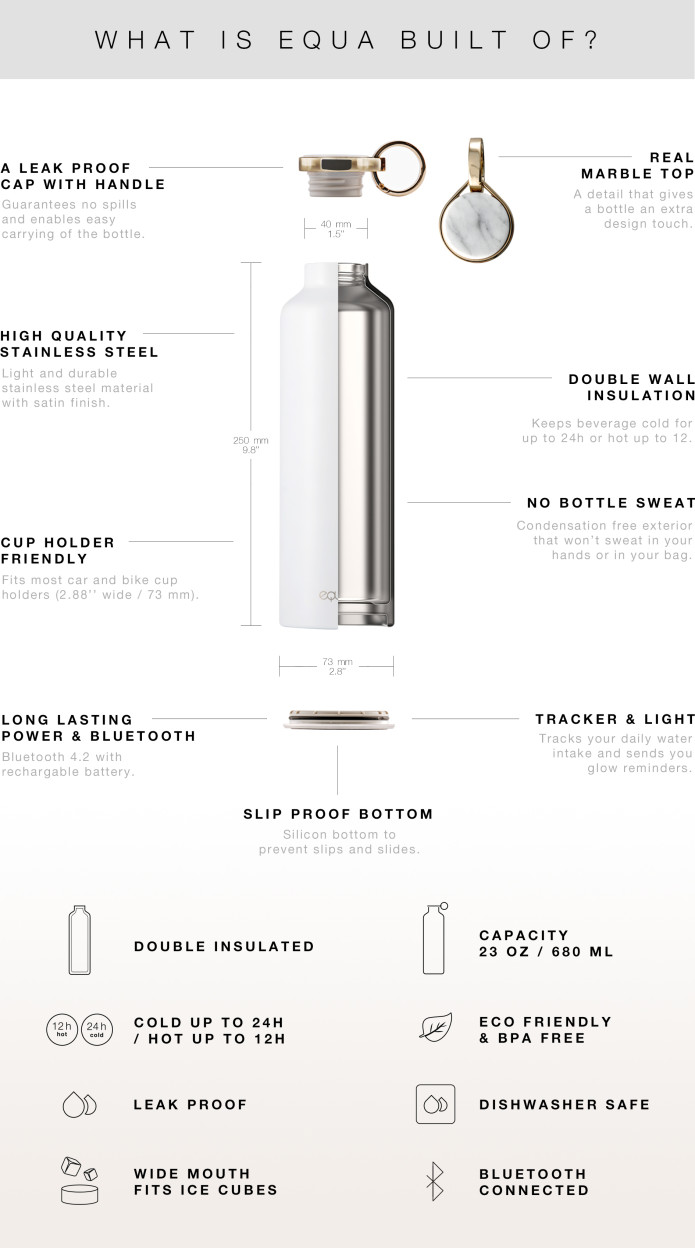 A companion mobile app for the EQUA Smart Water Bottle will help you keep close track of your hydration. The app recommends your daily water intake according to your body characteristics and lifestyle. It tracks your water intake and offers you an insight look in your hydration habits and analytics. You can also control the frequency of glow reminders on the bottle that will remind you when you need a sip of water.

Combining smart technology with a sleek, attractive design, EQUA is crafted in three color options: Snow White, Dark Grey and Pink Blush.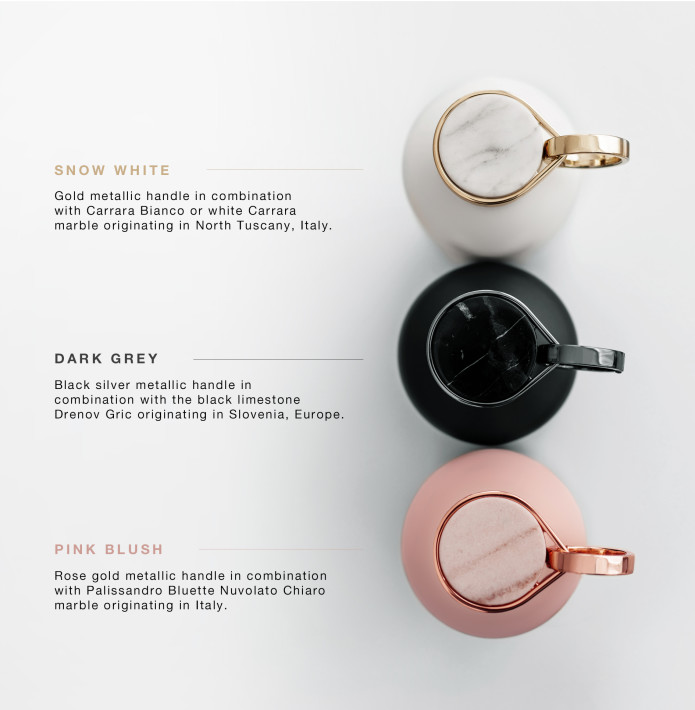 Using EQUA bottle will not only have an amazing impact on your wellbeing, but will drastically improve your environmental impact. While bottled waters are conveniently available at our every step, too often we're not aware of the scary fact that plastic has been mass produced only since 1950's but we already have a mere 9.2 billion tons of plastic waste to deal with. A switch from disposable to reusable water bottle is a simple step with a big impact!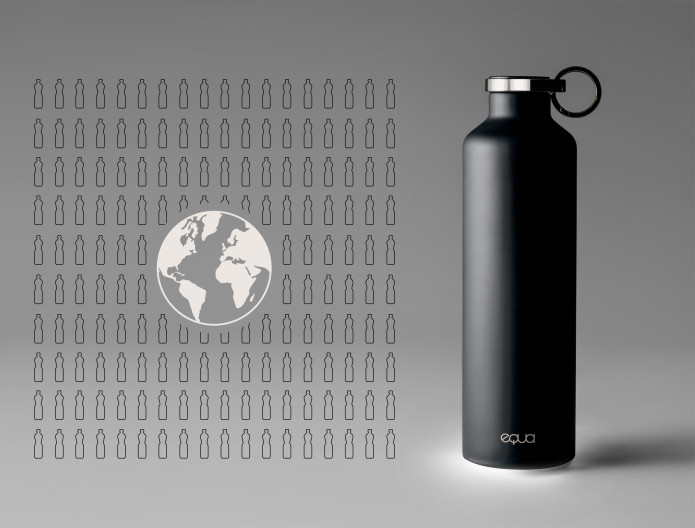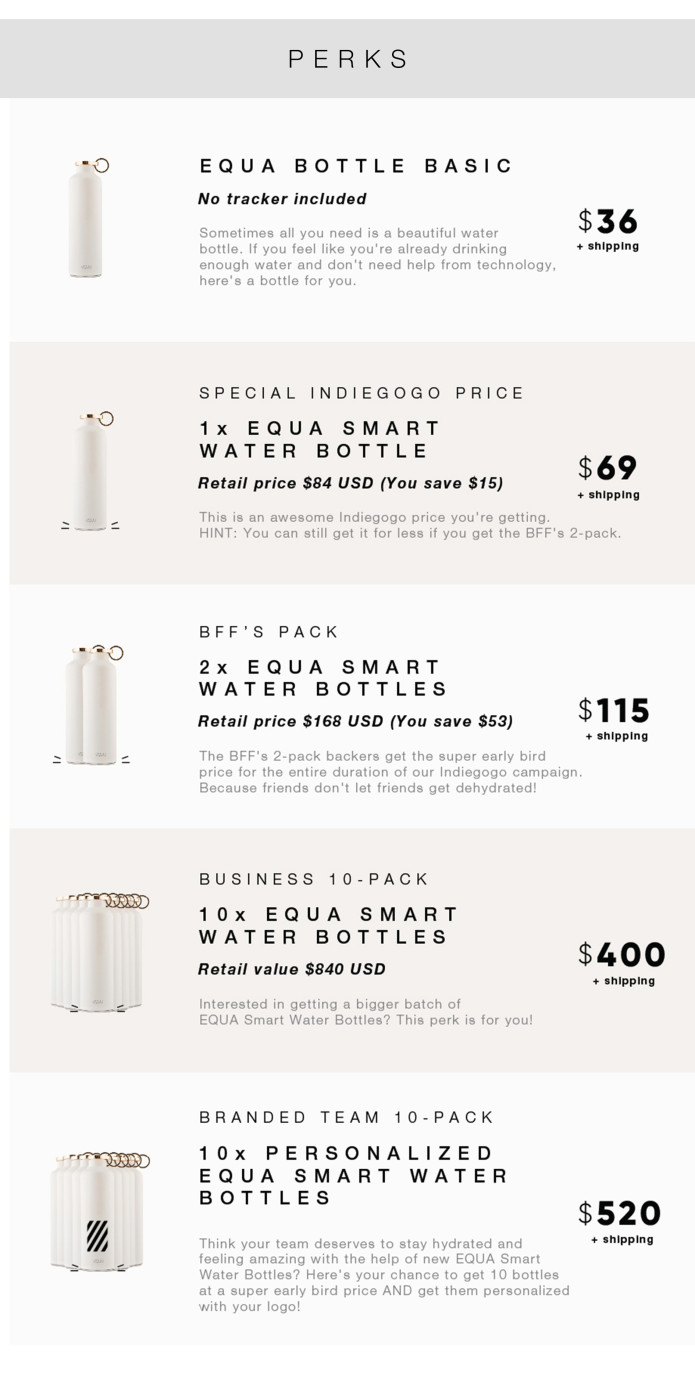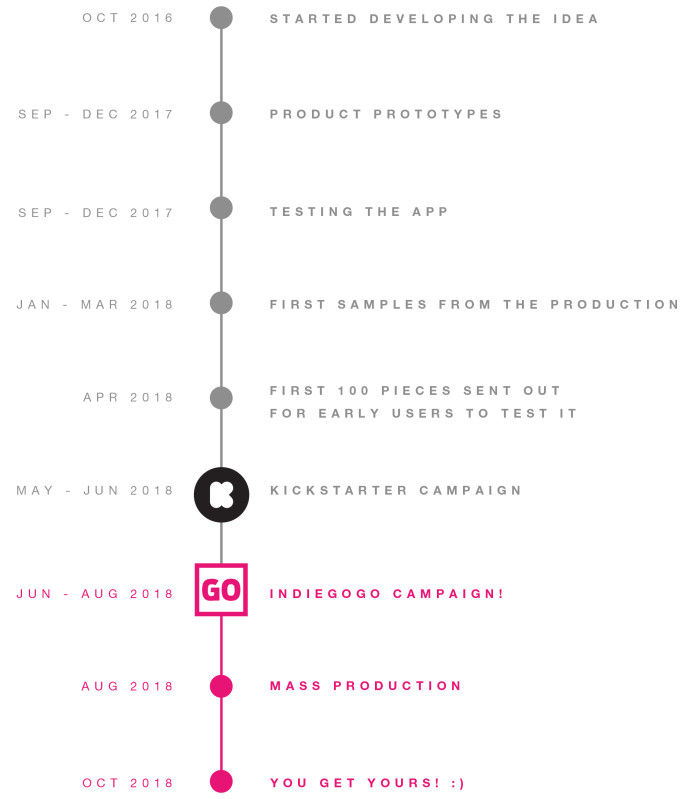 There are many possibilities how to measure your water intake with the help of the bottle and the app. For us the real challenge was to build the right technology with the best user experience. Our goal was to make the hardware part small, durable, functional and packed in a beautiful design. Our choice of technology was the motion sensor (accelerometer). The accelerometer is able to recognize your movements and calculate the amount of water you drink.
How it works?
The main innovation is in its software. We have developed a clever algorithm to understand specific bottle movements. We then use machine learning technology to translate these movements into useful data. This means that the bottle and the app will improve its accuracy through time and through use.
Behind the scene

EQUA bottle contains some very smart electronic parts which unfortunately can sometimes come with a bug 🙁 For those cases, we offer a 1 year limited warranty! Which means we're giving you enough time to let us know if your bottle arrived with a factory mistake. Our team will do our best to assist your case in the shortest time possible with as little fuss as possible.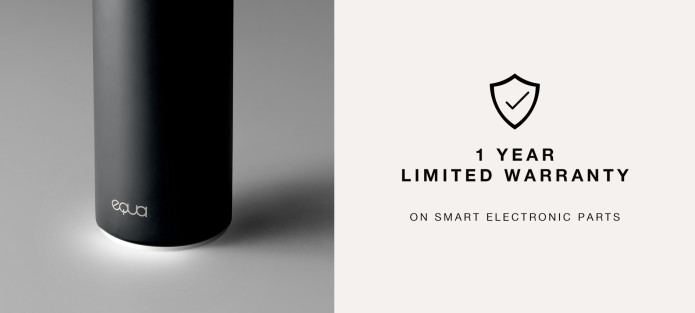 It's a great pleasure working and creating with such a great team.
Product designer: Darja Osojnik; UX designer: Maja Repotocnik; Art director: Anja Secnik; Graphic designers: Petra Ogrin, Manca Mencin, Petra Hertl; Chief business development officer: Helena Felc Zveplan; Production manager: Domen Lavric; Marketing team: Alja Bitenc, Lara Oven and Maja Vejnovic; Customer happiness team: Saska Bagari, Martina Humar, Andrea Negoescu, Leja Sirola and more than 10 other team members that made this project possible. You guys are the best! 
We also couldn't have done it without the support of our friends. A special thank you goes to: Borut Kumperscak – development, Jure Jazbec – hardware development, Izidor Makuc – firmware development, Jani Mahne (Izstop) – software development, Bright Visuals – video production, Jaka Birsa – photography, Mak Kordic and CNJ team – app UX design.
Thank you!
Anze Miklavec and Stella Korosec, Co-founders 
Risks and challenges
We're a team of young, motivated minds breathing the creative spirit and drinking gallons of water. Our philosophy is to create for your better future and love every moment of it.
In the past 4 years our team has already successfully funded and delivered 3 Kickstarter campaigns: GOAT MUG, GINA and EQUA Smart Water Bottle and 1 Indiegogo campaign: GINA. Supported by more than 17,500 backers and raising more than $1,5 million in total, we're now back, more experienced and skilled.
EQUA has been on the market for 8 years already. We've presented several different custom made water bottles in the past and we have hundreds of thousands of happy users worldwide. We've listened to all of your feedback, went deep into understanding the experience of staying hydrated and feeling good of our customers and combined it with the latest technology. We believe the new EQUA Smart Water Bottle is the ultimate best answer for the needs of anyone even remotely interested in having a healthy body and feeling good in their skin.
With years of experience in product design, product testing, production and logistics we are confident that we can deliver a perfect water bottle to you based on the timeline defined in our campaign. We already have a first sample set of bottles from our production company which are being tested by selected users all over the world as we speak.
Don't let thirst come first. Get your EQUA today for an amazing early bird price and have the privilege to be among the first to experience the future of hydration.