Eteria – Portable Air Purifier & Monitoring System | Redefining the concept of air purifiers thanks to a diffused & sustainable solution to air pollution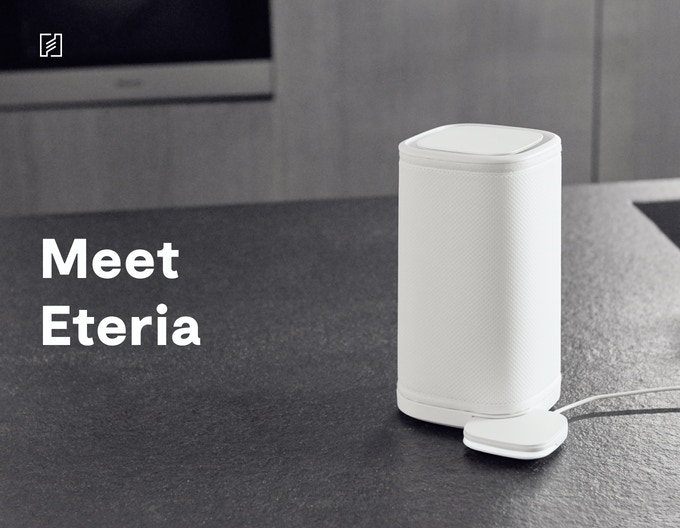 We're excited to introduce our third product: Eteria. It's a smart air monitoring and purification system. Eteria means compactness, excellent performance, sustainable design, zero-waste philosophy, and cutting-edge technology,  at a fraction of the price.
Eteria follows the air, in fact, it's versatile and adaptable in terms of positioning. Eteria redefines the concept of air purifiers thanks to a diffused purification and monitoring system.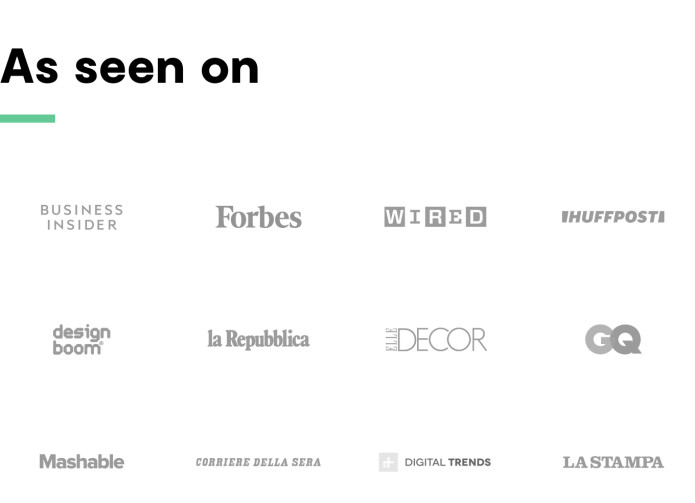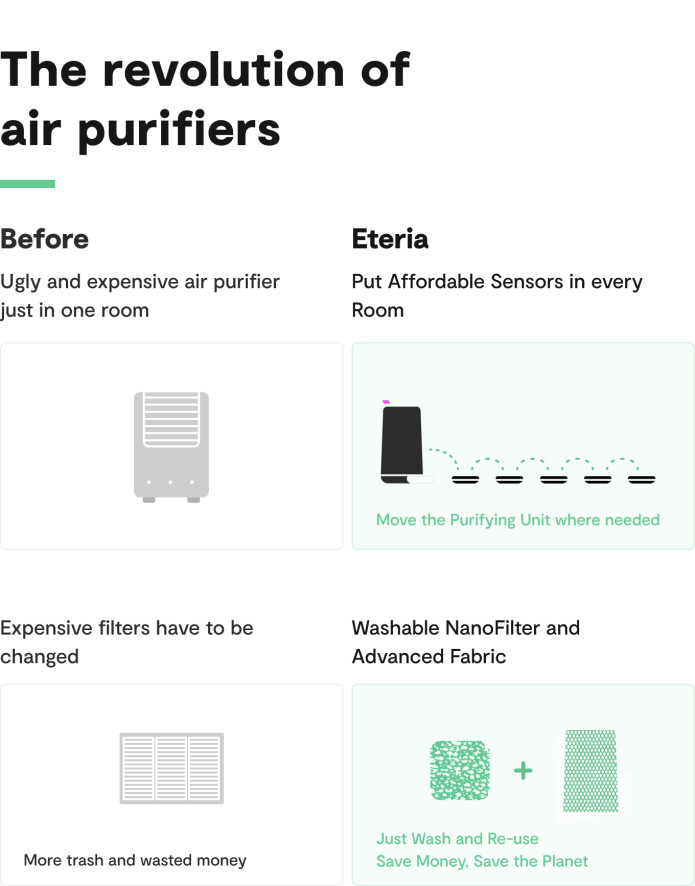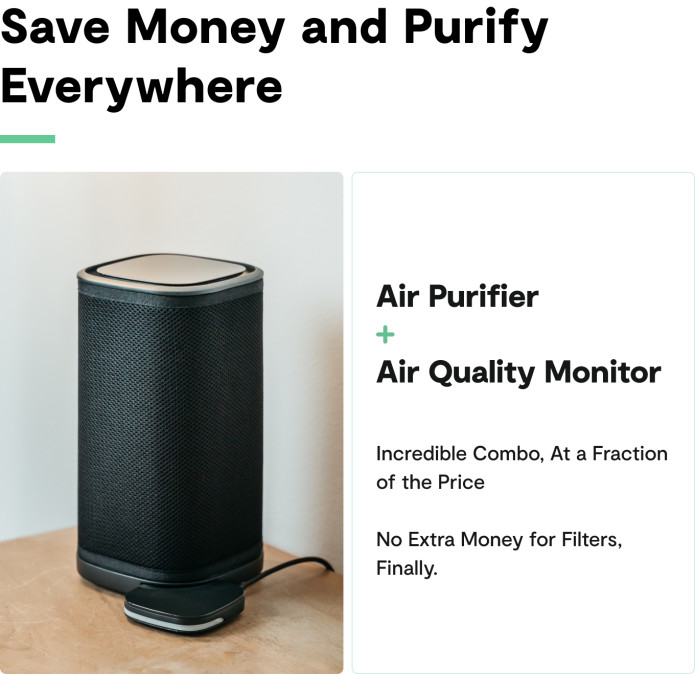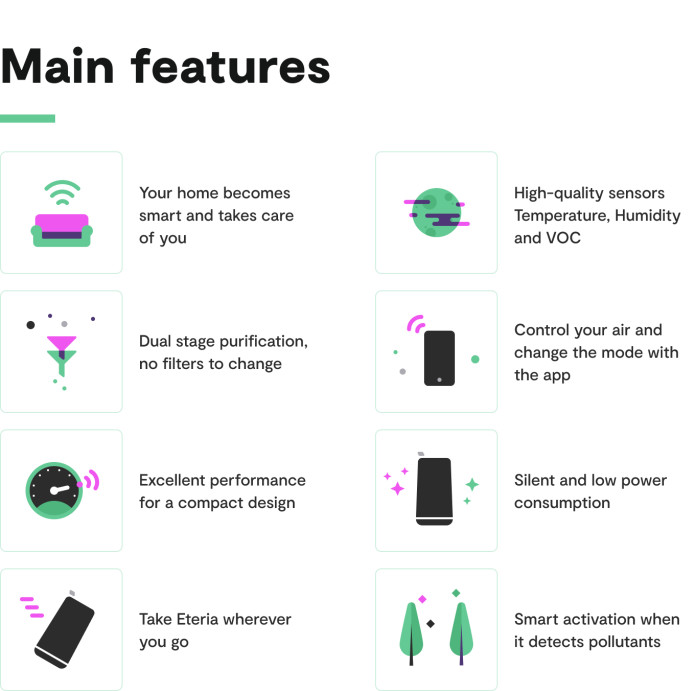 Vitesy is back with a new innovative product. We know Indiegogo well and we are aware of the challenges and we are ready to face them again. Each campaign is a new adventure, we learned from our mistakes, we have grown and improved.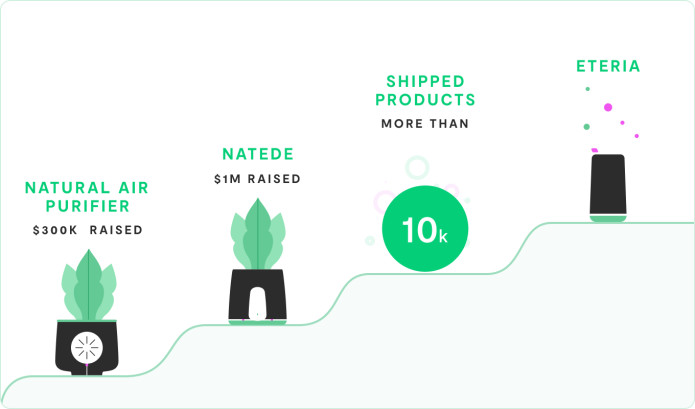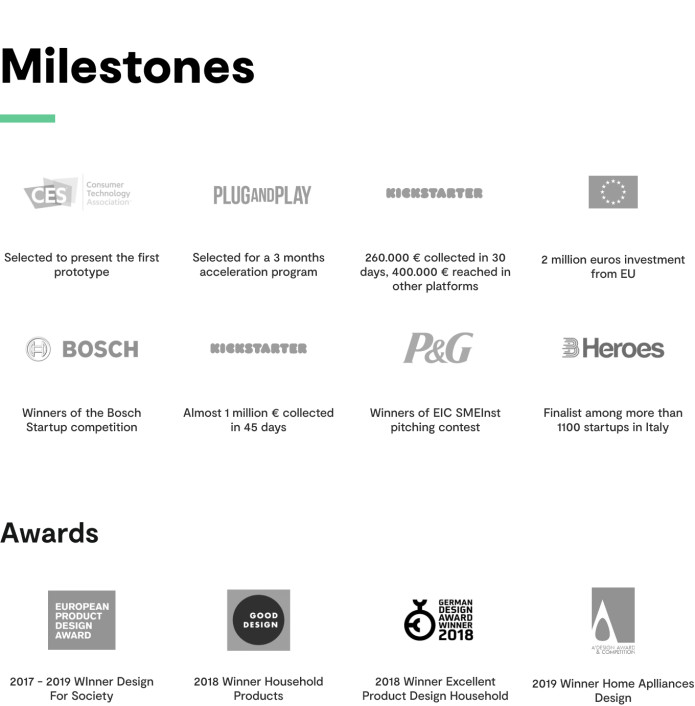 We can't wait to meet our new backers: some of you will be new, some will be old friends. You are the most important part of this journey, our believers and supporters.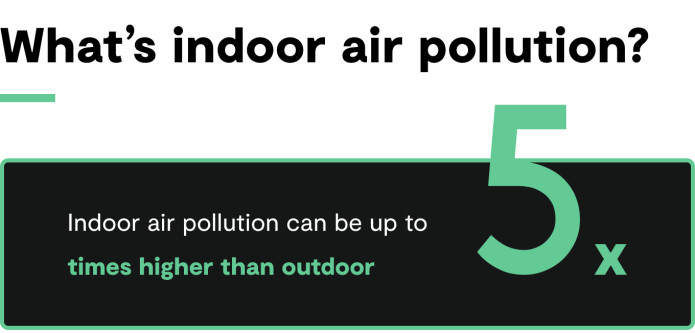 A common assumption is that, while the air outside is definitely polluted, the air we breathe inside is clean. But that's wrong – often the air in our homes contains more contaminants than the air outside!
When you cross your threshold and enter your home, you should leave the cares and worries of the modern world behind. By improving the quality of the air you breathe, you will boost every aspect of your life.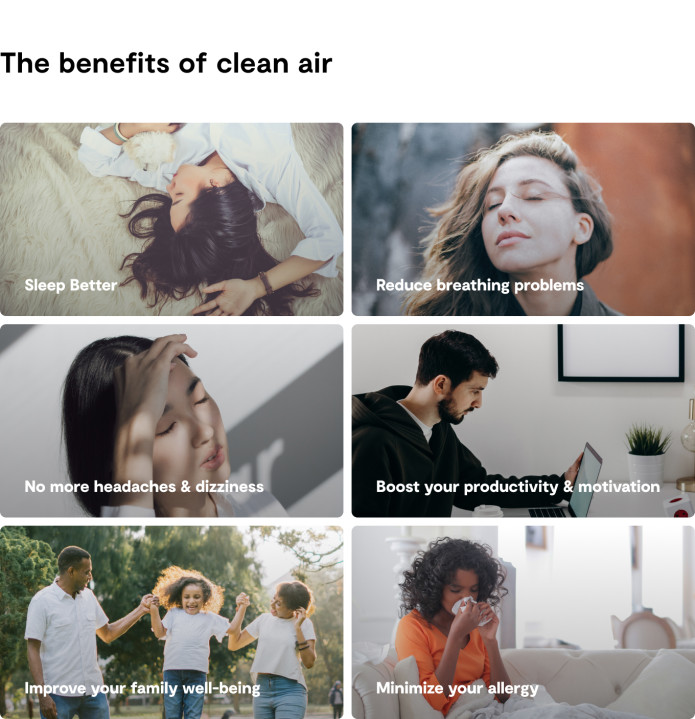 Eteria is made of 2 different parts: the purifying unit and the monitoring module (the air purifier and the monitor stations).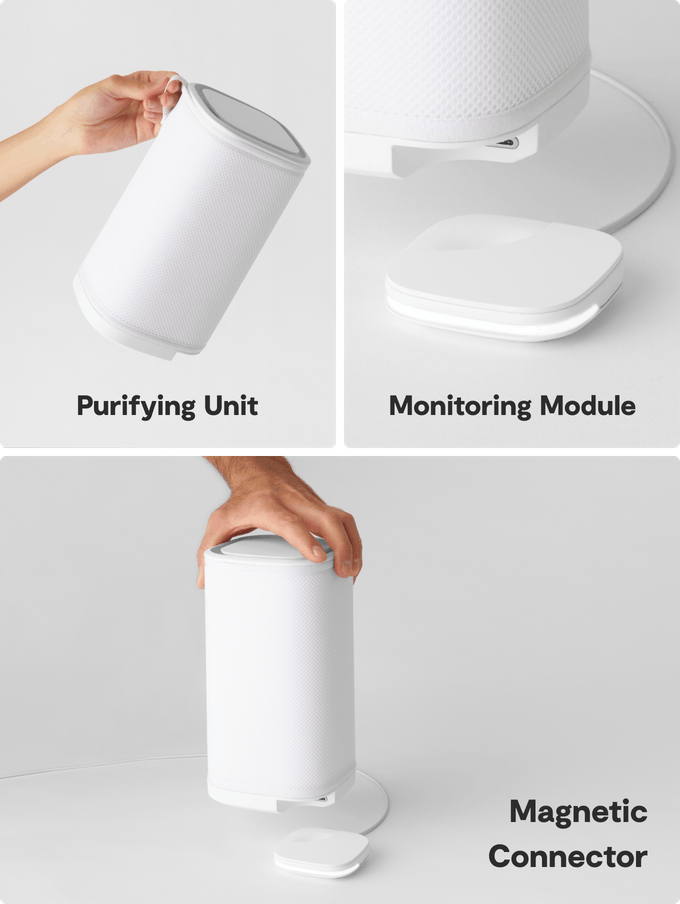 Thanks to a smart network of modules and mobile purifiers, it performs a complete mapping of your spaces to eliminate pollutants and purify every corner of your home. It's a tailor-made solution, you can build it around you according to your needs and the number or size of the rooms. You can monitor the air quality wherever you want and always have the pollution level of every single room under control to purify it. It's never been so easy!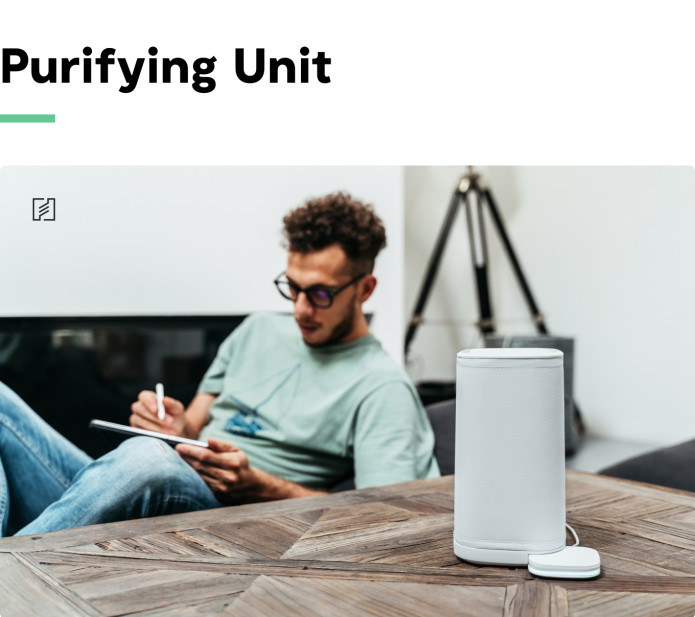 The purifying unit can be connected to the monitoring module through a magnetic connector. This purifying unit uses the latest generation of photocatalytic technology, more green and sustainable – thanks to powerful nanomaterials. Eteria's purification technology produces free radicals that attack pollutant molecules, breaking apart their chemical bonds, and turning them into harmless substances.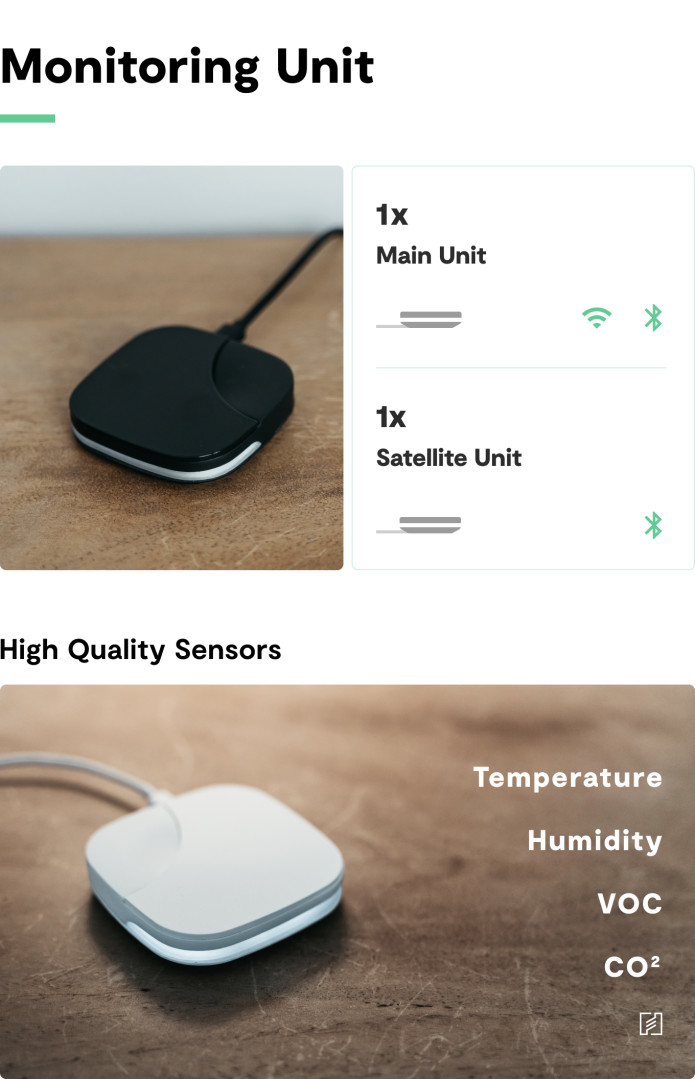 The monitoring module is the heart of Eteria and has 3 high-quality sensors: temperature, humidity, and VOCs. Thanks to the LEDs it will immediately give you a hint of the air quality in the room. Your first Main Module connects to your home network via WiFi – all the extra Satellite Modules will connect to the Main Module via Bluetooth.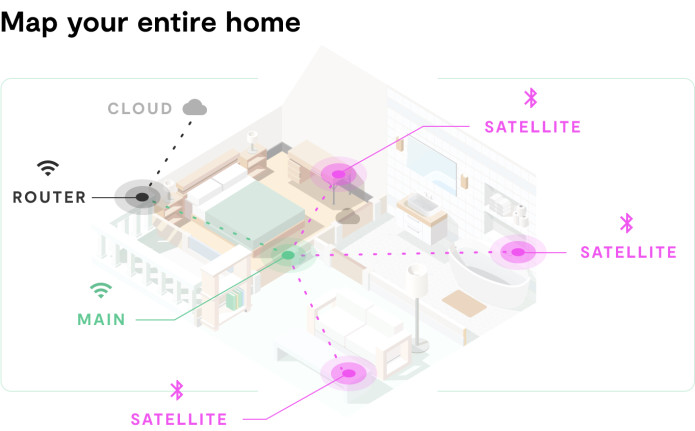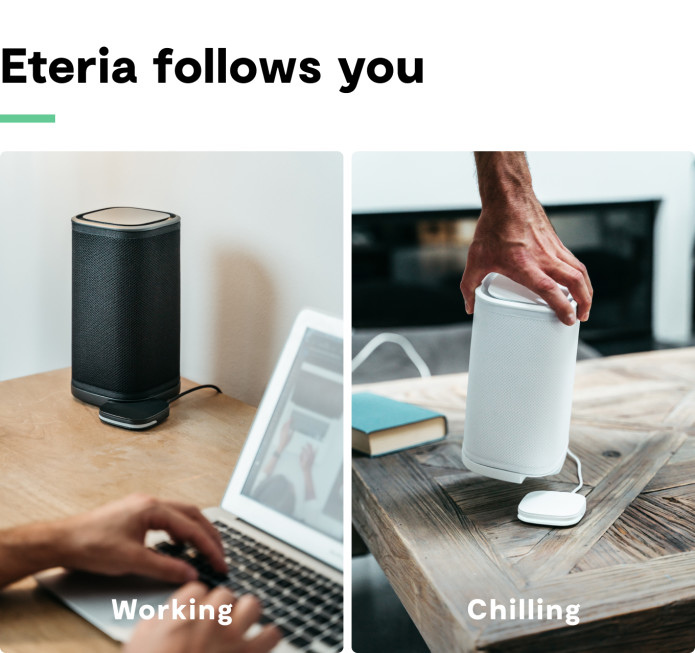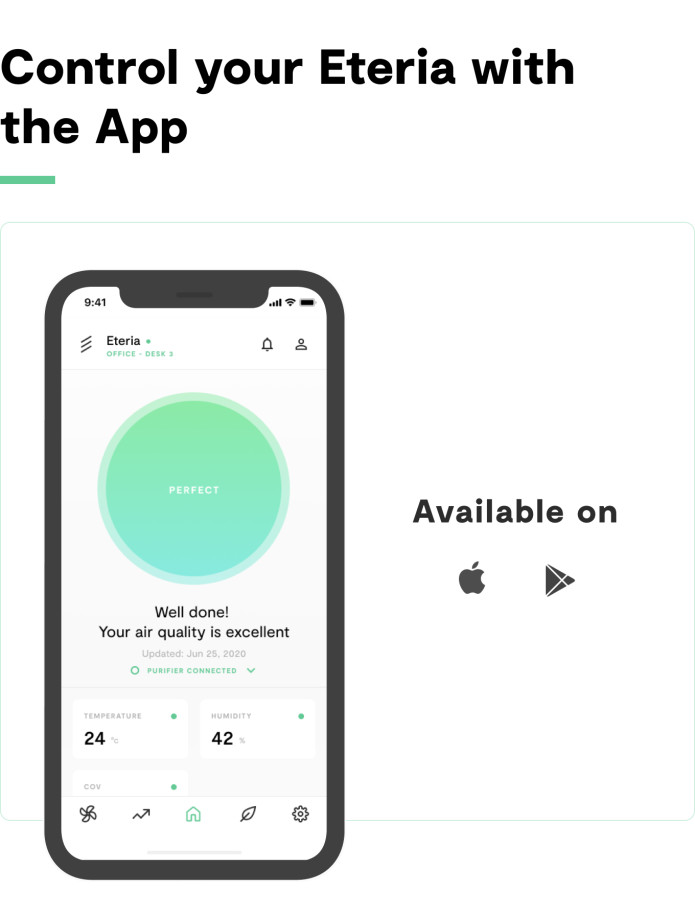 With Vitesy Hub app, you can control the real-time data of your air quality in your homes. Eteria adapts to your needs thanks to the customisable programs. From LEDs to fan speed you can change every aspect. Select from the automatic, silence, standard, performance, custom, and timer program.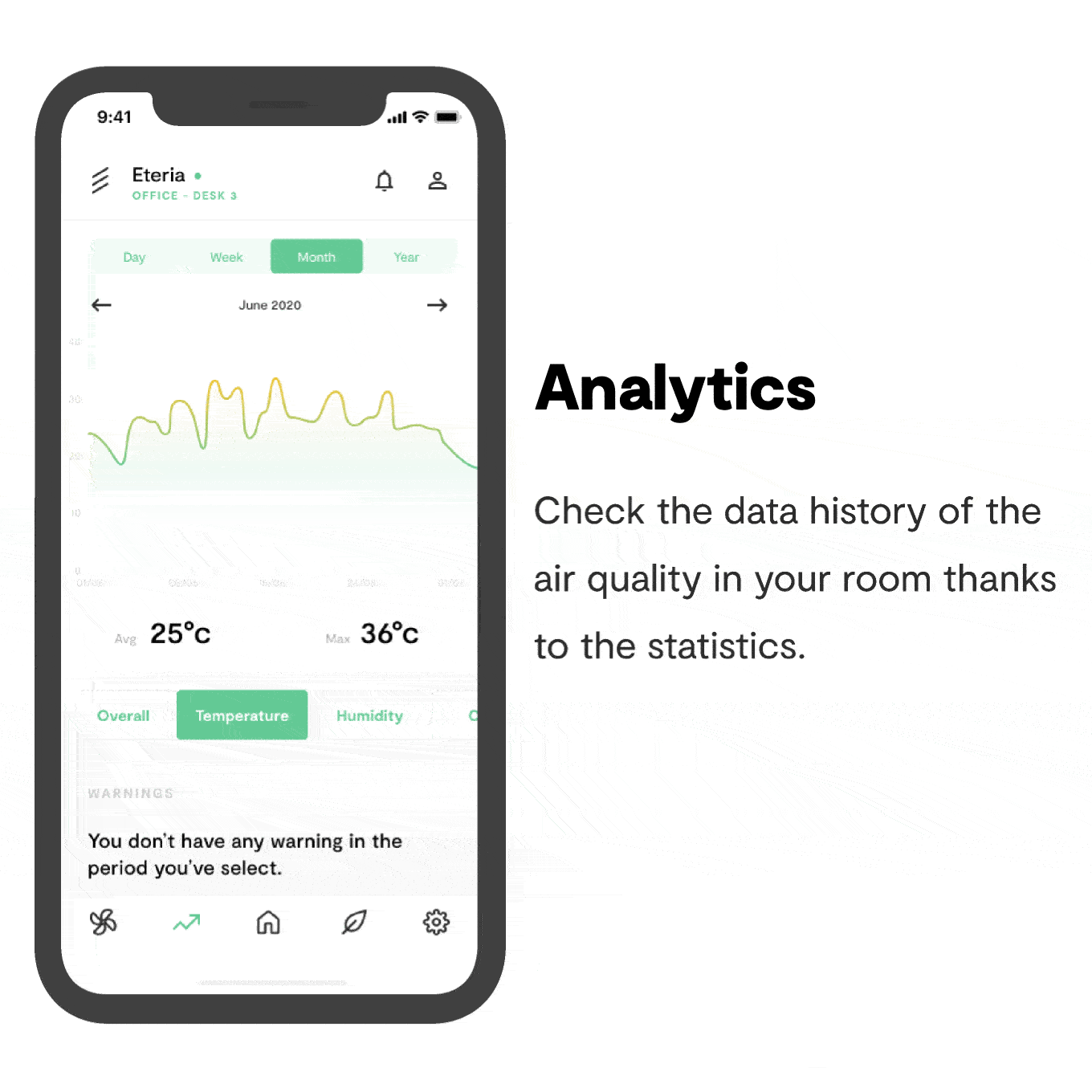 Ask Eteria how's the air quality in your home or office.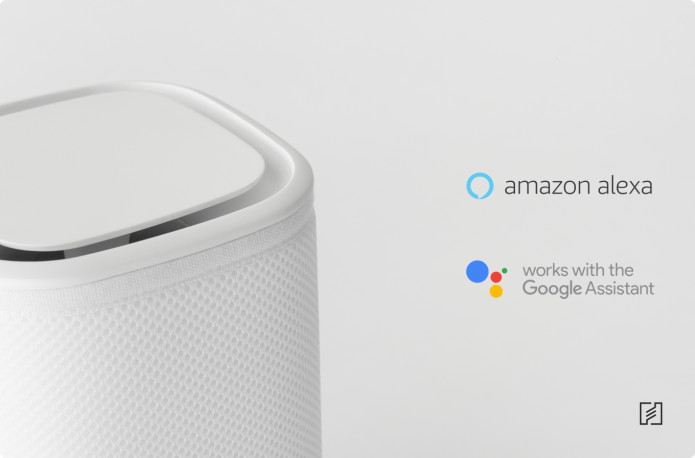 Eteria uses a powerful cleaning technology that thanks to 2 efficient filters, can easily destroy airborne pollutants.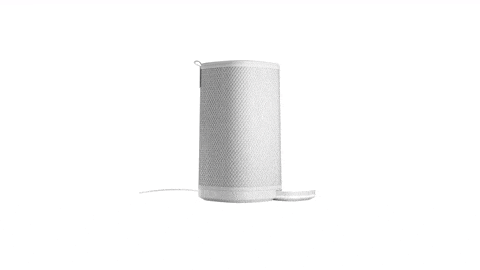 STEP 1: There is an external pre-filter, the Advanced Fabric, that blocks large particles like particulate matter, pollen, dander, and dust. It can be simply removed and washed in the laundry.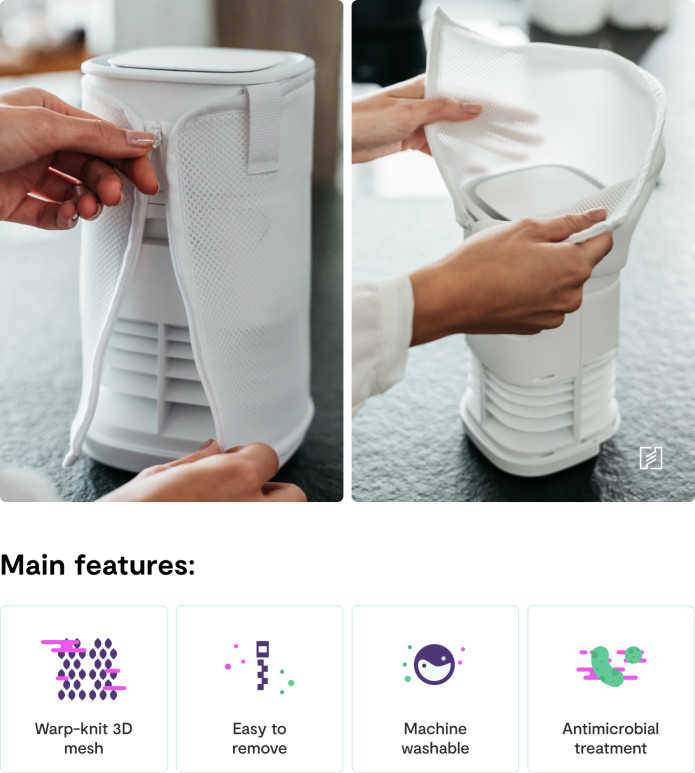 STEP 2: Then, the air is conveyed into the core of Eteria, where we find an innovative and latest generation photocatalytic filter.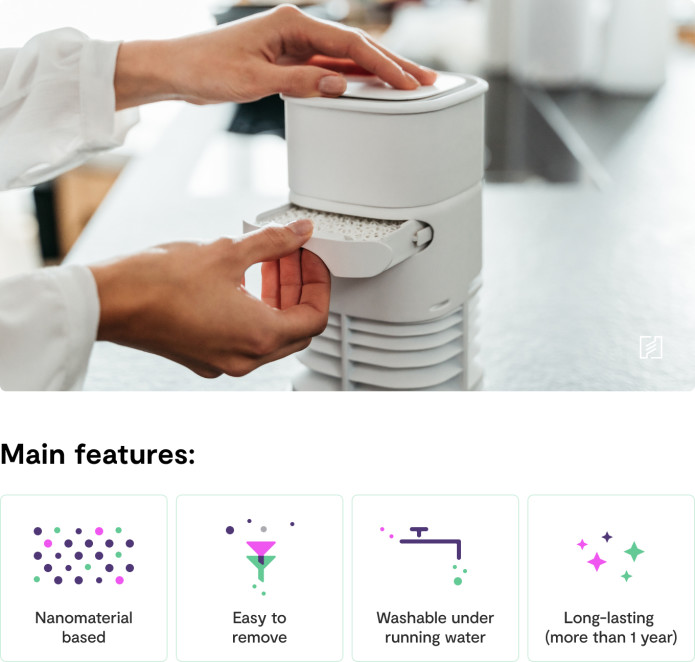 Traditional HEPA and activated carbon filters collect contaminants rather than destroy them.
They can be spread in your home becoming a source of contamination.
On the other hand, Eteria is extremely efficient thanks to its photocatalysis-based technology that uses the latest generation of nanomaterials. Our ceramic filter has a special design that maximizes the external surface and the photocatalysis efficiency accordingly. We use the latest generation modified Tungsten Trioxide (WO3) nano-coating that is activated with visible light.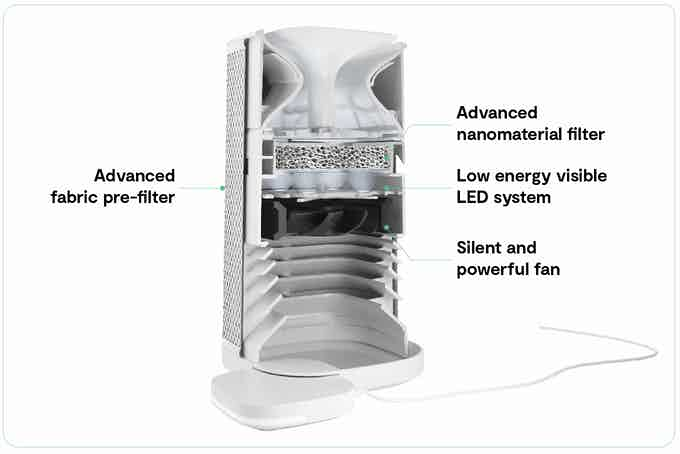 Eteria is ozone free and the only way to not produce toxic ozone is to use visible-band light like Eteria uniquely does. Eteria doesn't use UV light!
Ozone is a toxic pollutant that, in the lower atmosphere, isn't directly produced by human activity, but it comes from radiation produced by photocopiers, fax, and some lamps.


The attention to the environment and our green soul it's what defines us. Photocatalysis becomes a way of connecting Eteria to our other products. We strongly want to maintain our identity and keep nature in our products.
Actually, photocatalysis is a chemical reaction that mimics chlorophyll photosynthesis. Both processes absorb airborne pollutants and turn them into simple and harmless elements.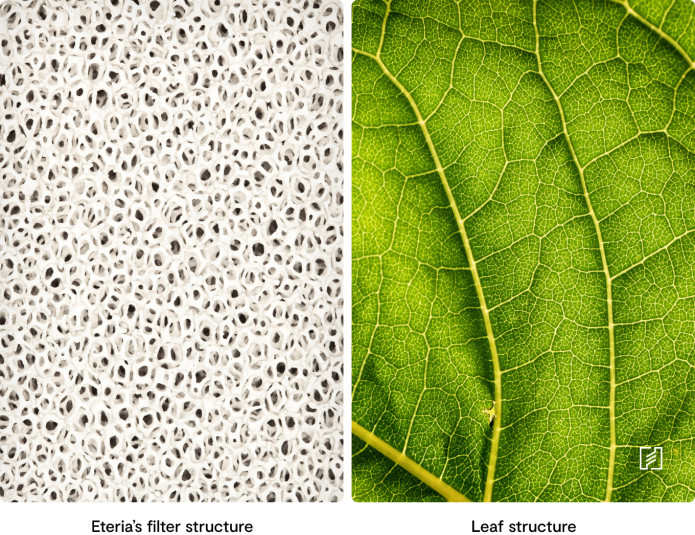 Our last generation photocatalytic technology can turn into harmless substances: smoke, microbes, mold, VOCs, and in particular formaldehyde, odors, NOx, PM10, PM2.5 – PM1.0.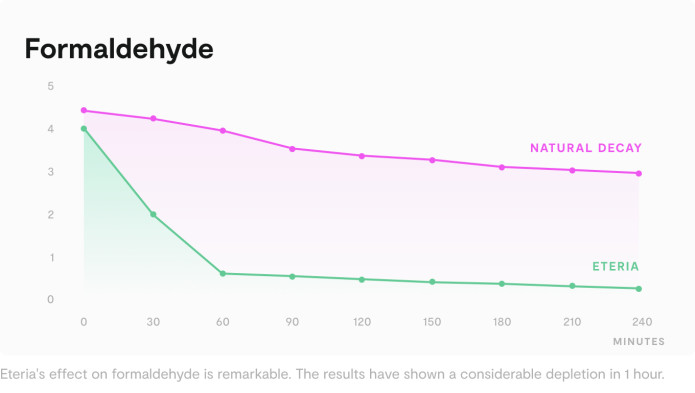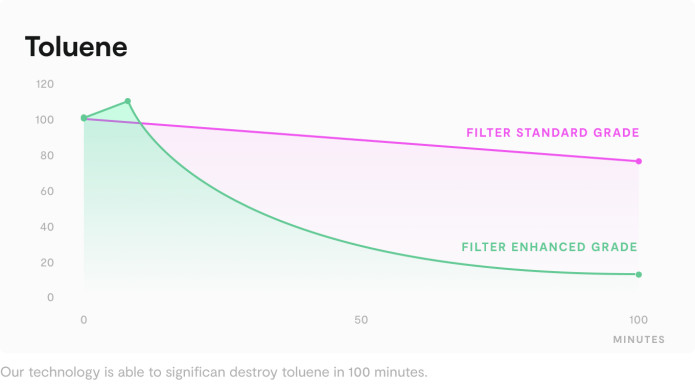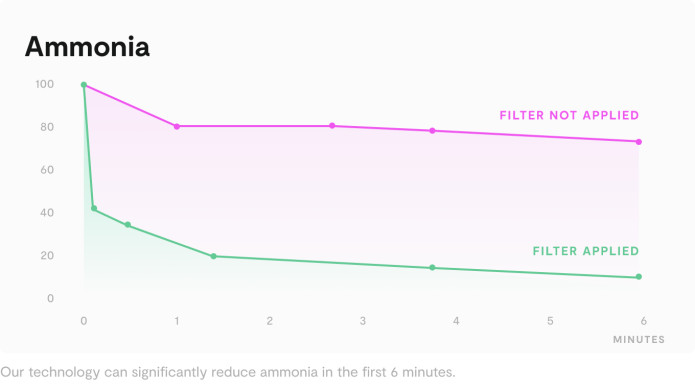 Tests conducted by independent laboratories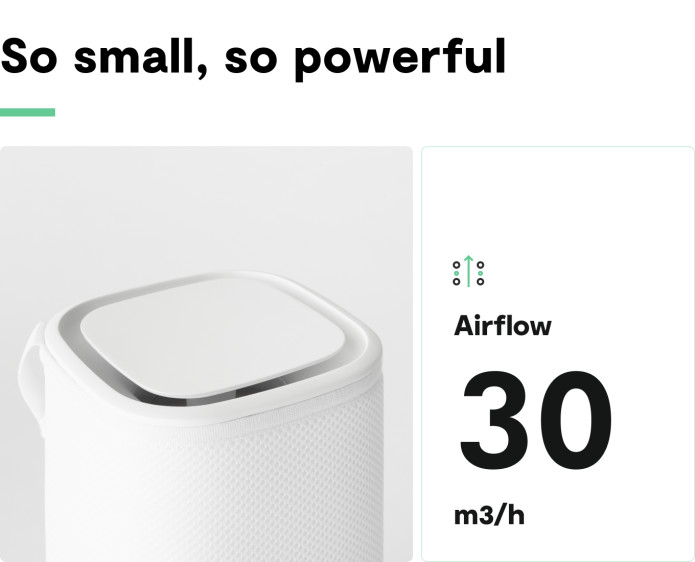 Both Eteria's filters don't need to be replaced because contaminants are not collected on them. On one side, you can wash the nano ceramic filter under tap water, let it dry, and then it's ready to be used again. On the other side, the external filter can be easily washed in the washing machine. In this way, you will eliminate unnecessary waste and extra expenses.
Fabric Pre-filter
Thanks to a very comfortable zip on the back the fabric pre-filter can be easily removed to be machine washed. It doesn't deform and doesn't undergo mechanical alternations.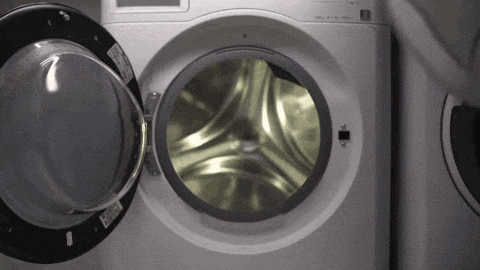 Nanomaterials ceramic
The extraction is very simple. The filter must be washed once a month under running water, left to dry, and reinserted in the purifying unit.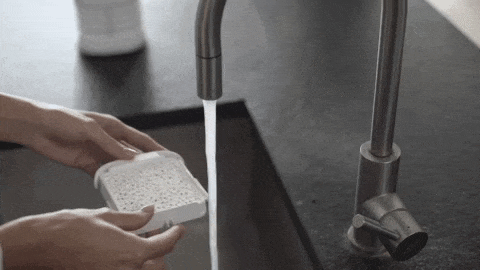 Save The World with Eteria.
Thanks to photocatalytic technology there aren't extra maintenance costs because you don't have to replace the filter every few months, as you should do with a HEPA filter. By buying Eteria you will make a sustainable and virtuous action through our planet, you just need to wash Eteria's filters to make the difference. Every year, in fact, 20 Million of air filters are wasted, the footprint is really high. We want to make a difference, but we need your green choice to be sustainably all together.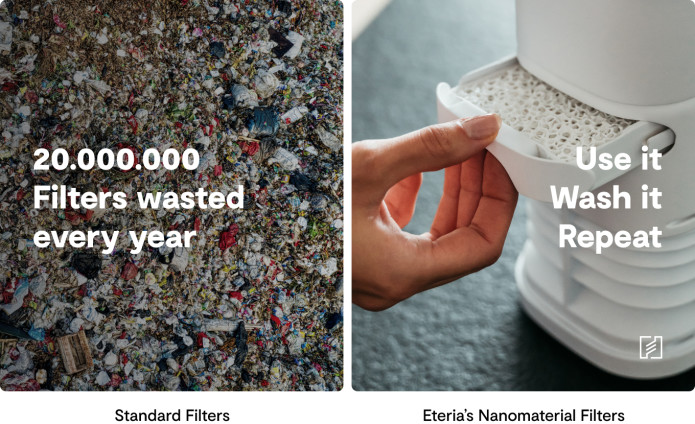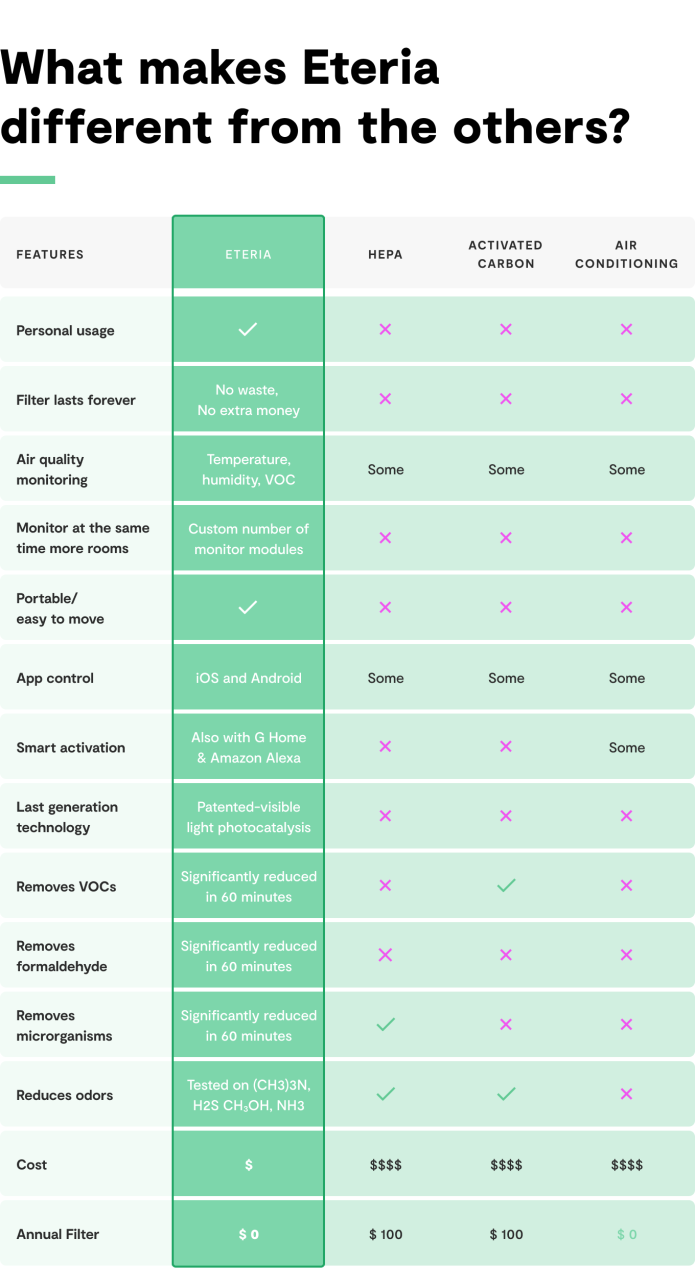 Eteria can be placed in any room as needed. If your base detects dangerous air quality values, you can move the air purifier to eliminate all harmful agents and breathe clean air.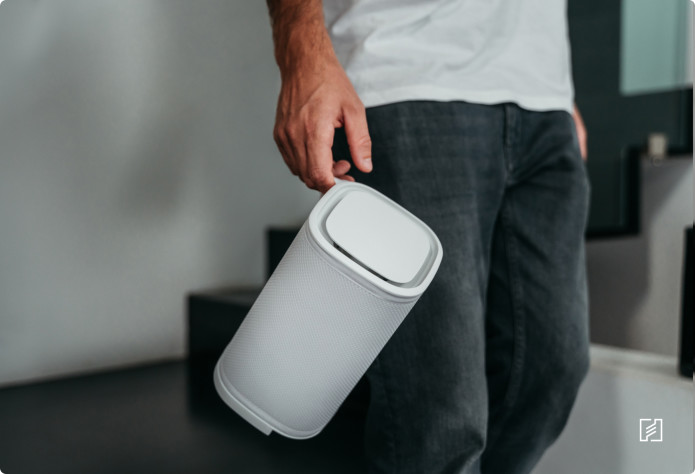 Your perfect sous-chef:
stay safe while cooking.
Eteria will be there while you're cooking your favorite dishes with your family. The kitchen is the place where we can express love for ourselves and our beloved ones through special plates we decided to cook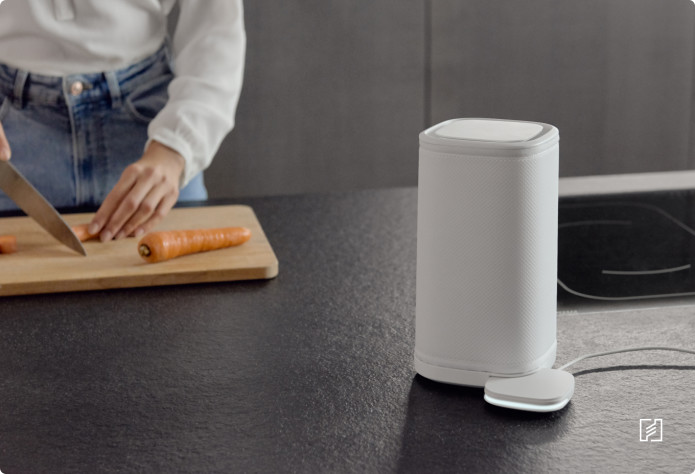 Your best colleague:
boost your productivity.
Breathing clean and fresh air while working with Eteria, will improve your productivity and it will reduce your Sick Building Syndrome symptoms like headache, itchy nose, breathing problems, and more.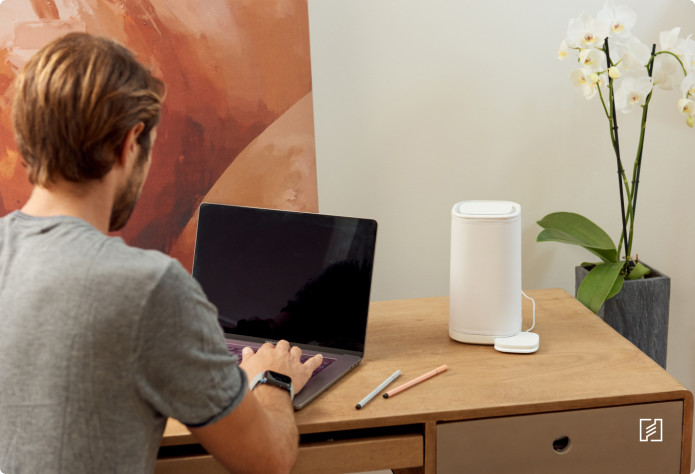 Your sentinel while sleeping:
sleep better.
We spend almost one-third of our life sleeping. It's extremely important that you rest properly and wake up every morning full of energy. Eteria will take care of your sleep by removing pollutants like benzene and formaldehyde.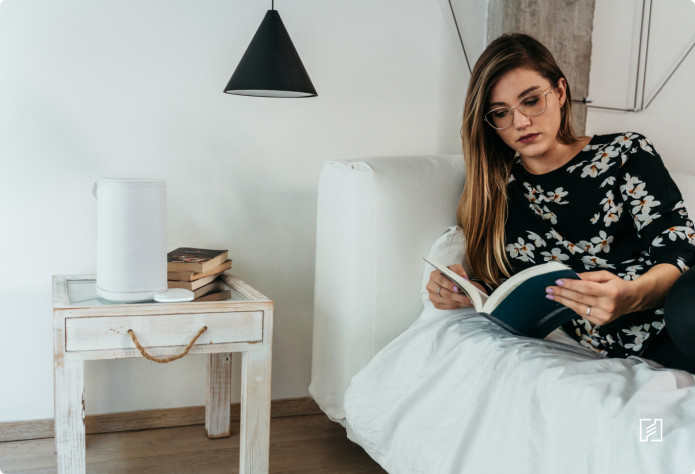 When the air purifier meets the design. In Vitesy, we are design-driven and with Eteria, we wanted to change the "mechanical" aspect that many air purifiers have. We studied a design that focuses on the essential, where the fabric is both a design element and a pre-filter.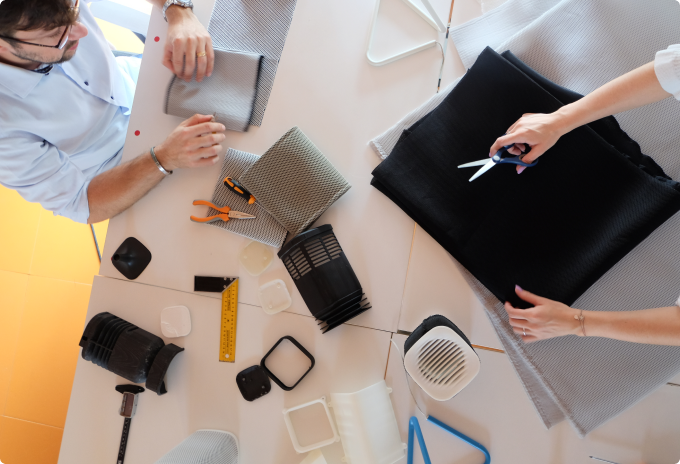 Eteria is made of 100% recycled plastic. We recognize the importance of sustainable design and we have adopted, over the years, a design approach that combines technological innovation and attention to resources at every stage of development. Eteria has been designed without glues in order to facilitate the separation, recovery, and recycling of each component at the end of its life cycle.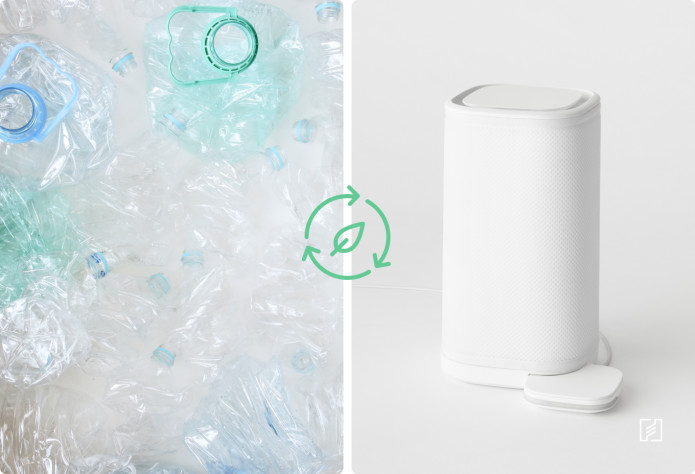 We wanted to give new life to plastic because it's the most used and wasted material on the planet. We must be an integral part of what the economic future of the planet must be for an eco-sustainable life. In fact, unlike traditional air purification systems, Eteria is provided with an innovative filter that doesn't need to be replaced.

Air purifiers are often bulky and take space away. With Eteria we want to take care of both your air and your precious environment.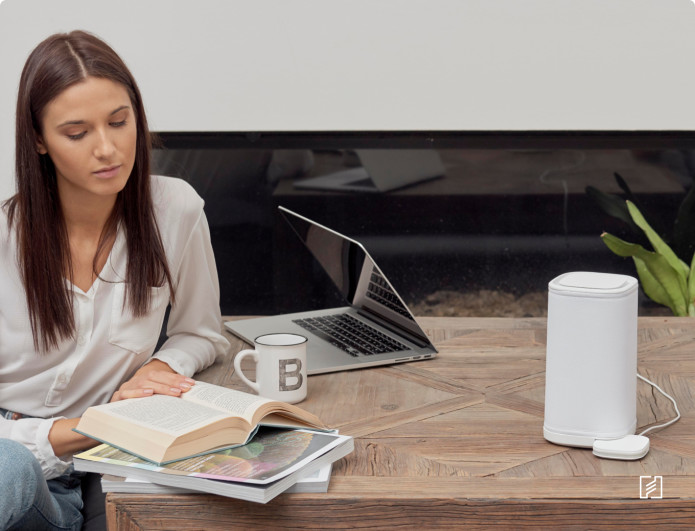 Nowadays, for economic, demographic, and cultural reasons, homes are getting smaller and smaller. People tend not to buy products that take up so much space. Eteria will improve the quality of your life as it's designed to occupy as little space as possible without sacrificing performance. This is why we created Eteria: to give freedom to your space.

With Eteria we have removed all the possible distractions: no display with incomprehensible information or anything else. The information about air quality is communicated via a simple light interface on the monitoring base.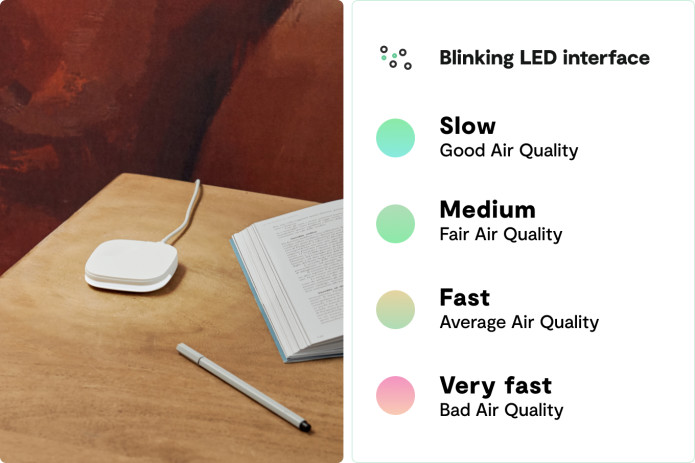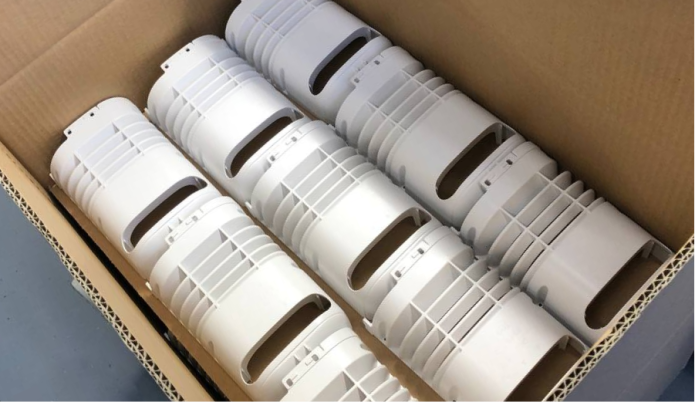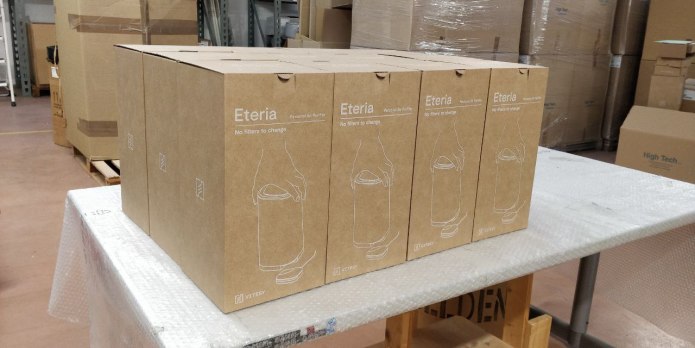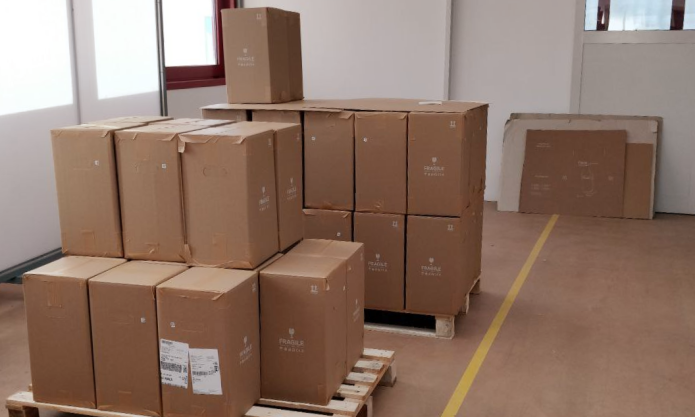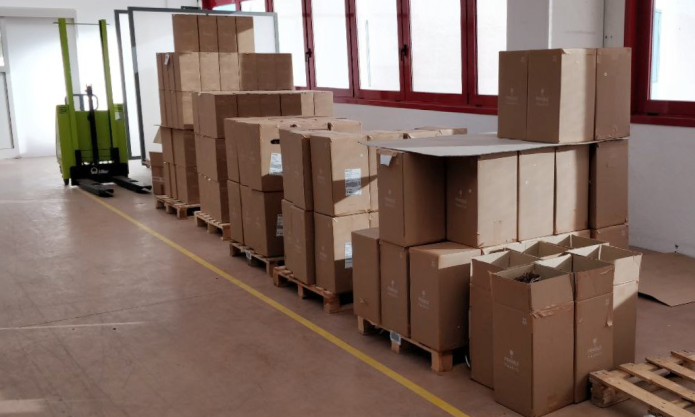 The furnishings of modern homes and offices are increasingly minimalist. Eteria, being designed to live in harmony with the spaces and the people who live there, marries this minimalist philosophy.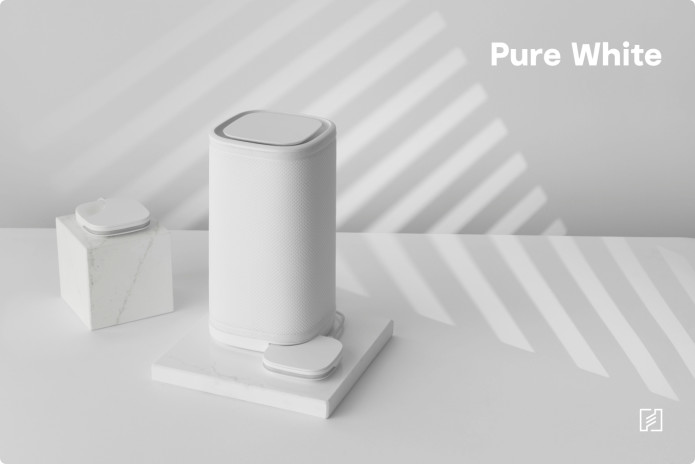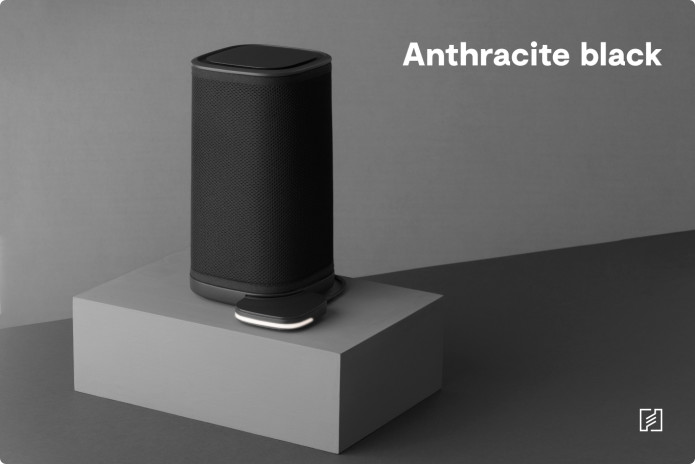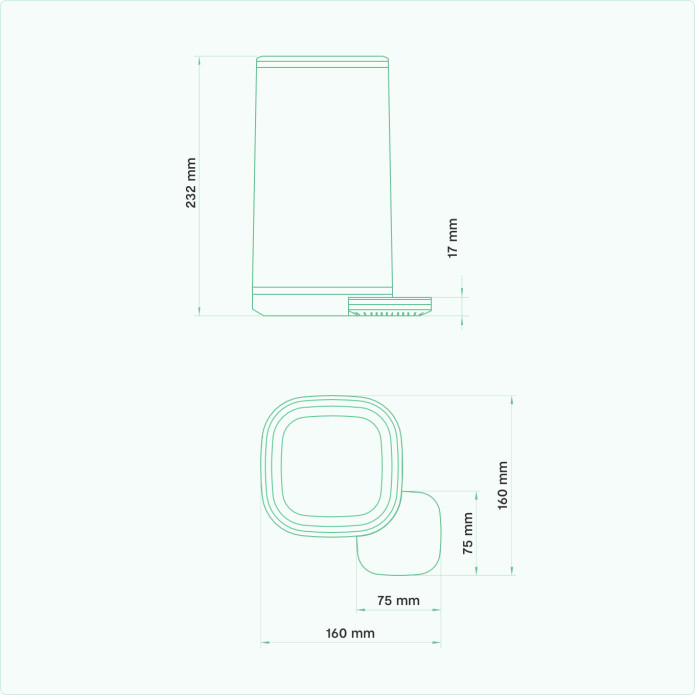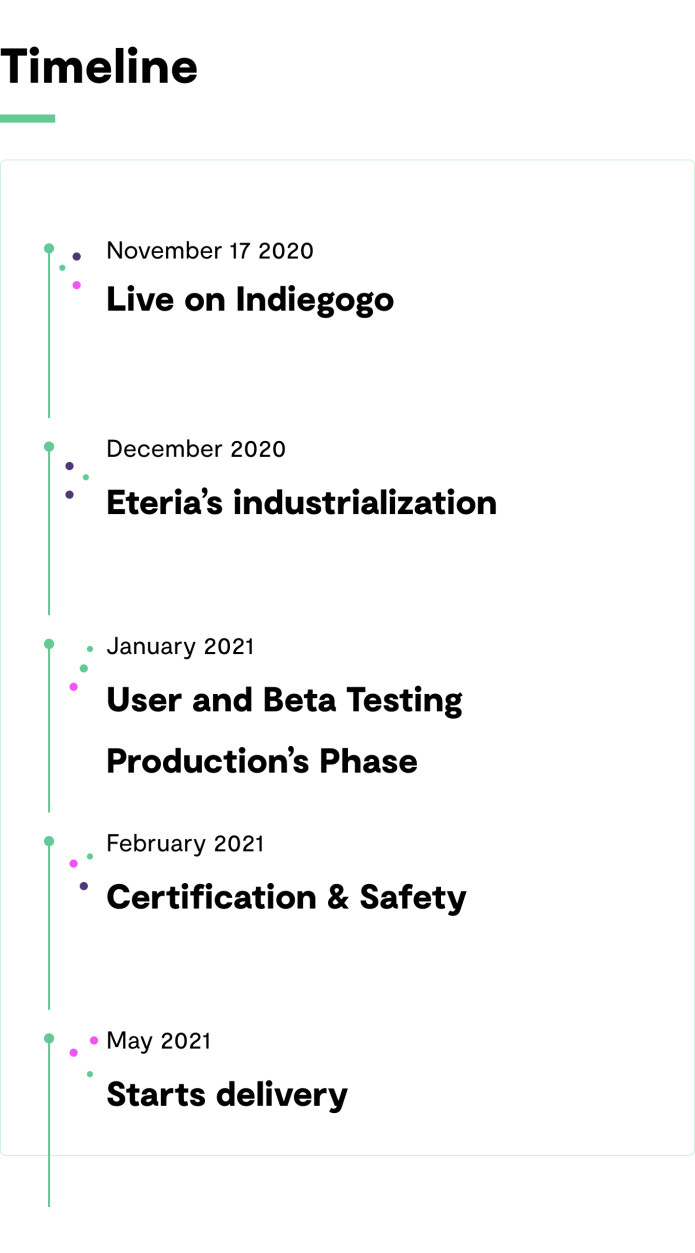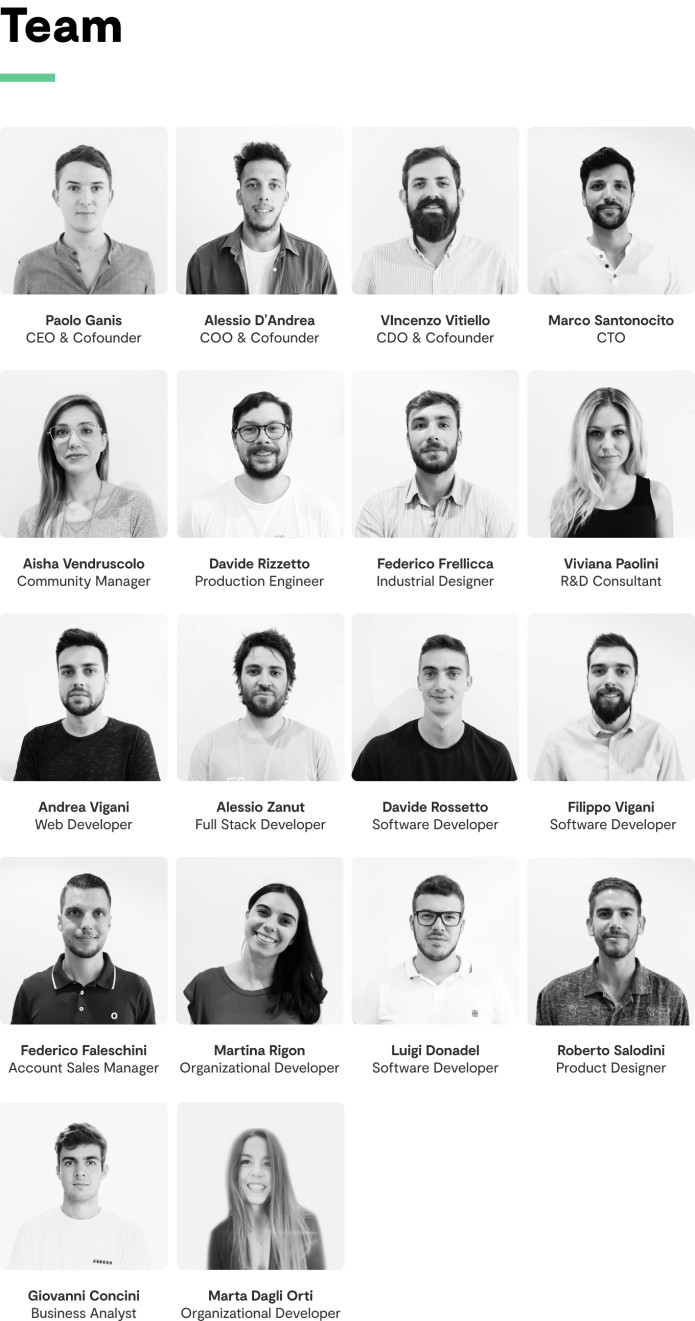 Your support is the most important part of our journey. The funds we receive from this campaign will be directed to the production of Eteria, to our manufacturers and suppliers, but also to do further tests, in order to offer you the best service and product.
Outside the Indiegogo campaign it will not be possible to request a refund.
In the Indiegogo community, the product you receive for your pledge is a reward for our appreciation. If you feel like the item you received offers no value to you here are some suggestions of what you can do with it in the spirit of crowdfunding:
Give your Eteria to a friend or a family member. It would be a wonderful gift.
Sell it. Maybe another user would love to buy it.
If your product doesn't work at its best, we are here to give you the best support possible. Please remember that we started from zero and we are working hard to improve your experience every day.

When you pre-order Eteria the shipping costs are included. But each country is different and has different customs laws.
Please also note that Vitesy does not have any control over these charges. While we do everything on our side to limit customs charges, ultimately backers are responsible for clearing customs. Customs policies vary widely, so please contact your local customs office if you would like any further information.

We started our partnership with Eden Reforestation Projects back in 2016 and we are happy to continue to work together with Eteria too. In fact, for every product sold we plant 10 mangroves in Madagascar. Until now we planted over 75k trees! Together, we contribute to save the planet.