Euthabag: housse mortuaire animale- Pet Body Bag | Avant, il n'y avait que les sacs de poubelle. Before, there were no alternative to garbage bags.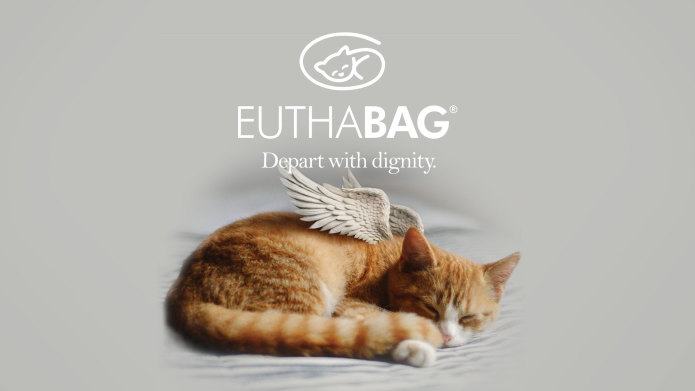 (English will follow)
Tout comme la force du lien homme-animal, la qualité des soins offerts aux animaux ont énormément évolué dans les dernières décennies.  
EUTHABAG a été conçu par Dre Céline Leheurteux, vétérinaire. Au fil de 18 ans d'expérience, elle a réalisé l'ampleur de l'impact émotionnel de la perte d'un compagnon sur les familles. Il lui est devenu insoutenable de devoir disposer du corps de ses patients dans un sac poubelle. Faute d'option, c'est ce qui était utilisé pour transporter le corps des animaux entre leur décès et l'incinération ou l'enterrement avant Euthabag.  
En tant que professionnelle, elle ne se sentait pas à la hauteur de la confiance que les familles lui octroient. Ne trouvant aucune alternative adaptée sur le marché, elle a conçu une housse mortuaire qu'elle a mis en marché en 2016.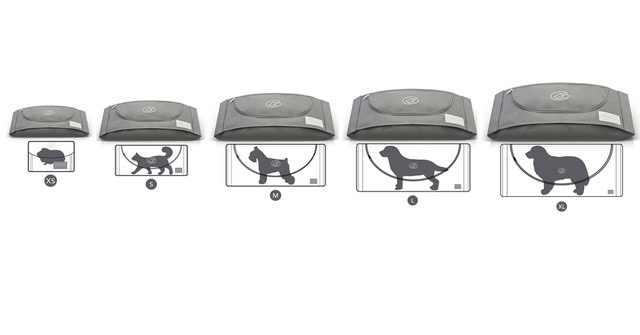 EUTHABAG est disponible en 5 tailles, allant du cochon d'Inde au grand Danois. 
Cette housse répond aux besoins particuliers du domaine vétérinaire: 
Base antifuite 
Poignées intégrées 
Résistante 
Écologique 
Identifiable 
Élégante 
Respectueuse 
De l'animal, de sa famille et du professionnalisme des équipes en santé animale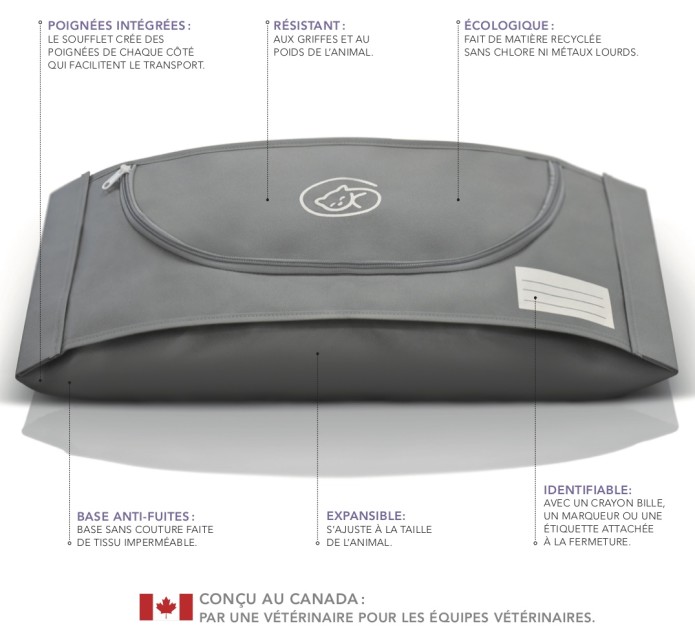 L'écologie est aussi au cœur de nos préoccupations. EUTHABAG contient de la matière recyclée post-consommation, l'encre utilisée est à base d'eau et la colle, à base de résine végétale. Notre objectif à moyen terme est de produire Euthabag à partir de 75% de matière recyclée.  
La majorité des animaux seront incinérés après leur décès. Euthabag peut être incinéré car il ne contient pas de chlore. Il ne provoque pas d'émanation de dioxines ou de furanes lors de son incinération. Il peut aussi être enterré car il ne contient ni métaux lourds, ni contaminants industriels. 
 
Euthabag fait l'objet d'un brevet en instance au Canada et aux États-Unis et d'un dessin industriel au Canada, aux États-Unis et en Europe. C'est aussi une marque commerciale enregistrée au Canada, aux États-Unis et en Europe. 
Euthabag est vendu  seulement aux vétérinaires et crematoriums. Au Canada par les distributeurs CDMV et VP et aux É.U. sur le site transactionnel euthabag.com. 
400 cliniques en Amérique du Nord, en Europe, en Israel et au Panama se sentent mieux en utilisant Euthabag. Trois facultés vétérinaires l'ont aussi adopté, positionnant Euthabag comme un nouveau standard de pratique.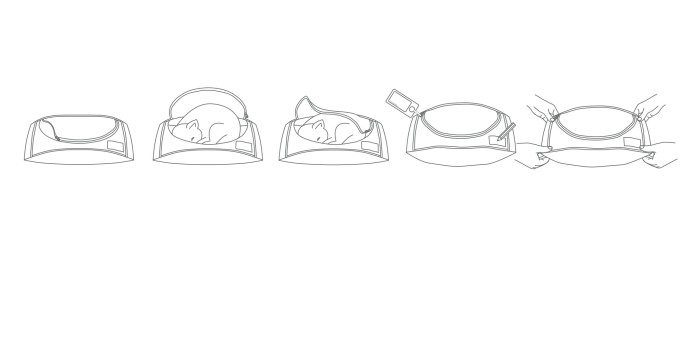 Nous avons besoin de l'aide du public pour faire connaître Euthabag et souligner auprès des vétérinaires l'importance aux yeux des familles de traiter les corps des animaux en préservant leur dignité. Au Québec, près de 50% des vétérinaires utilisent Euthabag et au Canada, 4%. Nous avons travaillé sans relâche afin d'offrir un produit accessible à tous et que l'époque des sacs de poubelle soit révolue. Nous considérons aussi que l'utilisation du sac poubelle est une insulte au professionnalisme des équipes qui travaillent si fort à prodiguer les meilleurs soins du vivant de l'animal et à la force du lien homme-animal. 
Afin de maintenir nos prix, nous avons besoin d'une masse critique d'utilisateurs. Même si un nouveau produit répond parfaitement à un besoin, il faut investir massivement en publicité afin de le faire changer les habitudes.  
Le meilleur canal de diffusion est par la production de webinaires éducatifs afin de permettre aux vétérinaires d'expérience comme aux jeunes, d'offrir un meilleur service aux familles qui doivent traverser la douloureuse épreuve de l'euthanasie d'un compagnon. La formation universitaire actuelle est presque inexistante. La production et la diffusion de ces séminaires en ligne sont coûteuses mais permettent de faire accepter le produit comme un nouveau standard tout en améliorant la formation des vétérinaires et le service offert. Nous avons déjà donné des conférences au Québec avec succès. Votre contribution servira à former les vétérinaires tout en faisant connaitre le produit. Si ce sujet vous touche, partagez! Et parlant-en à votre vétérinaire.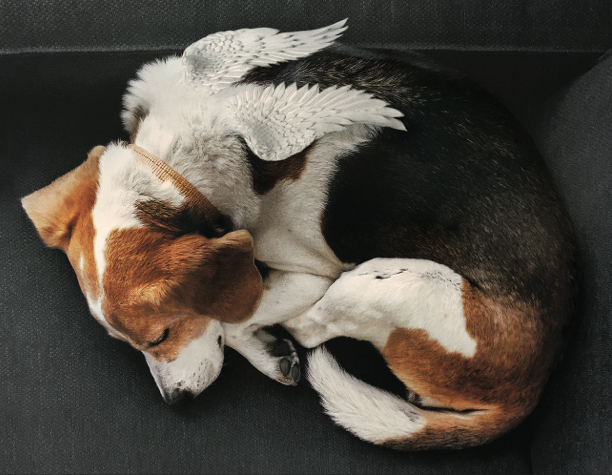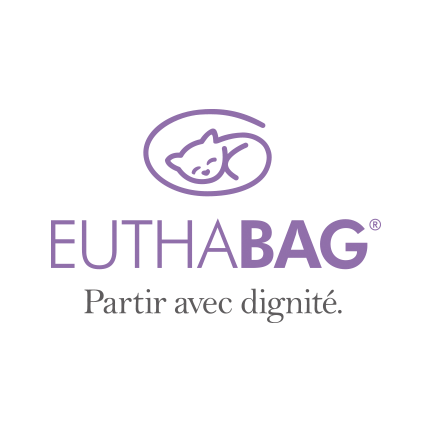 ENGLISH
EUTHABAG was designed by a veterinarian, Dr. Céline Leheurteux. With over 18 years of experience in practice, she realized the magnitude of the emotional impact the loss of a companion can have on a family. To her, it became unjustifiable to have her patients placed into a plastic (garbage) bag after euthanasia. Unfortunately, in the absence of other options, this was the only way to transport euthanized animals to places of incineration or burial…until now. 
As a professional armed with integrity, Céline did not feel completely worthy of the trust families gave her when handing over their deceased pets. Finding no suitable alternative on the market, she decided to design a body bag that she launched after 4 years of hard work (while raising 3 children!), in 2016. 
This body bag meets the special needs of the veterinary field: 
Leakproof  I  Tear-proof  I  Expandable I  Sturdy  
Integrated handles  I  Designed by a vet for veterinary teams
Respectful  I  Ecological  I  Identifiable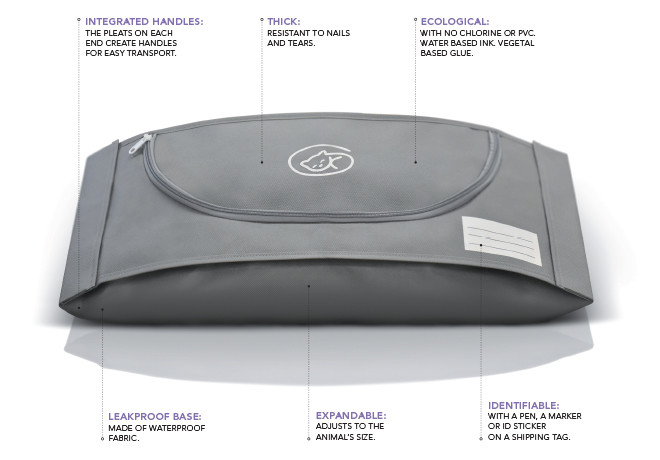 EUTHABAG is available in 5 sizes, from the tiniest of Guinea Pigs to Great Danes.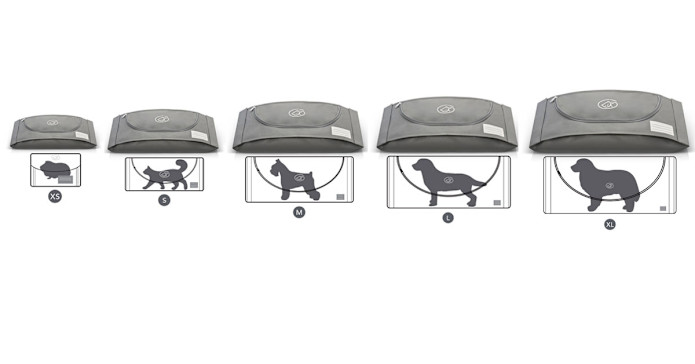 The EUTHABAG design has a patent pending in the United States and Canada and an industrial drawing for the U.S., Canada and Europe. It is also a registered brand in the U.S., Canada and Europe. 
Ecology is also at the heart of our concerns. EUTHABAG contains post-consumer recycled material, the ink used is water-based, the glue is made from vegetable resin. Our medium-term goal is to produce Euthabag containing 75% recycled material. Our end-goal is to produce a sturdy enough product containing only recycled material. 
Most animals will be cremated after death. Euthabag can be incinerated because it does not contain any chlorinated compound. It does not emit dioxins or furans during its incineration. It can also be buried as it does not contain heavy metals or industrial contaminants. 
In Canada Euthabag is sold to veterinarians through the veterinary distributors CDMV and VP.  In the US, Euthabag is sold direct to veterinarians via euthabag.com. 
More than 400 clinics in North America, Europe, Israel, Panama, Costa Rica and the Cayman Islands feel better using Euthabag. Three veterinary schools are also using it, positioning Euthabag as a new practice standard.
We need the help of the public to make Euthabag known and to emphasize to veterinarians how important it is for you, that your pets bodies are treated with respect and dignity, not only in the final stages, but afterwards. In Québec, nearly 50% of veterinarians are using Euthabag and in Canada, 4% overall and in the US only 0,005%!. We have worked tirelessly to provide a product that is accessible to all and that the era of trash bags can be deemed over. The use of the garbage bag is not only an insult to the integrity of the animal health teams that work so hard to provide the best care for our animals, but also to the human-animal bond. 
In order to maintain our low cost, so that Euthabag can be available to everyone, we will need to capture a critical mass of clients in the rest of Canada and the United States. Even when a new product responds perfectly to a need, we must invest heavily in advertising to encourage change in peoples habits.  
Educational webinars are one of the best channels used to help broadcast information. In our case, they would be used to enable experienced and young veterinarians alike, the opportunity to improve their veterinary services for families who have had to go through the painful ordeal of losing a pet. Currently, the curriculum vets receive unfortunately doesn't support much training in these areas.  
The production and distribution of these online seminars is expensive but will help better train veterinarians to improve their end-of-life services and also accept this product as a new practice standard. Your contribution will be used to help better prepare and train veterinarians while helping to make the product known.  
If this topic touches your heart, please share and don't forget to talk to your veterinarian!