EveryBODY Can Exercise: Senior Edition | Let's get America's seniors moving joyfully with the new DVD EveryBODY Can Exercise: Senior Edition
Hey Everybody,
I'm Jeanette DePatie, AKA The Fat Chick. Like many of you, I'm a baby boomer. And as we all know, lots of us have already reached senior status. Studies show that seniors are the least physically fit of all Americans. Thirty percent of men and forty percent of women over the age of  70 reports that they NEVER EXERCISE. That's sad because there's no question that regular exercise protects against heart disease, some forms of cancer, diabetes, and can also lower the risk of dementia and decline. And exercise can dramatically improve Quality of Life giving us more energy to do the things we love to do.
So if exercise is so awesome, why aren't more seniors exercising?
Many seniors have simply never experienced the joy of a workout that truly works for them. For many of us, even the word "EXERCISE" fills us with dread.  Whether it's that PE teacher who tortured us in third grade, the grind of exercise classes that are too easy and mind-numbingly boring or the pain and frustration of workouts that are too hard or even cause injury.
That's why I am creating EveryBODY Can Exercise: Senior Edition. 
Based on knowledge gleaned over a lifetime of getting my own big butt in motion and decades of teaching people of many ages, shapes, sizes and abilities, I want to help seniors love exercise again or even for the first time ever. My new DVD will help seniors work out in a way that is gentle, flexible and FUN.
Sounds good, doesn't it?  Would you like to strengthen your body, relearn the joy of moving your body and improve your health and live a happier life?
The Fat Chick can help but I need YOUR  help to pay for the production and editing of EveryBODY Can Exercise: Senior Edition. 
JEANETTE DEPATIE:  AKA: The Fat Chick
For those of you who don't know me, I'm a  plus-sized, certified fitness instructor and personal trainer author, producer and professional speaker who has helped thousands of people who haven't worked out in a while (or ever) learn to love their bodies and love exercise again. I'm the author of the best-selling book and DVD, The Fat Chick Works Out!
I've earned fitness certifications from the YMCA, ACE and AFAA including special certifications for working with seniors.  My mission is to inspire beginning exercisers of a variety of ages, sizes, shapes and abilities. I've been interviewed many times on television, radio and in print by Katie Couric, NPR, Dr. Drew, Hallmark's Home and Family, Al Jazeera America, CTV (Canada), Huffington Post Live, Women's Health, Scholastic Magazine, The New York Times, and The Wall St. Journal.
EveryBODY Can Exercise recognizes that Every BODY is different.  Not all bodies can exercise to the same level or exercise in the same way.  A workout that may be safe and perfect for one body may be totally not right for another.  That's why EveryBODY Can Exercise DVD will be unique in it's progressive format–the best and safest approach for beginning exercisers (especially seniors). I don't expect seniors who haven't worked out in a while (or ever) to jump right into a 60-minute workout.  My DVD will be filled with more than 15 short segments of only 2-5 minutes each. Seniors are encouraged to begin with a workout  of whatever length feels comfortable to them and then guided to increase their fitness efforts gradually over time.  What's more, the workout is extremely flexible. Chair modifications will allow seniors to choose to exercise either standing or sitting. And the workout can be modified on a day to day basis depending on how the exerciser is feeling that day.  And exercisers will also get a chance to register to track their progress with our unique FREE online tracking tool!
One of the best things about EveryBODY Can Exercise: Senior Edition is the fabulous class of zany seniors working out with Jeanette DePatie. Encompassing a range of shapes, sizes, abilities, and conditions, EveryBODY Can Exercise: Senior Edition's large cast of dancers will make this more than a workout–it's gonna be a PARTY.  We'll be dancing to a wide variety of musical and dance styles including country, jazz, blues, Zydeco, Celtic, Big Band, Bollywood, and lots more! Jeanette's students have been working out together for a long time–some for over a decade and they KNOW how to have a good time while improving their flexibility, range of motion, and overall conditioning.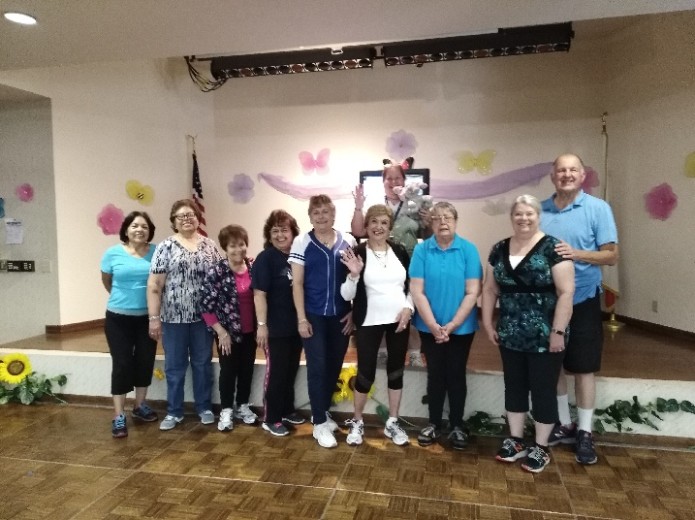 It's time for a workout that doesn't take itself too seriously.  It's time for a workout where seniors can feel like they belong.  It's time for a workout where seniors can let loose and be silly and have a great time.  It's time for a workout that seniors CAN'T WAIT to do.  It's time for EveryBODY Can Exercise: Senior Edition.  And it's time for you to help me make this revolutionary and powerful new health and happiness tool a reality.
Our goal is to raise $3,850.00 and here's what we're going to do with the money:
Filming Permits/Production Insurance:  $800
Location Fee:  $1100
Music Licensing: $450
Equipment Rentals: $400
Hair/Make-up:  $450
Costumes/Props:  $400
Food/Craft Services:  $250
MEET MY PRODUCTION TEAM:
PRODUCER:  BARBARA MULTER-WELLIN has produced and written documentaries and nonfiction shows and series for HBO, Showtime, Lifetime, TLC, KCET, The Discovery Channel, UPN. Lifetime, Fit-TV, TBS and HGTV. She won a 2013 LA Area Emmy for her work on the television series and web series, "Your Turn to Care" that was also the winner of a 2013 Gracie Award. Barbara has produced and written two films for the acclaimed PBS documentary series, "Independent Lens." "Taking the Heat The First Women Firefighters of New York City," a documentary narrated by Susan Sarandon, is about the 20-year struggle to bring women into the New York Fire Department, an institution traditionally hostile to change rocked by the overwhelming trauma and loss of September 11th. The second film, "Paul Conrad: Drawing Fire," narrated by Tom Brokaw, tracks the career of three-time Pulitzer Prize-winning editorial cartoonist in the context of pop history of the eleven presidents Conrad has lampooned. She is currently completing a feature documentary about an orchestra for people living with mental illness. Barbara has taught documentary courses at New York Film Academy and ESE Film Workshops, and writing at Urban Possibilities ,supported by a grant from the Poets & Writers Foundation.  She is a graduate of the California Institute of the Arts, a former Chair of New York Film Academy's Documentary Department and former Chair of the Documentary/Reality Committee of the Producer's Guild of America.
CINEMATOGRAPHER:  EVAN STULC has worked on roughly a dozen feature films ("As I Lay Dying – Director: James Franco, "Block Island Sound" – Directors:  McManus Brothers ) and multiple commercials (Toyota, Riot Games, Yahoo)  as an assistant cameraman. Additionally, he has served as Director of Photography for a slew of corporate spots, promos, interviews and shorts. His work has appeared on FunnyorDie and local PBS stations. Evan started in still photography, a passion he has honed over the past 15 years and across multiple formats. While attending Emerson College (Boston, MA), he transitioned his studies to cinematography. After spending his final semester interning at Partizan Entertainment, he decided to move to Los Angeles permanently in 2011. 
DIRECTOR/EDITOR:  ALLYSON MANNO has produced and directed fiction and non-fiction shorts and web-series and worked on "Super Sex", written and directed by Matthew Modine (2016) that was nominated for best narrative short at the Tribeca Film Festival and winner of the Jury award at the Dublin International Film Festival. She received her bachelors in communications from the University of St. Thomas, Houston, TX and her masters in Filmmaking from the New York Film Academy.