Expanse Speakers – The Ultimate Sonic Experience. | Revolutionary new electrostatic speakers, subwoofer and amplifier. Audio at the next level.


Expanse Speakers will come in 2 versions: small and large. Both can be mounted to a TV or Monitor or setup free-standing. Both versions will deliver high-quality, distortion-free sound that electrostatic speakers are known for. We have already tested and developed the prototype. It looks great, works great, and SOUNDS even better. Setup Expanse with your favorite console or PC, and hear a new dimension in sound performance from your favorite games. All that's needed to make this project a reality is to get funding for the initial manufacturing run. With your help, we can make that dream a reality.
GAMERS: Your All-in-One Audio System
When you're playing your favorite shooter, RPG or MMO, you don't want to listen through a set of cheap headphones or proprietary desktop speakers, You want every sound to ring out in booming hi-def audio, making all the music action sounds and dialogue ring out just like they're there in the room with you.
In the Media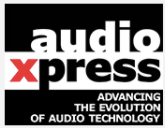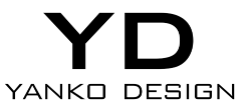 "I'm seriously impressed with what I've listened to so far"  – Daniel Wilks, Editor, PC PowerPlay
"The Expanse Speakers are a truly impressive set. The electrostatic speakers make it aesthetically unique and will catch the eyes of whoever sees them plus allow for a very natural and enveloping sound that is sure to impress."  4.5 / 5.0 Stars – Kevin Fenix, Fan boy Nation
We're IC One Two. We're a boutique innovation company that specializes in bringing ideas to life. Our products include a range of premium lighting, lensing and sound products for commercial and home use. We are veteran Crowdfunders with 3 successful Kickstarter campaigns under our belt: The Surround Master, the LED Light Cube, and The Qubie personal flashlight. We have rock-solid track record of consistently delivering the high quality products our backers expect, and delivering on our promises.
We're proud to announce our crowdfunding campaign for our latest product, Expanse Speakers. Expanse is a home speaker system built with electrostatic speakers that's perfect for gamers audiophiles alike. After extensive research, testing and development, we've built a prototype for an affordable yet fully-featured electrostatic speaker system. And now, with the help of the IndieGogo community, we're ready to get it into production.
One group we're particularly eager to serve is the gaming market. We've found that gamers LOVE having the best home audio setup for their rig. And expanse delivers just that, with crystal clear audio and deep bass to boot.
Expanse Speakers – Halo – XboxOne – Game play experience
2 Models: The Beat & The Kick
Expanse Speakers come in 2 models: small and large. They are functionally identical; however, the small is meant for use with smaller TVs while the large is meant for larger models. Both deliver impeccable sound quality in a gorgeous, compact package. Perfect for connection your XboxOne or PS4 with crystal clear life like audio.
 

The small version of Expanse Speakers connects to your TV or monitor through the external digital-to-analogue converter OR your computer's "line out" or headphone ports. Perfect for listening to music on your computer, watching TV, or enjoying a movie with the family.
The Beat is designed for PC gamers in mind. The speakers can mount to your monitor freeing up desk space and the amplifier has been designed to have a minimal footprint.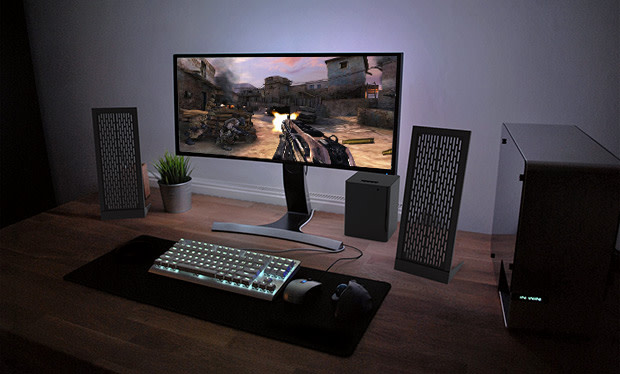 Both the small and large systems can be mounted or set up freestanding.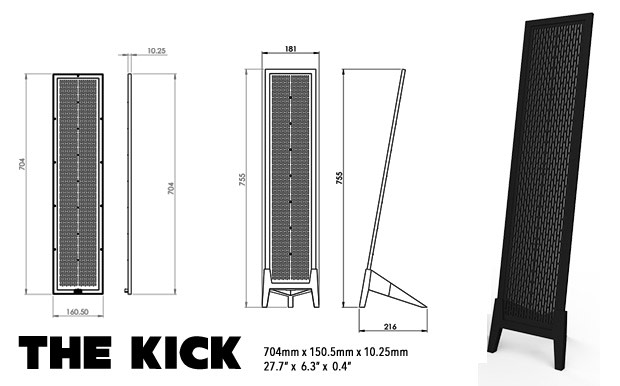 The large model is mainly intended for use with a larger screen TV. The large model takes full advantage of the large diaphragm design, providing big, full sound, easily capable of filling an entire room. Can also be connected to Bluetooth audio for a wireless listening experience.
When mounted on a TV the Kick is designed to focus the sound at the optimal angle and distance to give you an immersive wrap around sound experience whether playing your favourite game or watching a movie.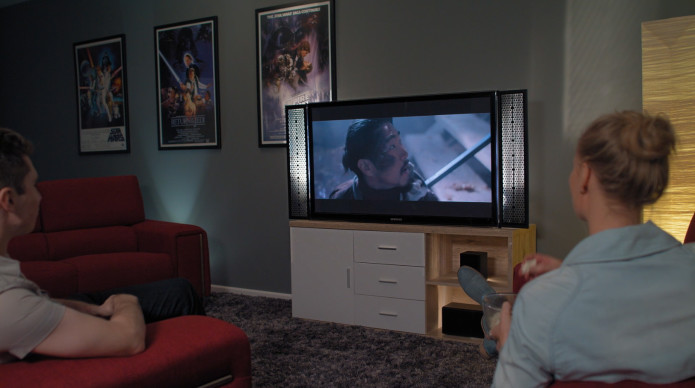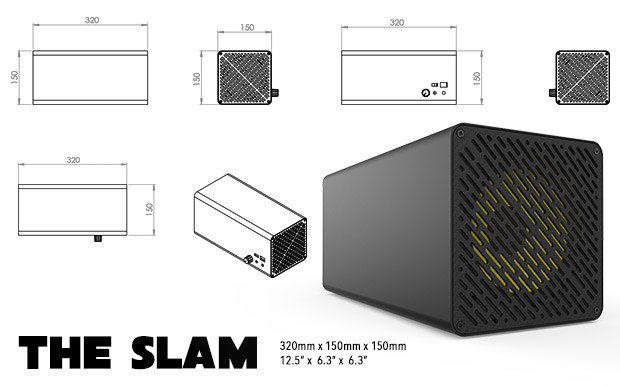 Both systems come with a compact active woofer designed in-house by our audio engineers. The SLAM woofer, as we've affectionately named it, is separate from the main electrostatic speaker set, but can be installed in a matter of seconds, supplying a complementary sound at the same volume level. The electrostatic speakers supply the crisp mid and high-range frequencies while the SLAM underlines this with rich bass.
The Slam active subwoofer is perfectly tuned to supply the bottom end bass in your movies, music and games, giving a deep, soulful sound in addition to the crisp, clear audio of the main electrostatic speakers. You also have the option of connecting your own active woofer to get the exact bass sound you want. The Slam has been designed to be used laying down or standing up.

200 Watt Stereo amplifier
The built-in stereo amplifier is capable of delivering 200 Watts RMS total output. Enough sound for large rooms, lounges, and even noisy or crowded areas. Designed for a minimal footprint the amplifier can tuck away and not dominate your space.
Flat Electrostatic Panels
Expanse features electrostatic panels capable of filling an entire room with big, crisp, clear sound. Designed to deliver the clearest sound in an ultra-compact package, even at high volumes.

Super Thin Surface Area Diaphragm
The surface area diaphragm covers a wide area, with sound exiting from two sides instead of one. Results in "3d" sound projection that fills the entire room.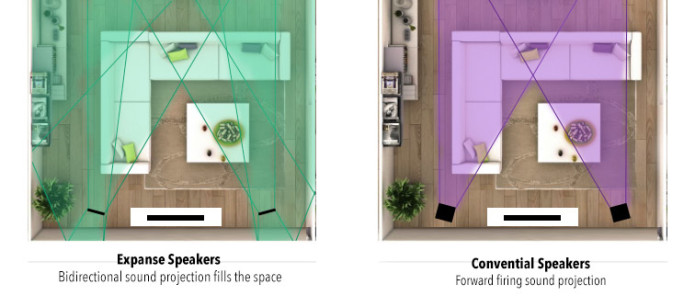 The Slam Active Compact Woofer
The dual woofer drivers driven by their own dedicated amplifier are tuned to cross over with the speakers, delivering the deep bass tones in the background.
Frequency Range of 55Hz – 20,000Hz
The main electrostatic speakers support a frequency range of between 250Hz and 20,000Hz while the active subwoofer delivers deep bass at the bottom end from 55Hz – 350Hz. The speakers deliver virtually the entire spectrum of audio detectable by the human ear. Every single note of audio in your music, movies and TV show will ring out with perfect clarity.
3 input modes. Line In, Bluetooth, FM Tuner
Expanse Speakers accepts input from corded connections, Bluetooth audio and built-in FM tuner. With these audio connections, nearly all of your devices will be compatible with Expanse Speakers.
Mounted or stand alone
Speakers come with two mounting options: removable mounting clips to connect to your TV or monitor, and foot stands for standalone mounting. Both options are easy to setup, with minimal assembly required.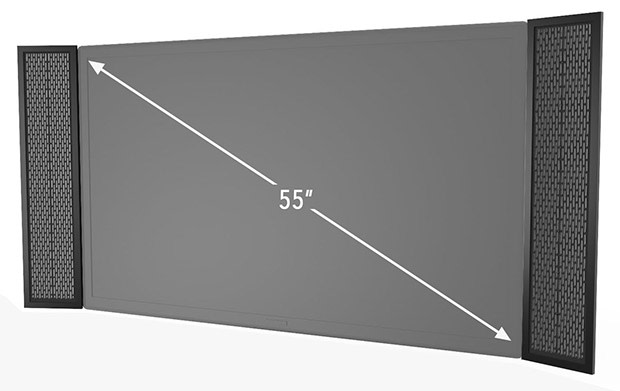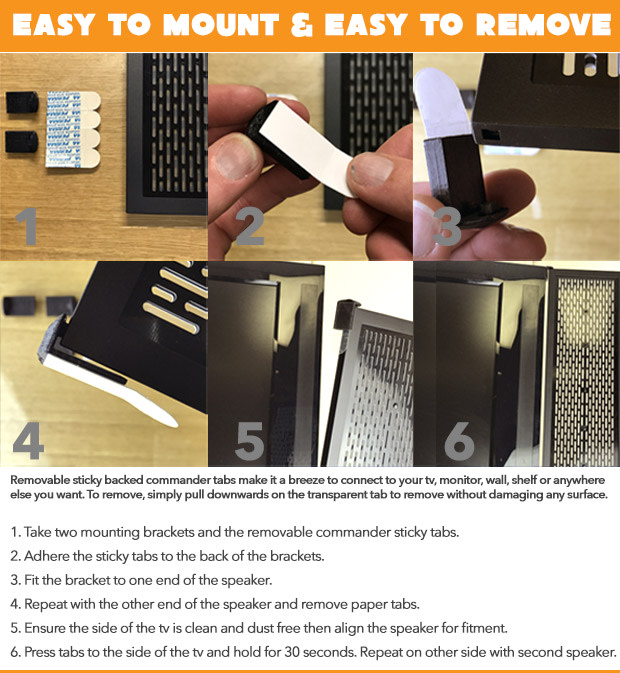 High-Quality Sound Performance
Expanse delivers crisp, clear, full sound. Audio has minimal distortion, while reaching high volume levels, thanks to the 2 x 100 watt built-in amplifiers. With a frequency range of 55Hz to 20,000Hz, you'll hear every single note.
Minimal Distortion
Expanse Speakers feature a level of distortion one order of magnitude lower than conventional cone drivers in a box. This is achieved through the unique electrostatic speaker design, which delivers sound output 'as recorded,' with minimal noise.
Impossibly Compact
Expanse Speakers deliver 'expansive' sound in a compact package. Featuring an impressively small form factor of 12mm (0.4″), you get 95 decibels of sound in a set of speakers that can fit comfortably in any room and be transported with ease.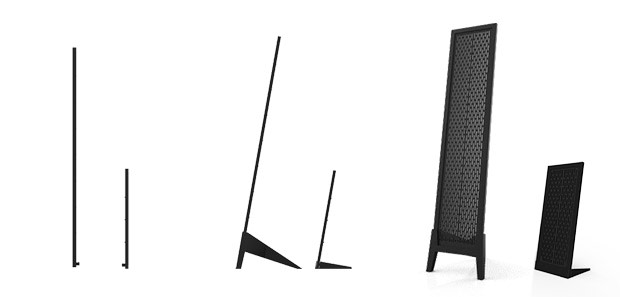 Easy-to-Use
Our speakers are incredibly easy to unbox, setup and assemble. Once you've removed the speakers from the box, it's just a matter of mounting them on your TV with the mounting clips, or on their own with the provided foot stands. Then, you can connect to an input device via corded connection, Bluetooth, or built-in FM Tuner. And if you want to add rich bass and deep tones to your listening experience, it's easy to add on our compact woofer 'The Slam' or even connect your own active subwoofer.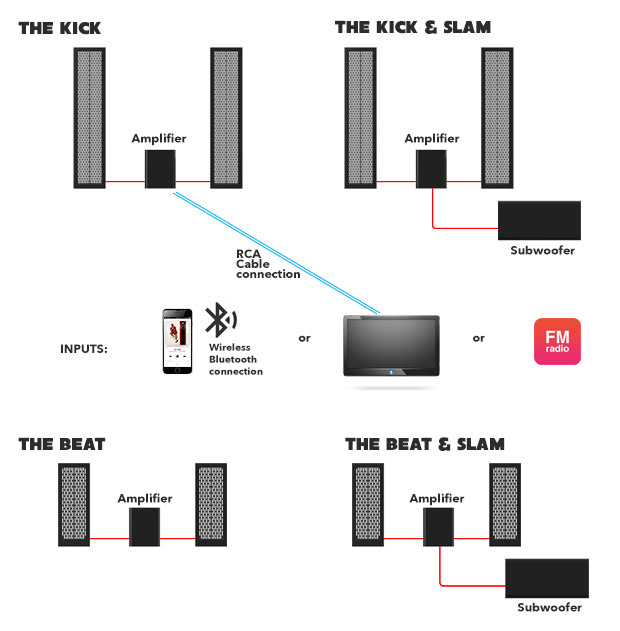 Gorgeous Design
Expanse Speakers have a gorgeous design. Super thin, compact and lightweight, they take up as little space as possible, fitting into the background while delivering powerful sound.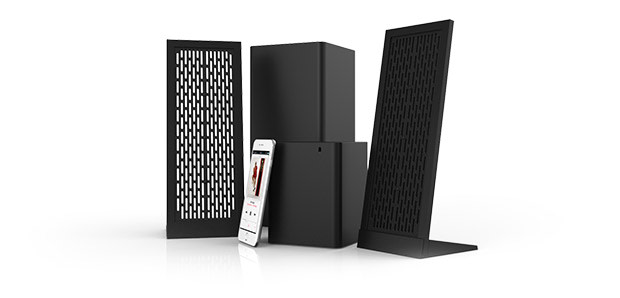 Ultra-Affordable
Priced from just $299, Expanse Speakers are as affordable as the advanced technologies we've built into it will allow. Electrostatic speakers are a high-end technology that had previously only been available in expensive sound systems.
About Founder
We're IC One Two. We're a company made up of technologists and designers who love bringing new and exciting projects to life.
 
The idea for Expanse Speakers was born from wanting to make an affordable high performance sound system, The technology has been in large part due to Charlie Van Dongen and his lifelong passion for electrostatic speakers and audiophile technologies. For the past 20 years, he has been obsessed with making electrostatic tech viable for the consumer market. Until now, this dream has been out of sight. But now, with new developments in commercial and technological processes, it is possible to deliver electrostatic speakers in an affordable and compelling package.
 
The vision behind Expanse Speakers is to do just that. And with your help, we can bring our vision to all the audiophiles of the world.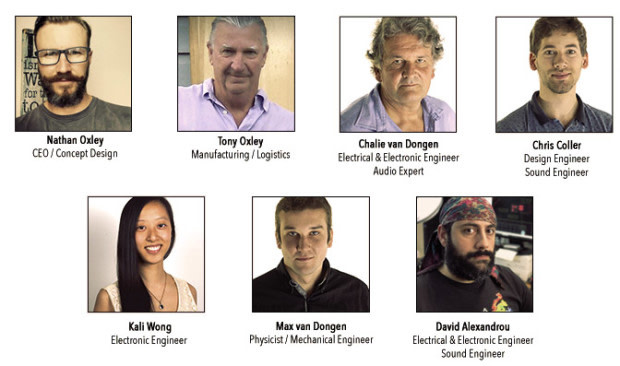 Funding Will Help With
Taking a product from prototype to manufacture is expensive. Manufacturing, producing and marketing the speakers will take time and money, as well as a significant amount of effort. Your pledge will help bridge this gap, aiding with the pre-sale of units, initiation of the tooling and filling of production orders. Another critical element your funding will help with is opening the product to a global market and inviting discussion with international distributors who may otherwise have been hard to contact.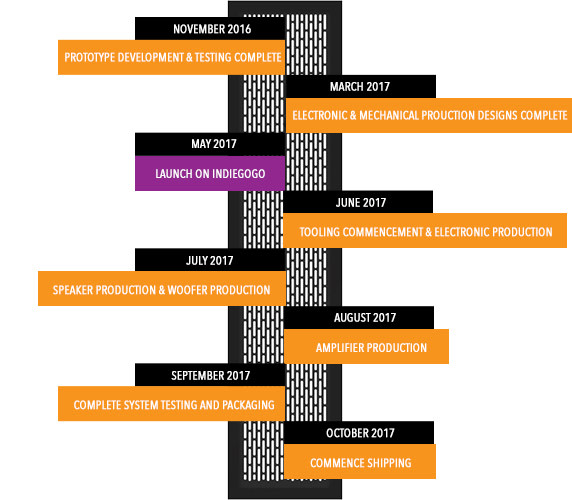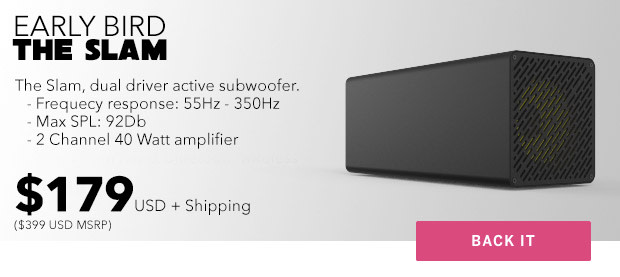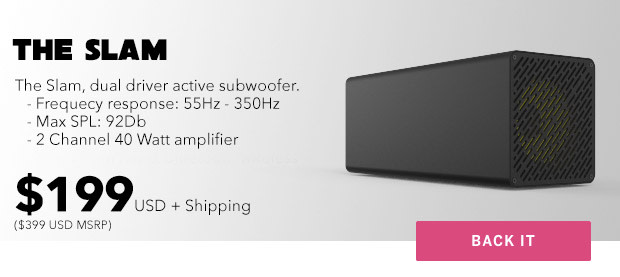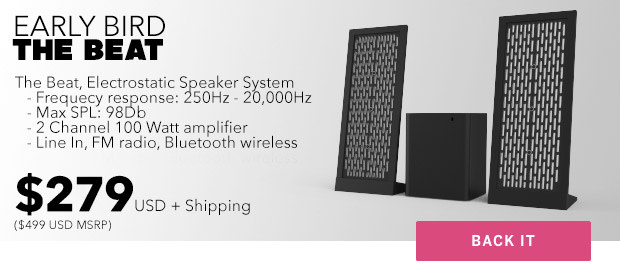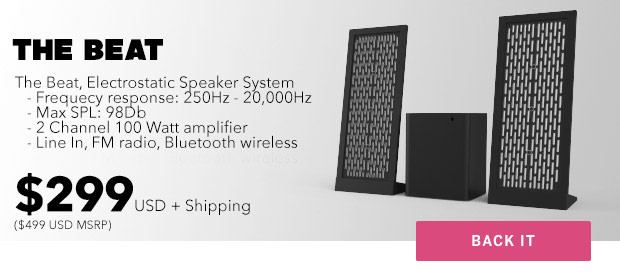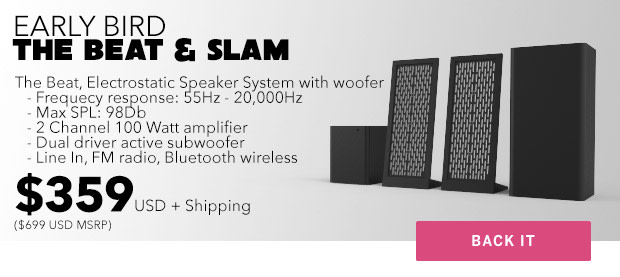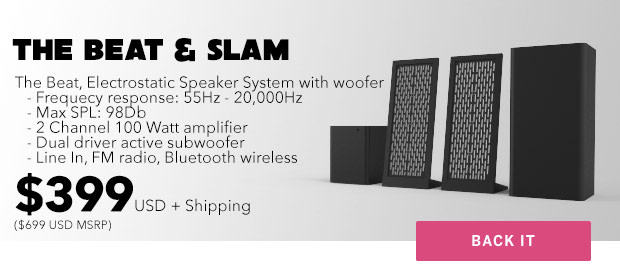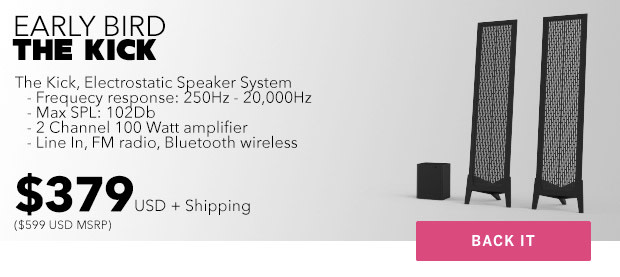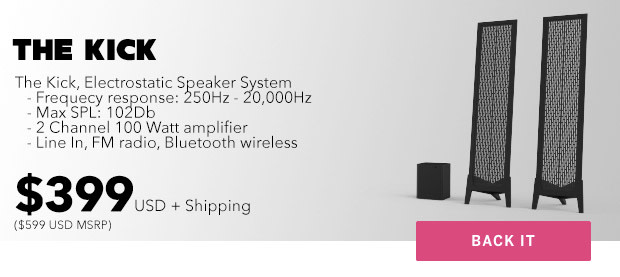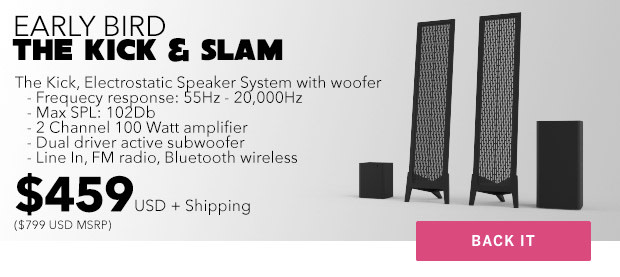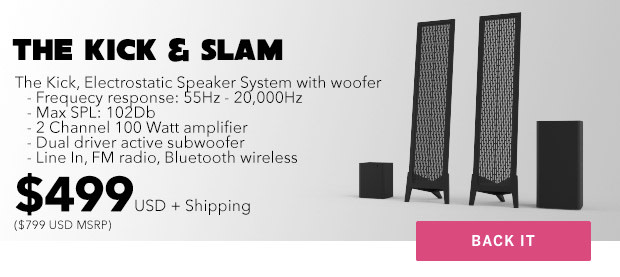 Risks And Challenges
The main challenge associated with developing this product–engineering a high quality electrostatic sound system at an affordable price–has already been overcome. Most remaining challenges stem from production, distribution and networking.
Mass-manufacturing any high-tech product entails significant costs. This is doubly the case with electrostatic speakers, which will require the help of a manufacturing partner with specialized skills. Finding a manufacturer who can reliably produce our speakers at the price points we demand may be a challenge when taking the product to market.
A second challenge pertains to distribution. Getting the word out about Expanse Speakers will require significant marketing and PR efforts. We'll need to run extensive PPC campaigns, generate publicity, and get in touch with retail partners. Without adequate funding, these challenges may prove insurmountable.
A final challenge involves getting in touch with the right contacts within international distributors. For our products to be sold internationally, we'll need to have a distribution network in place. Getting the attention of distributors will take significant amounts of time and money. Your donation can help us get the attention of the distributors we need to speak with.
Q&A
What makes Expanse Speakers different?
Expanse Speakers feature an electrostatic design–as contrasted with the cone-base design of conventional features. This speaker design delivers clearer sound quality with lower distortion.
Aren't electrostatic speakers expensive?
Until now, electrostatic speakers have been costly, and only available in very high-end sound systems. But new innovations have made it possible to deliver electrostatic technology in a more affordable package. Expanse Speakers are among the first projects to capitalize on these innovations.
How much will Expanse Speakers cost?
When they go to market, Expanse Speakers will cost $499. This is a highly competitive price point for electrostatic speakers, which often retail for $2000 or more.
As an audiophile, I demand only the very best sound quality. How will Expanse Speakers deliver?
Expansive Speakers deliver impeccable sound quality along 3 vectors: clarity, frequency range and volume. The electrostatic design ensures clear audio, with distortion one order of magnitude less than conventional speakers. The frequency range is from 250 to 20,000Hz extendable down to 55Hz with our compact sub –covering the vast majority of the spectrum of sounds detectable by the human ear. The volume is also capable of reaching high levels of over 95 decibels thanks to the 2 x 100 watt amplifiers.
Do Expanse Speakers work with wireless audio sources?
Yes. Expanse Speakers can be connected to an audios source wirelessly via Bluetooth audio.
Can I use my own subwoofer with the Expanse Speakers?
Yes, you can connect your own subwoofer to the subwoofer out on the Expanse Speakers amplifier.
What size TV will my Expanse Speakers fit onto?
Expanse Speakers come in two sizes, medium and large, allowing you to pick the right model for your TV. The Large Expanse Speakers are designed to fit onto a standard 55" inch TV or bigger. For smaller TV's and computer monitors we suggest the Medium Expanse speakers.