EyeSend: The First Adjustable-View Belay Glasses | Belay without bending your neck!
This project was fully-funded on Kickstarter, raising $13,000 of our $10,000 goal!
EyeSend adjustable-view belay glasses eliminate neck strain by allowing the belayer to adjust their field of view using the optics in their glasses instead of the muscles in their neck.
Current belay glasses only elevate your field of view by a fixed 60°. If you climb on cliffs steeper than this, you're compensating by craning your neck. The EyeSend field of view is adjustable from 60° to 120°. Belayers can use this range of adjustment to maintain a neutral, pain-free neck position while belaying, regardless of the cliff angle.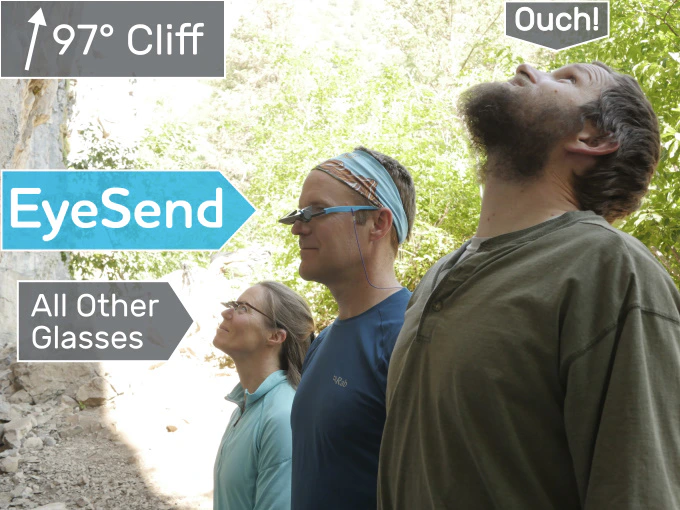 A more comfortable belay is a safer belay, for both the climber and belayer.
PitchSix believes in helping to sustain the outdoor environments that make climbing great. We have pledged to the 1% for the Planet movement and will plant a tree for every pair of EyeSend glasses sold. Read more below. 
Save your neck! Help offset climate change! Pledge to support EyeSend!
What Climbers are Saying
These Climbers Have a Pair From Our Pilot Build:
"These glasses are amazing! The adjustable feature allows you to stand in a comfortable position without craning your neck to see your belayer. Who knew such a simple addition to belay glasses could be so revolutionary!?" — Beth Rodden, Mother, Pro Climber, Writer
"The adjustability in the PitchSix EyeSend is a game changer. As a climber with a severely injured neck, I am forced to rely on belay glasses for all belaying. I have made do with what was on offer for too long and suffered when belaying for anything but very short periods. The moveable lens in the EyeSend gives me a better range of vision than anything else I've used, and allows me to belay for way longer, with basically zero discomfort. Thanks PitchSix!" — Liam Lonsdale. Passionate climber, professional photographer, pursuer of excellence.
"The  adjustable feature is brilliant! This fixes my biggest problem with my (previous) belay glasses–my neck never quite could get into a relaxed  position. You have solved this problem!"  —Eric Hörst.   Climber * Author * Performance Coach * Researcher * Speaker
"I see climbers with tight necks all the time in my clinic. Cranking your neck up to give a good belay is not what your spine is meant to do. The adjustable EyeSend glasses are way better than regular belay glasses at letting you keep a neutral neck position while not losing sight of your climber. All belayers should get a pair!" — Dr. Tyler Nelson.  Camp4 Human Performance, DC, MS, CSCS
"A clever improvement on a crucial piece of cragging kit.  But be  warned; I got some strange looks when I wore them to the bar." — Cedar Wright.  Professional Climber and Filmmaker…God Among Men
EyeSend Key Features
Adjustable view angle
Increased belayer comfort and a safer belay
Simple, one-hand adjustment
Three fields of view: Through, Over, Under
Solid frame
Easy on/off integrated neck strap
A great case design
We'll plant a tree for every pair sold
Left-Hand-Only View Adjustment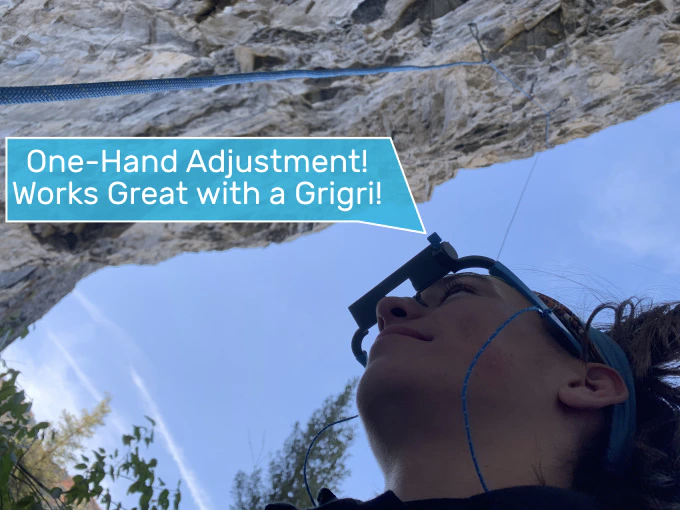 Three Fields of View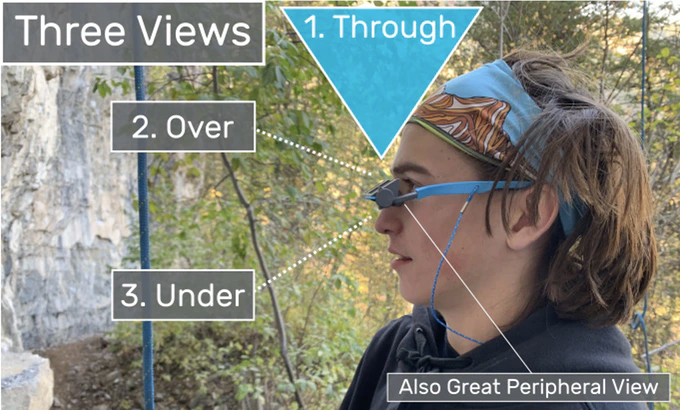 Solid Frame Withstands Crag Use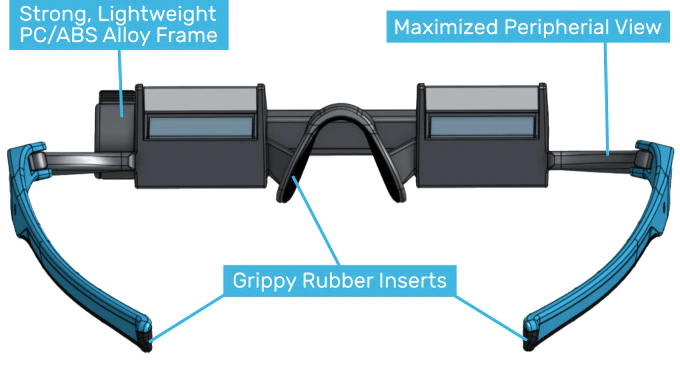 Easy On, Easy Off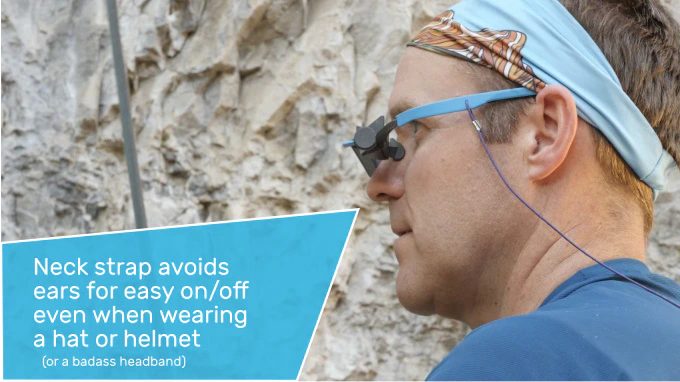 Awesome Case Design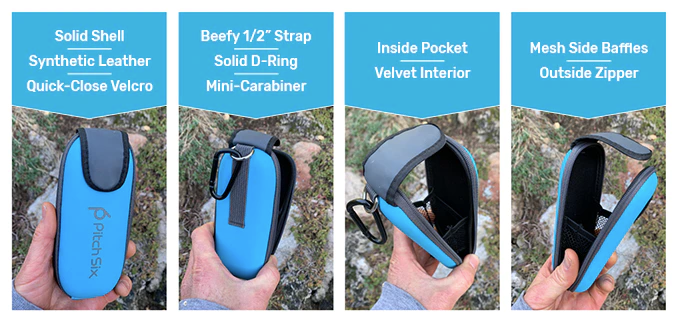 In the Box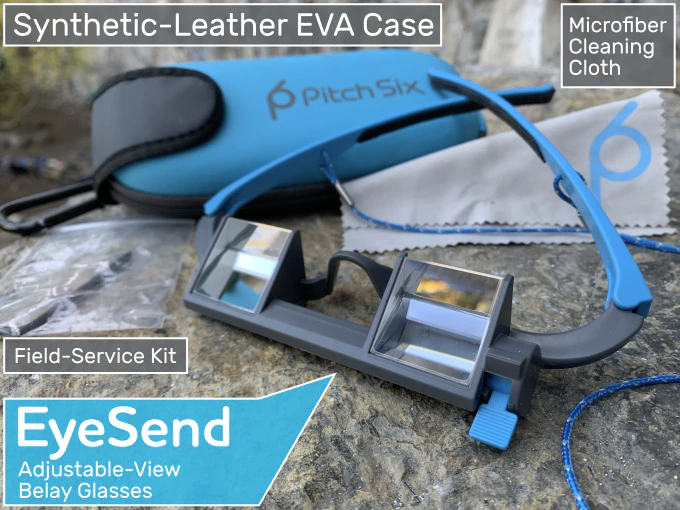 Giving Back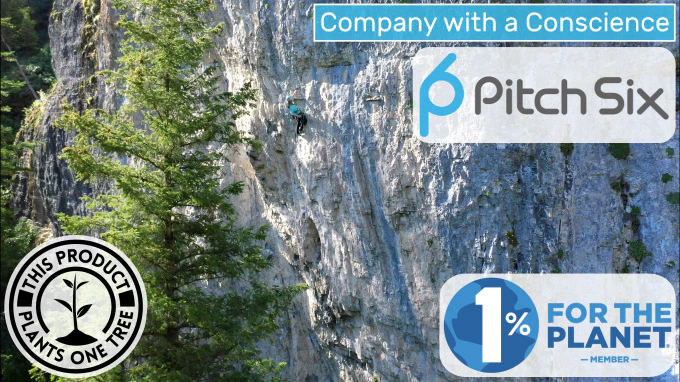 We are committed to helping protect the outdoor environments that make climbing great. We've joined 1% for the Planet to exemplify that commitment. We're going to plant a tree for every pair of EyeSend glasses sold as well as support climber access initiatives.
Got Big Hair?
Pick up a PitchSix Headband!
The EyeSend view angle can be so steep that you'll see your forehead. The PitchSix headband can tame those wild locks giving you an unobstructed view of your climber.
Our headbands: 
Non-slip, made from 90% polyester and 10% spandex
One size fits most
4″ tall in the front and 1″ tall in the back
Excellent for wicking moisture 
Custom Fitzroy or Cirque of Towers designs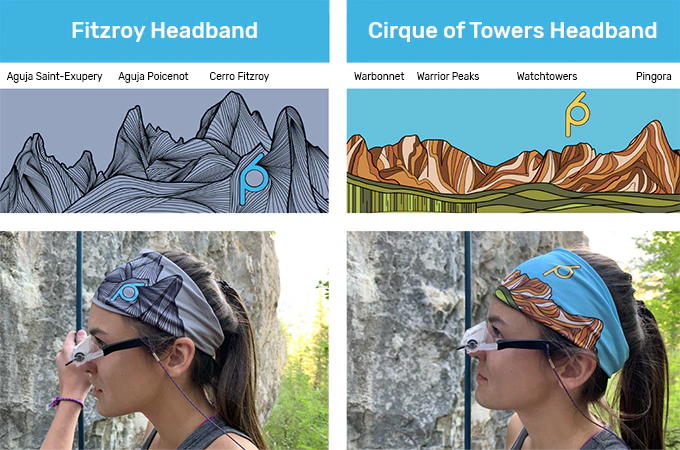 Patent Pending
The EyeSend Adjustable-View Belay Glasses are patent pending. 
Belay Glasses Optics 101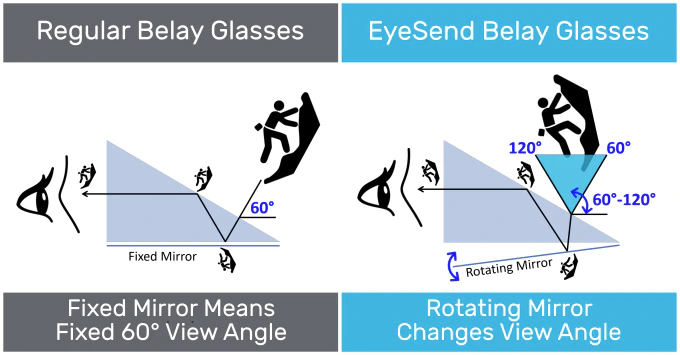 Belay glasses reflect the image of the climber twice. The first reflection is off the mirror-coated bottom of the prism. Like any mirror, this first reflection inverts the image of the climber. The image is reflected a second time off the top surface of the prism (due to total internal reflection), flipping the image back to normal.
Regular belay glasses use a fixed prism and therefore have a view centered around 60° from horizontal. Rotating regular belay glasses on your head does nothing to change the angle of view as increased refraction offsets the rotation. EyeSend's adjustable prism allows the belayer to change the angle of view by adjusting the bottom mirror angle.
Designed and Built in USA
EyeSend glasses are designed and manufactured in Logan, UT. Keeping the product as local as possible helps reduce shipping environmental impact and feeds local U.S. businesses.
Our Current State of Development
We have taken the product all the way from concept to an initial, low-volume production run. This includes an investment in production-quality injection molds. Some pairs of glasses from our initial low-volume run are available after this campaign is complete. Additional pairs are projected for availability in March, 2020.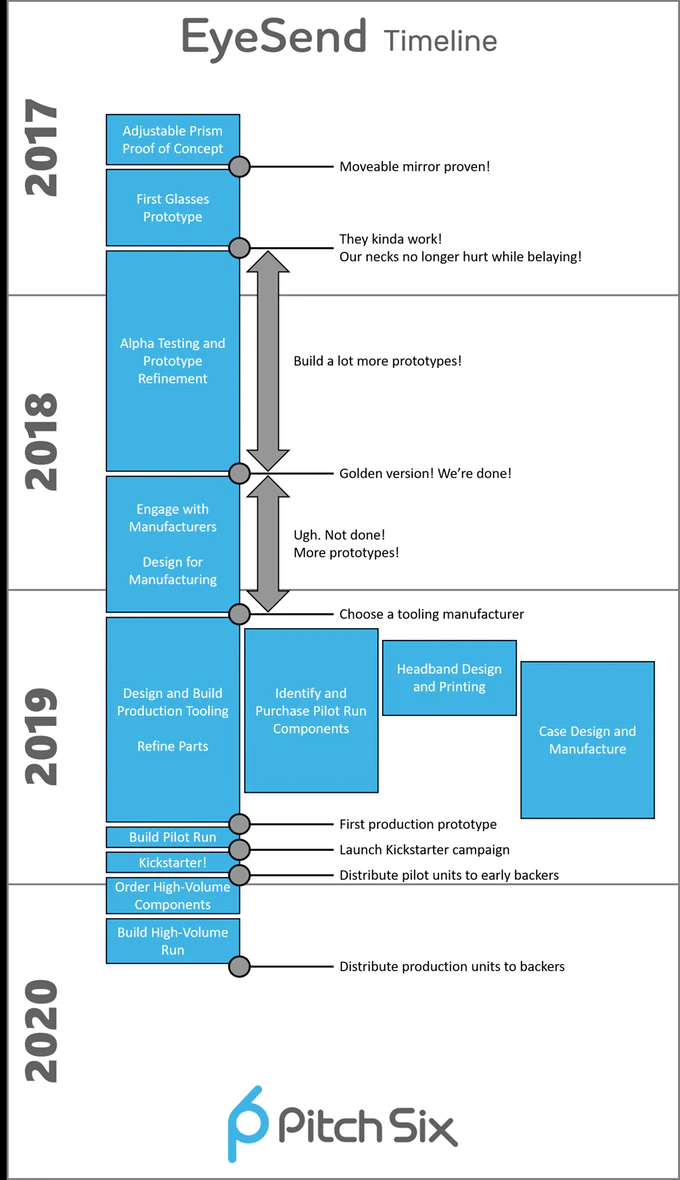 People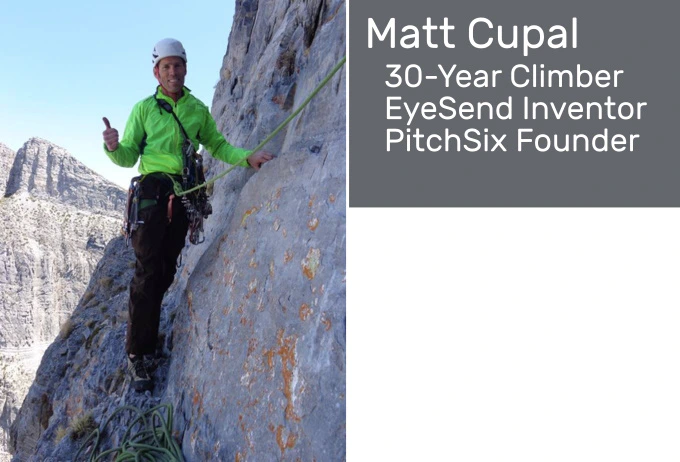 Matt Cupal is the PitchSix founder and the inventor of the EyeSend Belay Glasses. Matt has been climbing for over 30 years. He lives in Logan, UT where he has spent countless hours pulling choss off the Logan canyon walls to expose numerous routes in a wide range of grades. 
In addition to his personal climbing efforts, Matt makes time to coach the local youth competitive climbing team in Logan. Coaching has brought a new focus and exploration into his climbing life and he enjoys helping others break through perceived limitations.
Matt has been a business leader in the tech industry for over 20 years and has experience manufacturing hard goods products both domestically and overseas. Development of the EyeSend Belay Glasses has been an extremely challenging, but rewarding project that combines basic physics with manufacturing knowledge to solve a compelling problem in a sport he loves. The project is also an embodiment for the environmental change he feels is needed in the world.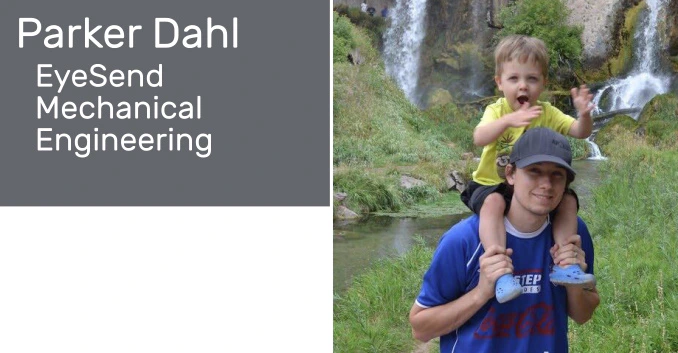 Parker is the mechanical engineer for the EyeSend belay glasses. He has fearlessly overcome many unique design challenges associated with bringing this product to market. Parker is a 7-year mechanical engineer educated at Utah State University. His work on the project has thus far included component design, component stress analysis, design for manufacturability and consultation with the injection mold tool design. When not working, he enjoys hiking, fishing, traveling and spending time with wife and two young children.
Risks and Challenges
EyeSend glasses have been in development for over two years. We've overcome a lot of challenges in that time. Most notably, aligning both eyes in a reproducible way has been difficult. We wanted to lower the risk for early supporters so we've taken the design all the way to an initial low-volume production run. This includes building injection molds to ensure we can have repeatable success in manufacturing the glasses. Taking the design this far has been costly and time consuming, but the result is that we know they can be built successfully each time.
The remaining challenges pertain to ensuring our production processes can be scaled up to higher volume. This presents a moderate risk. We've already contracted with an assembly house that is able to handle the production.
In addition, all component suppliers have been identified and used for the initial low-volume production run. Ordering higher volumes of components presents a low risk. Lead times for parts are well understood.