Family Organizer Plus | Privacy & data ownership have arrived on the first safe, secure, social platform for your family!
Introducing
Family Organizer Plus [FamOrg+]
It's YOUR Family. Protect Them!
Protect yourself and your family online.
Designed for 5G and blockchain.
FamOrg+ puts YOUR data back
into YOUR hands, once and for all. 
Here's How FamOrg+ Works.
Get all these features in one app
for less than a Double Americano!

Recover Your Data. Reclaim Your Privacy. 
Restore Your Rights.
It's Your Data.
Own It! 
Contacts (family, friends, trusted providers, and acquaintances) 
Organize relationships into simple, helpful groups like relatives, friends, and trusted providers, e.g., teachers, accountants, lawyers, and healthcare workers.
1-Calendar Scheduling
Link and combine individual calendars on Google and iCloud into FamOrg+ to avoid scheduling conflicts, improve family coordination, and never miss important events.
Private Chat
Confidently share private and personal information with relatives and trusted providers knowing that FamOrg+ uses advanced encryption. Person-to-person and person-to-family chatting, 
Social Media Monitoring
Protect your family from online abuse, monitor family feeds on social platforms, and  raise cyber-responsible children as you deem fit, without publicly humiliating them.
Secure Recordkeeping
FamOrg+ employs multiple private blockchains to store and control access to your family's private records.  You grant permission or reject requests for your records from others, including trusted providers, like teachers, lawyers, healthcare providers, and more.

combines useful features with advanced and emerging technologies that ensure your privacy, security, and peace of mind when it comes to your family's online lifestyle and habits.
FamOrg+ is the world's first safe, secure, social platform for every household.
Designed with an eye on emerging data ownership laws,
5G/6G wireless technologies, and blockchain architecture,
we're committed to your data ownership rights…
It's YOUR Data. Own It!
What We Need
First things first, we're looking for a crowd, not simply crowd-funding.  Join us and other concerned parents, professionals, and friends in ending on-line abuses. Recover your data. Restore your privacy. Reclaim your data ownership rights. Some laws have recently changed to support your digital ownership rights and more are coming. We can accelerate this process sooner as a community.
Secondly, FamOrg+ needs your input to guide the future development of this first-of-its-kind platform as technologies emerge that enable you to recover and maintain new-found control over you and your family's private information.  
What You Get
For less than a fancy cup of coffee, become early adopters of this new and exciting platform and collaborators in the evolution of  FamOrg+ and its future. EXACTA's architects have been technology and thought leaders on data security since the 1980s  predicting the rise of cyber terrorism and the rejection of security precautions except in knee-jerk response to breaches and hacks.
Click on this image to obtain our position paper on the implications of new technologies and laws on your data privacy and ownership rights.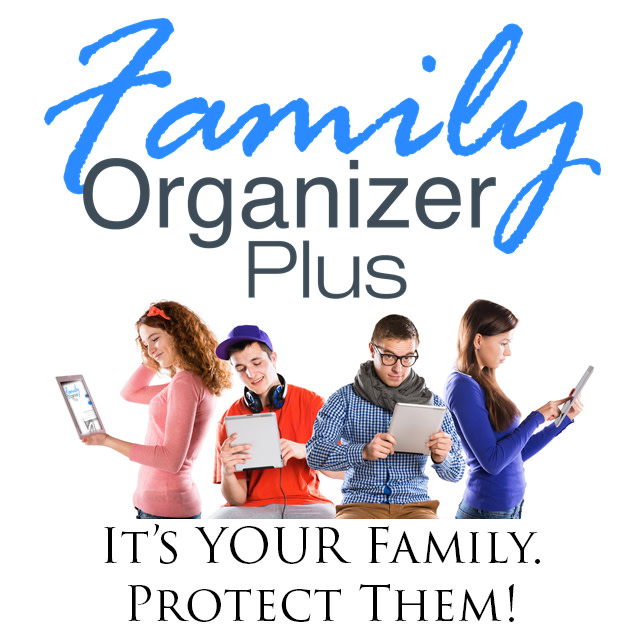 Unlike other personal organizing apps that don't integrate well, exclude robust security, and offer relatively few features for free, you won't get bombarded with ads upon ads, charged fees to remove these annoyances, or to purchase add-ons.  Our business model for FamOrg+ is based on security, integrity, and the platform's value in ending the plague of data breaches, namely central data warehouses controlled by third-parties.  Thus, our mantra, "It's YOUR Data.  Own It!"
Affordably priced far below existing products based on old technologies that have not prevented breaches, FamOrg+ is the first platform designed from the start around a wireless world on 5G and blockchain technology to give you the ability to actually possess and control all of the digital information you are entitled to own. 
Keep your private data private. Share only with those you know and trust.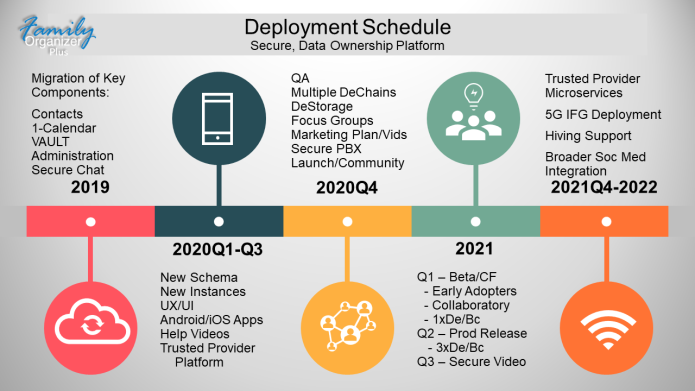 The Impact
 FamOrg+ is the first consumer solution that truly empowers and ensures individual privacy by design.  Discarding obsolete communication protocols from World War II used across the  Internet today, new network appliances are coming to market with unprecedented security that should have always been there.
Here are just a sample of microservices available in FamOrg+:
Trusted relationships with relatives, friends, and providers, like teachers, accountants, lawyers, and healthcare workers.
 
Communications that are not monitored and recorded by third-parties, collected, analyzed, and sold to yet other parties.
 
Personal and important records, like estate plans, bills, long term warranties, and precious photos, stored decentrally in the cloud and out of the hands of unintended, unauthorized, or unscrupulous people, as well as beyond the reach of fire and water damage.
 
Password-free access that authenticates and authorizes your individual and family's access to important online services where trusted providers can store your records (which you own) in your personal and private data warehouse.
 
Restoration of good parenting, no longer disenfranchised by modern technology, enabling early intervention on social media abuse, related depression, and feelings of isolation that can lead to tragic consequences.
 
Risks & Challenges
The primary risk is in failing to recognize emerging technologies that change everything, namely worldwide wireless 5G/6G networks and blockchain storage.  But the risk of recognizing and not changing is even greater if there isn't a tool to benefit every person. 
With private sector and government software and systems security experience for nearly 40 years, EXACTA's team of developers have a unique skillset in mission-critical application development of industrial-strength banking, insurance, and automation applications.
 
With a view of new laws and emerging technologies through lenses ground for nearly 50 years, EXACTA is a leader in creating solutions that are future-proof or sufficiently adaptable to changing needs.
 
5G is rolling out and blockchain software development is relatively low-code.  Applying the technology with no other leaders in the field offers EXACTA and our community to establish standards going forward with the strong support of new and emerging laws built on your individual rights of privacy and data ownership, like HIPPA, GDPR, and CCPA.
 
Family Organizer Plus [FamOrg+] offers you the "missing link" platform that instills the actual data owner with the ability to possess and control one's personal information everywhere, all the time. 
 
Other Ways You Can Help
Get the movement moving!  Share this campaign on Facebook, Twitter,  LinkedIn, and other social platforms with your friends, family, and worldwide connections.
 
Use #familyorganizerplus, #famorg+, #blockchain, #5G, #crowdfunding and other tags, too.
 
You can easily share our campaign via the share icon at the top of this page.
 
Finally, share our campaign with 5 friends, relatives, or co-workers who you think would benefit from this project, now or in the future, via text or direct messaging online.
Thank you very much for your support in all ways possible!