FATBAR – Keto, Low Carb, High Fat, Plant-Based Bar | Carbs are out. Fat is in.
4g Net Carbs

WHY I MADE FATBAR
I was doing the Keto diet and couldn't find any tasty, on-the-go snacks…so I made it myself! FATBAR is 100% plant-based and made without added sugar. We use whole food ingredients like coconut, almond butter, cocoa butter, and chia seed. I'm a foodie at heart and can honestly say it tastes incredible enough that I'm happy putting the name "Dang" on it!
-Vincent K, Founder FATBAR and Dang

Several popular bars out there boast high protein and minimal ingredients but fall short because most of them are sweetened with dates, honey, maple syrup, or rice syrup. Yes, they've taken away the added cane sugar. Yes, these types of sweeteners have their own health benefits. But when it comes down to it, sugar is sugar, and sugar drives the carb count up no matter the form it comes in.

Lots of other "keto-friendly" bars have found ways to bring the net carb count low while keeping the fat and protein high but ruin their ingredient lists with animal fat and sugar alcohols and, to be honest, just taste like $#*!
After messing around in the kitchen using real, keto-friendly ingredients like cocoa butter, coconut, and almond butter, Vincent came up with…FATBAR!

FATBAR is completely plant-based, and has ideal macronutrients for a high fat, moderate protein, low carb keto diet: 70% fat, 20% protein, and 10% net carbs.

And because we're food people first rather than nutrition people, they taste Dang good!
FLAVORS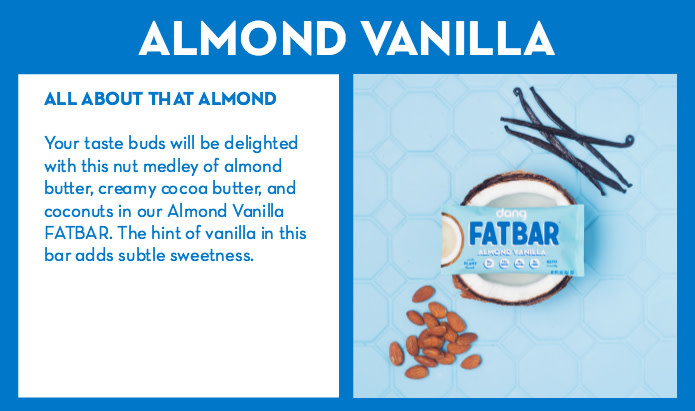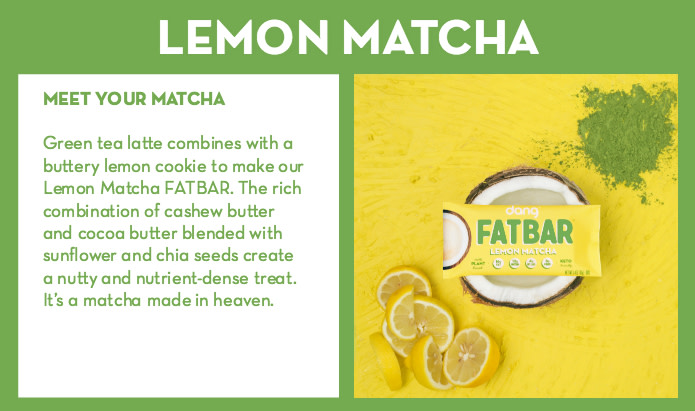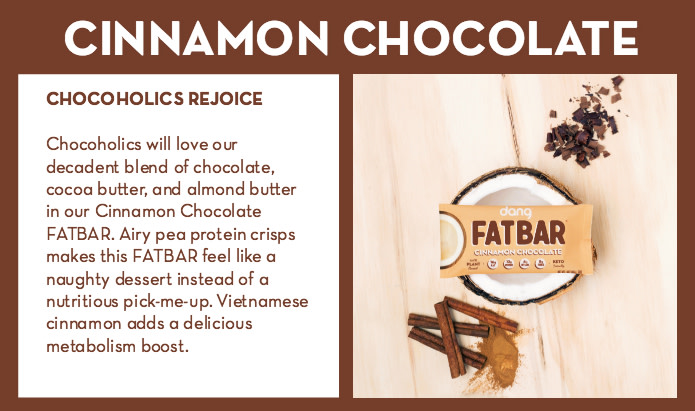 INTENTIONAL INGREDIENTS, SUSTAINED ENERGY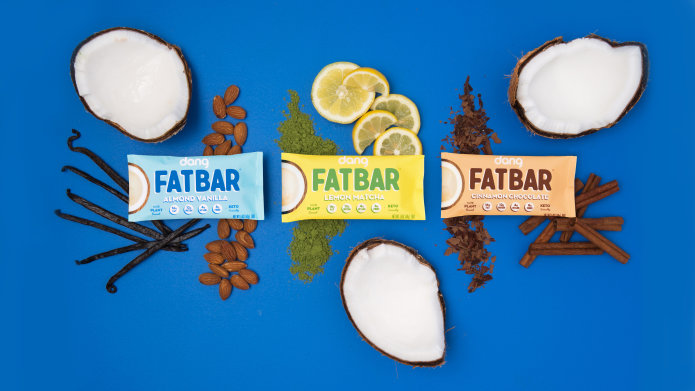 Unfortunately, you can't choose your genes (wouldn't that be nice?)….However, you do have the ability to be picky and consume food filled with clean ingredients.
When formulating our bars we chose natural ingredients, each with its own purpose. You won't find any fillers or artificial ingredients here! FATBAR is made from a combination of almond and/or cashew butter (depending on which flavor), creamy cocoa butter, sweet coconut, complete pea protein,  and nutty chia seeds.
We understand food biology can get a bit confusing at times… so we're here to simplify it for you!

Note: The nutrition panels are subject to slight changes 
FAT IS BACK. EMBRACE IT.
THE HISTORY OF FAT
In the 1940s scientific studies showed a correlation between high fat diets and high cholesterol suggesting fat was the cause of heart disease. By the 1960s America declared a war on cholesterol which turned into a war on FAT. The low-fat ideology took hold and today still continues to be promoted by the government, medical, pharmaceutical, and food industries, as well as popular health and nutrition medias. 
During these same decades the low fat approach was in, Americans got fatter and we're now experiencing an obesity epidemic. Heart disease, diabetes, and inflammation are at a high while society continues to fear fat.
We're now entering an era that's challenging the low-carbohydrate diet. Recent studies are revealing the bad science of the 40s and are focusing on the benefits of good fats. 
Fat is essential for proper brain development and improves cognitive function. As a source of fuel it controls blood sugar levels and provides sustained energy versus the energy spikes one experiences by consuming too many carbs.
Research now shows low carb, high fat diets like the keto diet help you lose weight, lower the risk of heart disease, improve quality of sleep, enhance memory and cognition, and strengthen one's mental clarity. They can also reduce the amount of seizures and migraines an individual can develop. 
Ditch the carbs and give FAT a chance!
FATBAR FOR ANYONE
FATBAR isn't just for people on the keto diet. It's designed for anyone looking for a wholesome, delicious bar that doesn't taste like protein powder or animal fat. It's designed for anyone looking for a filling, satiating snack that brings sustained energy and doesn't spike your blood sugar like other honey/maple/brown rice syrup laden bars.
So get snacking with some quality fat-fuel from FATBAR!

HELP US TAKE FAT BACK
We're working to bring you 3 flavors of FATBAR – Almond Vanilla, Lemon Matcha, and Cinnamon Chocolate.
But we can't do it without your help. Support our Indiegogo today and you'll be the first to receive FATBAR. Your funds will:
Help support our first fully scaled production run so we can bring FATBAR to the masses.
Help us get setup online so you'll have access to FATBAR again and again as soon as we finish our first run. Our goal is to enter retail stores by 2019 but we know how difficult it can be for someone to locate their newest, favorite products at their local grocery store.
Rewards, Risks, Challenges
We expect to start shipping out rewards as soon as August 20, 2018. While we do not expect delays, there is always a risk our copacker could run into delays due to ingredient sourcing or the need to produce a much larger demand than initially expected. With that said, we are confident FATBAR will ship before the end of September 2018. 
We're currently launching FATBAR with 3 flavors: Almond Vanilla, Lemon Matcha, Cinnamon Chocolate. While continue to work on new flavors and formulas to bring more variety to the FATBAR line, there could be a chance that one or all of these flavors are adjusted before our first production run. Flavors for our first run will be finalized before the campaign is over. We will communicate any changes immediately to our backers. For backers whose rewards include single flavor cases, we will reach out at the end of the campaign to find out your flavor selection.