FermLock: Your New Favorite Fermentation Airlock | Screw it on and you're done! One-piece, waterless, double-valved, fermentation airlock

Simple.
Mason jar fermentation couldn't be easier, thanks to FermLock – the first true one-piece, screw-on, waterless, double-valved airlock for all wide mouth Mason jars.
Spin the FermLock into place and it will take care of the rest as your batch of superfood ferments in the fridge for the following weeks and months. No burping or maintenance of any sort is required. Enjoy delicious, gourmet fermented foods with just the spin of a lid.
FermLock is ultra-convenient, fun, and safe. Once it's screwed on, you can truly set it in the fridge and forget about it. It's dishwasher safe, BPA free, and the different colors are fun to pair with colorful foods as you explore different recipes.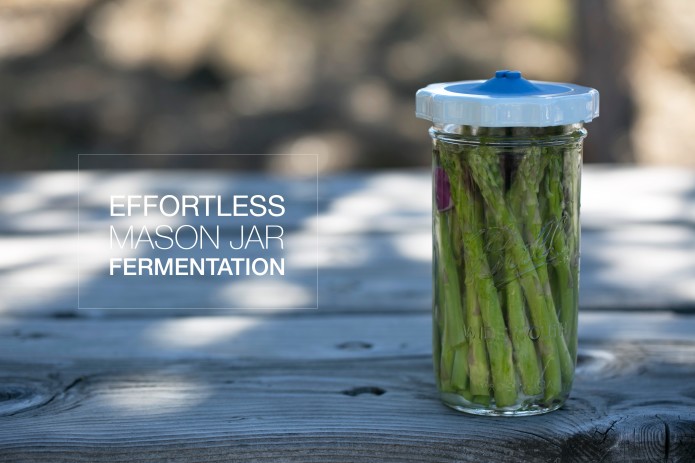 Healthy.
Fermented foods are super beneficial for both the body and mind. Lacto-fermentation is the process of fermenting vegetables in brine (salt-water) in order to preserve their nutrients, produce beneficial enzymes and probiotics, and improve their taste.
Fermentation requires an anaerobic environment, meaning oxygen must not be present. If vegetables are exposed to oxygen, they can become contaminated. Under proper fermenting conditions, carbon dioxide is released as a byproduct of the process. As it builds up inside the jar, it must be released, or the jar can burst.
FermLock puts the lacto-fermentation process on autpilot and let's you explore and enjoy healthy and delicious fermented food with zero effort, in the comfort of your very own kitchen.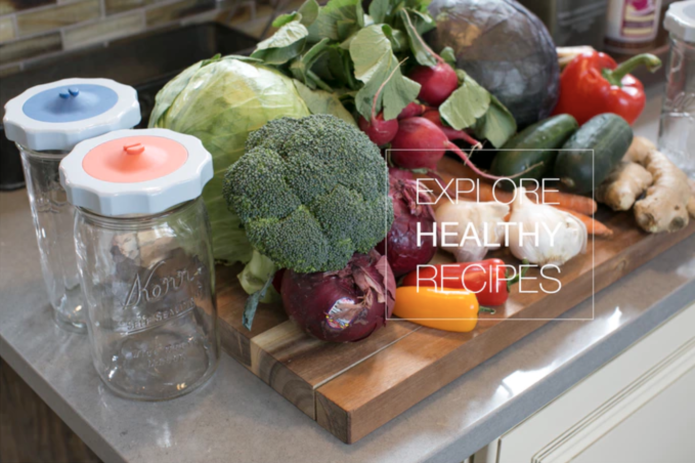 Innovative.
Most other airlocks consist of several different pieces that must be assembled together and require water, burping, and maintenance week after week… 
FermLock is the only true one-piece, waterless Mason jar fermentation airlock that requires zero maintenance. It screws airtight onto any wide mouth Mason jar and is free from any additional pieces – not even a canning band/ring is required. It also stores neatly and functions superbly as an every day lid.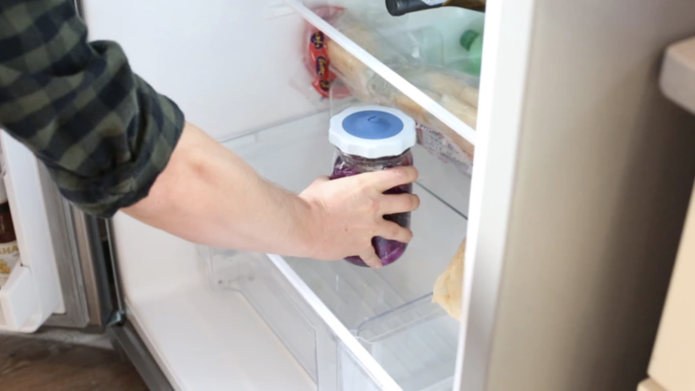 While fermenting, carbon dioxide builds up, and it must be released or the pressure can become so intense inside of the jar that it will cause the jar to explode. One-way valves make it possible to release the accumulating carbon dioxide without allowing oxygen to enter.
We placed two one-way valves in the center of the FermLock to ensure that, as carbon dioxide builds, it is able to continuously escape in the proper amount at the proper time – fermenting your batch to perfection.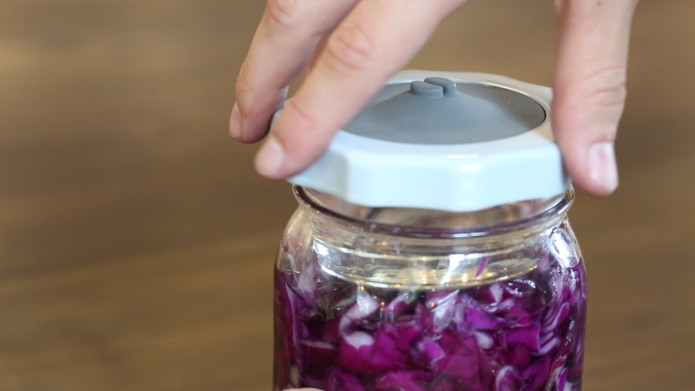 The easy release of carbon dioxide, at the right time, without allowing oxygen to enter, is essential to the lacto-fermentation process working correctly and keeping harmful mold from growing.
We engineered six channels that efficiently funnel the carbon dioxide into and through the two escape valves as pressure builds. This creates an equalized, more consistent lacto-fermentation process, resulting in more nutritious, higher quality fermented foods.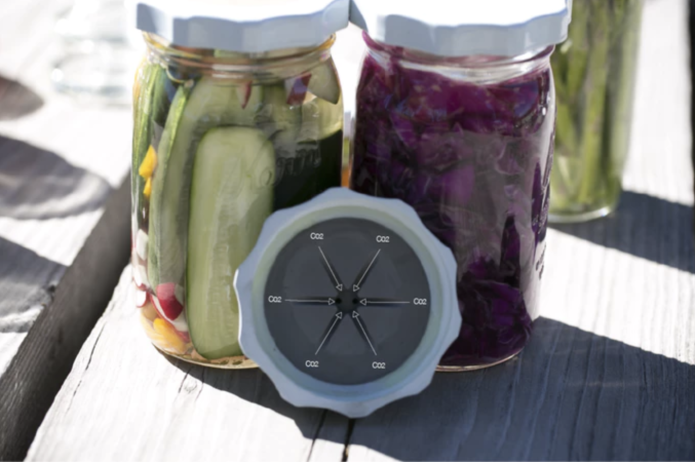 The grip is so comfortable and functional you might just use it as your go-to Mason jar lid from now on. We designed it so well that you'll never have to grab your shirt or a kitchen towel to help you get the lid off!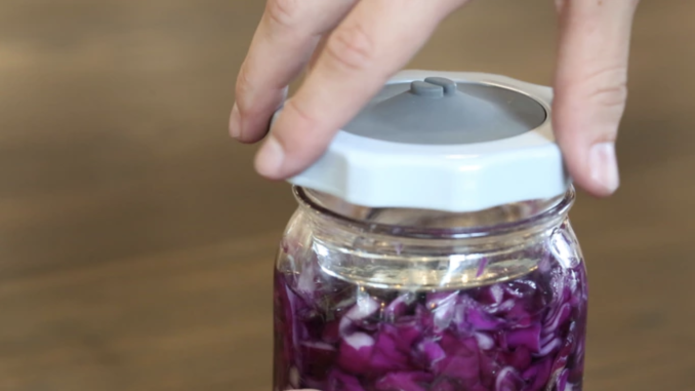 Before now, fermentation weights have been a bit of a pain to insert and remove. By simply placing a shallow handle on the top, we eliminated the need to 'fish' out your weight or tip your jar over to 'pour' it out.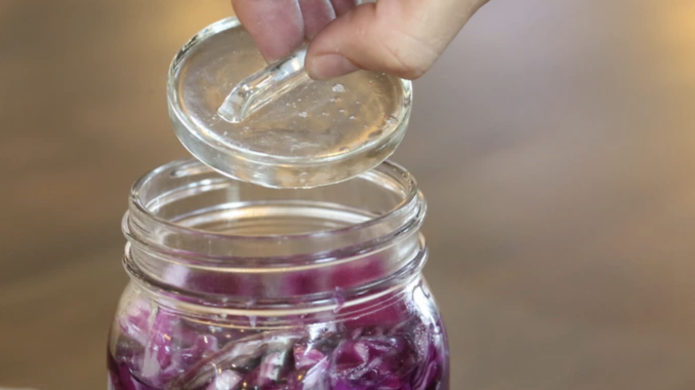 Specifications: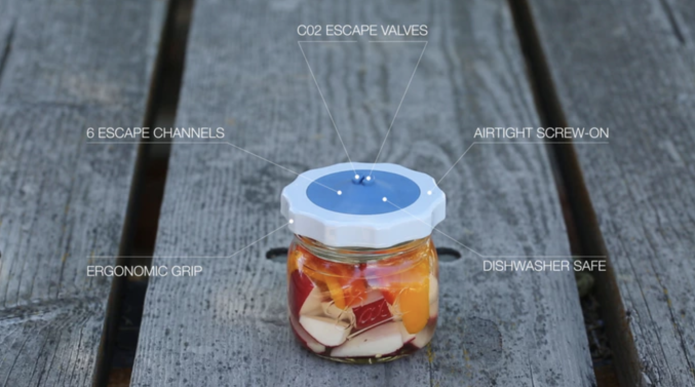 Inner Disc: Silicone

Outer Ring: BPA Free Plastic

Escape Valves: 2

Waterless

Airtight

Ergonomic Easy Grip

Six Channel C02 Funnel

Dishwasher Safe

Fermentation Weight: Glass