Fiberologies – Towels crafted for your daily life | A new line of four unique hand towels, each perfectly designed for a routine in your life
Expect more from your towels!

The problem
On average, we use towels eight times a day. That's probably more than almost any other important tool in life, but we don't think about whether our towels are really efficient.
The towels we use are slow to dry, rough against our skin, not absorbent enough, and unsustainable. And they're all the same—the market is flooded with nearly identical options!
Since 2020, most of us have been spending more time at home and using our everyday household items more than ever. It's clear that we need higher-quality household goods.
It's time for high-quality, reusable towels that get the job done while looking great. 
The solution
Fiberologies reframes how we use our towels by focusing on each distinct routine. We believe even the tools we use in our daily chores should bring us joy, so we've researched and developed a single perfect towel for each task.
The Fiberologies difference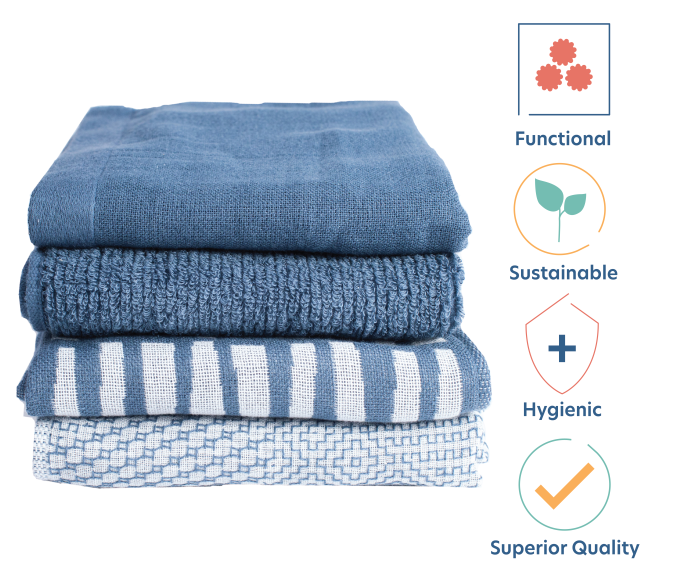 Functional: Most towels on the market are catch-all products, mass produced for general use, and not designed to work for your personal routines. Let's get real: the towel you use for washing your face should be different from the one you use to clean up a spill. Fiberologies towels have been carefully designed to perform the jobs they're meant for.
Sustainable: Paper towels create a mountain of paper waste in the kitchen. Fiberologies towels are made using only plant-based fibers, creating a reusable alternative for all your needs.
Hygienic: Traditional towels dry slowly, sealing in bacteria and creating a musty smell. Fiberologies towels are faster drying for longer freshness.
Superior Quality: Many commercially sold towels are poor quality and susceptible to threading, fading, and rapid wear. Fiberologies towels are backed by the specialized Imabari industry certification, guaranteeing your towels are absorbent, durable, and free of harmful substances
Meet the towels!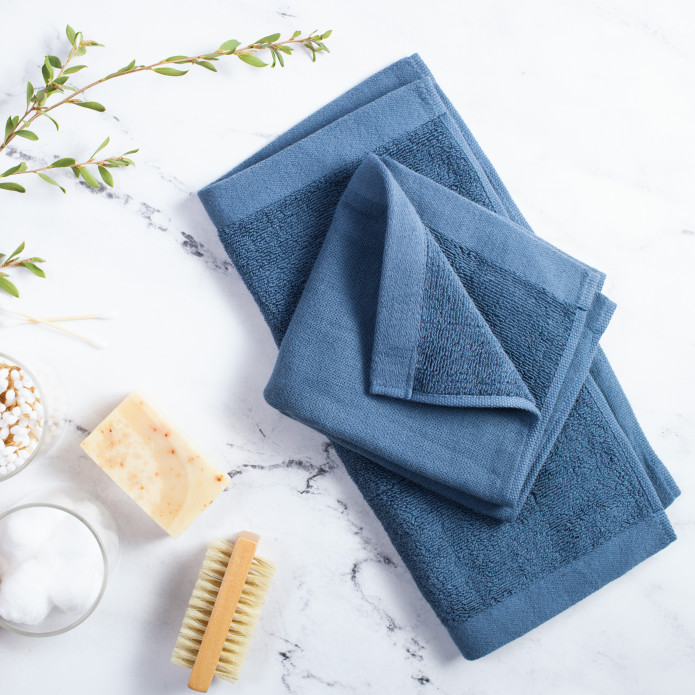 The ideal gentle towel to keep skin looking fresh
Facial skin is delicate and needs the utmost care. Many face towels are too rough and can damage skin, or aren't structured enough to remove the oil, dirt, and grime that can build up throughout the day.
The Face Washer features two different surface textures: a smooth gauze side and tightly packed terry cloth loops on the reverse. These are designed to work together to cleanse even the most sensitive skin.

The Face Washer uses a cotton and bamboo fiber blend with a special thread that's soaked in natural milk proteins. This enriches the fabric with amino acids to help promote healthy skin.
No disposable wipes necessary! These towels can be washed and used again and again.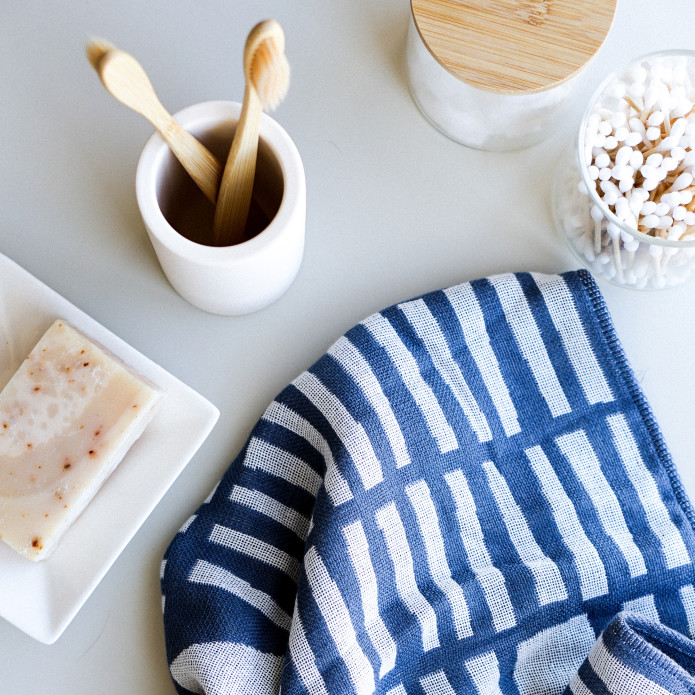 Saves time by quickly drying hands after washing
Nobody likes the uncomfortable feeling of grabbing a mushy, moist towel after washing their hands. The Hand Dryer solves the problem with a smooth triple gauze weave that allows air to flow easily through the fabric, drying it quickly between uses.

Fiberologies designed the Hand Dryer to be extra long, making it easy to reach for the whole family. A beautiful pattern woven into the towel ensures it will look great hanging in any bathroom.
We selected the best super-soft 100% organic cotton threads that are non-GM and grown in India without synthetic fertilizers.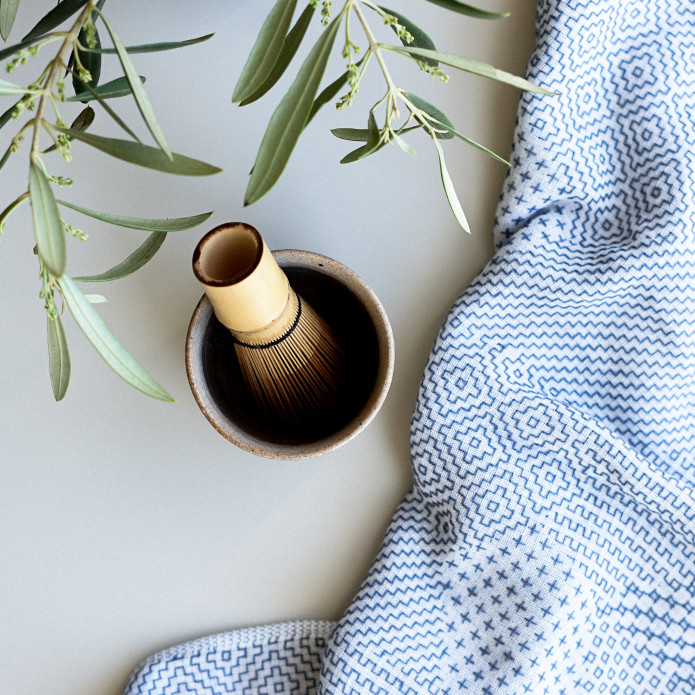 Always by your side, boosting your kitchen skills, one smooth wipe at a time
Thick enough for grabbing hot pans but gentle enough for drying delicate veggies, this towel is excellent for all your (literally) sticky kitchen situations!

The linen and cotton blend provides the added strength and absorbency needed in the kitchen, while a naturally antimicrobial surface helps keep this towel fresher for longer.
When not in use, the Chef's Helper adds a touch of style to any kitchen with its fashionable patchwork pattern.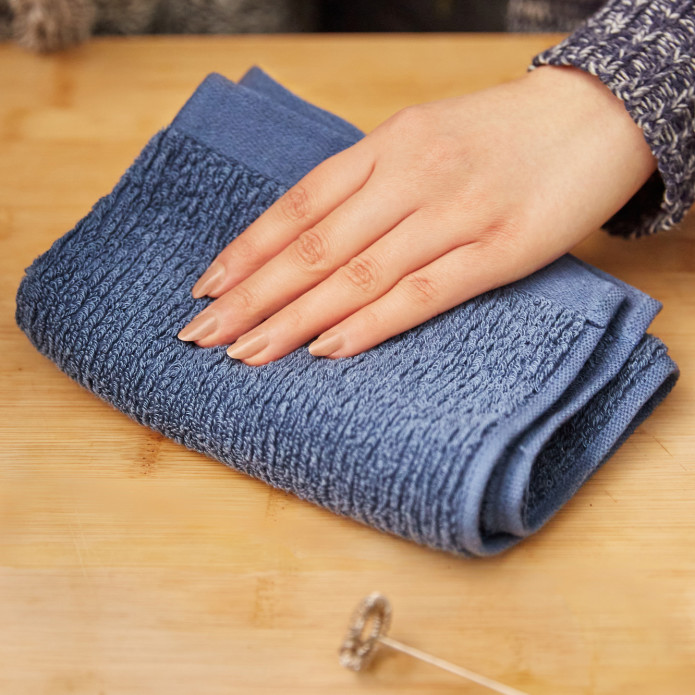 Sustainably cleans up even the biggest spills, replacing all those paper towels
Spills happen in the kitchen, and we often end up cleaning up even small ones with a liberal wad of wasteful paper towels. The Mess Eraser provides a better solution. With a perfect blend of double thick ramie and cotton yarns woven into terry cloth ribs, this plush and extra thirsty towel soaks up even the biggest messes fast.

Ramie fibers are three times more absorbent than cotton and more sustainable to farm, making this the ultimate paper towel replacement for cleaning up in the kitchen.
The ribbed weave and ramie's natural toughness give the Mess Eraser just the right amount of grit to help clean up even dried-on counter stains.
Our keys to making great towels
Superior raw materials
Great towels start with great raw materials. We looked beyond the typical 100% cotton for our towels and created our own compositions of sustainably grown plant-based fibers for optimum performance.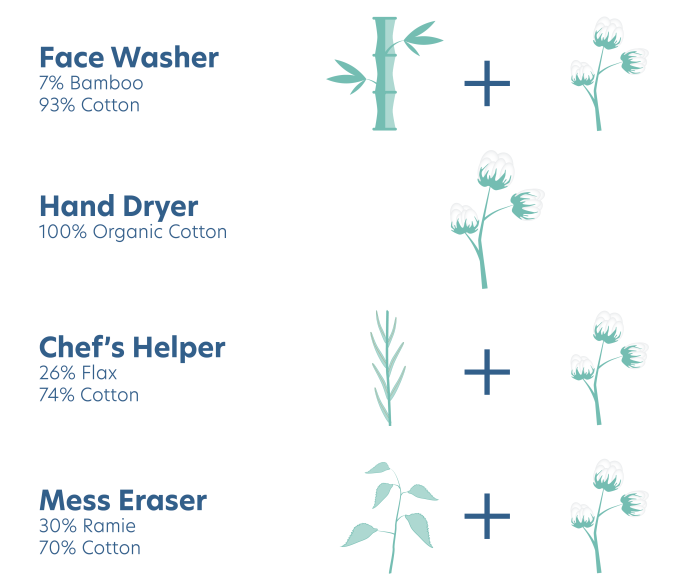 The right weave for the job
Not all towel weaves are equal. Each Fiberologies towel uses a specific weave selected for optimum performance.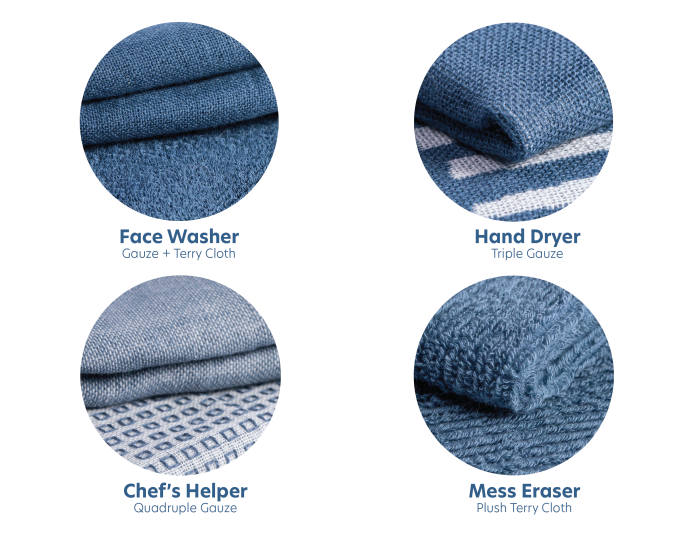 Expertly crafted in Japan
All Fiberologies towels are woven in a small factory in the famed Imabari region of Japan. For over 120 years, skilled technicians have been operating the looms there and mastering the techniques that go into today's high-quality products. The water in this region is soft with few impurities and very little heavy metal content. This unique composition is gentle on the yarn and raw materials in Imabari towels, which brings out the natural softness of the fibers.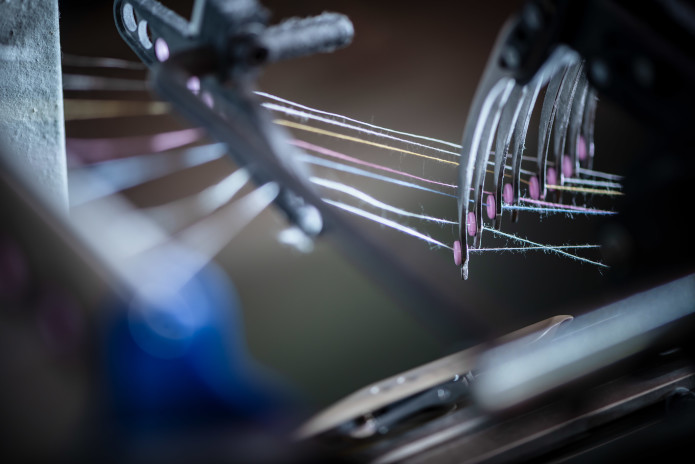 All four of our towel designs carry the distinctive red, white and blue Imabari tag which certifies their origin and quality in five key areas.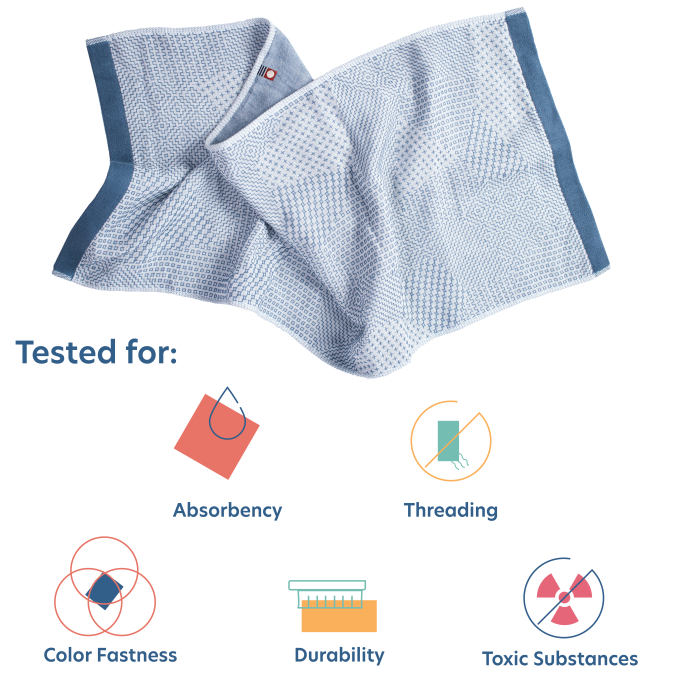 Absorbency: The "5-second test" guarantees that a towel has maximum absorbency. To pass this test, a towel must become fully saturated within five seconds of being placed in water.
No Threading: Thread retention must be over 99.5 percent after washing, meaning you don't end up with loose threads all over your home.
Color Fastness: Towel dyes must resist sweat, sunlight, multiple washings, and heavy friction. This means the towels will look like new even after heavy use.
Durability: The towel must withstand being pushed and pulled and have a high tensile strength. Towels that pass this test will last, even with regular daily use.
No Toxic Substances: Towels are tested to make sure they're free of inorganic substances and surface treatments such as formaldehyde.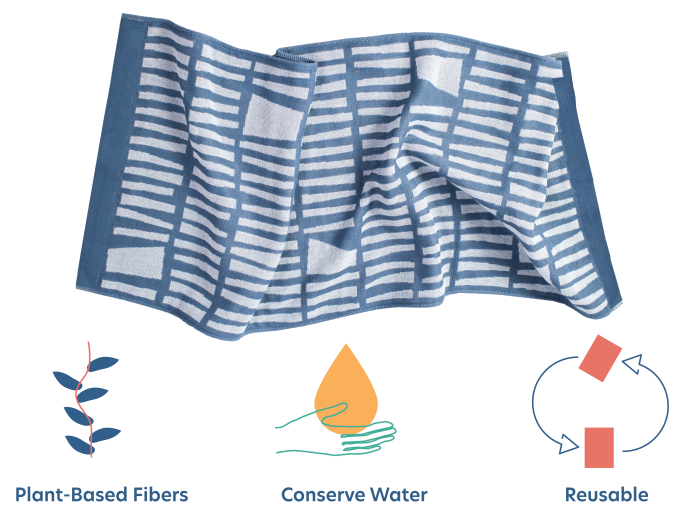 Better for the planet
Plant-Based Fibers: All Fiberologies towels use only threads derived from plants, with no petroleum-based products.
Conserve Water: Bamboo, ramie and flax plants all require much less water to grow than cotton, so each Fiberologies towel takes less water to produce than a 100% cotton towel.
Reusable: Fiberologies towels will last wash after wash, saving you from buying new towels and reducing your consumption of disposable paper towels. 
Additional features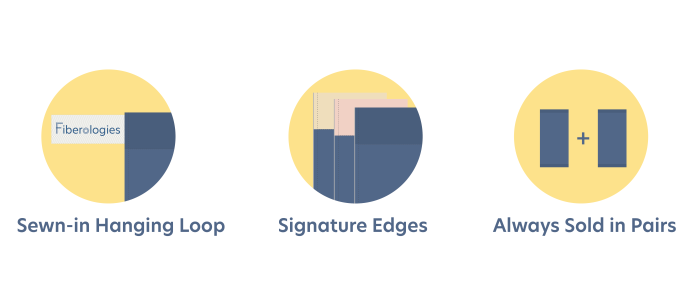 Sewn-in Hanging Loop: All our towels have a generous hanging loop securely sewn into the edge to help you store your towels and allow them to air dry after use.
Signature Edges: Our signature thick edges prevent your towel from unraveling and add a unique touch of style. If we hit our stretch goals, we'll offer the choice between four different designs for your towel edges—classic blue, yellow, pink, and blue with white polka dots—so you can choose a towel to fit your personal taste.
Always Sold in Pairs: You'll always have one available while the other is in the wash.
Size chart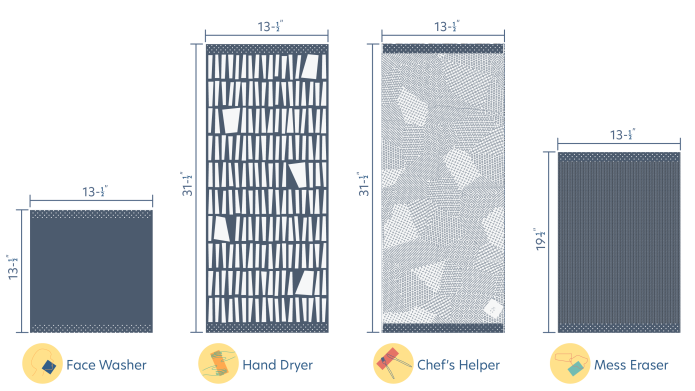 * Measurements are for towels fresh from the factory. All four Fiberologies towels may shrink slightly after the first wash.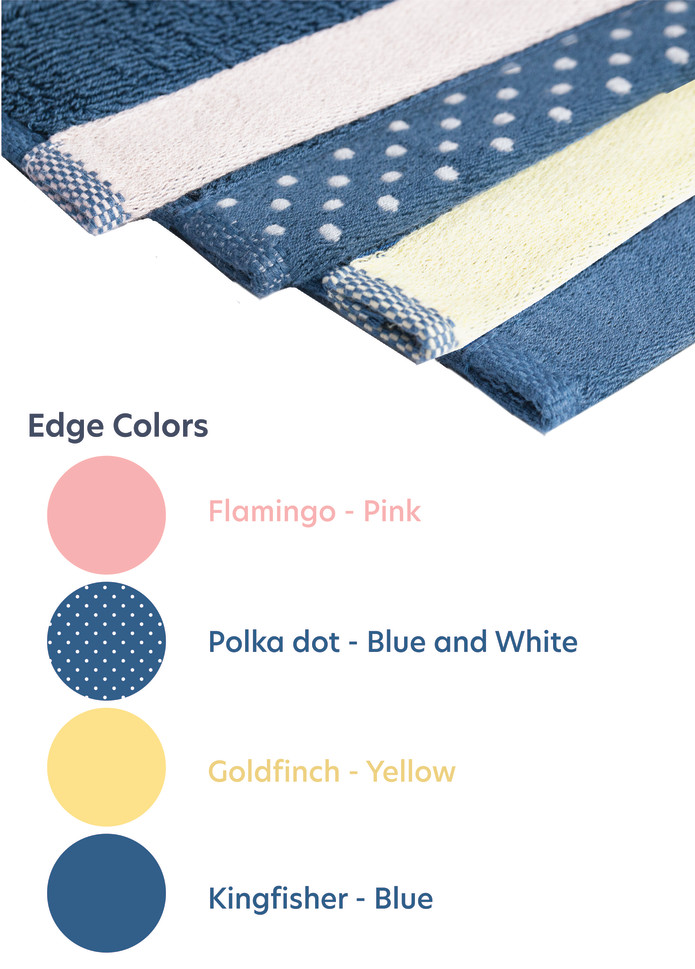 We need your help
When producing towels at a large scale, manufacturers generally require a minimum quantity order to account for the extensive setup of their specialized equipment.
While we've been able to support sample production and materials research, we don't have the resources to fund a full production run. This Indiegogo campaign is to help  fund our first full production run of the four towels. This will make it possible to bring intentionally designed towels into all backers' homes.
After our Indiegogo campaign, we'll move sales to our website Fiberologies.com, where we'll continue to pursue our mission to provide customers with sustainable, high-quality, high-performance textiles for everyday use.
Our founder's story — Valuing the tools in our lives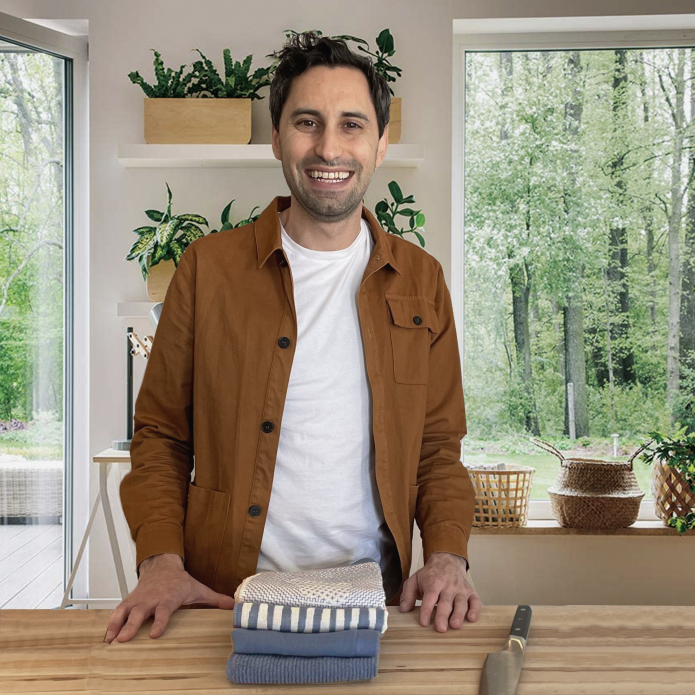 When the pandemic started, I found myself spending a lot more time at home. I became more conscious of all the things I use in my daily routines and quickly realized how critical towels are in my life.
Between morning showers, drying my hands after washing, wiping up spills while cooking, and general cleaning, I was using towels all the time. It made me realize that the towels I owned for daily routines weren't stylish, didn't dry quickly, and often had a musty smell.

I searched for new towels but was immediately overwhelmed by the number of options available and the lack of clear and helpful information. Almost all of the towels looked the same, were rated between 4 and 4.5 stars, and had hundreds of reviews.
How was anybody supposed to choose between all these options?
I'm trained as an architect, so my design instincts kicked in and I began wondering if there was a way to create something better.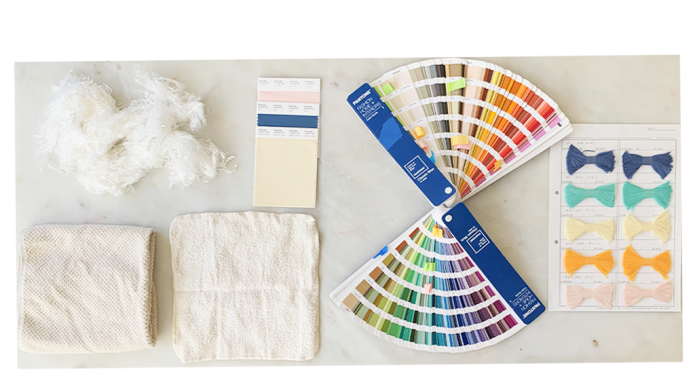 I started with research, buying hundreds of towels, having conversations with manufacturers and fiber companies, and interviewing towel designers, doctors, and textile experts. Over the course of a year, I absorbed (like a great towel!) as much information as I could about what makes the best towels.
Similar to the process of designing a building, I started by identifying the limitations of the current towel market. I realized towels weren't designed with our routines in mind, and that companies weren't taking full advantage of all the natural materials available.
I took this information and got to work creating something better. The result is Fiberologies. Its mission is to give everyone access to towels that are properly designed for our daily tasks.
Timing and process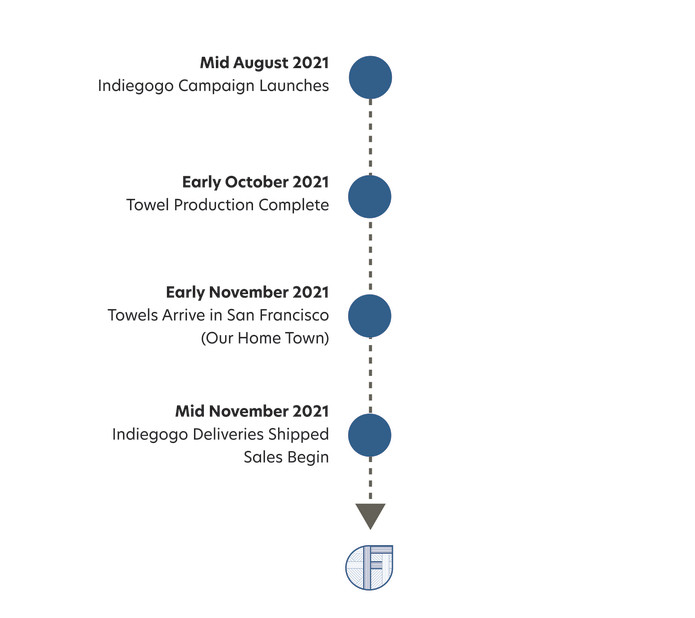 Environmental commitments
Long-lasting design
We've designed all the Fiberologies towels to be durable by choosing high-quality fibers that will last wash after wash.
Sustainable materials
All of our towels use only plant-based fibers. We've specifically chosen options that use very little water to grow and no pesticides or insecticides.
Special thanks
A big Fiberologies thank you to the following people who helped make this project a success!
Jing yi Ng,  Keiji Tanaka, Zoe Barnett,  Sebastian Grey
Questions about this project? Check out the FAQ Section