FIGHTPROHIBITION | Indiana Whiskey: Fight Prohibition
Background
We're The Indiana Whiskey Company, founded in 2011 and making delicious whiskeys ever since. Thanks to our fans, we've gotten some pretty solid reviews in places like Esquire and (**only read it for the articles**) Playboy. That means a lot to us. 
We've been selling our whiskeys everywhere in the state, and we boast some of the best retail partners out there:
     Martin's Supermarkets, Target, and Hyatt
     Big Red Liquors, Belmont, Soupley's, Crown, and Citywide
     The Navarre Group, South Bend Brew Works, and Fiddler's Hearth
In 2016, thanks to a new law that gave us 45 days a year to sell at trade shows and expos, we started selling our whiskey in Farmer's Markets across the state. People loved it. They got face-to-face contact with our distillers, access to in-depth questions and answers, and even a chance to sample some of our newer limited releases. The excise police approved. The farmer's market communities were fans. Win/Win, right?
But.
In May, a state senator named Ron Alting from Indiana's 22nd District in Lafayette called the state's Alcohol Commission and asked them to stop us. So they did.
What. The. Heck.
Alting? Turns out he's the same guy who's been spearheading the fight against Sunday sales.
Yikes.
And it made us angry. Laws – if they're going to be Just and Good – have to reflect the will and well-being of the people. How and Why is one legislator taking it upon himself to muck that up?
It got us to thinking: we can't remove the man in district 22. So let's remove 22. At least as far as we can inside the boundaries of human decency and good sense.
So that's what we're doing. We're getting rid of 22. Decently. Humanely. With Whiskey.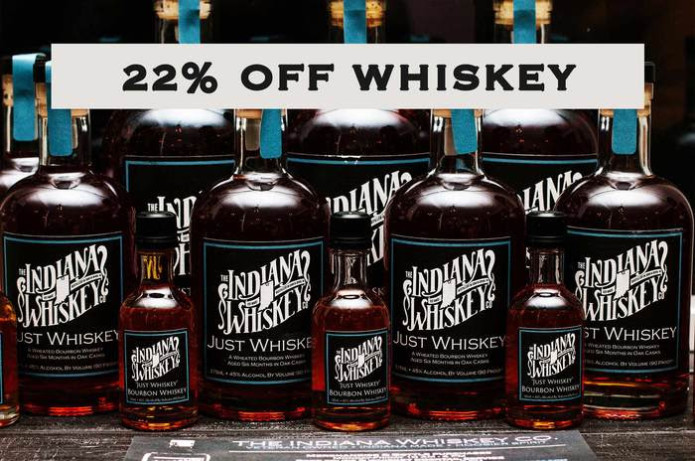 For 22 days. Until July 22nd (you'll probably notice a theme here), you can get our Whiskey, our Whiskituity, our Barrels, our Immortality, or our 2 new flavors for 22% off. And then, when the 22nd hits, we party.
Not a democratic or republican or libertarian party. But a party of Indiana men and women interested in showing Mr. Alting and his friends that we're ready for more.  Let's show this guy the power of the Hoosier will.
To drink. Responsibly but with gusto*. To fight for the beverage freedoms we're entitled to. To not have to wonder why we can't buy cold beer from 7-11 on a Sunday afternoon when it's 86 degrees at 90% humidity. Or why Indiana-made spirits aren't allowed at Farmer's Markets. 
Fight Prohibition. Who's with us?
(obviously, the Carmel Farmer's Market)
*Hoosiers are actually among the most responsible alcohol users in the US.
The IU School of Public Health released stats from the CDC that show rates for heavy drinking were significantly lower in Indiana than in the United States (IN: 5.2%; U.S.: 6.2%).
According to the annual Highway Traffic Safety Report, the past three years have seen fewer DUI-related fatalities than any other year in the past decade.
And the Behavioral Risk Factor Surveillance System (BRFSS) showed in 2012 that Hoosiers were 16% less likely than the national average to drive after drinking.
We're doing it right. So what's with the 80-year-old laws?