Fill n Zip: Lifetime Warranty Collapsible Zip Cups | Filling seal-top bags is now *mess free* with "Fill n Zip" It's that easy, just Fill, Zip and Store.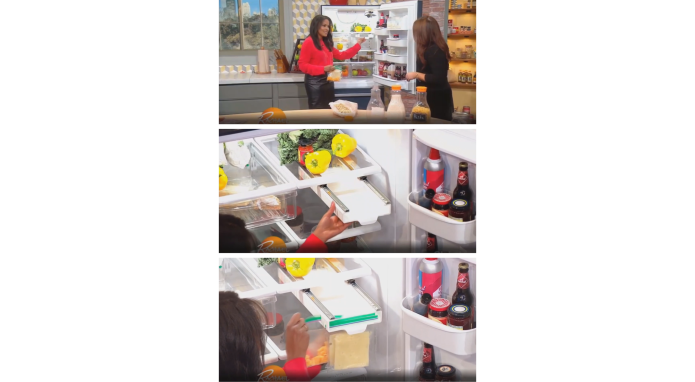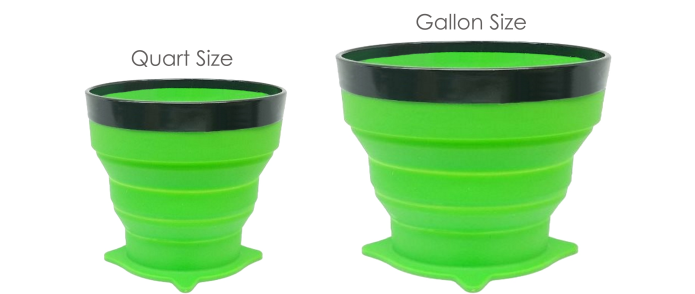 Collapsible food containers are everywhere today, but this is not your standard silicone collapsible. The Fill n Zip Cup has been designed specifically to securely hold quart and gallon sized seal-top bags while you fill them with food, soup or leftovers. It's never been so simple and easy!

Just grab the nearest seal-top bag and tuck it inside, wrapping the zipper-top or slider down around the rim. This keeps the seal clean and out of the way, because who wants food in there? (Nobody, that's who. We took a survey.)

Our prototype testing quickly showed us that round cups weren't wide enough to catch food poured from larger bowls and pans. (Mistakes were made.) With that lesson in hand, we designed Fill n Zip with just the right proportions to fit your bags and still let you pour from a wide bowl or pan without spilling your delicious leftovers all over the counter top. 

What's that you say? How did we make sure it won't fall over at the crucial moment? We're glad you asked. We gave Fill n Zip rubber feet to widen its stance and keep it stable in the middle of the action. That silicone is flexible enough for collapsible gymnastics, but we also made sure to keep the base thick enough for sturdy, reliable footing.

And if you're worried about shaky hands or poor coordination, we still have you covered. If you're working on a smooth, clean surface, you can suction this sucker down by simply loading your seal-top bag in Fill n Zip and simply depressing on the inside of the cup.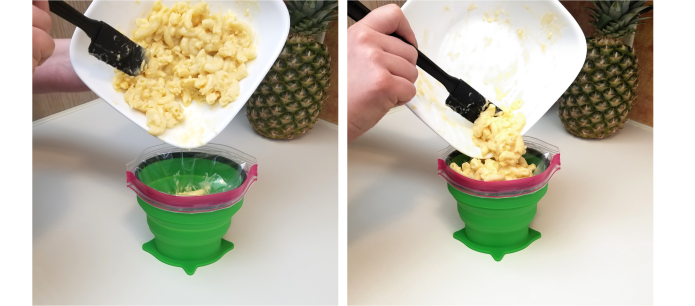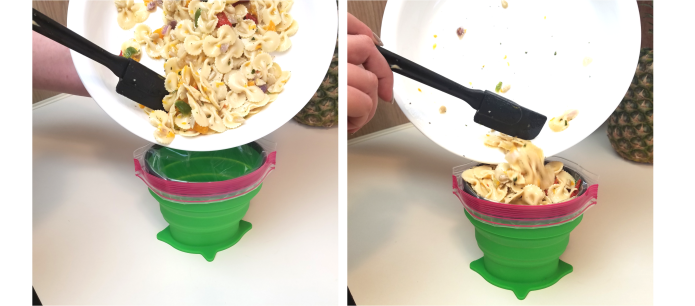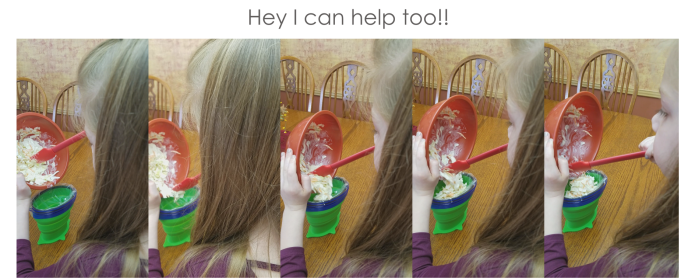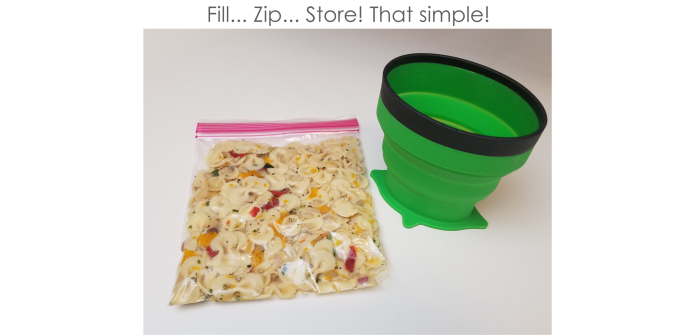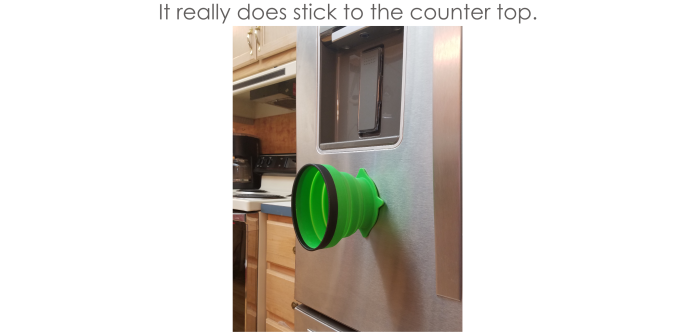 Fill n Zip Quart size in motion

What we need and how can you help?
This seems like a fairly simple project, but it has taken time and development cost to get it to this point. We have thousands of dollars invested in samples and testing to make sure they are perfect, and the production molds will cost several thousands of dollars each for these two different sizes. These days, creating and producing videos are expensive, so we'll easily have invested over $10,000 before any production begins.
Pledgers on Kickstarter and Indiegogo have helped launch the first Zip n Store products and we really APPRECIATE YOU and your support that you gave us to launch our initial campaign. So, we want you to be the first to be able to get Fill n Zip. We want you to be able to fill your seal-top bags completely mess free!! So please take some time and pledge on the Fill n Zip.

Why are we doing this? 
The main answer is that we believe in Zip n Store and Fill n Zip!
We believe that it is not only a great product but that it will help women, men, moms and dads all over the world by making life just a tiny bit more simpler and stress free. Is it going to change the world? No, but by helping you or someone you know with something small like this will make a difference and we want to be a part of changing the world for good one tiny piece at a time.
You see by the folks having pledged on Zip n Store, you have changed my life and are making a dream come true. I'm a long way from where I want Zip n Store to be but every day I am working on that dream and you have made a difference.

Your Impact…
Did you know that the average american family spends over $1,400 on foods that are wasted every year? Your foods and leftovers get tossed into the refrigerator and get lost and hidden. They eventually get thrown away and that is money out of your pocket. That's why Zip n Store was created, to help organize foods and leftovers and this is why it is so powerful. Now you can see and organize your foods in the refrigerator, pantry, cabinet and more. Now your foods that you work so hard to pay for are all right at your fingertips. Now you can save your money and spend it on something you really want!  

Other Ways You Can Help
Some people just can't contribute, but that doesn't mean they can't help:
We need your support to help get this project out there and share with as many people as possible. Please share this on Facebook as well as your other social platforms as much as possible. I'm sure that you have lots of friends and family that could definitely use Fill n Zip and save money while making filling seal-top bags mess free!
So please join us and fellow pledgers to launch this wonderful product into the homes of millions of amazing people around the world.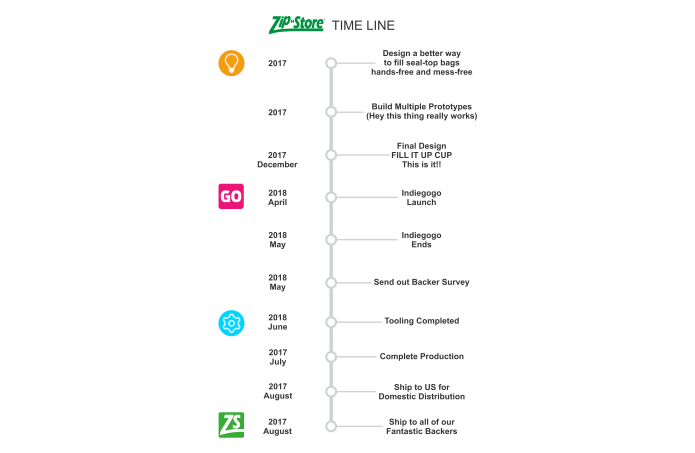 We expect delivery for the domestic orders at the end of August (or possibly sooner). We are working with our manufacturer on production plans, and the products pictured above are samples provided by our manufacturer. They are a top rated company with high standards and we are proud to be working with them. Fill n Zip will be manufactured from food grade silicone, and will be BPA, Phthalates, and Lead free. Thank you for supporting our project!
Frequently Asked Questions:
Q: Is it microwavable?  
A: Yes, you can use Fill n Zip in the microwave.  
Q: Is it dishwasher safe?  
A: Yes, it is top shelf dishwasher safe.  
Q: Does it come in any other colors?  
A: Currently it is available only in green although as the campaign moves forward we can determine if other colors will be available.  
Q: What size bags does it hold?  
A: Fill n Zip comes in two different sizes. Quart size to hold quart zipper-top and slider-top bags. Gallon size to hold gallon zipper-top and slider-top bags.  
Q: Do you have to use special bags?  
A: No, we have tested this with multiple brand name seal-top bags and they work perfectly.  
Q: Will it hold zipper-top or slider bag?  
A: Both sizes of Fill n Zip will hold both the zipper-seal top as well as the slider-top bags.  
Q: Is it made from FDA food safe material?  
A: Fill n Zip is made from Nylon and Silicone material that has been approved by the USA FDA.  
Q: Is it BPA free?  
A: "BPA has been used in the U.S. since the 1950s, but because of a growing concern from consumers regarding its safety, the chemical was phased out of use by the industry," Fill n Zip is manufactured from BPA free material. 

Risks and challenges
If you know crowd-funding, you know that projects can struggle to cross the finish line. Thankfully, we've gathered lots of experience from our prior successful Kickstarter and Indiegogo campaigns. We also have more than three years of experience under our belt working with ten different overseas manufacturers. As they say, this ain't our first rodeo.
While Murphy's law is ever present, we are older and wiser, and we feel confident that we'll be able to handle any problems that come up. We have developed systems and processes to mitigate the kinds of issues that arise during the manufacturing and distribution/fulfillment of a new product. We are passionate, and we will work hard to ensure that we deliver what we promise and to go the extra mile whenever it is possible. Thanks for believing in us!