Fintic: Desk Size All-in-One LED Ticker | All in one, desk size, LED ticker: Stocks, crypto, forex, sports, news, weather, GIFs, and more!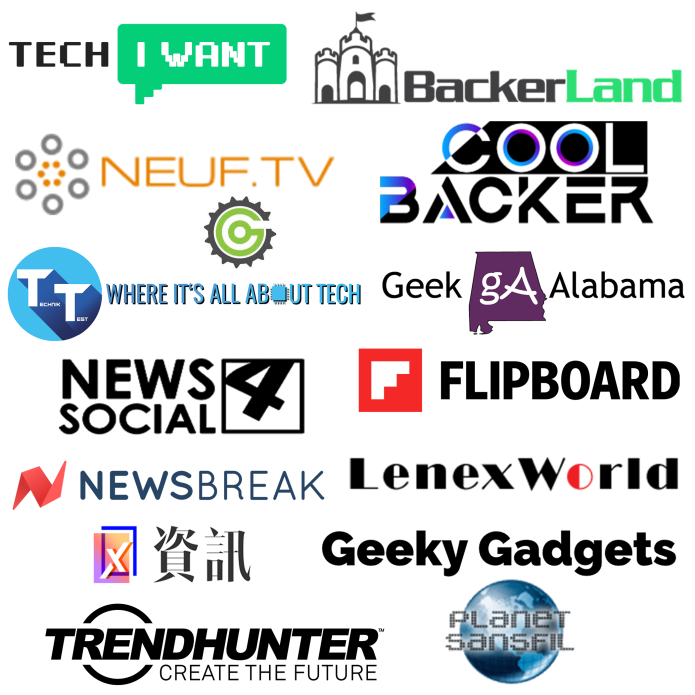 —————————————————————-
Story – Pitch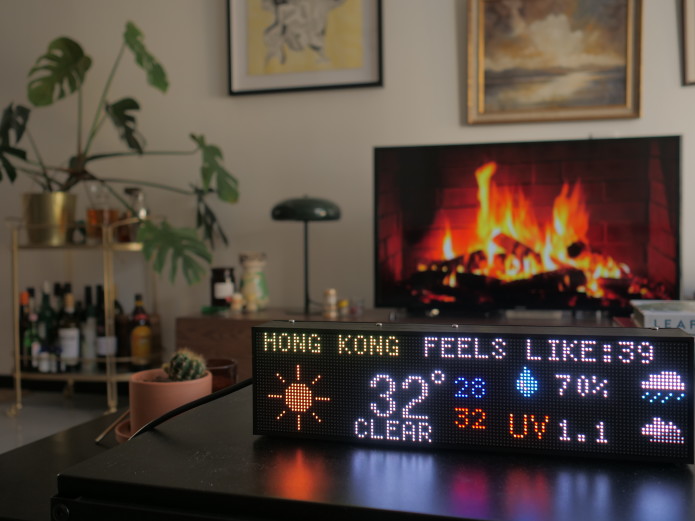 Bring a bit of Times Square and Wall Street into your homes with our desk size LED ticker! Display stocks, crypto, forex, weather, news, sports, GIFs, images and more in beautiful, 128×32 sized, RGB pixels. Whether you choose to display one, two, four or all features together, everything will seamlessly transition from one feature to the next, truly making this an ultimate, all-in-one LED ticker!
To get started, simply connect the ticker to your Wi-Fi, connect any device with an internet browser to the same Wi-Fi network, and you can control everything that gets displayed on the ticker through your internet browser. Once you have chosen your desired settings, the ticker will stay updated on its own via Wi-Fi connection.
Here at Fintic, it is our mission to make information more accessible and beautiful, pixel by pixel!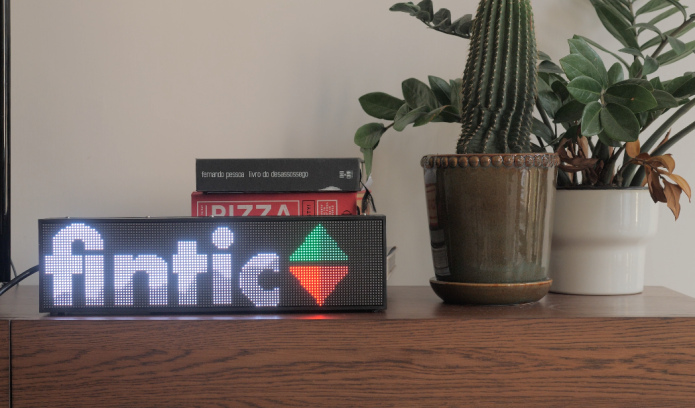 —————————————————————- 
Features
Stocks

Our stocks feature would make such a cool addition to your office, trading desk, man cave or whatever else you can think of! The ticker can display real time prices and daily point changes of all U.S. equities and ETFs. The ticker also comes with thousands of readily made company logos to really enhance that Wall Street feel!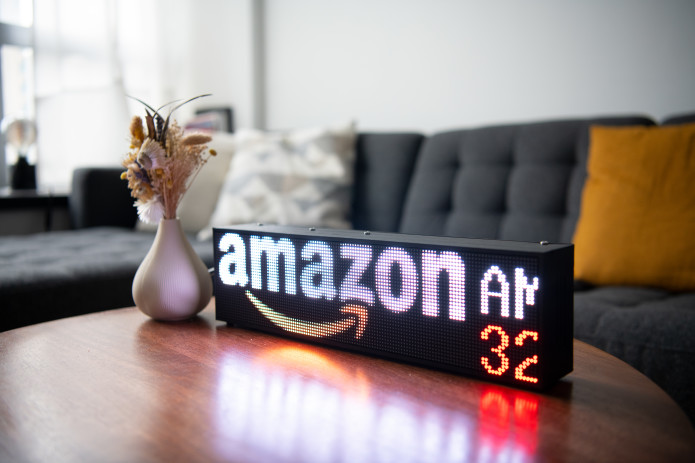 Crypto
Keep track of real time prices and 24 hour changes of thousands of cryptocurrencies! Base currencies can be changed to any world currency or other cryptocurrencies. E.g. BTC/USD, BTC/ETH, ETH/GBP etc. This feature also comes with thousands of crypto logos available for display!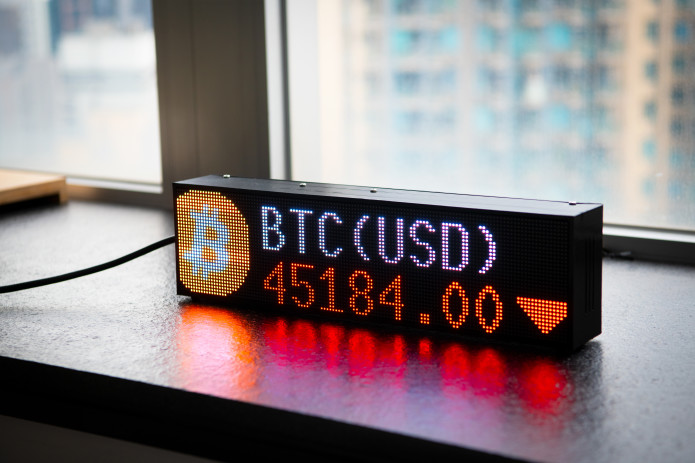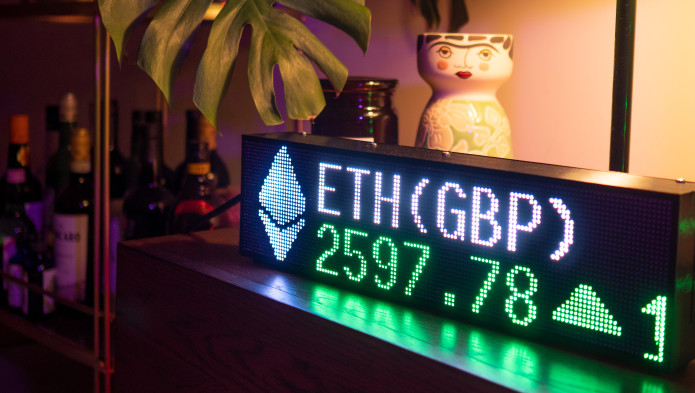 Forex
Calling all FX traders, get live exchange rates and 24 hour changes of major, minor currency pairs as well as exotic currency pairs with our ticker! USD, NZD, AUD, GBP, EUR, CZK, JPY, KRW, RUB, CNY, SGD, THB… and many more!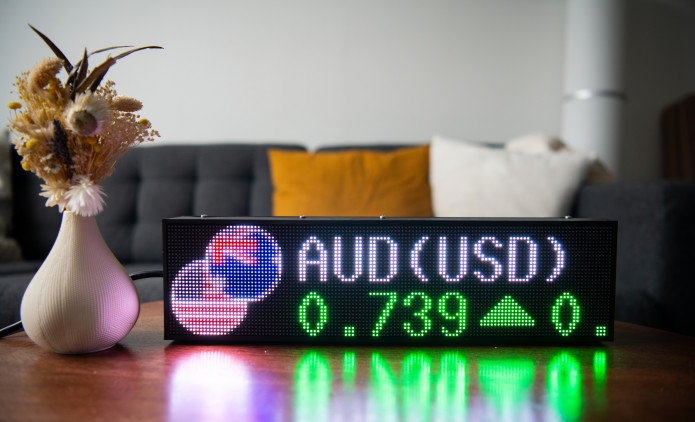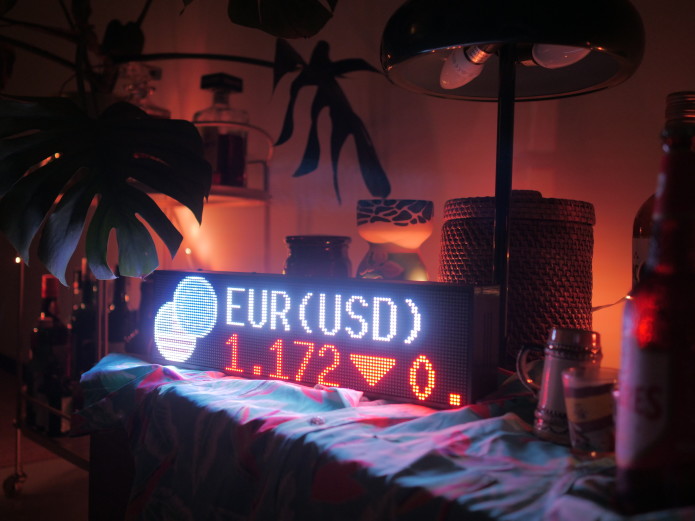 Weather
Display current weather data as well as 7 day forecasts from a list of over 200,000 cities around the world! We have information about UV, chance of precipitation, wind speed and direction, high low temperatures, current temperature, humidity, percent of clouds, visibility, feels like temperature etc.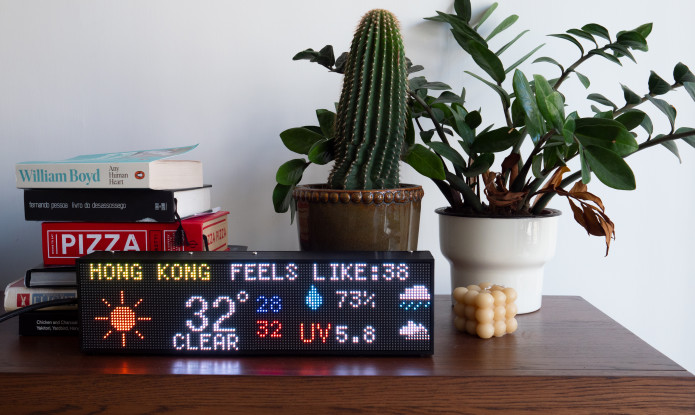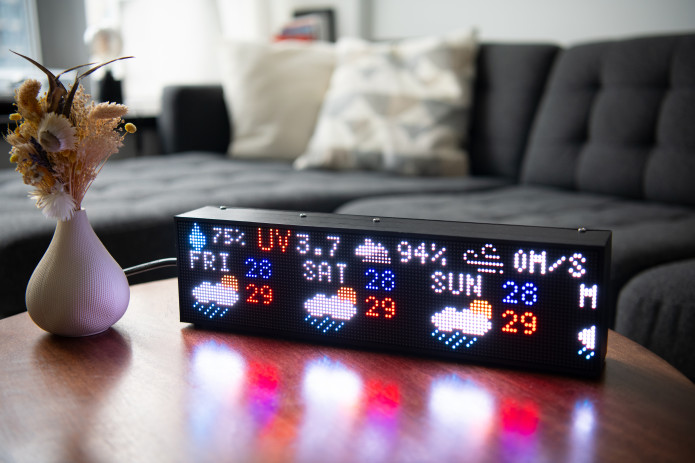 News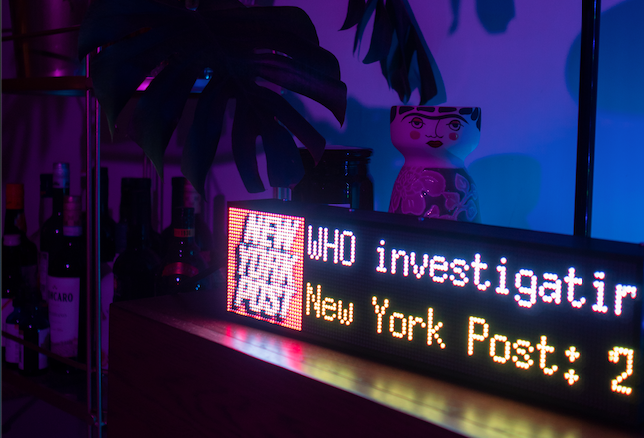 Display live headlines from around the world! You can choose between random, country specific, category specific (business, entertainment, general, health, science, sports, technology) or source specific headlines. The headlines also come with information such as date and time posted, source name etc. We have hundreds of news logos from all kinds of sources such as ABC News, Bloomberg, BBC News, Business Insider, Associated Press, MSNBC, ESPN, The Independent and many more!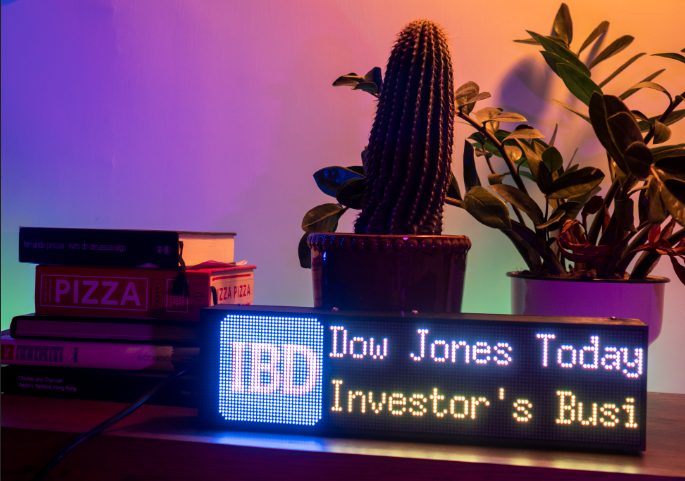 Sports
Add a bit more life to your sports bar with the ticker's sports feature! You can display live games, upcoming games, past games and team stats, along with hundreds of sport team logos. The ticker covers the NFL, NHL, NBA and the Premier League! We will soon implement PGA and MLB into the feature too!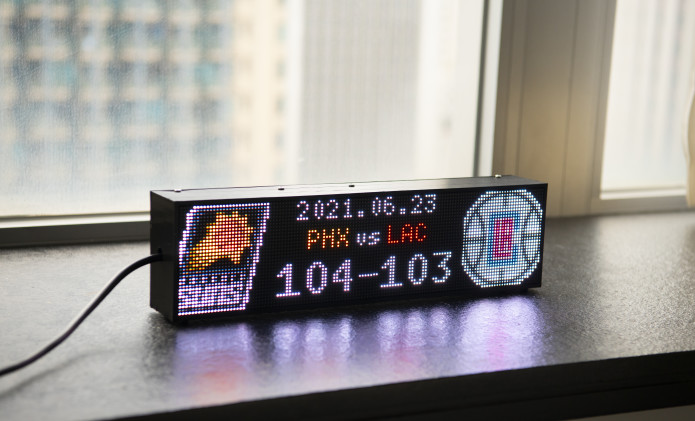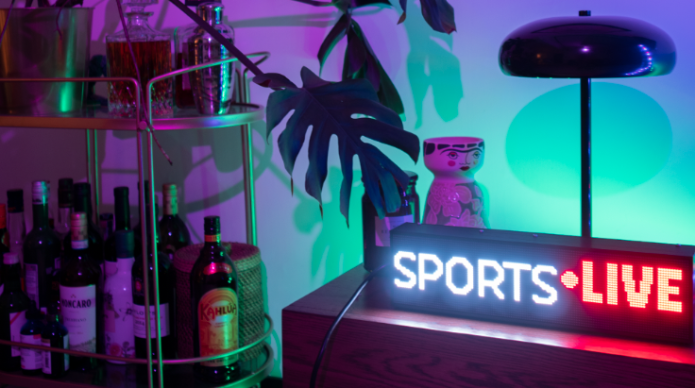 Custom GIFs, Images and Messages
Upload your own images, GIFs or type out custom messages to display on the ticker! With this feature you can turn the ticker into party lights, an arcade marquee sign, a bar sign, a mini LED advertising billboard… Be creative!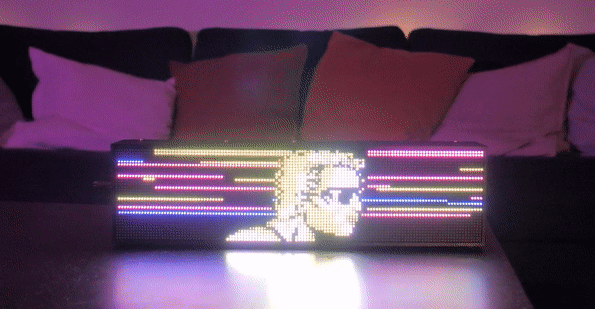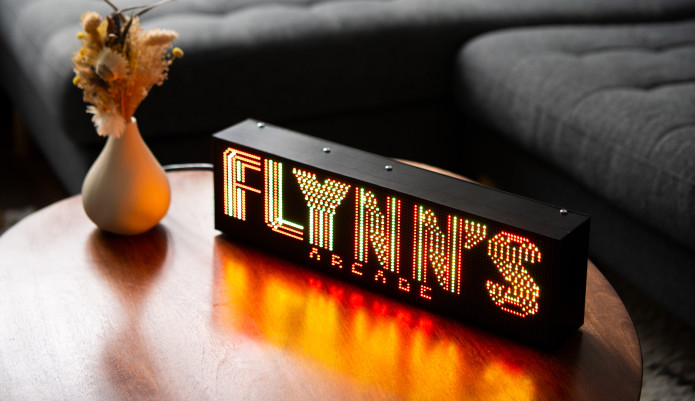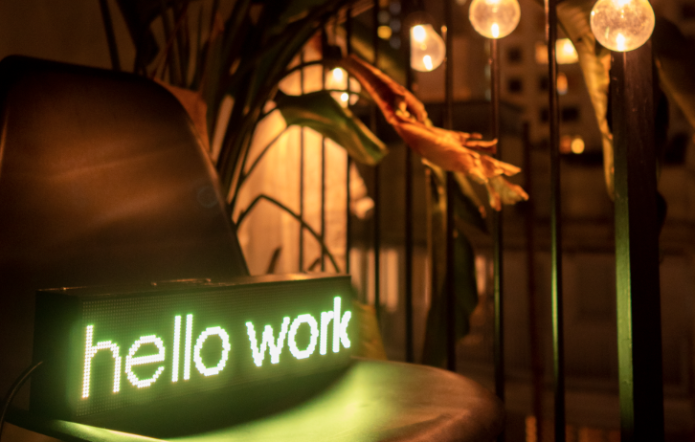 Adjustable speeds, Brightnesses, Transitions, Feature titles…
There are plenty of customization options with the ticker to ensure that users get the best experience out of them. Adjust the speed or brightness to your liking, throw in a couple of transition animations between features, or choose to display feature title graphics and many more!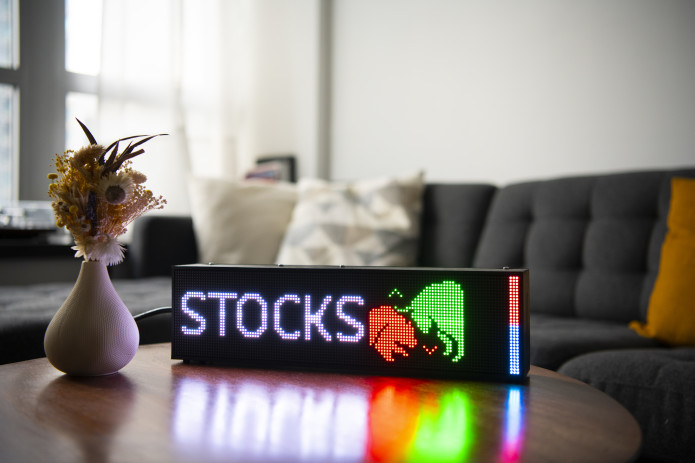 —————————————————————- 
Display Styles
Choose how you want your ticker to be displayed with our 2 main display formats! This can all be arranged via the web control panel.
Classic Scrolling
We have the classic, old school, full size scrolling display style that resembles the exciting and fast paced atmosphere of NYC.


Professional
We also have what we like to call the "Professional Display" style. The ticker is split into two rows, with each row displaying different kinds of information simultaneously. Both rows can also move at different speeds. How cool is that?!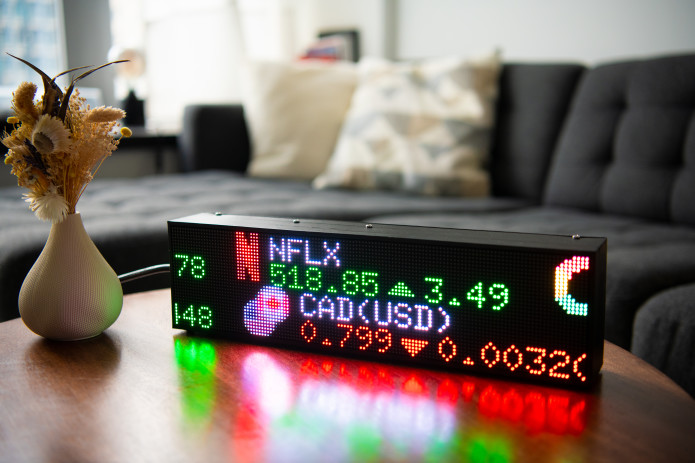 Static (Shh… Still in the works)
Finally, we are also developing a static display style, where the ticker will cycle through different features in a more static and steady fashion. Keep an eye out on our social media pages for upcoming sneak peaks! 😉
—————————————————————- 
Rewards
HKD prices for rewards converted to USD, EUR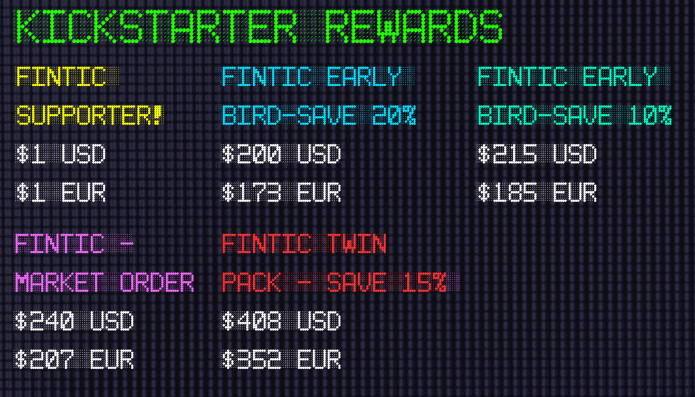 —————————————————————- 
How-to
It's easy as 1, 2, 3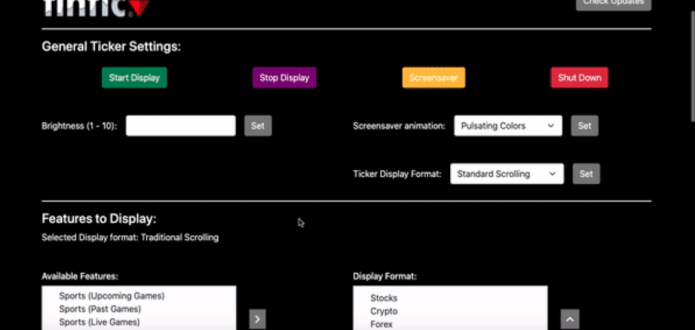 1. Plug and play – Plug the power cord into your home socket to start up the ticker!
2. Connect ticker to Wi-Fi – Connect the ticker to your Wi-Fi in seconds via its hotspot captive portal web interface.
3. Access web control panel via laptop or smartphone – Or any device with an internet browser.  Simply connect the device to the same Wi-Fi network as the ticker, and you can easily access the control panel through the ticker's given hostname. 
4. The web control panel – Arrange what features to display, what specific items within each feature to display, how you want them to be displayed, change any settings you wish, choose which display mode… All done via the web control panel!
5. Software updates – Simply go on the web control panel, click on the update button, and let the ticker do its own thing!
—————————————————————-
Technical Specs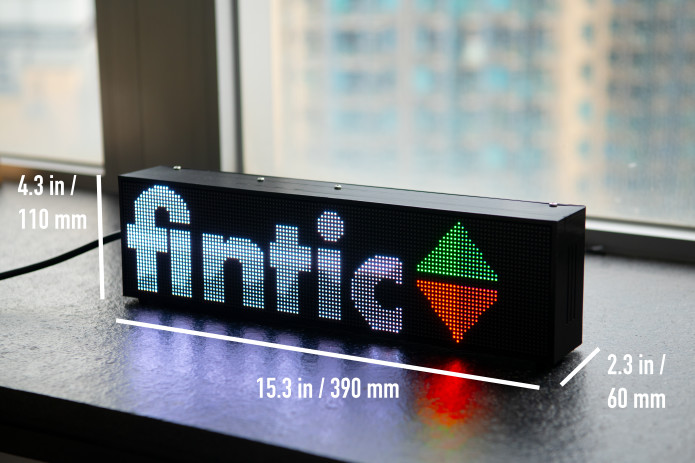 Specifications
 Material: Black ABS
 Dimensions: 390 mm x 110 mm x 60 mm (15.3 in x 4.3 in x 2.3 in)
 Power cord length: 2 m
 Power requirements: Universal AC Input 85-264 VAC, 5V 11A
 Display resolution: 128×32, 4096 pixels, 3mm pitch, Full RGB Colors
 CPU: Broadcom BCM2837B0, Cortex-A53 (ARMv8) 64-bit (Raspberry Pi 3A+)
 Wi-Fi: 2.4GHz and 5GHz IEEE 802.11.b/g/n/ac Wireless LAN 
 Warranty: 1 year
Parts are sourced from high quality, reputable manufacturers and suppliers such as Mean Well, Raspberry Pi, Adafruit Industries and RS Components.

—————————————————————-
Prototyping + Development
It has been a long journey. Since September 2020, we spent a lot of time prototyping, experimenting and perfecting the ticker design. From the initial stages of just coding the software, fixing bugs, to 3D printing the ticker case, doing CAD CAM work, assembling and fitting components inside the case, taking measurements, consulting with manufacturers etc.
Early stages  

Early prototyping, measurements, specifications for the Fintic case design.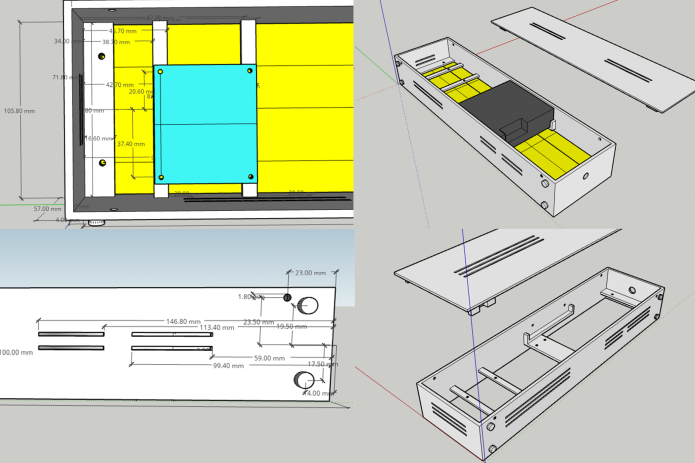 Coding, testing and developing the software.
Final Stages
Final CAD CAM files, ready to be sent to manufacturers for molding and tooling. Draft angles, undercuts, ribs, tolerances, material choice, all finalized for mass production!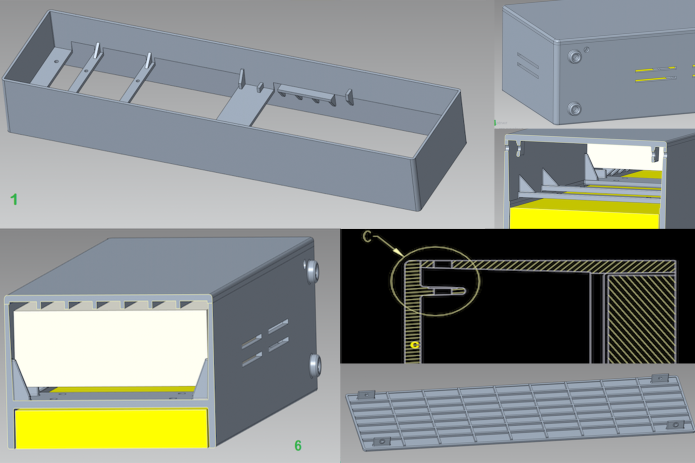 And of course, a TON of 3D printing too! 😀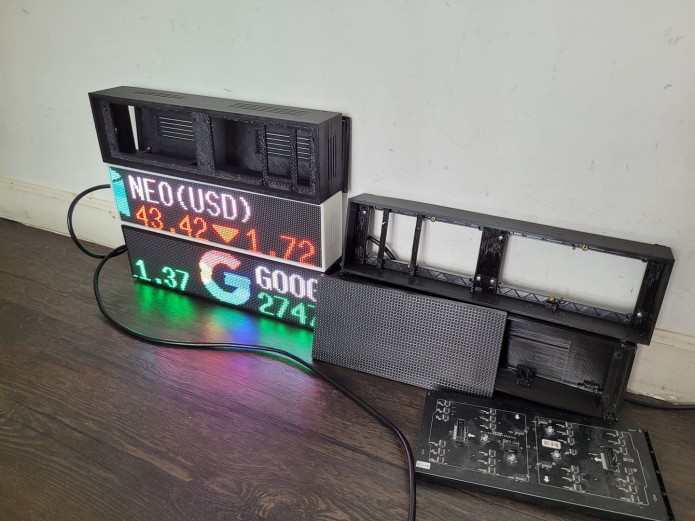 After over a year of extensive development, testing, CAD CAM, prototyping and R&D, we've finally come up with the perfect design and are ready to mass produce these tickers. 
—————————————————————-
Timeline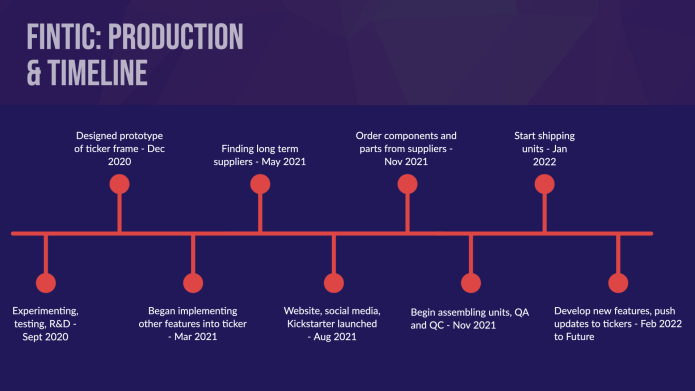 Our estimated ship dates for IndieGogo pre-orders are Feb 2022! So that means after the campaign is funded, we will immediately begin production! From ordering components, to manufacturing the ticker frames, hand assembling the tickers, packaging, testing and doing QA on the software. Should any issues with the Feb 2022 deadline arise, we will be sure to notify all backers and keep them updated! 
—————————————————————- 
Shipping
We estimate that we can start shipping units around February 2022. Units will be shipped from our warehouse in Hong Kong. With that said, expect international shipping time to be around 2 weeks long. 
We should be able to ship to almost all countries in the world. However, there are a few select countries that our carrier cannot ship to. If we can't ship to your country, we will notify you immediately and offer full refund / cancel your pledge. 
—————————————————————- 
Future Plans
Planned features to add
The Fintic team will work hard to push new updates and features for users to enjoy! Given that the ticker is powered by a mini computer, the possibilities are endless!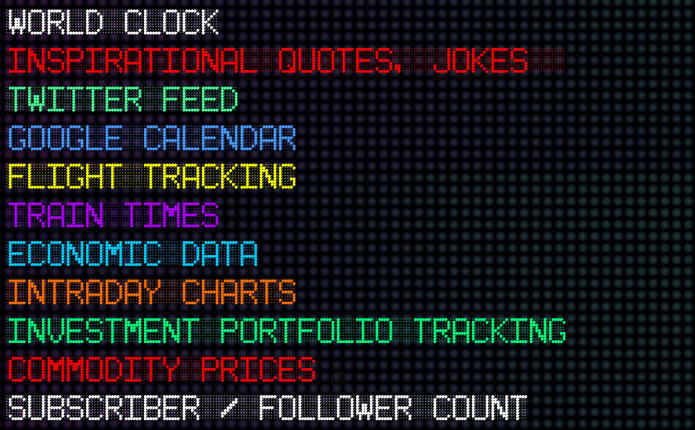 Release a SDK and API for users to build their own features
Create attachable acrylic diffuser sheets that help sharpen the look of the LEDs  
Support for multiple languages
Data for global financial markets
Larger sized, wider LED tickers
—————————————————————- 
About the Team
Introducing the Fintic team
Fintic Limited was founded in September 2020 by Justin Dunn and Neythen Treloar. Coming from a background in game design and data analytics, natural sciences and scientific computing respectively, both Justin and Neythen took their passion for LED lights, electronics and the stock market to create a beautiful looking desk size LED ticker. Together, they share the mission and vision of making information more accessible and beautiful, pixel by pixel.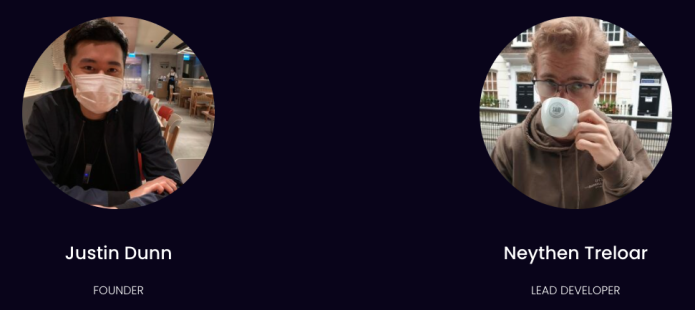 —————————————————————-
Contact Us on Social Media
If you have any questions or concerns, feel free to shoot us a message here on Kickstarter, or send us an email at [email protected]. Feel free to also check out our website at fintic.io and our press kit! Thank you all so much for your time! 
—————————————————————-
Risks and challenges
1. Potential delays with manufacturer: Depending on the overall demand for this product, if the demand exceeds the total supply that our manufacturers and suppliers can offer, this could cause potential delays in the shipping of components required to assemble these tickers. In this scenario, we will be sure to work vigorously with our manufacturers to increase volume of production and ensure that supply chain is fully operational to meet the demand. Should this problem arise, we will also be transparent and let all our backers know about such problem and keep them fully updated on the situation.
2. Failure to meet expected delivery date: Again, relating to the possibility of demand exceeding supply, given that we are a relatively small team, and the tickers are all hand assembled, we may not have enough labour force to meet the demand. Should we start falling behind schedule, the plan would be to hire even more staff to help assemble, package and ship the tickers as quickly as possible. We could also outsource assembly work to factories in China to speed things up.
Long-lasting design
E-waste is something that we are very concerned with and have thought through carefully. With that said, we source some of the highest quality hardware and components to ensure that the product will last as long as possible. The hardware design also makes it so that repairing the tickers is very simple and easily accessible.