FIREUP Dutch Oven | Iconic design. Incredible cooking. The first real innovation in cast iron cookware for a century.
We present the FIREUP Dutch oven, the first real innovation in cast-iron cookware for nearly a century.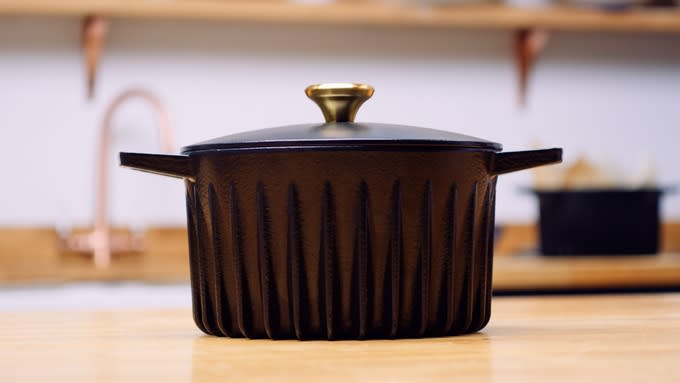 Tom is an engineer, product designer and serial entrepreneur who spends most of his time working on jet engines and rockets. He is an Engineering Science Professor at Oxford University. Raghav is a young entrepreneur, from a family with three generations of cookware manufacturing experience. When Tom and Raghav met, they discovered a shared passion for innovation and cooking. This is the story of how the FIREUP Dutch oven came to be.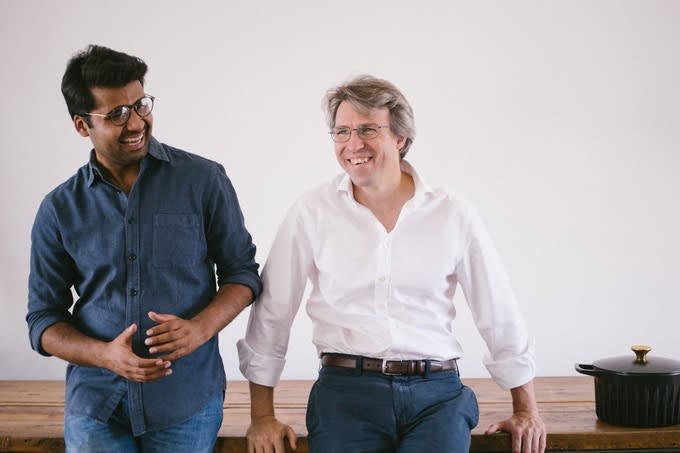 Iconic design
The FIREUP Dutch oven is already being referred to as a design classic. Like the Alessi lemon squeezer (designed by Philippe Starck), or the iPhone (designed by Jony Ive), the FIREUP Dutch oven is a perfect example of the maxim: form follows function (Louis Sullivan). The design is the direct result of blending research and product design to create something as functional as it is beautiful.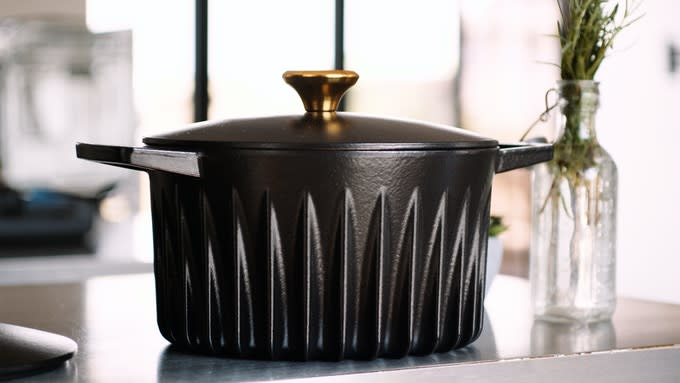 Our signature fin technology was developed based on heat exchange theory used in rocket design. It allows more even heat distribution on all stovetops and in ovens, and greater efficiency on gas hobs by guiding the flame around the pan and into the fins. The fins also retain heat and create an oven-like even cooking experience. They also make the pan look unique and beautiful on your table.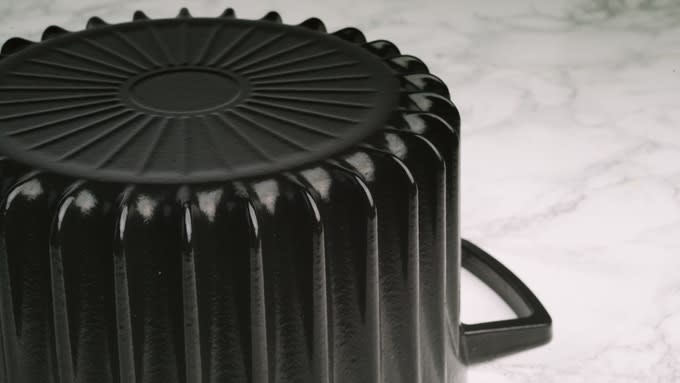 The FIREUP Dutch oven is a great example of science meeting design. Months of laboratory testing was used to confirm the science behind the patented fin design, but the aim of our innovation is simple: to deliver an incredible cooking experience.
We made the FIREUP Dutch oven just the right size. Some cooks prefer greater depth for frying and baking, while others wanted their Dutch ovens shallow for easy braising and searing. The size and shape of our Dutch oven is similar to some of the most versatile designs on the market, allowing you to do almost everything with one piece of cookware. The five-litre volume is perfect for four to five people.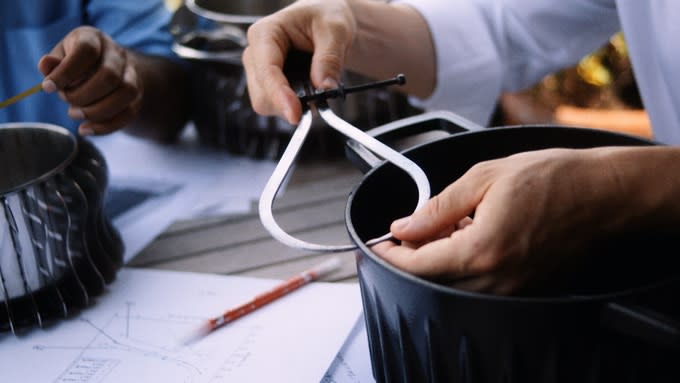 We incorporated cast-in extra-wide handles so the pan would work with oven gloves, allowing you to serve directly to the table.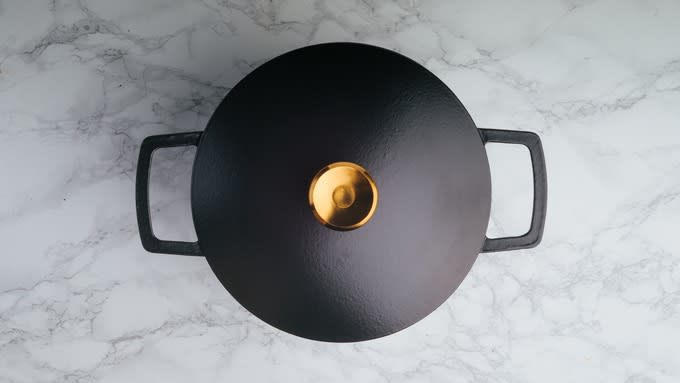 Incredible cooking
The perfectly-fitting lid retains steam when you braise, sear or boil, enriching the flavour and aroma of your food. The lid has a raised rim to make it secure when serving. 
You can bake, sauté, simmer, roast, fry and sear. The versatility of cast iron allows you to create endless recipes, regardless of the cooking method.  
The FIREUP Dutch oven works on all stovetops from gas to induction. Being made from cast iron you can also roast and oven-bake in it (oven safe up to 260°C/500°F). The black-enamel interior allows for high-surface-temperature cooking, perfect for browning, grilling and blackening. High-quality cast iron also gives longer heat retention, keeping your food warm as you serve directly from stove or oven to the table.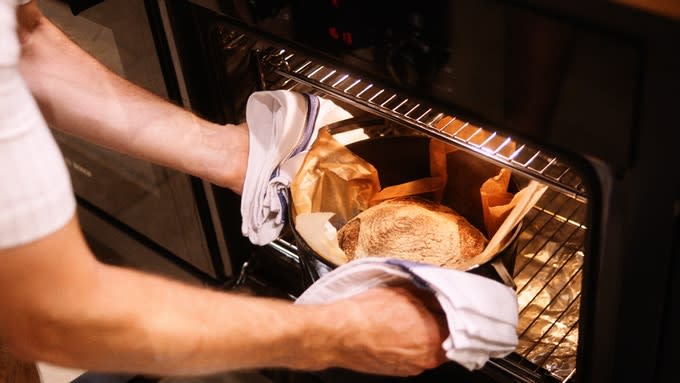 Cleaning
The smooth matt black enamel on the inside of the pan is naturally stain-resistant and requires no seasoning, but will build up a beautiful patina over time, which will enhance cooking performance. It is easy to clean by hand and is dishwasher safe. With proper care, your pan should last a lifetime.
Design and manufacture
To take our design from the laboratory to your table, we interviewed home chefs and cast iron enthusiasts to understand what matters most when they cook. We used this information to refine the design to include extra-wide handles, a tight-fitting cast-iron lid, and a dark stain-resistant enamel surface on the interior. We also made the FIREUP Dutch oven the perfect size and shape for versatile cooking. 
After months of optimisation of the design, we moved on to prototyping, and manufactured prototype products that could be tested by professional chefs. The reaction was fantastic, with chefs commenting on the even cooking and superior heat retention. The design is also unique, and looks amazing when serving directly to the table.
The FIREUP Dutch oven will be manufactured in Belgium, in a casting foundry with the latest manufacturing technology but over 80-years of experience. Each piece of cookware will be cast using recyclable moulds, then individually hand-finished to create unique pieces that reflect both the technology and artisan skills that are required to create them. The time-tested durability of cast iron means that whether you cook every day or just once in a while, your FIREUP Dutch oven should last a lifetime. 
Premium multi-layer toughened and chip-resistant enamel is the most reliable coating in the industry, and is used by the best brands to create products that last for generations. 
Sustainability 
Our Dutch oven is designed to last a lifetime with multi-layer enamel which is naturally free from cadmium, lead, PFOAs, and PTFEs. The enamel surface is 100% safe to cook in and healthy to eat from. 
100% of the cast iron is recyclable. We pour the iron into sand moulds and the moulding sand is recycled to make new moulds. We use recyclable material in our packaging.
Our product is made in an 80-year-old factory in Belgium using the latest manufacturing technology. The factory is fully compliant with the highest environmental and work standards. It pays fair compensation for workers and complies with rigorous safety procedures and environmental standards.
Our patented technology (United Kingdom patent number GB2517626), has been tested to cook significantly faster and more efficiently than conventional cookware designs. This translates into significant gas savings throughout our product's lifetime, which has a net positive environmental impact.
Who we are 
To bring this product to life, Raghav and Tom have been joined by cookware enthusiasts, professional and home chefs, and a team with the manufacturing and commercial experience necessary to bring a cast-iron cookware product to market. But most importantly, there is you, the backer of this project, without whom it would be impossible to launch a product this innovative.   
Shipping
The table below provides shipping estimates from factory to your doorstep. Currently, we are shipping globally with the exception of South America, South Africa, Saudi Arabia, Japan, Israel and the Faroe Islands. Shipping costs will be collected after the end of the campaign. This will allow us to present the most accurate and up-to-date prices to pass savings on to you, our valued backers. Local custom duties and taxes, if any, will be payable to the local courier partner. Shipping will be fulfilled by our partner BackerKit.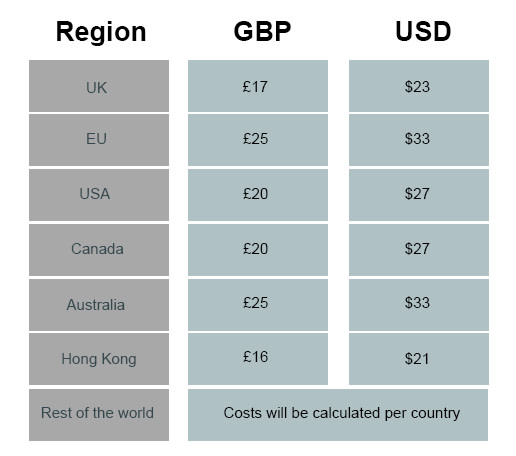 Perks
We are offering the FIREUP Dutch oven at: early bird price (save £47 off RRP) of £133/$179 and campaign price (save £40 off RRP) of £140/$189.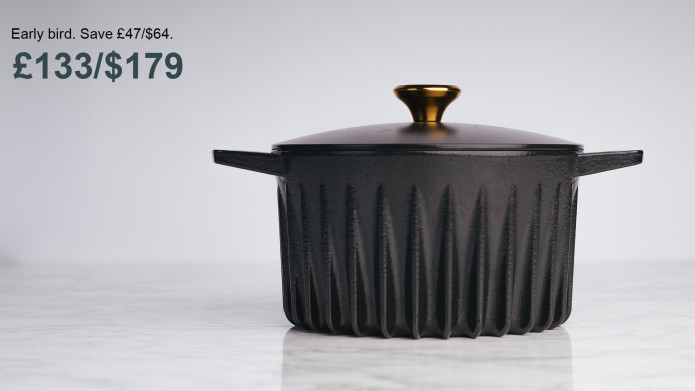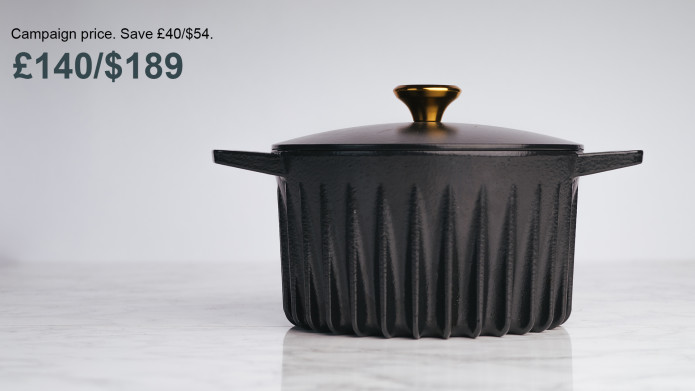 Add-ons
Add-ons will be available once the campaign finishes. Our pledge-management partner, Backerkit, will collect your shipping information and the details of any add-ons you want to buy. Add-ons will give you a chance to buy additional units of the FIREUP Dutch oven.