Firewalla Blue: Cybersecurity For Home & Business | Simple, Affordable and Powerful solution to protect your home and business from cyber threats.
** THANK YOU ALL FOR THE SUPPORT! **
** WE ARE SHIPPING!  ** 
The Firewalla Blue can be ordered here:  https://firewalla.com/products/firewalla-blue
All orders will be shipped within 2 Business Days of ordering (Monday-Friday)​ 
If you are interested in a Multi-Gigabit and Multi-Interface Firewalla, we are starting crowdfunding on 11/5/2019 at 6 AM Pacific Time.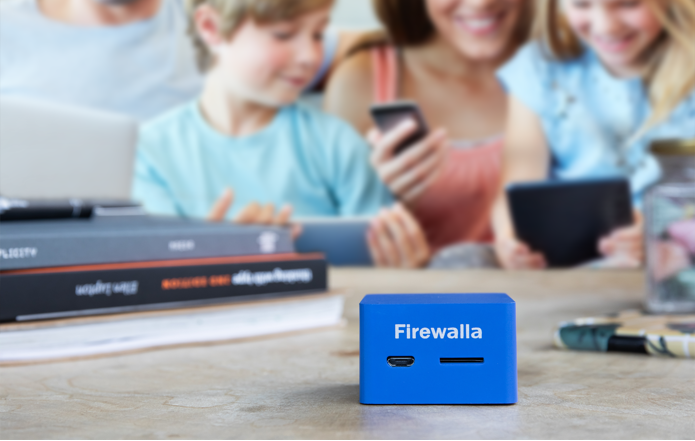 Meet Firewalla Blue
Firewalla is an all-in-one, simple, and intelligent firewall that connects to your router, protects your devices from cyberattacks, and provides you with rich insights about your network.  (There is no monthly fee)
Designed by a team of former Cisco engineers to secure the world.
In 2017, we introduced Firewalla Red through Kickstarter and Indiegogo; this year, we are introducing Firewalla Blue. The Blue is designed to be powerful, perfect for consumers and businesses who need the extra protection. Blue will be able to examine network traffic at near Gigabit speed and has enough power to protect more complex devices.


Why Do You Need Firewalla?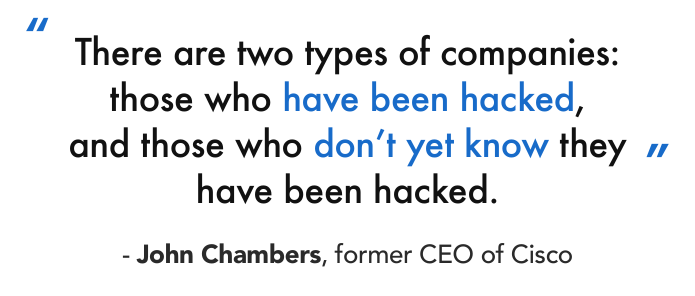 Firewalla Blue
A Complete Cyber Security Solution
For Family and Business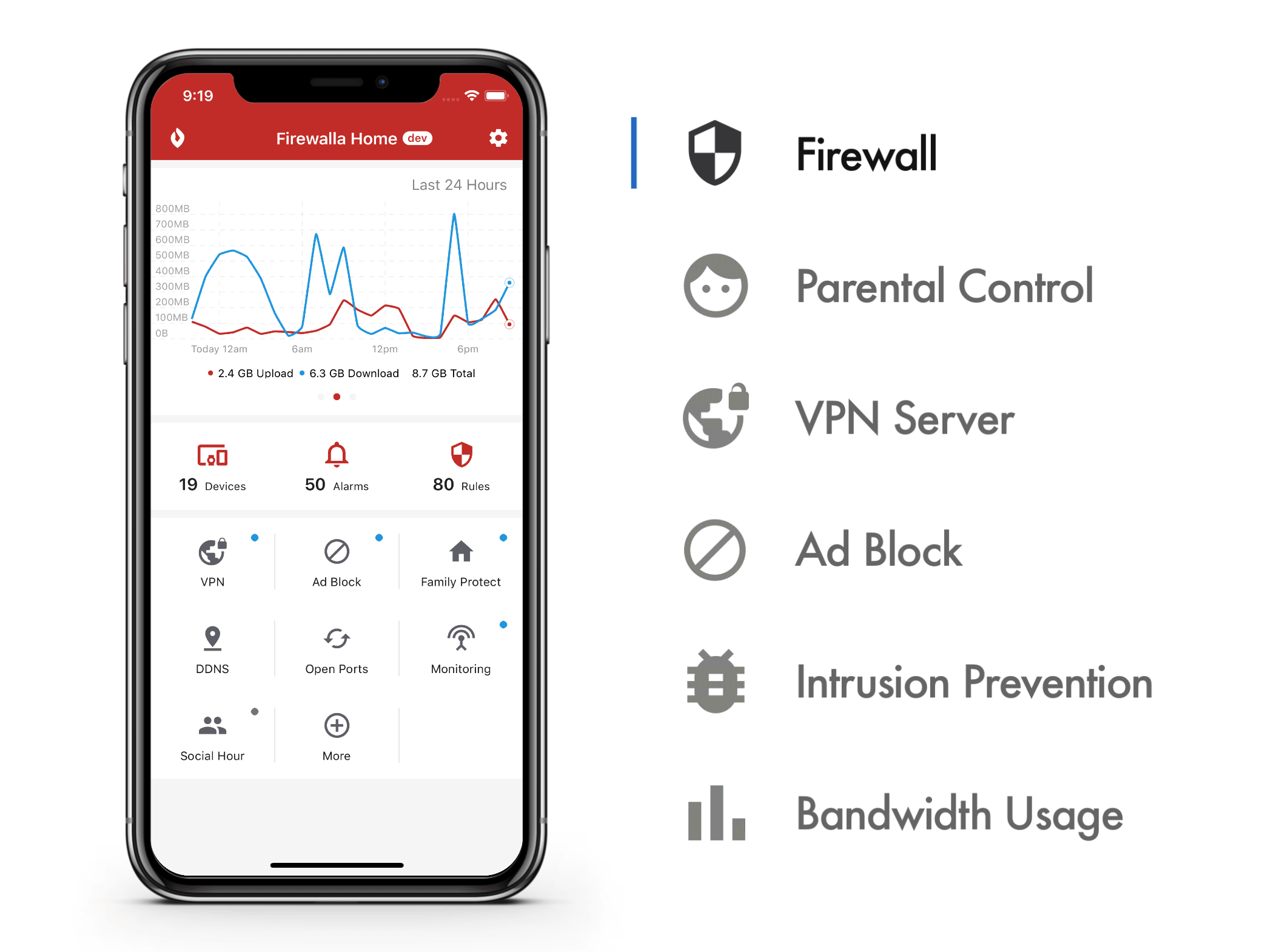 Cyber Security
Worried about your baby camera getting hacked? Someone tampering with your smart speakers? Your phone being used by hackers? Firewalla will automatically alert and protect you from all of these cyber threats, giving you peace in the digital world.
Intrusion Detection and Prevention: alerts you of active cyberattacks and blocks them if needed.
Intelligent behavior analytics for abnormal behavior warning.
Actively blocks malicious sites.
Continuously scans your home for security vulnerabilities and risks.
Parenting with Ease
Want to see what your kids are doing on their tablet? Are they playing games or doing something else?  Still pulling the power cord off that dusty router?
Stop all gaming with a single tap.
Stop all social networking with a tap.
Stop the Internet with a single tap.
See what your kids are doing: website, gaming, or social.
Get alerts on kids' activities such as gaming, video or adult content.
Automatically alarm/block malicious and adult content.
Your Privacy is a Priority
Are you comfortable sharing your data when using Public Wi-Fi?  Paying monthly fees for VPN services? Traveling to places where Internet is filtered or controlled?
Introducing Firewalla OpenVPN server, the VPN server that runs inside of your home or business.
Protect your privacy from public Wi-Fi, enables private browsing at work.
No monthly fee, no bandwidth throttling.
Surf the web just as you would at home.
Bypass internet filtering and monitoring when traveling.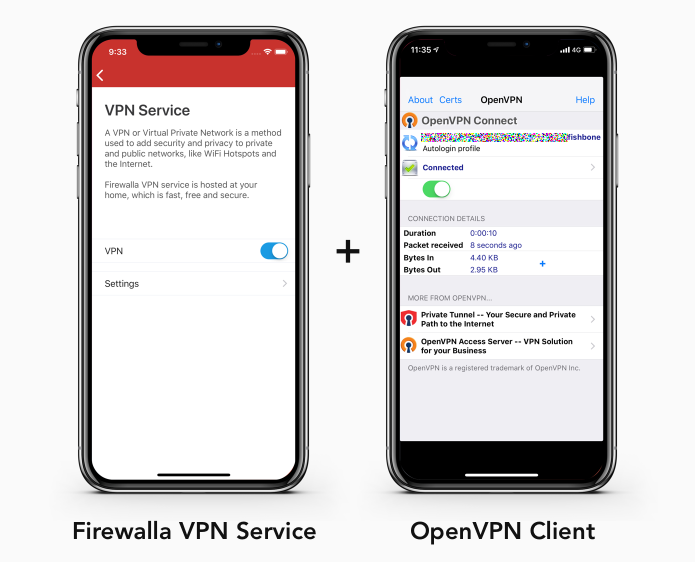 Ad Block
Annoyed by those website ads? Do you know who is tracking your web browsing habits? Firewalla's built-in ad blocker can make sure you don't see ads and ads don't see you.  
Block Ads across all devices
DNS cache to speed up all other lookups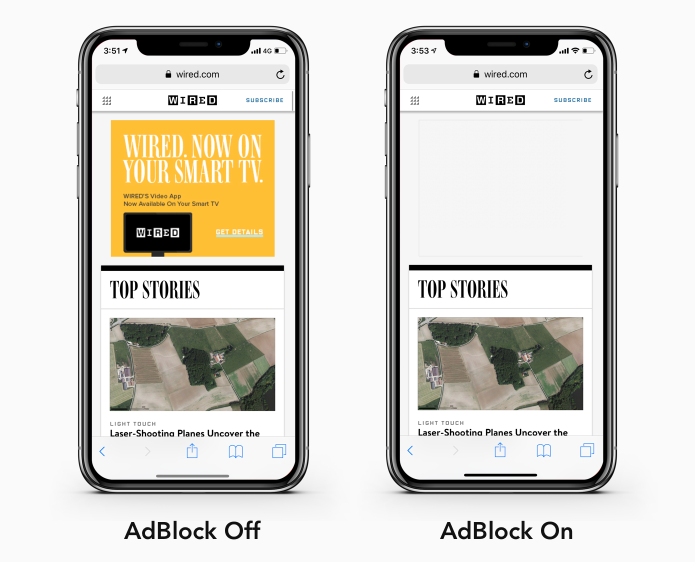 Bandwidth Usage
Worried about Internet usage limits?  Having network performance issues? With Firewalla Deep Insight, get a summary of hourly, daily or monthly usage.  You can dig deeper into any device and see any IP or domain address consuming bandwidth. Tap on any flow to stop them!
Hourly, daily, monthly bandwidth usage summary.
Deep dive into any device.
Know exactly which domain is consuming the bandwidth.
Tap to block.
Family Time
Firewalla is committed to taking back family time from social networks. One hour at a time. "Social Hour" blocks all social networks for one hour.
Easy to Install
Up-and-running, as easy as 1-2-3! Zero frustration.  No password is required.
Connect your Firewalla to a power source and your primary router.
Launch the app on your mobile device and scan the barcode.
Monitor and Manage your device from anywhere in the world with military strength encryption.
Simple & Sophisticated
Cybersecurity shouldn't be complicated and intimidating. We believe with the right software, cybersecurity can be made as simple as tapping on a few buttons.  Most of our features are just that, one tap away.
And for sophisticated power users:
See and dissect network flows of any device
Upgrades automatically.
SSH access and Full Linux Distribution inside for the curious.
Lots of knobs for customization.
​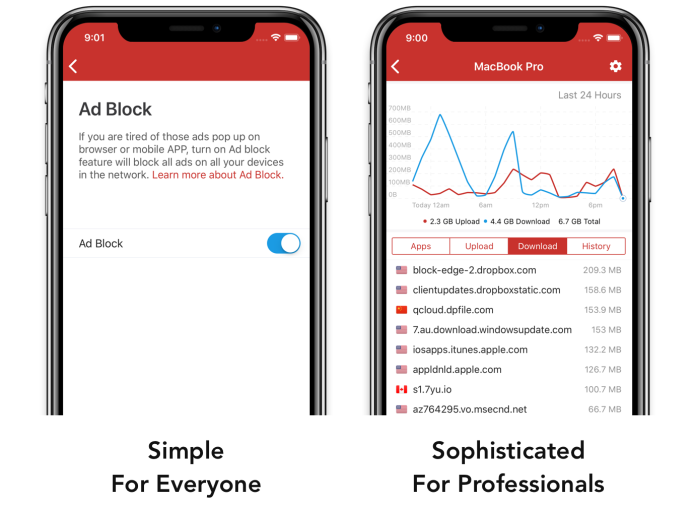 Business and professional users often demand faster Internet that approaches gigabits, and at the same time run complex devices far beyond that of a simple thermostat.   Our challenge is how to make Firewalla Simple, affordable and Powerful for the future.  Powerful enough to examine packets and detect intrusions at near gigabit speeds.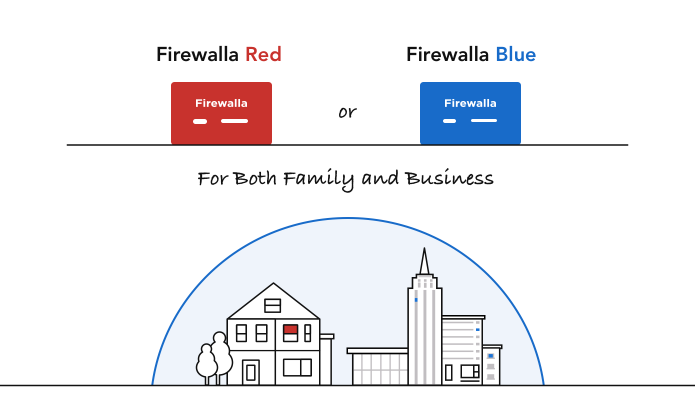 Difference Between Blue and Red
Speed and Power
While the Firewalla Red was optimized for affordability, the Blue will be optimized for power and speed. Faster processor and more memory to handle network traffic and attacks at near gigabit speed.  
Firewalla Blue will be based on the same software as Firewalla Red. The same software that's been protecting families across 57 countries around the world.   
Both boxes will be using the same App, there is no change.   There will be changes in the cloud to provide more complex security intel for these newer devices.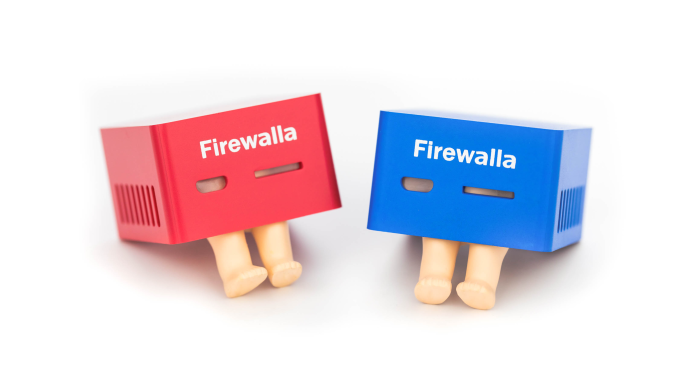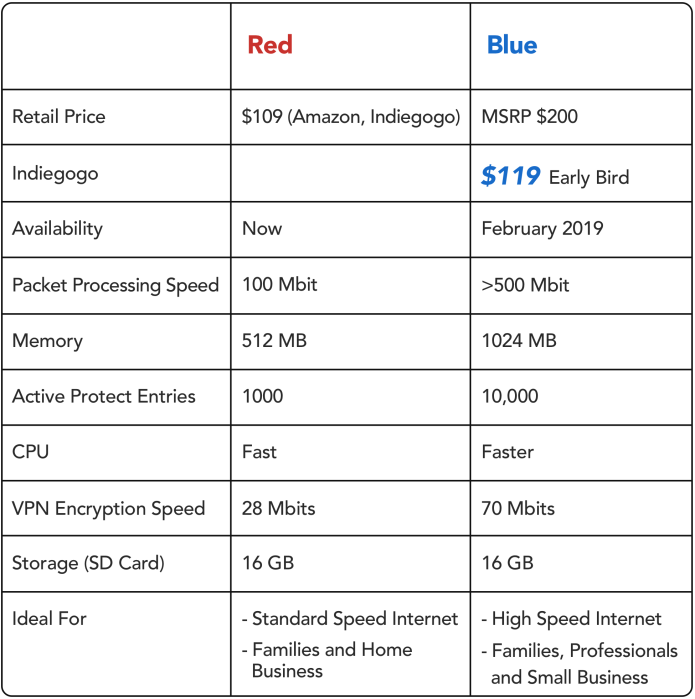 New Software Features on Blue:
VPN Client: Connecting two Firewalla's or connect to your favorite VPN provider.  
Deep scanning: More modules in memory to scan the network. 
Ability to scale to more devices.
Stores more historical data. 
Active Protect Advanced Block List:  More protection by default.
The Power of Gigabit
The Heart of Blue
The Blue will allow all of these wonderful security features to run at near gigabit speeds.  Why near gigabit?  Our current code is able to do 400 to 500 Mbits, and by the time we deliver, we should be closer to gigabit speed. 


How Does Firewalla Work?
Firewalla's main packet processing engine has four different stages:
Deep Insight:  Make sense of all network traffic.  Dig deep and understand what they are.
Active Protect:  Intrusion detection services to detect bad things and Intrusion prevention service to block before bad things happen. 
Behavior analytics: See things from a different angle.
Control: This is where you tell us what to do.  Block ads? Block porn? Stop kids from social networks?
Deep Insight
Where are the flows from?  What country?
What website, or IP address?  
Which device is sending?  
How much traffic?
When was the transfer?
Are they gaming? Watching porn? Or using social networks?
Firewalla provides full visibility to your devices and networks.  Our packet processor will try to make sense out of the flows on the network without invading your privacy.   It can detect activities such as video, gaming, porn, malware and the ability to "zoom" all the way to IP addresses.  Some of these features you can only find in professional tools, and they will cost hundreds of dollars.
Active Protect
Utilizing deep insight and our unique cloud-based behavior analytics engines, Firewalla can actively detect problems (intrusion detection) and automatically block (intrusion prevention) them if needed once detected.
Our unique behavior analytics engine will capture the "strange" behaviors to prevent future attacks.  "Who is doing the large upload to this IP address?"
Always in Control
No longer will you need to pull the power cord from the router, Firewalla gives you full control of your network.  You tell it what to do, and it will do it. 

Multiple Firewalla's on the Same App
Want to be the Chief Information Officer of the family?  Owns a small business? The Firewalla App allows you to manage multiple Firewalla boxes at the same time!  Right at your fingertips.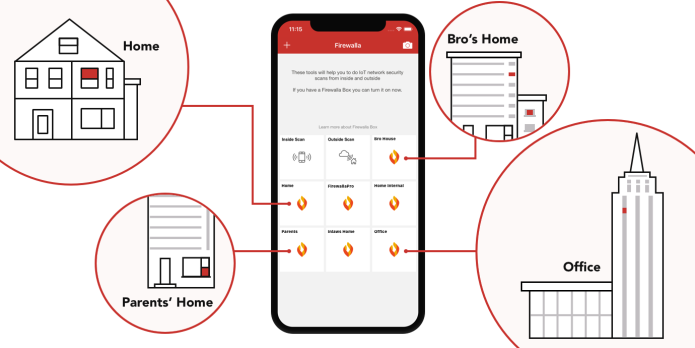 Open & Extensible
Firewalla is open source,  so you will always know what we are doing to your data.   
Our open platform is expandable, so expect more fun features in the future.
Powered by intelligent cloud and love, we protect you in the cyberspace.
​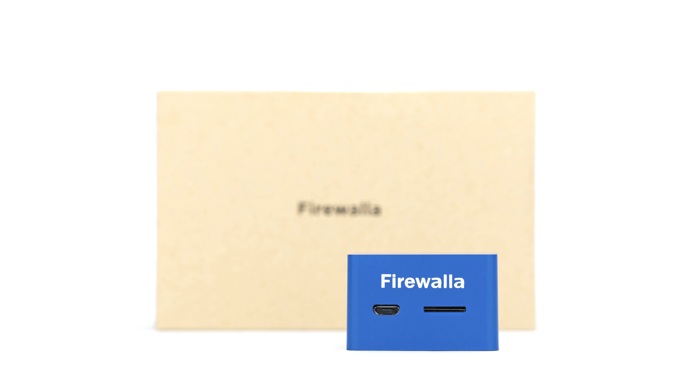 History

Firewalla started as a Kickstarter Project and then later joined Indiegogo in 2017.  The Red box raised over 400% of initial goal, and we delivered that project  late 2017 and early 2018.  Our slogan was "Making Cyber Security Simple and Affordable". The Red box is now available on Indiegogo Market Place, Amazon, Newegg Business, and in Brookstone stores.
Now we need your help to create an even higher performing product to join Firewalla Red, making Cyber Security Simple, Affordable and Powerful.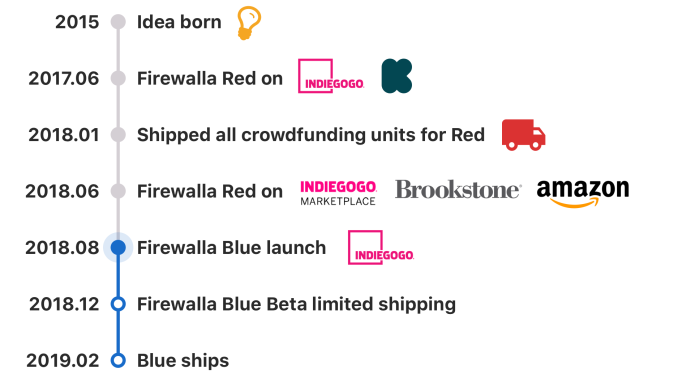 "Add a Firewalla to your network and you can see and manage all network devices and their actions. There are lots for techies to love in this tiny box, but even the average user can benefit."

Firewalla may be small, but it packs a powerful security punch, automatically blocking a host of network dangers and giving you plenty of handy extras. 

Comments from Our Previous Campaign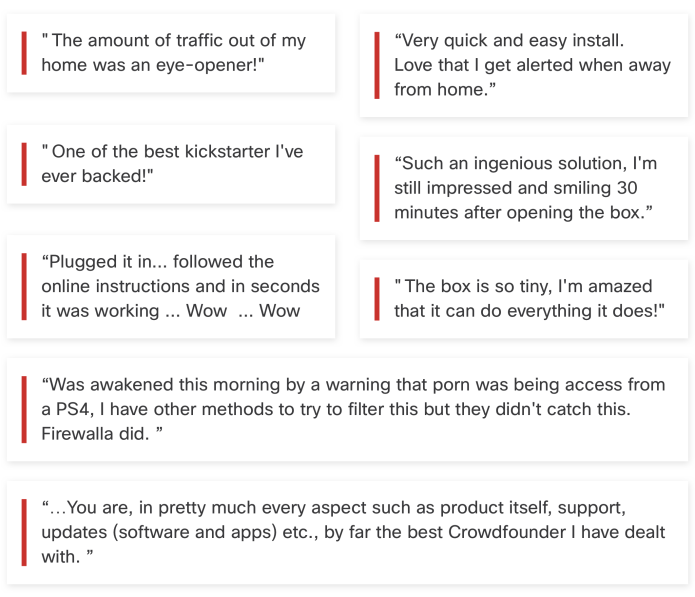 Firewalla Software Running Across 57 Countries


About Us
We are a group of former Cisco engineers; we want to use our experiences in networking and security to secure the world.  We want to make cybersecurity simple, affordable, and powerful.  Everyone on our team writes code; and everyone support our customers directly.  We are all passionate about architecture, design, and making our customers happiness a #1 priority.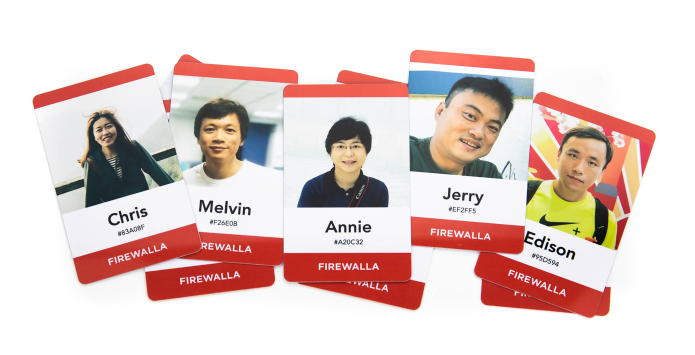 Thank you so much for visiting our campaign!  We hope you like our goal of making cyber security simple, affordable and now more powerful.   With your support, we hope to build more interesting features on the Firewalla platforms.    Please help us forward this campaign to your friends,  peers, and give us a cheer.  


Stretch Goals
160,000:  Regional Power Plugs!
200,000: Firewalla Web Interface!

Reference Materials:
If you are interested in how Firewalla works (this applies to both Red and Blue)  here are some links:
Progress Tracker
(update 12/17/2018)  We just entered production, units delivering soon!

We will be leveraging the same software stack as RED, which is already in use in 80+ countries around the world.
Android and iOS apps are already out and they will work with both Red and Blue.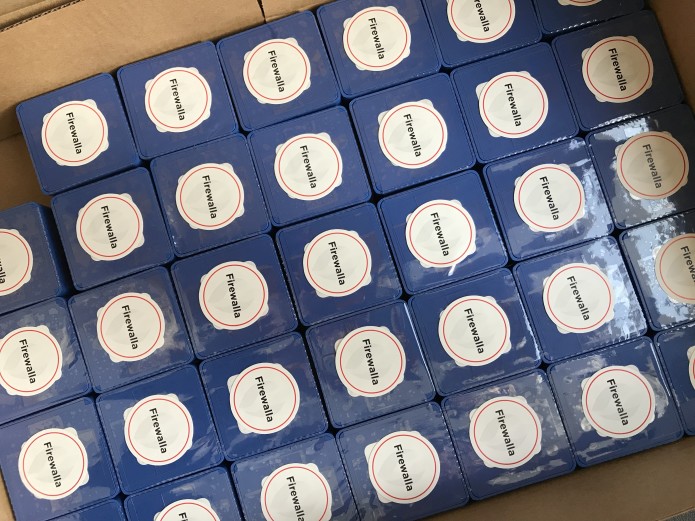 ​
FAQ
Is there a monthly fee?
No
What is "near gigabit speed"?
At the moment we don't know how close to gigabit we can go.  If you have participated in our previous campaign, our style always been under promise and over deliver.  We decided to launch the campaign when we reached around 400 to 500 Mbits, and push as close to gigabit before and after we deliver the box. 
So … we claim near gigabit, and promise to have >500 Mbits, and likely to deliver something higher.
Will this replace my router?
No, Firewalla is a dedicated security appliance attached to your router.  Firewalla is focused on security and control, and your router should focus on providing connectivity.
What routers are compatible with Firewalla?
Firewalla has two modes of operations, so it is likely your router will work with one of them.  Here is the detail list.  https://firewalla.com/compatibility
Is Firewalla Blue replacing Firewalla Red?
No. Firewalla Blue is more of a Pro version than a replacement. Although the pricing is low right now, the final retail price will be much more expensive. The Red will always be the more affordable version of the Firewalla family.
Since majority software will be shared between the Red and Blue, we will take this campaign to upgrade Red software as well.  (So majority of changes in common software will show up in Red, only those consume more resources will be exclusively for the Blue box)
Is this the real "Blue Box"?
Yes. We are currently working with two vendors on the final Firewalla Blue board. One of them is what you see here, and another one may be a little bit bigger. Depending on how much we raise, it will be the one you see here, or a slightly larger/flatter board.  
We do not build our own boards, we try our best to use existing boards with minor modifications. We will  continue to support open boards (boards that publishes their design and are open source). This helps us save money and lets us focus on the thing that we do best … software.  
Is Firewalla Blue running the same software as Red?
The platform layer (operating system + drivers + switching code) will be different; the Blue will have more packet processing enhancements. The platform independent layer is the same, and the app is the same. There will be specific features on the Blue (see software section).
Some of our Firewalla Red supporters wanted a built-in VPN client, but unfortunately we were never able to get to it. We are going to use this crowdfunding to make that happen. The VPN client will also run on the Red.
What are active protect entries?
List of IP addresses that are bad … you should never visit them and they should never visit you.  (Example, vpnfilter's stage 2 servers).   When IP addresses are on this list, they will be blocked by default.  
Do I need Blue or Red?
Get Blue if
You have or are planning to upgrade your Internet connection to be greater than 100 Megabits
You have many complex devices (PC/Linux/Android/iOS)
Business user
You want to install a bunch of other things on Firewalla
Get Red if
If your network is less than 100 Megabits or you only monitor part of your network, you should get Firewalla Red. And if you can't wait until February 2019.
Where can I find more information on Blue?
Send us an email [email protected] or visit our Blue specific community. 
Can I just build this using xyz and run it on raspberry pi?
Firewalla is an integrated solution with mostly our own software. It consists of code running on the Firewalla box, mobile apps, and also the cloud that makes each box just a bit smarter. This integration helps us build something that's simple to use and powerful for professionals. And often, making things simple is not that "simple."
If you really want to run our software on your own board, we do sell developer licenses.  The code that runs on the Red/Blue box is published at https://github.com/firewalla/firewalla