Fit Immersion: Indoor bike training in VR | Sport designed kits to turn your workout into a breathtaking VR experience.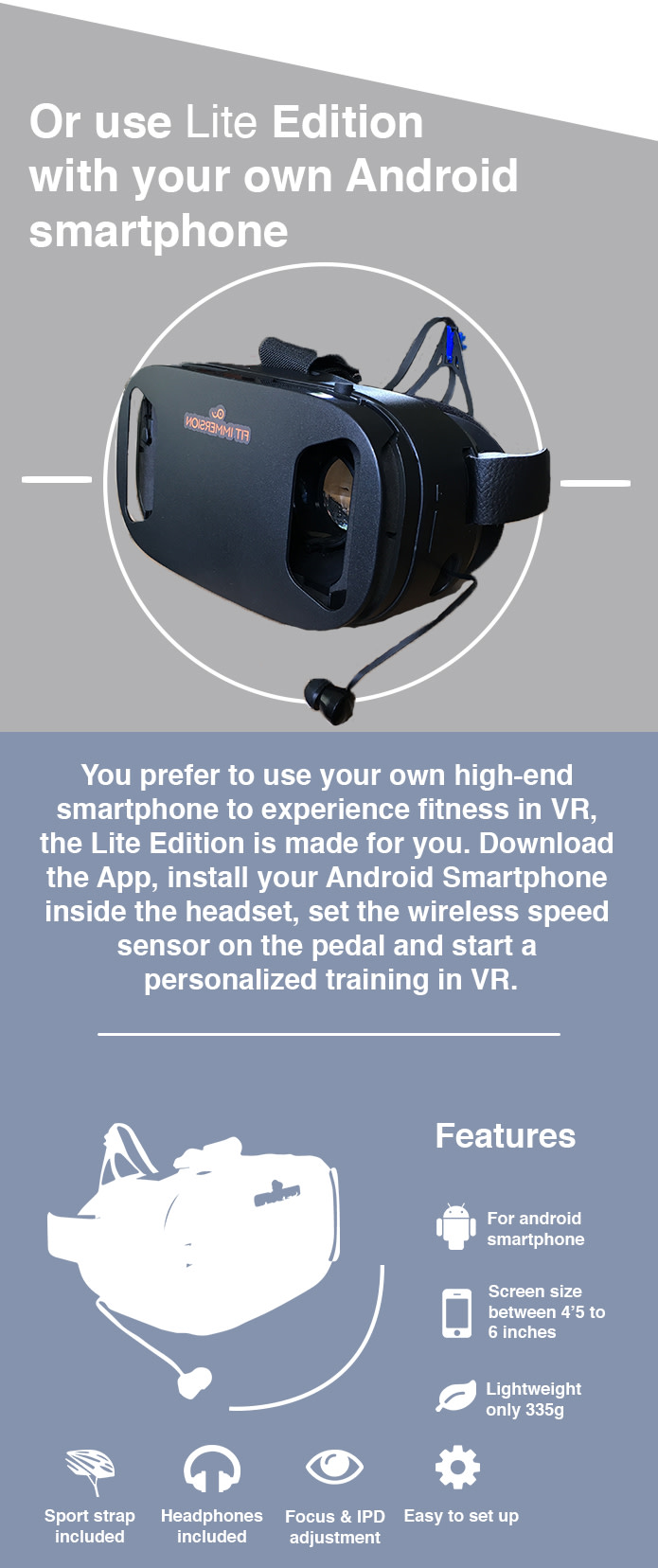 Additional informations about Lite Edition :
Smartphone accepting a 64Gb microSD card or an USB key (USB OTG port) required
Screen resolution of at least 1920×1080 is recommended for a good image quality
Bluetooth LE or ANT+ connectivity required 
6 premium quality tracks will be provided on a high capacity MicroSD or USB key (depending on the compatibility of your smartphone). 
Including a Wireless cadence sensor (ANT+/BLE)
Compatible with external ANT+/Bluetooth heart rate chest belt (not included)
Compatible with "smart" turbo trainers, steering control on FE-C implementing ones
Is your smartphone compatible ? Download our App Perform VR Player on the Google Play Store to know if your smartphone is compatible. 
 – List of recommended smartphones accepting a microSD card
– List of recommended smartphones accepting an USB key (USB OTG port)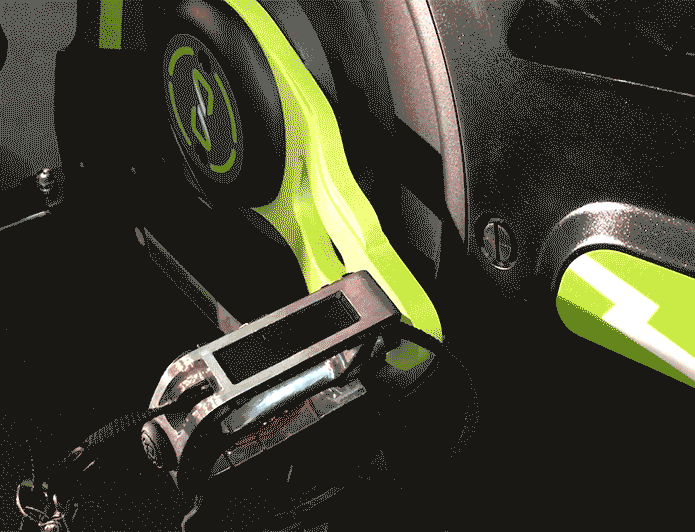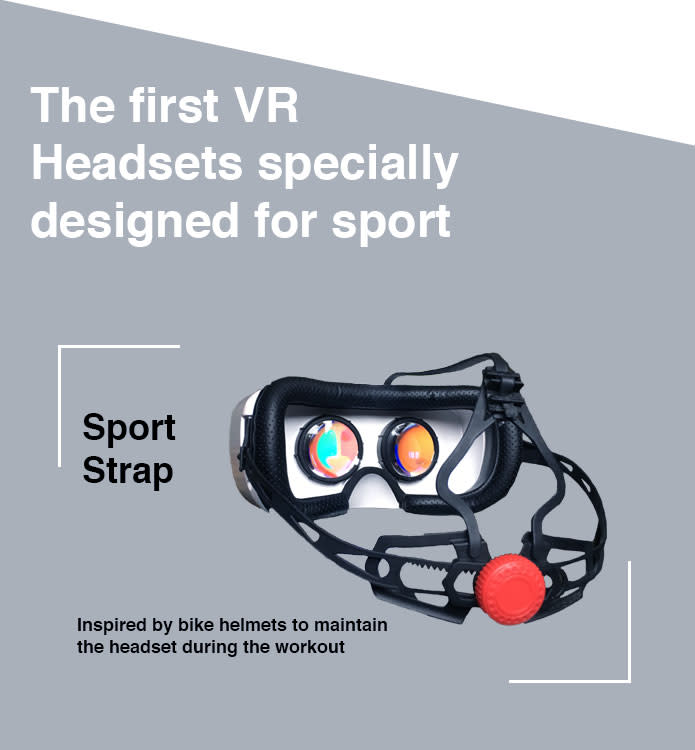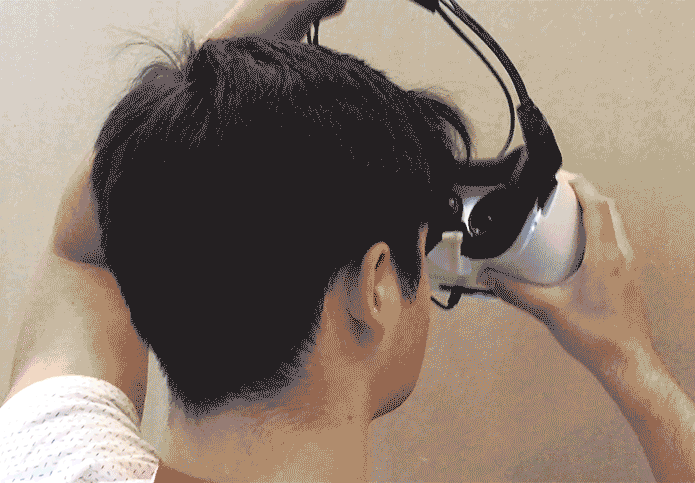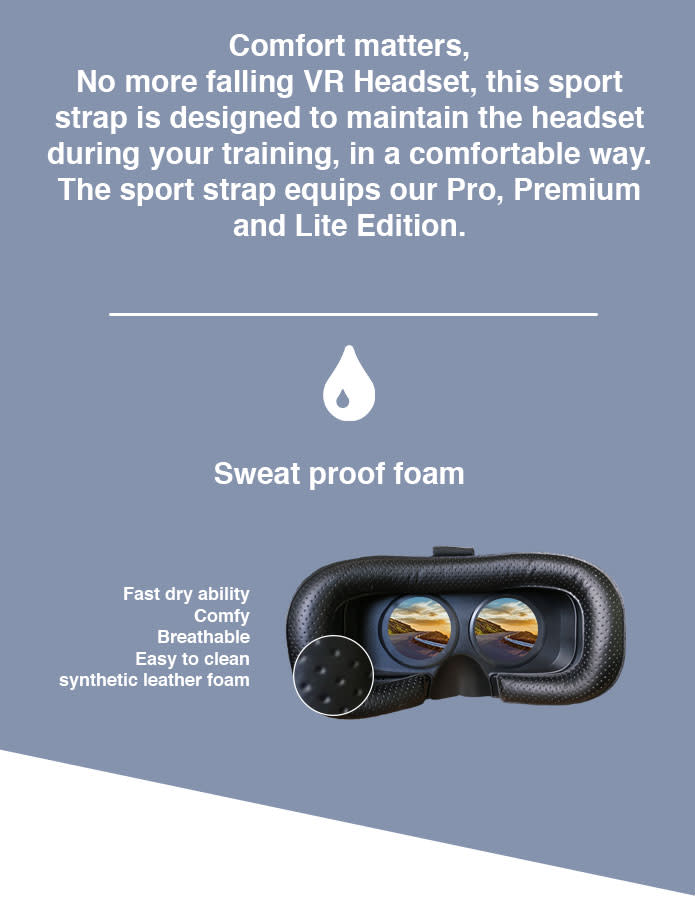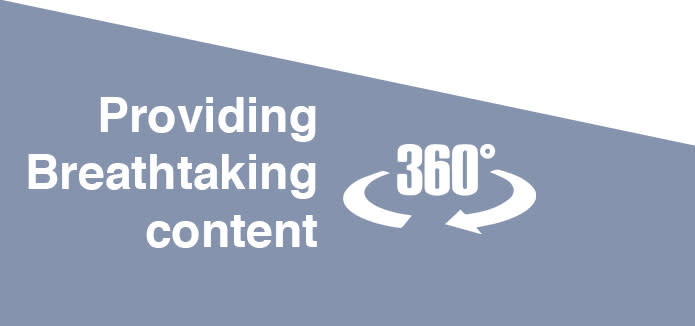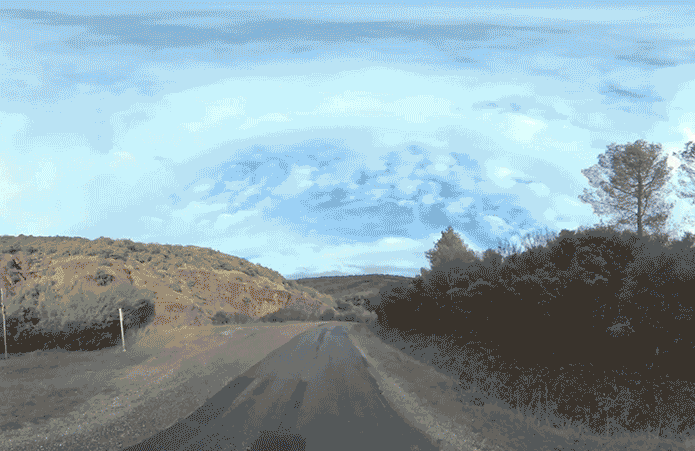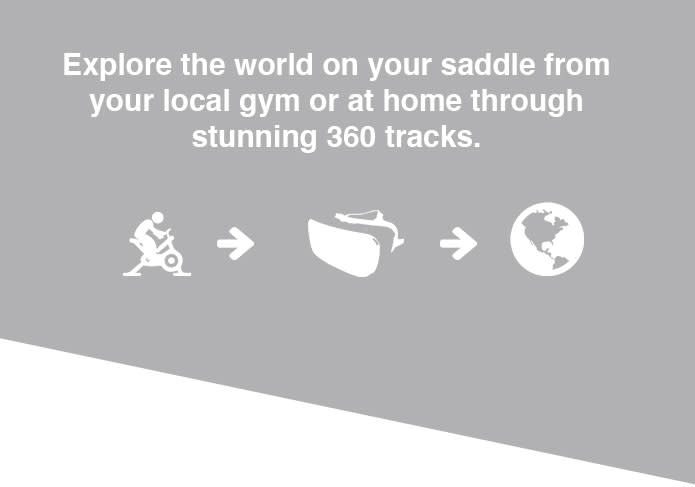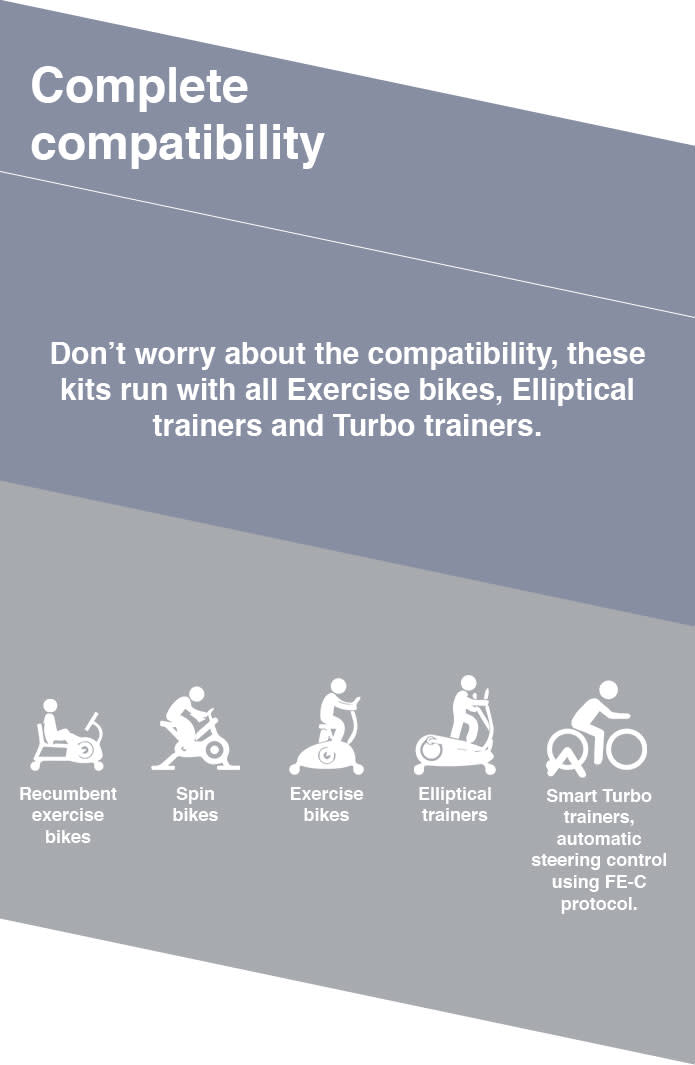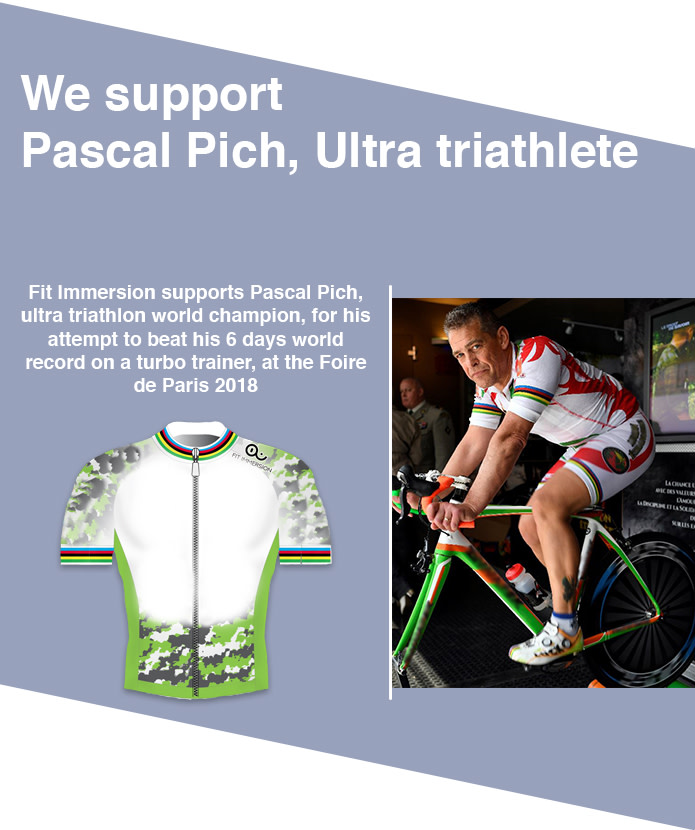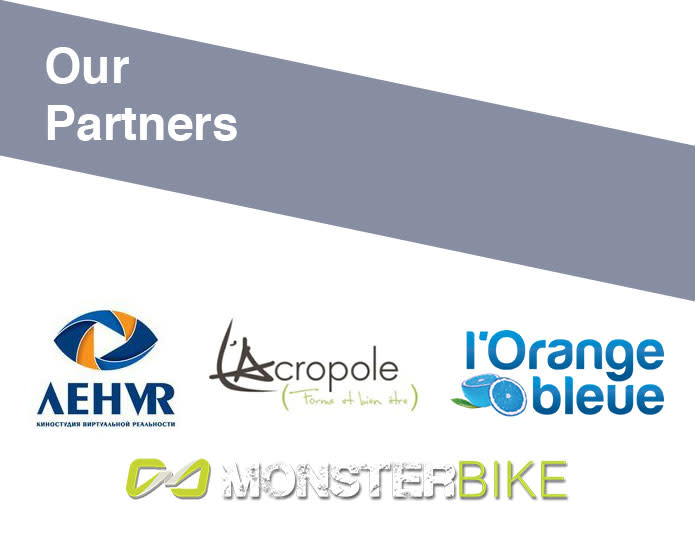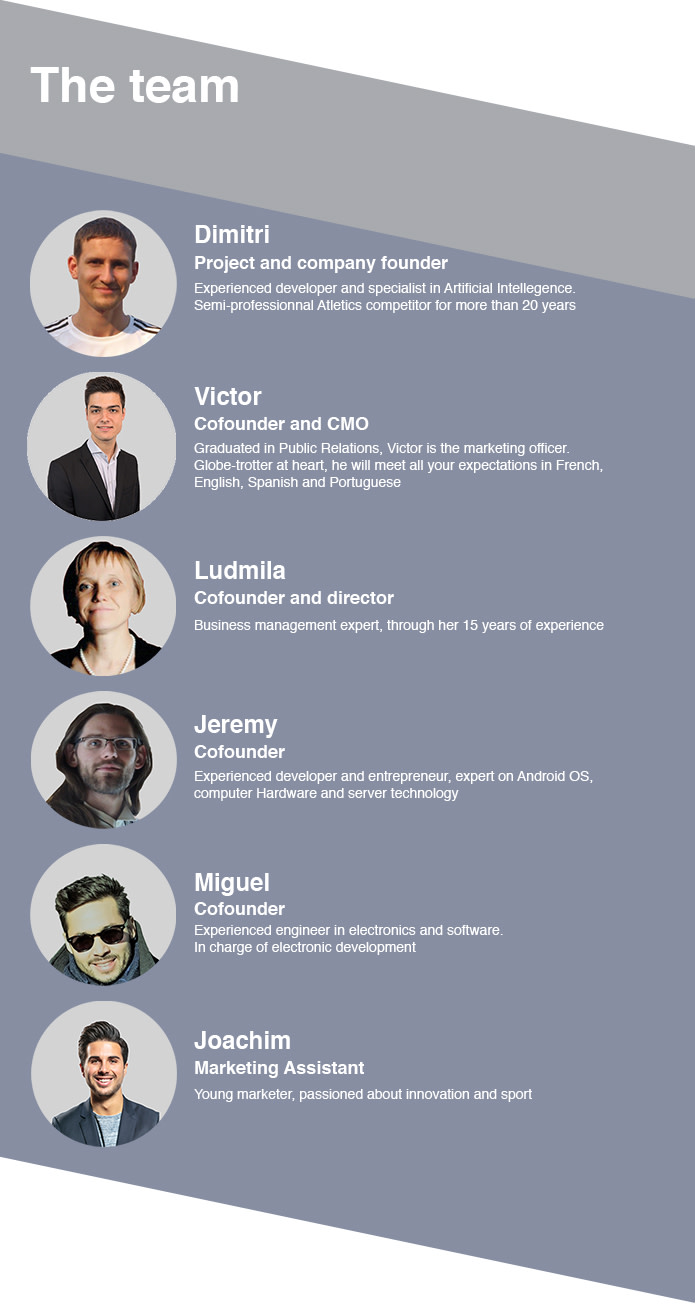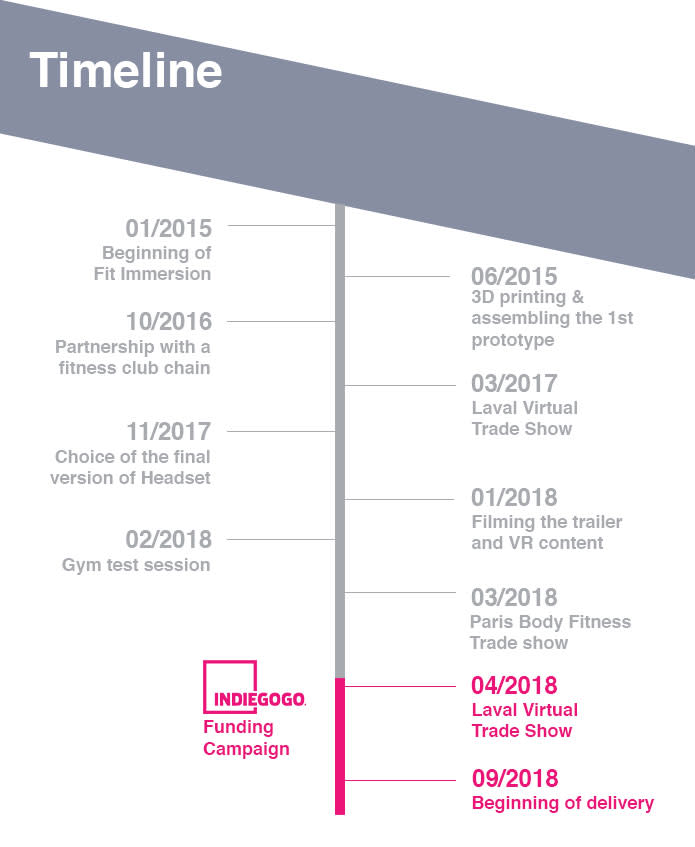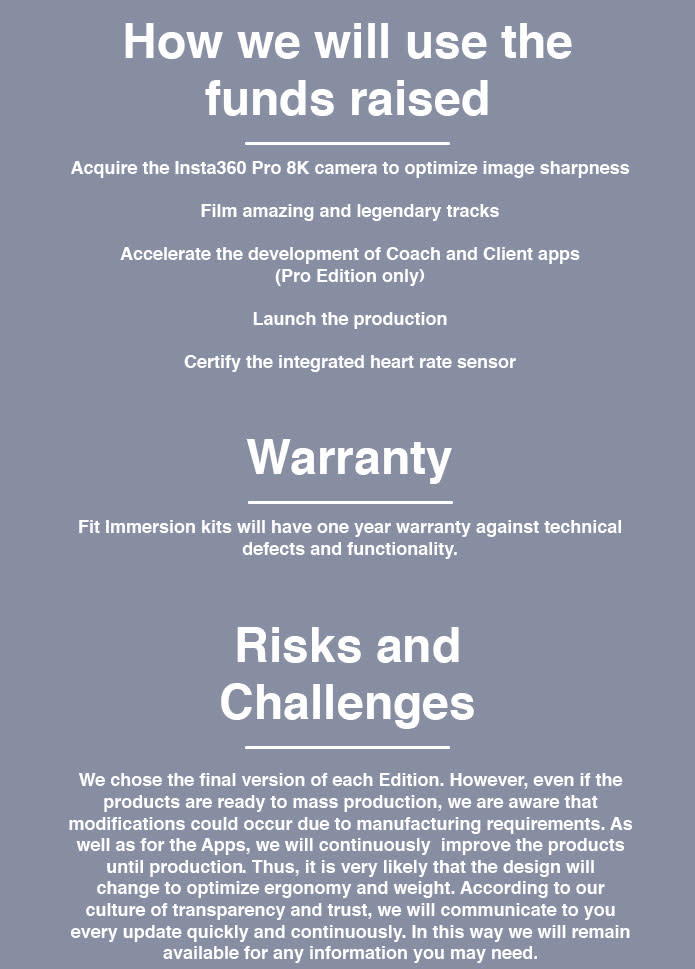 Stay connected & Share it
We would love to keep you updated with our latest news. And don't keep it secret ! Share our vision of the future of fitness to your friends & family ! They will adore it.
Frequently Asked Questions: 
Are Fit Immersion kits made for me?
Whether you are a gym owner, an athlete or a sport & tech enthusiast, Fit Immersion kits are made for you. From the Pro Edition designed for gym to the Lite Edition created for owners of a high-end smartphone, there is an edition for everyone.
I'm looking for motivation, will Fit Immersion headsets help me to work out regularly?
Fit Immersion solution is specially designed to bring fun and interest in working out at home or at the gym. The wide range of breathtaking tracks and trainings also allows you to vary your sessions. Finally, the deep monitoring and analysis provided by Fit Immersion kits will boost up your motivation to train regularly.
Which kind of tracks Fit Immersion kits come with?
Fit Immersion kits come with natural real filmed and captured from 3D tracks in 360°. New tracks will regularly be proposed.
How Fit Immersion kits are better than classical exercise machines with a screen?
Fit Immersion kits provide a more immersive experience than classical exercise machines, through breathtaking 360° tracks and head up display performance monitoring. Unlike classical exercise machines, Fit Immersion kits are wireless, allowing hands free control during the exercise to focus on the training. Widely compatible, Fit Immersion kits can be used with a large range of exercise machines. Last but not least, new tracks will be proposed regularly to maintain interest of you or your customers.
How Fit Immersion kits are so light?
The kits are made of quality plastic, for both its durability and lightweight. Lightweight is essential for us, to provide the most comfort during your workout.
How long is the battery life of Pro and Premium Edition? How do I charge it?
The battery life is estimated at 2H. It will allow various user to train, or long training of a single user.
These kits are easy to charge, just plug the USB cable to the headset and to the charging block.
It is also possible to let the charge cable connected during use. In this case the battery discharge is very slow and the headset can be use all the day long.
Will the headset not move during the training?
Specially designed for sport, all kits are coming with a unique sport strap. Similar to those on bike helmets, the sport strap ensures a perfect and comfortable maintain during the training.
With which exercise machines are these kits compatible?
These kits are compatible with recumbent exercise bikes, spin bikes, exercise bikes, elliptical bikes and Smart Turbo trainers. Automatic steering control is implemented by using ANT+ FE-C protocol.
FE-C implementing turbo trainers list 
Are these kits simple to install?
Yes, these kits are simple to install. Wireless, you just have to install the speed sensor on the pedal and turn on the headset.
When will Fit Immersion iOS app be available?
We want to launch the iOS app before the end of 2018. 
What OS do Fit Immersion kits use?
Fit Immersion kits use Nibiru OS. It's an Android based OS designed especifically for VR headsets to provide stable and efficient use.
Do Fit Immersion kits need a cellular connection?
No, Premium kits use Bluetooth, WIFI and ANT+ connections. ANT+ stick is only provided for Turbo trainer version.
Do you offer global shipping?
We do offer global shipping.  
Other questions?
If you have any questions, please contact us: [email protected]