FLASK – French Press Solved | Elegant, Innovative, and Easy to Clean. FLASK™ is our coffee and tea press for the home.
We are Alpha Dominche and we design products that make brewing better for all. Coffee and tea is our lifeblood and inspires everything we create. Six years ago, we designed the STEAMPUNK® commercial coffee and tea brewer that is installed in some of the most prominent cafes worldwide.
Now we are bringing our design and brewing experience to home users everywhere. FLASK is our first consumer brewer, and we know you're gonna love it!


FLASK™ is the distilled version of our iconic STEAMPUNK® Commercial Brewer for home users. Its design was inspired by our knowledge and experience in the commercial sector, and most of all our loyal customers and followers.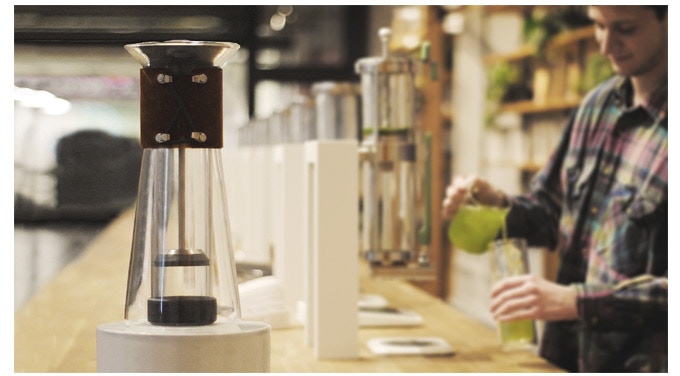 The FLASK™ brew method is approachable for anyone who has made coffee or tea at home. You don't need to be a coffee or tea pro to enjoy the premium brew quality of FLASK™. FLASK is the best of all worlds compared to other manual brewing methods. It yields a better cup with different filter options, is simple to clean, and has new innovations yet to be used in a home brewer.
FLASK is elegant and beautiful, and our innovative brew valve makes brewing and cleaning more enjoyable than any method out there. FLASK™ brews two cups at a time, which is perfect for sharing with a friend. You will love using and brewing with FLASK.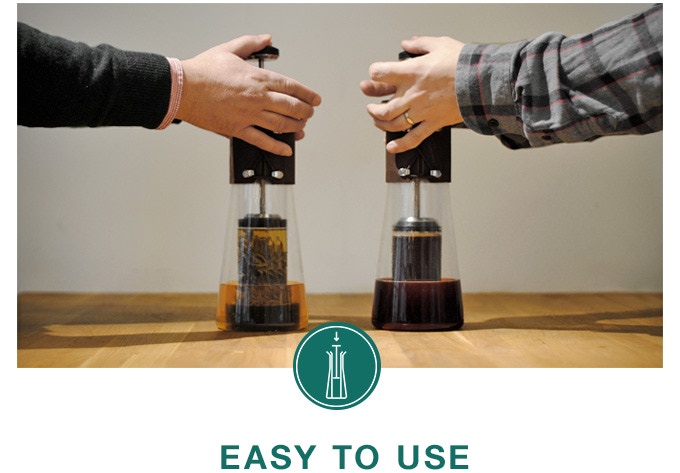 The FLASK brewer is as easy to use as a typical coffee press. Its unique two chamber design and various filter options yield a refined and delicious cup.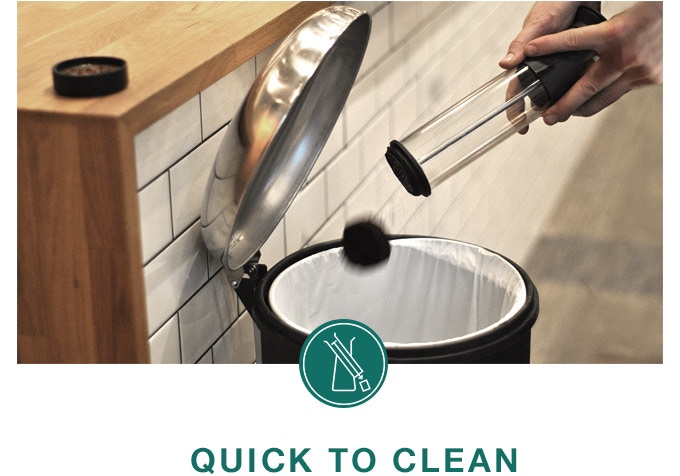 The FLASK's removable base allows you to shoot grounds and leaves right into your waste bin or compost after brewing. FLASK's three part design is dishwasher safe and makes cleaning a breeze.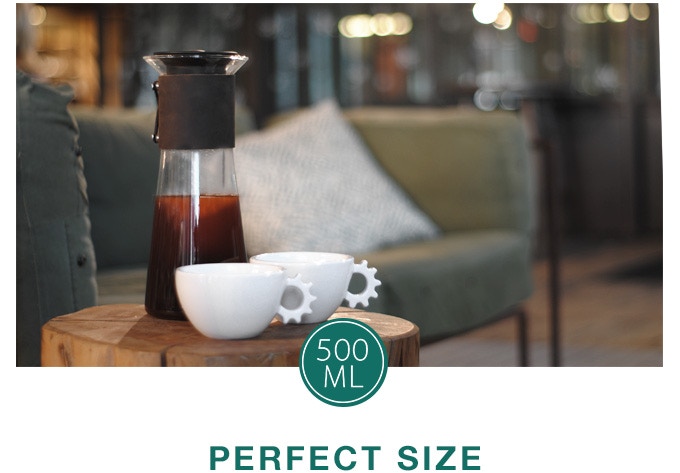 The FLASK is the perfect size to share between friends. It brews up to 500ml (17oz) which splits evenly into two mugs.

The FLASK comes with different filter options to help you brew the cup you like best. Our Coarse Metal Filter yields a slightly cleaner version of a French Press without the grit, while the Fine Metal Filter is a well balanced and full bodied cup. Those who prefer a paper filter can combine paper + metal for the cleanest and most refined cup. The coarser the filter, the faster the press.
The illustration above shows how the three FLASK Filter Options compare to other methods. This is the amount of body that ends up in the cup after the filtration process. As you can see, it's more refined than a French Press, and allows complete filtration like a Pour Over.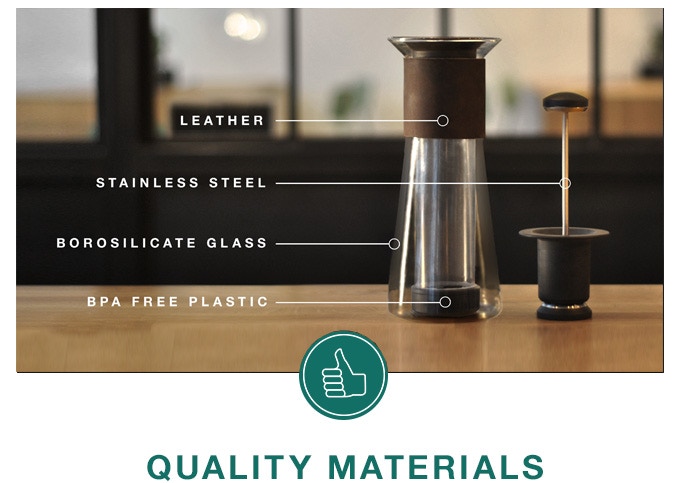 The FLASK is built with quality materials, including a stainless steel piston and filter, borosilicate glass carafe, leather wrapped handle, and 110% BPA free plastics.


Add two scoops of ground coffee with the supplied scoop and stir stick. If you weigh your coffee we recommend 30 grams or so. Fill the brew chamber to the top with water just off the boil (212F/100C), and give the grounds a gentle stir. Wait 2-3 minutes before pressing.

When immersion is complete, insert FLASK's piston into the top of the brew chamber and gently press down. The pressure created opens the brew valve and allows the coffee to flow through the filter.

The brew valve keeps the grounds separated from the coffee after pressing, so that it never over extracts or becomes overly bitter. When you are ready to serve, simply grab the FLASK by its leather wrapped handle and pour in any direction.

When you're ready to clean up, just pull out the brew chamber, twist off the base, and shoot the grounds into your compost or waste bin. The brewing components are dishwasher safe, and a quick rinse will usually suffice.


The FLASK uses some simple yet powerful innovations to help you brew a better cup and clean up quickly. Our patent-pending brew valve seals and separates the grounds or tea leaves from the freshly pressed coffee or tea. No more over extracted or bitter brews!

Another benefit of FLASK's design is the small diameter of the brew chamber. Coffee can act as its own filter with a taller bed depth, and this yields a cleaner cup.





We exist because of the collective passion and enthusiasm that the world has for coffee and tea. Since our inception in 2012, Alpha Dominche's singular focus has been to design and build the most innovative, beautiful, and visual brewing equipment that our industry has ever seen. Our flagship commercial product, the award-winning STEAMPUNK®, is now installed worldwide in cafes, hotels, and restaurants around the globe.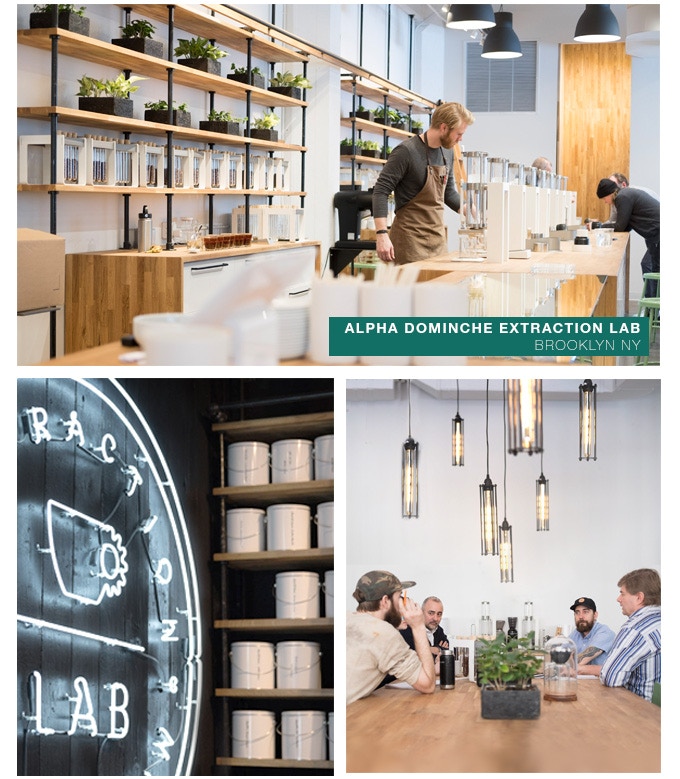 Six years ago we created the STEAMPUNK® brewer, by combining theatrics, minimalism, and modern technology into an entirely automated commercial brewer. We changed the way people experience coffee and tea in the cafe or tea house. You can find our brewers in hundreds of esteemed establishments around the globe, including the new Starbucks Reserve Roastery in Shanghai, at Kusmi Tea in Paris, and on the counter of Onyx Coffee Lab in the USA.
We have also been honored to be featured in publications around the world regarding our unique products, and our beautiful cafe Extraction Lab at Industry City, Brooklyn.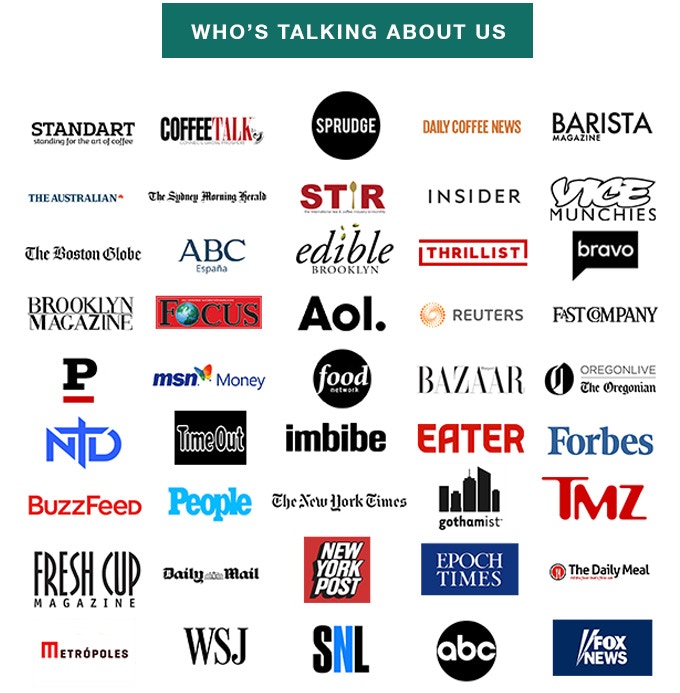 Thanks for checking out our Indiegogo! We cant wait to get FLASK off the ground and we couldn't do it with out you!!!!
Please email us with any questions or comments at [email protected]