Flic Twist: The Wireless Dial for your Smart Home | Intuitive control of lights, music, and more without voice or apps. Made for the entire family.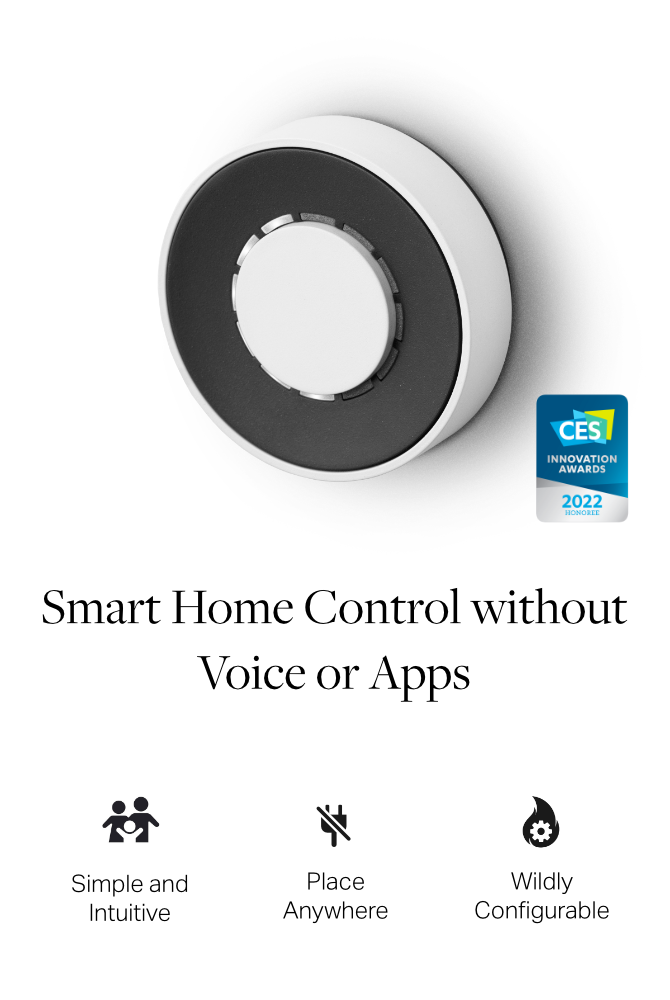 We have made smart buttons for over seven years and Flic Twist is our vision of a perfect smart home controller come through. 
It is easy to use for anyone, yet packed with innovative features that makes your smart home setup even better than it already is.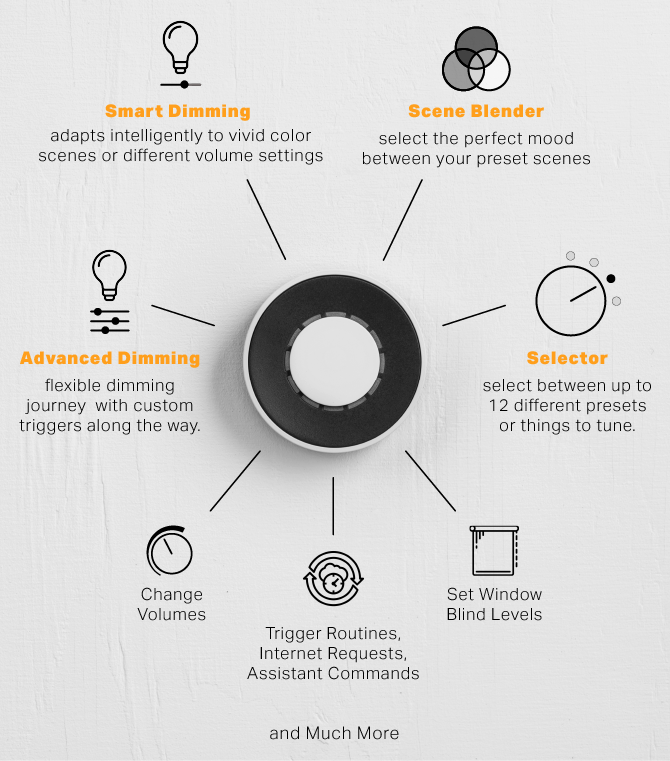 See examples and demos of these innovations further down!
Push and Rotate are easy to use and understand. Unlock advanced modes by pushing and rotating at the same time.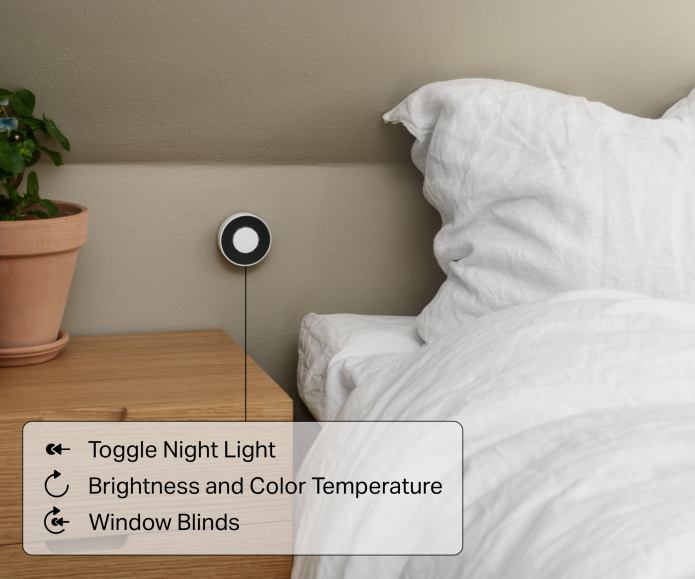 Lights and blinds in the bedroom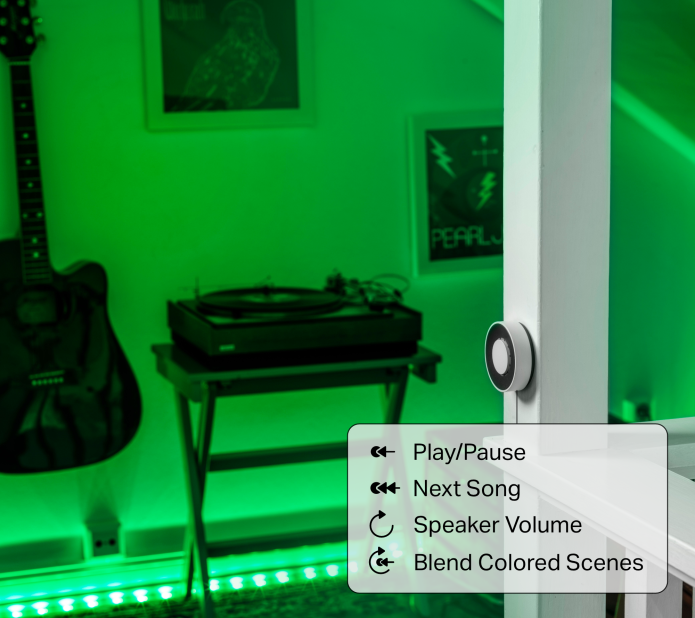 Music and color in the studio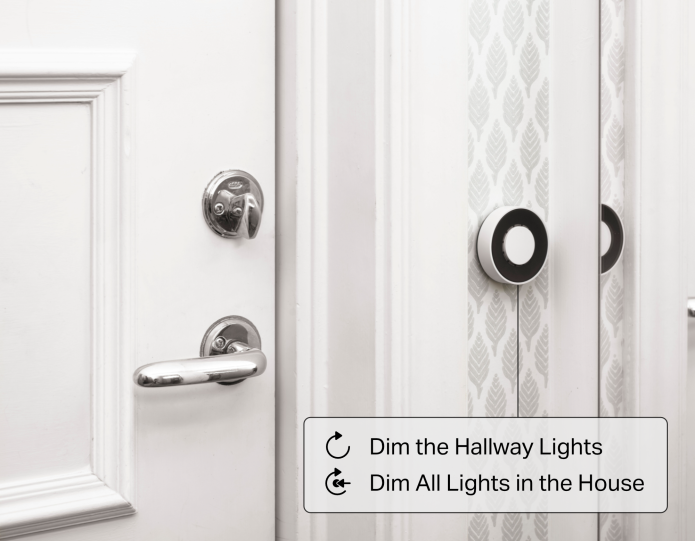 Master controller in the hallway
With Flic, No-one's Listening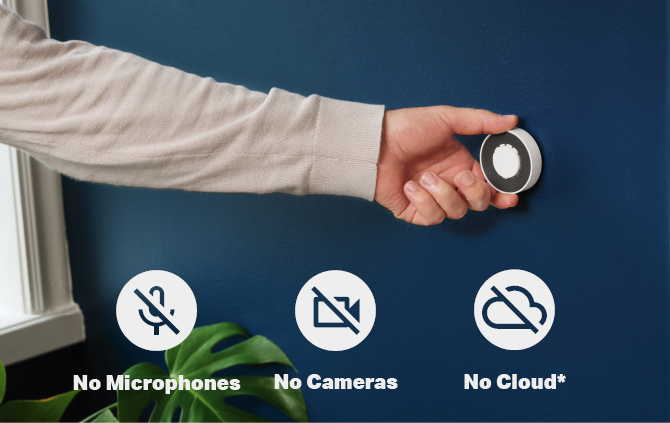 *The Flic Hub operates locally and only needs internet connectivity if you connect an integration that requires it, such as IFTTT, Zapier, Alexa, or SmartThings.
No Wires or Installation Required
Mount it on the wall using the included magnetic wall mount with screws or adhesive, or put it on your table. Flic Twist has no wires and requires no installation. Two AAA batteries last up to 2 years.
Control Every Aspect of Your Smart Home
We are part of the unifying smart home standard Matter that will bring all ecosystems and devices together when it rolls out in 2022.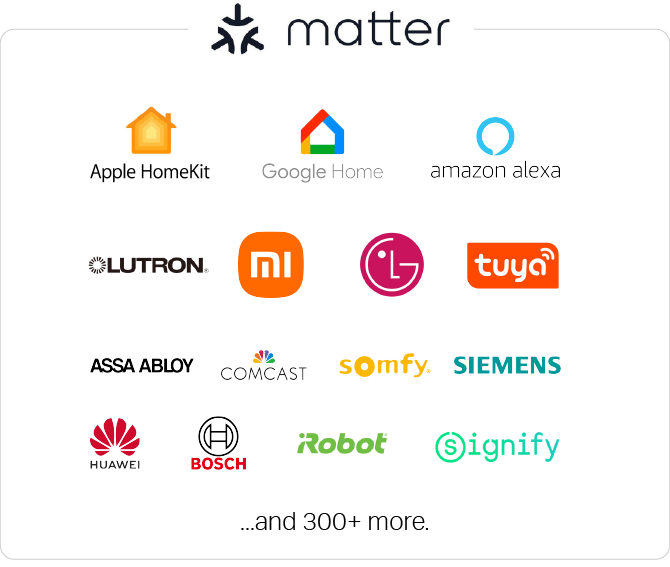 We are committed to making Flic products work with the entire Matter ecosystem, via a Flic Hub.
With Matter allowing products to work seamlessly with each other, you can focus on building a smarter home and Flic Twist will allow your family to enjoy it. Matter is however not a requirement for using Flic Twist with your favourite brands.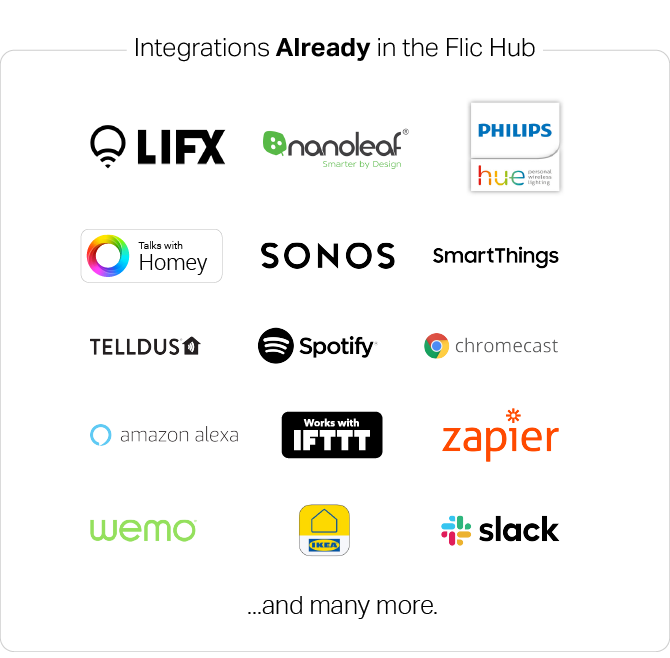 Even if you have these connected to something else (e.g. Google Home, Homekit, or Alexa), a Flic Hub can control them in parallel with your current setup.
Available Colors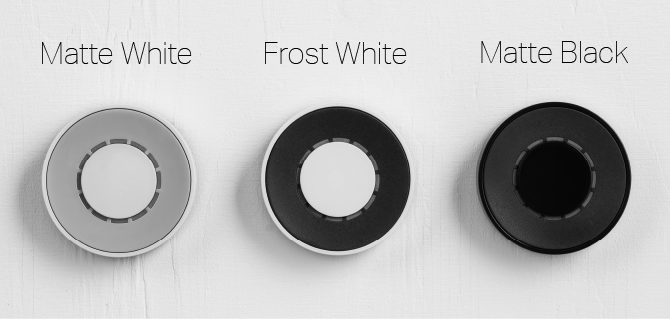 Flic Twist fits into any interior. Select your color after the campaign in the post-campaign survey.
How it works – Introducing Flic Hub Mini!
The Flic Hub Mini is a tiny yet powerful computer that takes your Flic Twist input and creates magic with your smart home devices. The optimized long range communication works on distances of up to 50m (150ft), makes the battery of Twist last for over 2 years and has an ultrafast latency of less than 0.1 seconds. A blink of an eye takes 0.1 to 0.4 seconds.
Flic Hub is the brains behind it all. Read more about the new Flic Hub Mini further down.
We're Back on Indiegogo!
Our last three products Flic 1, Flic Hub, and Flic 2, were created thanks to you and people like you.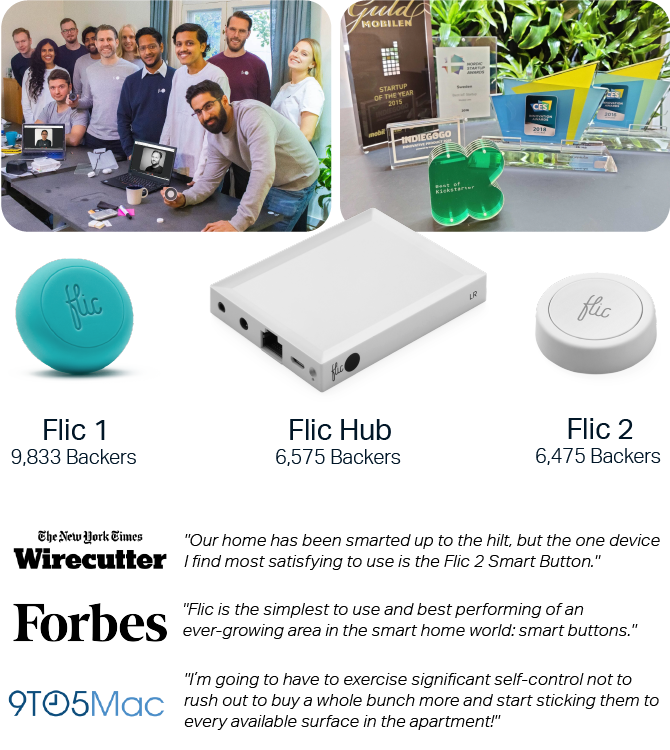 We invented the Smart Button and now we're back again with a new innovation for smart home control!
Four Innovative Features to Choose From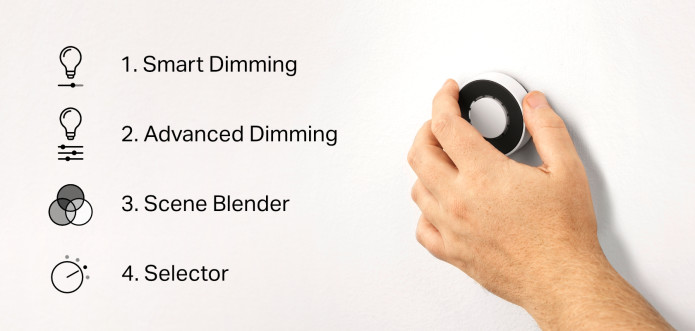 1. Smart Dimming
Smart Dimming just works. You can apply it to any existing setup in two simple steps: select the parameter (like brightness, volume, or window blind position) and the devices you want to control. Smart Dimming adjusts each parameter individually, maintaining the relative differences between devices. Even if you go all the way up or down, you will always be able to get back to where you were.
It also plays along nicely with other means of control, like voice commands or other apps. If something changes, Smart Dimming will observe and adapt to be ready for making smooth adjustments the next time you use it.
The relationship between the lights is kept while you dim the lights, even if you change the lights from an app or a voice assistant.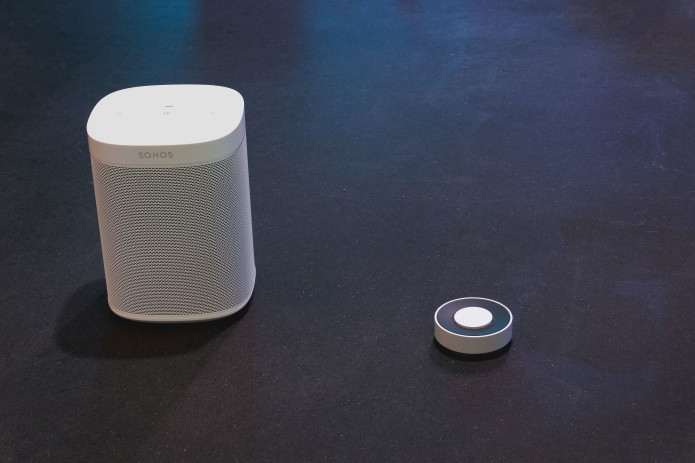 It works the same way for controlling the volume on smart speakers. Rotate to adjust volume in the same room. Push-Rotate to adjust volume on all speakers.
Adjusting window blinds is just as easy with Smart Dimming.

When showing the current status the LEDs start lighting up at 6 o'clock and light up clockwise until they reach 5 o'clock which represents 100%.
2. Advanced Dimming
Advanced Dimming works the same way as Smart Dimming but with much more options. When rotating you can adjust brightness, color, or saturation simultaneously. Sequence the lights and even add events.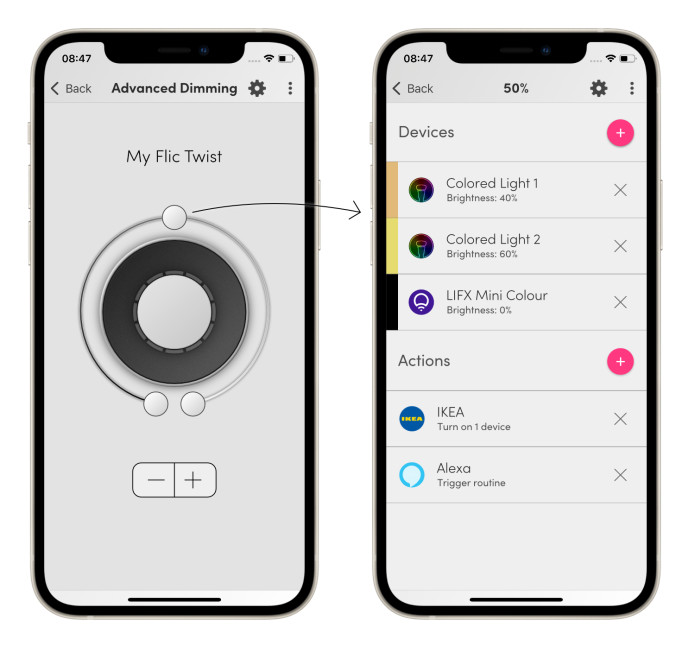 In the above example we add a sequence at 50%. When rotating up to 50%, only Colored Light 1 and 2 are controlled. When you pass 50% the LIFX mini color starts lighting up and also toggles an IKEA wall plug and triggers an Alexa Routine.
Advanced Dimming Example 1: Adjust brightness and color temperature simultaneously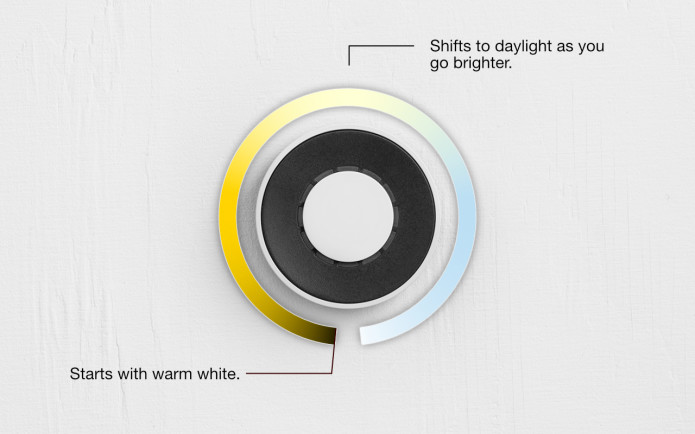 Advanced Dimming can increase the color temperature from an evening friendly Warm-White color to a Daylight-White while you are increasing the brightness.
Demo of adjusting brightness and color temperature simultaneously using Philips Hue lights.
Advanced Dimming Example 2: Sequencing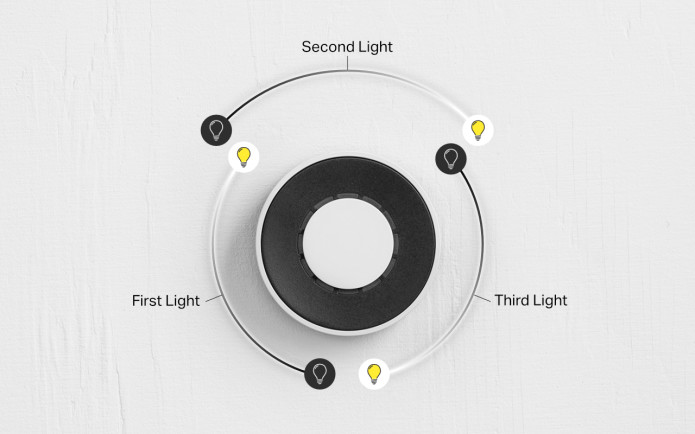 Use Advanced Dimming to turn on different lights in sequence one after the other.
Demo of Light sequencing using the Advanced Dimming mode.
Advanced Dimming Example 3: Combine Sequencing with brightness and color temperature 
3. Scene Blender
Flic Twist's innovative Scene Blender mode allows you to preset up to 4 different light scenes. It fades smoothly between your scenes so you can select just the level in between that fits your mood for the moment. 
Scene Blender Example 1: Blend Scenes and Adjust Brightness
Use Smart Dimming on Rotate and Scene Blender on Push-Rotate. This allows you to blend between your scenes and then Rotate to fine-tune the brightness of your scene to perfection. 
Scene Blender Example 2: Shift Music between rooms or to the entire house
On each of the 4 scenes, you can set each speaker volume to 25%. Push-Rotate to blend between the scenes which will shift the music from one room to another or to the entire house. Use rotate to adjust the volume of the selected speakers.
4. Selector
The Selector allows you to select up to 12 custom things to Activate or Adjust. Each position is referred to as clock positions in the app, 1 to 12 o'clock.
Things you can Adjust
This allows you to select and adjust the settings of a specific room, the entire house or just a specific device that you want to adjust with Smart Dimming.
For example, Push-Rotate to:
12 o'clock: Now you can rotate to adjust the bedroom lights.
1 o'clock: Now you can rotate to adjust the volume on all speakers
2 o'clock: Now you can rotate to adjust only the bedroom window light. 
Things you can Activate
You predefine your actions and simply execute them. 
For example, Push-Rotate to:
3 o'clock: Activates an Alexa Routine
4 o'clock: Starts playing Jazz in the Kitchen
5 o'clock: Opens all blinds
For even more advanced things you can also Activate custom internet requests, Zapier or IFTTT actions and more.
Adaptive fields
Depending on the number of actions you set the indicator lights will adapt accordingly. Selecting only two fields will be referred to as Left and Right. Selecting up to four fields will be referred to according to the image below.

When you use the Selector with up to 4 fields, each field is referred to as Up, Down, Left and Right as the example above. Choosing more will refer to each of the 12 positions instead, from 1 to 12 o'clock.
Icon Sticker Add-on
When using the Scene Blender or Selector it can be helpful to visualize the scenes or functions that have been set to the different positions. The icon sticker-pack add-on comes with a wide variety of different icons to help visualize your scenes.  

The icon sticker pack is a pack of 35 different icons. The Sticker Alignment Template is included with each icon sticker pack and helps you place the icons on the correct position.
Flic 2 Buttons

Flic 2 buttons are included in some of the rewards and can be added as add-ons. Flic 2 was successfully launched here on Kickstarter in 2019 and has since then been continuously improved. Flic 2 can trigger anything that Flic Twist can trigger, but it's just a button without the rotation of Flic Twist. You can assign 3 different triggers to Push, Double Push and Hold. It's really small, wireless and comes with an adhesive that allows you to place it anywhere. Flic 2 runs on a replaceable and included coincell battery, CR2032, that lasts up to two years.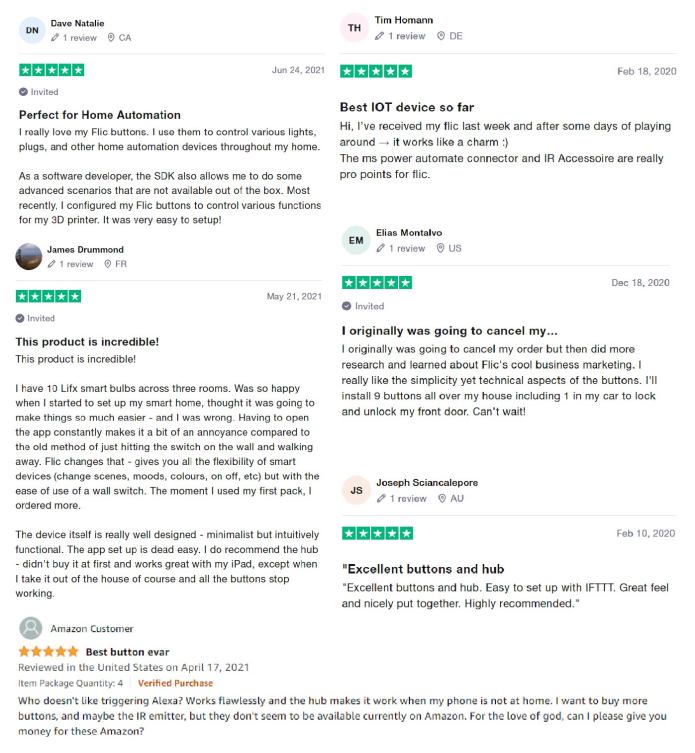 Some of many 5-star reviews of Flic 2 and the Flic apps
Backwards Compatible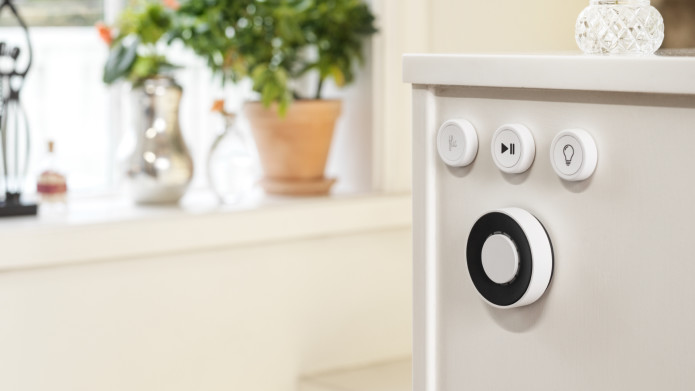 Flic Twist complements Flic buttons with more powerful features and they fit great together!
Flic Twist and the Flic Hub Mini are fully backwards compatible with Flic Hub and Flic 2. 
Use Flic Twist with your existing Flic Hub
Use Flic buttons with the new Flic Hub Mini
Both Flic Hub LR and Flic 2 buttons will continue to be sold and maintained.
Flic Hub Comparison table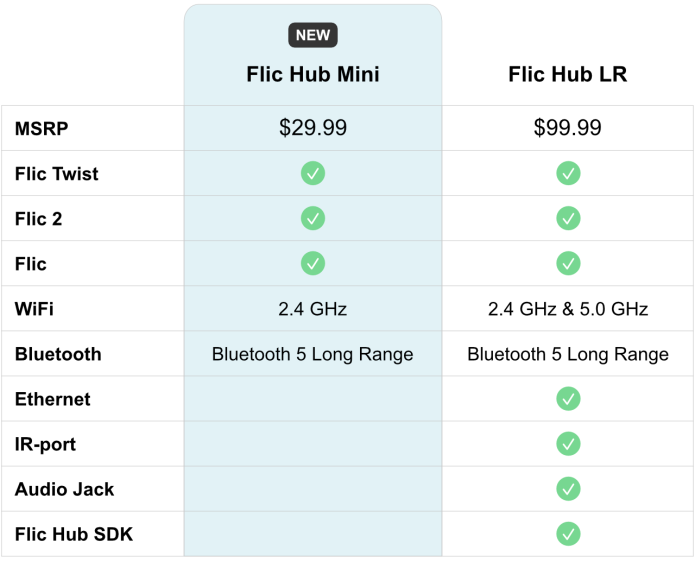 In this campaign we are only offering the new Flic Hub Mini. If you're interested in the Flic Hub LR you can upgrade your pledge after the campaign.
Simple Setup in the Flic App
The Flic App for iOS and Android is only required when you set up your Flic Twist for the first time, and if you want to change your settings later. All settings that you make in the app are stored locally in the Flic Hub. 
Step by Step 
In the below video we demonstrate the simplicity of adding a Flic Hub and a Flic Twist to the Flic app to start configuring it. 
In the below video we demonstrate how your existing smart home products, in this case, a Philips Hue lightbulb, are added to the Flic app to be controlled with the Flic Twist. 
In the below video we show our test bench walking through the setup process step by step and demo the current state of the app and development. 
For the Home Hacker
As a hacker, you never settle with the features that come out of the box. Flic has always been about empowering customers and provide a way to integrate our product into your personal projects. With HTTP integrations you can add smooth controls to just about anything that runs an HTTP server like your Raspberry Pi-controlled nerf gun turret. Twist to aim and push to shoot with unmatched precision. 
Design Journey
The one thing we knew before starting the design journey was that Flic Twist needed the ability to rotate. The majority of smart dimmers on the market have Up and Down buttons which are not user-friendly if you're for example increasing the brightness from 10 to 100%.

We evaluated and tested different designs and realized that separating the button and rotation gives the best user experience.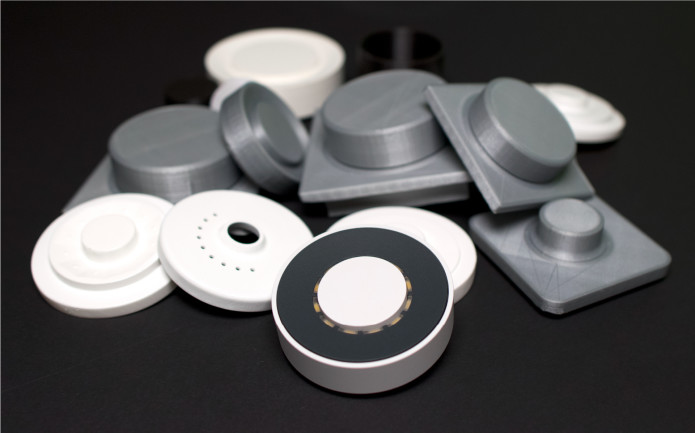 We tested a variety of different sizes, from small knobs that you twist with your fingertips to large pucks that you rotate with your entire hand. After more than 10 design iterations we finally settled on the perfect size for the button and the rotating dial which is convenient to use for the entire family.
Technical Details
Flic Twist
The Flic Twist is designed with the same Nordic Semiconductor chipset as the Flic 2 button which has Long Range features that give an indoor range of up to 50m. It comes with two replaceable AAA batteries that last up to 2 years. 

Flic Hub Mini
The new Flic Hub Mini is a very optimized design of our already existing product Flic Hub LR. It uses Bluetooth 5 Low Energy Long Range to communicate with Flic Twist or with other Flic products. One Flic Hub Mini can handle over 60 simultaneous connections to Flic products such as Flic Twist and Flic buttons over a range of up to 50m (150ft). Flic Hub Mini then communicates with your smart home devices using WiFi. There are no limits in how many devices a Flic Hub can control using WiFi. 
A Flic Hub Mini or a Flic Hub LR are required, even if you use Flic Twist with Matter. The interaction is in the twist, and the brains and logic are in the hub. This setup allows Flic products to be extremely fast and battery efficient, while offering functions that no other products have, still with full privacy.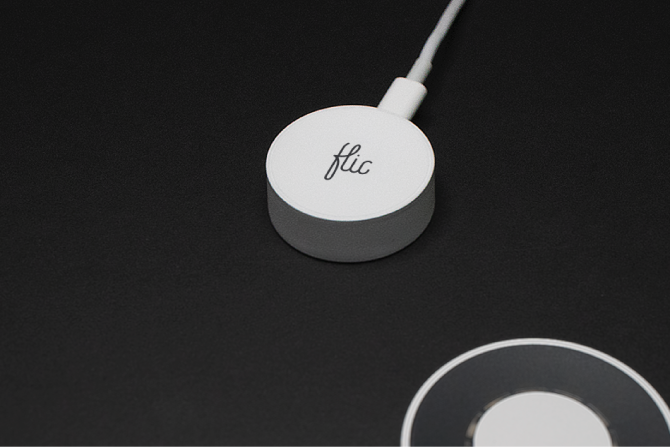 The new Flic Hub Mini is much smaller and more affordable than it's predecessors.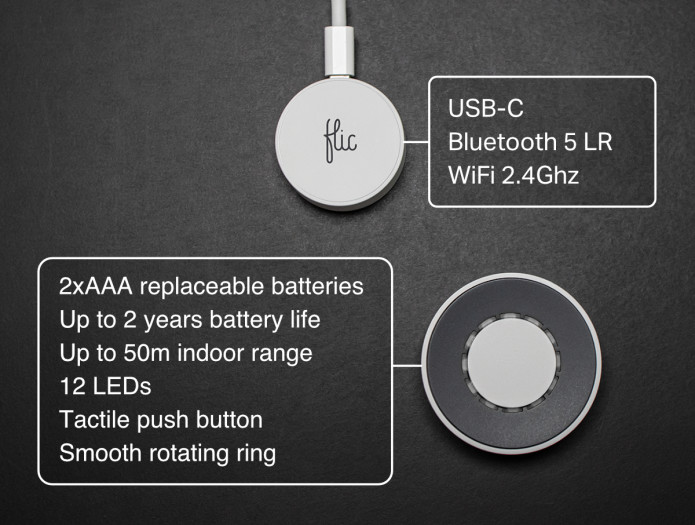 Team
Shortcut Labs is a dedicated team of 14 with many years of experience in hardware and software development and with multiple products launched. The strong community that supports us in our mission by using our products day by day proved that our products bring value to the life of people.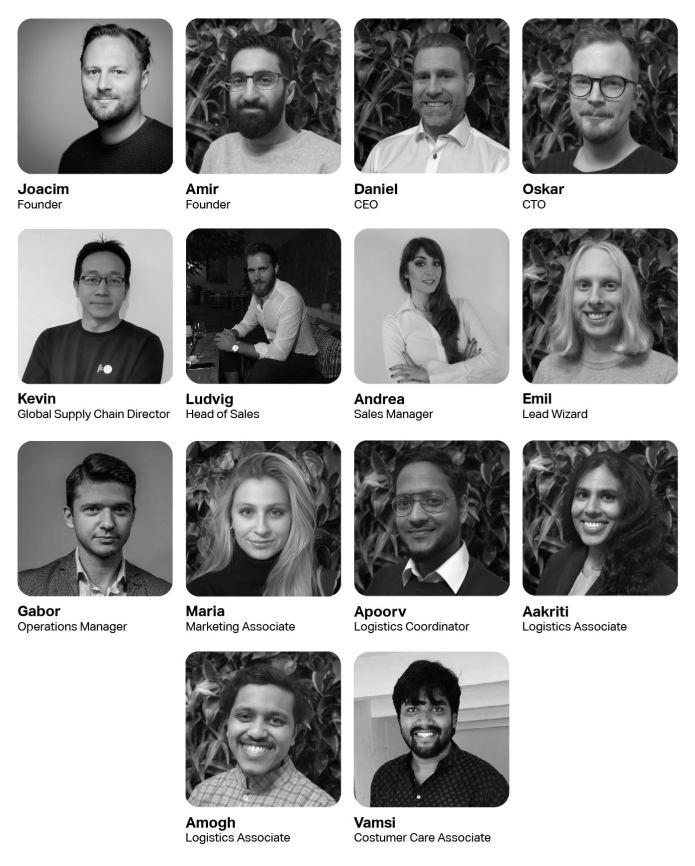 We'd love to invite you to join our community in the Flic Family. If you share our mission and what we are doing, back our product and help us to bring simplicity to the tech scene.
Mission
Shortcut Labs has been developing the Flic product for 8 years now. Our goal is to bring simplicity to the life of all tech users, from geeks to toddlers. Using your voice or various devices to control your smart home can become frustrating, tiresome, and anti-social. Voice is an excellent tool, but it does not work in all situations. 
With Flic Twist, we add more options to your hands yet retain the simplicity of the original Flic button. In addition, with Flic Twist, we hope that we can engage all your family members and guests to interact with your smart home while giving you more options to control your smart home.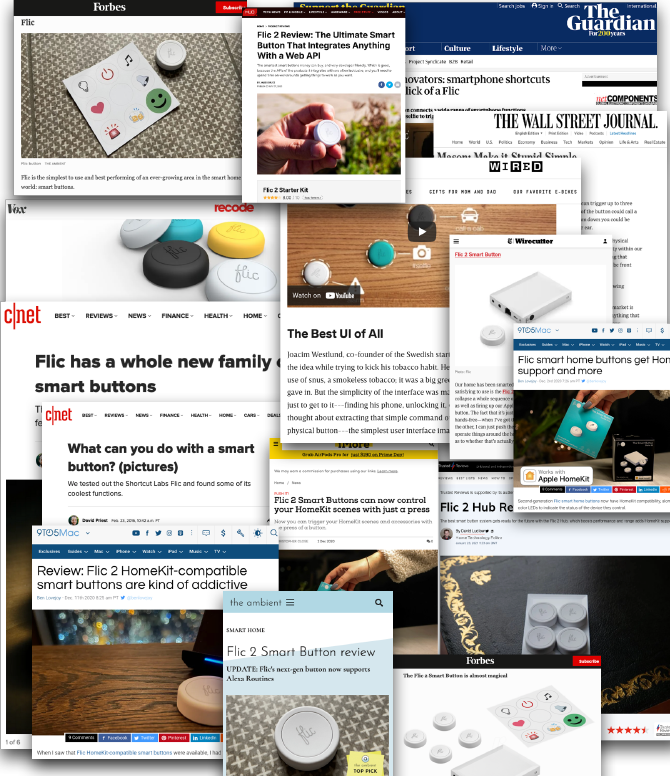 Our Journey
Joacim, one of the Co-Founders of Flic, looked for a simpler way to track his nicotine consumption, so he decided to bring Flic to life. Shortcut Labs was founded in 2013 to create a simple interface – the world's first smart button. The first version of Flic was a great success, as almost ten thousand people backed its campaign.
Since the first Flic, we have completed two other successful crowdfunding campaigns. We have shipped over half a million Flic products to 85 countries around the world. Flic integrates with hundreds of technologies we all use daily. Every Flic user has a story to tell about how they use their button. From helping them start their morning routines to be the guardian that keeps their home safe, there are thousands of innovative and imaginative ways Flic is used. But underneath all of them, one thing always remains the same – Flic makes life simple. A shortcut and a life hack that brings smiles to millions of faces every day. Help us make Flic Twist a part of this journey and spread simplicity to even more people worldwide.
Privacy Policy
We take your privacy very seriously. This mindset is also relevant for Flic products. Our products do not have microphones, nor cameras. You can read our current Privacy Policy here.
Shipping Details
The global supply chain is still recovering after the pandemic, and the prices right now are unusually high and unreliable. To avoid the current shipping costs we will not charge you for shipping now but instead wait until we are ready to ship your rewards.  
Shipping Costs will be charged upon shipping, there will be low cost postal and faster express options in the post-campaign survey.
Taxes and Customs
Your reward will be shipped either from the EU or the US depending on where you are. For EU and US, all taxes and duties are included in the rewards. For all other countries, taxes and duties may apply.
We can ship to over 100+ countries, except the countries and territories listed below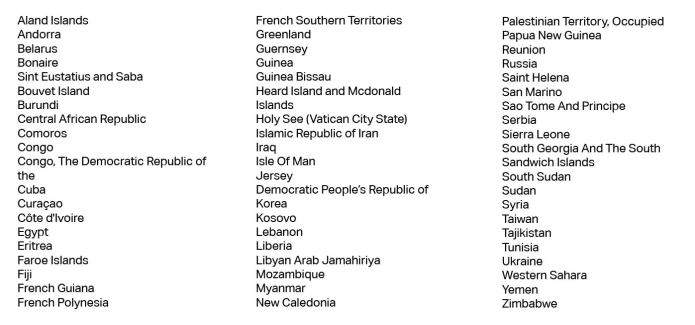 If you live in one of the countries or territories listed above we probably will not be able to ship to that destination. Feel free to reach out to us to verify.
Timeline