FlyteBike Portable Pedals – Get Fit While You Sit | Feel well, burn calories & boost productivity anywhere with FlyteBike. Don't just sit there, pedal!
Fit in Your Fitness with FlyteBike™
Portable Pedals – Anywhere, Anytime

WHAT IS FLYTEBIKE™?
FlyteBike™ Portable Pedals are the planet's first truly portable exercise pedals. FlyteBike™ has unique, patent pending design features which separate it from other stationary pedal devices.  FlyteBike Portable Pedals is 3 ½ pounds, folds flat and goes anywhere with you in its own bag.
Unlike other pedal products which are made of heavy steel, with rods that can heat up and burn you, FlyteBike™ has been designed with a Patent Pending lightweight aluminum, which does not conduct heat.
Here's more good news… you'll burn 10 calories for every minute that you gently pedal with FlyteBike™, that's 300 calories in just 30 minutes while sitting at your desk or watching your favorite TV show. Now you can feel great, live longer and get fit, anytime, anywhere.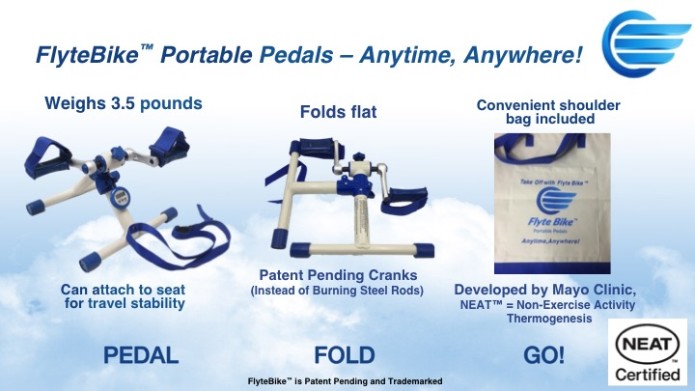 Here's more exciting news! We're also rolling out FlyteBike Smart Pedal™ sensor and tracking app here at IndieGoGo! Our Smart Pedal™ is a digital IoT (Internet of Things) add-on for use with Corporate Wellness and healthcare discounts, physical therapy, and for tracking personal progress.
WHY FLYTEBIKE™?
Broadway Star turned serial inventor, Robin Palmer, couldn't stand just sitting there for one more minute during her day. She says, "Necessity has always been the mother of my inventions. I asked myself, 'What if I could fit in my fitness during my work day? What if I could prevent cabin fever, blood clots and jet lag right from my seat on an airplane?"
Sitting is the New Smoking. Have you ever added up all the time you spend sitting every day? Most of us sit at work all day and then go home and sit three to four more hours every night in front of a computer, laptop or television screen. It's easy to see how most people could spend up to fourteen hours a day in a sedentary seated position. Sitting all day has taken a serious toll on our health and bodies.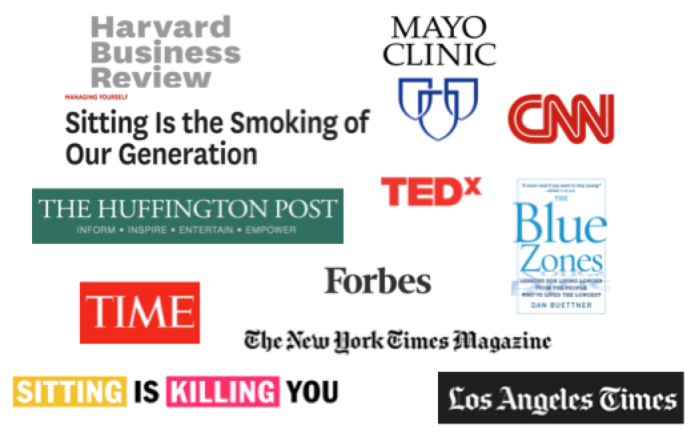 Has Flying Got You Down? Blood clots affect 900,000 Americans and kill 160,000 of them every year. Flying is a leading cause, due to sitting for hours in cabin pressure, which restricts the flow of oxygen. Palmer says, "Personally, when I hit the 4 hour mark on a long flight, I couldn't stand just sitting there for one more minute and getting up to stretch my legs wasn't always an option. I've done 12 successful test flights where FlyteBiking prevented cabin fever and jet lag! Also, surprising but true: TSA agents have never once mentioned or inspected my FlyteBike bag and flight attendants and passengers don't even notice I am pedaling in my seat!"
It's All About the Blood Flow. Research shows that pedaling is the perfect way to pump blood to your brain and throughout your body. Pedaling for just a few minutes during your day boosts your mood and your metabolism!
Just like strolling on the treadmill desk, the goal is gentle movement to oxygenate your blood. Don't worry, you won't be sweating at work or on the plane… unless, of course, you want to!
FLYTEBIKE IS NEAT™ CERTIFIED
NEAT™ stands for the science of Non-Exercise Activity Thermogenesis, developed by Mayo Clinic.
WHERE CAN YOU FLYTEBIKE™?
You can feel better, lose weight and live longer by pedaling just minutes a day anytime, anywhere – at work, at home, on the go – even on long flights! ​​
Successful business owner increases productivity at work.
Bestselling author, speaker and success expert, Debra Poneman, loves burning calories while she works.
Stay fit with FlyteBike on vacation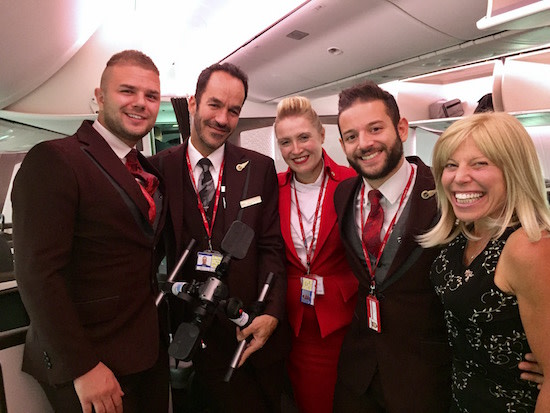 Prevent Blood Clots and Jet Lag on Long Flights
FLYTEBIKE™ FEATURES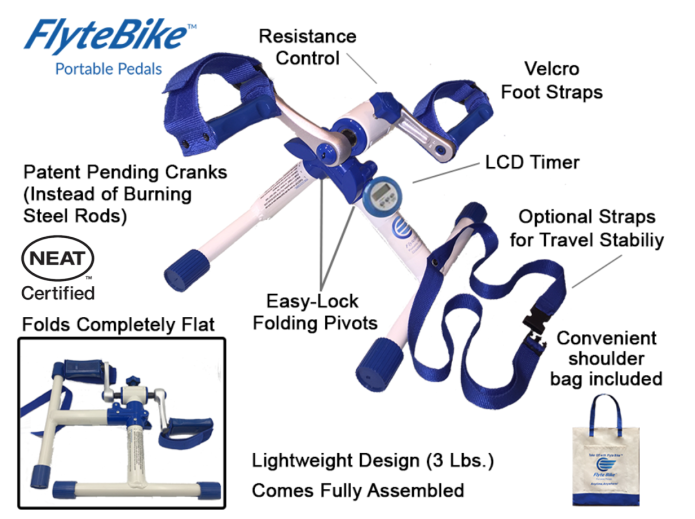 WANT TO TRACK YOUR PROGRESS AND SAVE MONEY?
FlyteBike's optional Smart Pedals™ have a built-in sensor and tracking app. Health insurance and corporate wellness programs provide discounts for employers and employees who to track their progress.
FLYTEBIKE™ MOBILE APP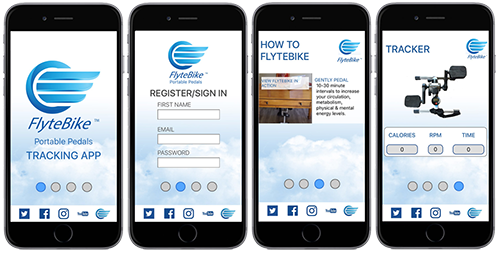 With FlyteBike™ Smart Pedals™ and its mobile application, users will be able to track their progress. With exercise tips and calorie tracking, FlyteBike™ users can stay on track with their wellness.
LIFT YOUR MOOD & METABOLISM – ANYWHERE, ANYTIME!
Senior increases her blood flow and energy right at home.
Inventor prevents blood clots in her hotel room after a long flight…
and speeds up her metabolism in the passenger seat on long car rides!
Former Broadway star, Robin Palmer, FlyteBikes while singing her FlyteBike song
OUR PRESS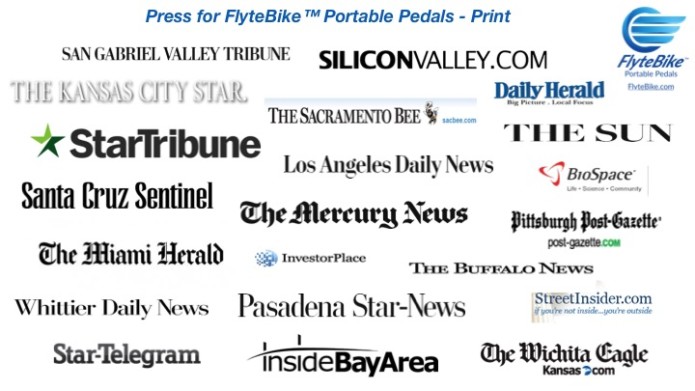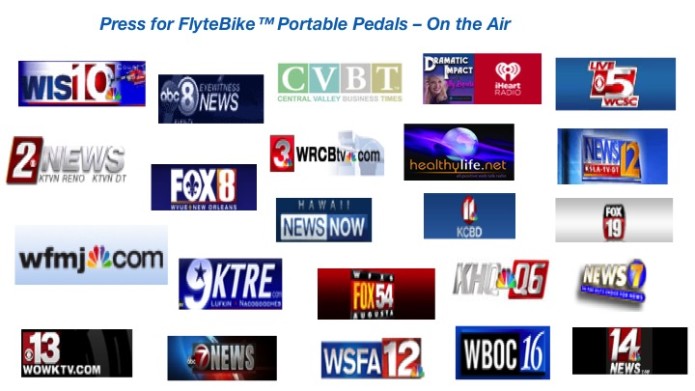 ABOUT US
ROBIN B. PALMER-FOUNDER & INVENTOR
FlyteBike™ Portable Pedals was invented by serial inventor and former longtime Broadway star, Robin Palmer. As Robin Boudreau (her maiden name), Robin played Linda Ronstadt's little sister in "The Pirates of Penzance," co-starred with David Cassidy in "Joseph & the Amazing Technicolor Dreamcoat," and sang Memory in "CATS."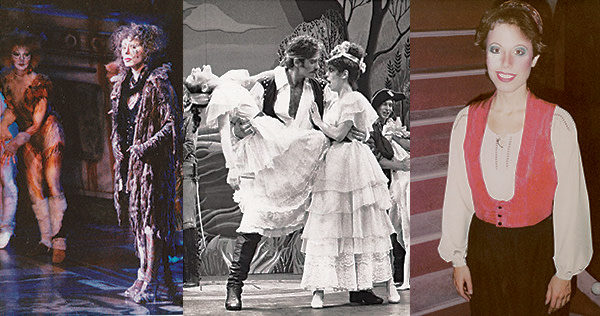 Robin also invented My Wake UP Call® Motivational Alarm Clock® Messages and My Good Night Messages™. Now licensed by Audible (Amazon), these messages contain over 100 hours of patented digital content featuring the Dalai Lama and other thought leaders who wake you up to the life of your dreams. (Apps, Mp3s).
Over the past year, Palmer has FlyteBiked at home, at offices around the country, and has enjoyed 12 successful "test flytes" around the world in first class, business and coach.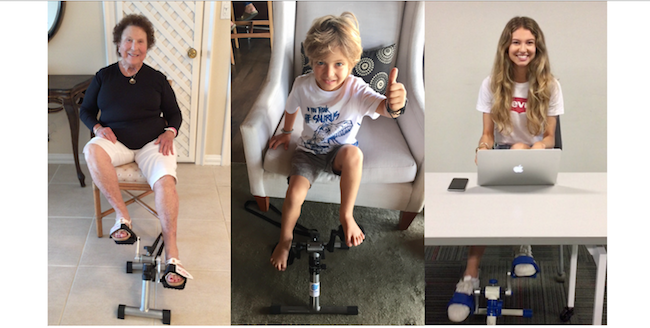 Feel Well at Any Age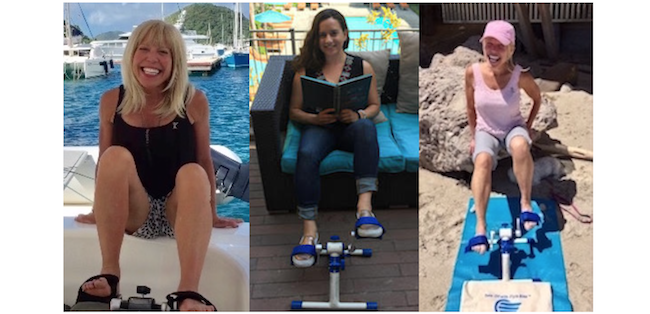 Boost Your Metabolism on Vacation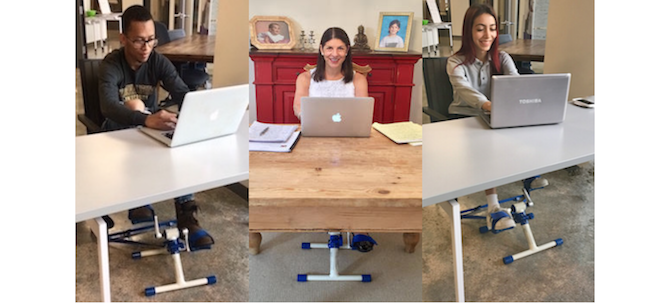 Increase Energy & Productivity Right at your Desk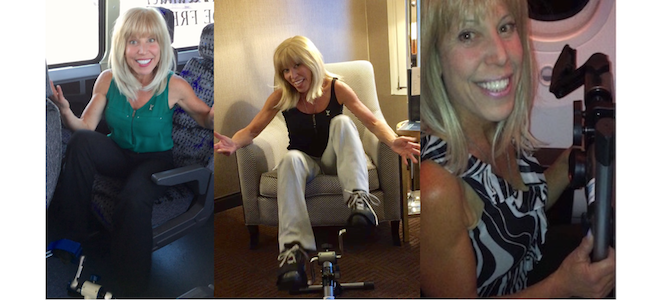 Burn Calories on your commute, at Hotels & Resorts, Even on Long Flights
 
OUR FLYTEBIKE™ ALL-STAR CREW
The FlyteBike crew combines decades of experience in innovative product development, manufacturing, and health and fitness. Our team includes Dr. Neil Paton, an MIT PhD with 30 aerospace alloy patents who helped to build the US Space Shuttle!
FlyteBike™ is Patent Pending and Trademarked.
FlyteBike Crew
Our All Star Crew. We create innovative products that change lives
Robin B. Palmer – Serial Inventor, Founder, CEO With licensed IP to Jimmy Fallon & Audible (Amazon), 100 hours of Patented Digital Content, Mp3s & 14 Apps – My Wake UP Call® Motivational Alarm Clock®, My Daily Inspirations™ & My Good Night Messages™. Former longtime Broadway Star (as Robin Boudreau)
Daniel Price – Connected IoT Prototyping, digital partner for IoT iterations
Ronnie Roy–Corporate Attorney-Partner,DME Law, LLP
Jamie McKeown–Chief Marketing Officer
ADVISORY BOARD
Dr. Neil Paton–Prototyping —MIT PhD, Space Shuttle build team, inventor with 30 patents for aerospace alloys
John Milliken–Prototyping—Retired Delta Airlines pilot of 30 years
David Heroux-Director at NFP Retirement, serial investor
Debra Poneman-NYT bestselling author, Founder, Yes to Success, Inc.
Mike Panesis-

Executive Director, Cal Lutheran Center for Entrepreneurship & Hub101, Tech Coast Angels

Ava Laven-President, Laven & Loeb, CPC, Former LifeMate VP

FlyteBike™ has been hand picked for Arrow's Incubation Program