Foil Decor:Decorative Serving System for Foil Pans | Foil Decor gives you the look of a casserole dish, but made out of plastic!
Which would you serve with? … a foil pan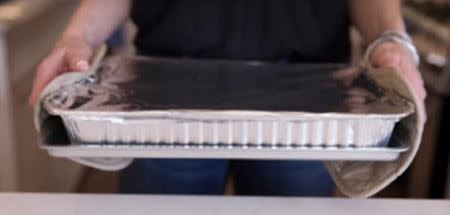 Or Foil Decor?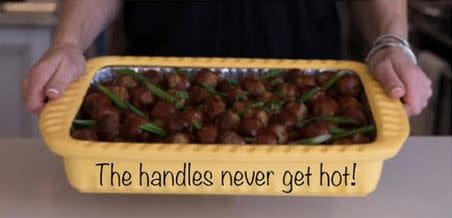 And…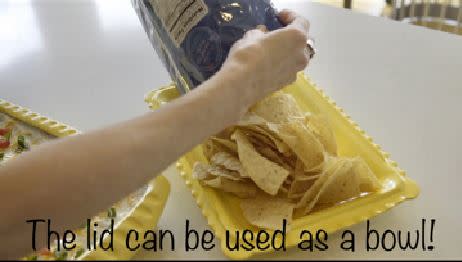 Foil Decor – Any Occasion, Any Season
Foil Decor has three plastic components that work as a system. Foil Decor eliminates the need for support alternatives such as cookie sheets or trays and the use of glass casserole dishes. It's a tasteful and more convenient way to utilize disposable foil pans. It is economical because it is reusable.
How Foil Decor Works:
The BASE gives the pan stability and support. It has handles for easy carrying from home to the car, and to your destination (No more second cookie sheet or tray underneath).
The RING secures the foil pan, making it easier and safer to transport (no more hot pads or messy spills)
The LID/BOWL helps to maintain the temperature of foods, and once removed, can be inverted to use as a bowl (when serving a favorite dip)!
Note: The prototype is Yellow. Initial colors are Red, White, Yellow and Blue. Yellow and Blue will be available early 2020.

It is convenient for family gatherings, holidays, special events and tailgating parties where hot or cold food is served. When it's time to go, simply remove the foil pan from the Foil Decor system, leaving the leftovers with your host or hostess. Then simply take your Foil Decor home to use another day, or leave it as a gift.
Why did Sabina Miller
Invent Foil Decor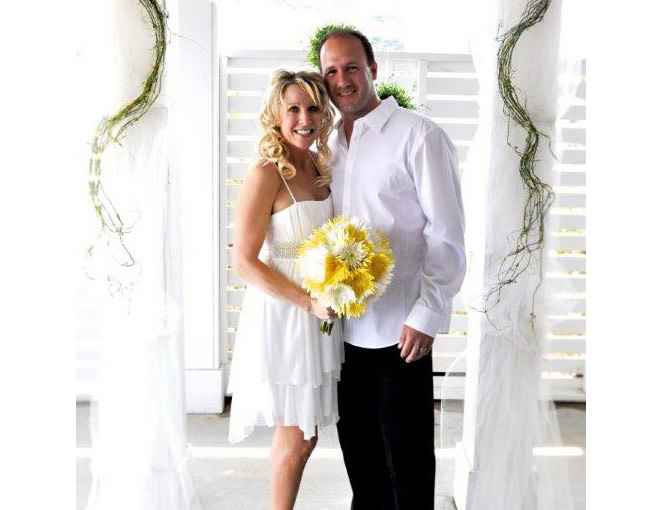 I came up with the idea and concept of Foil Decor while planning my wedding. I wanted something more Decorative than plain foil pans and more convenient than glass casserole dishes. I couldn't find it, SO I INVENTED IT. I realized that this was a special time for both of us. So I wanted something elegant. Plain dishes and cold looking metal warmers did not fit the mood and experience I wanted.
As time went by I believed that others also needed something for their special occasions. I had the vision of what I wanted. With the assistance of a patent attorney, I established multiple utility patents for the idea. The name Foil Decor fit the function I wanted it to be but also the elegance it needed to represent. A trademark registration has been filed for Foil Decor.
While designing Foil Decor, I did not want a plain looking serving system. I want people to look at the system and think this has the look of an elegant table setting, but not expensive to purchase. More importantly I want the users and their guests to believe this is an elegant presentation of delicious food.  Smooth surfaces with a flat top would not be an elegant looking dish. Part of the inspiration was to have a domed lid and scalloped edges. Foil Decor is today what I envisioned.
Our History


The Goal
Our goal of $20,000 represents the funds needed to cover final payment for the order in December 2019.  We have self-funded all costs for initial startup expenses, mold development and upfront order costs.  Since this is a pre-order campaign, you benefit with the reduced price or FREE Shipping that will not be available for others after the launch in December 2019. Prepare for the Holiday gift given season now. At launch we are on track to receive the product in early December 2019 – this year!.
MEET THE TEAM
(Sabina, Stephen, Rand)

Sabina Miller:  Founder, inventor, manager, and driving force for the idea.
Steve Miller:  Founder, Board Member.
Rand Walker: The planner and marketer – his business and management skills ensure that the business employs sound business practices.
Here is How You Can Participate
Purchase from the array of Perks that fits your needs and your wish to support Sabina Miller's business, passion and dream.
Back us with a donation of any amount by clicking on the BACKERS link
Like us on Facebook directly from the link below
TWEET to the world to let them know about Foil Decor
Refer us to your friends
Use the link above to send comments to us to let us know how we are doing
Foil Decor™ Company
Foil Decor is an innovative developer of products that impact women and families by improving the experience of serving food for social events. Foil Decor is the holder of three patents  on the Foil Decor serving system. At the INPEX Invention & New Product Exposition, Foil Decor received a 1st place award in the kitchen category.