Freedom Cycle Hydration System … Bike bottle | A new way to carry your water bottle in fact anything on your bicycle. Perfect for Female Cyclists
The Freedom Cycle System is finally available for you to pre-purchase here at Indieagogo!
In October 2012 the concept of the Freedom System was overwhelmingly voted as the Invention of the year at Australia's premier invention awards, only weeks later it was honored with runner up at the prestigious Sydney Design Awards Since then it has been trial and error, error and trial. But the long road of testing and retesting has delivered a worthy outcome.
The thing is with this System, the only true way to understand it's benefits, is to try it!
So, for as little as the price of a few cups of coffee or some Chinese takeaway you can be the first in the world to try this award winning system.


The What
We didn't invent freedom….but with our system we have made it possible for cyclists to enjoy it on their rides.
Freedom is a storage solution for cyclists.
The best place to carry anything on your bike is in the 'TRIANGLE' it's as out of the way as it can be on a bike, it lowers the centre of gravity and is easily accessible during your journey.
So we developed a solution to maximise the potential of this position.
The Why
The existing bottle and holder contains many 'Embedded Deficiencies'. Born in the early 1900's the bottle and holder witnessed many changes in frames, wheels, bars, tyres and much more. Yet the bottle and holder remained unchanged.
As it is. It is difficult to remove, replace and locate. It still scratches and damages every bidon we grow to like and of course it can only hold a bottle and that bottle can only be round!
We can do better!
The How
Let's keep it simple, we needed a system that could carry a round bottle where it has always been carried. But we needed a system that could be versatile and give us FREEDOM in design. The best way to achieve this was by internally fastening our bottle or element, rather than the prohibitive external cage that was full of constraint. With internal fastening, we could mount almost anything in the 'TRIANGLE'
Our pin would be 12 times smaller than the hole that was to receive it, making it easy to locate and replace. our pin would be designed with a unique holding system that would have different tensions for different rides.
Our System would be clever.
The When
The When is now…clever and growing, now available on Indieagogo. The system that has been tested by an Olympic Gold Medalist, Urban cyclist and everyone in between, and all giving us the same glowing endorsement.
It is different, yet so was the cageless pedal, the balance bike and even the smartphone.
Freedom Cycle System
Future Elements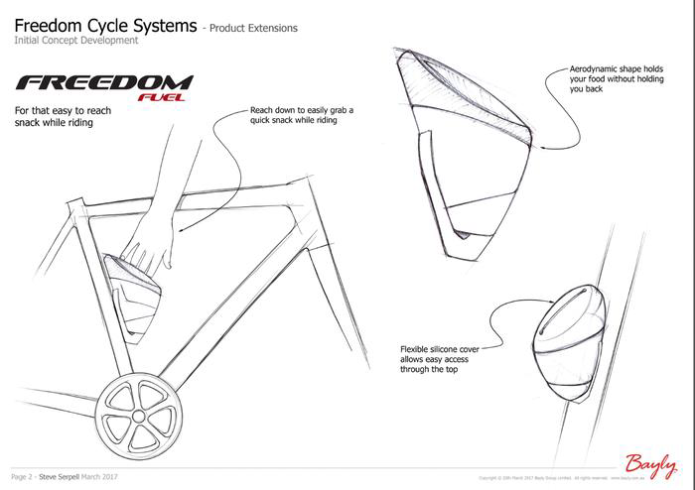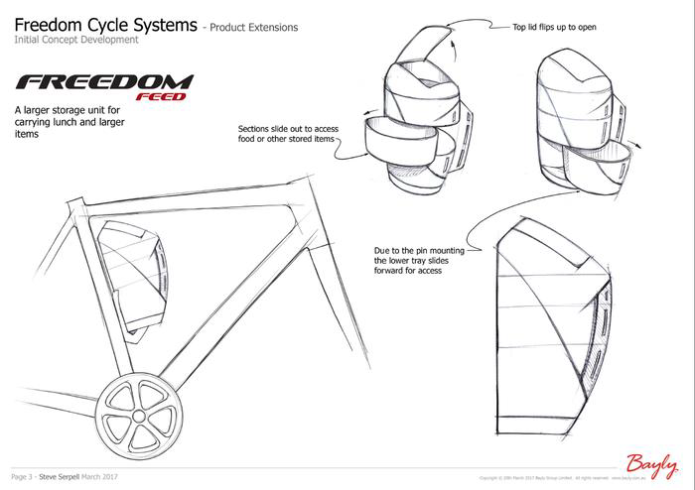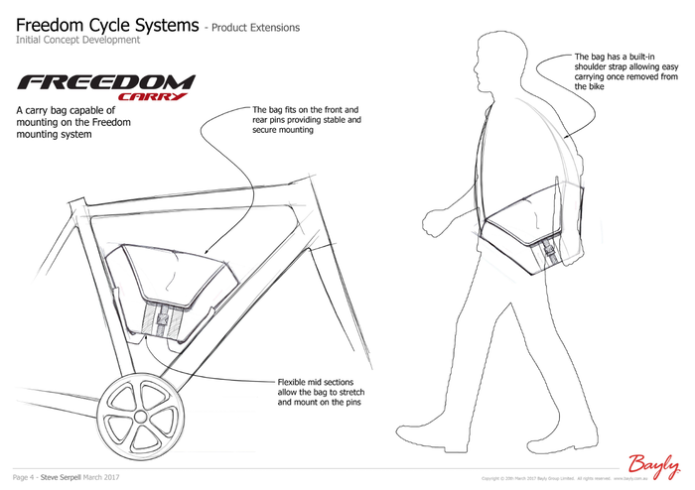 Wind Tunnel Results
The below graph illustrates clearly the aerodynamic benefits of a cageless bottle system. Remove the cage and the bottle drag (Aero or Round) is reduced significantly.