G-PRESSO:Make cold brew and hot brew espresso fast | In 4 minutes have delicious espresso made with cold or hot water! For every coffee!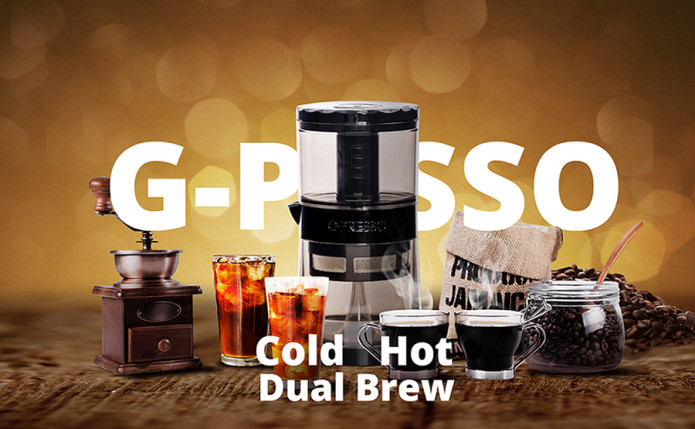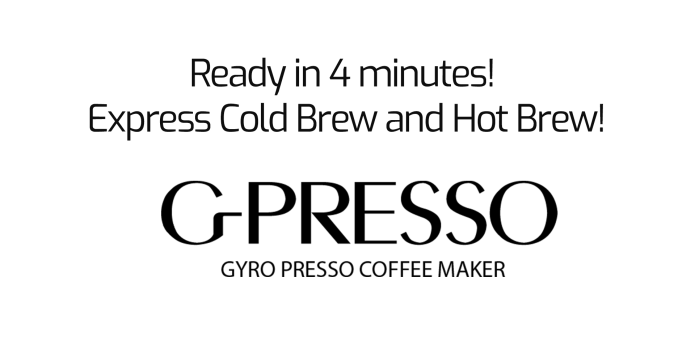 G-PRESSO is a coffee maker that can quickly extract deep-smooth coffee with cool water (COLD BREW) using a gyro pressed extraction method that releases the best flavors in coffee.
Using the COLD BREW gyro-pressurized liquid extraction system, quickly steep 3~5 servings of coffee espresso in just 4 minutes.
Fresh beans are extracted with water at room temperature (COLD BREW) in four minutes, which features a rich crema, a deep body taste and a small amount of acid. It also has excellent sweetness and flavor and can extract soft coffee from the beginning to the last drop.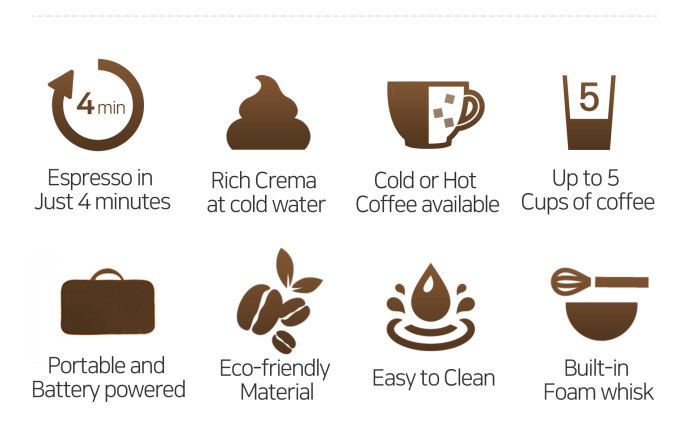 Water flows down into the spinning basket and is pushed through the coffee grounds and filter by gyro force. This is what makes G-Presso truly unique! Unlike any other coffee maker!


Steep the coffee grounds for 4 minutes rotating up to 2500 rpm with cold water (COLDBREW). This pressed extraction process uses centrifugal force to make rich crema. It also enhances sweetness and flavor, which is the main advantage of low temperature extraction, by controlling the water flow and pressure, enabling neat coffee steeping. 

Our exclusive pads allow quiet extraction by blocking minute vibrations and noise generated during cold brew steeping and are a hygienic resting place for components such as the filter basket.

Adopting 3 AA-type batteries which are available to use safely and easily anywhere in the world, it's portable to carry anywhere such as home, the office, and outdoors. Utilizing magnetic levitation technology, friction from spinning is minimized, so the battery sustains longer, making it an efficient coffee maker.
(※ 100 times of steeping is available using 3 AA-type batteries / Different according to battery brands)

Activated when the control stick upper panel is touched with 'one touch,' and the blue LED flashes, automatically stopping after four minutes. If any problems are found during operation, it is paused with one touch, and after touching it again, the process resumes.

Brewing is carried out for a maximum of 3 minutes and 30 seconds, followed by a drying step for 30 seconds. Depending on the amount of water used for extraction, the operation time can be paused when the user desires.
(※When 150ml is steeped, the spinning stops after touching it for one second after extracting for 3 minutes)    

Extract water through a simple and hygienic way by using the lid to turn the control stick closed, then turn slightly in the open direction to allow water through the micro channels.

Using the milk whisk, which combines with the control stick through magnetism, various menus containing milk such as lattes and cappuccinos can be made.

Any possibilities of external air contamination is minimized through an organically-combined structure, also the rich taste and flavor are maintained during the process. Especially, it has no suspected environmental hormone bisphenol-A (BPA Free) using the eco-friendly, sanitary material Tritan, making it safe, durable and heat resistant. (Filter basket's PE lid only)

Through a triple bonding microfilter using stainless materials with excellent resistance against corrosion and acidity, it inhibits the extraction of any redundant fine particles and reduces the negative extracts to give you neat, body-rich coffee flavor and taste.

01. Cleaning
02. Grinding the Beans
03. Putting the Ground Beans in the Filter Basket 
       (Up to top boundary line of the filter)
04. Making the Ground Beans Evenly and Patting them 
       (Using Tampers)
05. Combining the Upper Water Tank and Control Stick
06. Placing the Filter Basket on the Central Tower of the Server
07. Combining the Upper Water Tank with the Server
08. Pouring Water in the Water Tank and Closing the Lid 
       (Check the lid closed before pouring water)
09. Turning the Lid Open after Touching the Power Button 
       (wait for 5 seconds)
10. Start G-PRESSO Steeping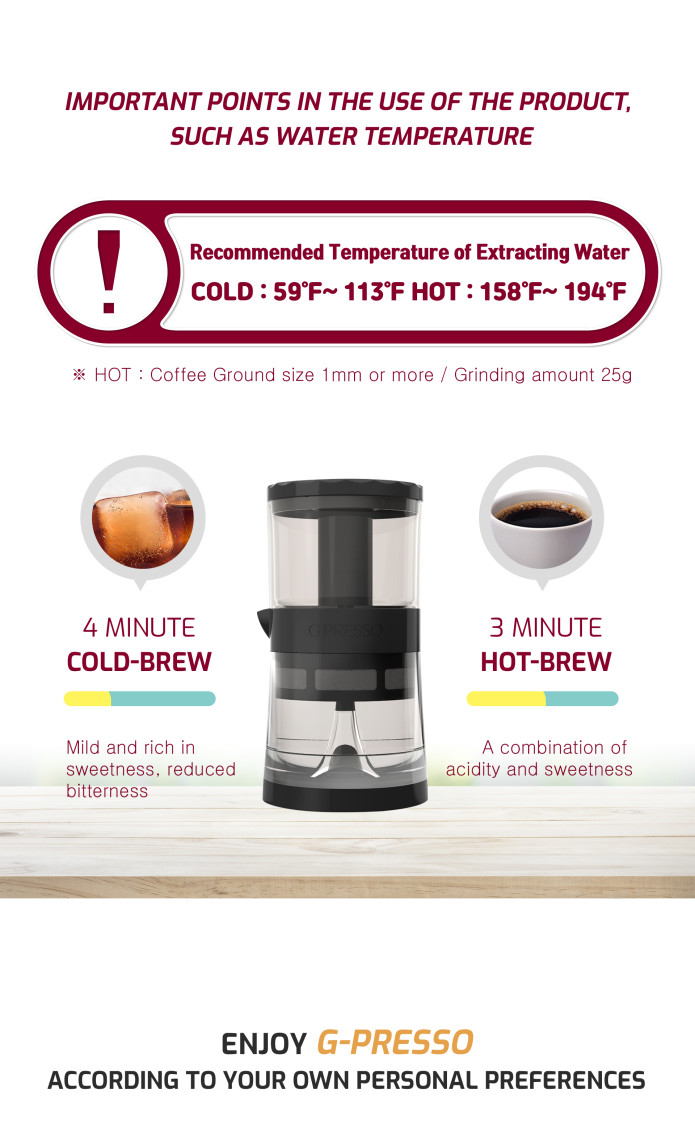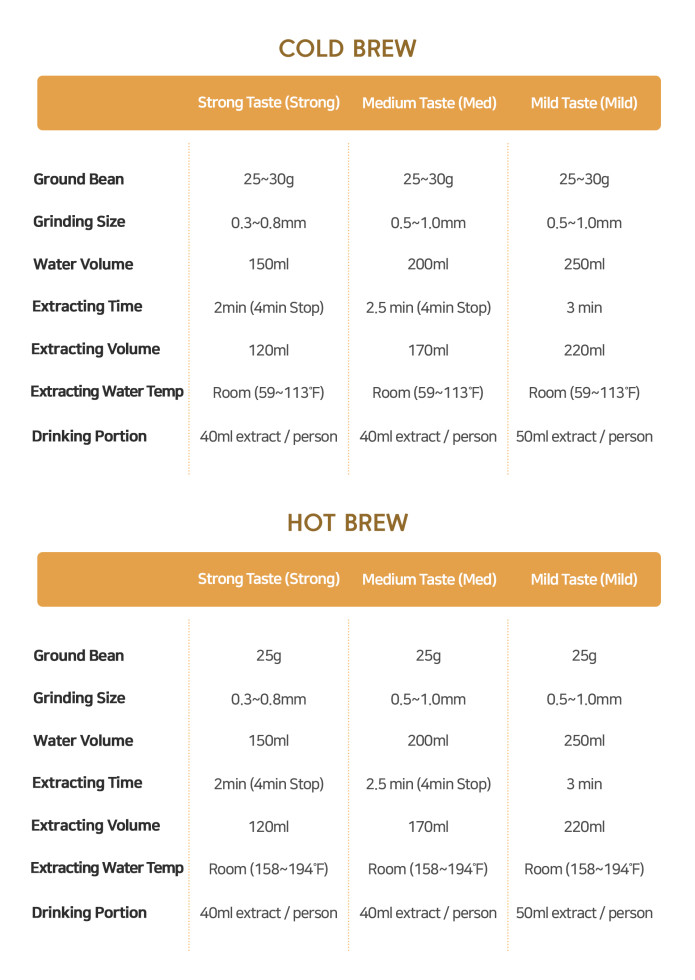 – Adjusting the coffee grind and the amount of water changes the taste depending on your  preference.
– The amount of ground beans can be adjusted between 28 and 32grams, and depending  on the amount and the roasting strength, there may be a change in flavor.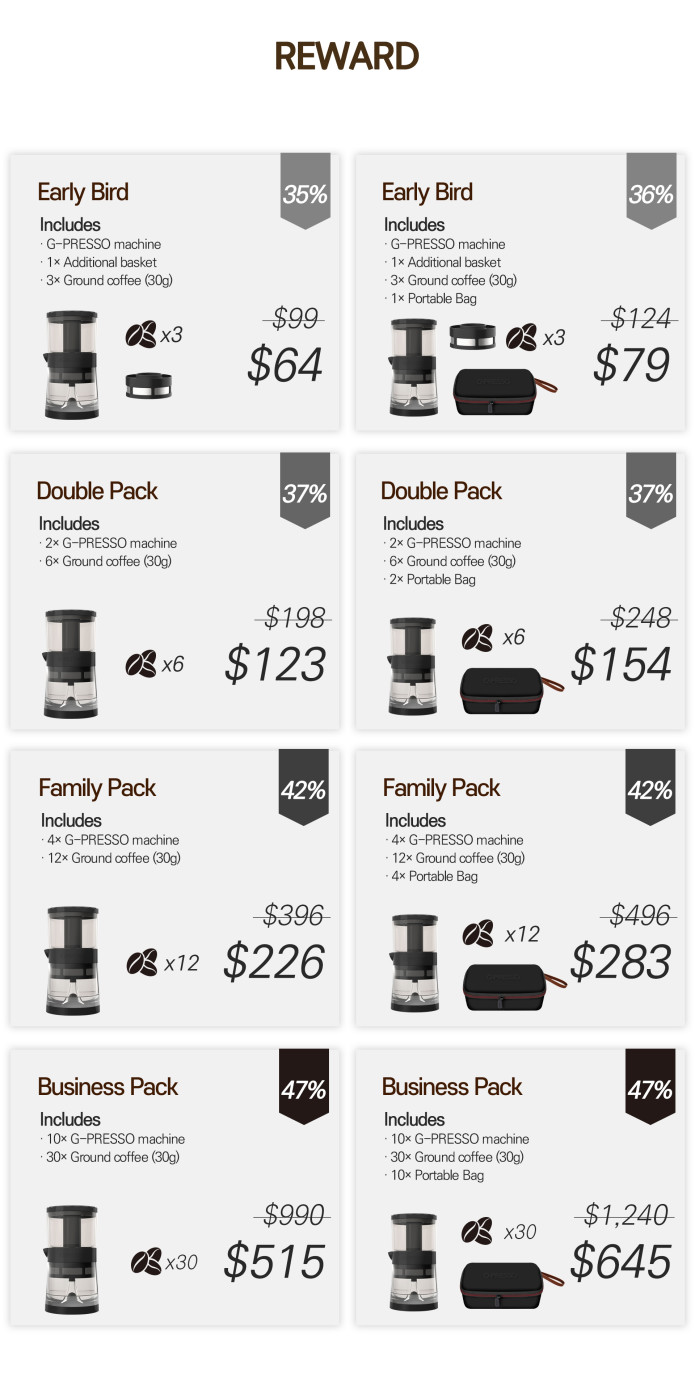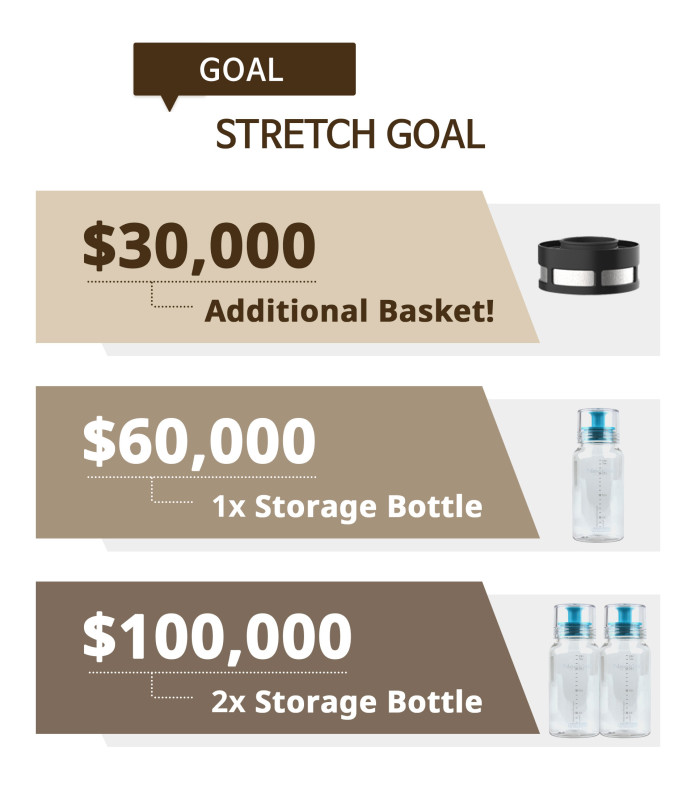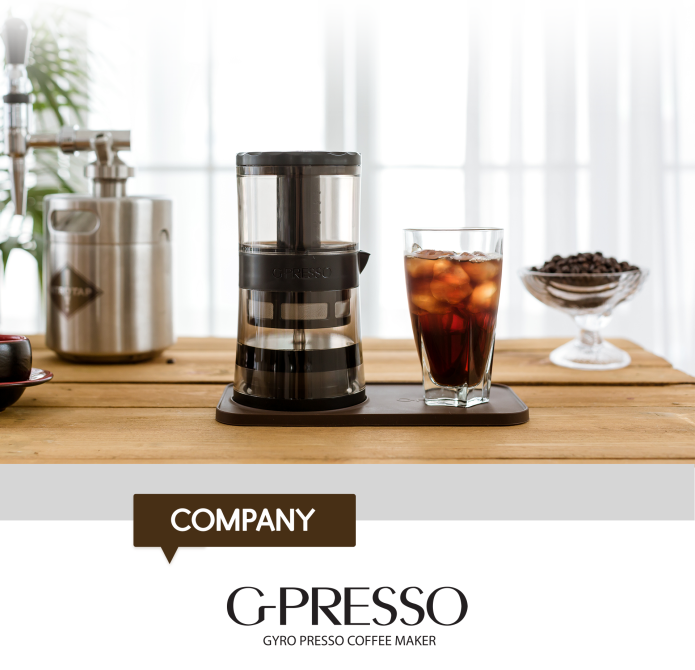 Our company was established in March 2016.
We secured two National New Excellent Technology (NET) awards by researching and developing shock wave cleaning technology and electro-degradation sterilization technology and developed a sterilizing device (SPARKLIN) for the beverage distribution system using this technology and automatic sterilization of non-contact harmful bacteria (Blue Aile).
Currently, products are mass-produced and marketed for commercialization of our magnetic levitation centrifugation-type coffee extractor (G-PRESSO) that has been subsequently researched to advance into the global coffee market.
As mentioned above, our company aims to secure 60 intellectual property rights at home and abroad through continuous R&D and to grow into a global unicorn company by developing new products for food hygiene safety management and national health promotion.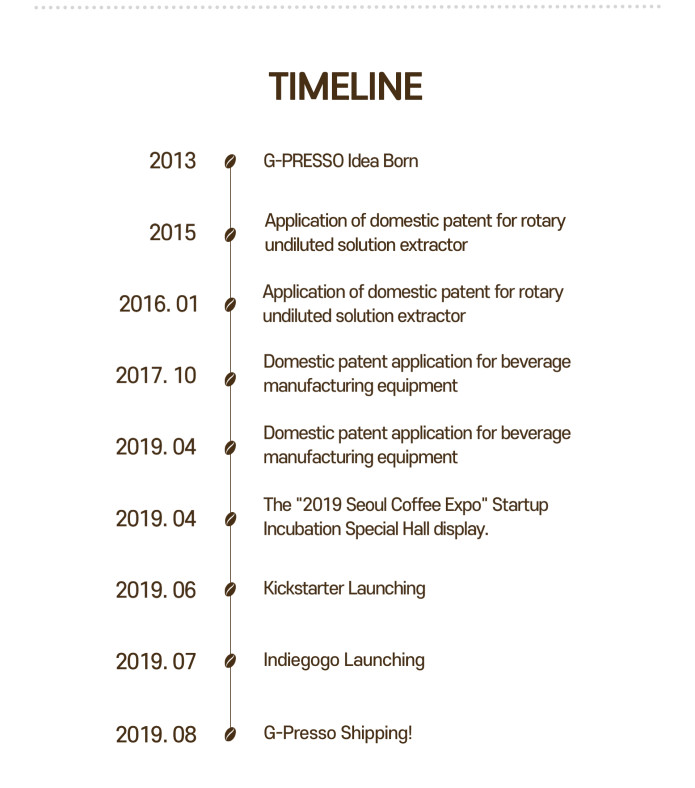 What is the most type of water to use?
Coffee is made up of 98% water and about 2% coffee. It is recommended to use water purified or bottled water for making delicious cold brew.
What is the most suitable temperature?
G-presso can extract coffee at different temperatures (59°F to 194°F) from cold water to hot water.
Each cup of cold and hot coffee has its own unique flavor, so you can make it according to your taste.
How is coffee extracted at high temperatures different from coffee extracted at low temperatures?
– Coffee extracted at low temperatures loses its bitterness and becomes rich in sweetness. So the sweetness of the acid-deficient softness makes coffee harmonious.
The method has a slower oxidation rate than the hot extraction method and has no heat-induced deformation.
– At high temperatures, the flavor of coffee is quickly oxidized.
Because of rapid oxidation, we make delicious coffee with a combination of acidity, sweetness, and bitterness.
What kind of beans should I use?
The taste of coffee depends on the type of beans, roasting strength, and the grinding sizes.
Please use good-quality coffee beans and refer to the recommended grinding size diagram(0.3~0.8mm/moka pot grinding chart)
Higher than 'high roasting' is recommended when it comes to roasting.
What would be the proper ratio of coffee to water when mixing them?
Please adjust depending on your preferences. 
You can extract 3 to 4 servings when extracting 200ml.
Per serving basis, 150ml / Coffee concentrate 40ml + Water 110ml (4 servings)
Per serving basis, 200ml / Coffee concentrate 50ml + Water 150ml (3 servings)
How should I clean G-Presso?
Simply remove the cap from the filter-basket. Shake out the coffee grounds, and then run a hot water cycle with the filter-basket cap removed. This will remove any trace of coffee oil.