Geco Hub – Effortless Storage for Everyday Stuff | Holds your things 5 different ways, customisable, modular & with screwless installation option.
A Place For The Things That Matter
Preorder your own Geco Hub(s) to save money & help us reach our goal ☝️
Or read on to find out how Geco Hub could help you get organised at home.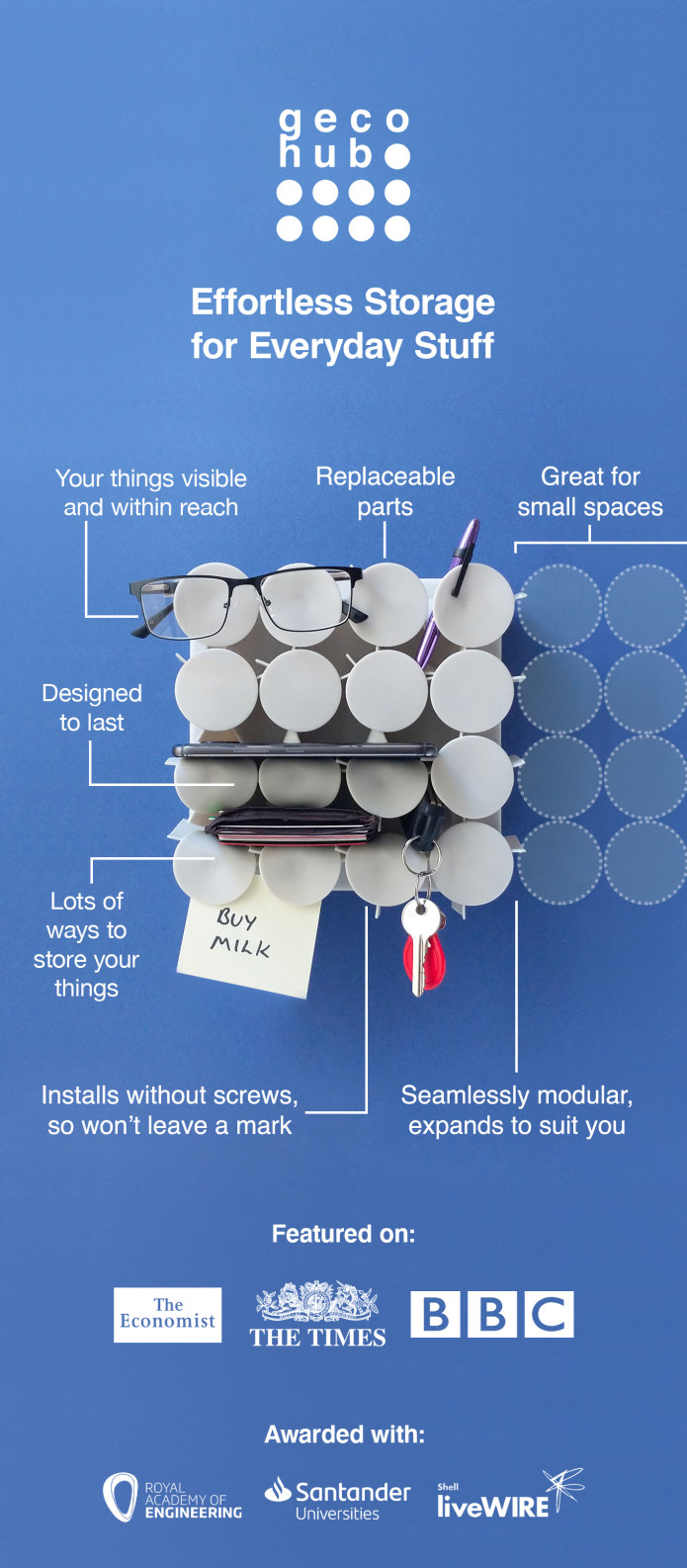 Part storage unit, part notice board, Geco Hub is flexible and adaptable. You can organise your things where you want them, in a way that suits you.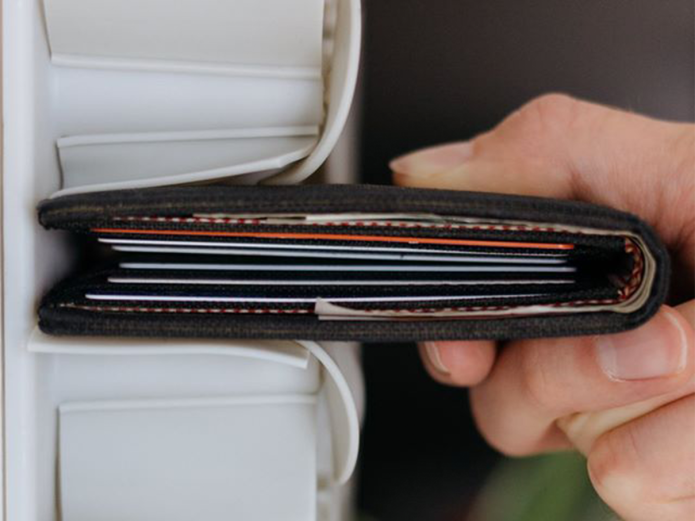 Whether it's sorting stationery at your new home office or getting your kid's toys off the floor in a fun way, Geco Hub has you covered.
Whatever it is, Geco Hub can hold it.
Your stuff is secure with Geco Hub's adaptive rubber matrix
Geco Hub's patented flexible matrix adapts to instantly and securely hold your things, whatever shape or size they are. It's quick, fun and intuitive.
What Can You Store In Geco Hub?
Here's a bonus video where I demonstrate how Geco Hub can hold a wide variety of different items you might use on a regular basis.
What Sized Items Can Your Store in Geco Hub?
In this bonus video recorded just before the campaign launched, Simon demonstrates just how big an item Geco Hub can hold.
Your Things, Where You Need Them, When You Need Them
Geco Hub separates your important things from the day-to-day clutter and ensures you never have to search for important stuff again.
Whether it's for your:
e-book reader ? and reading glasses ? by the bed,
headphones ? and your running watch by the door ?‍♀️,
your kids' toys… so you don't stand on them) ?,
or your favourite tools for cooking up a storm in the kitchen ?,
Geco Hub keeps your important things in easy reach, so they're there where and when you need them.
Remove surface clutter and keep your belongings safe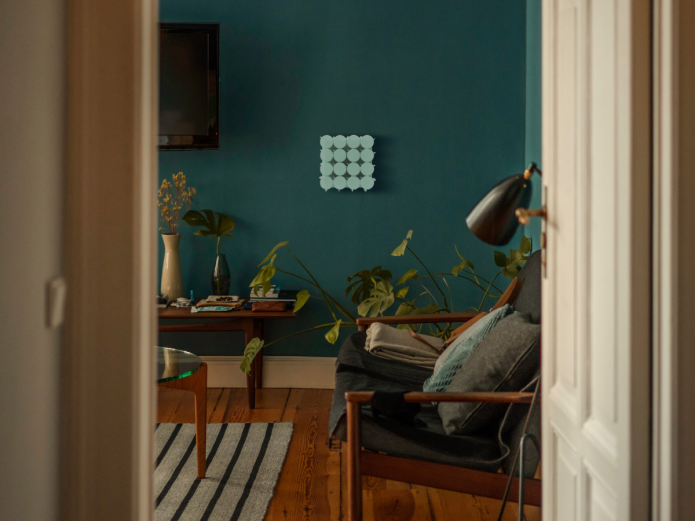 Install Geco Hub wherever you find yourself reaching for stuff.
Geco Hub might be small in size but not in spirit. It packs the punch of larger organisers, all whilst staying close to the wall, making it perfect for smaller living spaces. Its small size means it can fit on wall spaces other organisers just can't too.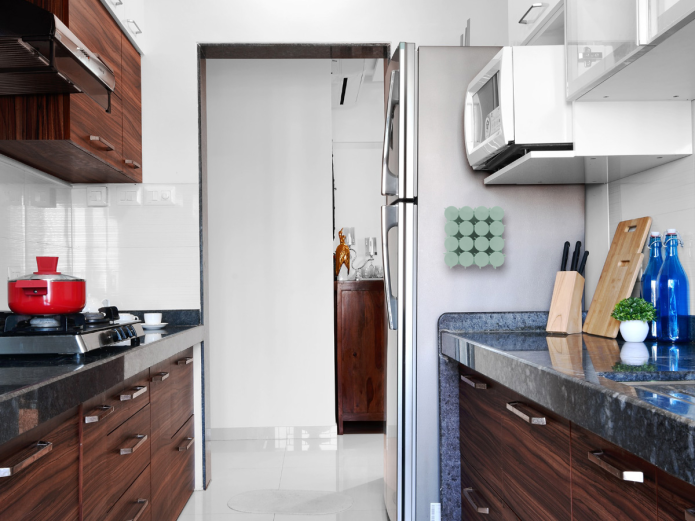 You can mount Geco Hub to all sorts of surfaces…

Installs Effortlessly
The thing that sucks about wall-mounted storage is mounting the damn thing on the wall in the first place! No need to worry about that with Geco Hub.
Stick the optional adhesive strips onto the placeholders on Geco Hub's backboard.
Geco Hub installs in minutes with strong, yet removable, adhesive strips (available as an add-on) or using the included screw fixings for something more permanent.
Take off the outer tape and stick Geco Hub on the wall. Easy as 1, 2, 3.
The option of using adhesive strips or screws means you can mount it to tiles, glass, brick walls, plaster walls, wooden furniture and even the side of your fridge. Wherever you want.
Whatever the surface is, chances are you can fix Geco Hub to it.
These optional adhesive strips won't mark the wall either, keeping you and your landlord happy. If you want to remove them, just pull the tab down and away. They're strong too, meaning you can fill Geco Hub with up to 2.5kg/5lb of things.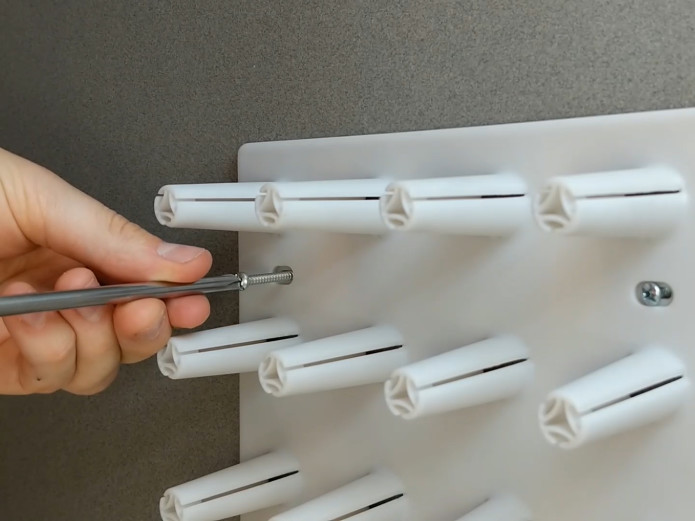 Use the screw fixings included with your Geco Hub to screw it to the wall.
Screw fixings come with Geco Hub as standard, and adhesive strips are an optional extra. To get adhesive strips with Geco Hub just add £3 to your pledge.
Remove without leaving a mark. These adhesive strips are available as an add-on.

Easy To Clean
Geco Hub doesn't need cleaning any more than other wall mounted storage like shelves or cabinets. But if you do want to clean it, it's easy! You just wipe it down with a damp cloth, or remove the silicone rubber parts and put them in the dishwasher.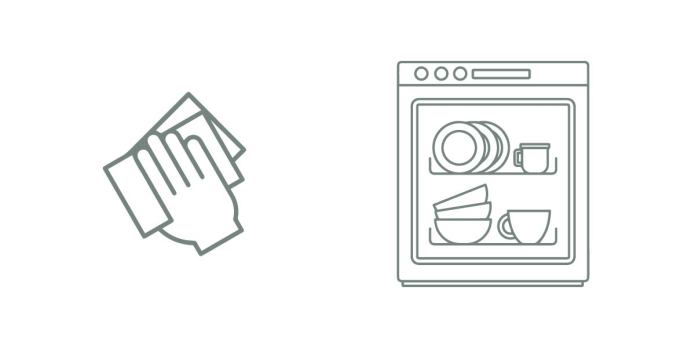 Geco Hub's rubber parts are made from silicone rubber, the same non-stick, stain-resistant rubber used in kitchen utensils and cake tins, so you can rest assured it'll stay looking sharp for a long time.
Geco Hub in the Press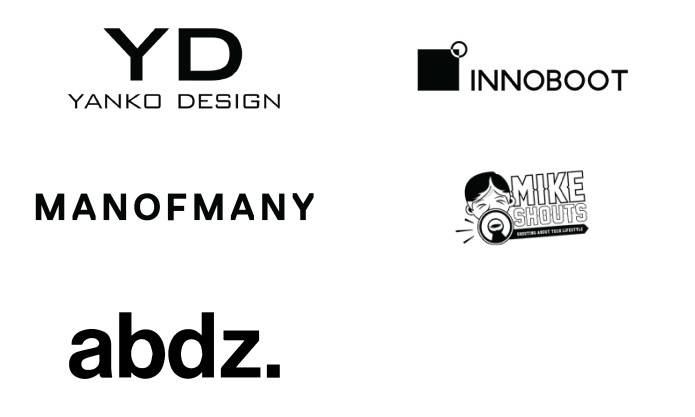 Want to feature Geco Hub? Download our Media Kit by clicking the button below or get in contact with us at kickstarter[at]version22[dot]com.

Tag a few Friends who Would Love #GecoHub
If you can spare a second, consider sharing the #GecoHub campaign online and tagging a friend or two who would love their own.
Think about it, you'd be helping the campaign and doing your friends a solid too ?‍?‍?




Grows to Suit You
You can tile Geco Hub together to expand your storage space as much as you like.
You could fill an entire wall with Geco Hub if you wanted…
What's more, the gap between each Geco Hub becomes another storage space for your things.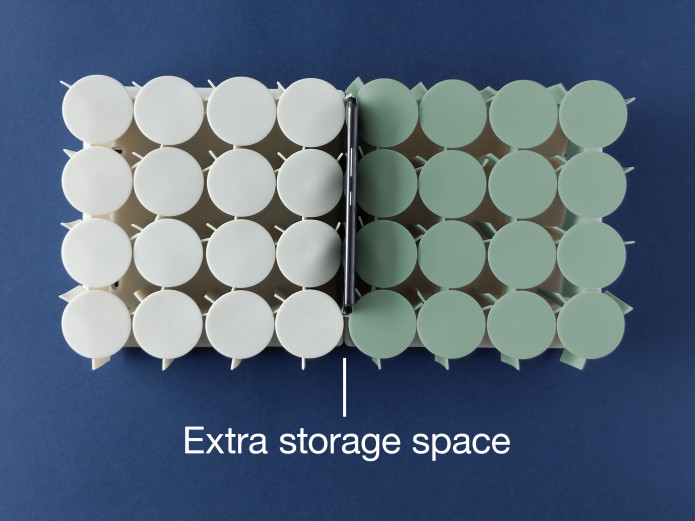 The space between two Geco Hubs becomes another storage spot.
So whether it's for…
A big, shared hub for the family
A long notice board and organiser for the hallway
Quirky toy storage in the kid's room
… Or something for that awkward space you've been scratching your head over, Geco Hub has it covered! Check out the rewards further down.

Rows, squares, rectangles, zig-zags, checkerboard. The list of shapes you can make goes on…
(Note: this GIF is a digital rendering, as we only had two final prototypes at the time of launch.)
Get Creative With Geco Hub's Colours
Geco Hub comes in two different colours, light grey and blue-green. 
(Note: You get to choose which colour you'd like after the campaign ends, so there's no need to make a final decision when ordering.)
Blue-Green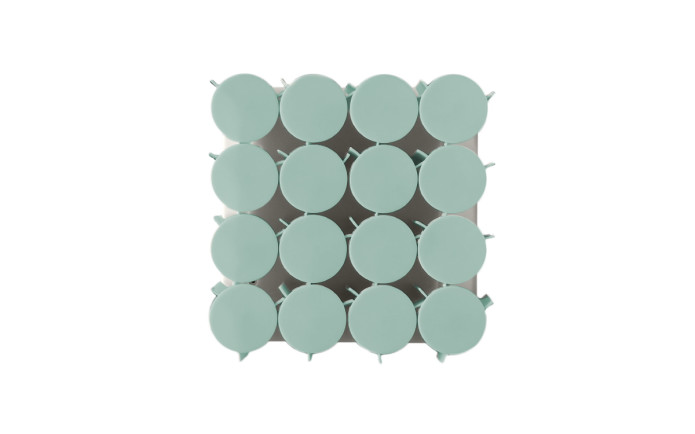 Light Grey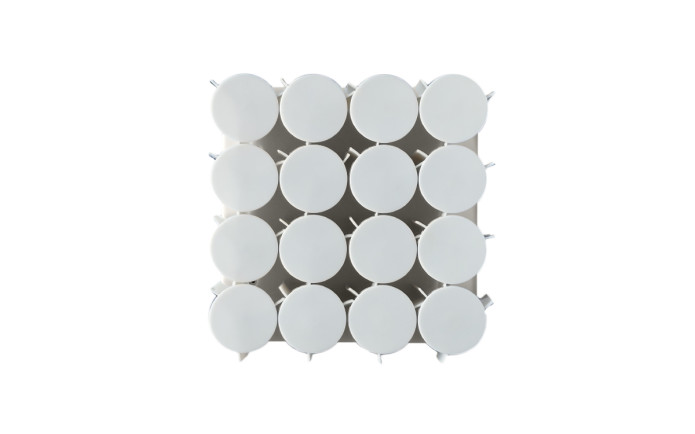 All of Geco Hub's flexible parts are easy to install by hand, without the need for any glue. They can be swapped out at any time…
Geco Hub's rubber parts are easy to assembly and swap
… This means you can create your unique designs!
Just a few of the countless designs you could make with 4 Geco Hubs

Add-ons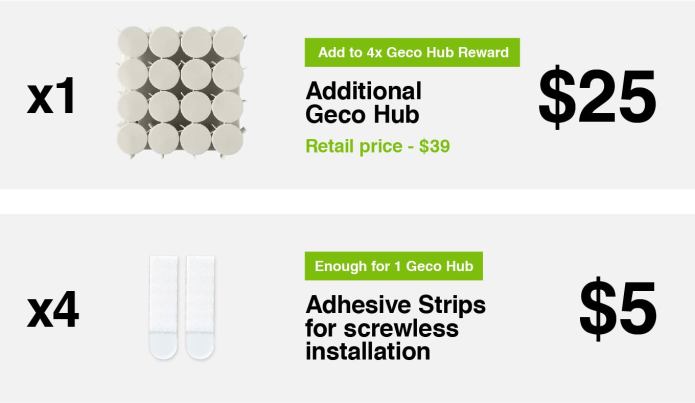 You can add extra Geco Hubs or screwless installation to your perk whilst ordering.
Durable Materials
Geco Hub's backboard is made from ABS, the same durable and tough material used in power tool casings, LEGO bricks, the keys on your keyboard, and more. This means it can comfortably live up to the rigours of everyday use.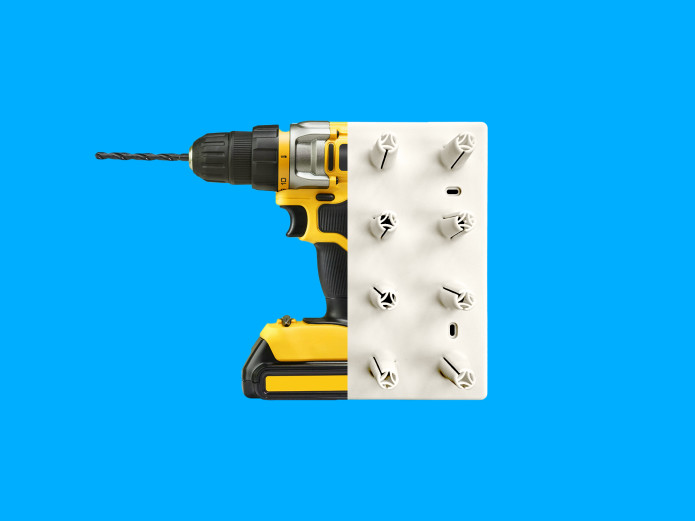 Made from the same engineering polymer as power tools
Geco Hub's round disc and rectangular fins are made from silicone rubber, which is made from silica sand. That's right, sand! Silicone rubber is strong, stain-resistant and easy to clean, it won't deform over time like other rubbers, and has a great "soft touch" feel to it too. It's not cheap, but it is hands-down the best material for the job.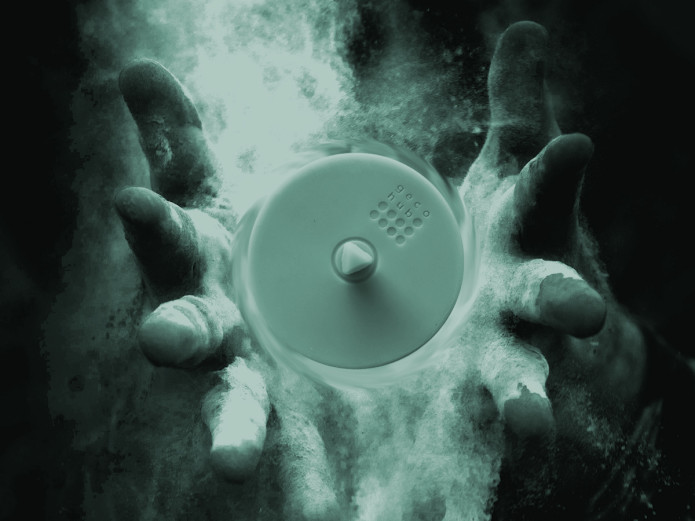 Obviously there's more too it than just clapping your hands…

Extra Benefits & Features
Still not impressed? Here are 10 extra benefits and features that help make Geco Hub great.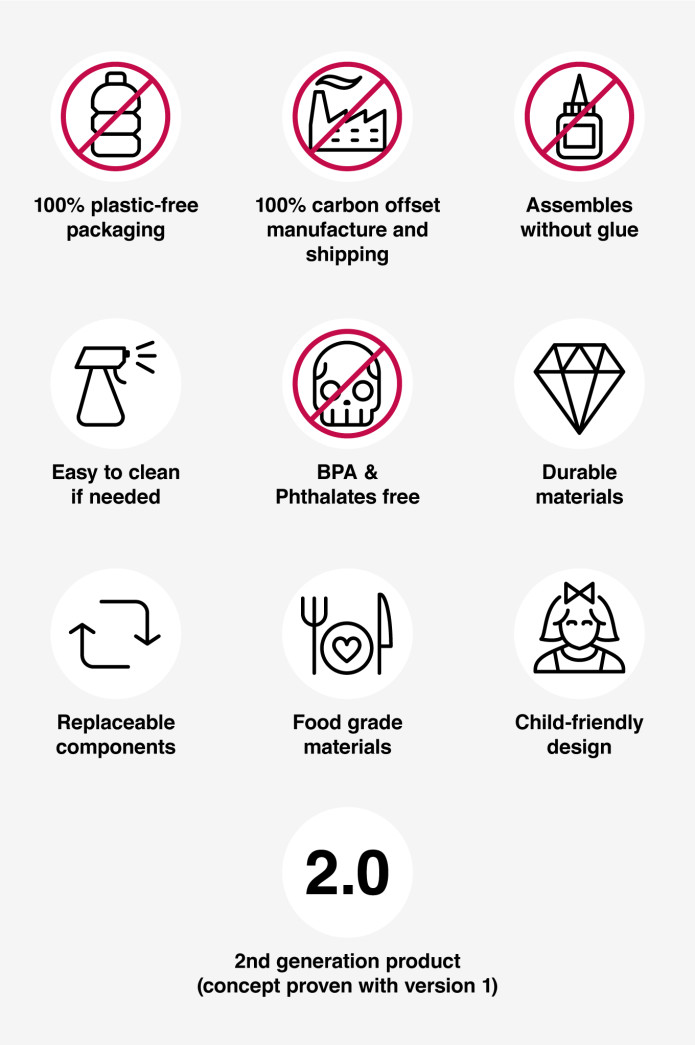 Size Matters
We know that it's one thing looking at nice photos online, but another thing entirely imagining something on your wall at home. So here are Geco Hub's key dimensions.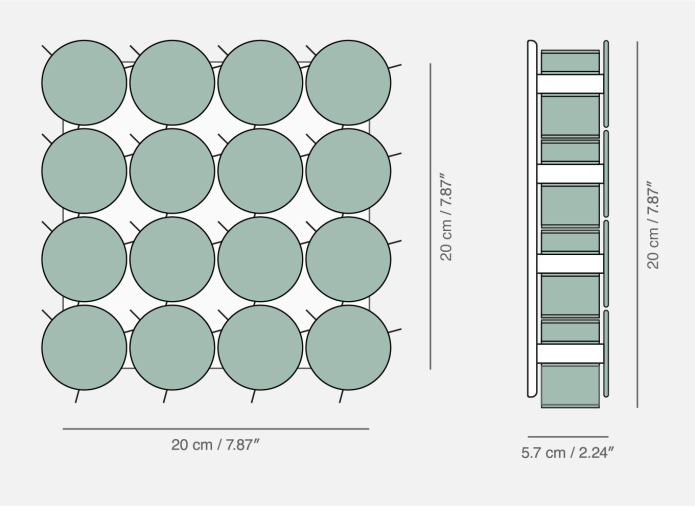 Here are a few common everyday items stored in Geco Hub so you can get a better idea of scale…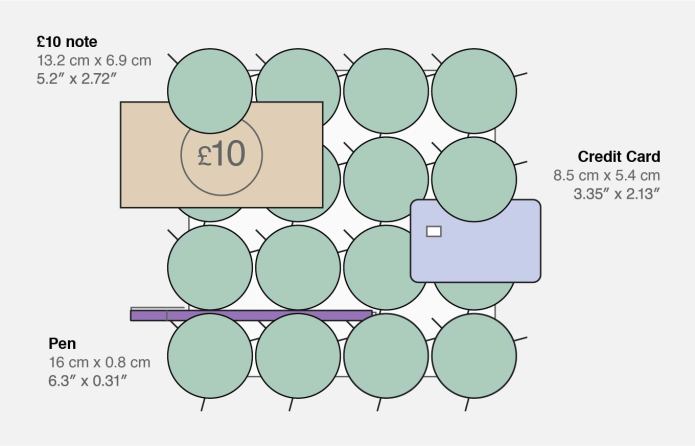 Trade?
If you're a distributor or retailer interested in Geco Hub we'd love to hear from you, get in touch with us via email at trade[at]version22[dot]com today.
Project Timeline
We've delivered three campaigns to date (including an earlier version of Geco Hub), so this isn't our first rodeo.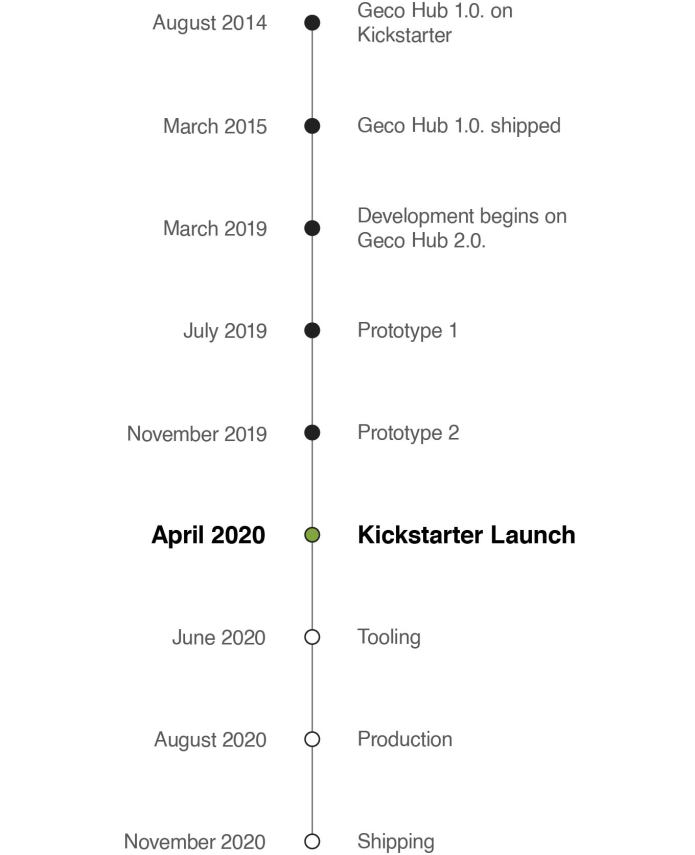 As with any manufacturing project, there are always unknowns that pop out of nowhere. That said, we're confident we can tackle anything that comes our way.
We've already got suppliers lined up for the components, and have had manufactures evaluate all of our designs to confirm that they're suitable for mass production.
Developing Geco Hub
As I'm sure you can imagine, we didn't arrive at the final design for Geco Hub right away. In fact, dozens of prototypes and thousands of hours of development have gone into it. He's just a small snapshot of what was involved.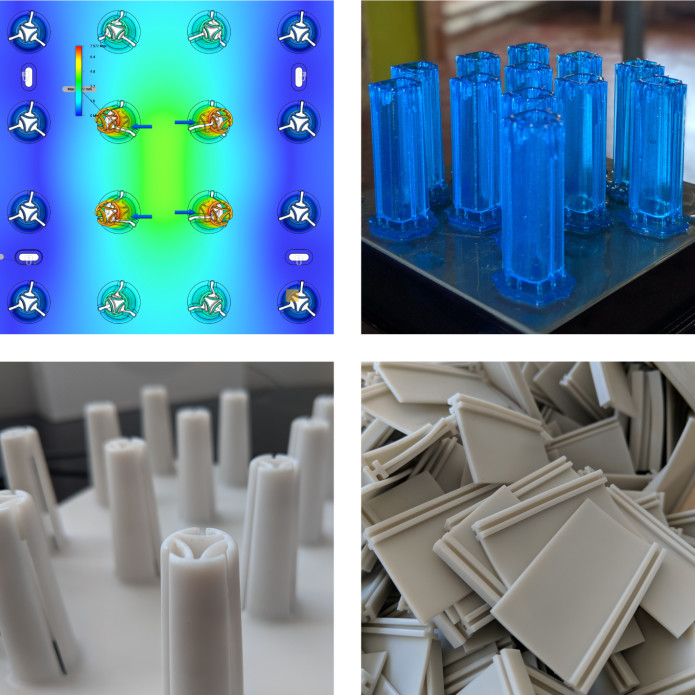 The Team
At Version 22, we aim to make functional gift and home products which solve REAL everyday problems in ways that make you smile 🙂
We have successfully launched three different brands through crowdfunding platforms (Kickstarter and Indiegogo), and our product ideas have collected a bunch of national and international design awards between them, and have featured heavily in national and international press too.
We love making things, and will continue doing so… until someone stops us! Thanks for joining us on our latest journey, and we hope to see you stick around for more.