Glowstone heated smart mug – fine bone china | Perfect temperature. Perfect taste. Self heating. Fully automatic. The ultimate in tea & coffee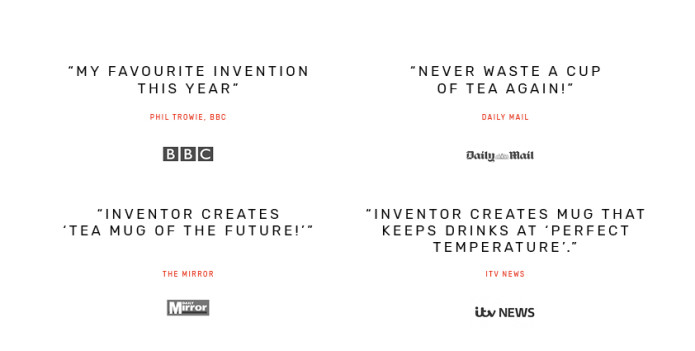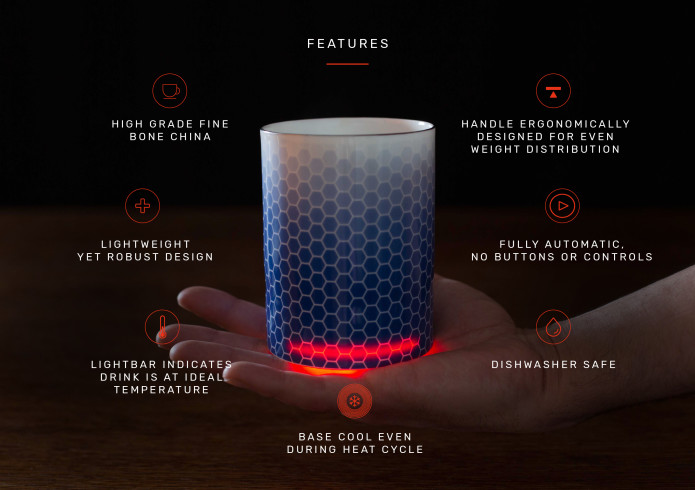 Welcome to the mug of the future.
Introducing the Glowstone smart mug. It keeps your tea and coffee drink perfectly hot in a mug that delivers perfect taste every time. Combining the latest smart technology with a premium fine bone china body, this is the mug of the future.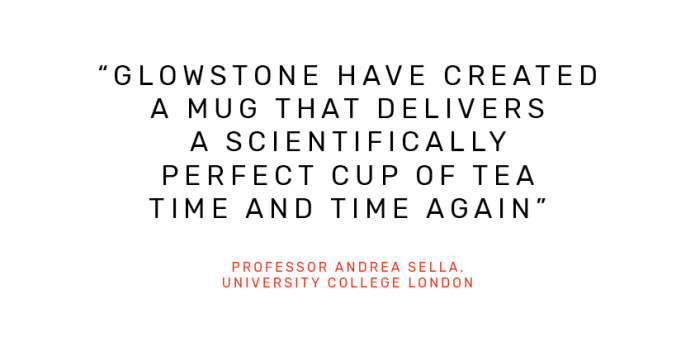 Glowstone's self heating smart mug:
Keeps your drink hot to the last drop
Is housed in fine bone china to optimise taste
Is dishwasher proof
Is fully automatic with no buttons or sockets
Has enough power for an extra hour of heat, in 2 half hour cycles
Lights up when your drink is at the ideal temperature
Charges wirelessly and comes supplied with a stylish Qi charging coaster
Has a cool base even when in use, so no unsightly heat rings on your furniture
Is lightweight, durable and can be treated like any other mug
Works straight out of the box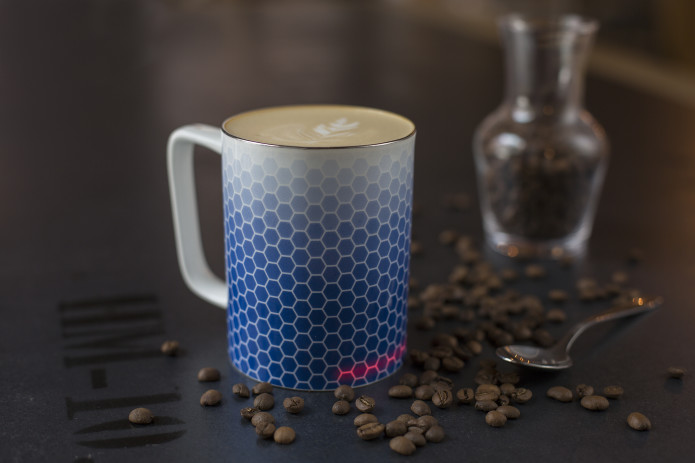 Let the Glowstone keep your drink at its ideal temperature whilst you get on with your busy life. This is start of a hot drinks revolution and a better way of experiencing tea and coffee. 
Glowstone's smart mug means there's no more:
Having to put up with tepid, or worse, cold tea and coffee.
Metallic or plastic after-taste from drinking out of a vacuum flask.
Burnt tongues from drinking your beverage when its too hot
Reheating in the microwave and ruining the taste.
Pre-heating your milk for your coffee.
Unsightly heat ring damage to your table tops.
Burning your green and herbal teas just so you get to enjoy them hot.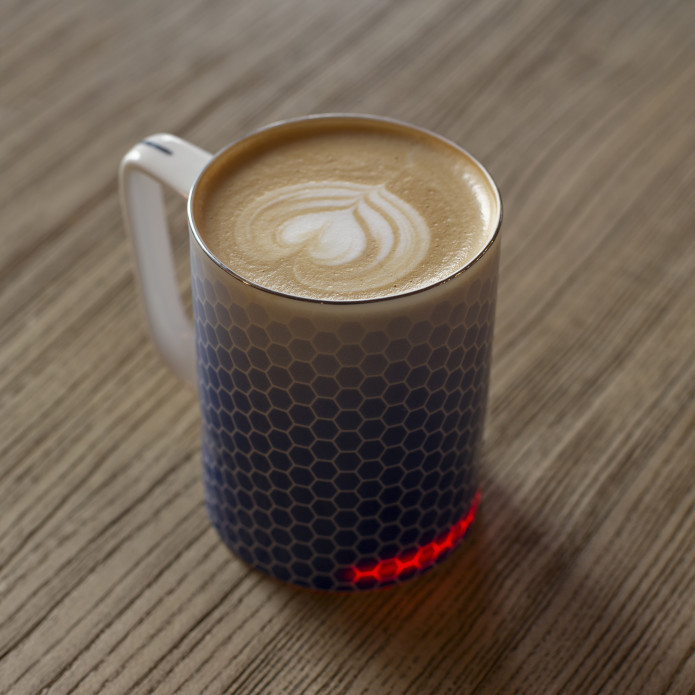 What makes Glowstone's smart mug the ultimate mug?
There is a science to the perfect cup of tea and coffee. There have even been papers written on it (see our handy science section below).
To get it right, you need the correct ingredients, preparation and delivery. For your drink to taste it's best, it has to be drank hot and out of a proper china mug. Don't settle for flavour-tainting plastic or stainless steel flasks. Your drink deserves better. 
We've also made the mug fully automatic which ensures the ultimate in convenience and means the only thing you have to do is enjoy your drink, the way it should be enjoyed.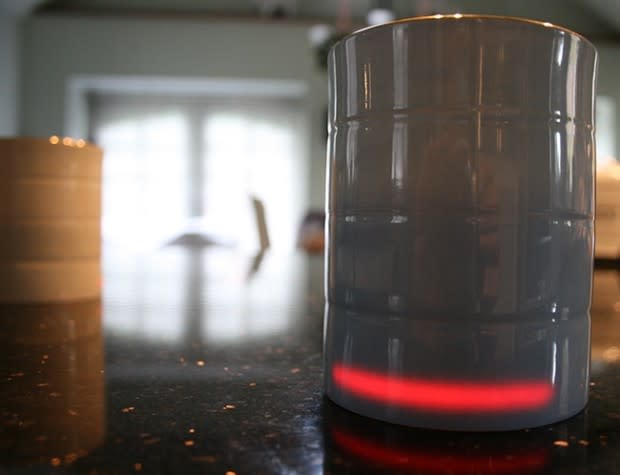 Ideal temperature – Coffee and tea taste better at 60-65 degrees. That's when the flavours and heat combine to not only taste their best, but give you a warm comforting sensation. The Glowstone ensures that every sip tastes as good as the last. It also starts glowing to let you know your drink is at it's ideal temperature, stopping you from drinking too early and scalding your mouth.

Fine bone china – Fine bone china is scientifically proven to deliver better tasting tea and coffee. Other mug materials such as plastics and metals add their own unwanted flavour to a drink. The fine bone china composite we use is the strongest of the porcelain or china ceramics and is incredibly chip resistant. It's also lightweight. so your Glowstone is similar in weight to a household mug of the same size.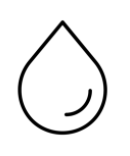 Dishwasher proof – Glowstone's smart mug is robust, easy to clean and can be treated like any other mug. As the electronics are completely sealed in the base, it's fully dishwasher proof. And, just in case you were wondering, the mug knows when it's upside down so it won't accidentally turn on when it's in the dishwasher.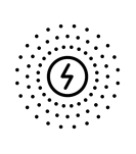 Wireless charging –  The mug comes with a stylish Qi wireless charging coaster. Just leave your mug on the coaster when you're not using it and it'll be ready to go the next time thirst calls. 

Cool base technology –  The mug's base remains cool while keeping your drink hot so it won't damage any of your delicate surfaces or leave heat rings on your furnishings. No need to use a coasters with a Glowstone mug.

Fully Automatic – the Glowstone smart mug senses when you have poured in your hot drink and then waits for your beverage to cool to 65 degrees before turning on. It will then turn itself off automatically when you've finished your drink, or after half an hour, ensuring you have enough charge for another hot morning coffee straight away.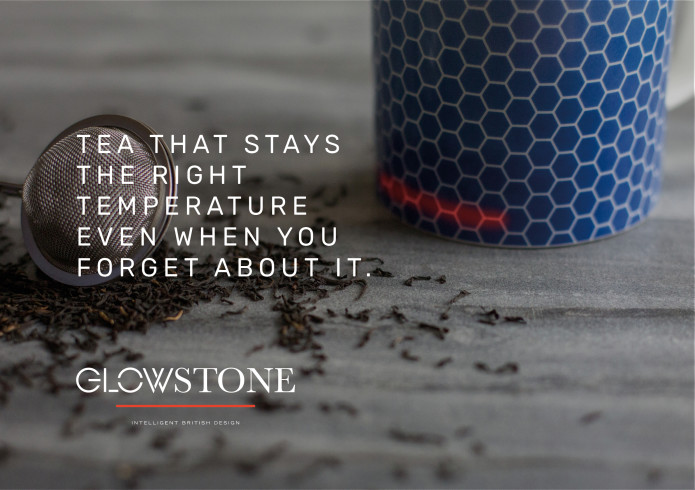 Turns off at the last sip 
The Glowstone mug is designed to switch off when you take your last sip. You'll see the light go off as you drink the last drop.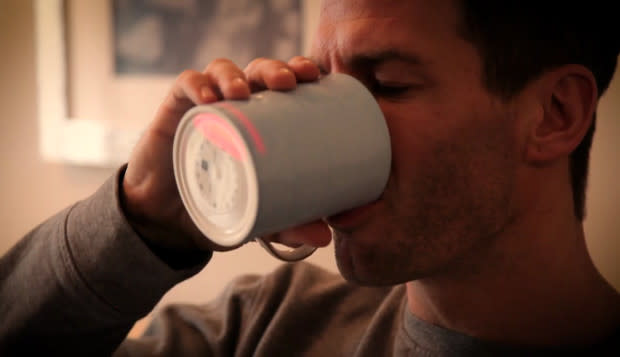 Design options available 
To make sure you love looking at your Glowstone mug as much as you love drinking from it, we have 6 different design finishes available, in 3 distinctly different ranges. Simply select the appropriate perk.
PLEASE NOTE: If you order any multi pack. you will be emailed shortly after to ask your choice of mug designs.
Option 1: The classic collection.  Available with the £79 perk and multi-packs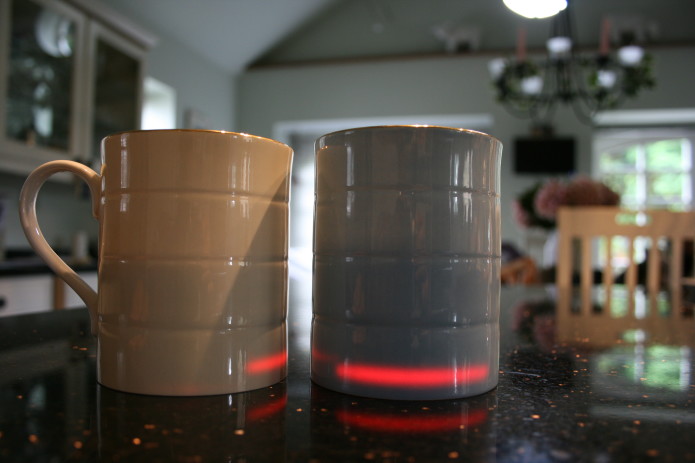 The Classic collection
A traditionally styled mug that won't look out of place when sat next to the rest of your best china. With silver trim tastefully added to it's rim and handle and 4 ribbed indentations around it's walls to give texture, you'll enjoy drinking from them, time and time again.
Available in light blue, soft pink and subtle stone colours.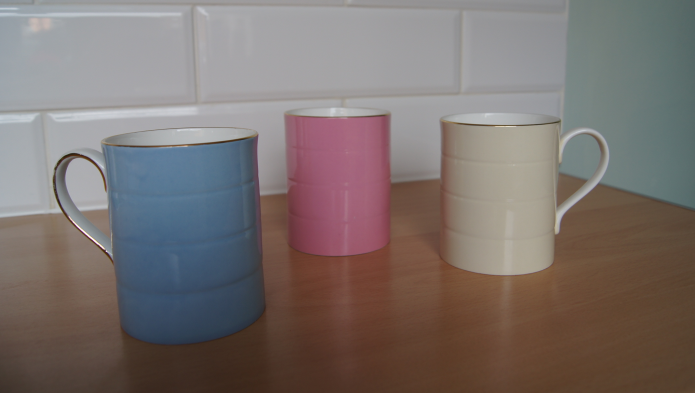 Option 2: Honeycomb smart mug. – VARIANT NO LONGER AVAILABLE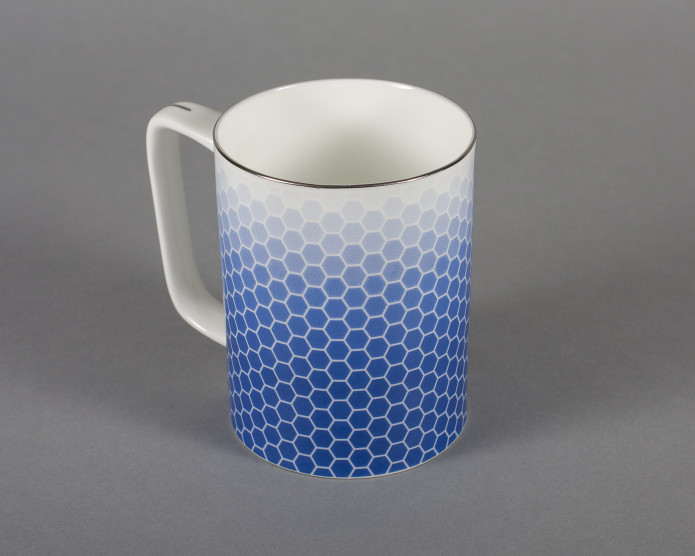 The Glowstone Honeycomb – NO LONGER AVAILABLE
This futuristic styled mug has been created to reflect the cutting edge technology it houses within. Its modern looking strap handle has been designed for balance and ease of grip. You'll be the talk of the office with one of these in your hands.
This style is only available with the electric honeycomb print.
Option 3: The Heritage collection.  Only available with the £89 perk.
Botanical (left) and Brunel (right) available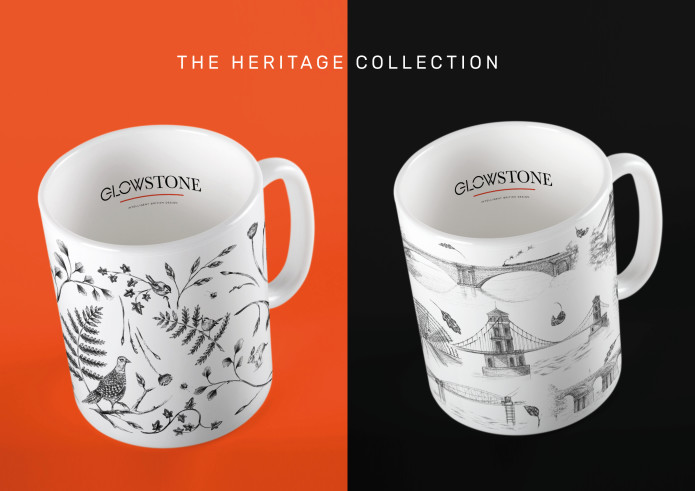 The Heritage collection
For our most prestigious option, we have been working with an incredibly talented designer and illustrator on our hand-drawn retail ready designs. Titled, 'the Heritage collection', the artworks have been created to capture timeless scenes from Great Britain.  
The collections' hand illustrated prints are silk screened 3 times onto the mug to make the detail look vivid and to give the image texture.
The mug body itself is made from a highly refined English fine bone china mix. Before the mug is cast it has any impurities above 6 microns in size filtered out of its slip. This ensures that the resulting mug body is lightweight, strong, chip resistant and has a translucency to it that really allows your mug to glow when in use.
There are 2 different options available in this collection, The Botanical and the Brunel. This range ships slightly later in November 2017, but we think you'll agree, they are more than worth the wait.
What's in the box?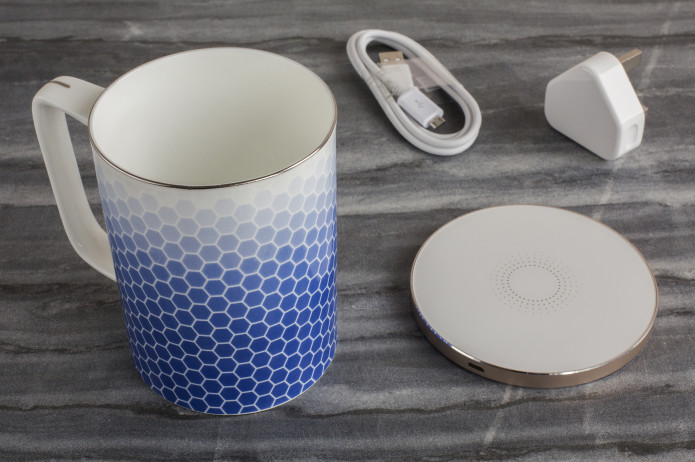 All Glowstone smart mugs come with a stylish wireless QI charger for you to store your mug on, a micro-usb cable and UK, US or EU standard power adaptor (plug). 
Machined from solid brushed aluminium, this high quality Qi wireless charging coaster is as robust and beautiful as the mug it charges, and acts as a great plinth for your Glowstone to sit on between hot drinks.
Compatible with other wireless products, the supplied Qi coaster can wirelessly recharge other items such as your smart phone or even your toothbrush.
All Glowstone smart mugs come with a 1-year guarantee.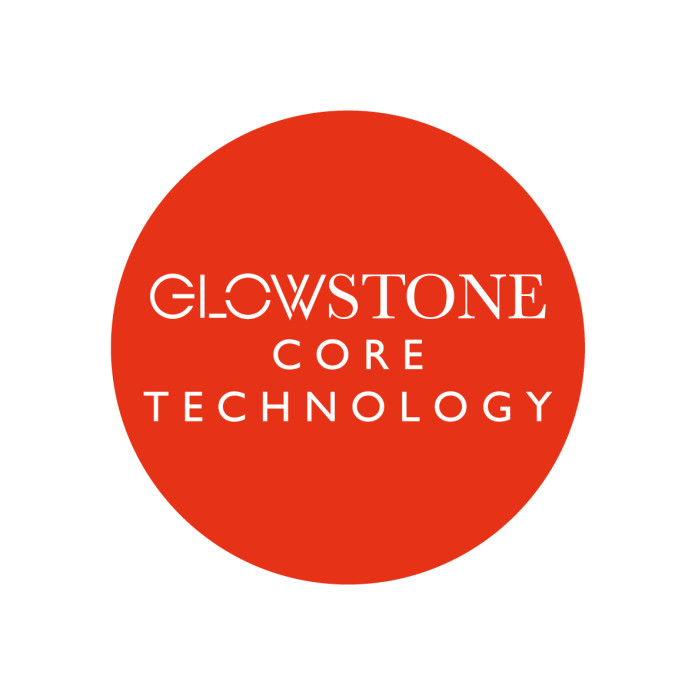 Backed by science
In the last 2 and a half years, we've looked at every possible detail and research paper to create the ultimate mug. As well as our own extensive testing, we drew on the surprising amount of literature available on how best to experience hot beverages. It seems that people take their tea and coffee very seriously.  The testing showed that they tasted best at between 60-65 degrees.
The Royal society on chemistry (RCL) issued a report in 2014, stating: "The perfect temperature to drink tea is between 60°C and 65°C [140-150F]." 
The official guidelines on Govmed echoes this, but about coffee. They summarise, 'The preferred drinking temperature of coffee is specified in the literature as 140 +/-15 degrees F: (60+/-8.3 degrees C)' There have been several other reports that agree with these findings, including one written by Professor Sella of University college London (UCL).
Theory and reality can often be two different things, so we thought we would give the Glowstone the ultimate road test. Would 'the professor of tea' like it?
Last September, we sent Professor Sella, a chemist at UCL, a Glowstone mug to get his views on our invention. Nearly a year on, he tells us he's still using it everyday. The vacuum flask he used to use has been resigned to the bottom of his drawer. Our product passed the test. If Professor Sella drinks his tea from a Glowstone, then it must be doing something right!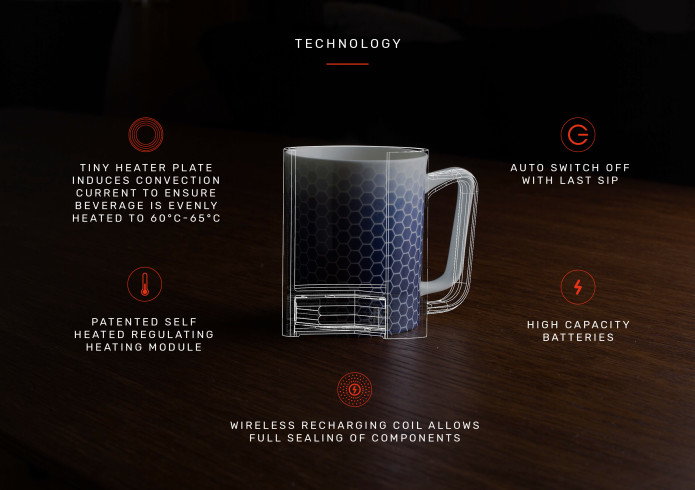 But how does it actually work?
During the design development, we found a large variation in the temperature people make their drinks at. In a lot of cases, drinks that are added to mugs are already below or above the ideal drinking temperature. Therefore the mug has 2 automatic modes of operation.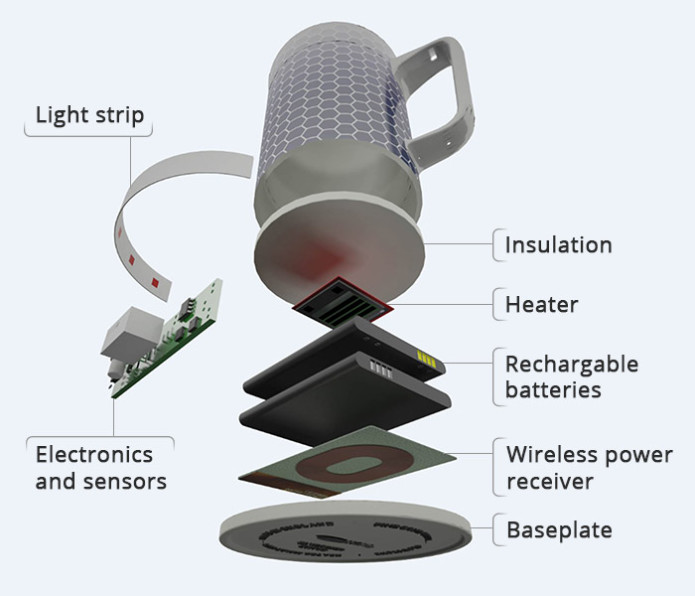 For drinks that are above 65°C (150°F) when poured, the mug will wait until the temperature drops to 65 degrees before turning the heater on.
For drinks below 65°C when poured, the mug will look for a plateau in the temperature profile before turning on, so you still get the drink in its hottest form, even if it isn't in the ideal temperature range. This works especially well for people who like espressos, as the smaller volumes off coffee will heat up until they are deliciously hot again, even after you have added cold milk.
Don't worry, we have set the bottom temperature threshold of the mug to ensure that it won't turn on under a hot tap when being hand washed.
When you are finished, the mug will automatically turn off in the following ways:
When it detects your last sip
The heater has been on for 30 minutes
Detecting the mug is empty
Being placed on it's charging mat. 
Being turned upside down.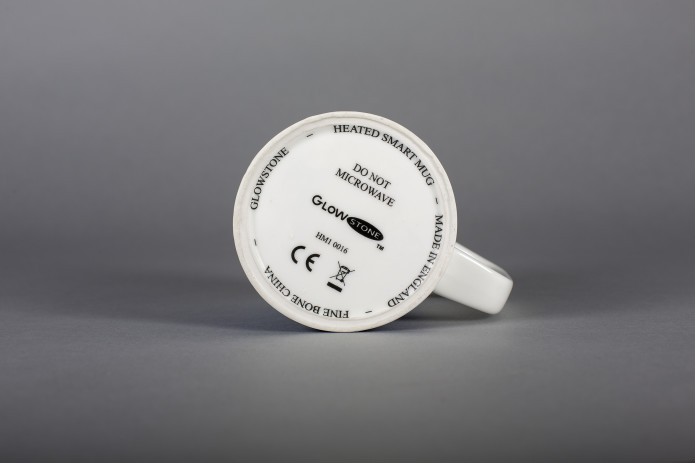 Life since Kickstarter 
After a successful Kickstarter campaign, we are pushing ahead with the product, and we are nearly retail ready however due to supply chain issues we've had to search the world for manufacturers that can produce the high quality we need.
After working with a number of different factories and discovering none of them could deliver the high quality we needed, we have now partnered with a factory that can deliver to our spec, but as a result our minimum order quantity has increased dramatically. That's why we're running an Indiegogo campaign asking for you to help us start a hot drinks revolution.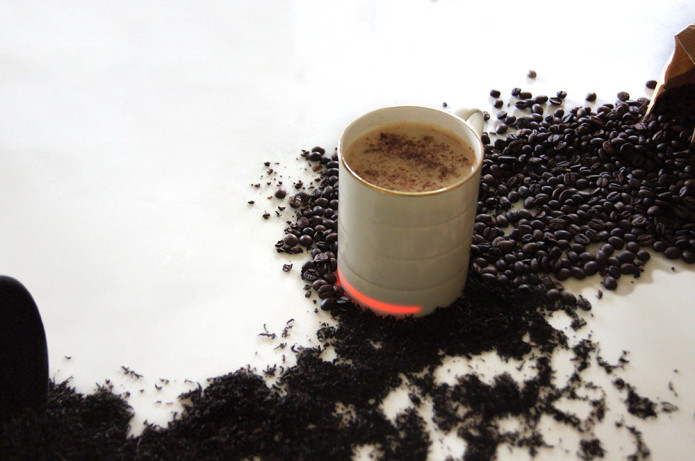 We've been busy…
As you can see we haven't been resting on our laurels, we have been through countless iterations of the Glowstone heated smart mug since our first design back in 2015. We have expanded the Glowstone team to 6 incredibly talented people, and we've been filmed by 2 national TV channels and had a whole load of press. If we can fund this next stage in the development it means we will be retail ready. We already have buyers across the UK, Middle East and Asia ready and waiting, so we need you to bring this project to life. As soon as the Glowstone mugs go on sale they will, in most cases be over £100 so this is also the last opportunity to become an early adopter of this timeless product at a discounted price.
About the inventor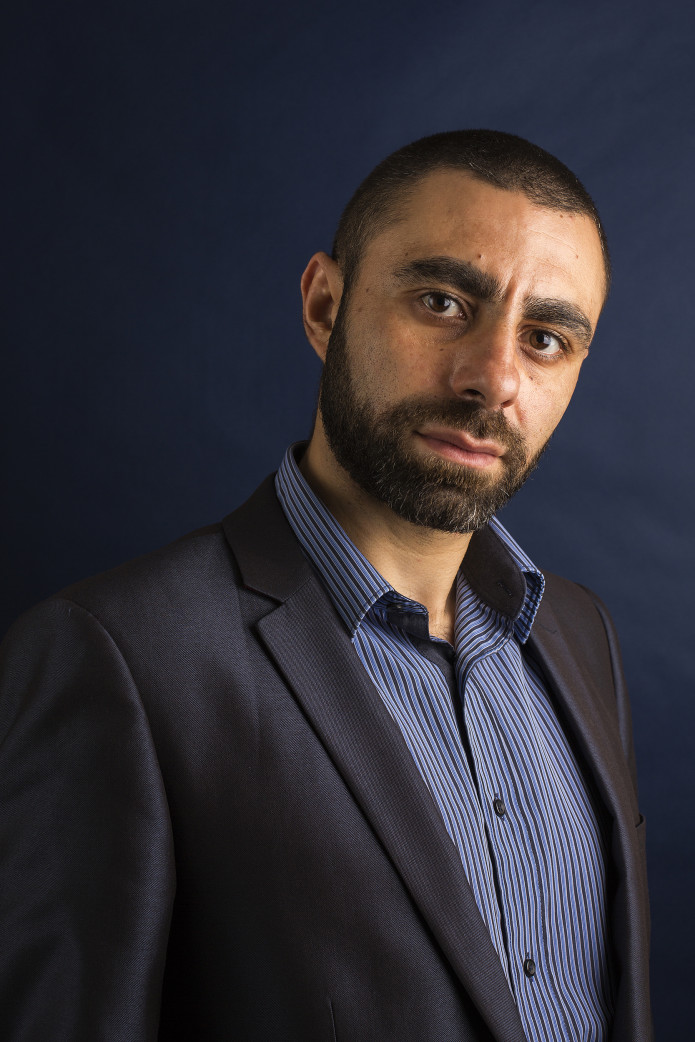 The Glowstone mug was invented by Glowstone's founder, Thomas Gostelow. Educated as a mechanical engineer, in his first year after graduation, Thomas invented a new medical procedure and filed 4 patents. The medical advances that he pioneered at the age of just 23 continue to save lives today. He has worked as a product designer ever since.
Thomas' flair for innovation was clear from the outset. His ultimate ambition was to be able to bring his own ideas to life himself. Throughout the rest of his career, Thomas was careful to gain the key business skills needed to help fulfil his goal.
He hopes that you will support his journey.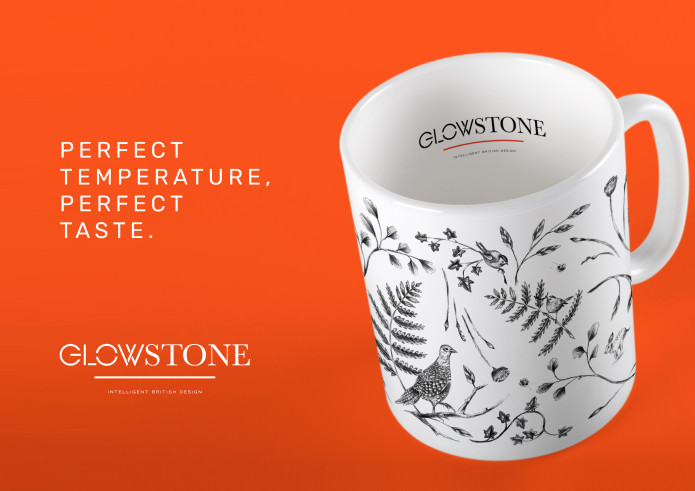 Join the hot drinks revolution today and say farewell to cold, flavourless beverages. 
Your hot drink deserves better. By supporting our campaign you'll give us the investment we need to improve hot drinks across the world and help us on our journey to optimise everyday products for everyone. When they hit the shelves, our mugs will cost a lot more so you'll also be one of the lucky few that snap up a mug for way less than retail. Thanks so much for stopping by. If you have any questions please do let us know!