Gunnison Valley Distillery | Bringing outstanding rye malt whiskey to the Gunnison Valley and Colorado.
Our Story
Looking to fill a void in the stagnant rye whiskey market, Air Force veteran Michael Manfredonia founded Gunnison Valley Distillery to bring the bold and unique flavor of malted rye to whiskey lovers across The Gunnison Valley, Colorado, and beyond.  Unlike other rye whiskey, 100% of our rye grain goes through the malting process – a process traditionally reserved for barley.  This break from tradition allows us to stand apart from other whiskey, while the rye grain provides instant familiarity.
Donating today allows us to continue our journey of bringing some delicious whiskey to Gunnison.  While our whiskey will continue to age without this campaign, it will do so out-of-state in a different climate – creating an entirely different taste than barrels aged in Gunnison.  Additionally, we won't be able to add additional barrels to our inventory, increasing the likelihood that this 2 year cycle will repeat itself once we are able to sell our current batch.
Our Needs
This is where we layout the crazy amount of money a project like this needs and where your dollars go.  All funds raised will go towards 3 primary categories: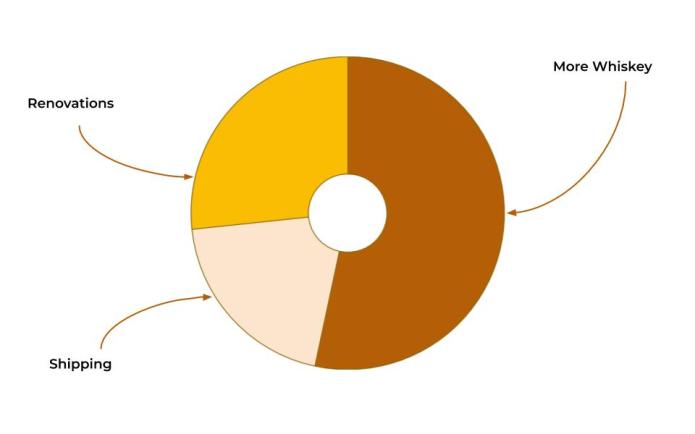 More Whiskey

This includes more barrels, as well as the equipment and materials necessary to blend and bottle the whiskey once it finishes ageing

Renovations

Any property we lease will need significant upgrades to be approved for storage of whiskey barrels
We also need some chairs, a bar, and some decorations for the tasting room so you can sip and enjoy our whiskey in comfort

Shipping

Every barrel we fill needs to be delivered to our eventual warehouse
The exact dollar amounts for each of these categories is flexible, but we are estimating $20,000 for property renovations and $15,000 for shipping our barrels.  This leaves $40,000 for more barrels and a small bottling line.
What's in it for you
Every donation, no matter how big or small, means the world to us – and hopefully you as well.  But that doesn't mean we can't give you something in return for your generosity.  We are offering perks that range from $10 to $10,000 and provide something for every level of interest.
Drinks for Life!
That sounds awesome.  For residents of the valley, frequent visitors, or anyone that enjoys knowing where a free drink will be, a donation of $1000 ($1250 if you miss the early bird rate) makes you eligible for our feature perk.  2 free drinks per day for life.  Once our tasting room is open, as long as we have whiskey, you'll have a drink!
Drinks and Bottles
Of course, many people won't be able to donate that much, so we're also offering perks that include a bottle of whiskey or a single drink in the tasting room.
Voucher for a 2 year aged bottle of whiskey

For $55 (or $50 if early bird perks are still available) you can get a voucher good for our 100% rye malt whiskey, aged 2 years.
For $150, you can get one of our first 100 bottles.  These will be a completely different bottle style and come in a wood crate package to celebrate the area's rich mining history.

Voucher for a 4 year aged bottle of whiskey

Six of our barrels are being held for longer ageing – 4 years.  For an $85 donation, you can receive a voucher for one of these bottles.  These will be the first barrels of our ultimate flagship product line.
 
The Impact
Beyond all of the really cool perks you can choose from, why should you donate?  The answer is simple, community.  Our first step after this campaign is bringing our barrels to Gunnison, and then building out our tasting room.  With our whiskey on everyone's radar, locals and tourists alike are liable to spend more time where it matters – with each other and with Gunnison's small business community.
Colorado is well-known for being a leader in craft beer and is increasingly becoming known for craft spirits.  The Gunnison valley is well known for being one of the best spots in the state for outdoor recreation year-round.  Our distillery looks to marry these two institutions, providing a unique opportunity for tourists and locals alike to enjoy more of their interests and hobbies in-town.
Risks & Challenges
Starting a distillery is not without significant challenges.  Stills and other equipment are expensive, facilities need to be built to particular specifications due to the nature of high proof alcohol, and whiskey ageing takes time.  Additionally, moving to and living in the valley brings its own set of challenges – but also some amazing rewards and benefits.
With regards to this campaign, should we not raise enough money, we will still have the barrels we've already filled, but will have to find a new path to bringing them to Colorado, filling bottles, and entering into sales and distribution.  This path increases the likelihood of overall failure as it doesn't help us truly build the brand as a Gunnison-based product.
Our path to success starts with this campaign.  By raising the money we need to bring our barrels to Gunnison, we build that sense of community and stay true to the foundations this company was built on.
Other Ways You Can Help
Every bit helps.  This could be through donating, or through simply spreading the word about our campaign.  Whether you are able to donate or not, mention this to your friends and family, tell a neighbor, tell the next 4 people you see on the street.  It all helps.
Don't forget, you can always follow us on Instagram, Twitter, and Facebook – and so can everyone you just told about our funding campaign.
So donate, or don't.  Tell your friends, or don't. Swing by our email or social media and say hi, or don't.  No matter what you do, we appreciate you and the time you've taken to get here.  So thank you.
Cheers.