HabiDerm: The secret to radiant, glowing skin. | Just 10 seconds a day >> Visible results in as little as 1 week!
Hi!  Thank you for checking out our Indiegogo campaign.  I'm Joanna, co-founder of HabiDerm and here's our story:
HabiDerm is a platform designed to improve the look, feel and health of your skin by connecting, comforting, informing and inspiring you to achieve short- and long-term goals.
Through two-way text and email communication, HabiDerm learns about you and helps you track the everyday actions that have an impact on your skin's health, look and feel.  Based on your lifestyle, we curate, relevant information and deliver personalized info "bites" to you so you can make more informed choices.  Did you know: 
Changing your pillow cases twice a week leads to less wrinkles and acne?
Your Starbucks Grande Latte has as much sugar as nearly two Krispy Kreme donuts? 
Some are so good and fun you'll have to tell your friends!
Motivated by my 20+ years in the beauty industry (and my own personal skin struggles as a teen and a 3rd-time mom), I wanted to share my experience, what I learned and demystify the pursuit for perfect skin and reveal the industry's "biggest" secret – the key to healthy, beautiful, radiant skin. So I joined forces with some of my BFFs including:
a friend and colleague with whom I started a skincare and cosmetics company,
a friend who started and owns a technology development company,
a friend who is a strategic interactive marketing and customer retention specialist
and my squad of beauty experts, editors, bloggers, makeup artists and aestheticians  
and created HabiDerm – a health and beauty recommendation engine and custom content platform for men and women. Our mission is to inspire and empower individuals to realize their own best-self and achieve their personal beauty, health and wellness goals – without heaps of new products or procedures.
At HabiDerm, we put you first, learn your lifestyle and provide "real-time" feedback to help you achieve your "best self" and have fun doing it! 

IT'S ALL ABOUT YOU
Through technology, we are transforming the journey by focusing on you – the person, not the product. As your personal skincare coach, HabiDerm messages you about the little things that can affect your skin's health and appearance.  Our approach is two-fold:
We take a look at the activities that you do day-in and day-out and learn how they affect your skin's health and overall well-being.

We cut through the clutter and curate information you can use to make informed choices and even make small changes that will lead to big improvements.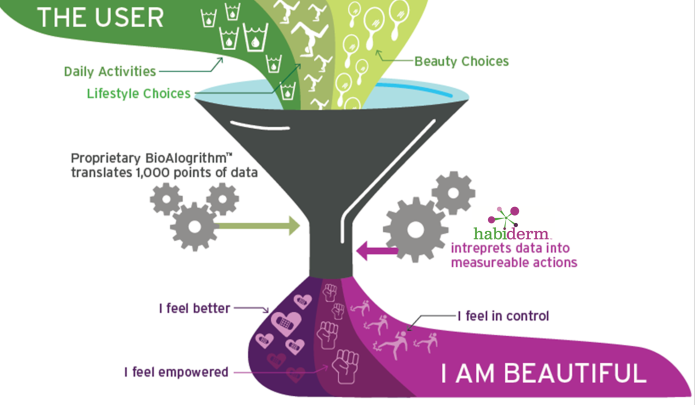 Over time, HabiDerm will get to know you – your routine, likes and dislikes – and, as our technology evolves (and funding allows), our interaction will become more personalized and tailored to you and your lifestyle choices.  HabiDerm will become a trusted adviser for all of your skincare, health and beauty questions.
Please help us reach our goal, so we can make HabiDerm available this Fall 2017.
TRIED, TESTED & PROVEN 
Based on more than 50+ years of collectively team experience, we knew there was a void in the marketplace for a comprehensive and personalized single-point skincare resource. We knew women (and men) wanted visible results and streamlined information, so we created an Alpha version to prove our point.
Our Alpha phase results proved that there is a need for this product with users finding:
an increase in their energy level
a noticeable improvement in their everyday choices
they became more aware of how daily choices affected their self
they would recommend HabiDerm to a friend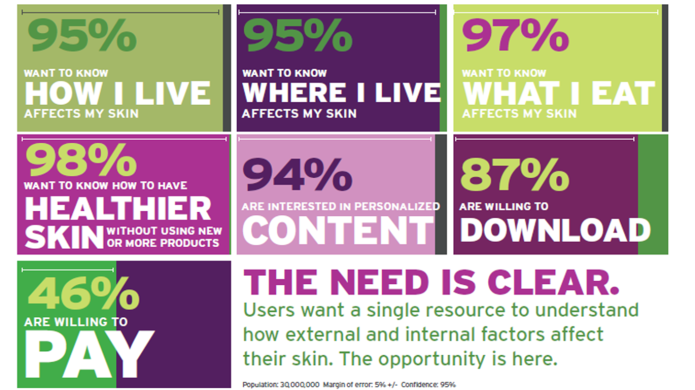 Little changes can make a big difference!
THE SOCIAL IMPACT
Beautiful, flawless skin. It's everywhere: in the movies, on television and magazines covers, selling products — an image of what life could be like if we just…. The hours of air-brushing it takes to manipulate each image (not to mention the professional and personal chefs, stylists and makeup artists) are often overlooked in pursuit of idealized perfection…  
Healthy, beautiful skin is achievable and the secret is at your fingertips. Like your BFF, Habiderm will become your 'go-to' for all of your skincare needs. No judgment, no finger-pointing or "I told you so," HabiDerm is there to help you understand the impact of daily actions and how to make small changes that lead to beautiful results!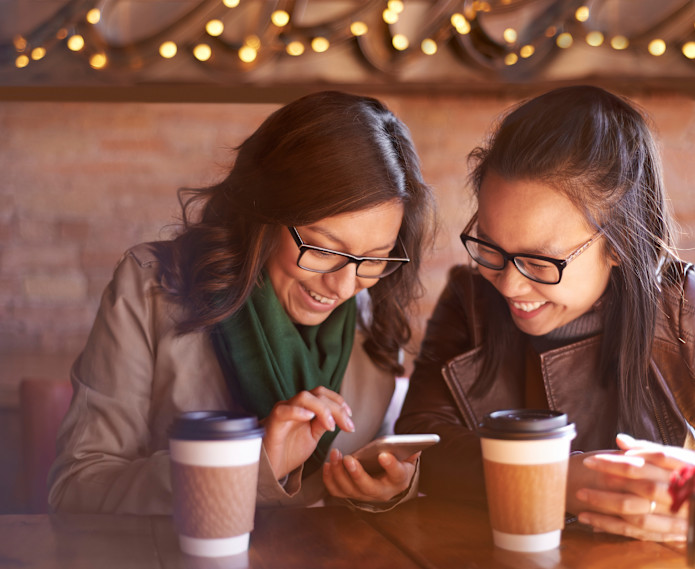 With your help, the funds raised from this Indiegogo campaign we will finish the beta and get HabiDerm into the hands of women (and men) across the country.
THE ASK
To date, we are completely self-funded.  We have bootstrapped it, poured every penny and gallon of sweat equity we have, and now we need your help to cross the finish line. There are several ways you can help:
Click "Back It"! We will be forever grateful and your biggest fans!
Snag Some Swag! We have great Perks to offer that we think you will love. New Perks will pop up throughout the campaign check in often to see the new swag. 
Spread the Word! Tell your friends about HabiDerm and this campaign over a cocktail, at the kids' game, at the water cooler and help us get the word out. 
Make Some Noise! Be social and post about our campaign on Facebook, Twitter, Instagram, etc!
The more people that hear about HabiDerm the more likely we will be to reach, even exceed, our goal!  With your help, HabiDerm will become a reality.
THE RISKS, CHALLENGES & OPPORTUNITIES
Just like anything else, there is risk…but we believe: "if there's a will, there's a way" and the way is clear! Our HabiDerm leadership team is uniquely qualified and positioned to seize this opportunity. 
Comprised of four individuals, each of who have 20+ years of experience in beauty, technology, customer relations, data and content-related fields, our leadership team has multiple successful start-ups to their credit and has served as senior executives in several global consumer companies. Our team intimately understands how to bring a concept to market and build and scale companies. Here's our team (click on names to see our LinkedIn profiles):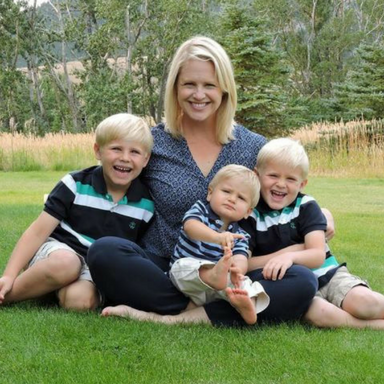 Joanna Austin (and my boys!): Co-Founder & CEO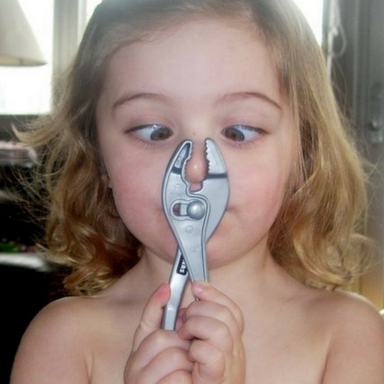 Jerry Mastellon (this is his baby girl who is now 13!): Co-Founder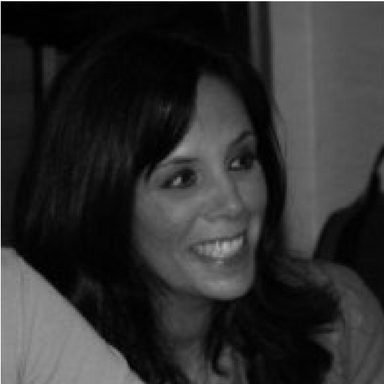 Liz Leahy: Advisory Board; Strategic Interactive Marketing, Customer Retention Specialist, Entrepreneur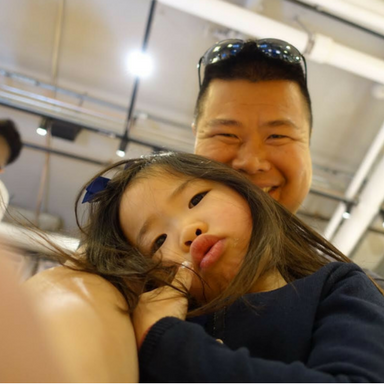 Jeremy Shao: Advisory Board, Technologist
We are asking you to join us to empower women – your mothers, daughters, sisters and grandmothers – to stop looking outside and comparing themselves to a unrealistic standard. Above all else, our goal is to build self-confidence and self-acceptance by improving your overall health and beauty. At a time when we are inundated by images of someone's idea of perfection, we believe our mission is evermore paramount.
Please help us reach our goal, so HabiDerm can become a reality and in your hands this Fall 2017.