Handless coffee tamper 'DAZIM-HL' | This tamper is a tool that can maintain horizontality and deliver excellent taste to its customers.
Hello everyone.
We are the Kongalbaegi cooperative. Our people love coffee and value the people inside our community. Kongalbaegi cooperative first started to help our hearing-impaired co-workers in our society. We also consistently developed coffee to discover and share the excellence of coffee into the world. From the result of our effort, we have made the new Handless coffee temper "DAZIM-HL". In our cooperative there are engineers, programmers, designers, baristas, roasters and more who love coffee and they are all putting full effort to make our coffee days better.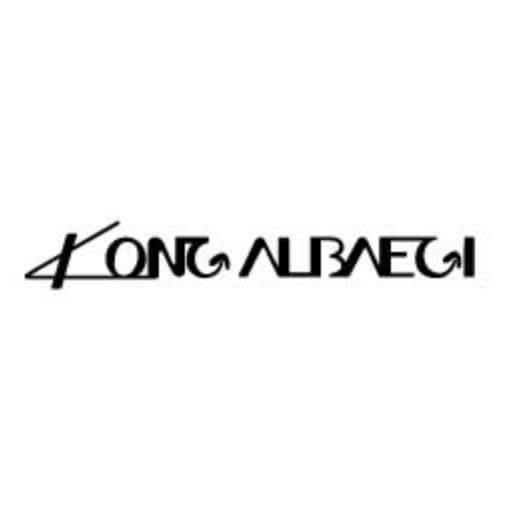 "DAZIM-HL" is a tool(tamper) that barista's need when making coffee. From our product, this process can be done in a more convenient and effective way. DAZIM-HL can provide hearing-impaired individuals with a much smoother process in their roasting actions. Comparing to people with no handicaps, hearing-impaired people have difficulty gathering information and knowledge about the roasting process. Our product can be a key solution to this problem and let hearing-impaired people overcome this stage.
We also want to give education courses for hearing-impaired people. Currently there are no classes for hearing-impaired people on coffee and roasting processes.
Kongalbaegi cooperative is currently developing a roasting monitoring tool and it is almost complete. Your support can shift our process ahead for the roasting field on hearing-impaired people.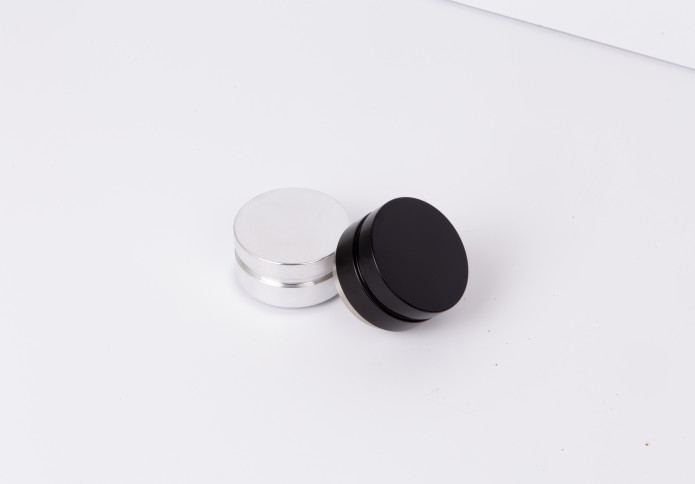 Tamping is an important element in deciding the taste of your coffee. When making coffee from the machine, we evenly tamper the coffee powder by using a tamper. When tampering coffee powder inside the porter filter, the degree of leveling could be different depending on the individual's power and technique. From this, we can say that the result of tampering could be equal to the barista's proficiency.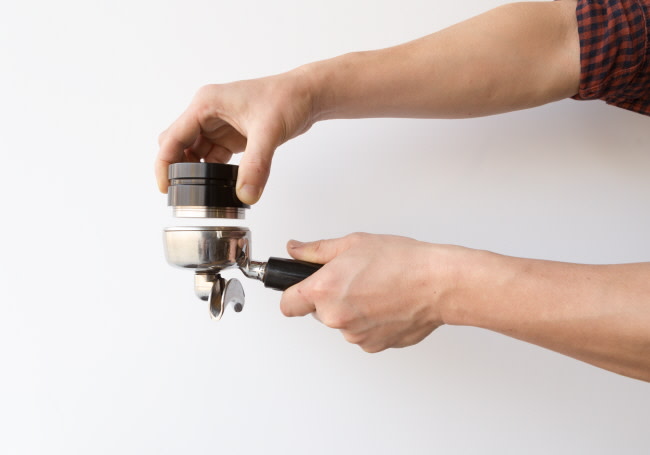 A tampering tool, 'DAZIM-HL' made by Kongalbaegi Cooperative has been produced to show the best tampping results, regardless of who the person is and where they are using it. Once, 'DAZIM-HL' is put into the porter filter to press down, it will be tampered and consistent at all times. From this result, both beginners and experts can maintain the consistency of the coffee taste.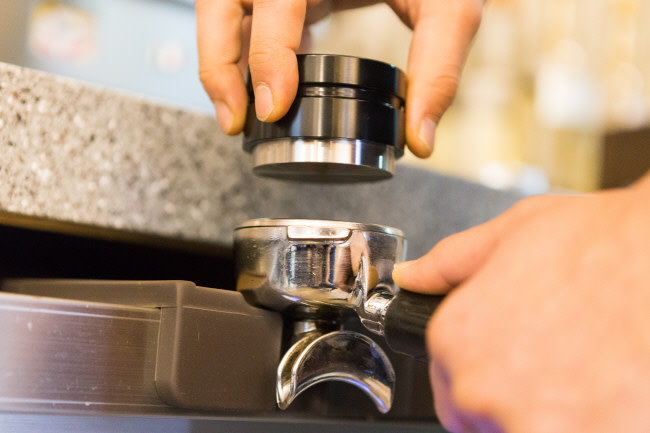 Originally, when we had to adjust the intensity of tampering for suitable conditions in different places, we had to clamp screws, spacers, and fasten nuts in this process. Furthermore, when a wrong tampering movement is repeated for a long time, it could cause wrist pains on individuals. Our new flat tamper 'DAZIM-HL' is a simple tool that could adjust the desired depth by gently turning it around and has the function to change up to 0.1mm (up&down) which could be sensitive.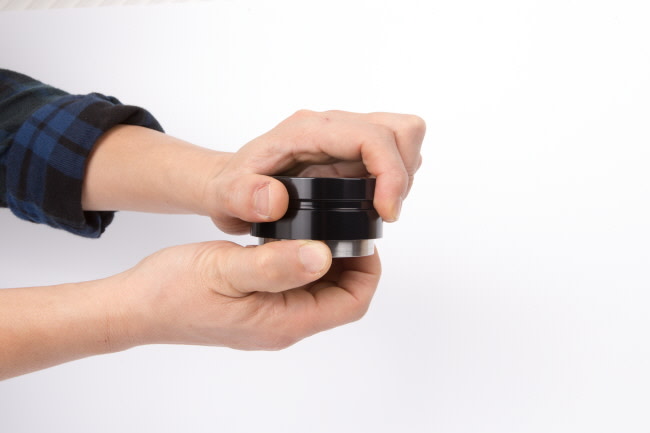 Also, our product, 'DAZIM-HL' could be a helpful tool for hearing-impaired people as well. Hearing-impaired people have a hard time maintaining the level. However, if these people use our product, they do not have to experience such difficulty any more. Furthermore, they could reduce pain on their wrists by the convenient and consistent function we provide.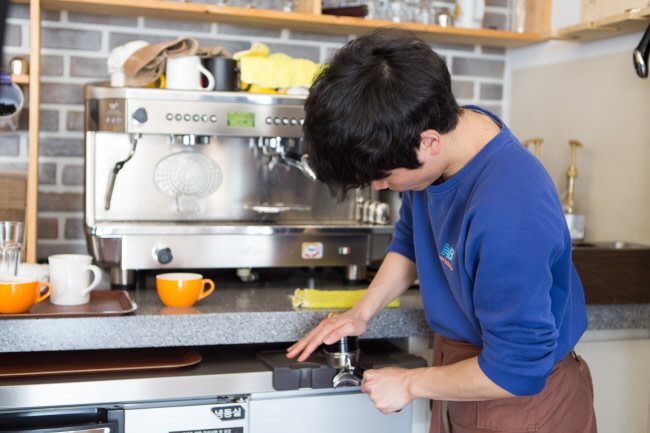 This product is also a tool that could help the independence of hearing-impaired people. 'DAZIM-HL' contains these people's promises not to be discouraged on the society's discrimination and prejudice and become a confident person in the world we live in. When you use our handless tamper 'DAZIM', it could be a big help for hearing-impaired people to grow into a confident member in our society. 'DAZIM-HL' of Kongalbaegi Cooperative is helping these people and they promise to make the best coffee. Please support for their courageous and promising challenge.
'DAZIM-HL' will be one of the best coffee's you have ever tasted!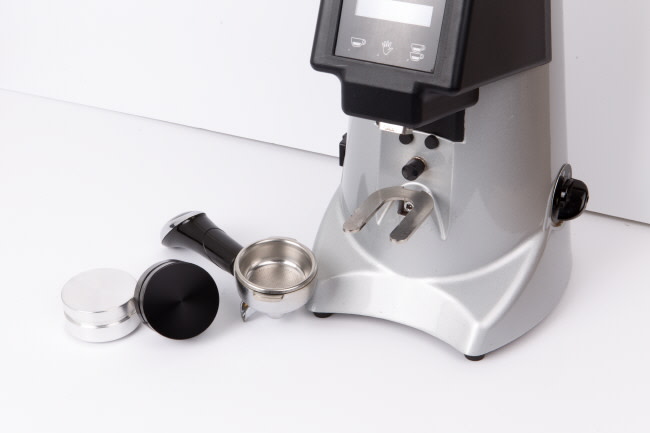 There were a lot of test models until we came up to this product.
However, this process was a wonderful and exciting period for all members in our cooperative. Hearing impaired people and baristas helped us in our way to finding the perfect complete model in design and efficiency. We have exchanged positive and developmental opinions and helped each other in this field. From this process, new product plans are being made and developed. We are a so called child start-up because we are delicate small.
However, we believe in our people and our product. We hope you guys can support us so we could do wonderful things together for all the coffee lovers out there.