happy body tea | Herbal teas made with love and good intentions. Raising the vibe and healing the people!

Who and what is happy body tea?
Like many great stories, happy body tea was born from a simple idea infused with hope, love, and patience. 
Nearly 20 years ago our founder, Carey Kingsbury Avalon found herself in need of physical and emotional healing from fatigue and depression. After realizing that traditional doctors could not or would not recognize her true condition and needs, Carey took matters into her own hands and began a deep study of natural healing remedies including juicing and herbalism. At the same time Carey also began a transformational journey into spiritual consciousness and intentional manifestation as taught by the late, great Dr. Wayne Dyer. 
As she healed her own pain, Carey knew she wanted to bring these discoveries to to others in need. That's when she began crafting her own herbal formulas for healing teas and two of her signature blends were born – Stress Lifter Tea (now Happy Mood tea) and Nourishing Blend (now Happy Body Daily tea).
The third in happy body tea's signature tea series was developed to support Carey's own semi annual juice cleanses. After much trial and error with cleansing she discovered that the use of certain herbs boosted her results and helped her feel amazing. Thus Happy Cleanse tea was born. 

The Happy Body Tea Promise: 
At happy body tea, our "promise" is simple: love, intention, and the wisdom of plants can make a body happy and a happy body makes a happy life. Every tea blend we create, every tea bag we fill is infused with the consciousness of love and happiness. Literally we will bless every order before it leaves our facility and arrives at your door.
We do this because we understand that life is full of uncertainty. We recognize that you are out there every day, making the best of things, with aspirations of keeping your mind, body, and soul healthy and aligned. Personal transformation is your goal. We want you to feel completely supported on your journey and that starts when you wake up in the morning and have your first cup of tea. 
A Closer Look at Our Signature Teas:
Happy Body Daily Tea is formulated with a nourishing blend of green tea plus alfalfa, nettles, oatstraw, lemongrass, hibiscus and rose hips. Drink this tea daily to support and balance your body.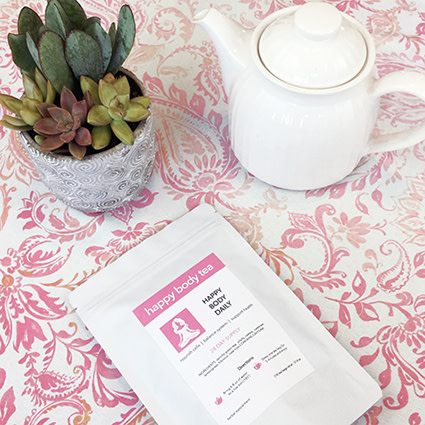 Happy Cleanse Tea helps your body to detoxify from the harmful pollutants it may encounter regularly. Drink this tea whenever you feel heavy or run down. Morning tea ingredients include green tea, burdock root, dandelion root, yellow dock root, echinacea, red clover, ginger, and peppermint. Evening tea ingredients are elderflowers, chamomile, lemon balm, and psyllium husk.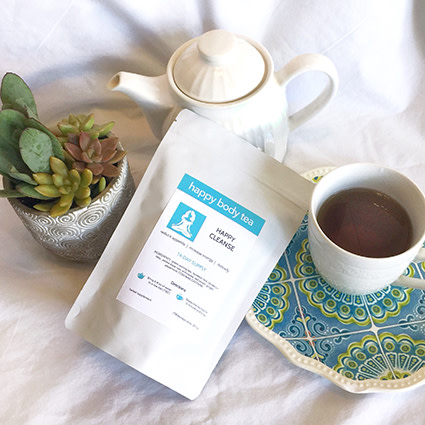 Happy Mood Tea is the tea you want whenever you want to relax and let go of the stress of the day. If this tea had a sound it would be "Ahhh". Ingredients include oatstraw, lemon balm, spearmint, lavender, St. John's wort, orange peel, cinnamon chips.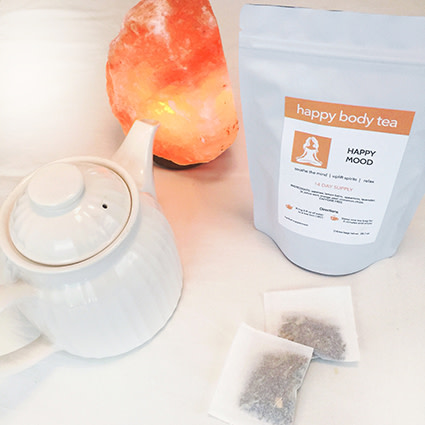 We Have Tees Too:
Being happy is a way of life that we want you to feel every day. Wear our t-shirts and take a little bit of happiness with you wherever you go, be it the grocery store, lunch with friends, or the yoga studio. Happy Body Tea t-shirts are made with a relaxed fit, soft poly/viscose blend, subtle curved hem, and scoop neck. Women's only Sizes S – 2XL. Colors in white, lt. gray, dk. gray.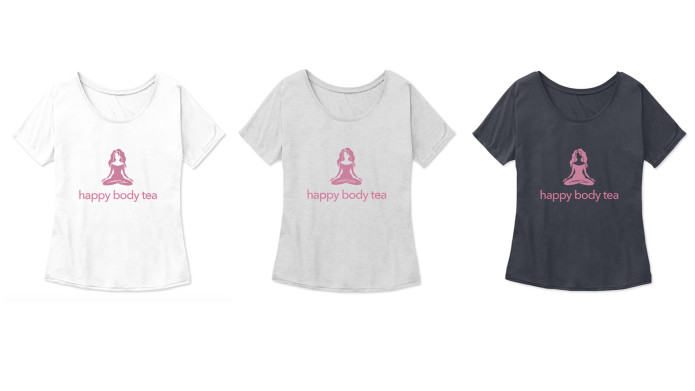 Why we need your support:
Our mission with happy body tea is to raise the vibration of the planet and foster healing of individuals through the simple practice of taking tea daily. 
In order to deliver the highest quality product and reach people across the globe, we must invest our hearts, time, and money. We ask that you help in any way possible to grow our vision of healthy happy bodies everywhere!
Your generous funds will be used to:
Rent a food business compliant commercial kitchen
Establish an inventory of quality herbs and tea
Purchase packaging supplies and equipment
Bring in a social media manager
Grow the brand by advertising with influencers
Create tea for you! (see perks below)
Perks for you when you contribute:
We appreciate everyone who is willing to help us on the journey, therefore we have created several levels of perks for you. Please choose a perk in the right hand side bar that matches your level of interest and ability to contribute. 
Every level of giving comes with
    • $5 off your next order
    • Your name on the Friends of HBT page on our web site
    • Intentional good vibes sent to you
Our goal is to reach $1225. To break it down for you we really just need to have 35 people contribute $35 in 35 days! Will you help create this legacy?
Even if we don't reach our intended goal, you will still receive all your perks, so it really is a win-win situation. 
Other Ways You Can Help
Some people just can't contribute money and we understand. You can still provide lots of value to this project by sharing it with your friends. Will you click on one of the social media icons at the top of this page and help spread the word? We will love you forever! xo