Happy Gadget: Wearable Alert Watch | Be there for your children when they need you most.

For every parent, a question on our minds is always, "Is my child okay?" The safety of our children is paramount, and while we are always worried that something might happen to them under our watchful gaze, even more distressing is the thought of something happening when we're not there to help them.
Happy Gadget is a wearable children's device that, no matter where you are, alerts you when your child is in distress. Built by parents, for parents, Happy Gadget's mission is to ensure parents and guardians everywhere can count on being there at the right moment, when our children need us most.
HOW DOES HAPPY GADGET WORK? 
The Happy Gadget is a wearable device packed with medical-grade sensors, specially designed to read your child's vital signs, and detect unusual symptoms or physical patterns. Upon recognition of critical changes, Happy Gadget sends an alert of your child's status to your smartphone, or any another synchronized Happy Gadget Adult Device. Delivered via Bluetooth and Beacon technology, sensors will alert you to unusual changes in: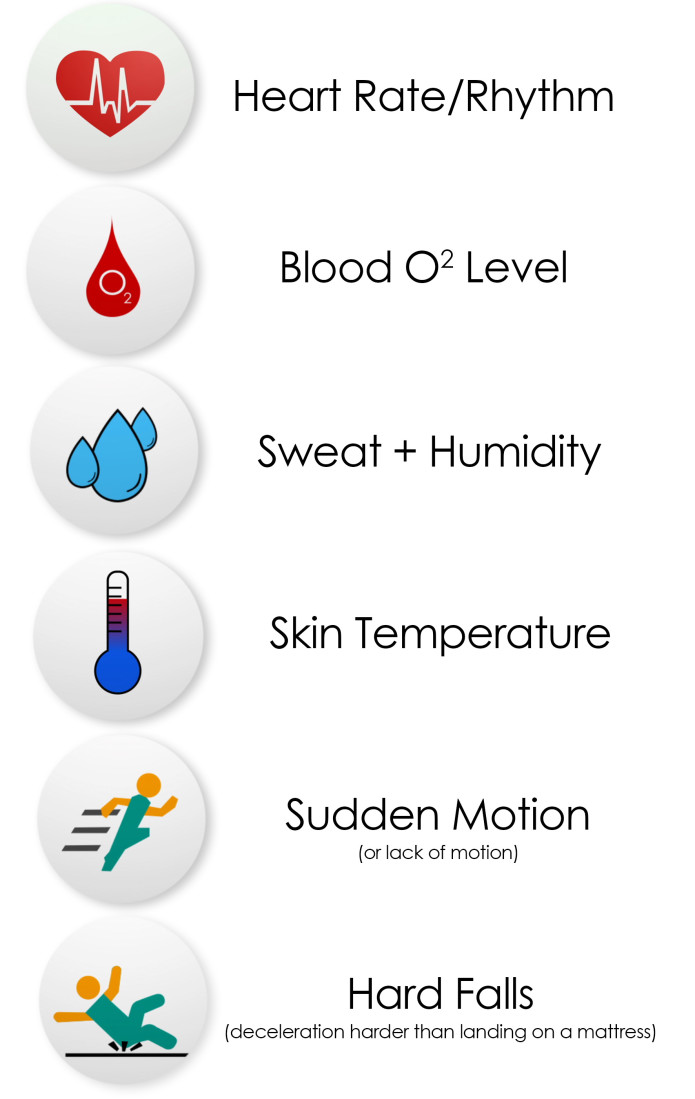 In addition, its GPS function allows for location tracking of a lost child within range of your smartphone or base station's 10x Bluetooth range. 
EXAMPLES OF USE CASE SCENARIOS
There are many urgent situations that can arise wherein a child needs help. Some scenarios in which parents could benefit from Happy Gadget alerts are if they have:
Children with allergies
Children with asthma
Children who may be feverish, vomiting, or otherwise sick
Children who may swallow foreign objects or begin to choke
Children who may fall on a hard surface and unable to respond
Children who may wander out of sight in crowded places
Children who may be abused or neglected while supervised by a babysitter
Children who may accidentally fall into a swimming pool
Children who may want to send an S.O.S. to the parent in a dangerous situation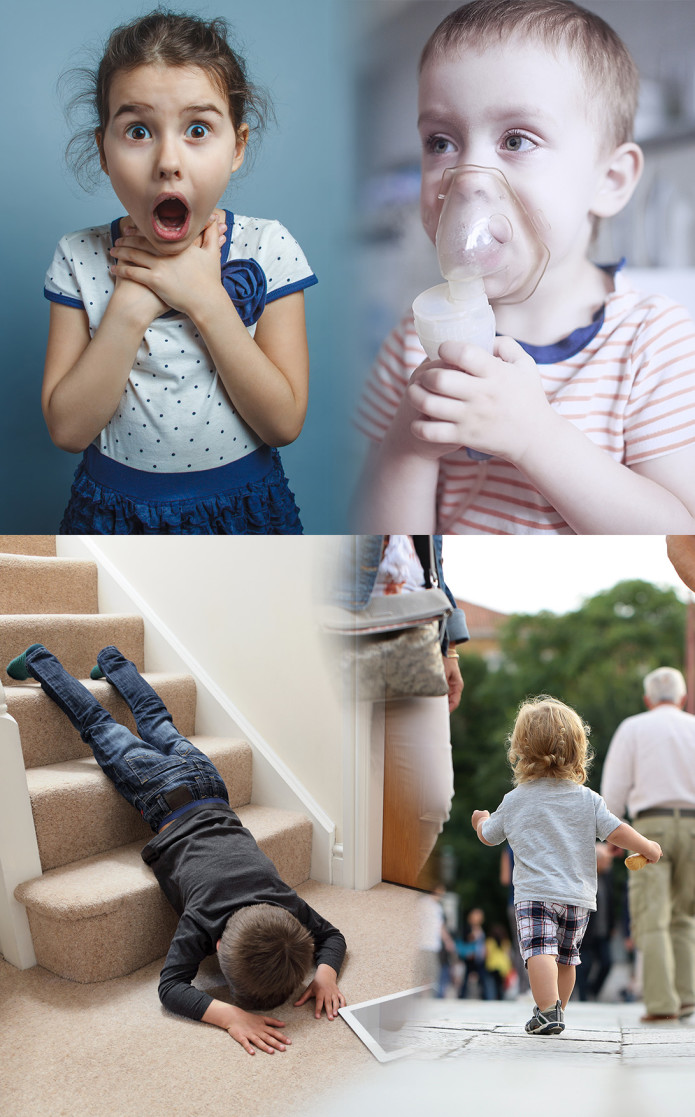 And so much more. 
TECHNICAL DETAILS
Sensors/Components:
Heart rate monitor,
Oximeter,
Sweat sensor,
Thermometer,
Accelerometer,
Gyroscope,
GPS,
Microphone,
Vibration Motor
Specification:
Compatibility: Android 4.3+, iOS 7+ 
Display: Small Flexible OLED Display 
CPU: Dual-core 1 GHz 
Memory RAM: 512MB 
Memory Storage: 4 GB 
Bluetooth Version: Bluetooth 4.2 
Battery life: 300mAh – up to 5 days Charging time: About 2 hours 
IP rating: IP67 
Wrist Band Specification:
Material: Toxic-free silicone 
Color: Aqua, Black, Purple, Blue 
Size: One size (3.0" – 5.0") 
If your child's wrist size is larger than 5", he/she can wear the Teen/Adult Gadget with a small sized band.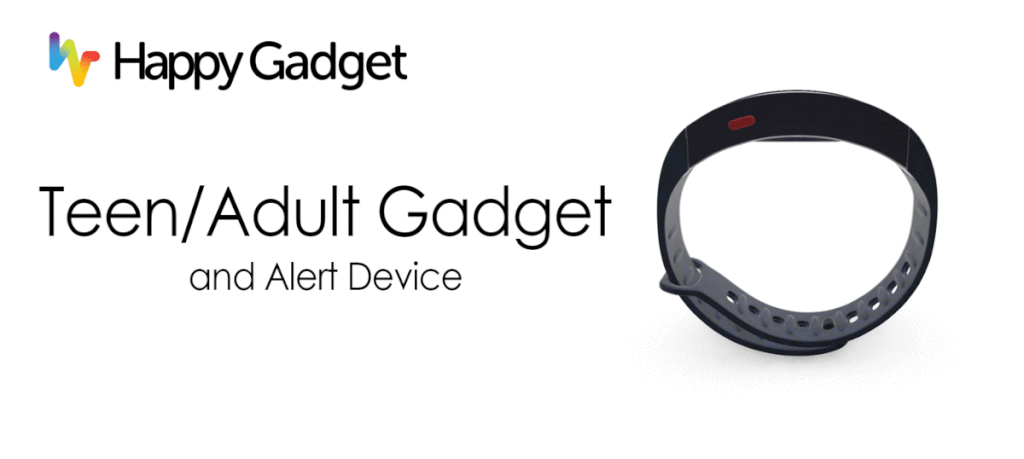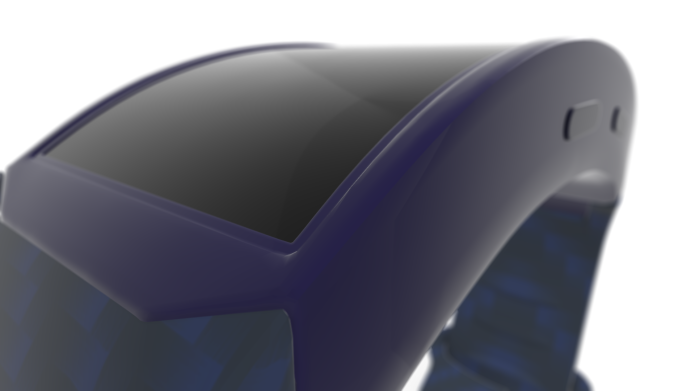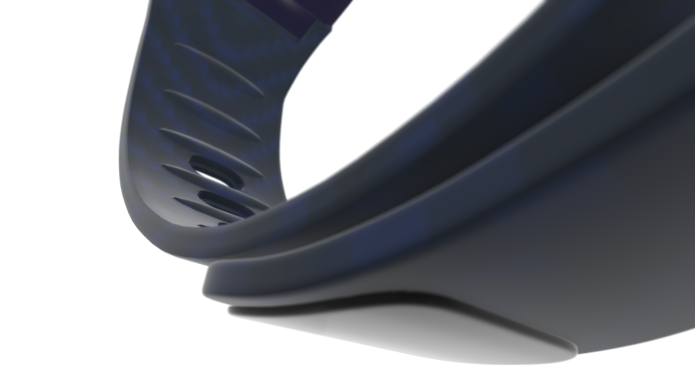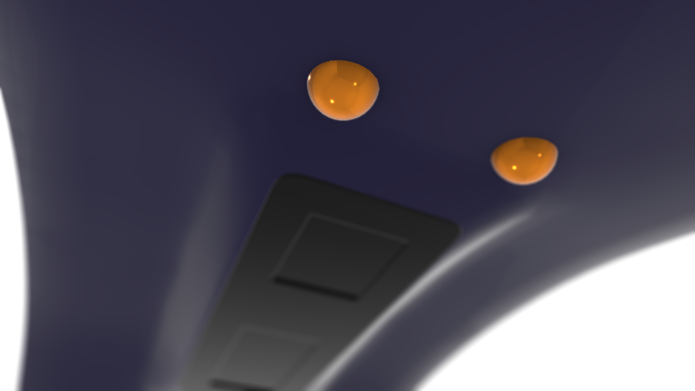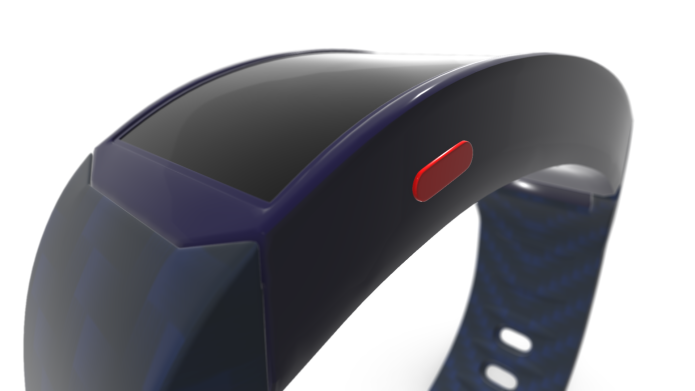 The Teen/Adult Gadget has all the functionalities of the Child Gadget with one additional feature. The Teen/Adult gadget can also be paired with a synchronized Child Gadget to receive alerts. If any abnormality is detected in the paired child device, the Teen/Adult device will receive an alert via Bluetooth. It can also send notifications/messages to the Child Watch. Example: 'Come home. Dinner is ready'.
Because the Teen/Adult Gadget is also packed with the same medical-grade sensors and algorithms as the Happy Gadget Child Gadget, it can also be used standalone.  If your child is big enough to wear adult sized (a wrist size over 5"), he/she can wear this gadget to be monitored.
Sensors/Components:  Same as child device
Specification:  Same as child device
Wrist Band Specification:
Material: Toxic-free silicone 
Color: Aqua, Black, Purple, Blue 
Size: Small (5.0" – 7.0"), Large (7.0″ – 9.0″)
The potential users of this device are limitless.  It can be worn by the handicapped, elderly, Alzheimer's/dementia sufferers, and many others.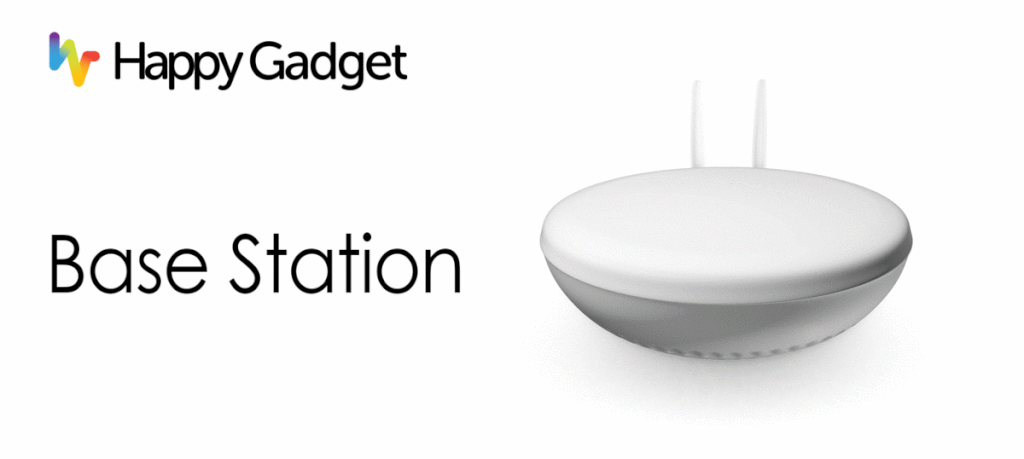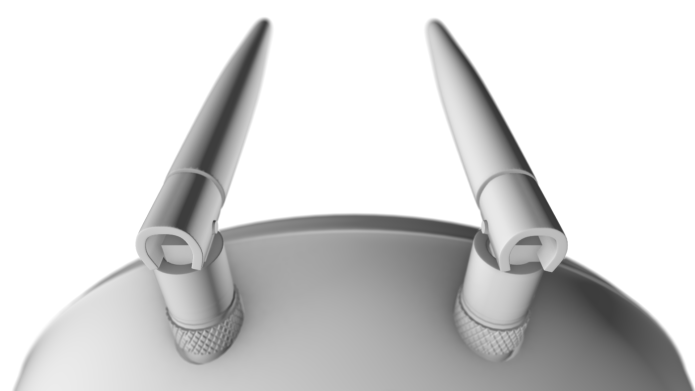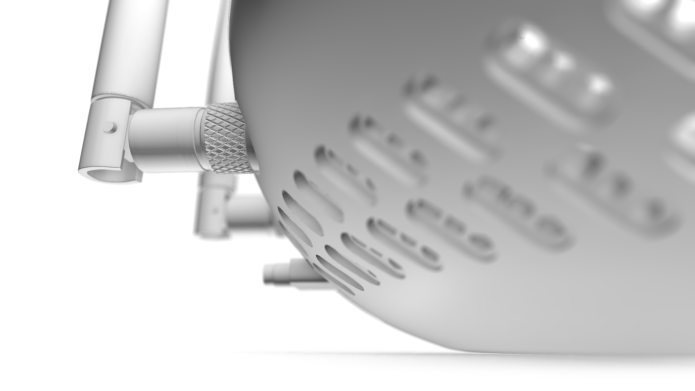 Bluetooth Extender + Alert Transmitter thru Internet Router + Wireless Charger
The HG Base Station works as a key element in sending and receiving alerts.  It can multiply a signal up to 10 times that of conventional Bluetooth range* (up to 300 feet), to communicate with synced devices.  It also works with Wi-Fi, has a built-in operating system to send alerts even when parents are away from home, and acts as a wireless charger.  Put your device on top of the base station to charge the device much faster than charging with Micro USB charger.
Specification:
Dual Band 2.4 GHz Wi-Fi 
Bluetooth 4.2 
2 Detachable Omni-directional Antennas 
LED Glow Light 
Qi compatible 
2A Wall Charger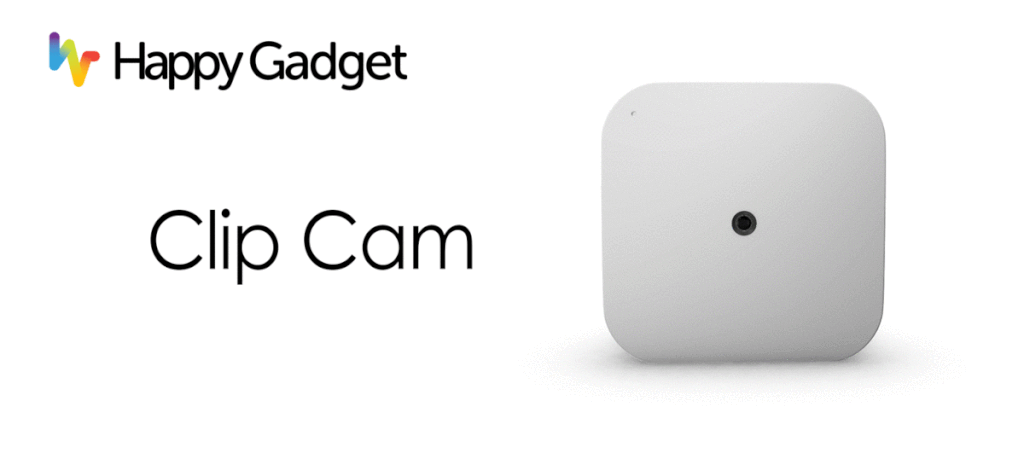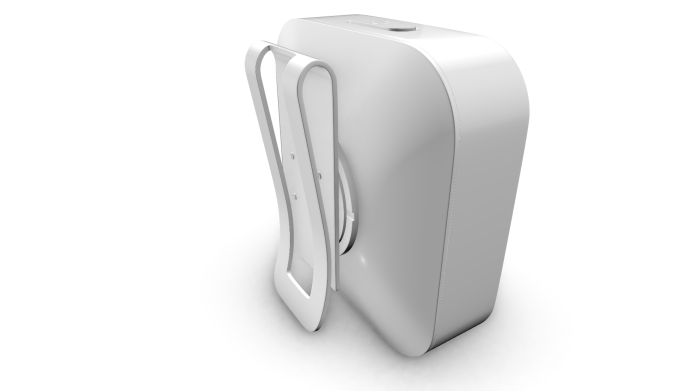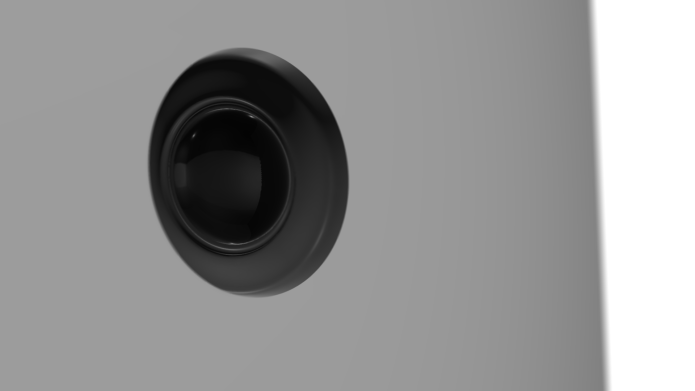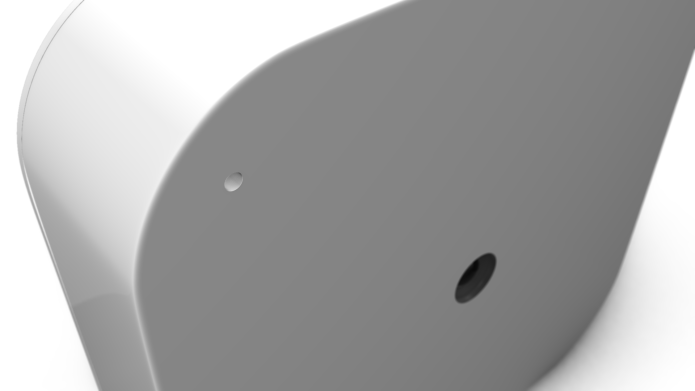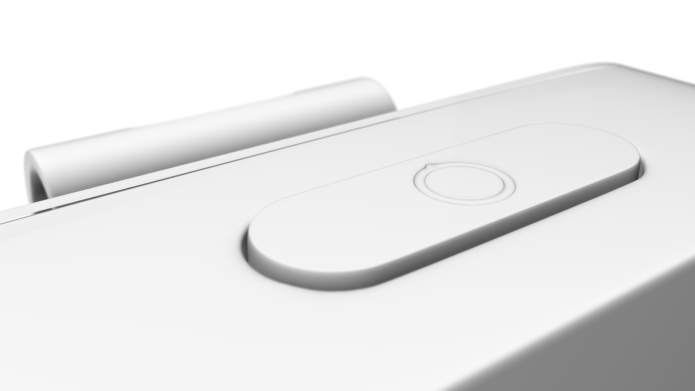 The HG Clip Cam is a wearable camcorder that works simultaneously with synced HG devices. Upon predetermined alert generating events, the watches automatically trigger the Clip Cam to record video and sound.  The Clip Cam will store the recorded file on a drive, and the monitoring person can access these files when they arrive within syncing range.  When working with the HG Base Station, Clip Cam can also send notifications and the recorded files directly to smartphones and monitoring devices, so they can be accessed right after the event occurs.
Specification:
Built-in Wi-Fi & Bluetooth 4.2
Video Resolution: 1080p @ 30fps / 720p @ 60fps 
Field of View (FOV): 87° 
Flash Memory: 2 GB 
Recording Format: WAV 
Recording Bit Rate: 128K bps 
External Memory: microSD cards up to 32GB (Not included) 
Battery: Rechargeable Lithium-Ion
HOW DID IT ALL START?
Happy Gadget was founded by Pius and Eric, both fathers of young children. Pius's son has a severe peanut & tree nut allergy that has landed his family in the ER numerous times over last six years. Although Pius's son is well aware of what to not eat, his family still carries an Epinephrine injector all the time. Meanwhile, Eric has experienced personal tragedies involving a young family member with asthma who had suddenly passed away from respiratory and cardiac distress while his parents were away from home. We've learned from such family sagas that such things can happen to anyone. Ensuring children's health and safety has since become a passion that we knew we wanted to solve and prevent future family tragedies.
Three years ago, after yet another ER visit due to Pius's son's peanut allergy, we started to wonder if there was some way for us to get notified as soon as he started displaying symptoms of an attack. After intense discussion with some medical professionals, and extensive research into existing biosensor technologies, we began to design and build a device to allow us to always be connected to our children at all times, even when we weren't there physically.
Two years later, the first wearable prototype was completed. It had all the sensors to measure skin temperature, skin humidity, heartbeat, oxygen levels, and motion, but having parent alerts only within Bluetooth range seemed insufficient. Once teamed up with some talented wireless communication engineers later, and we were able to extend communication range with Bluetooth 4.2, and add GPS.  With the added Base Station, we were sending signals from over 300 ft. away!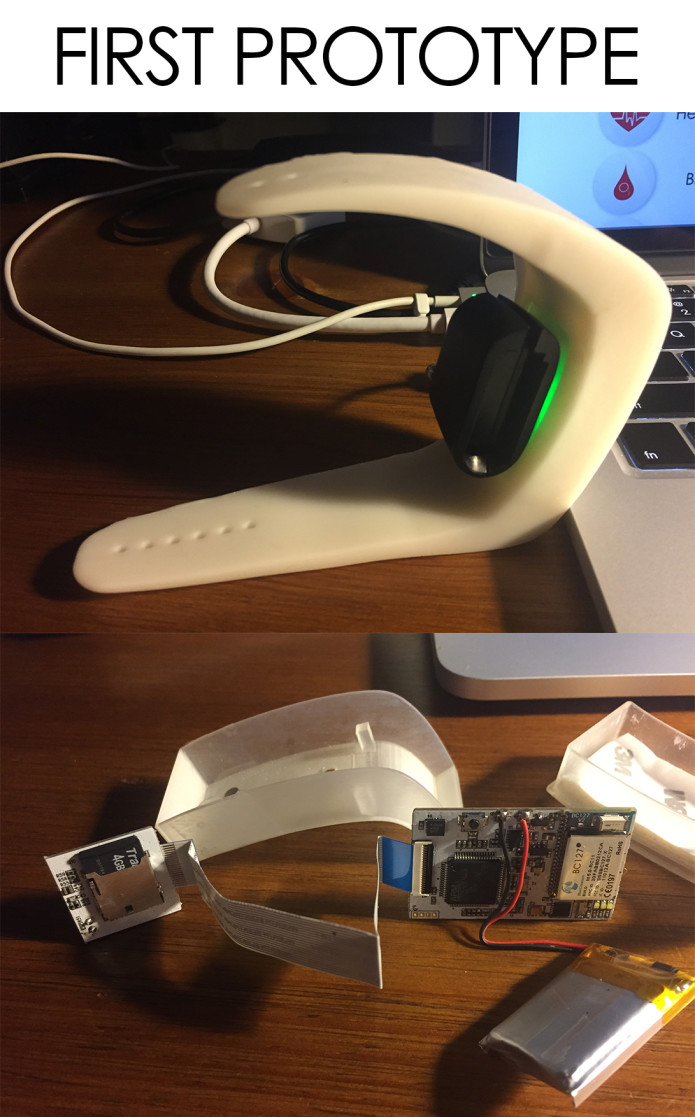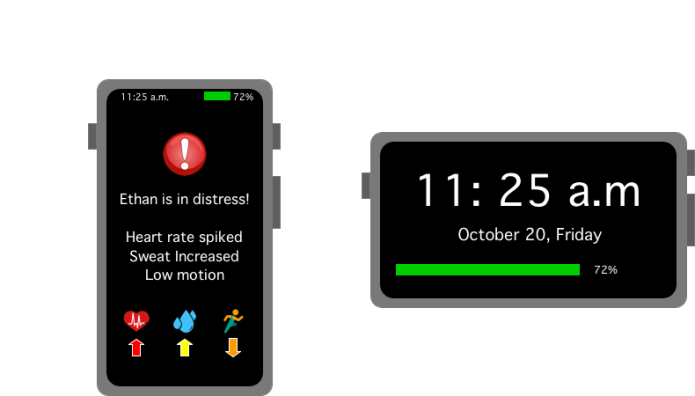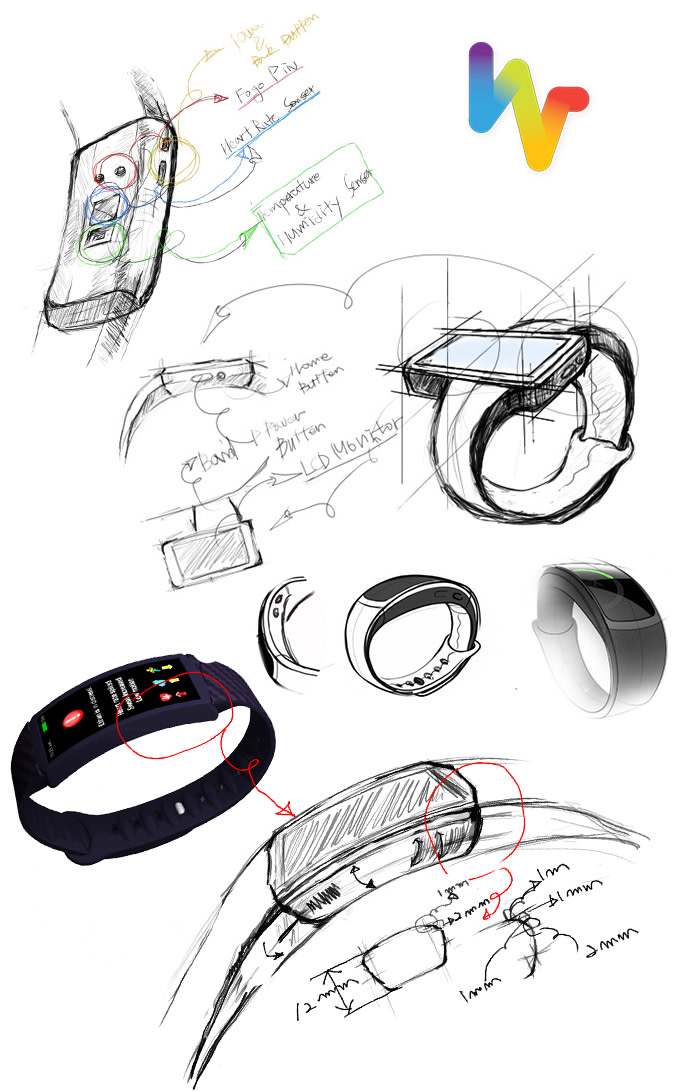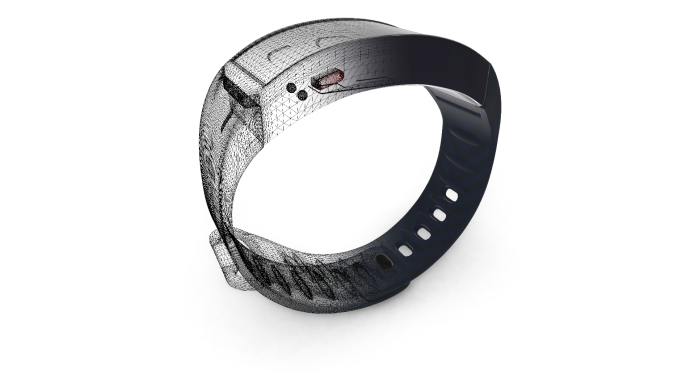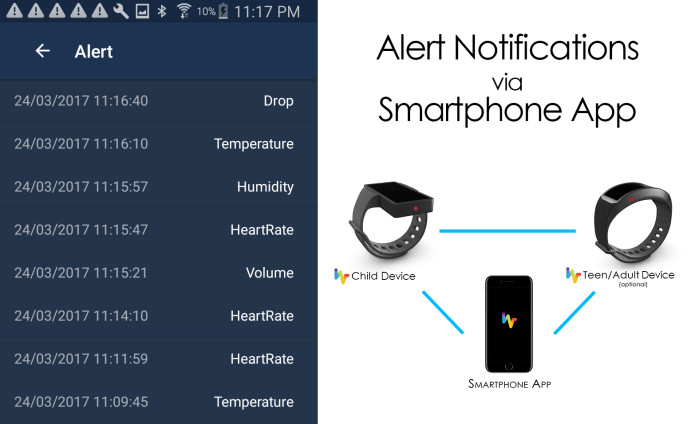 WHERE WE ARE IN DEVELOPMENT &
WHY CROWDFUNDING?
After almost three years of research and development efforts, including several proof-of-concepts, prototypes, tweaks, and refinements, we were able to test its functionalities in our prototypes as close as envisioned finished products.  We already selected most accurate and reliable biometric sensors and communication components that allow our devices to perform.  
We chose to run our campaign on Indiegogo so that our backers could truly help form the future of Happy Gadget devices – we want your honest feedback and will take all of it into account for future versions and updates. We also believe that this is a great opportunity to create an excited community of adopters that share our love for children.
Here's the timeline that shows what we have done so far: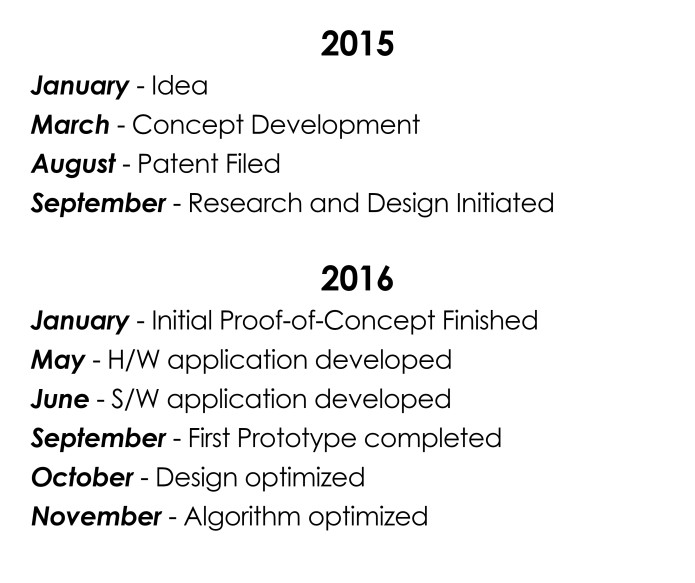 We want you to have your HG devices as soon as possible so that you can be there when your child needs you most.  Here is our plan to achieve that:
2017
April – Make a lot of Indiegogo friends and execute manufacturing standards & agreements

June – Place orders for sensors & components

June – Begin manufacturing for the molding parts

July – Finalize assembly and functionality testings

August – Get IRB approvals*

September – Optimize hardware and software

October – Perform quality assurance tests and more optimization

November – Finalize shipment process and BEGIN SHIPPING!

December – All backers' packages will have been sent out
We offer a 100% MONEY BACK GUARANTEE if we are unable to deliver the device to your home by the end of December 2017. 
* IRB:  We will conduct a formal clinical research study, which will ensure that our device will comply with safety guidelines. Our devices will be fully reviewed and approved by an ethics and safety institutional review board (IRB) prior to shipping, to show that our product will not pose any significant risk to user participants, and can be used to collect, store and display all your data in an informative and safe manner, without making specific diagnosis. And because our device is not a clinical device to diagnose or treat diseases, but a behavioral monitoring device/app, the FDA exempts our device from regulatory review.
OUR DEVICE PHILOSOPHY
We do not believe in aggressive, overbearing, or neglectful parenting. In fact, our Happy Gadget Child Device is meant to provide children more freedom to roam and play independently, whilst giving that extra peace of mind to their parents and guardians. Independence and self-reliance are an important part of the psychological development and well being of children, hence, we designed Happy Gadget to give children the space to learn and discover on their own, whilst being safely monitored.
As for the Clip Cam accessory, while we believe that many babysitters and nannies are responsible caregivers, and while it is important to trust, it is even more important to verify. This is why we recommend our clip camera as an important accessory to the Happy Gadget. We've seen and heard too many stories of caregivers being less attentive or responsible than they should be, and want to make sure that parents are equipped to know if their children are in good hands.
RISK & CHALLENGES
We have done our best to mitigate the risks and challenges for this project, and are confident that we have carefully prepared for any potential delays, having laid out a realistic manufacturing timeline, partnered with persons who have prior experience carrying out large manufacturing and distribution projects, and allowed a few more days in the timelines for any issues that may arise along the way. Whilst we have taken this measures, please be assured that we will be fully transparent, and inform our backers immediately if any issues arise.