Happy Raptor Distilling | Hello from New Orleans' newest rum distillery! Your support makes all the difference.
NEW STRETCH GOAL OF $30,000. LET'S CELEBRATE AS A COMMUNITY. PLEASE SEE UPDATE.
Welcome! (Bienvenue !)

Happy Raptor Distilling, LLC was founded in 2017 by three friends and former next-door neighbors: Mark, Meagen and Peter. Our mission at Happy Raptor is to produce quality craft spirits in an environment dedicated to our culture, community, and doing the things that bring us joy. Our team at Happy Raptor is proud to share in the resilience, tenacity and passion that keeps our city growing and thriving as a small business and scrappy new startup. We can't wait to become a staple of our new neighborhood, turning a graffiti-covered shed into something special — with your help!

Our location at 1512 Robert C. Blakes Sr. Drive (before & after)
Our inaugural products, 504Hibiscus and 504BananasFoster, are hand-crafted with a variety of spices, botanicals and citrus, infused over time in a premium white rum. Whole ingredients such as hibiscus petals, as well as bananas and limes dehydrated by hand, make these products stand out with the familiar and beloved smells and flavors of Louisiana and the Caribbean. Never back-sweetened, 504Hibiscus and 504BananasFoster are perfect for sipping and enjoying. In a traditional daiquiri or a sparking lemonade, 504Hibiscus is a star. In a holiday drink such as eggnog or cooking up a rummy bread pudding, 504BananasFoster is everything right with the world. We use locally-sourced products wherever available, and all 504Rum is crafted from Louisiana sugarcane.
For more background details on our team's especially unique and useful mix of skills or the Caribbean tradition of the rhum arrangé that inspires our products, visit the FAQ's. 
Our two inaugural products: 504Hibiscus and 504BananasFoster
What We Need & What You Get
Why crowdfunding and why now, you ask? As a new small business, every dollar matters. Every purchase is thoughtful. Every decision has weeks, months or even years of research behind it. We've been blessed enough to come this far, and we're finally in a place to offer real perks for our friends, family and community to get involved. If you're reading this, we owe you a big THANK YOU for being involved from the start. 
Here's where your money is going:
The equipment, including: 

the still
the chiller
everything needed for the back bar, such as a fridge, sink and ice bin

The tasting room, including:

a custom mural by local artist Hill Landry
an events space with capacity up to 116 people that we will offer for free to non-profits
a 1,000 square foot patio that needs shade and misters so we can actually use it
tables and chairs
finishing touches such as art pieces and light fixtures produced locally whenever possible

The bar, including:

recyclable plasticware and glassware
shakers, jiggers, and miscellaneous bar equipment
juicer

Beautification projects, including:

rebuilding the patio fence and cleaning up the weeds
scrubbing the graffiti off our walls
power-washing and re-painting the exterior of our building
attractive exterior signage that doesn't disrupt the flow of our neighborhood
planters for a sustainable herb garden on the patio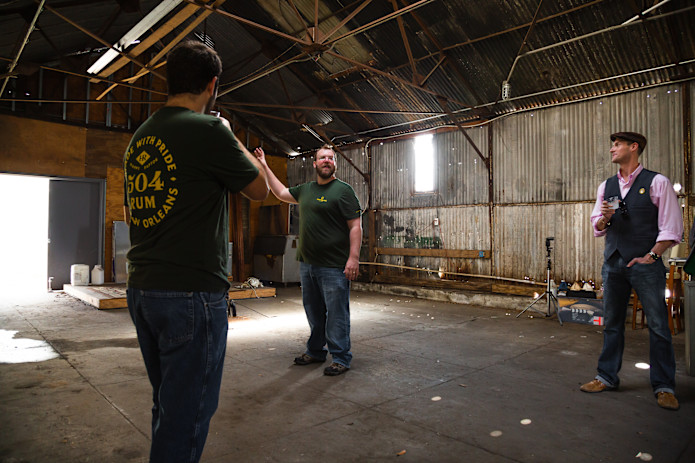 Our CEO and Head Distiller, Mark Taliancich, explaining plans for redeveloping the space.
Here's what you get:
There's quite a few perks with options for everyone: from out-of-towners who can't easily claim vouchers, to Mardi Gras lovers, to the hard-core rum enthusiast. Most notably, keep an eye out for items that are extra-special or may not ever been seen again. These may include:
The Mardi Gras "golden" wristband (Available in Party Animal Raptor, Party Animal Plus, Rum Snob Raptor, Happy Hour Raptor, Copper Elite Raptor, Golden Elite Raptor): One block off of St. Charles Avenue behind VooDoo BBQ, Happy Raptor Distilling is right along the parade route for almost every major Mardi Gras parade. The "golden" wristband gives its holder the following major perks:

Access to the distillery interior for all ten operating days of Mardi Gras, including any major parade that journeys down St. Charles Ave.
Use of the restroom facilities (this is important, as restrooms are hard to come by during Mardi Gras)
20% off all Happy Raptor products during the parade, including drinks
An exclusive preview tasting of 504BananasFoster before the official product launch (not available to regular wristband holders)
This wristband is only available to supporters of this crowdfunding campaign.
*Standard wristbands are good for one operating day. They do not include the 504BananasFoster preview tasting and will be available for pre-sale online and at the door.
**Visit the FAQs for all operating days of Mardi Gras.
Voucher for commemorative bottles from the inaugural run of 504Hibiscus and 504BananasFoster (Available in Island Raptor, Party Animal Raptor, Party Animal Plus, Rum Snob Raptor, Happy Hour Raptor, Copper Elite Raptor, and Golden Elite Raptor): Be a part of our very first batch of rum and grab a commemorative bottle signed by our Co-Founder and Head Distiller. *Keep in mind these bottles must be redeemed on-site at the Happy Raptor tasting room. 504Hibiscus will begin production in September 2019. 504BananasFoster will begin in December 2019, so please anticipate a delay if that product is chosen.
**NOT SO SMALL PRINT: Alcoholic products cannot be shipped. Vouchers must be redeemed on-site in the tasting room. Please expect a delay for 504BananasFoster, as production does not begin until December 2019. Vouchers for any alcoholic products cannot be honored for those under 21 years of age.
Invitation for you and a guest to an exclusive Happy Raptor thank you party (Available in Party Animal Raptor, Party Animal Plus, Happy Hour Raptor, Rum Snob Raptor, Copper Elite Raptor, and Golden Elite Raptor): A special celebration for those who supported us from the beginning, the thank you party will be a "don't miss" opportunity to get a first look at the space and celebrate with plenty of cocktails and swag. 
Exclusive, private happy hour (Available in Happy Hour Raptor and Copper Elite Raptor): At the $1,000 level, Happy Raptor will host an exclusive, private happy hour for you and your guests. While you can book a private event at the distillery, the special addition of 30 free drink tickets and 20% off all products during the event are a one-time only way of saying thank you.
Your happy hour seat saved by a dedicated nameplate on a chair, table, bar stool or mantle for one year (Available in Happy Hour Raptor): We're honestly not sure if we'll do this again, especially in New Orleans where our naming experience can be questionable, such as a professional sports team called the "Babycakes". So grab the opportunity while it lasts. 
Invitation for you and a guest to the Happy Raptor invitation-only VIP grand opening preview party (Available in Happy Hour Raptor, Copper Elite Raptor, and Golden Elite Raptor): These tickets will not be available to the public and there definitely won't be a party like this again – because it's our grand opening!
Name the still (Available in Copper Elite Raptor): Have your name on a cool plaque on the most important piece of equipment in the whole distillery. May it bring all of us good luck!
Name the production area (Available in Golden Elite Raptor): At the $10,000 level, we'll name the production area after you and you'll earn our undying appreciation forever. 

Chief Brand Officer Meagen Moreland and the original Happy Raptor (Mark and Meagen's son) greet friends at the space.
Risks & Challenges
As an industry, craft spirits is only now finding its footing again after the effects of Prohibition. As a result, there is a very heavy system of red-tape, procedures and permitting at the federal, state and city levels. Happy Raptor has already acquired its federal permit, as well as federal approval for the 504Hibiscus and 504BananasFoster labels. This is a great start, and we are actively working now to secure our state and city permits. We are extremely persistent, highly prepared, and we've done our research and due diligence, which is half the battle. However, much of our timeline is completely dependent on this permitting process.
Additionally, our space is still under active construction. Before we can begin production, we need a few more key improvements to bring our building up to code. We've made great time, thanks our wonderful contractor and construction team, but we've still got a ways to go. 
It is our commitment to remain communicative and open with supporters regarding any potential delays to our timeline, and we guarantee a timely response for any questions or concerns.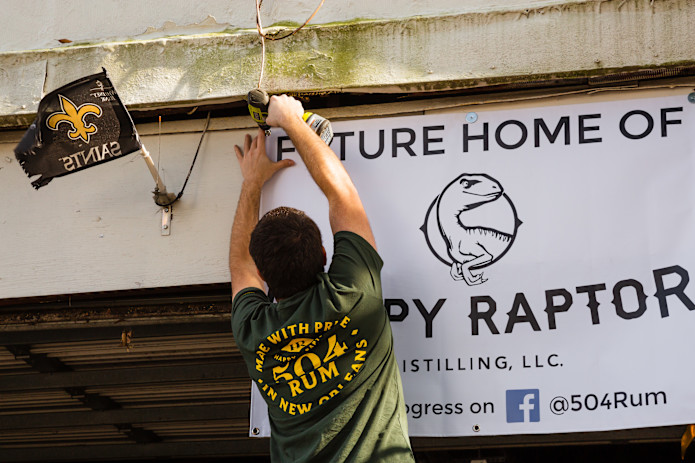 COO Peter Rivera hangs a banner announcing Happy Raptor to the neighborhood.
Other Ways You Can Help
If you can't contribute, that's okay! We're still glad you're here. Here's a few ways you can help without taking out your wallet:
Spread the word. Share the campaign on Facebook, Instagram or Twitter. Tag us @504Rum!
Join our mailing list. Enter your info on our website: www.happyraptor.com. 
Come see us. Stay tuned for more announcements about limited tasting room hours, events and special opportunities to come check out the space!
Thank you and cheers!