Headache Halo – the escape pod for your head | We can do better than an ice pack and a dish cloth.
Headaches require advanced cold therapy.
Hello! Welcome to our Project Halo campaign page.
We're a new start-up here in Toronto called koldtec and we plan to save the world, one headache at a time.
No one should have to suffer through the pain and discomfort of headaches or migraines. We knew we could find a sophisticated solution – certainly better than just an ice pack and a dish cloth. 
Fortunately, we know a thing or two about engineered ice and wearable cooling gear, so we decided to take cold therapy to the next level and challenged ourselves to build an escape pod for your head.
We asked our team, "if cold therapy is one of the most trusted, natural and effective means of managing headache pain – then how can we leverage design and technology to go from good to better to best?"
We know we can't stop a headache or migraine from happening, or magically make it go away, but wouldn't it be great to have a better tool to deliver advanced cold therapy and help ease the discomfort?
We reached out to our instagram community with a crowd-design request for a wish list – and this advanced cold therapy project – Project Halo – started to take shape.
We set out to create the koldtec Halo with these main objectives in mind:
wearable and hands-free
targeted cold therapy, so the cold is delivered only where you need it most
adjustable fit for loose and comfy or snug and secure
flexible ice that can bend and contour to the natural shape of your head
"sleep-able" meaning you could fall asleep with it on 
block out light and minimize sound
sustainable fabrics and eco-friendly materials where ever possible
locally made in Toronto
We're happy to say….drumroll please…we did it!                                                                                         
Our team combined all of these wonderful design and functionality features and brought the koldtec Halo to life.  The escape pod for your head has been prototyped and tested; now it's all set and ready to go. We just need your support and financial commitment to flip the switch and begin production.
What makes the koldtec Halo so gosh darn great?
Perfect Fit
We've designed the koldtec Halo with an adjustable fit, so you can wear it loose and comfy or snug and secure.  We know that some folks like pressure and support – while others want a light and gentle touch.  We've allowed for ample space as you ultimately select how much ice to load and where; for a custom fit that's personally tailored to you.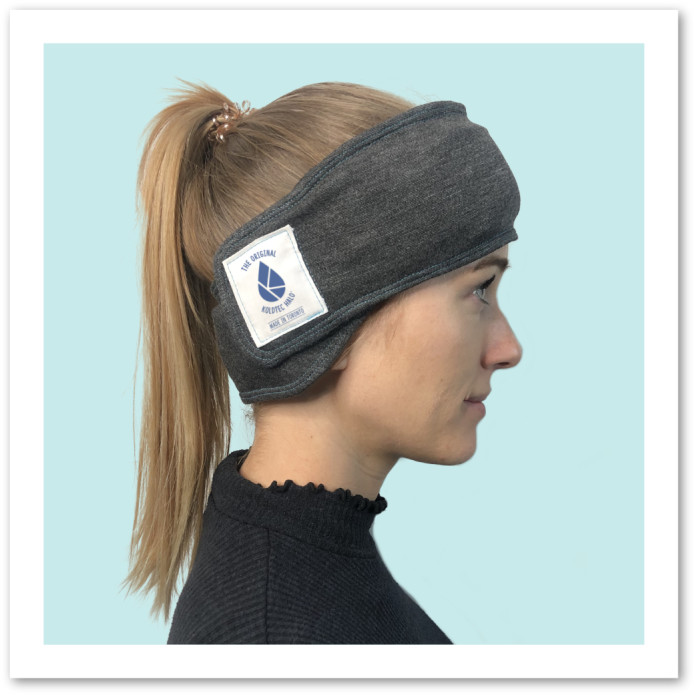 Wearable Cooling Gear
Say goodbye to holding an ice pack against your neck or a wet facecloth on your forehead. True Wearable Cooling Gear aka the koldtec Halo, gives you the freedom of mobility without having to compromise with ice that slides around, slips off, falls off or otherwise doesn't stay in contact with your body. Our internal ice pockets keep your cold locked-in and secure. The secret: we've sourced a low profile hook 'n loop that's molded, not woven – making it about 50% softer and thinner than traditional Velcro. 
Advanced Cold Therapy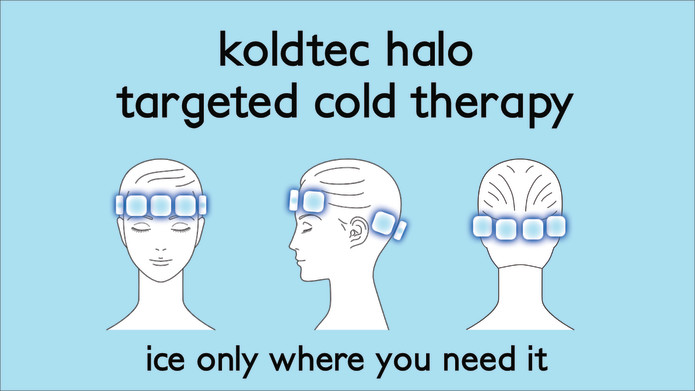 We've researched the key headache spots and specifically isolated "pain point" zones where headaches are most common. Then we designed 2 internal ice pockets that you can load with FlexIce strips as needed to target each different zone. So, whether your headache origin is migraine, tension, cluster or sinus – we've got ice therapy in the places you need it most. The koldtec Halo allows you to select the ice placement to fit your personal zones, providing the best combination of advanced cold therapy.  Up to 9 ounces of ice at once!
Engineered FlexIce
Our patented, engineered FlexIce delivers an instant and long lasting chill to the targeted spots you need it most. Each FlexIce strip will stay cold for 45-60 minutes and it's designed to bend and contour to the shape of your head. Even better, your FlexIce strips come un-hydrated, so you hydrate and freeze the very first time to determine how thick or how thin (how hard or how soft essentially) you would like your ice to be. Best part: our FlexIce turns to gel – not water – when melting, so it actually gets more comfortable the longer you wear it!
Sleep Approved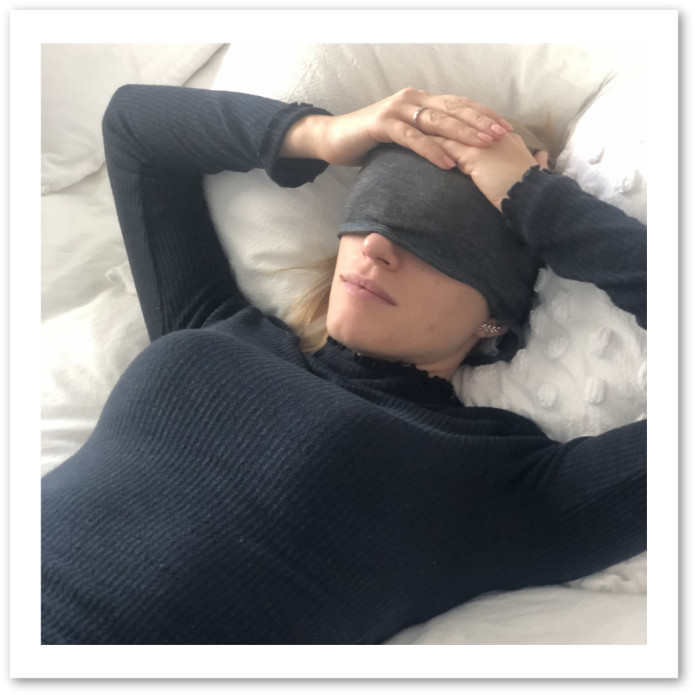 We know, sometimes the best way to chase your headache away is to sleep it off.  So, we've made sure your koldtec Halo is soft & secure enough to wear to bed. The ice pockets are strategically placed to allow for various flat spots (where there's no ice) to comfortably allow you to rest your head and drift away into dreamland. The slim and lightweight "headband" design means no bulky hats or caps to wear. Plus, we've designed an optional, built-in sleep mask – just slide down the extra bamboo fabric – to make it night time, anytime.
Sensory "Underload"
We're quite sure you've heard of sensory overload – well, this is the opposite. Life is hectic enough with lights flashing and noises buzzing nonstop it seems.  We've designed the koldtec Halo with a pull-down, sleep mask to block out light – and 3 layers of super soft, bamboo fabric around your ears to minimize sounds. We said it's like an escape pod for your head and we weren't kidding around. 
Sustainable Bamboo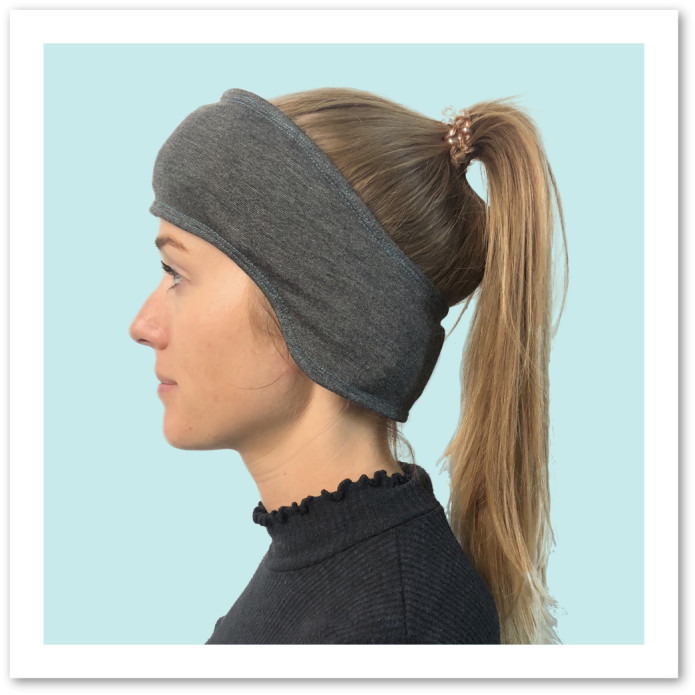 We've selected a naturally sustainable bamboo fabric for a super soft and comfy touch. This wonderful fabric is cool and breathable and wicks away moisture from the body, leaving you feeling dry and fresh. Our bamboo is also "scent neutral" and naturally antimicrobial, so say goodbye to chemical smells and odour! When it comes time to clean – don't worry – just toss it into the washing machine on a gentle cycle and air dry flat.  We wanted to make sure to pick a premium fabric that was extra easy for you to care for!
Insulated Travel Tube
Our travel tube is more than just cute and compact. It's actually a 3 piece, double-wall chamber capable of keeping your frozen FlexIce strips cold for up to 3 hours. Our travel tube is eco-friendly and made from 100% recycled paper. So, just freeze and go if you want to take your koldtec Halo for a road trip! Fits up to 9 ounces of ice.
Made Locally
We've made a commitment to local manufacturing right here in Toronto, Canada.  You can count on excellent quality from small-batch production and attention to detail. We promise to deliver our premium koldtec Halo to the global marketplace while proudly supporting our community at the same time.