Help Us Launch Our Online Farmers' Market! | Imagine being able to buy your local products online and have it delivered right at home!
Let's make local accessible – together 
Picture this: You get home from a long day of work and your groceries are waiting for you on your doorstep.  Or maybe you haven't left the house and you're still in your pajamas and a box of fresh, local food, customized to your liking, is delivered right to your doorstep.  
Mark your calendars for early October because this is going to become a reality!  We will be launching the first full online farmers' market in Atlantic Canada.  You'll be able to do all of your grocery shopping in one place and feel good knowing your purchases make a difference in your community! 
To make this dream a reality, we need your support.
Why the change? 
We had such a great response to our mobile market and food boxes – that we started thinking about how we could better serve you while making it even easier to buy local products.  We are really excited as this will further our vision of increasing access to healthy food for everyone in our community.
To kick start our new service, we are launching a campaign.  If you're interested in having your local food and products delivered to your front door, please sign up as a member. As one of the first people to sign up, you will receive mega-perks (see below)! Our goal is to sign up 300 members by our launch date!  
Local Tastes Better When Being a Member

Here's Why: 
Free home deliveries. 
Discounts! Who doesn't love a deal? We will have special discounts exclusive to our members. 
Weekly local recipes prepared by some of the best chefs in Moncton. "Cauliflower 'steak", anyone? 
There is no time like the present – the special membership prices in this campaign will only be offered until we reach our goal.
They are 2 ways to order on the online store, using a basic account or with the Local Ambassador membership.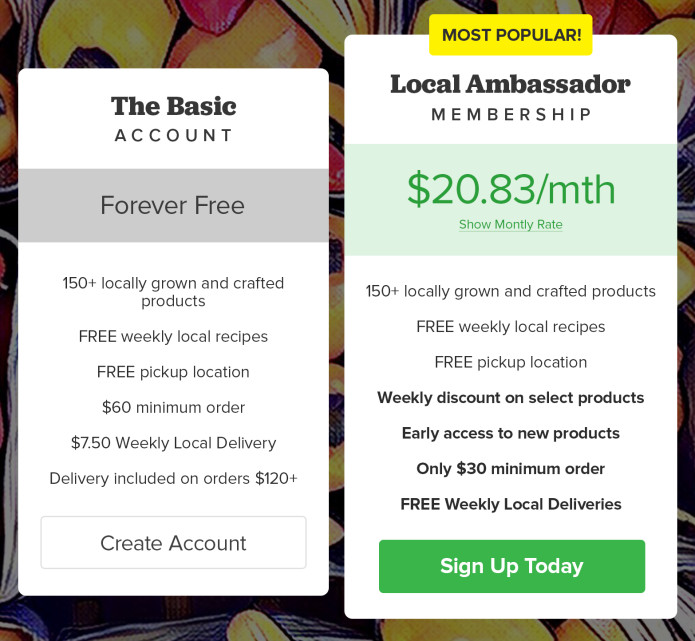 If you would like to register for a free account click here.
Tell me more. Tell me more!
YOU Chose the Contents of Your Box!
Our online store will allow us to deliver you the freshest products AND let you choose the products YOU WANT to have delivered to your home.
FRESHEST Products in Town
Each week, there will be new products to discover. You can choose to be notified with the updates and go in and place your order. We will process all of the orders on Wednesday each week and then get to work calling farmers' and local producers to fulfill your requests. Saturday morning food will be harvested from fields across the province, and two days later it will be on your front step waiting to be turned into something delicious! 
Since the beginning…
The Farmers' Truck was created by two entrepreneurs Frederic Laforge and Mathieu Reyjal. Fred grew up on a farm and always appreciated local food, but could never align his schedule to get to the market during opening hours. Mathieu, was just starting his career in farming and wanted to find new markets to sell his products. The two got together one evening over a beer and the mobile farmers' market, known as The Farmers' Truck, was born.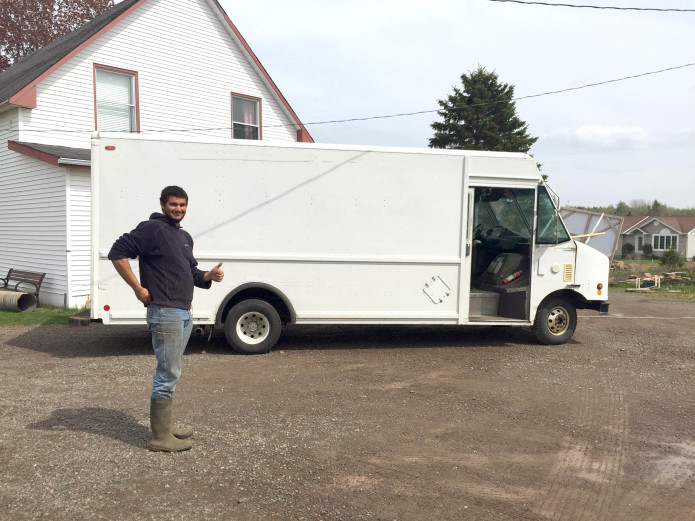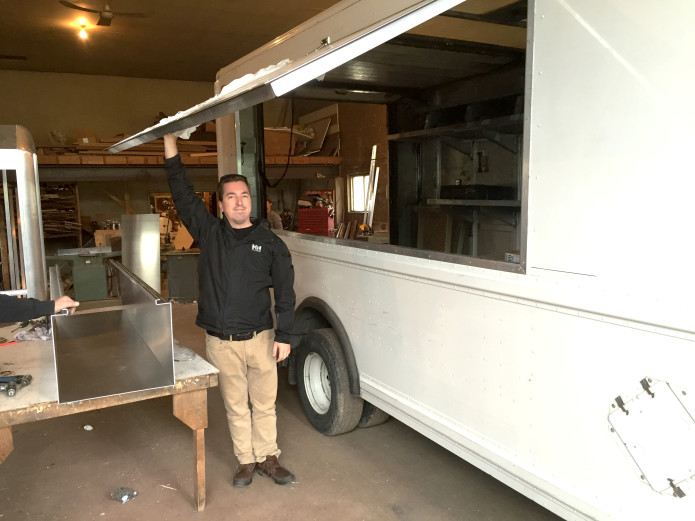 Serving you and local producers has been our mission
Since our proof of concept in 2015, we have served over 10,000 customers with our mobile farmers' market, delivered over 1,000 local food boxes, and created lasting partnerships around the community through our employee wellness programs and our Farmers' Truck Bucks program. 
Local Action = Local Impact
We believe everyone should get to take part in the harvest and do not want the harvest to end. By helping our cause, you get to make a vote for local. Our online store will be the one stop shop for everything New Brunswick. From vegetables, to meat, to coffee, to soap – if we grow it, bake it, or make it in our province, we will have it! 
Help us pave the way to a more connected local food system. We want to thank all of our customers and supporters for embarking on this new journey with us!