Help Us Spread More Vegan Love in Shanghai! | We've got BIG plans for Shanghai in 2018 with our new space that will offer 100% plant-based food!
A Message From the Owner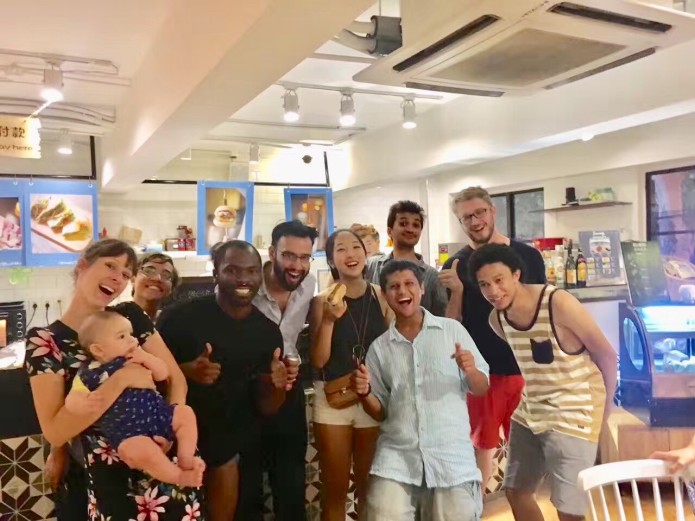 Shanghai's first veggie dog eating contest held during our Customer Appreciation Week
Hi! My name is Lindsey and I moved to Shanghai 7 years ago from America. I taught middle and high school for 10 years and 5 months ago I left teaching to pursue my passion-creating delicious plant-based food for other people to enjoy. The last 7 years have led me on a journey of learning about plant-based foods and how important they are to our health and the health of the planet.
Over two years ago we opened Happy Buddha with the goal to showcase how a product we were making called seitan could be used to replace meat to make really tasty food. 
I didn't realize then that in this small project I would find something so important to me as well as the Shanghai community. What Happy Buddha has come to mean to me is something I never could have expected.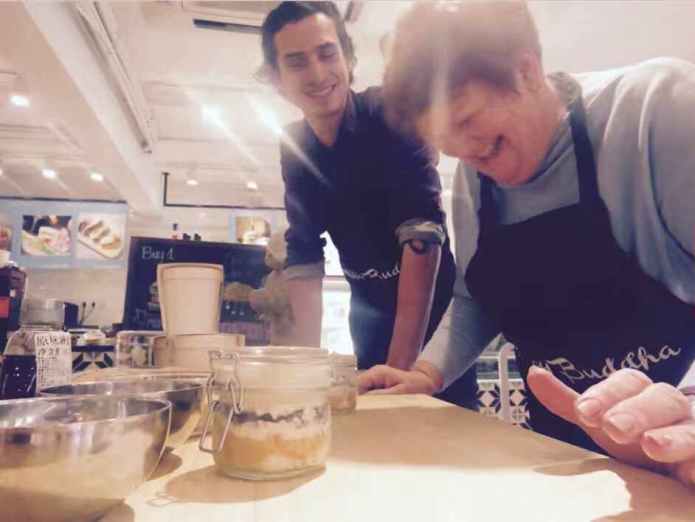 Lea, Winner of our "Make Your Mojo" vegan ice cream contest and Ben
To continue doing what we love to do, to keep you fed and happy, we need your help to make Happy Buddha's 2018 vegan dreams a reality! 
Our Goal and Use of Funds
Our goal is to raise at least $10,000 for our 2018 plans! 
You can help us reach our goals for the new year! We'll be:
Updating our menu to be 100% plant-based! We will be omitting all dairy products from our menu and replacing them with delicious, high quality dairy-free cheezes and sauces that we have been working hard to perfect over the last year! To start, we will also offer VEGAN PIZZA on our menu full time, and we'll be serving up breakfast! Hearty and delicious meals at an affordable price will be conveniently available. To do this we need new equipment, materials and ingredients. 
Updating our look! We will move our little vegan restaurant to the first floor of our current location, swapping spaces with Sprout Lifestyle! On the ground floor, we will offer a bright, cozy and welcoming space for friends and family to gather and enjoy healthy and affordable food together. On the second floor, Sprout Lifestyle will offer even more of their amazing healthy cooking workshops and courses as well as other health and wellness activities. We love being part of The Healthy Hub with Lizzy's All Natural and Sprout Lifestyle in the heart of the city!
Offering you more! We will expand to bring you more exciting and delicious ways to enjoy plant-based treats! We want to make it as easy as possible for you to get your vegan specialty items for special occasions such as our tasty cakes, or large catering orders. We want to help you feed more people good food and we will need your help to be able to make this happen!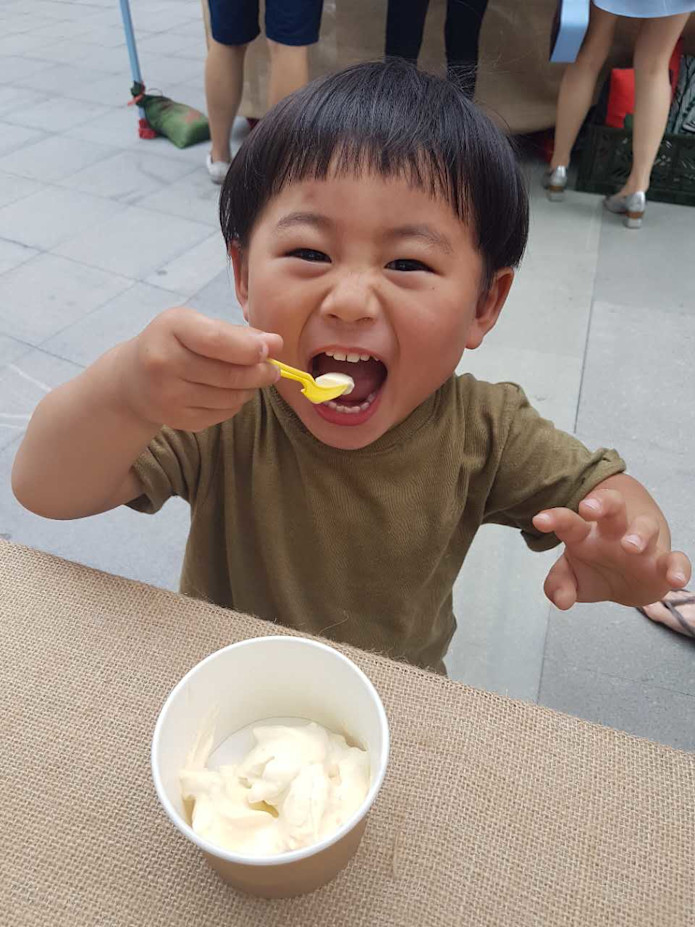 This cutie pie loves our dairy-free ice cream!
Perks!
Those are just a few of the things we have in store for you if we are successful in this campaign. To show our appreciation for your help in making this happen we have some amazing offers for you. In return for your valuable contributions, we present to you some unbelievable perks to backers of our 2018 vegan dream project! Check out our perks page to see them all!
*Please note that because we are located in Shanghai we will only be able to provide our perks in Shanghai and surrounding areas. Thank you for understanding!*
We have come a long way, and can continue on this wonderful journey with your help. 
Your Contribution Makes a Difference in the World!
To give you an idea about the difference you can make with every plant-based meal you eat, consider this:
-In a recent study it was found that vegans have lower rates of cancer than meat eaters and vegetarians. In fact, women following a vegan diet had 34% lower rates of female-specific cancers. More amazingly, a vegan diet has been shown to have the power to de-activate disease causing genes and activate disease fighting genes.
-A whole foods, plant-based diet has been shown to reduce rates of other health impairments such as diabetes and  high blood pressure. 
-If more people followed a vegan diet, greenhouse gas emissions would decrease dramatically, helping to slow the effects of global warming.
-Trillions of RMB would be saved on health care each year if more people adopted a healthier, plant-based diet, making themselves and the economy stronger and more resilient.
-Fresh water is already scarce in many places in the world, yet the demand will continue to grow. Save water by going vegan. A vegan diet requires 300 gallons of water per day while a non-vegetarian diet requires 4,000 gallons of water per day.
Every time you choose to eat at Happy Buddha, you are making a difference.
   Whitney and Andrew met at our 21 Day Vegan Challenge and were engaged shortly after!
Lindsey's Greatest Wish
On a personal note I would like to share something with you. As a mother I often think about what the world will be like when my children are my age, or even older. Sometimes I also wonder what my sons will say about me when I am no longer on this Earth. More than anything I want them to live in a beautiful and peaceful world. I also want them to be proud of their mother. 
I want them to grow up in a world where compassion rules, the Earth's abundant beauty is still available to enjoy, where everyone has enough food to eat and fresh water to drink. Where everyone can live a life of happiness and health. I want my sons to be able to say that their mother and the people she knew did something to make the world a better place. Please help us continue to feed you and add more beautiful chapters to our story; to all of our stories.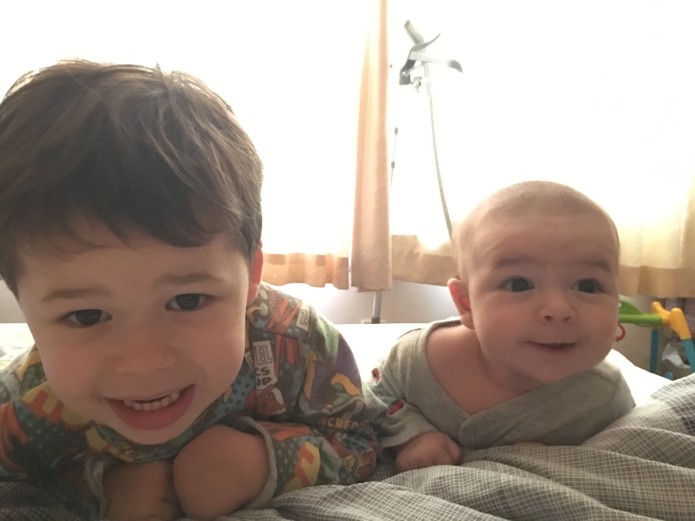 Lindsey's Loves, Sammy and Max
Over the last two years we have overcome numerous challenges. We understand the difficulties we will face and we are ready to conquer them!
Thank you for your support and for believing in us! The last few years have been amazing and here is to many more!
Pledge for your health. Pledge for the planet. Pledge for the future.
If you are not able to donate please help to share our campaign and spread the word by liking, sharing, tweeting, anything! We appreciate your support in all forms.