HiveCube: Sustainable Homes for Puerto Rico | Building sustainable homes that have simplicity, affordability and security at its core.
Problem:
In recent years, affordable and resistant housing has become a growing problem in Puerto Rico. Economic and environmental factors have generated a housing crisis where resistant and accessible housing is scarce. With almost half of the population registered below the poverty level, formal construction of a concrete and wood house is out of budget for the most. Leaving most in unstable and insecure living conditions:
55% of housing in PR was found to be informally constructed 
Of that 45% that was formally constructed, 98% suffered little to no damage after Hurricane María 
Hurricane María caused the destruction of more than over 70,000 houses in Puerto Rico 
ACPR: Foro Estudio de Vivienda: Proyecciones y Realidades, 2018.
Additionally, secure and affordable housing is readily available for most living in the island:

About HiveCube: 
Hurricane Maria has been the largest catastrophic event affecting Puerto Rico in recent history. The resiliency of the people and the desire to revisit and transform their outlook on life was the spark for our new concept. An idea that takes into account safety, pricing and comfort for middle-class families that, more than a house, need a home to re-start their lives after all the destruction hurricane María brought.
Our project envisions a modular concept that is utilitarian, expandable and adjusts to each client's needs. Traditional housing in the Island is expensive, limited by geography and designed with the ideas of a previous century that are not necessarily considering the lifestyle and taste of a younger generation.
Built with all code specifications and guaranteed approval we propose an economic solution that can be built fast and, most importantly, right for the community and the environment. This revolutionary concept will help revitalize the local economy and provide more than an option; a solution in the local market.
Sustainable development, economic vitality, security & environmental integrity is the basis of HiveCube. We are a team of forward thinkers that will change the landscape of our country with our commitment to quality, excellence and value deliverables that will improve and enhance the lives of many.
HiveCube believes that security should not be a matter of income. That is why we have created our Basic Model Unit to help those in need of affordable and secure housing in Puerto Rico. The idea is to create a prefabrication system where we will be able to construct houses in less than three months and give our community the option of a house that is available to anyone.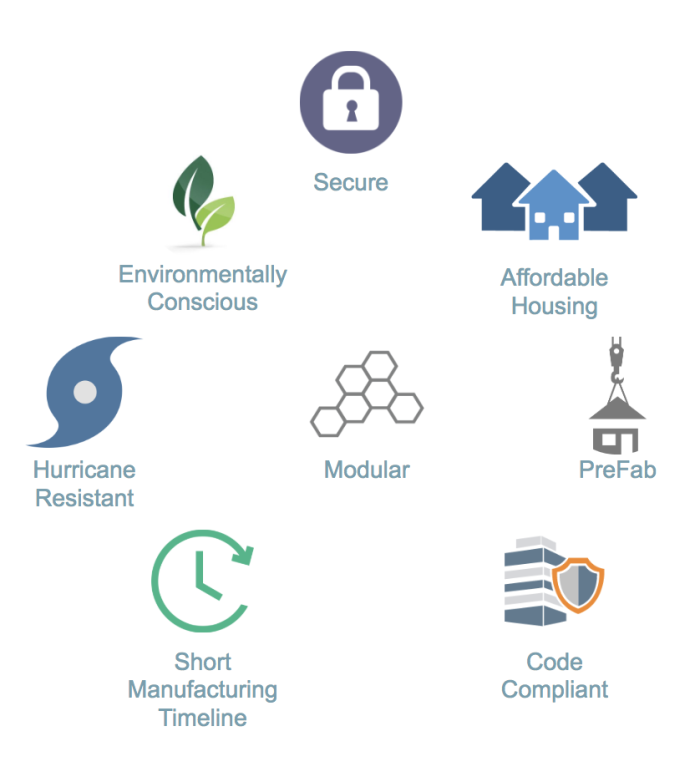 What we need: 
As of right now, HiveCube is working building its prototype and achieve funding to establish its prefabrication factory in PR.  We are focusing our initial sales efforts on projects that have a direct link to the benefit of our Puerto Rican community through organizations. 
Working alongside with Parallel 18, in their Pre-18 Startup Program, our goal is to be able to complete a fully sustainable, off-the-grid prototype by mid-June. This will allow us to further continue to raise funding for the construction of our HiveCube factory that will allow us to design and create our model unit and help families that have lost their homes;  while also creating jobs. 
Funding through this campaign will go directly to the construction of the prototype and establishment of the HiveCube Factory. 
Your contributions will go towards to: 
5k Completion of Off-Grid Prototype Home
74k Manufacturing of first two homes for families in Loiza, Puerto Rico displaced after Hurricane María: in partnership with Taller Salud (www.tallersalud.com) 
21k Job Creation through the Establishment of Manufacturing Facility 
Endorsements: