Hommage Skincare And Grooming For Men | Bespoke Men's Skincare And Grooming Services

A Message From Jon

Hi everyone, my name is Jonathan White and I am the CEO of Hommage – a men's skincare and grooming brand dedicated to transforming stigmas around self-care for men. 
What Stigmas?
Although the men's skincare industry is changing for the better, there are still huge barriers thanks to mis-information and lack of education around grooming and skincare routines for men.  Guys don't talk to other guys about their skincare, leaving most consumers at the mercy of targeted advertising selling 'off-the-shelf' products, suggesting that one simple product can make you look 20 years younger (and are often disappointed when this isn't the case). Others are too overwhelmed by the vast array of offerings, all promising different results, to create a routine at all.
Our mission is to change this.
How? We make it simple.
Our Ethos
Hommage is about routine.
With 3 simple products we provide bespoke routines, tailored to your skin type, which we encourage you to adopt as rituals. Just 5 minutes in the morning and 5 at night for genuinely visible results. In addition to this, our premium skincare and grooming products encourage men to take a few moments out of their stressful lives to LOOK AFTER THEMSELVES! 
Hommage is striving to remove the guess-work by providing the information needed in a simple digital format. We don't push consumers to buy our products, we educate them to make the right choices whilst offering our combination of premium quality with effortless adoption.
Why Should You Care?
Well, despite the fact that the skin is the largest organ in your body, what lengths do you go to in order to build routine in the gym, at work or on your personal goals? I know many guys who spend thousands of pounds on gym membership a year and are relentless in their routine to build the body they desire, or spend hundreds (if not thousands!) on good quality suits, shirts and shoes to look after their appearance. But when it comes to skincare? £5 creams and lotions that do very little for your skin health other than loading it with surfactants and clogging pores. Why people? WHY?
I often get asked how I got into the industry, particularly given my more financially-focused background. To put it simply, I was one of those people. I never looked after my skin, I was overworked and constantly stressed, suffering from chronic Acne and, as a result, lack of confidence. I believed all the gender-based stigmas I know now to be truly dated – primarily that indulging in proper skincare was outside the realms of what was stereotypically "masculine". None of my male friends (or so I thought) were doing it. I washed my face with soap and water convinced I was stripping it of all the 'bad' oils and pollution (the more the better).
How wrong I was. 
What We Discovered…
When we started on this journey, I was astonished at some of the feedback we were getting. When asking questions like "what made you choose your specific brands/products? ", I received many quotes like "always used it", "they marketed their product well", "it was just what I found off the shelf" – the list goes on…
What came out was fascinating and still drives me to this day. We have been gifted the ability to change the lives of other men like me for the better through a 'look good, feel good' principle, helping hundreds of men to take care of themselves through a small commitment to skin health during that 5 minutes of calm twice a day – cleansing and moisturising their skin.
The good news is that more men than ever are investing in their appearance (mostly privately), particularly when it comes to preserving youthful skin, and this is growing significantly year on year.
The fact is that skincare, like personal hygiene, is genderless.
Our Challenge
Despite the positive traction in the industry, the key problem remains a lack of personalised education. Whether that means what products to buy or what the benefits are of a more 'preventative' instead of 'reactive' approach (one of the most important topics we tell all of our customers).
How Can You Help?
Your investment in this instance will help us to expand and supercharge the Hommage mission, creating digital content that 'normalises' male skincare rituals, while expanding both our range, with new and innovative products, and our reach, allowing more customers to try and test our products.
Your reward for this…? The first step to exploring and restoring your own (or a loved one's) skin health through one essential routine. 
We developed these products for you, and the fact that a vast number of our customers switch to our optional subscription service is evidence, in itself, that they work. But we need your help to do more to make significant traction in the movement towards a better wellness routine for men. 
"Become a Tastemaker"
For those with an appetite for the very best Hommage has to offer, we have created The Ultimate Monaco Kit and introduced our new 'Taste-Maker' Programme. 
By opting for this kit, you are automatically invited to join and become instrumental in ensuring we continue to deliver the very best. 
We test and tweak our products relentlessly before making them available to the public. And who better to preview them than you? The very people whose desires we aim to fulfil. 
So, on top of receiving this specifically designed collection (which is not available as a package outside of Indiegogo) at a substantial discount, we would love to invite you to be part of the team, ensuring our quality meets your discerning standards.
Before any new product becomes available to the public, we will send you samples so that, should you choose, you can offer valued feedback, and we will listen.  
There is no obligation to do so but, at Hommage, we firmly believe that the people who are most invested in our success should have the opportunity to help shape our future.
We look forward to welcoming you on board.
                        ________________________________________________________________
Even if this particular project isn't for you, we would really appreciate your support in other ways by either donating to the cause or directing those who would benefit from our mission towards this campaign. 
Every little helps!
All the best, 
Jonathan White – CEO Hommage 
Customer Testimonials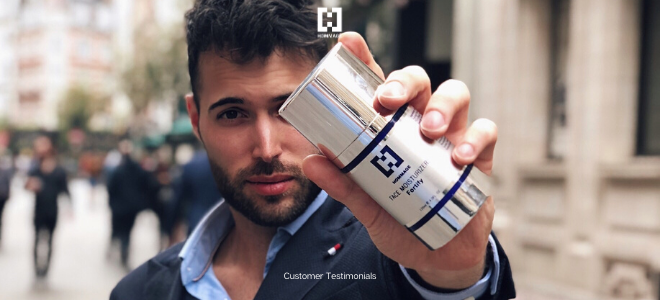 Here is a snapshot of some of our verified customer testimonials. For more please feel free to visit our website. 
"Great quality skincare products for men, perfect for my dry skin, no skin irritation now." – Simoash A. using Skincare Sample Pack
"This is a very good quality product and would definitely buy again." – Gary R. using Shave Cream: Perform
"I've used a number of different brands over the years and I can honestly say this is the best one. It has made a noticeable difference since I've started using it." – Jon C. using Eye Serum: Awaken.
"The best kit there is, I have tried several other brands of cleansers and moisturizers and I have found this to be top notch! The kit makes it very simple to follow a facial hygiene program."– Josh N. using Face Care Subscription Plan
"I have used this product for 3 years, after shaving in the mornings and before bed at night. It smells amazing and leaves my skin soft and doesn't get oily." – Viv W. using Face Moisturizer: Fortify
"I was impressed both, the Short time of delivery and meanwhile the good-looking and nice wrapping of the products. The quality of the products is, of course, outstanding, meaning I was and continue to be a loyal and completely satisfied user of HOMAGE. Many thanks! Hb" – Branda H. using Skincare Gift Set
"The Face Cleanser "Core Cleanser" is phenomenal!! It is light and refreshing and has their signature "Monaco" scent. This product is a great product in a line of great products!!!! This face cleanser is gentle but cleans extremely well and smells great!! What more can a guy want!!"  – James Q. using Face Cleanser: Purify
"Of all the face cleansers I've ever used this is the cleanest and lightest feeling. It doesn't feel like anything is left over it does a good job of clearing your face. I have way less blemishes as well." – T.J.B using Face Cleanser: Purify
"I received the Hommage products through an on line men's box subscription service. Eye serum, facial cleaner and the face moisturizer. All three were outstanding, quality products. I use the cleaner and moisturizer daily. The moisturizer was the smaller 28ml size that just won't empty after what has to be at least a couple months of daily use already. That said, it is due to be used up soon (I think??) so I proactively ordered this 120ml size which for the price point is awesome (getting what will be more than three smaller bottles for the better, discounted price overall). I'm glad I was presented with this introduction to Hommage and expect to be a long-time customer! Tell your friends!" – Joe using Face Moisturiser: Fortify, Face Cleanser: Purify and Eye Serum: Awaken
"Great Product, I keep on reordering it!" – Louis S. using Gentle Face Cleanser: Balance
"This is the best I have ever used" – George S using Face Moisturizer: Fortify
The Essential Routine

3 essential steps, 1 powerful routine. All it takes is consistency and dedication to the cause.
Step 1: Cleanse
Apply lukewarm water to the face to prime the skin and act as a lather. Using 2 pumps and your fingers, massage gently onto the face and neck covering all areas where oil and dirt can build up (including behind the ears).  Massage in a circular motion at least 5 times in each area (depending on the build-up of oil this can be more). Wash thoroughly with lukewarm water to clear the skin. Pat gently with a clean dry towel.
Tip – Imagine your face is covered in mud and you had to wash it off. Dirt and pollution may not be visible but it's there! 
Step 2: Fortify
Apply 2 pumps (more in harsher weather conditions or if you suffer from dry skin) to your fingers and massage gently to the face and neck making sure to distribute to all exposed areas (avoiding under eyes).
Tip – This moisturiser is designed to lock in moisture and protect your skin from the elements so make sure you especially protect the vulnerable areas.
Step 3: Awaken
Apply 1-2 pumps to your finger and gently dab onto the skin under each eye. The skin under your eyes is amongst the thinnest so be careful not to disrupt the cells (which can lead to more dark circles).
Tip – Try using your third finger (ring finger) when applying the eye serum, it has the lightest touch and is therefore less likely to cause further damage. And make sure you allow the products to dry before facing the elements.
Further information on our Essential Face Care Kit can be found below…

Let's Get Social






Our Guarantee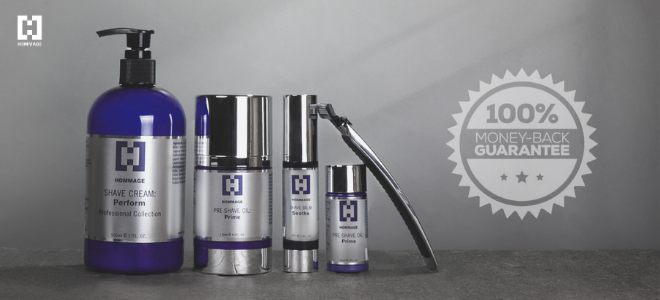 If you're not satisfied with your purchase for any reason, you're free to send it back for a full refund within the first 30 days. Because of our high success rate, our only request is that you first allow us to consult and advise you on the product use and application guidelines. Our goal isn't to just sell a product but to help people find real, lasting results to their skin health. We'd love the opportunity to help you too!
Timeline

Hommage products will be ready to be shipped in the first week of June. Order any time and start your journey towards better skin health.
If you are outside the United Kingdom or United States, customs fees and duties may be required in order to obtain your order. Customs and duties are the responsibility of the buyer. We have no control over how long it takes for international orders to arrive. Please note that many international orders will be routed through a country other than that of its final destination. This is normal and is done to ensure a more secure delivery internationally.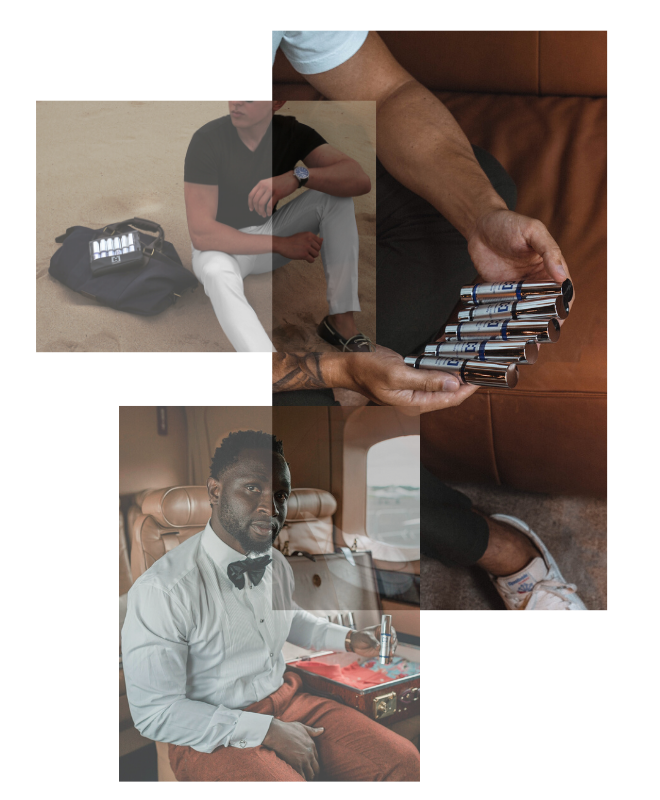 Risks and Challenges

Over the past few years we have worked tirelessly to ensure a smooth and consistent supply chain of our products to ensure orders are shipped as soon as possible without delays. Due to COVID-19 and the current state of logistics services worldwide there is an increased risk to this supply chain, however we promise to communicate any delays to this service as soon as possible to meet your expectations safely and securely.