HOPii – Your Personal Micro-Brewery | Brew your favorite craft beers with a touch of a button and drink at its freshest taste ever!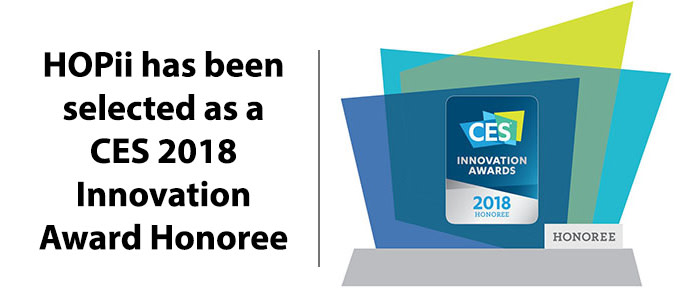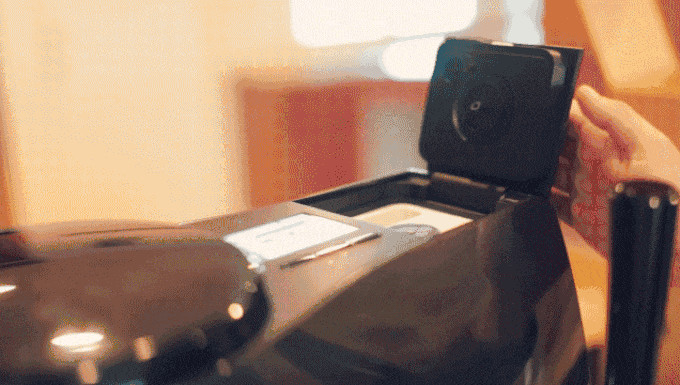 It's hard enough to find time to make it to the brewery to experience that "right from the tank" taste. Not to mention most craft breweries are very far away from your home. With HOPii, you can enjoy the same fresh craft beers right from your kitchen. No brewing knowledge required!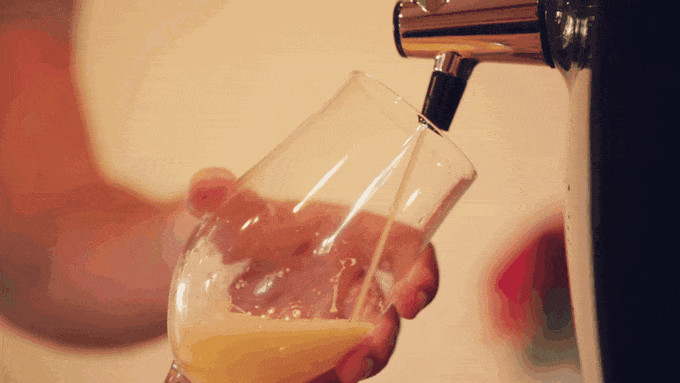 Make your favorite craft beers at their freshest taste. HOPii provides the exact ingredients used by the brewers, takes care of all the monitoring and lets you know when the craft beer is ready to drink. No brewing knowledge required!
Ferment your own craft beer with your custom ingredients. You will have the highest tech fermentation device for your homebrewing needs, right on your counter-top.
DIY (Do It Yourself) with HOPii. We will create a DIY community for both beginners and experts, where you will be able to experiment and create your own drinks with HOPii's Brewer's Mode and share with the community! HOPii will bring out the inner brewmaster in you!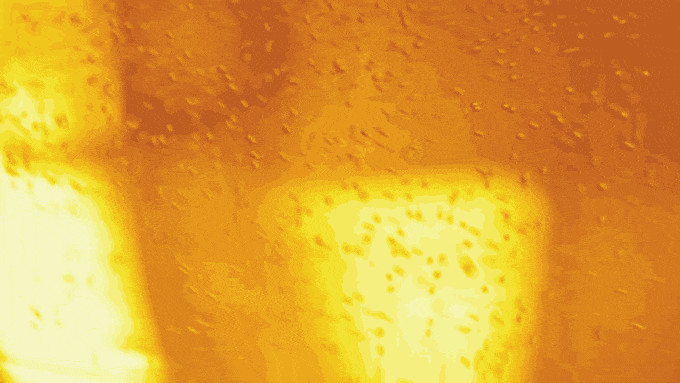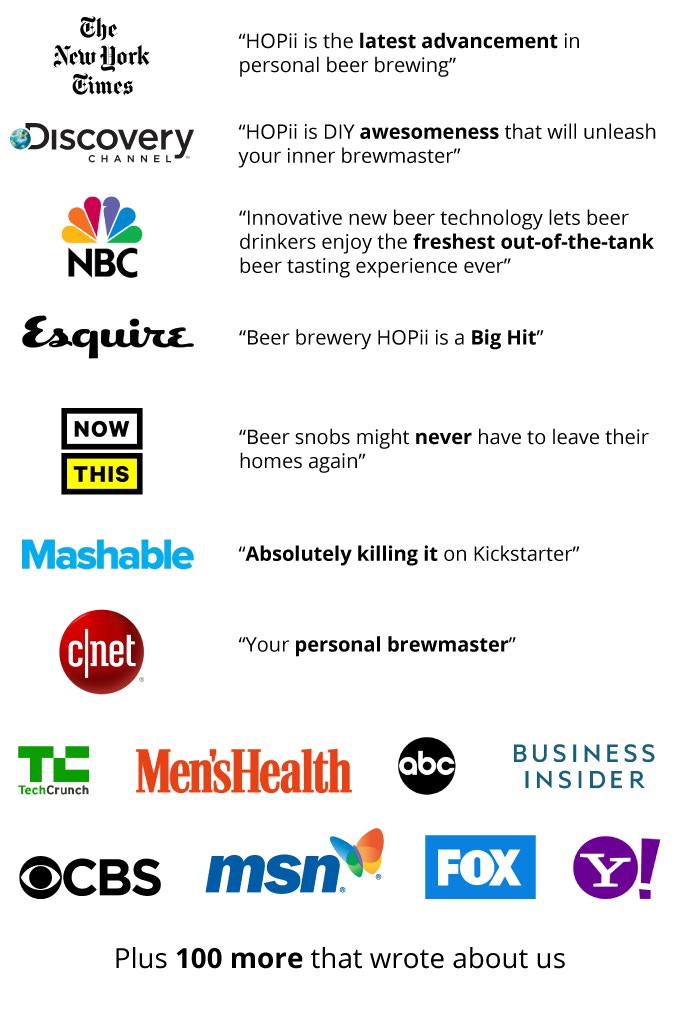 With HOPii, you can get better taste than any home brew device, just as if you were pouring from the tap at your favorite brewery's bright tank.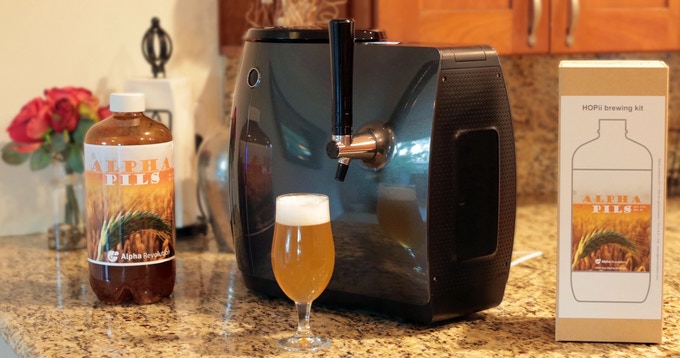 HOPii comes with a highly-controlled, oxygen-free, light-free fermentation system. It also features one-touch automatic sanitizing, which means you don't have to take HOPii apart for cleaning.

Put the ingredient pods into HOPii device and press START. HOPii does the rest and brews the craft beer for you at its perfection.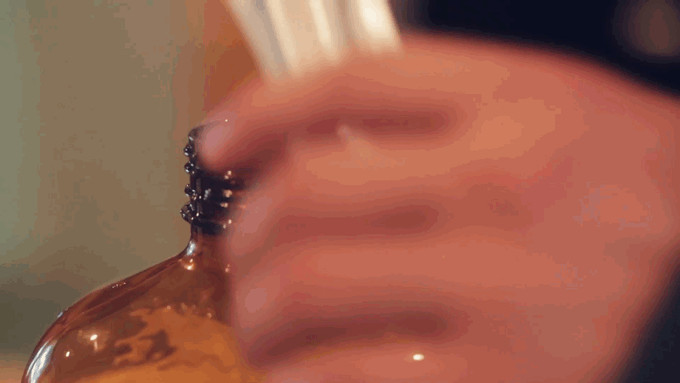 The beer kits include everything you need : a three-liter bottle of wort, an ingredient pack containing dry hops and other flavors, a pack of yeast, a sanitizer. HOPii uses the exact same ingredients used by the brewers in their own brewing!

HOPii creates a controlled environment using various smart sensors and algorithms for the perfect and consistent fermentation.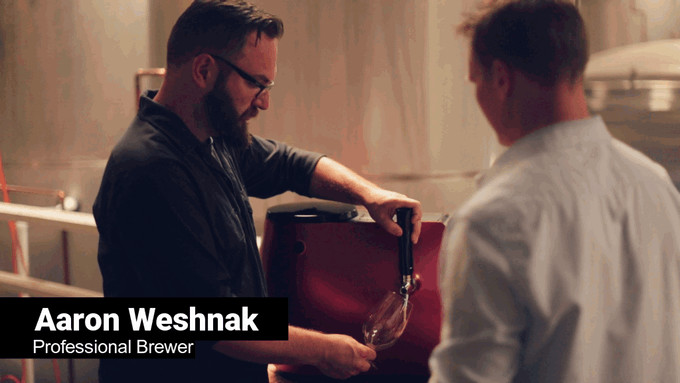 HOPii enables a completely closed system with smart sensors that precisely monitors and controls the temperature, pressure and gravity for the perfect fermentation. Combined with authentic ingredients, HOPii enables the best quality taste, every time.

We are going to be bringing your favorite flavors to HOPii platform via amazing tasting craft beers from our award-winning brewmaster as well as partnerships with local breweries who have the best tasting craft beers. We are targeting to have the traditional flavors that you love (IPAs, Pale Ales, Stouts, etc) as well as exciting new flavors not tasted before. We will continue to diligently add more flavors to HOPii prior to launch and every month after you have your HOPii's in your hands.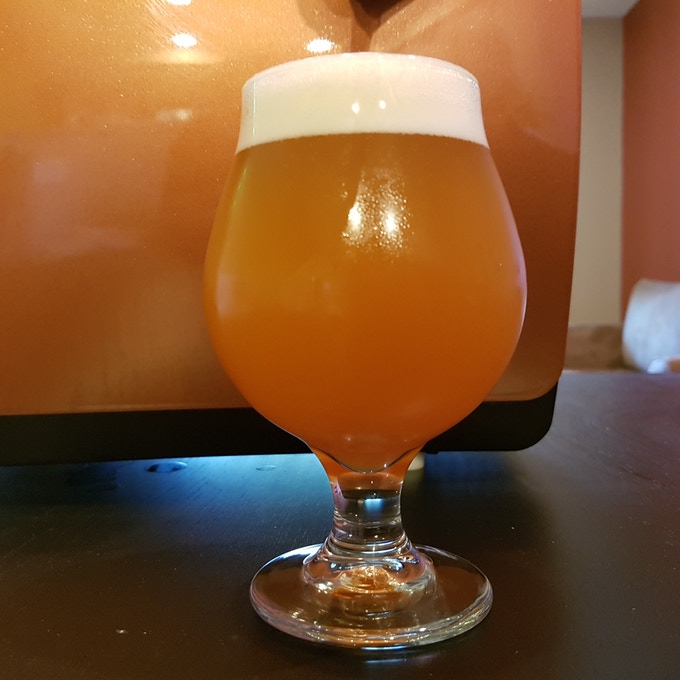 You will be able to enjoy the freshest taste of craft beers. Enjoy your favorite styles right from your home at their freshest moment ever. 
With All-New Brewer's Mode, you can ferment your own craft beer with your custom ingredients. You are able to input your own custom recipe into HOPii and ferment your own wort, dry hop, flavors, and cold crash, then set it to the craft beer's best drinking temperature as defined by you. During the fermentation, HOPii will give you the real-time readings of your craft beer's temperature, pressure and specific gravity information. You will have the highest tech fermentation device for your home brewing needs, right on your counter-top!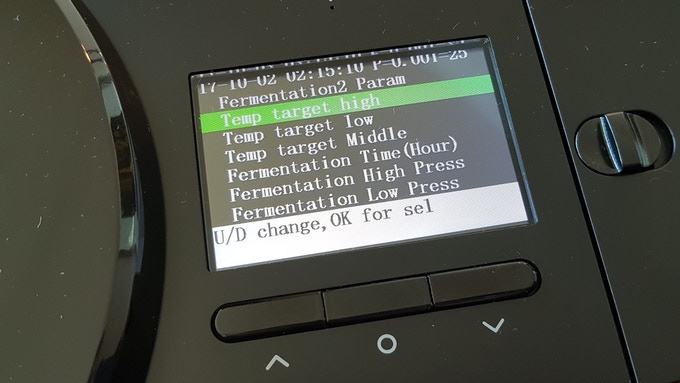 You can make Kombucha and other fermented drinks too!
Using Brewer's Mode, you can make other fermented drinks you want also. You can make the freshest Kombucha with the healthiest ingredients at fraction of the cost, or delicious ciders of different flavors, or even invent your own drinks that do not exist in the world today. Let your imagination run wild and make the most creative drinks, then upload your recipe to our DIY social network for everyone in the world to enjoy!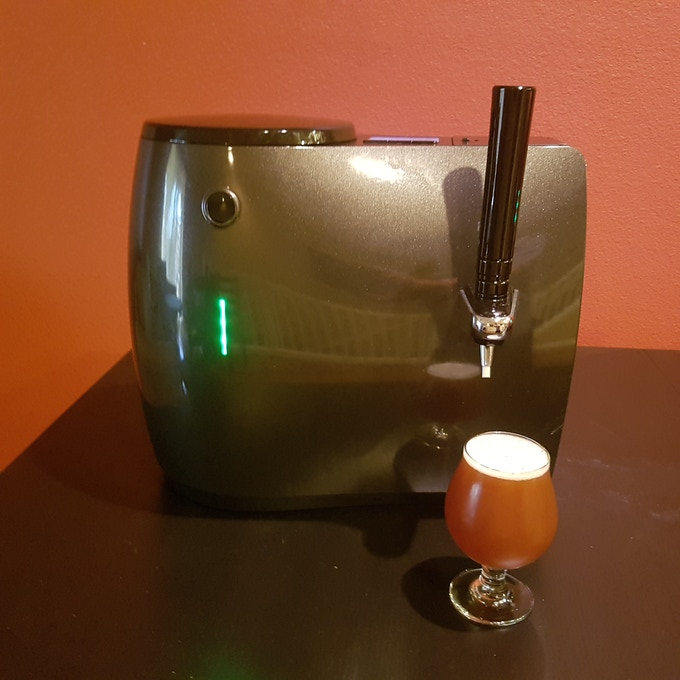 With HOPii, you always get the perfect tasting craft beer at its freshest condition, every single time.

Performing fermentation under a well controlled environment is most important to the taste of the craft beer. With HOPii, the fermentation happens in a completely closed system with various smart sensors and algorithms monitoring the gravity and controlling the temperature and pressure in real-time, every step of the way.

Ingredients consist of pure wort exactly as made by the brewer, the exact same yeast, dry hops and flavors that the brewer uses to brew the craft beer. Our algorithms perfectly match the brewer's recipes and brew exactly as how the brewer brews the same craft beer, yielding the best tasting, freshest craft beer you have ever tasted!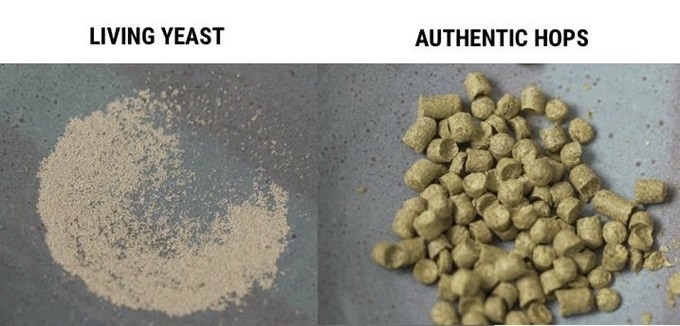 Craft beer tastes the freshest right after the brewing is done. Taste starts degrading as soon as the beer leaves the tank. HOPii enables the best tasting freshest craft beer by enabling drinking right from the tank as soon as the brewing is done – at its freshest ever!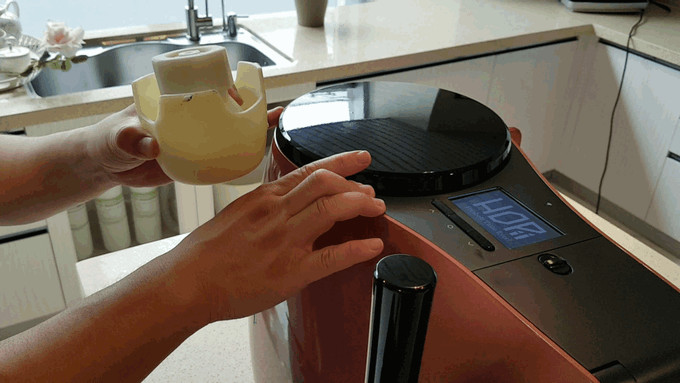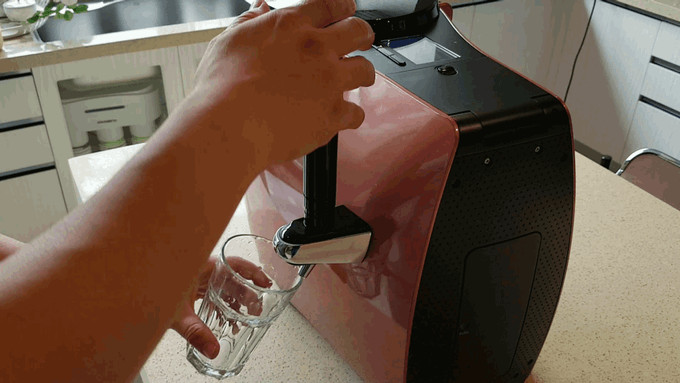 Depending on the craft beer, brewing can typically take around 7 days for traditional American ales. You can drink the craft beer right from HOPii or can remove the brewed craft beer bottle, store it in a refrigerator and immediately brew another one while drinking the one that you just brewed. This will enable having a constant supply of the freshest tasting craft beer for your drinking pleasure or stack up for a party! Because HOPii is a completely closed system, the freshness of your craft beer will last a long time.
HOPii is the only device that you need
With HOPii, there is no extra fermenters or kegs needed. Just plug HOPii into an outlet, put in the bottle and ingredient pack and press START. HOPii will take care of the rest!

We are craft beer lovers just like you! We had moved abroad from California and missed drinking great Californian craft beers. One day, we went to a pub that was one of the most well known. When we ordered and drank their beer, however, the taste was so horrible that we literally shouted out, "Oh my god! This beer is horrible!". The brewmaster heard us and took us to the backstage where the craft beers were being made. He poured a glass right from the tank and gave to us to drink. We drank the beer and realized that the taste was amazing! We said, "Wow, this craft beer tastes amazing! What is it?" That was when he said, "It's the same beer that you had outside, but this one is fresh right out of the tank. We just made it today".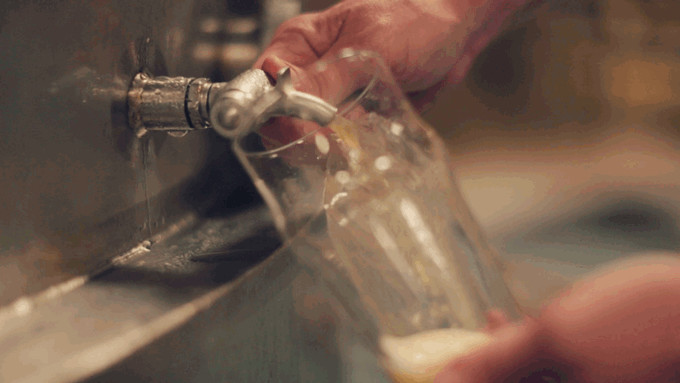 We realized that freshness really matters to a taste of a craft beer, but the only ones who get to experience this freshest taste right out of the tank were the brewers. We asked ourselves, "why can't every craft beer lover get to try this amazing experience of drinking a freshest craft beer right out of the  tank?"  
This was when HOPii was born.

As we designed HOPii, we knew it needed to be the most beautiful thing on your counter-top. We said, HOPii's design must be simple, elegant and luxurious. To make this happen, we spent countless hours and many prototypes designing HOPii.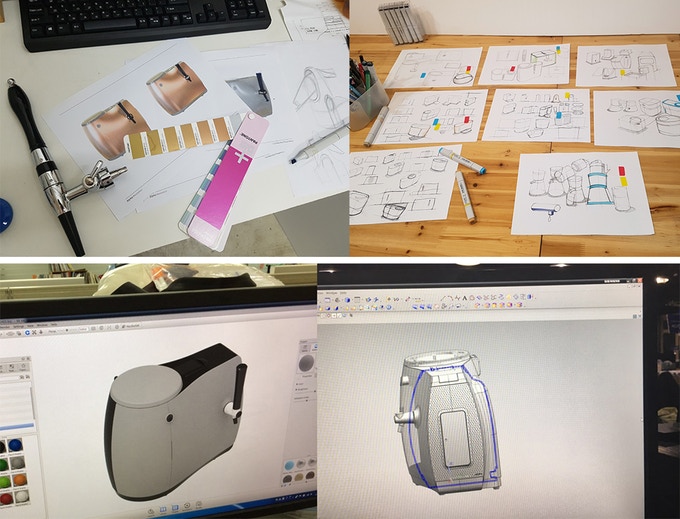 Our engineers also worked countless number of sleepless nights making such a technologically advanced device fit into a small form factor.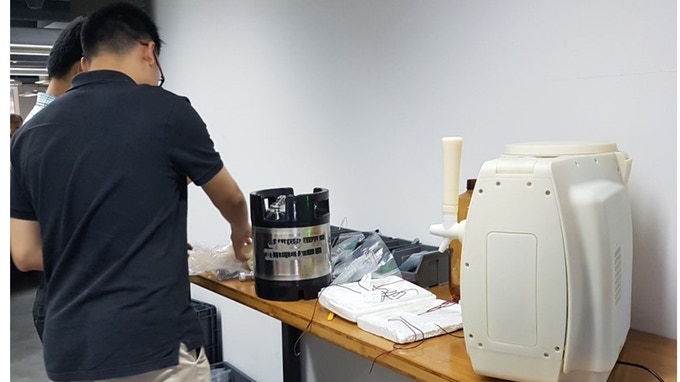 Here are photos of past HOPii prototypes that we had developed :
In summer of 2017, HOPii was selected into the prestigious HAX Accelerator!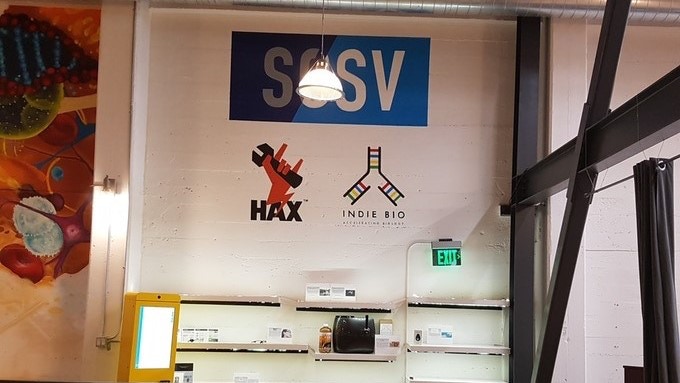 We attended and showcased HOPii at many conferences. There, we were selected as one of the top startups and were asked to pitch our company in front of the attendees!
What's next for HOPii? Well, this is where you come in. We would love to hold hands with you and define the future of HOPii. Please join the project by pledging. Let's make this happen together!

HOPii's specification is as follows :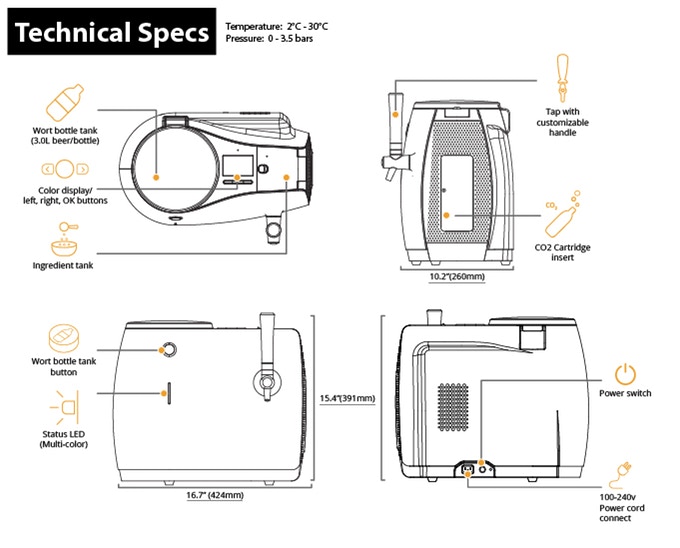 Each beer kit comes with the following and makes 3L of the freshest tasting craft beer :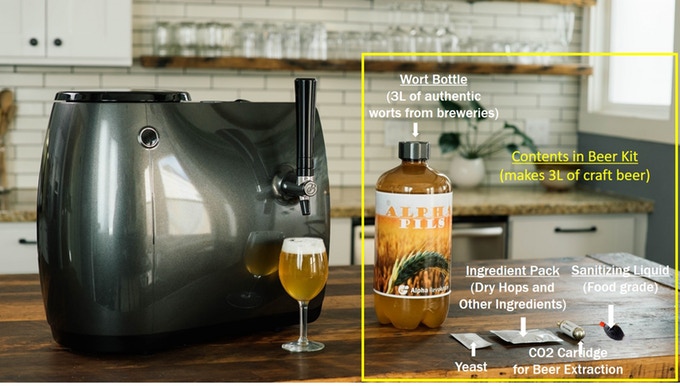 We will be working to make the containers environment friendly. 

We have brewed over 1000 pints of various different craft beers using HOPii and got approvals from the original brewmasters that they not only taste perfectly, but some of them said the craft beer from HOPii tasted even better than the ones from their own tanks!
Here is a demo of starting the brewing of craft beer on HOPii. (we didn't record the entire brewing process as the video would have been too long)
Here is a demo of HOPii's automatic cleaning feature.
On HOPii, you can dispense craft beer directly right after brewing, or by putting in a previously brewed and stored craft beer bottle. Here is a demo of dispensing a craft beer by putting in a stored craft beer bottle.
We are ready to manufacture our final production units for delivery by mid next year, but we need your help to complete the project!

This project has been a very long time in the making with lots of sleepless nights and caffeine (and craft beer). You are so important to us and we need your help to bring this vision to life. Please join us in making world class craft beer by pledging to our project. Cheers!

Special thanks to… our amazing mentors at HAX, Cyril Ebersweiler, Kate Whitcomb, Alan Clayton, Ethan Haigh, Mark Williams, Allie Williams, Shawn 'Doodie' Brodrick, Brian Frank, Aaron Rowley, Clement Perrot, our HAX founder peers, Michael Zeligs and the video production/strategy group at StartMotionMedia, Colin and the team at PRMediaNow, Salvador Briggman at Crowdcrux… and most importantly.. you, our newest and most important HOPii member!