Essential Mints | Delicious mints infused with natural herbal supplement designed to improve your active life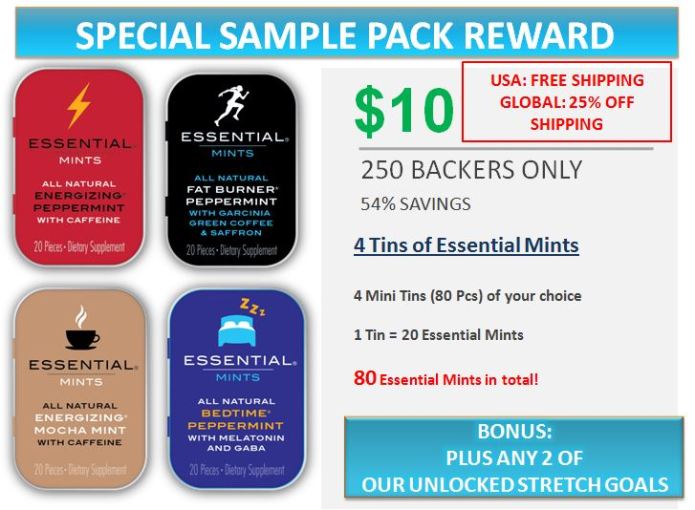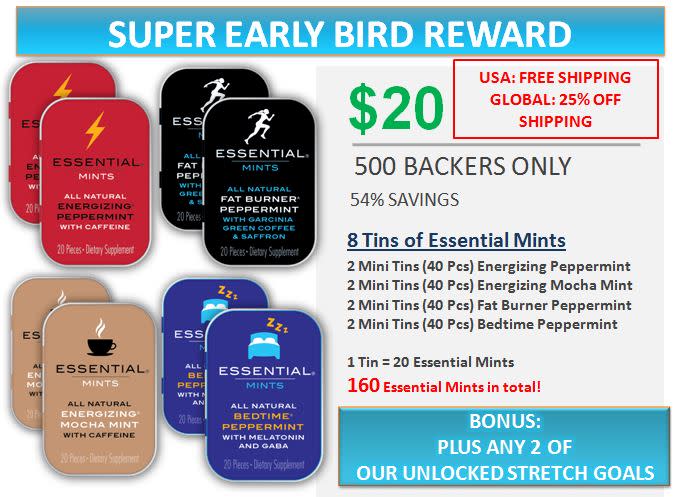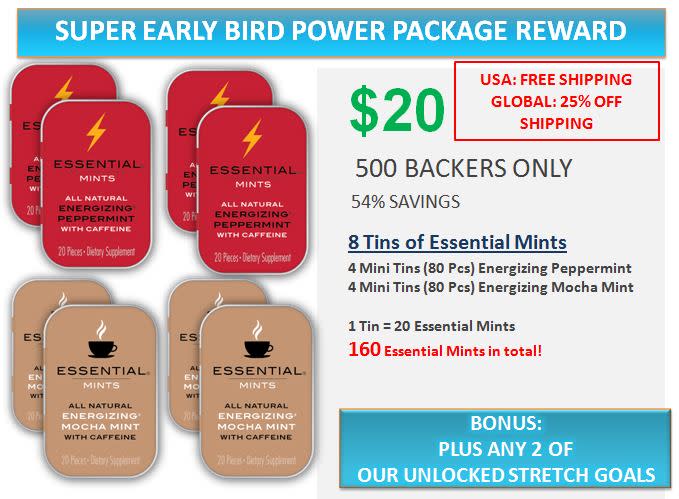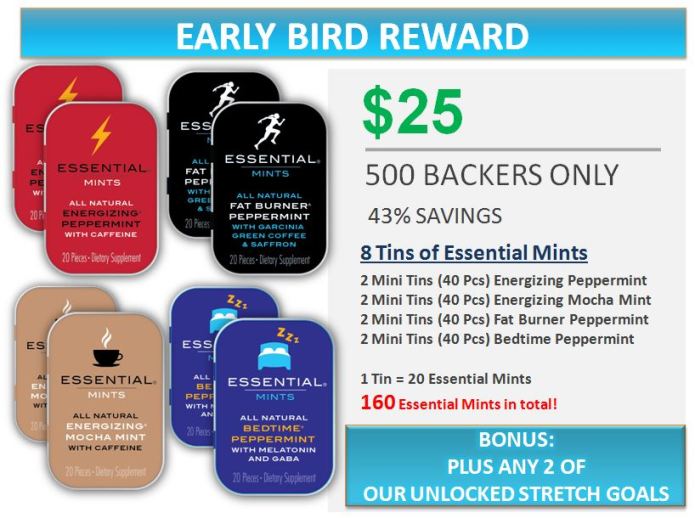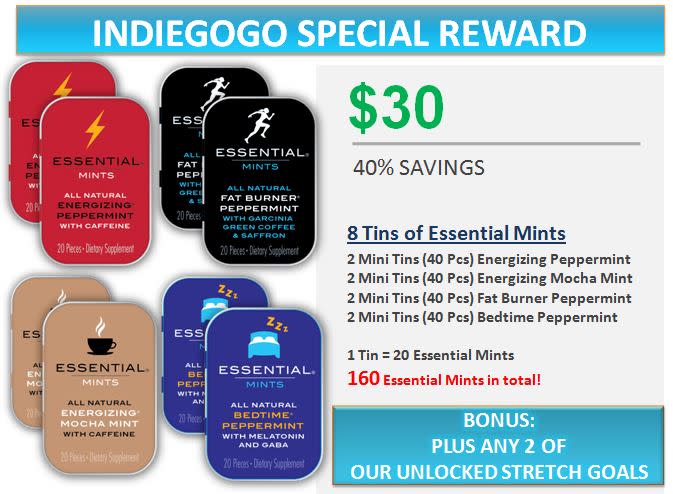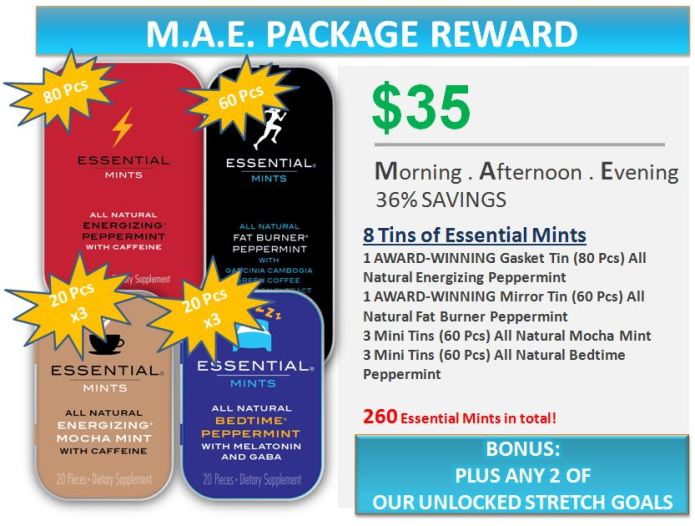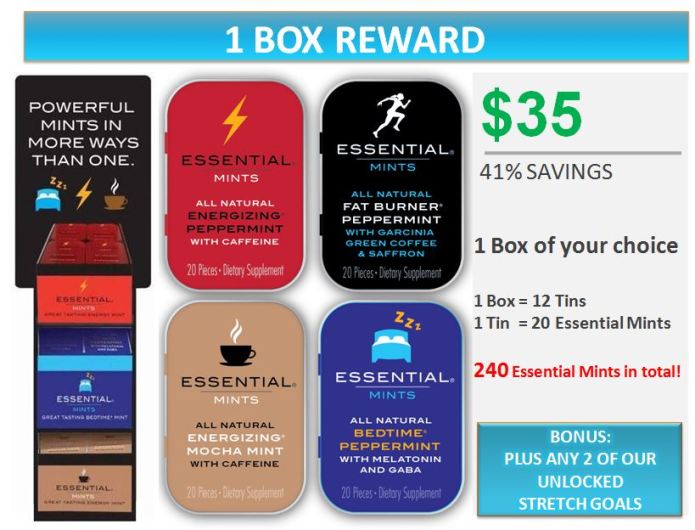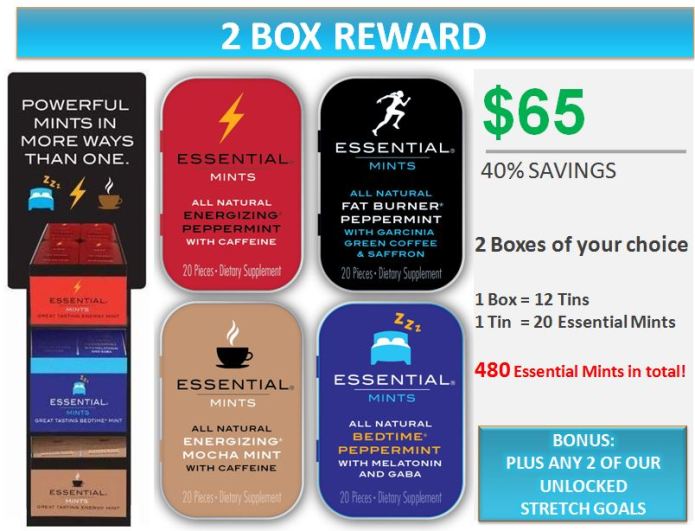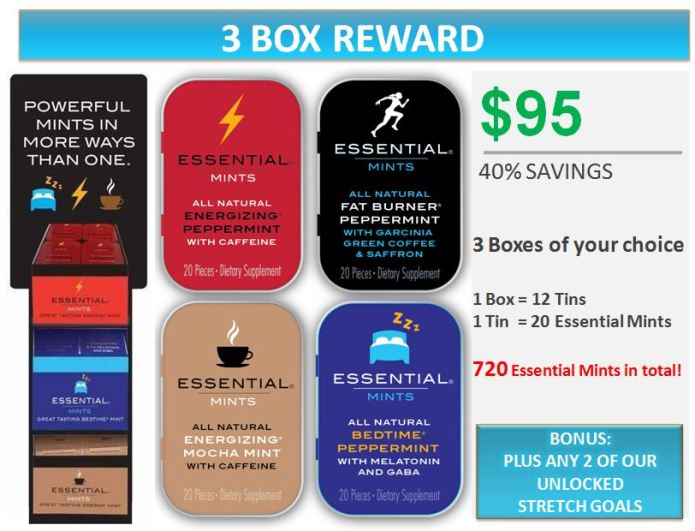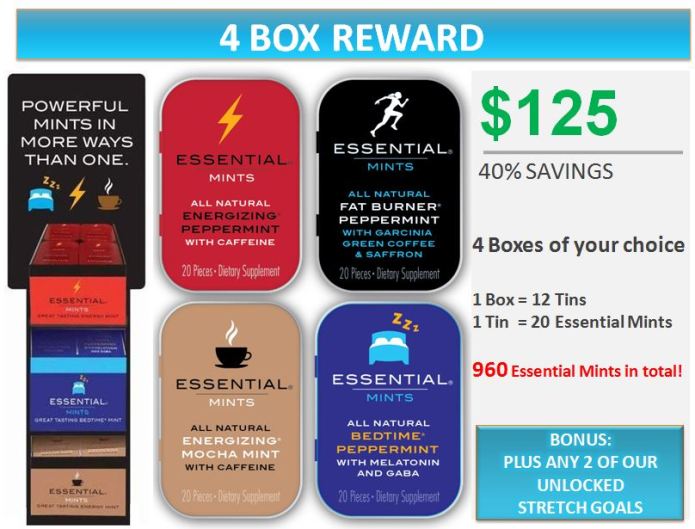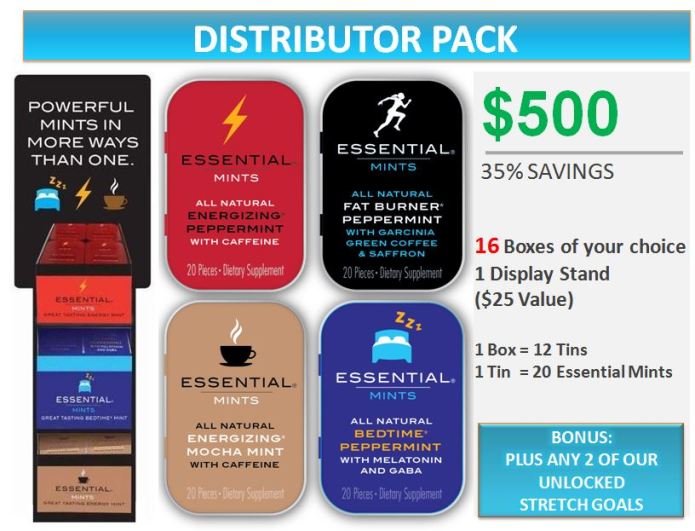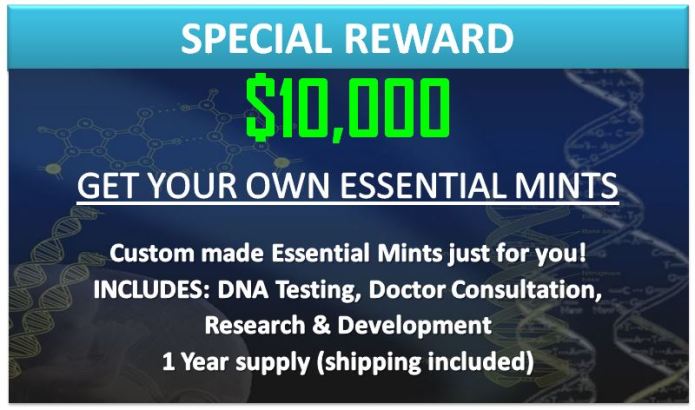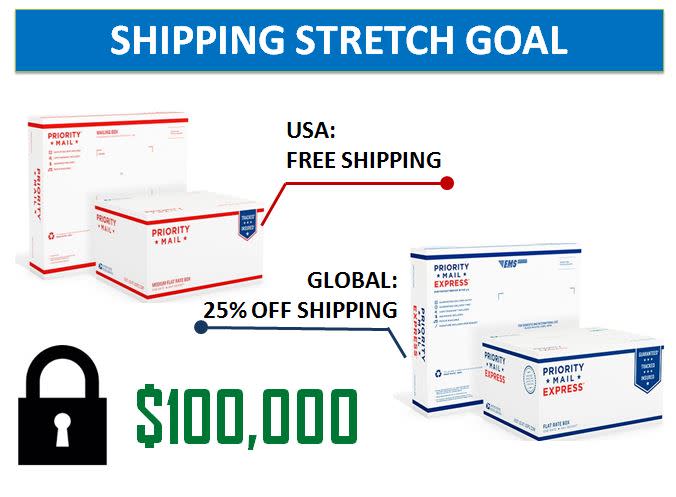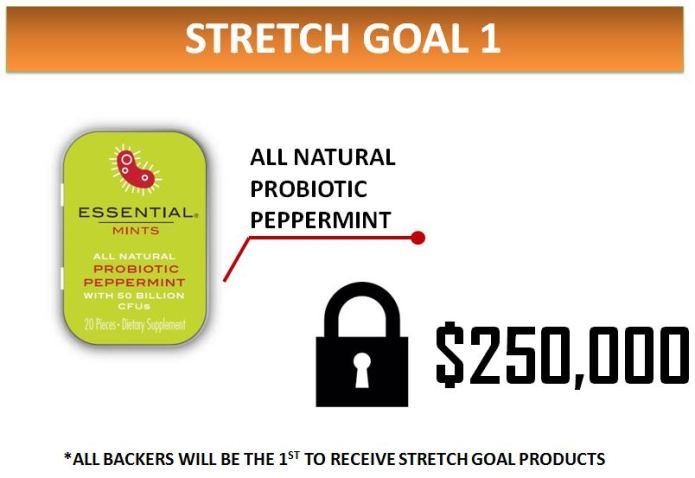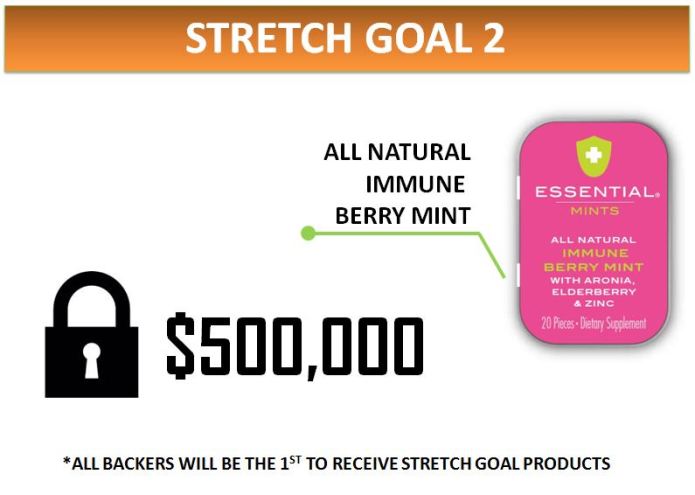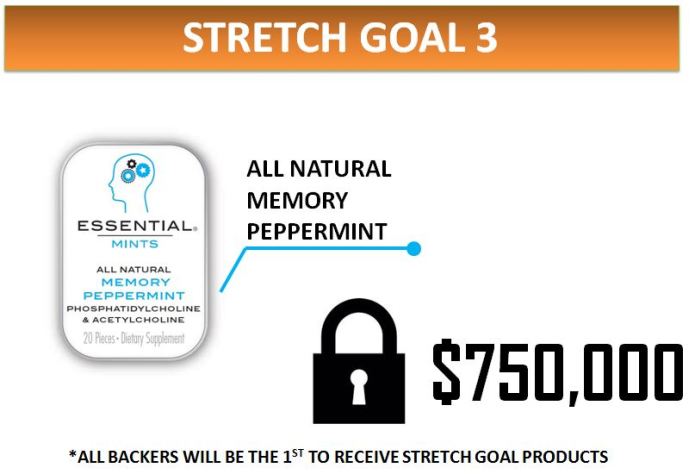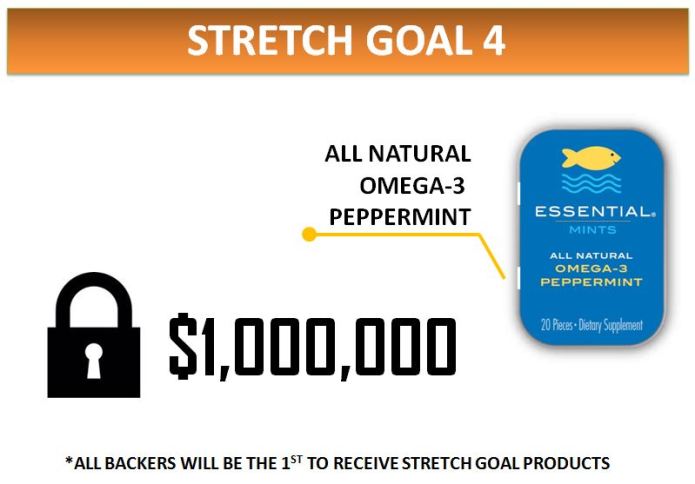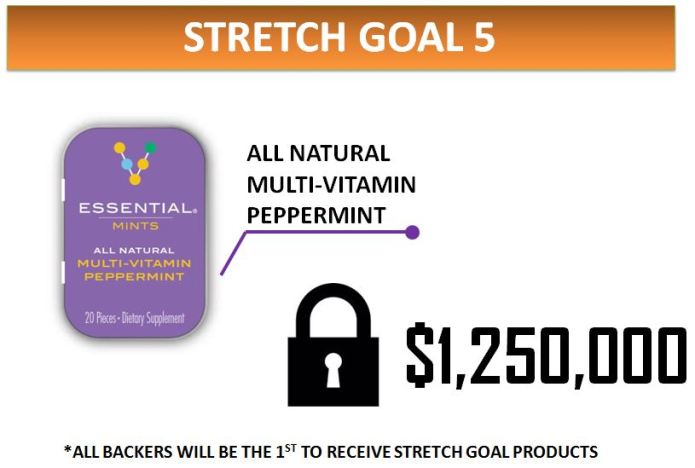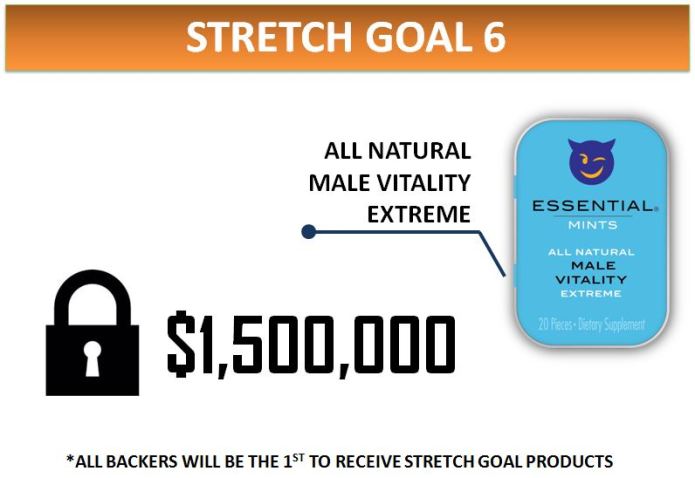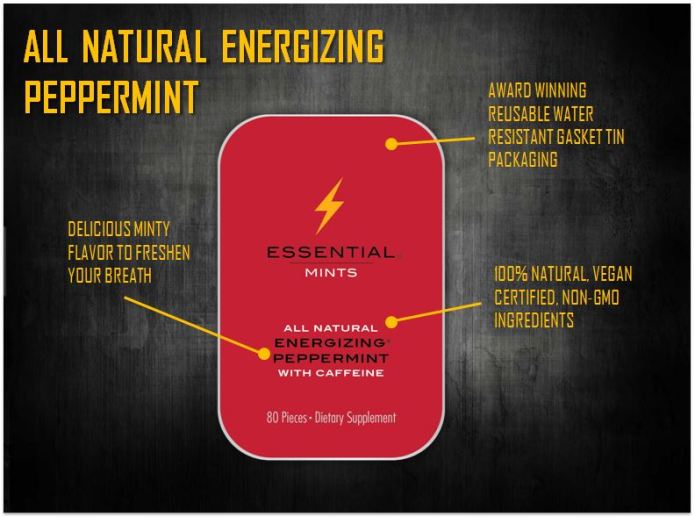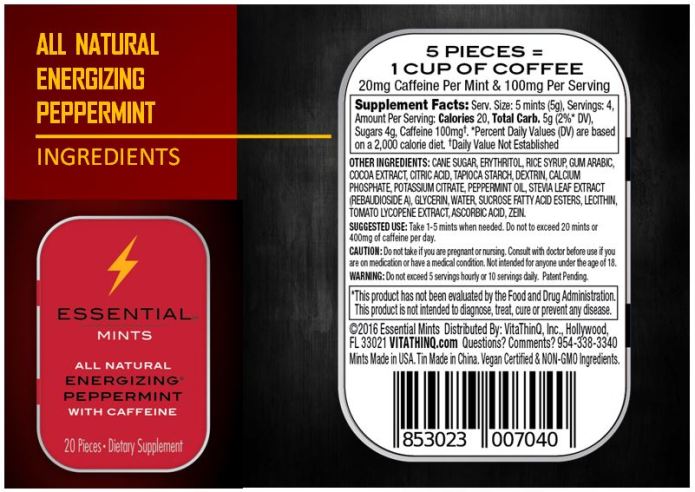 All Natural Energizing Peppermint will refresh you in the morning, and give you caffeine kick plus fresh breath!

FUN FACT:
Once you enjoy the mints, you can reuse the packaging for something else too! Our AWARD-WINNING gasket tin packaging is very durable, compact and water resistant, pack your ESSENTIALS (some cash, earbuds, charging cord, etc.) in it and bring it with you as your PERFECT travel companion 🙂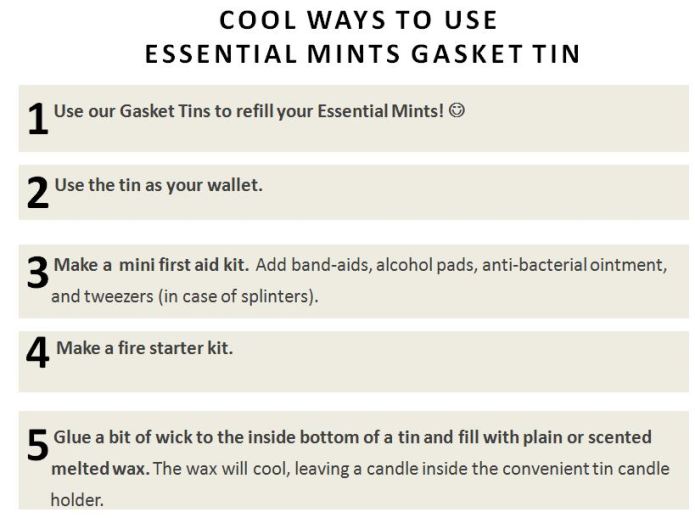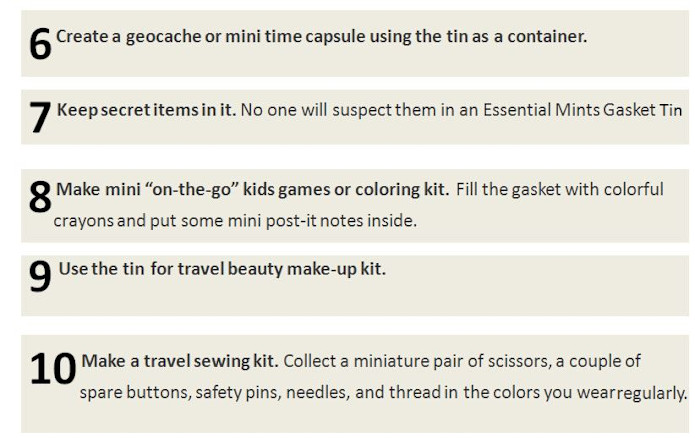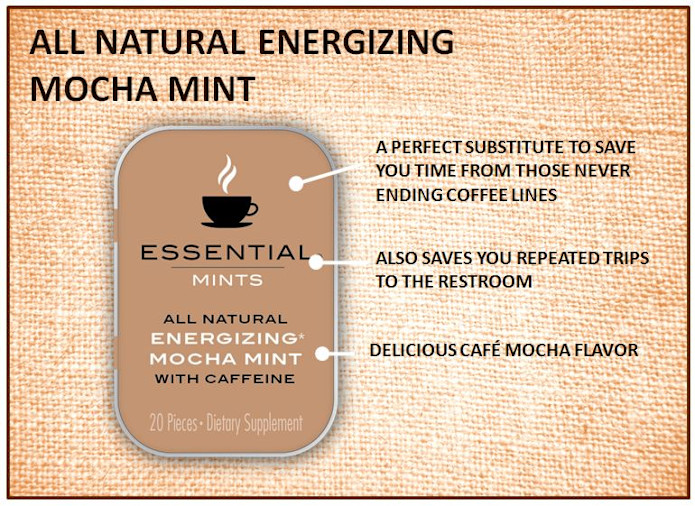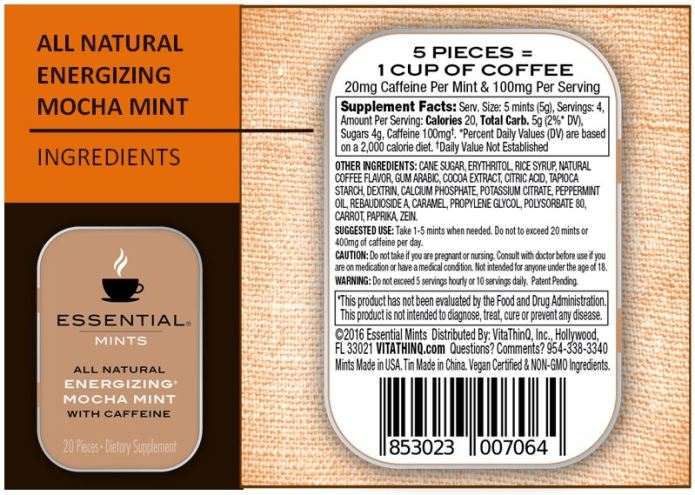 These Energizing mocha mint is our original peppermint mixed with mouthwatering decadent mocha flavor. A perfect substitute to save your time from those never ending coffee lines.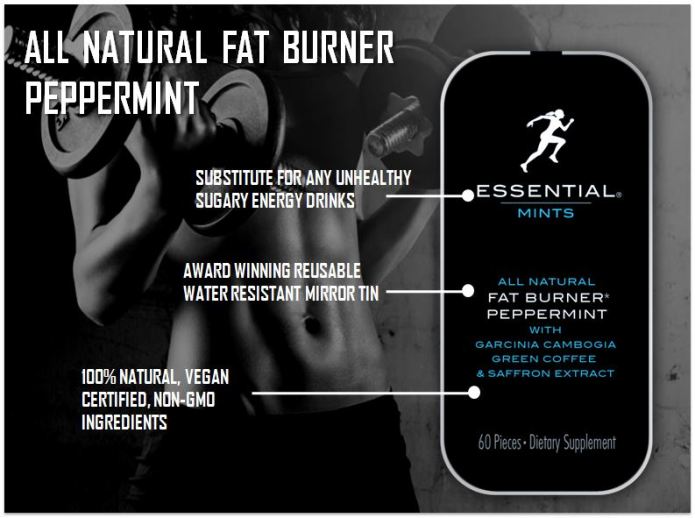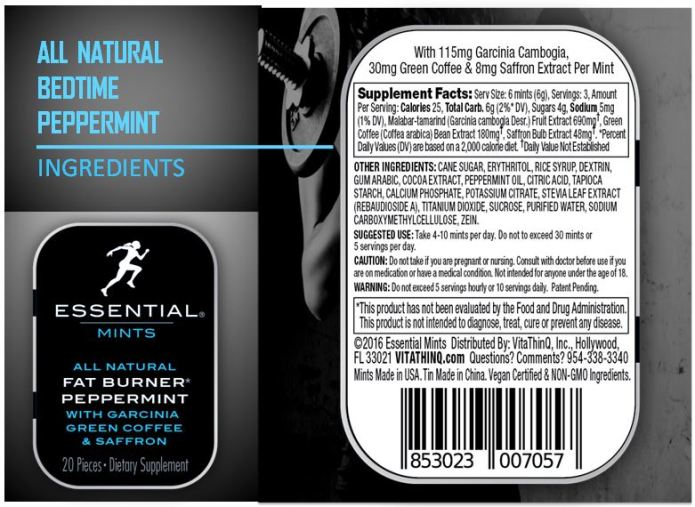 Replace your harmful daily fat burning pills that you have to swallow with this minty fresh fat burning mint.

FUN FACT: 
This AWARD-WINNING packaging is designed with a mirror attached, perfect for your active lifestyle! Stuff it with your essentials and you have a freshening kit after sweaty workout 🙂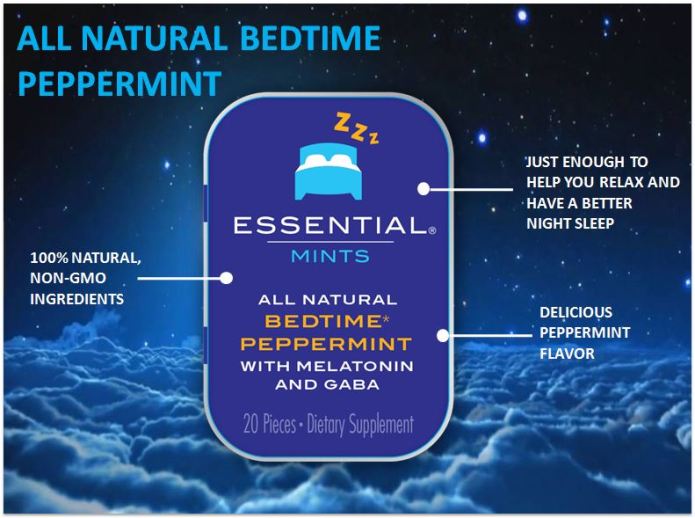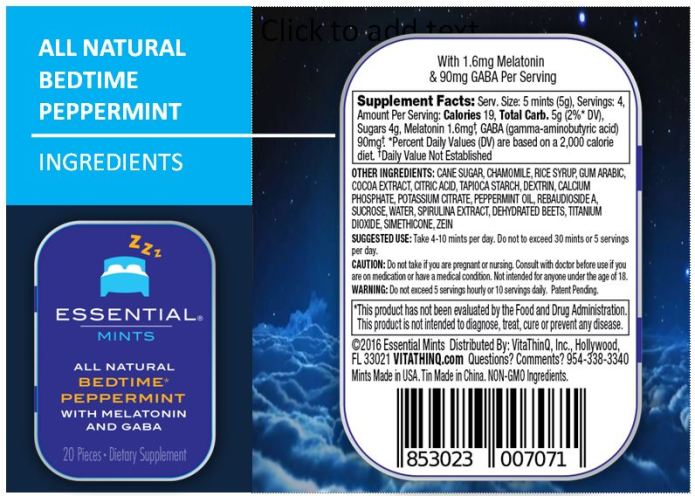 Our delicious All Natural Bedtime Peppermints tin contains 20 mints, just enough to relax your body and help you rest through the night.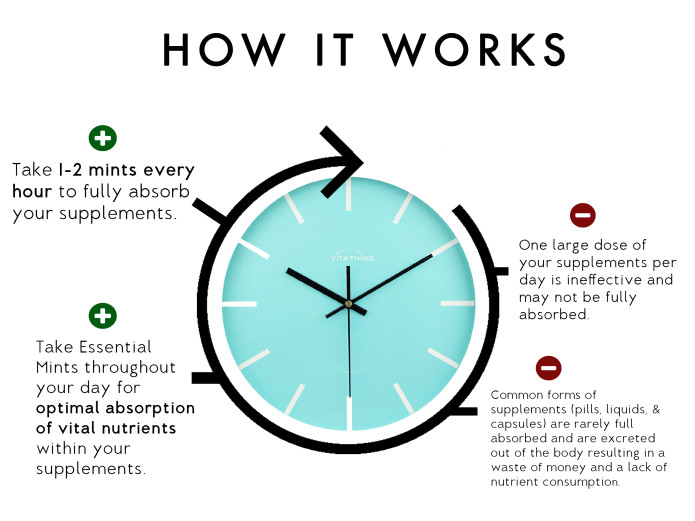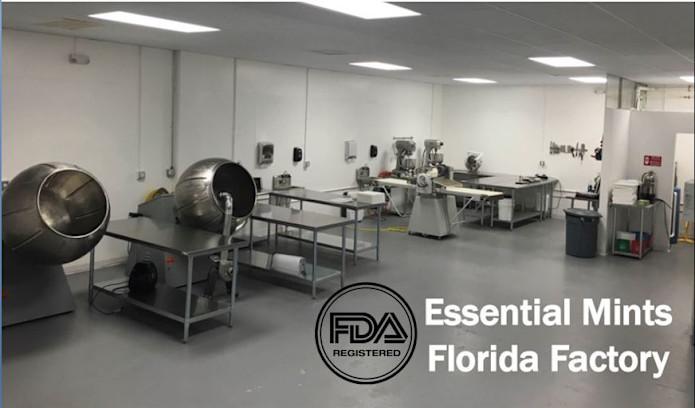 We use only the best ingredients to create an amazing tasting mint for our customers. We manufacture our own products from all natural ingredients and located in United States of America, specifically in Davie, Florida. We are proud to be MADE IN USA. We have complete control of the entire process of manufacturing our mints from raw ingredients to packaging to fulfillment. We do not outsource our work. This ensures the highest quality and consistency for each mint at every step of the process. We follow and go beyond FDA guidelines to validate our equipment and sourcing ingredients. You purchase our mints knowing we guarantee the highest quality and you are supporting an American made product.


Our mints are delicious and 100% Natural. Our ingredients are sourced from the best raw ingredients local manufacturers you can find. They are all FDA registered. Our ingredients were reviewed individually by television talk show host, Dr. Mehmet Cengiz Öz.

Essential Mints is an exciting new business in the Functional Food Industry. The idea arose from the minds of two successful entrepreneurs, who were looking for a product that would be helpful and make an impact in their (and other's) active lifestyle. They have brought their years of successful business and manufacturing knowledge to building this new concept. Patents and trademarks have been filed. We are looking forward to bringing many new products to the market with your help and feedback.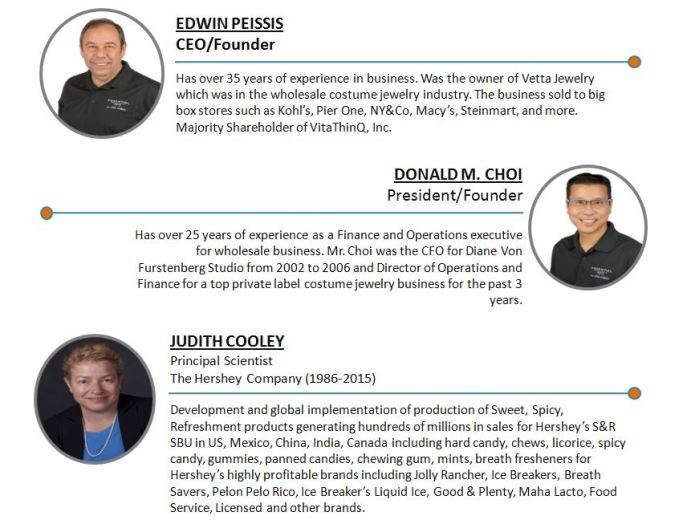 With your support, we would like to use the capital to develop our product line and expand our factory so we can continue to create jobs. We currently offer delicious tasting Energizing Mints, Fat Burning Mints, and Bed Time Mints. We are developing other products by function and flavors soon.
We are also focusing on securing mutual partnerships with large retailers companies, specially convenience stores & distributors & fitness centers sector below: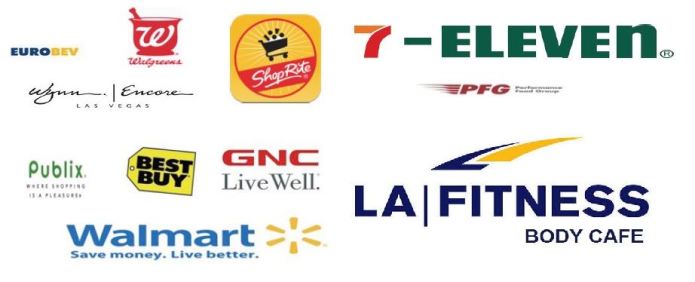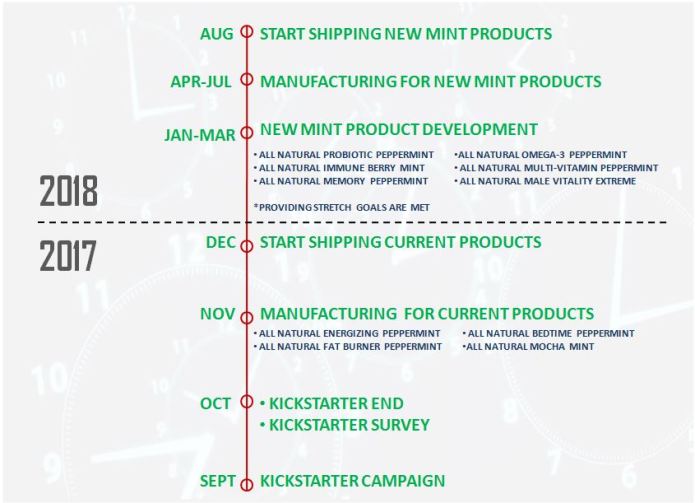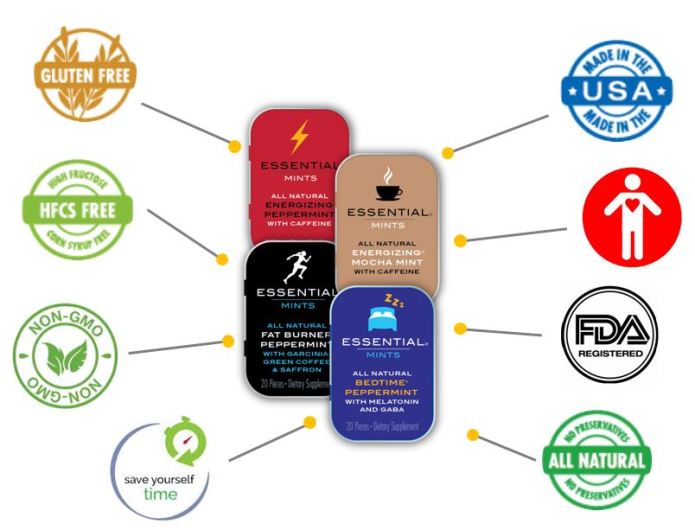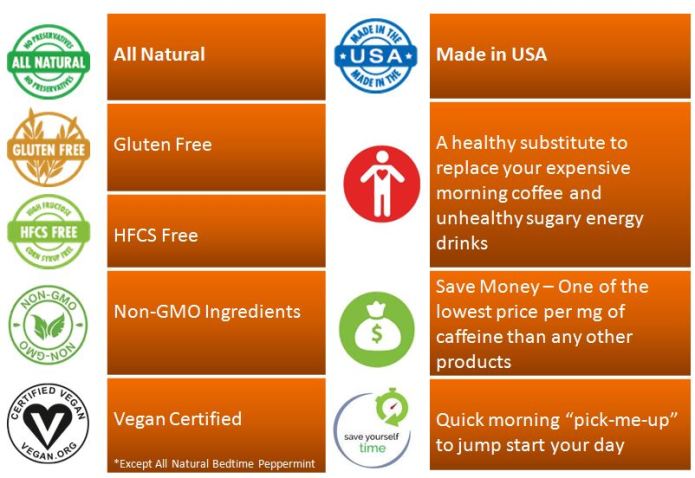 Essential Mints are formulated with tantalizing refreshing peppermint flavor and just a right amount of caffeine. They are a healthy substitute to replace your expensive morning coffee and unhealthy sugary energy drinks. Not to mention that Essential Mints are one of the lowest price per mg of caffeine than any other product.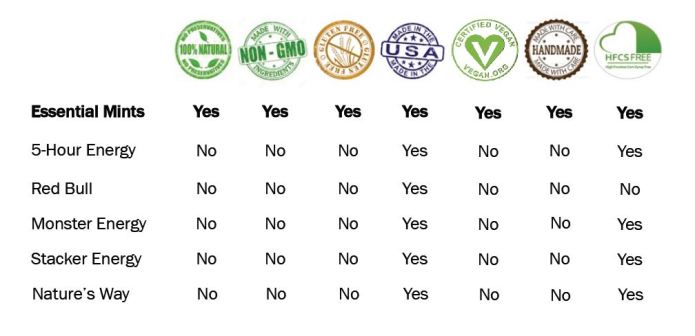 Product Comparison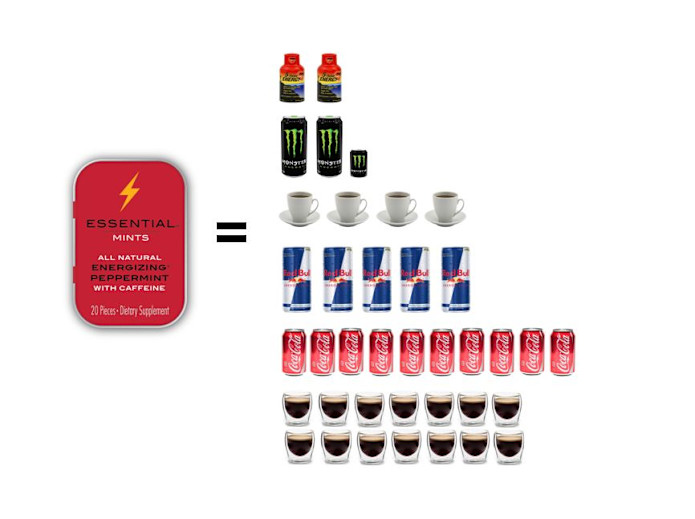 Caffeine Comparison






Weight Loss Category Finalist of SupplySide West CPG Editors' Choice Awards
RISKS & CHALLENGE
Our factory and team is ready to go. We do not see any foreseeable risks or hurdles in the near future as we have been manufacturing in our own facility and have worked out any and all issues with our products early on. However, our production will be more effective with your help and you can rest assure that our product will ship on time right to your front door.
DISCLAIMER
These products have not been evaluated by Food and Drug Administration. These products are not intended to diagnose, treat, cure or prevent any disease. Do not take if you are pregnant or nursing. Consult with doctor before use if you are on medication or have a medical condition. Not intended for anyone under the age of 18.